July 31 - August 6, 2022: Issue 548
Member For Mackellar Dr Sophie Scamps Sworn In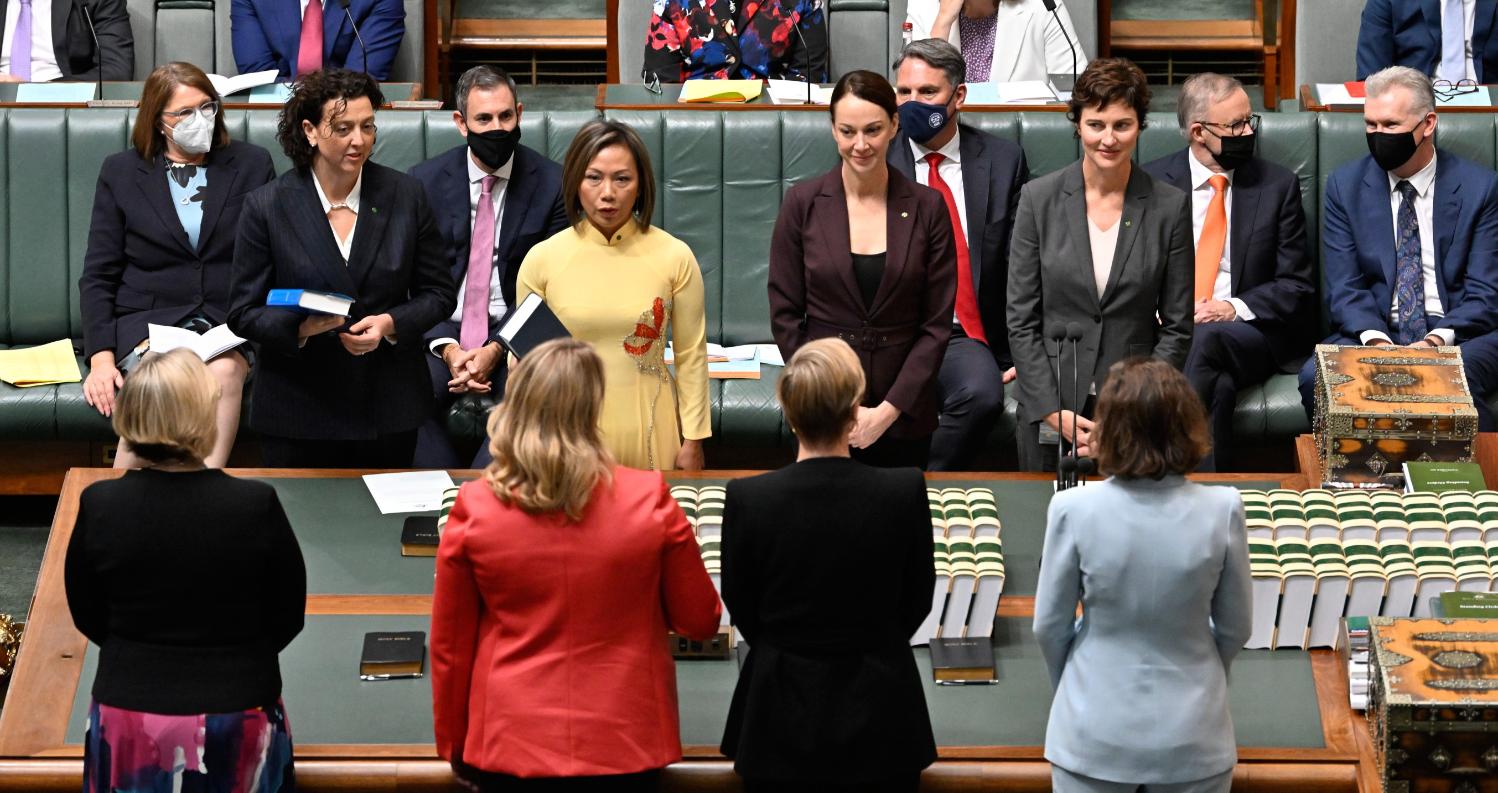 On Tuesday July 26, 2022 newly elected Member for Mackellar was officially sworn in as part of the 47th Parliament of Australia.
Dr Sophie Scamps – Independent MP for Mackellar said:
''It was a privilege and an honour to be sworn in today as the Independent MP for Mackellar.
Although I was only sworn in today, my team and I have been busy meeting with the government and working hard to ensure Mackellar's voice and values are being heard and respected in Canberra.
Our electorate office has also been busy since first opening last month, helping the people of Mackellar with issues ranging from passport and visa applications to NDIS and other local issues.
Today marked the start of a busy first fortnight in Parliament, with the government introducing 18 Bills, including their Climate Change Bill.
I have been working in good faith with Climate Change Minister Chris Bowen over the last month on the government's proposed Bill. As part of that engagement, I have proposed a series of amendments to help strengthen the government's legislation.
Mackellar elected me to fight for our community on the issues that matter most, and I have been doing just that when it comes to climate action.
I look forward to seeing the updated legislation in Parliament and ensuring that the wishes of my community are reflected in the Bill.''
Worth Noting:
The Parliament sworn in on Tuesday is the 47th Parliament of Australia.
Dr Sophie Scamps MP is the first Independent MP to be sworn in as Mackellar's representative in Parliament.
Dr Sophie Scamps MP's position in the House of Representatives will see her seated next to West Australian Independent MP for Curtin Kate Chaney.
Dr Scamps will be giving her maiden speech in Parliament on Monday August 1st, 2022.
The Member for Mackellar is scheduled to speak between midday and 1.30pm.
If you're interested in tuning in to watch you can at www.aph.gov.au/live
Pittwater Community Forum: A Discussion On How To Save Our Area
A community forum focussed on keeping a check on inappropriate development in Pittwater and looking at and discussing ways to protect the natural beauty of our area was held at the Mona Vale Memorial Hall on Sunday July 24th.
With rumours circulating that popular Pittwater MP Rob Stokes may stand for a federal seat in the future, and Mayor Michael Regan may stand for the seat of Wakehurst in the March 2023 State Government election, along with Labor party members Barry Unsworth and Jeffrey Quinn attending the Sunday July 24th forum, and that parties well publicised statements that it will give forcibly amalgamated councils a chance to get their councils back, the forum will be of interest to residents.
The forum had a focus on celebrating the runs of green into blue into green again, and how to protect and preserve those.
Among the practical methods presented by Craig Burton and former Pittwater Council General Manager Angus Gordon OAM were passionate keystone statements by Professor Richard Leplastrier AO.
Pittwater Councillor Miranda Korzy, isolating due to Covid, also had an Address read on her behalf by Ethan Hrnjak, while Sasha and Nic Lesiuk, award winning architects and children of legendary Pittwater Architect Stephen Lesiuk (R.I.P.) presented the next generation's perspective.
Pittwater Online News has spoken to Ms Lesiuk this week and will run the next generations' perspectives in a future Issue.
Our sincere thanks to John Illingsworth, Pittwater Pathways, for his mammoth effort in filming, editing and making available the above record in time for this week's Issue.
Serendipitously, or possibly not considering their varying but ongoing distressing content, there are a number of reports that run this same Issue, No. 548, that also reflect on what was discussed at this Forum. The subjects in these, and the people spoken to to compile them, show there is widespread dissatisfaction and anger across Pittwater along its original LGA boundaries, from Narrabeen to Palm Beach, and further afield.
An outraged sustained uproar is taking place.
Imagine how it may be for those currently working in council, doing their utmost day in and day out.
Those reports are:
Local indigenous Elder Uncle Neil Evers' Welcome to Country, sharing insights of having been born at Collaroy and recalling when there were just 6 shops at Mona Vale, singing of the hills and waters that surround us, set a sacred tone.

The forum was convened by Palm Beach resident and award winning actress Anna Maria Monticelli. Ms Monticelli said, after welcoming everyone:
Why this forum? I was away for about 6 and a half years, and when I got back I thought there was something very wrong, something had happened in the community. I realised there was a lot of anger about the amalgamation, the sudden overdevelopment, and all the cliff faces being devoured, the tree canopies being eradicated, D.A.s getting through that break every rule, the constant mantra of council of 'Have your say' and then ignoring us, wasting our time and nothing changing.

What I realised is that Pittwater has been overpowered and forced into a super-council deliberately structured to eliminate Pittwater representation. We have become political prisoners to the Northern Beaches Council.

I'm hoping that by coming together, and inviting Key Speakers who have a connection to and passion for the area, they can share with us ideas and give some insight and guidelines on how we can respond to this mammoth problem facing us now, because we have reached the point of no return.

Our first speaker is Craig Burton, an Architect and a Landscape Heritage Architect, a long time resident who believes Pittwater could be an Environmental and Cultural National Park.

Craig will talk about his environmental Heritage Study of Pittwater and the Barrenjoey Peninsula done in 1989, of Pittwater and the Barrenjoey Peninsula, commissioned by Warringah Council, but was never implemented. It's because of Craig that I started all this.
Proposals For De-Amalgamation Of Merged Councils Increase: Protect Pittwater Members To Attend August 9 Rally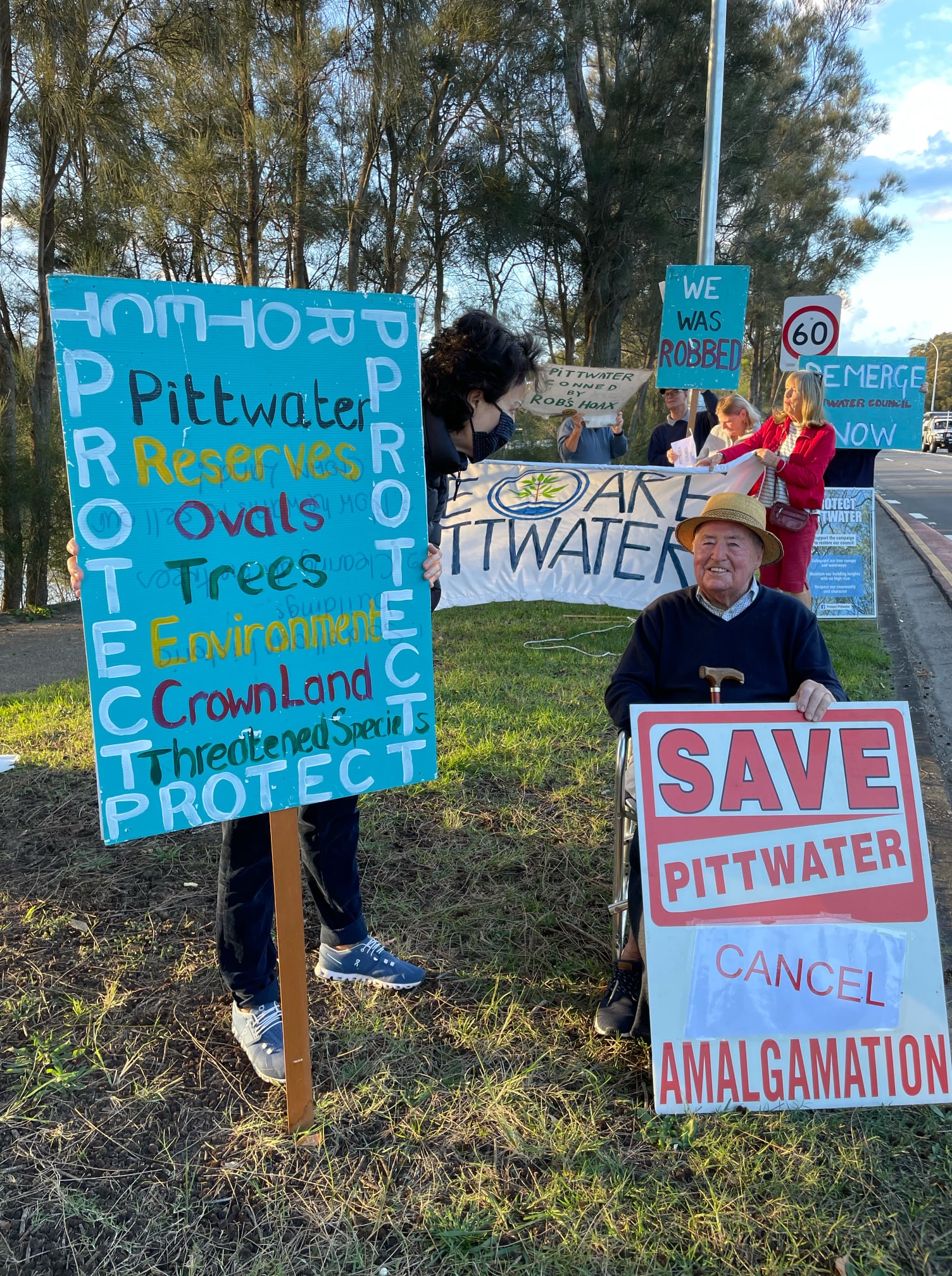 Community members from merged councils across the state will be in Sydney on August 9th to hear state Labor's position on the future of merged councils. In addition to the Labor party there will be speakers from the Greens, Shooters Fishers and Farmers as well independent MP's and councillors.
The rally is being jointly organised by the Demerge NSW Alliance and Residents for De-amalgamation and will be held outside Parliament House in Macquarie Street commencing at 1.00 pm.
Councillors in merged councils are also being invited to attend to hear what is happening in other merged councils. Rate rises and cost of living pressures are expected to feature on the day as well as the outcome of the Cootamundra - Gundagai demerger proposal.
"Our groups are also hearing from frustrated councillors who are being locked out of decisions by voting blocks that have formed in many merged councils" Save Bombala President, Mr Grantley Ingram said.
The business case for the demerger of the Inner West Council is also expected to be discussed as well as the outcome from the Canterbury Bankstown Council demerger report currently being considered by that council.
"We are very pleased to have Shadow Minister for Local Government Greg Warren open the proceedings", Mr Ingram said. "Labor have been solid in their commitment to holding binding plebiscites to let the community decide on the future of their council and I am looking forward to hearing from the shadow minister on this." Mr Ingram concluded.
Pittwater Council Councillor Sue Young, who was sacked by the state government when the three councils of Manly, Warringah and Pittwater were forcibly amalgamated on May 12th 2016, said this week;
''Residents wishing their merged councils de-amalgamate will be heartened by last week's Boundaries Commission report recommending the de-amalgamation of Cootamundra-Gundagai Regional Council. The Minister for Local Government has 28 days to respond.
Also, last week Canterbury-Bankstown Council voted to prepare a business case to de-amalgamate. The Inner West Council is conducting community consultation on its business case after a 62.5% YES vote to demerge in a poll held at the 2021 council election.
Please come and join the Keep Councils Local rally organised by Residents for De-amalgamation and the Demerge NSW Alliance at 1PM on Tuesday August 9 in front of NSW Parliament House. Pittwater banners and t-shirts will be available.
With a state election early next year. Now is the time to act.''
The amalgamation was opposed by 89% of Pittwater residents. Pittwater Council had passed a resolution on April 18, 2016 to take immediate legal action over the forced amalgamation on the grounds of lack of procedural fairness, absence of a full public inquiry, denial of natural justice and failure to release the full contents of the state govts KPMG report recommending council mergers.
However, an extraordinary general meeting was called for April 21, with less than 24 hours notice, and two councillors away. The decision of three days earlier was overturned at this meeting – with only Councillors Sue Young and Bob Grace voting to support the original motion.
This meant the merger of the three local councils could proceed unchallenged and reduced Pittwater representation from a standalone council of nine to three Pittwater councillors on a local government of 15.
The Protect Pittwater Association was formed to reinstate Pittwater Council and has since delivered an official demerger proposal to the NSW government in 2018, and finally heard in 2021 that they needed to get signatures from 10% of residents of the newly created council area, not the former LGA, as they had previously been advised.

Proposals for demergers of the Snowy Valleys Council and Cootamundra-Gundagai Regional Council were submitted to the state government about the same time as Pittwater's. They were also knocked back because of insufficient signatures, but within a much shorter time frame, enabling them to progress more quickly.
Then Local Government Minister Shelley Hancock referred their proposals to the Boundaries Commission.
On July 28th, 2022 Wendy Tuckerman – Minister for Local Government announced the Boundaries Commission reports on the demerger Cootamundra-Gundagai Regional Council had been released.
''I have received and published the Local Government Boundaries Commission reports on the proposed demerger of Cootamundra-Gundagai Regional Council.
In line with my statutory obligations, I will now consider the recommendations from the independent Commission and respond to the demerger proposal in due course.
The Government must provide a written response to the recommendations from the Commission within 28 days of receiving the reports.'' the NSW Minister for Local Government said in an issued statement
On May 13th, 2021 the NSW government wrote a new opportunity for fully funded council demergers, updating local government laws to allow for council-initiated proposals within a fixed time frame.

Save Our Councils Coalition vice president Sue Young said then that under changes passed by both Houses of the NSW Parliament in the Local Government Amendment Bill 2021, councils amalgamated in 2016 would be able to launch demerger bids within 10 years of their establishment.
The cost of any de-amalgamation of the new area resulting from a business case submitted under the new provision would be fully funded by the state government, Ms Young said.
However, she questioned the usefulness of the amendment unless a majority of councillors supported a demerger.
"The amendment may not be a viable pathway for Pittwater residents wanting to de-amalgamate from the Northern Beaches Council," Ms Young said.
"I consider the benefit for Pittwater is that the community proposal should be treated in the same manner as a proposal from an amalgamated council and fully funded by the government, with limits on response and processing times."
Protect Pittwater president Bob Grace welcomed the development but said locals wanting to demerge from Northern Beaches Council should take matters into their own hands.
"We must determine our own destiny and fight to demerge Pittwater," Mr Grace said. "We can't wait around for a majority of Northern Beaches councillors to recognise the failure of the council and initiate a de-amalgamation.
"Anyone who wants Pittwater back should sign our petition, which is currently the only realistic route for a demerger."
May 12th, 2022 marked six years since the state government forcibly amalgamated Wyong and Gosford Councils. The Central Coast Council was placed under administration in October 2020 and residents there will not get to vote for representation until September 14th, 2024.
There are calls for de-amalgamation there as well.
The Central Coast Friends of Democracy (CCFoD) is also calling on the NSW Government to pay the $100M it says is owed to fund the real cost of the merger and conduct a poll about the future of Central Coast Council.
"On May 12, 2016, the NSW Liberal Government merged Gosford and Wyong Councils to become Central Coast Council," CCFoD Coordinator and former Mayor, Jane Smith, said.
"Six years later, staff have been sacked, rates are rising, community assets have been sold, services have been cut and local democracy has been taken from our community."
Ms Smith said by October, 2020, the failures of the NSW Government merger process were clear.
"The 20 amalgamated councils around NSW faced losses of $1.03B in three years and ratepayers faced hikes in rates and cuts in services," she said.
"Eight out of 10 of the worst performing councils in NSW were merged councils.
"In May 2021, IPART determined rate increases for seven merged councils ranging from 8 per cent to 53 per cent.
"The NSW Government must answer questions about its failed council mergers across the state."
Calls For Council To Address Dogs Offleash Everywhere After Two Serious Dog Attacks On Local Beaches In Same Week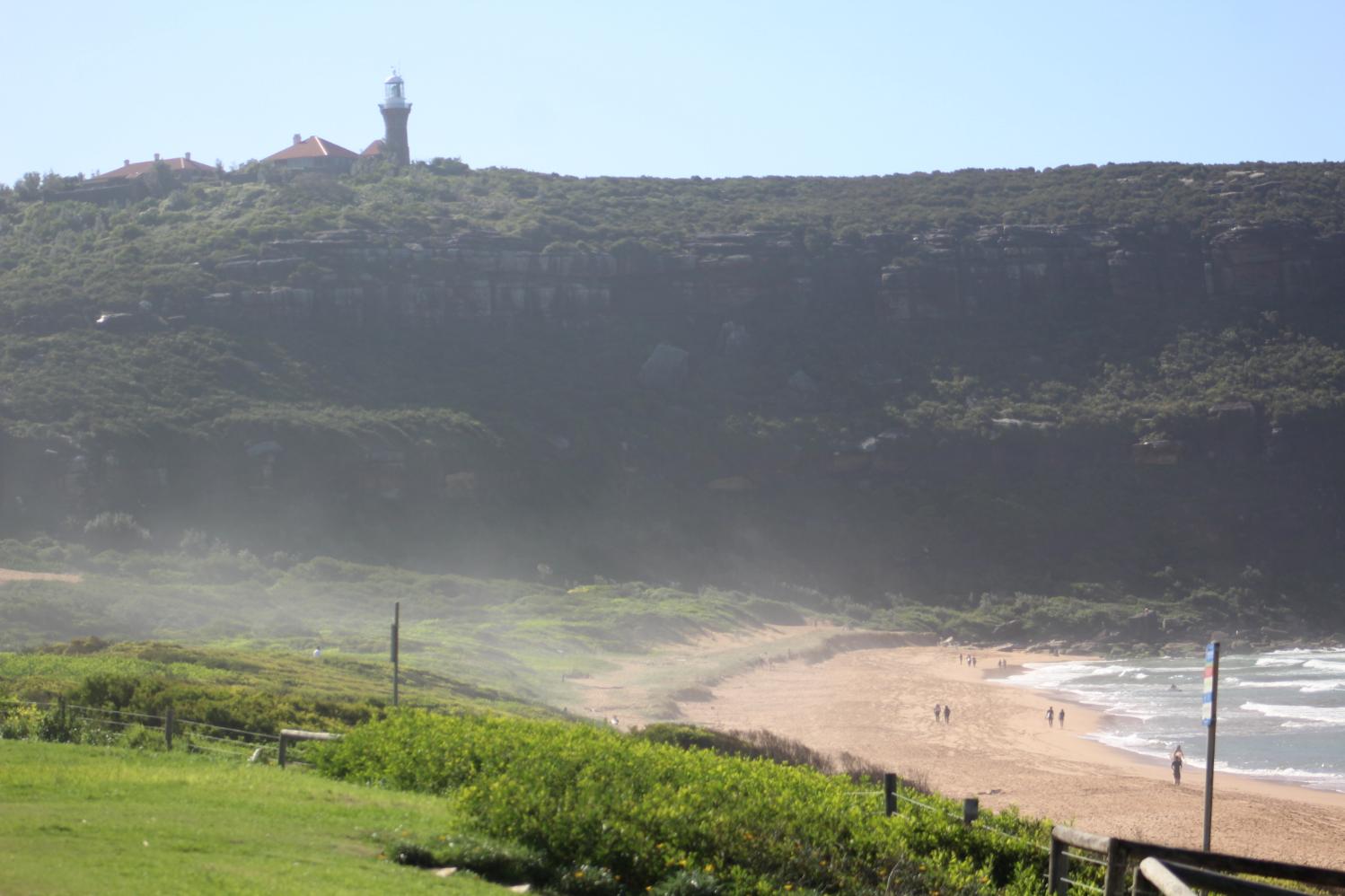 A man was attacked by two Alsatians on Narrabeen Beach, on Sunday July 24th at 10.15am.
This is the second reported attack for which authorities and those attacked are seeking information from the public.
Council Rangers are investigating reports of a dog attack on a young child at Mona Vale Beach (south end) on Sunday 17 July 2022 at around 10am. If you have any information on the matter, please call Council's Rangers on 1300 434 434.
The man attacked the following Sunday was on the beach just north of where Wellington Street entry is.
He had to attend hospital for the whole day of the attack and return the following day for surgery.
The dog owner fled the scene of the incident, still on the beach, heading north, without giving any contact details to the man attacked.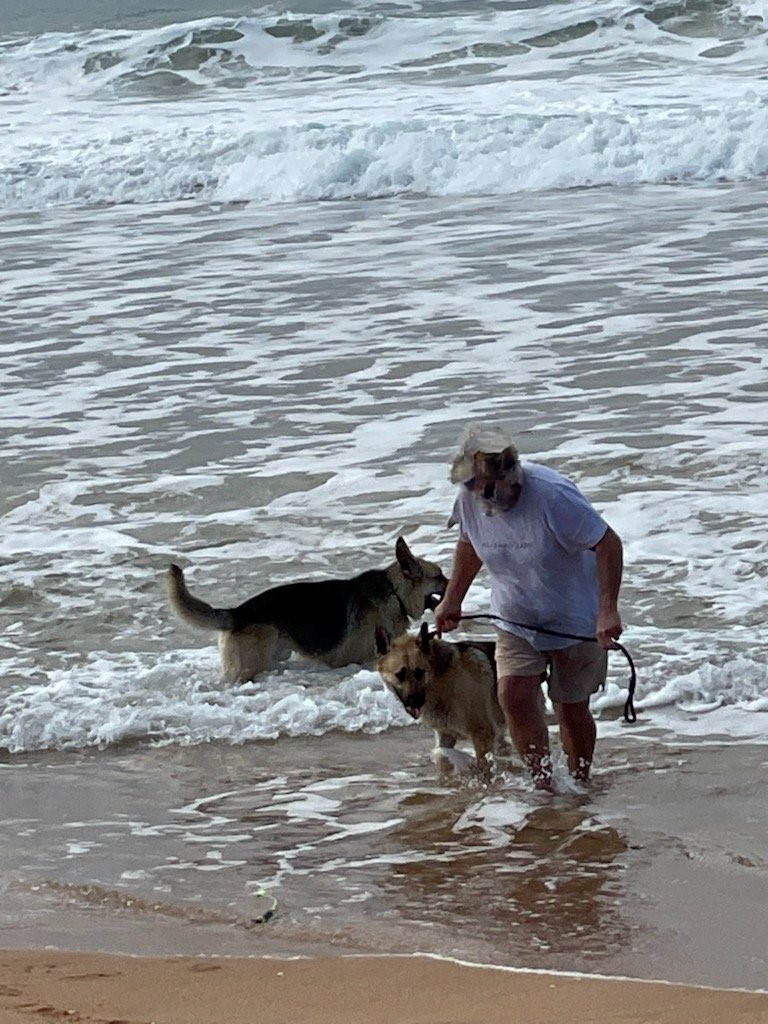 the dogs that attacked man on Narrabeen beach: this photo was taken by a bystander - the man had put one of the dogs back on a lead
Roger Shahani sustained a ragged wound to his arm, which required surgery. The top of his thumb is still numb.
He is a musician, a bass player with a popular local band.
Roger is self-employed during the week, work that was impacted by the attack as it took 3 days to recover from the general anaesthetic required for surgery. He is still on antibiotics.
He has since had nightmares about being attacked by dogs.
Pittwater Online News recently ran a report on a lady who sustained permanent injuries to her hand through a dog attack, among other injuries, and has been awarded funds through court action to meet the needs of what she will require – for the rest of her life – simple things like being able to do the housework. She too now has constant nightmares about being attacked by dogs. Her mental health has been severely impacted.
'I can't carry anything with my right arm,' Roger told Pittwater Online News this week.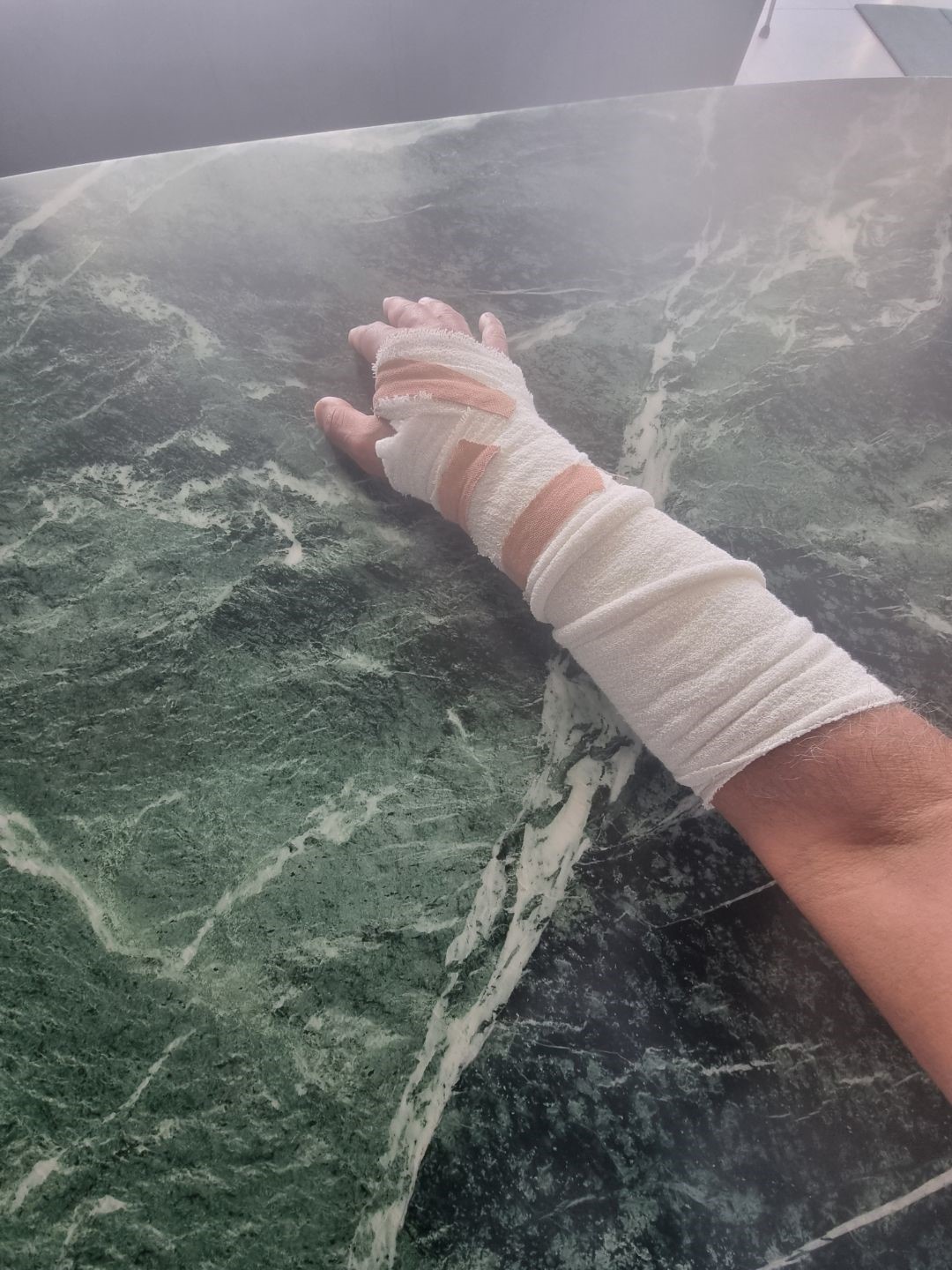 The Starwoods, the band Roger plays with, had a private function booked for the last weekend of July, another commitment Roger was aiming to meet.
He stated it had come to the point where people were no longer safe going onto Narrabeen Beach as there were dogs offleash there all the time.
''People can't run, swim or exercise safely.'' he said
''The next day there were more there. Today there were 5 on the beach offleash and when I approached the girl who had them there she became very aggressive.
She then took off towards the school – can you imagine that? 5 dogs in front of the primary school in charge of this person.''
Roger said he called the council and a Ranger was sent, however, the woman with the 5 dogs offleash had already left.
Roger said that maybe people aren't aware dogs are not to go on the beaches. However, there is clear signage and it is well-known that dogs are not meant to go into these public spaces, on to beaches, for this very reason.
The Dog Nuisance Bill of 1863, and every update to legalisation up to the current Dog Companion Act of 1998, were written to protect people and other animals, including wildlife, from dog attacks and irresponsible owners.
What is contained within the current and previous Act is not a guideline, it is law.
These laws were enacted specifically to deal with the problem of attacking dogs and owners who disregard the safety of others and the peace and safety inherent in the establishment of public spaces.
Roger is not the only one who is wary of going to the beach now.
Locals state it is no longer safe to go to any beaches, parks or even just walk along the street due to the amount of dogs offleash everywhere, all the time, with attacks occurring so frequently the council would need an army of Rangers to address the problem.
Residents, including dog owners, are warning each other to be vigilant when out and about of attacks. Dogs roaming, often without an owner in sight, has become a multiple everyday occurrence. There is nowhere you can go at present and not see dogs offleash.
Narrabeen Park Parade Oyster Shell Middens Art Works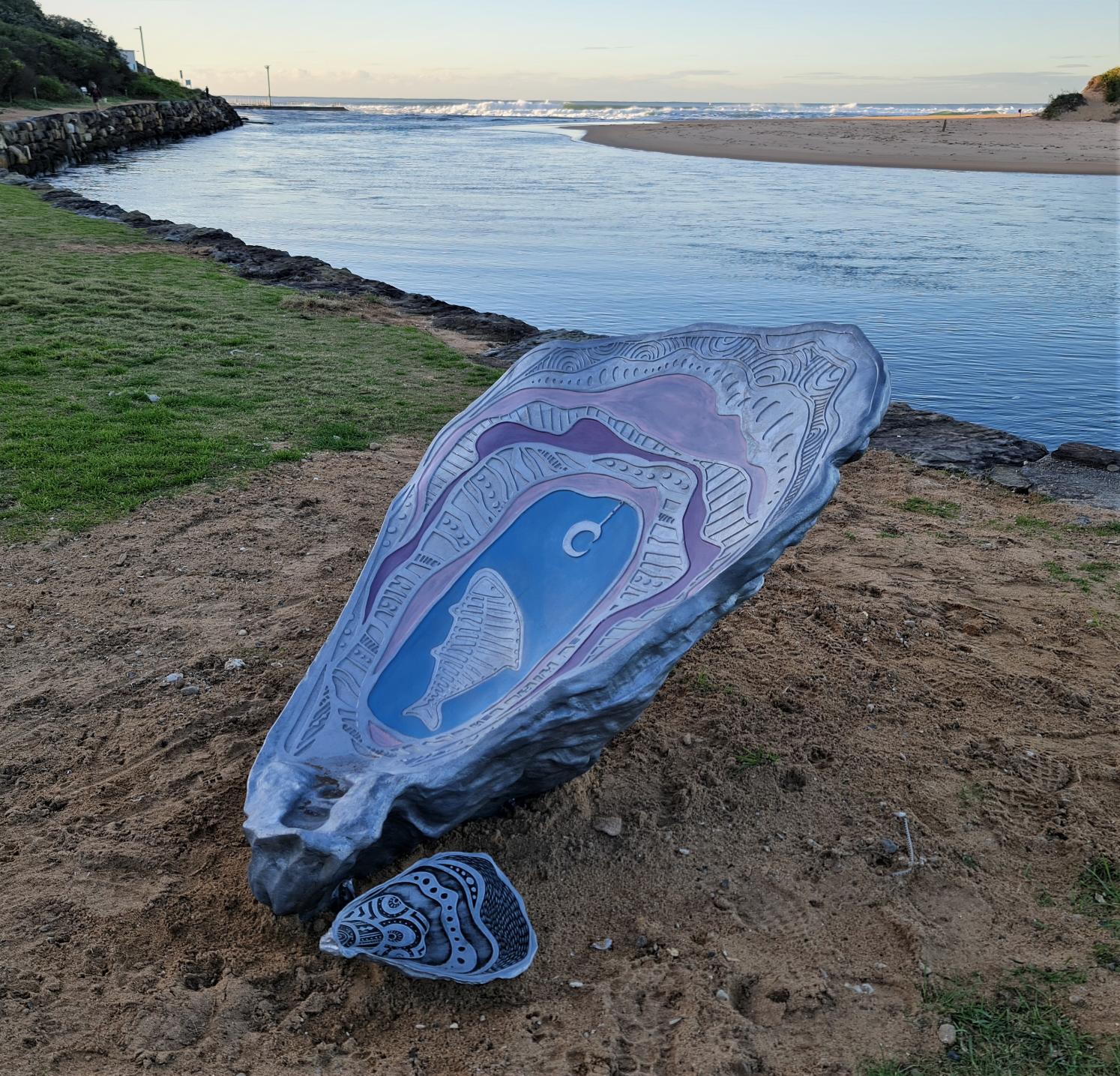 Council has commissioned Frances Belle Parker and Urban Art Projects to create public art for our Aboriginal Art & Storytelling Project, the first major project for the Coast Walk Public Art Program. The project aims to acknowledge, respect and share the stories of the Northern Beaches Aboriginal people through a series of contemporary public artworks along the 36km Coast Walk, from Manly to Palm Beach.
This project will see new works in three locations along the Coast Walk; Narrabeen Lagoon, Avalon (south) and Long Reef Headland.
The first of these have been installed around the Narrabeen Lagoon last week.
Frances Belle Parker: Oyster Shells - Middens, 2022
Artist Statement
''Middens along the coast are places where Aboriginal people gathered to eat and would leave the remains of shellfish. They are synonymous with Aboriginal people, considered culturally significant proof of the people's use of the land as a meeting place.
There are a number of identified middens in the Northern Beaches area, protected and revered. My oyster shell concept pays tribute to these midden sites as I, like my ancestors, hold family and community gatherings in such high regard. Many are still centred around feasts – a time where we can gather to yarn, to share, heal, reminisce, or celebrate. These gatherings focus on connection, being one, being together.
My aim is to create a space amongst the vastness of the Coast Walk that brings people together, unites them, encourages communication and enhance a sense of community. A place where people can stop and catch their breath.
My concept involves a number of cast aluminium oyster shells. The shells are arranged in a cluster to capture that moment in time of a feast, a gathering. The location at Narrabeen Lagoon was identified during engagement with local Aboriginal communities.
Some oysters will have graphics containing symbolic imagery representing bloodlines, coastal formations, the landscape, and other sea creatures. Some of these images incorporate the work of Jessica Birk, a passionate local Aboriginal artist and conservationist who has now passed on. Around the outside and inside edges of the oysters, patterns made to create the anatomy of the shellfish become symbols of the layers within a midden.
Visitors to this site will be able to touch and enjoy the designs in the interior – a reminder there is always more to explore beneath the surface of people, country, and cultural sites.
The story of the middens is about digging further than what you see on the Earth's surface and understanding that underlying history – not just of the artwork, but of the land you are on".
Artist bio
Frances Belle Parker has been a practising artist for the last 20 years, coming to prominence after winning the Casula Powerhouse Arts Centre Blake Prize in 2000; she is the youngest ever winner and the first Aboriginal recipient in the prize's history. She has exhibited nationally and internationally, undertaken art residencies in China and Andorra and worked on several public art projects, including her recent digital work Angwirri on the sails of the Sydney Opera House, on 26 January 2021.
She is working with public art and architectural design group UAP Australia, and independent curator Tess Allas, to realise this project.
Frances has engaged with the local Aboriginal community to identify significant and relevant sites for storytelling through the artwork. The artist has significant family connections on the Northern Beaches. The works will enrich Aboriginal and non-Aboriginal people's experience of the region without compromising environmentally fragile and culturally sensitive sites. Once all the works are in place they will help connect people to the landscape, each other, and to past, present, and future.
Text: Artist and Council.
Photos: Joe Mills, Pittwater Online Parks and Reserves Photographer.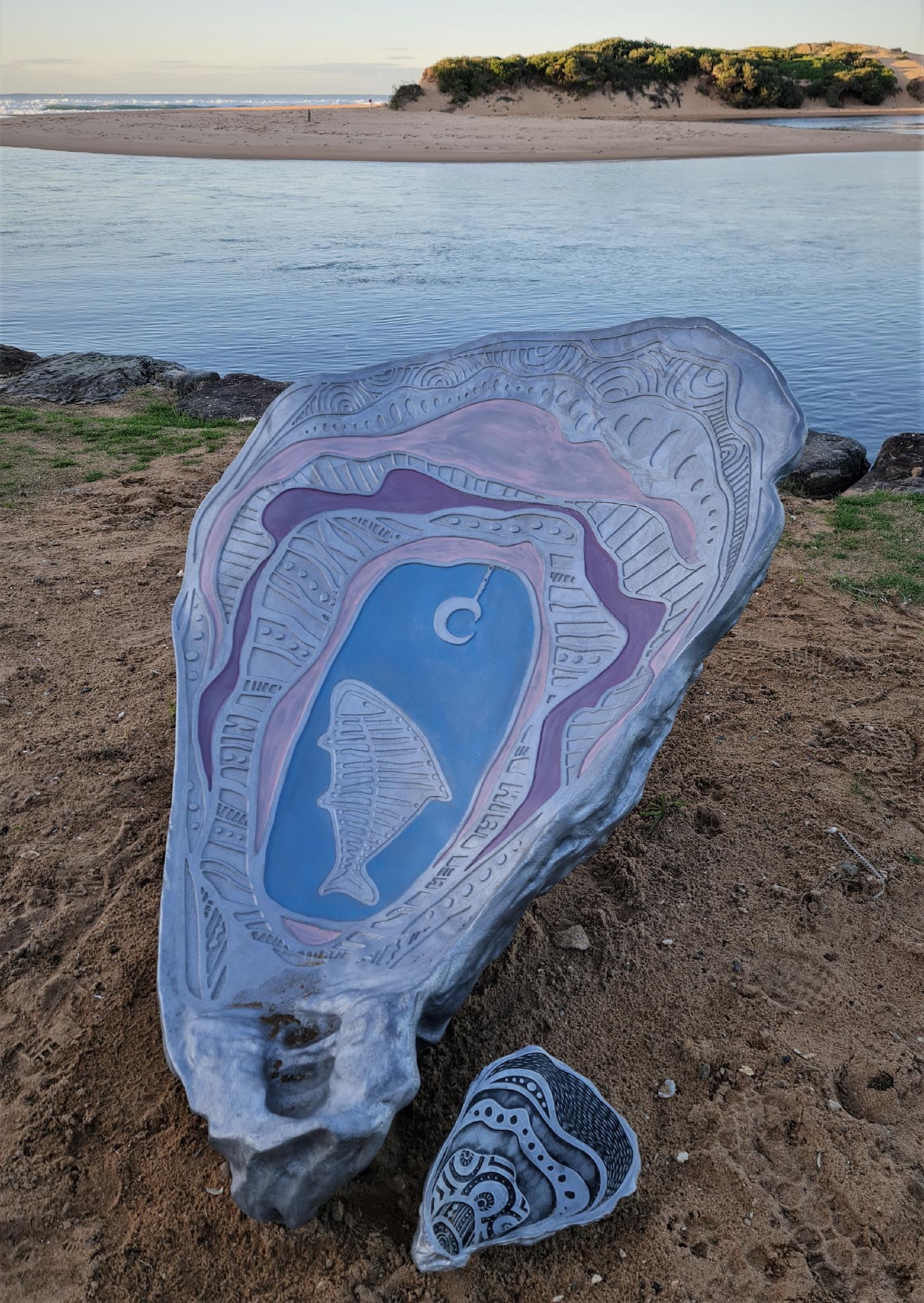 Council's Environmental Art & Design Prize Exhibition: Across 3 Venues This August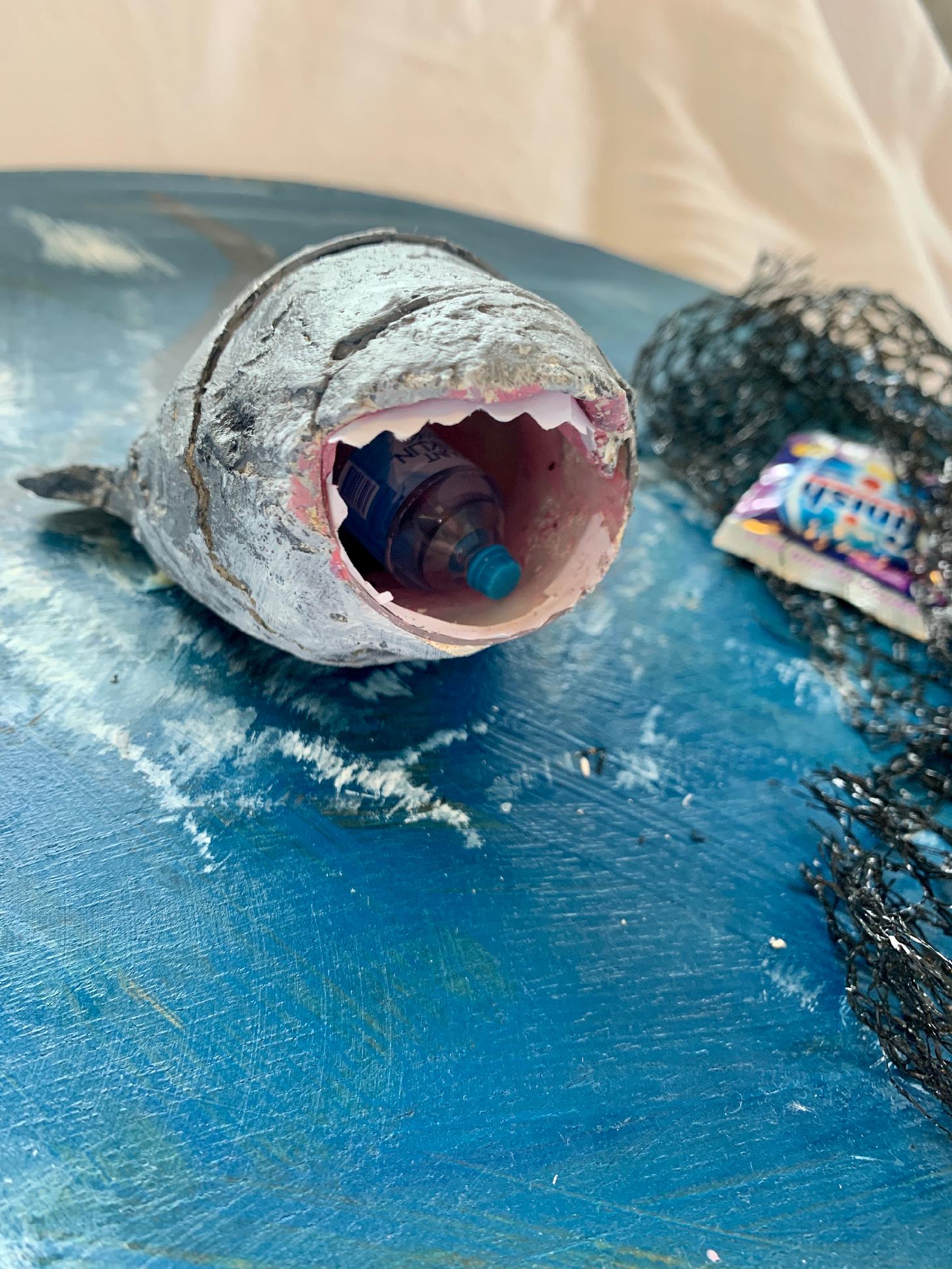 Harvey Little, 'Keep our oceans clean' ; 7-12 Years Finalists
Over 640 National Entrants with 212 Finalists

Exhibitions from Friday 5 August to Sunday 28 August at:

Manly Art Gallery & Museum, Curl Curl Creative Space & Mona Vale Creative Pop Up
212 finalists from across Australia were announced by Northern Beaches Council Mayor Michael Regan for the prestigious annual Northern Beaches Environmental Art & Design Prize Exhibition which has a prize pool of over $40,000.
This year's exhibition brief was for artists and designers to reflect on our environment and respond to the crucial issues facing us and our climate. They were invited to create work that brings meaning and relevance to communities from across Australia.
Over 640 artists and designers from across Australia submitted their work across nine categories for competition in this non-acquisitive prize.
This year, works across categories encompassing a range of contemporary practices, from fashion and design to ceramics and small sculpture, painting and mixed media, photography, digital media, film and video, functional and wearable design and more will be on display.
All the finalists will have their works exhibited across three Northern Beaches venues from Friday 5 August to Sunday 28 August.
The Curatorial Team said "The 2022 Environmental Art & Design Prize finalists build on last year's strong inaugural exhibition with fresh perspectives on our global climate crisis and issues of living sustainability.
"This year's themes of fire and flood, decay and regeneration, and our planet's beauty are explored across all nine prize categories.
"The 212 exhibition works invite audiences to challenge perceptions of what is possible and participate in creating a better world."
Mayor Michael Regan said he is thrilled to announce that this year our local Northern Beaches creatives are joined by finalists from all Australian states and territories for another inspiring exhibition.
"For its second year, the Environmental Art & Design Prize Exhibition brings together a dynamic community of artists, designers and audiences from across Australia who care deeply about our future on the planet.
"The breadth of entries from all over the country clearly shows that our Environmental Art & Design Prize Exhibition is making an important contribution to the national conversation about how we can work collectively towards a better future for ourselves and our children."
Of the 212 finalists there are 54 Young Artists and Designers across the age categories: 7–12 years and 13–18 years.
The esteemed external judging panel of leading creative practitioners and thinkers will assess the finalist works and award category prize winners. This year the panel includes: Dr Michael Mossman, a Kuku Yalanji man and Lecturer, University of Sydney School of Architecture Design & Planning; Australian Artist, Janet Laurence; and Kit Willow a leading Australian luxury fashion designer.
Dr Mossman said: "Connecting with country is a really foundational quality of how I practice architecture and what I teach. That connection of people, their different expertise and skills is where we can bring critical mass to issues of environment."
Janet Laurence said: "Art is a wonderful way to bring the public's attention to climate change issues. Using data and information from scientists, artists can create compelling, new ways of sharing information and stories, which is absolutely necessary for people to really care and to be driven to act."
Kit Willow said: "I strongly believe in a better world, through the simple mantra of making women look and feel beautiful, without harming our planet, so everyone can win."
Prize winners will be announced on Friday 5 August at 6pm at the Manly Art Gallery & Museum by Dr Michael Mossman.
The People's Choice Awards will be announced on 27 August. The exhibition entry is free.
Congratulations Locana Cullen - New Under 12 State Champion!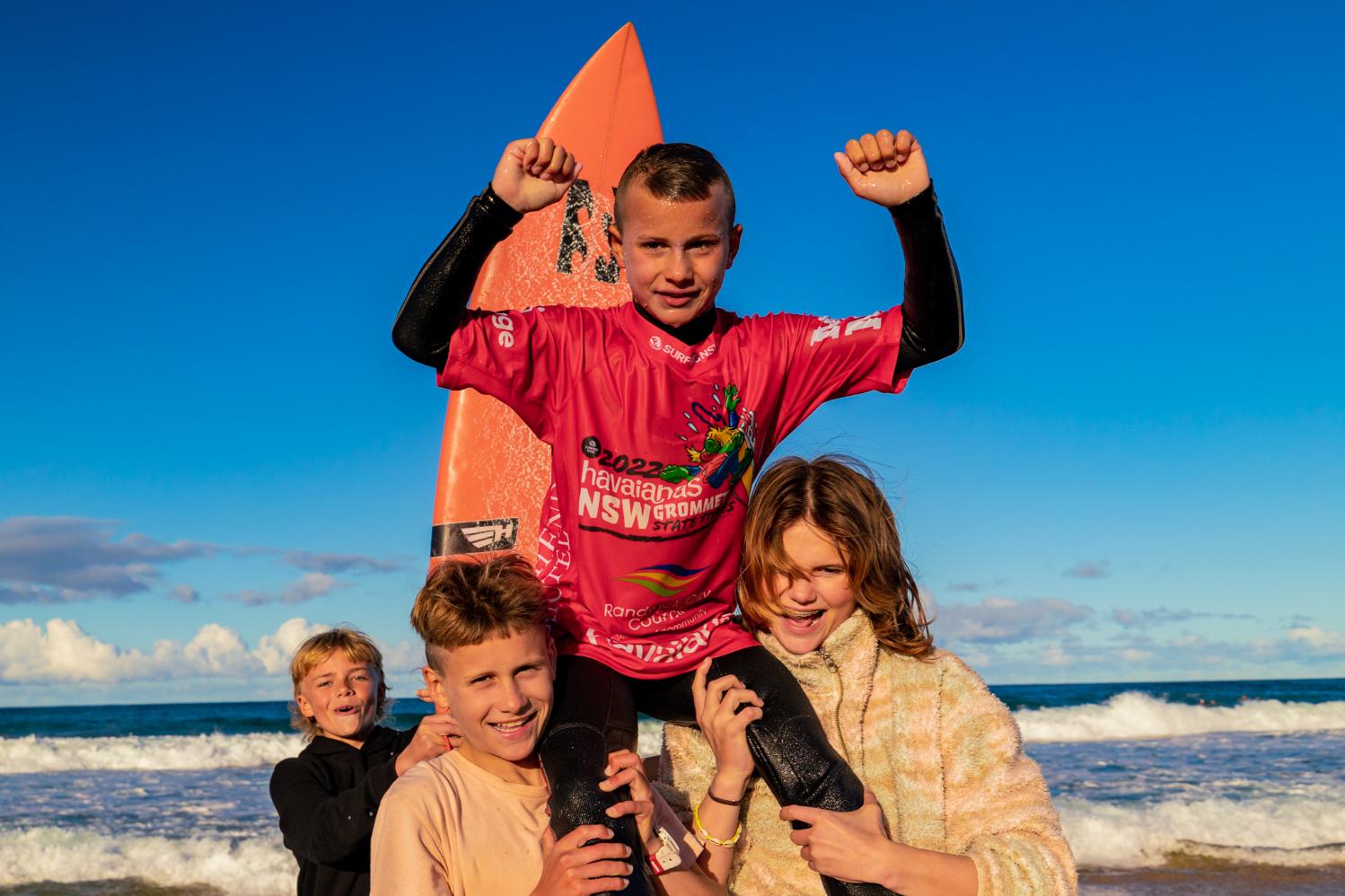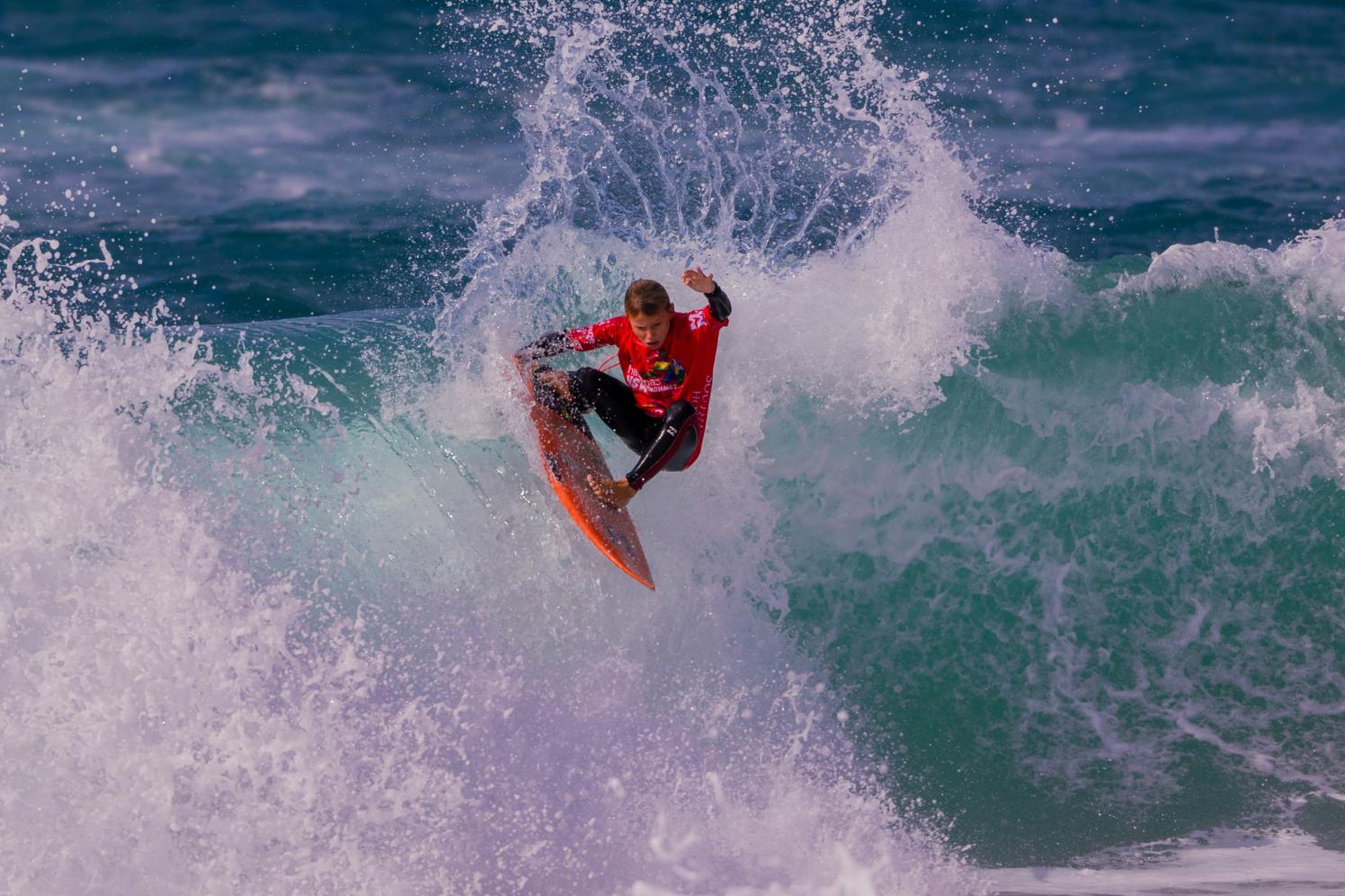 Top: Locana Cullen being chaired by friends after his win. Above: In action at the 2022 Havaianas NSW Grommet Titles. Photos: Mayan Images
Avalon Beach surfer Locana Cullen won the the 2022 Havaianas NSW Grommet Titles Under 12 Division on Sunday July 24th.
Both Locana Cullen (Avalon Beach) and Talia Tebb (Avoca Beach) were consistently exceptional from day one. The pair excited the judges with their wave choice and ability to perform excellent manoeuvres heat after heat.
The Under 12 Boys Champion Locana Cullen was inspirational from the get-go. The Regional Titles winner has also had a stellar year and to wrap it up with a State Title win is fitting for the 11-year-old surf sensation.
Cullen's heats were performed with maturity and precision from wave selection to performing perfect critical manoeuvres on almost every wave he took off on. Cullen took out the highest wave of the day each day with the judges awarding him near-perfect 9 point waves.
Despite his dominance, Maroubra's Jaggar Phillips didn't let him have the final easily. Cullen started the final strong with an opening 7.33 that had the beach cheering. Phillips answered with a wave of equal score. With the pressure now on, Cullen took no time to come back with a 6.33 to which Phillips couldn't match but it was a nail-biting 20 minutes but an exciting final to watch.
Cullen has won the both Billabong Oz Grom Cup and Occy Grom Comp and came into the NSW Titles with the number one ranking. This is his first State Title.
"I'm so happy to win my first State Title here at Maroubra, it's the Aboriginal word meaning 'like thunder', I love that," said Cullen after his win. "It's been a big couple of days and we've all had to work really hard to make heats but to have these cleaner condition today has been epic."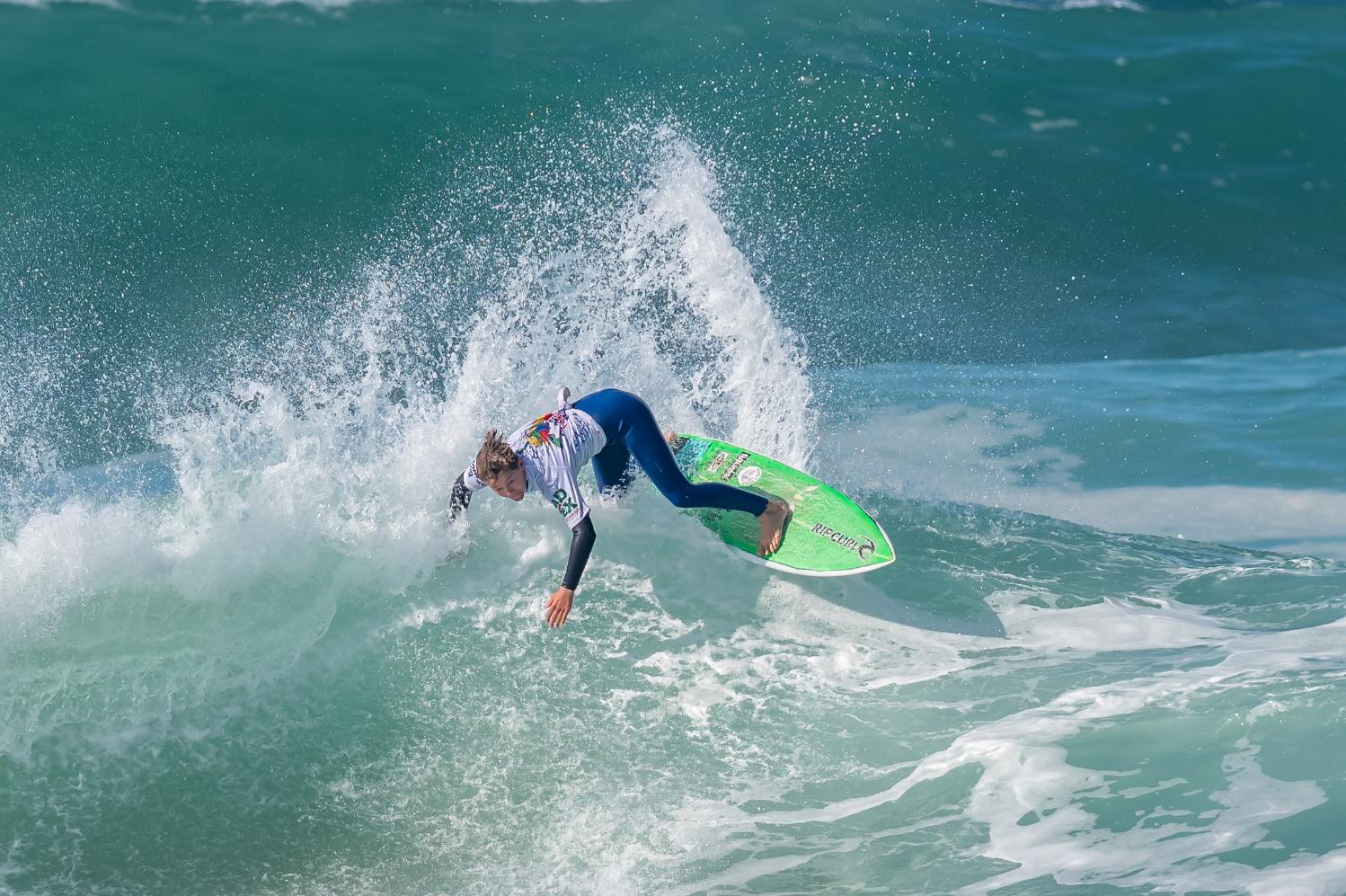 Dee Why's Ben Zanetta in action on Monday July 25. Photo:.JGRimages
Marine Rescue Crews Prepare To Save Lives: SAREX 2022 On Pittwater - Broken Bay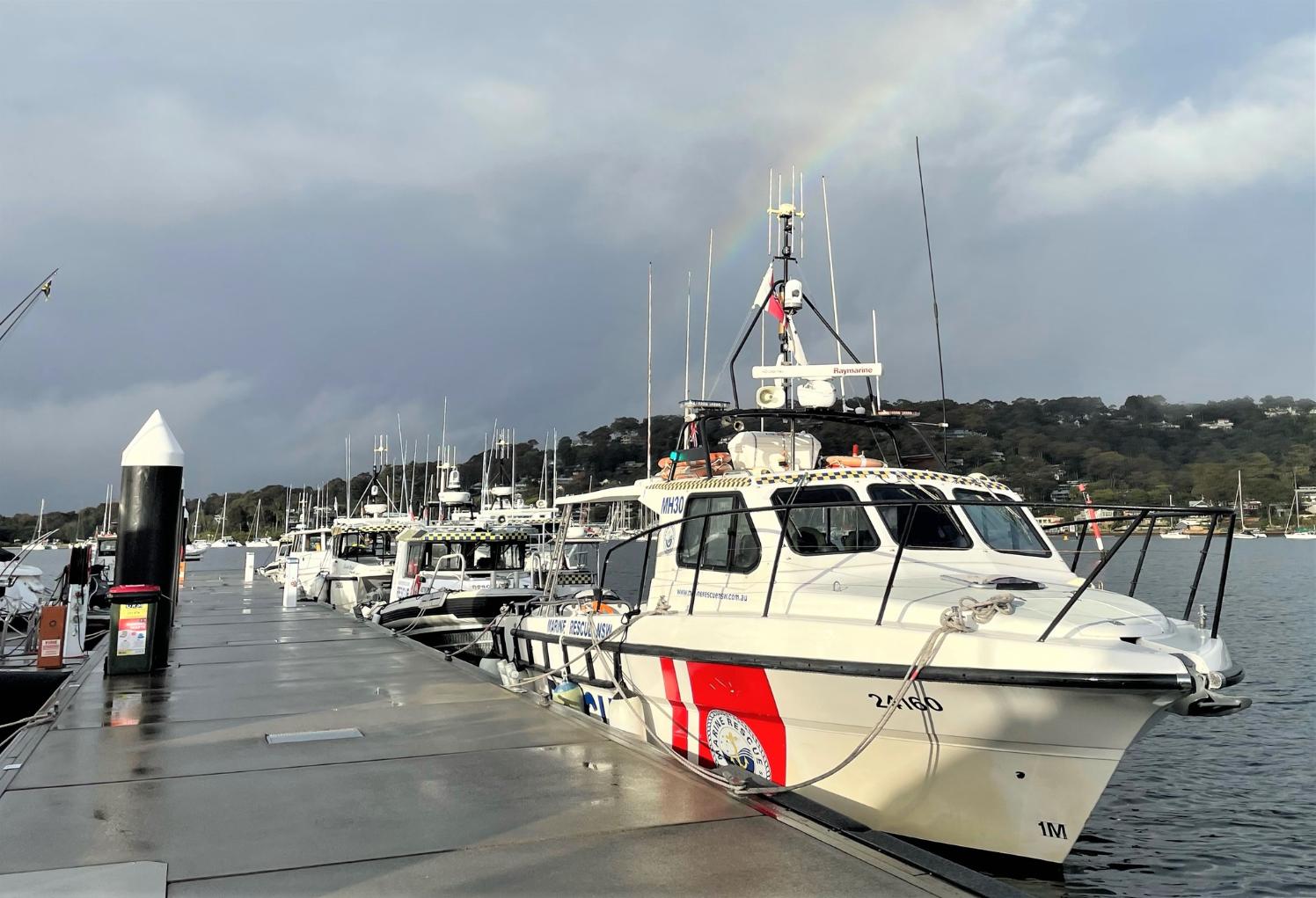 Marine Rescue NSW specialists have put their skills to the test in a major maritime capability operation, including 10 rescue vessels took to the waters of Pittwater around Broken Bay over the weekend of July 23-24 to search for "victims" missing at sea as part of a major marine capability exercise.
The exercise was designed to hone vital marine search and rescue skills and cooperation between agencies to ensure during emergencies everyone is able to respond as quickly and safely as possible.
The search exercise was based on a scenario involving a search for multiple victims after a recreational fishing boat was reported missing off the coast at Broken Bay, with volunteers from all eight Marine Rescue units also undertaking incident management exercises onshore as well as presentations by the attending emergency services.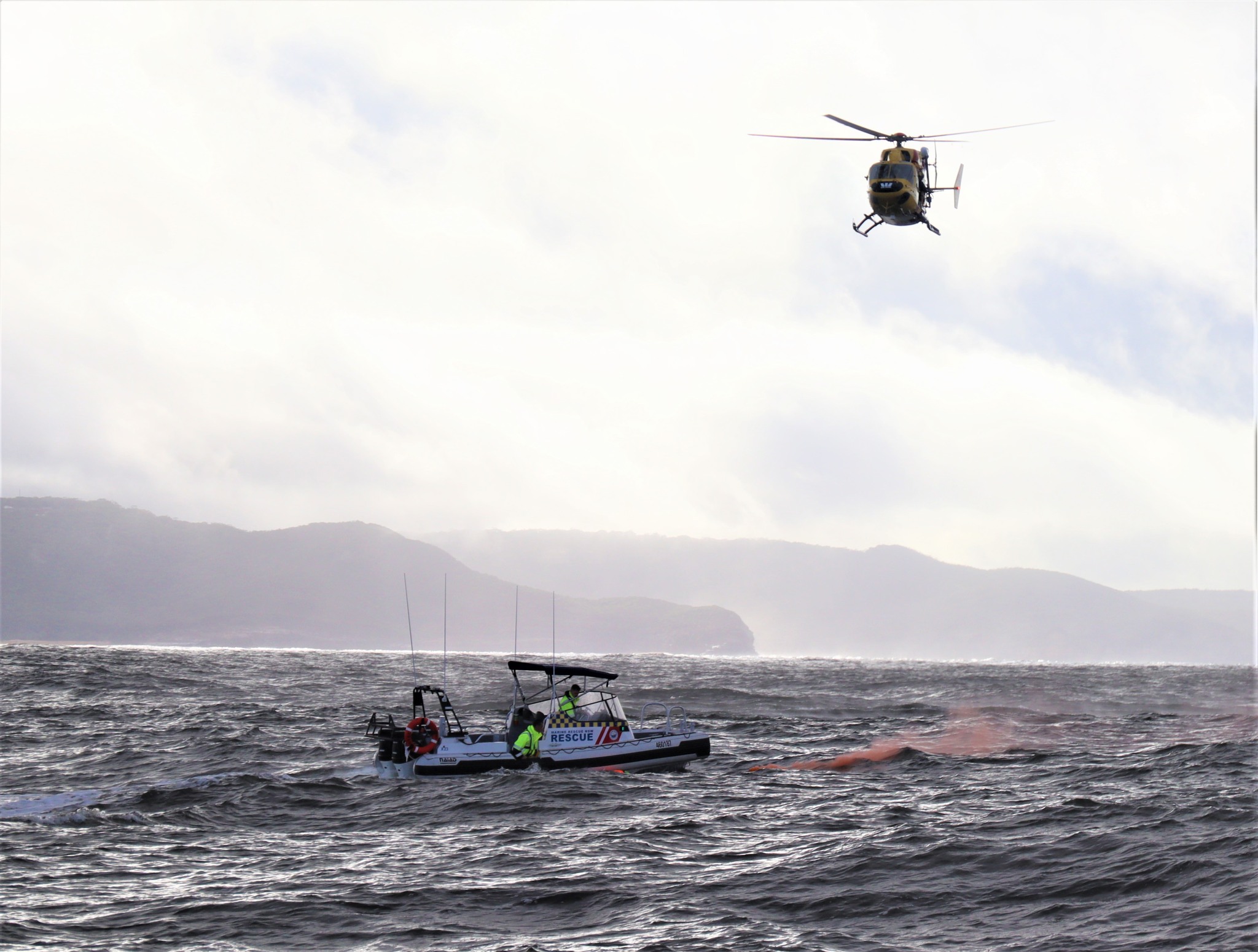 Minister for Emergency Services and Resilience Steph Cooke said the two-day Search and Rescue Exercise (SAREX) tests the training and coordination of multiple emergency services organisations.
"More than 115 search and rescue specialists, including 70 Marine Rescue NSW volunteers from eight units across Greater Sydney and the Central Coast, took part in this important operation," Ms Cooke said.
"Training opportunities like this are vital to help our crews stay sharp and ready to save lives when more people take to the water in the warmer months."
Member for Pittwater Rob Stokes said despite the wet weather, Marine Rescue NSW volunteers have responded to 3,896 calls for urgent help this year.
"Tragically over the past year 14 boaters and paddlers have lost their lives, and I urge everyone heading out on the water to do their bit by always wearing a lifejacket and Logging On with their local Marine Rescue base," Mr Stokes said.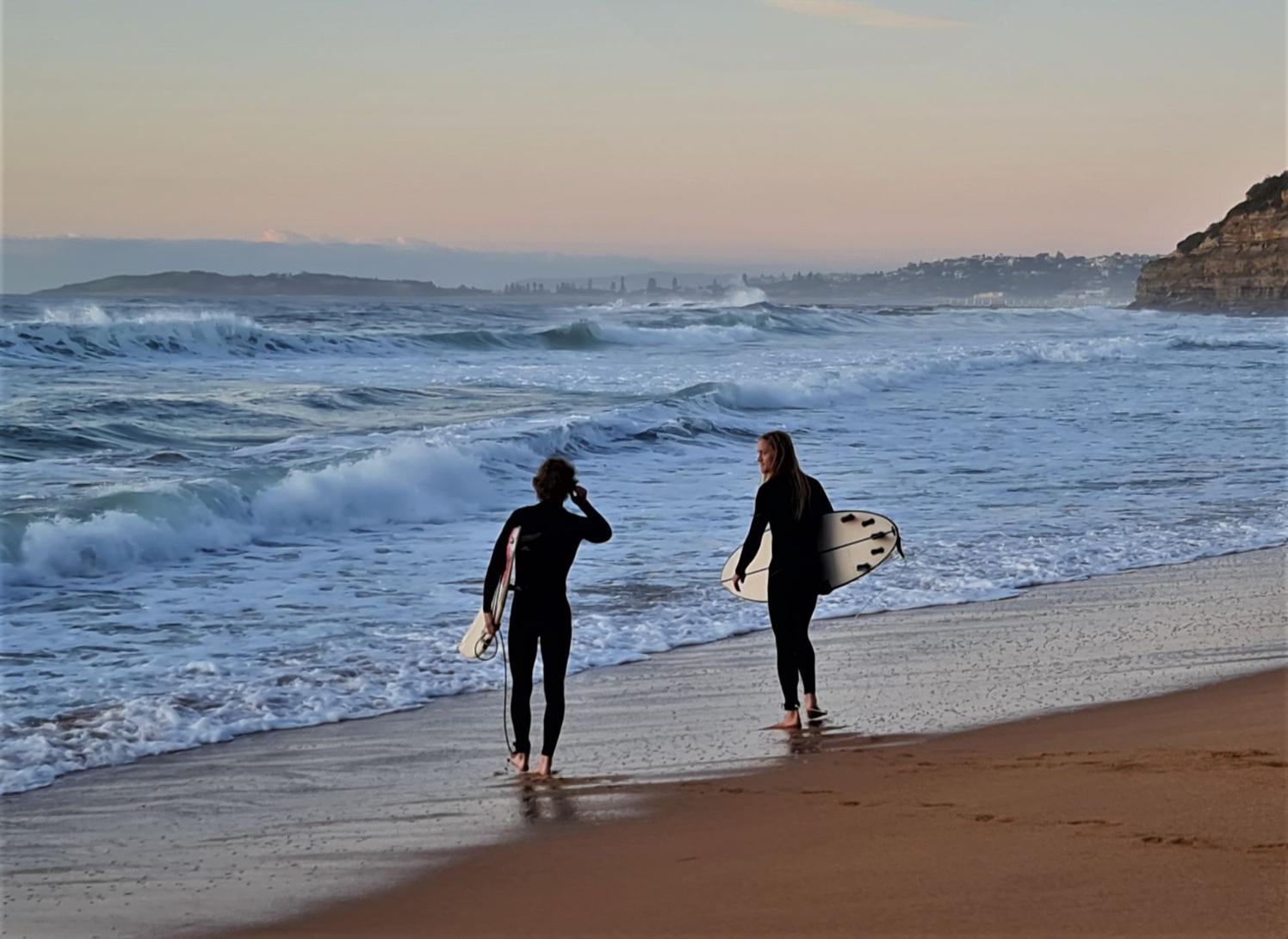 Turimetta Beach - First Ones Out. Photo: Joe Mills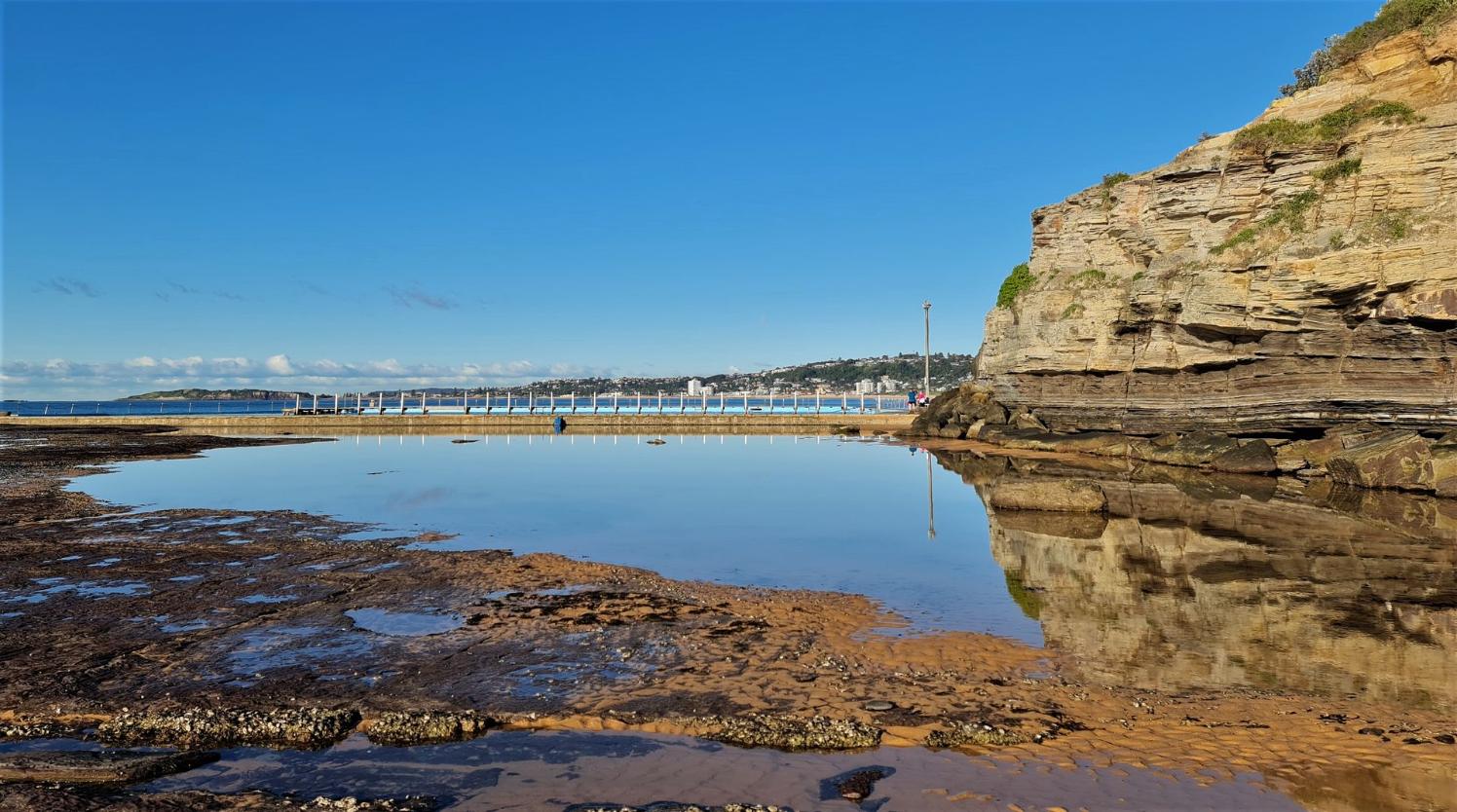 North Narrabeen Winter Blues. Photo: Joe Mills
Past Features Archives (pre 2014)
Pittwater Online News was selected for preservation by the State Library of New South Wales and National Library of Australia. This title is scheduled to be re-archived regularly.
Archived Issues (2014 on) may be accessed here: pandora.nla.gov.au/tep/143700