July 31 - August 6, 2022: Issue 548
Council's Environmental Art & Design Prize Exhibition: across 3 venues this august - winners announced august 5th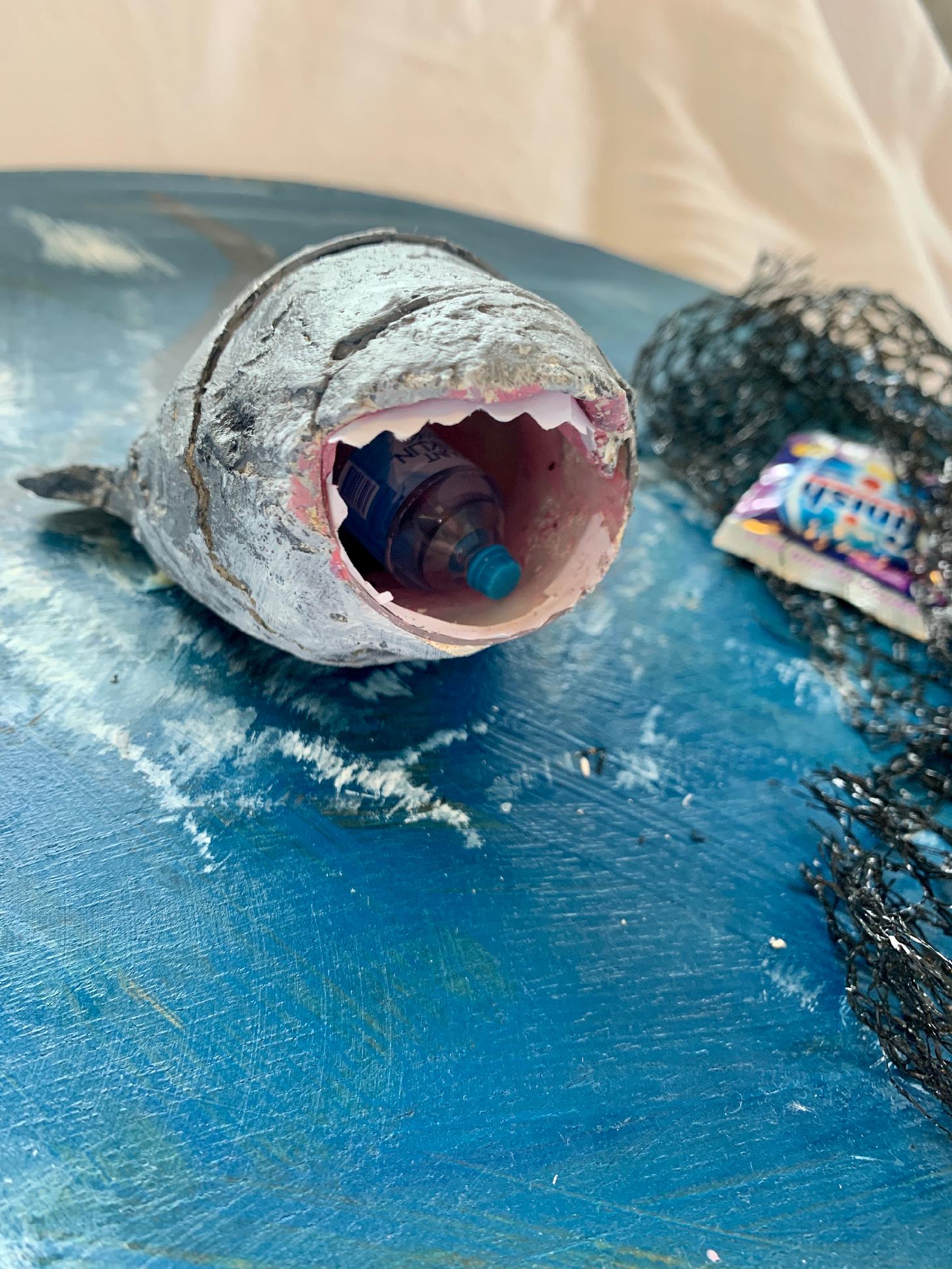 Harvey Little, 'Keep our oceans clean' ; 7-12 Years Finalists
Over 640 National Entrants with 212 Finalists

Exhibitions from Friday 5 August to Sunday 28 August at:

Manly Art Gallery & Museum, Curl Curl Creative Space & Mona Vale Creative Pop Up
212 finalists from across Australia were announced by Northern Beaches Council Mayor Michael Regan for the prestigious annual Northern Beaches Environmental Art & Design Prize Exhibition which has a prize pool of over $40,000.
This year's exhibition brief was for artists and designers to reflect on our environment and respond to the crucial issues facing us and our climate. They were invited to create work that brings meaning and relevance to communities from across Australia.
Over 640 artists and designers from across Australia submitted their work across nine categories for competition in this non-acquisitive prize.
This year, works across categories encompassing a range of contemporary practices, from fashion and design to ceramics and small sculpture, painting and mixed media, photography, digital media, film and video, functional and wearable design and more will be on display.
All the finalists will have their works exhibited across three Northern Beaches venues from Friday 5 August to Sunday 28 August.
The Curatorial Team said "The 2022 Environmental Art & Design Prize finalists build on last year's strong inaugural exhibition with fresh perspectives on our global climate crisis and issues of living sustainability.
"This year's themes of fire and flood, decay and regeneration, and our planet's beauty are explored across all nine prize categories.
"The 212 exhibition works invite audiences to challenge perceptions of what is possible and participate in creating a better world."
Mayor Michael Regan said he is thrilled to announce that this year our local Northern Beaches creatives are joined by finalists from all Australian states and territories for another inspiring exhibition.
"For its second year, the Environmental Art & Design Prize Exhibition brings together a dynamic community of artists, designers and audiences from across Australia who care deeply about our future on the planet.
"The breadth of entries from all over the country clearly shows that our Environmental Art & Design Prize Exhibition is making an important contribution to the national conversation about how we can work collectively towards a better future for ourselves and our children."
Of the 212 finalists there are 54 Young Artists and Designers across the age categories: 7–12 years and 13–18 years.
The esteemed external judging panel of leading creative practitioners and thinkers will assess the finalist works and award category prize winners. This year the panel includes: Dr Michael Mossman, a Kuku Yalanji man and Lecturer, University of Sydney School of Architecture Design & Planning; Australian Artist, Janet Laurence; and Kit Willow a leading Australian luxury fashion designer.
Dr Mossman said: "Connecting with country is a really foundational quality of how I practice architecture and what I teach. That connection of people, their different expertise and skills is where we can bring critical mass to issues of environment."
Janet Laurence said: "Art is a wonderful way to bring the public's attention to climate change issues. Using data and information from scientists, artists can create compelling, new ways of sharing information and stories, which is absolutely necessary for people to really care and to be driven to act."
Kit Willow said: "I strongly believe in a better world, through the simple mantra of making women look and feel beautiful, without harming our planet, so everyone can win."
Prize winners will be announced on Friday 5 August at 6pm at the Manly Art Gallery & Museum by Dr Michael Mossman.
The People's Choice Awards will be announced on 27 August. The exhibition entry is free.
Venue Information: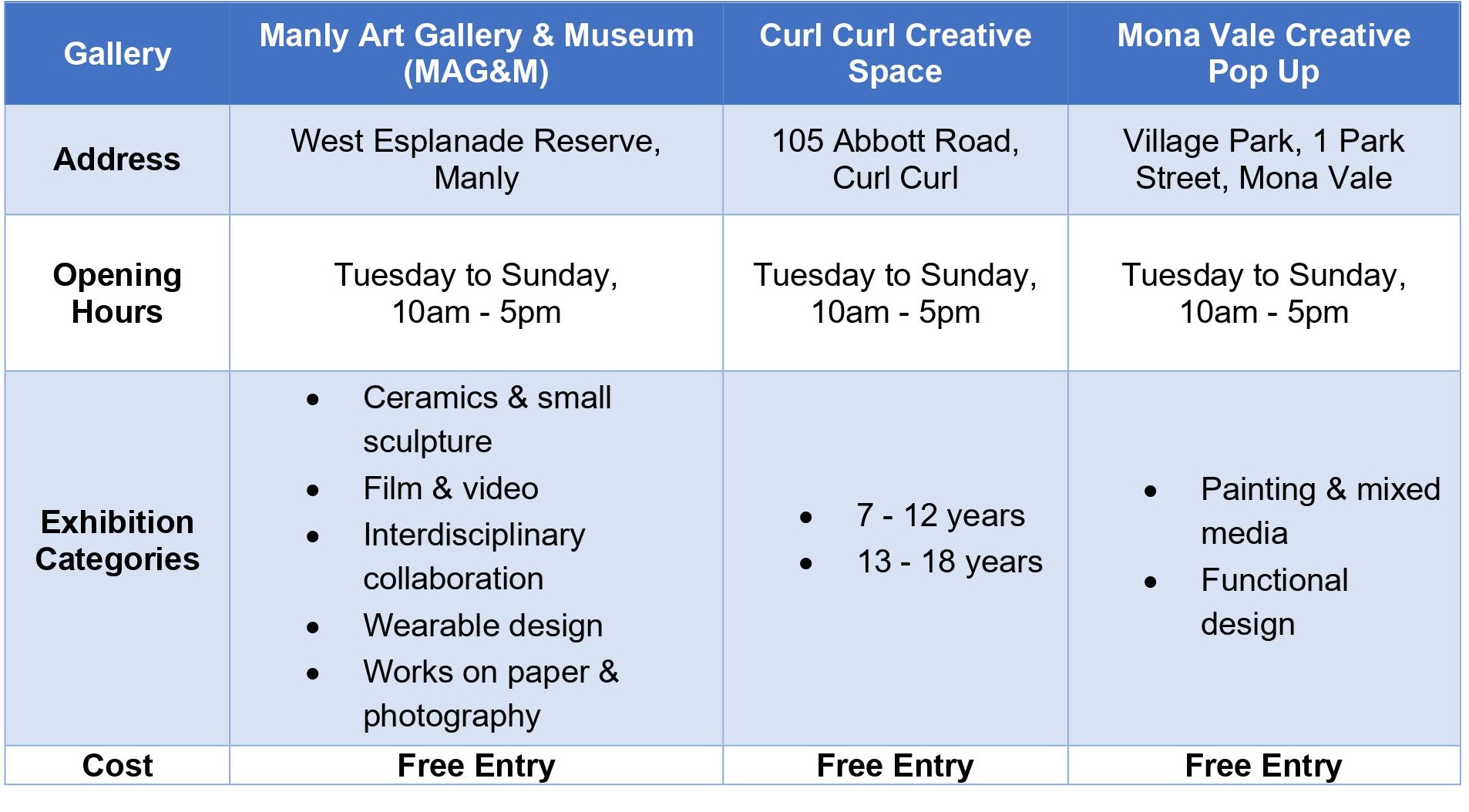 For additional information please visit Council's website.
Creative Open program highlights
Launch event: Happy Hour @ MAG&M
Fri 12 Aug, 5-8pm
Experience art, sounds, and words while you soak up the 2022 Environmental Art & Design Prize. Hear from fashion industry leaders as they discuss their practices, sustainability, and the slow fashion movement.
Venue: Manly Art Gallery & Museum
Cost: FREE, bookings not required
Open Studios
Sat 13, Sun 14 and Sat 20, Sun 21 Aug, 10am – 3pm
Go behind the scenes and discover the diverse range of artists and makers that call the Northern Beaches home; from designers, candle makers, painters, printmakers and sculptors to digital artists, jewellery makers, ceramicists, furniture makers, woodturners and more.
Venue: across the Northern Beaches
Cost: FREE, bookings not required
Meet the Artists/Designers
Sat 13 Aug 2 – 3pm at Manly Art Gallery & Museum
Sat 20 Aug, 2 – 3pm at Mona Vale Pop Up Gallery
Hear from exhibiting artists and designers about their works, inspirations and creative processes in this fast-paced program moving around the 2022 Environmental Art & Design Prize exhibition spaces.
Cost: FREE, bookings not required
Makers Takeover
Sat 13 Aug, 10am – 3pm
Local makers and designers take over the library with all things handmade including weaving, jewellery, ceramics, textiles, small artworks and homewares. Discover something unique and shop local at the Makers Takeover.
Venue: Manly Library
Cost: FREE, bookings not required
Weaving on the lawn with Ngumpie Weaving
Sat 14 Aug, 10am – 12pm TBC
Drop by and learn traditional weaving techniques with Tegan Murdock from Ngumpie Weaving.
Venue: Grass lawn in front of Manly Art Gallery & Museum
Cost: FREE, bookings not required
Element Ensemble soundscapes
Sat 13 Aug, 7-8pm
Immerse yourself in soundscapes and visual projections inspired by the local environment created by Element Ensemble, a three-piece improvisational music group.
Venue: Curl Curl Creative Space
Cost: Ticketed, bookings required
Slow making demonstrations
Sat 13 & Sun 14 Aug, various times
Kelli Stanbury (9R) and Ursula Kirby (Live Simply Ceramics) share the traditional processes of their slow craft practices, including hand stitching with leather, hand building and pottery wheel throwing.
Venue: Curl Curl Creative Space
Cost: FREE, bookings not required
Shuffle Studio installations
Sat 13 Aug, 4pm - midnight
Awaken your senses with this immersive audio-visual installation featuring motion sensors and real-time graphics designed and installed by Tony Funiciello (Aureal).
Venue: Shuffle Studio Brookvale
Cost: Ticketed TBC, Bookings required
Monoprint workshops
Sat 13 Aug, 11am – 2pm & Sun 14 Aug, 1 – 3.30pm
Join artist Frankie Morgan at the Art Bau table for a class in mono-printing, learn techniques and tricks of the trade to create your own original one-off prints.
Venue: Art Bau, Brookvale
Cost: Ticketed, bookings required
Q&A booth: Publishing and writing
Sat 13 Aug, individual session times between 10am – 4pm
Meet, interrogate and ask your questions about writing, editing, publishing, book layout designs, and much more at these writing & publishing mentoring consultations with local award-winning author Zena Shapter.
Venue: Harry Hartog Booksellers
Cost: Ticketed, bookings required
HAKE House of Art
Sat 13 & Sun 14 Aug 10am-4pm
Lots to explore at the HAKE House of Art, a double story loft home to a range of multidisciplinary creative businesses from bespoke framing to painters, photographers and fashion designers.
Venue: HAKE House of Art, Dee Why
Cost: FREE, bookings not required
Still-life painting with Joanna Gambotto
Sat 13 Aug, 11am-4.30pm & Sun 14 Aug, 10am-4pm
Breathe some life into your still-life! Artist Joanna Gambotto will guide you through a 2-day painting workshop sharing skills to reinvigorate your painting practice. Suitable for beginners and experienced painters.
Venue: Forest Community Arts Centre
Cost: Ticketed, bookings required
Underground Art Space – studios and workshops
Sat 13 & Sun 14 Aug, 10am – 4pm
Ticketed workshops at various times
Refill your creative cup at the Underground Art Space, exploring artist studios, participating in workshops and getting to know the artists in residence.
Venue: Sydney Road, Balgowlah
Cost: FREE to visit, bookings required for ticketed workshops
Batch Studio
Sat 13 & Sun 14 Aug, various times
Batch Studios are opening their doors, inviting you to see the processes behind their craft, with demonstrations showing you how to cast a sterling silver ring, using ancient sand casting techniques.
Venue: Batch Studios, Freshwater
Cost: Ticketed, bookings required
Zine making workshop
Sun 14 Aug, 1 – 3.30pm
Learn the skills to start self-publishing your own zine's with artist Kat Shultz. Covering collage, printmaking, drawing and incorporating text in the design. All materials provided.
Venue: Manly Creative Library
Cost: Ticketed, bookings required
The Metaverse and NFTs
Wed 17 Aug, 6-8pm
Curious to know more about how art crosses over into technology and finance? Want to discover the world of NFTs (non-fungible tokens)? Here's your place to start, with a presentation and conversation led by NFT/Metaverse experts Simo Leonelli, Sam Joel, Nick Bishop, and Mark Monfort.
Venue: Manly Art Gallery & Museum
Cost: FREE, bookings required
Baha'i Temple tours
Sat 20 & Sun 21 Aug, 10am-12pm
Spend your morning discovering the Baha'i House of Worship with an open tour of this distinct architectural landmark.
Venue: Baha'I Temple House of worship, Mona Vale
Cost: FREE, bookings not required
Zen Garden open weekend
Sat 20 & Sun 21 Aug, 10am-4pm
Purify your mind with the tranquillity of a Japanese garden visit and experience the rich culture of Japan with a Tea Ceremony.
Venue: Oriental grove, Terrey Hills
Cost: Ticketed, bookings required for Tea Ceremony
Rex Dupain exhibition
Sat 20 Aug, 12 - 4pm, opening drinks 2-4pm
A household name in Australian photography, Rex Dupain is exhibiting a new collection of works. Known for juxtaposing the built environment with the natural beauty that surrounds it the new work continues this theme to create an inspiring look at modern life.
Venue: Michael Reid Northern Beaches, Newport
Cost: FREE, no bookings required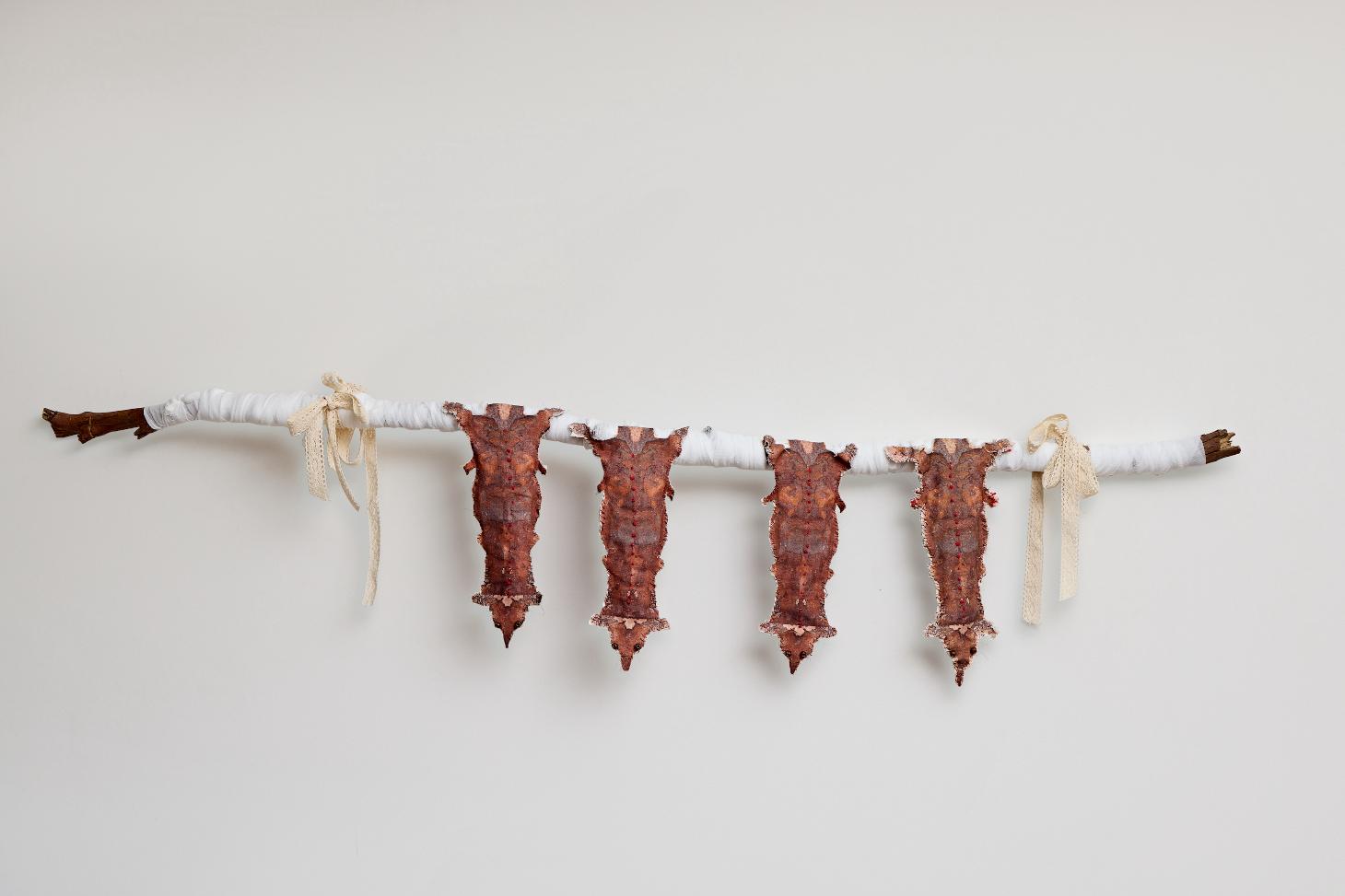 Jo Mellor, Care in the era of Solastalgia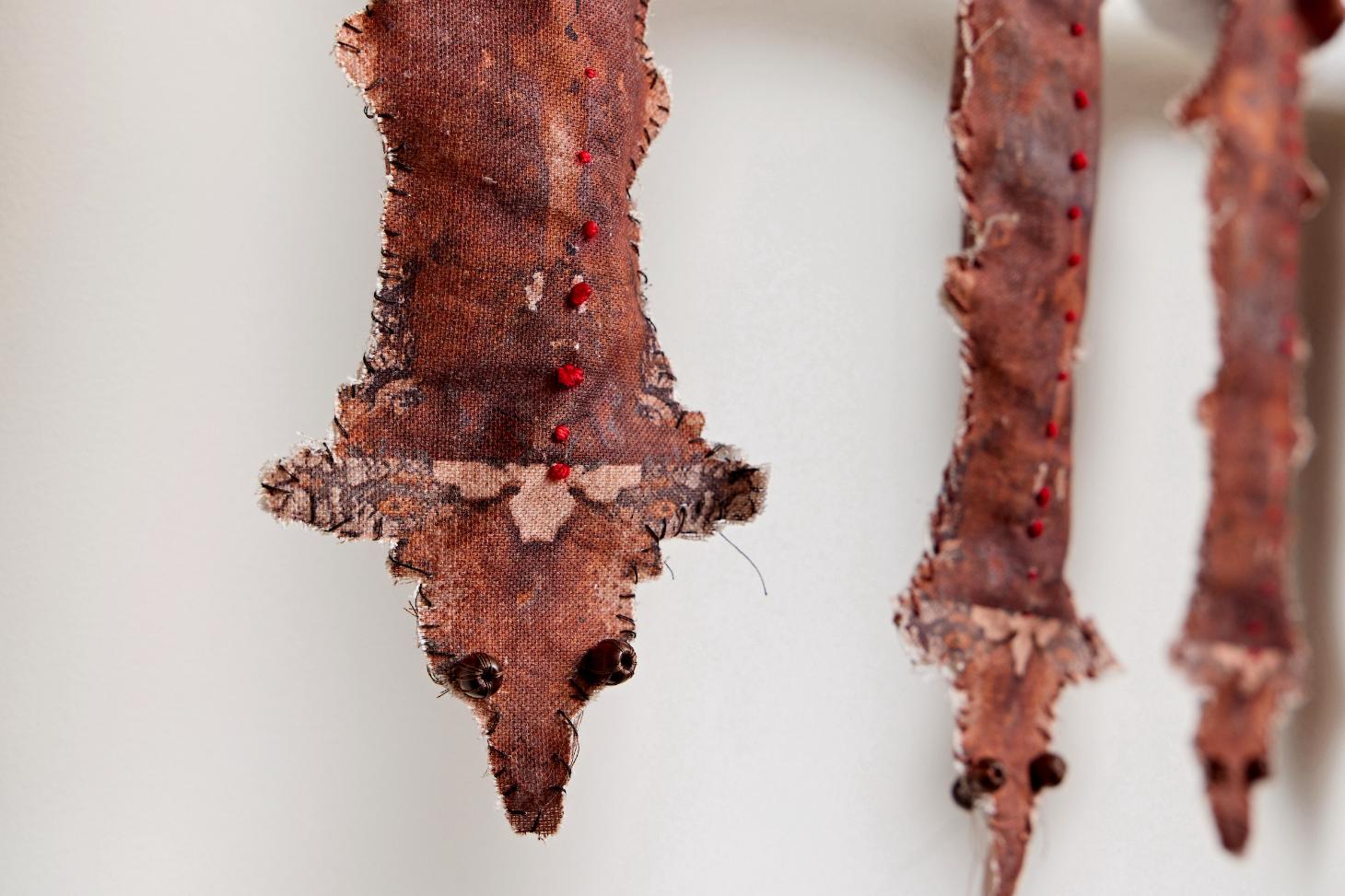 Jo Mellor,
Care in the era of Solastalgia
(detail)
Solastalgia is a neologism, formed by the combination of the Latin words sōlācium (comfort) and the Greek root -algia (pain, suffering, grief), that describes a form of emotional or existential distress caused by environmental change. It is best described as the lived experience of negatively perceived environmental change. A distinction can be made between solastalgia linked to distress about what is in the process of negatively perceived change and eco-anxiety linked to what may happen in the future (associated with "pre-traumatic stress", in reference to post-traumatic stress).
The word was coined by philosopher Glenn Albrecht in his 2003 book Solastalgia: a new concept in human health and identity. He describes it as "the homesickness you have when you are still at home" and your home environment is changing in ways you find distressing. In many cases this is in reference to global climate change, but more localized events such as volcanic eruptions, drought or destructive mining techniques can cause solastalgia as well.
In 2015, an article in the medical journal The Lancet included solastalgia as a contributing concept to the impact of climate change on human health and well-being. More recent approaches have connected solastalgia to the experience of historic heritage threatened by the climate crisis, such as the ancient cities of Venice, Amsterdam, and Hoi An.