July 31 - August 6, 2022: Issue 548

Congratulations Locana Cullen - New Under 12 State Champion!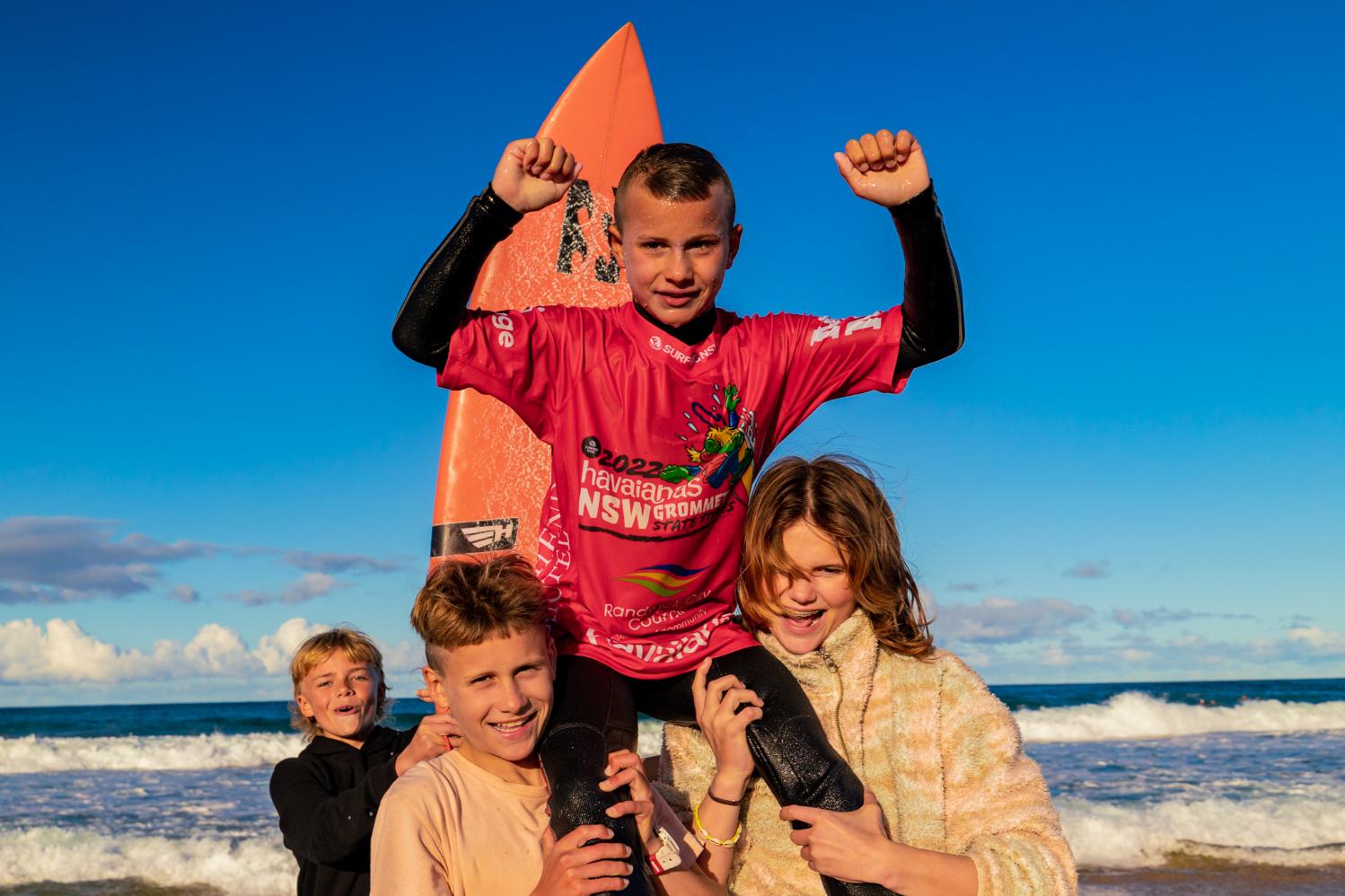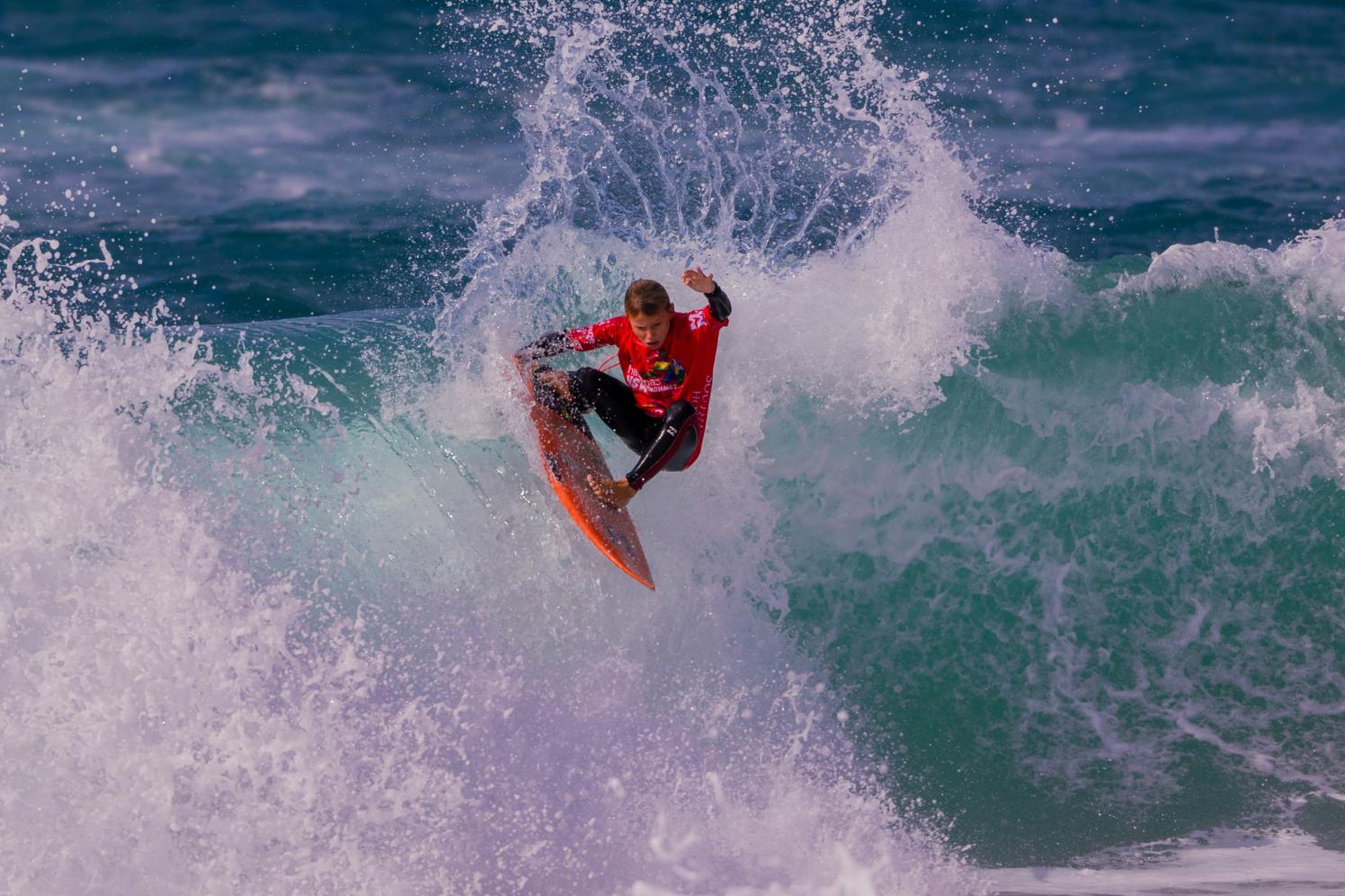 Top: Locana Cullen being chaired by friends after his win. Above: In action at the 2022 Havaianas NSW Grommet Titles. Photos: Mayan Images
Avalon Beach surfer Locana Cullen won the the 2022 Havaianas NSW Grommet Titles Under 12 Division on Sunday July 24th.
Both Locana Cullen (Avalon Beach) and Talia Tebb (Avoca Beach) were consistently exceptional from day one. The pair excited the judges with their wave choice and ability to perform excellent manoeuvres heat after heat.
The Under 12 Boys Champion Locana Cullen was inspirational from the get-go. The Regional Titles winner has also had a stellar year and to wrap it up with a State Title win is fitting for the 11-year-old surf sensation.
Cullen's heats were performed with maturity and precision from wave selection to performing perfect critical manoeuvres on almost every wave he took off on. Cullen took out the highest wave of the day each day with the judges awarding him near-perfect 9 point waves.
Despite his dominance, Maroubra's Jaggar Phillips didn't let him have the final easily. Cullen started the final strong with an opening 7.33 that had the beach cheering. Phillips answered with a wave of equal score. With the pressure now on, Cullen took no time to come back with a 6.33 to which Phillips couldn't match but it was a nail-biting 20 minutes but an exciting final to watch.
Cullen has won the both Billabong Oz Grom Cup and Occy Grom Comp and came into the NSW Titles with the number one ranking. This is his first State Title.
"I'm so happy to win my first State Title here at Maroubra, it's the Aboriginal word meaning 'like thunder', I love that," said Cullen after his win. "It's been a big couple of days and we've all had to work really hard to make heats but to have these cleaner condition today has been epic."
Talia Tebb has had an amazing year in competition. The 11-year-old Central Coast surfer won the Billabong Occy Grom Comp and was stoked to continue her Under 12's dominance today. She first competed in the Under 12 Grom Titles as an eight-year-old and showed remarkable talent in making the semi finals, today was the day she claimed her first State Title.
"It feels amazing to win the State Titles today. It was a tough couple of days but I just went out there and knew I needed to attack the wave, reset and get back out and do it again," she said after her win and finishing with a 12.5 total.
"It was tough through the shore break paddling out, it was about timing but I did it and was so happy to get to the final. I was nervous at the start of the final, I was seven minutes in before I got my first wave," she said. "As soon as I got the first wave on the board I was released but knew it wasn't over till the final buzzer."
Maroubra beach hosted the 2022 Havaianas NSW Grommet Titles over four days, July 22 -25. The best Under 14 surfers in the state had a challenge on their hands from start to finish but tackled each heat like they were on the world tour.
On Monday July 25, conditions were those that professional athletes dream of. The 4-6 foot swell with offshore wind may have been tricky but it showcased the outstanding level of surfing the Under 14's are capable of.
"All the surfers were outstanding," said Sydney coach Matt Cattle.
"There were some absolutely outstanding waves surfed by the groms with huge scores being awarded. They're 12 and 13 years old and they were surfing at a level that was actually unbelievable. And the difference in skill and strength between the boys and girls has never been closer. It was an awesome day to watch."
It was Merewether's Ocean Lancaster and Lucy Darragh from Werri Beach who took out the Under 14's State Titles today. Both surfers were consistently laying down excellent range scores across the four days.
In the semi final of the Boys Under 14's Ocean showed his surf maturity, waiting patiently for the set waves that he knew would give him the greatest scoring potential, and he got what he waited for. A 9.23, the highest wave score of the day and the points that would give him the momentum he needed heading into the final.
The Newcastle surfer started the final strong with a 7-point ride and backed it up in style with an 8.5 and sealing his first State Titles with a 7.6.
Not unfamiliar with winning in 2022, the 13-year-old has won the Billabong Oz Grom Cup, Under 12 Rip Curl Grom Search National Finals, Sandbah Cup and the Newcastle Regional Titles.
"I'm frothing. The waves have been on and everyone's been ripping. This is my first win, I've been close a couple of times and it's been great to be surfing with my mate Ben (Zanetta) especially out here in these conditions," Ocean said.
Lucy Darragh from the NSW South Coast has had a huge year too, spending time out in the bigger swells as they've hit the coast. It was that big wave training that made her comfortable in these conditions. The 12-year-old dominated the Under 14 division to take out her first ever State Titles in style with an untouchable 9.17 (out of 10) in the finals today.
"I think my practice in big waves and love for the big waves helped me a lot today. I was very happy about the size of the waves and being able to compete with that size," said Darragh.
"I'm really happy with this win. It was pretty hard out there to get the right waves so I'm really excited to take the win here at Maroubra. All the girls in our final were ripping, everyone did such an epic job to be out there."
Darragh has also won the 2022 Open Women's division of the Werri Slash and was runner-up of the Rip Curl Grom Search National Finals and Billabong Oz Grom Cup.
Finals Results
Under 14 Boys
Ocean Lancaster (Merewether)
Ben Zanetta (Dee Why)
Chex Dempsey (Bateau Bay)
Lachlan Arghyros (Kingscliff)
Under 14 Girls
Lucy Darragh (Werri Beach)
Alice Hodgson (Kiama)
Halo Banfield (Byron Bay)
Annalise Wong (Cromer)
Under 12 Boys
Locana Cullen (Avalon Beach)
Jaggar Phillips (Maroubra Beach)
Luca Martin (Coffs Harbour)
Max Crowley (Coffs Harbour)
Under 12 Girls
Talia Tebb (Avoca Beach)
Malia Watson (Tweed Heads)
Olive Morriss (Avoca Beach)
Zara Hall (Avoca Beach)
Due to the demand for junior surfing in NSW, the State Titles are split into two events; the Junior Titles for Under 18's and Under 16's (14th-19th July) and the Grommet Titles for Under 14's and Under 12's, held at Maroubra 22th-25th July.
The NSW Grommet Surfing Titles is a junior sport pathway event. Entries and seeding of the event is drawn from the NSW Regional Titles held within the 11 regional areas as well as the rankings from the Occy Grom Comp and Billabong Oz Grom Cup earlier in the year.
The winners of the Under 14 NSW Grommet Titles will be seeded into the Australian Junior Titles at Stradbroke Island, Queensland in November.
The 2022 Havaianas NSW Grommet Surfing Titles is supported by Surfing NSW, Storage King, Randwick City Council, Mad Mex and Southend Hotel.
Report: by Surfing NSW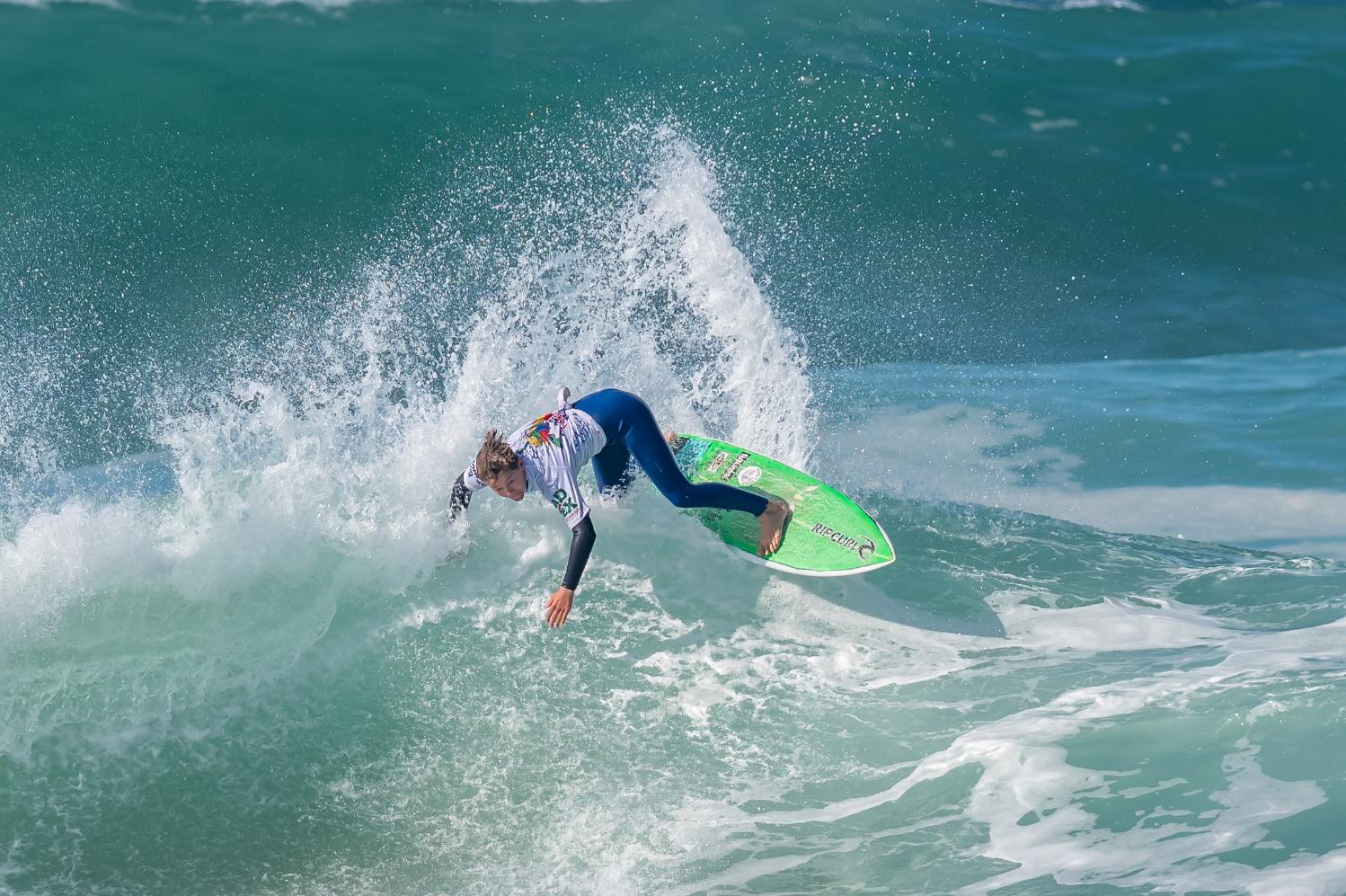 Dee Why's Ben Zanetta in action on Monday July 25. Photo: JGR images