March 20 - 26, 2022: Issue 531
Dramatic Rescue Of 3 People By Avalon Beach SLSC After 35 Ft Power Cruiser Capsized And Sank Off Careel Head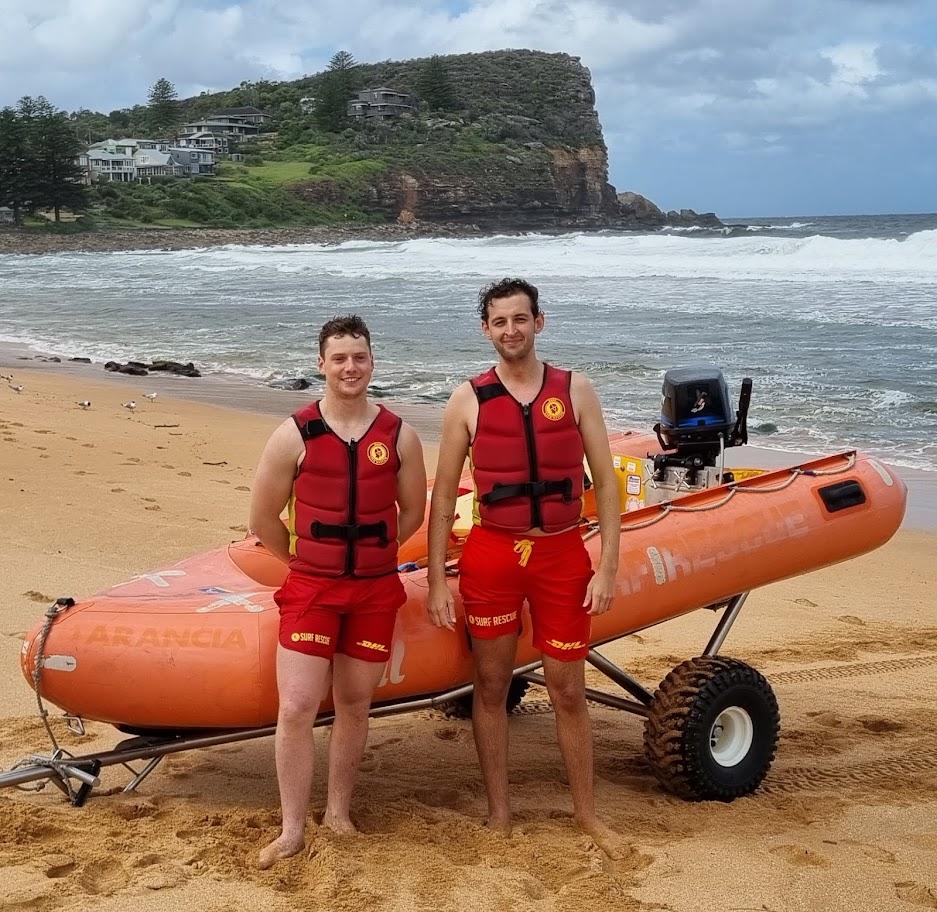 Avalon Beach SLSC IRB Rescuers: Left Todd Barber Crew Right Zac Dale Driver
Three people were rescued from the water this afternoon, Saturday March 19, 2022 by Avalon Beach SLSC after their 35ft power cruiser capsized and sank off Careel Head.
SLS Northern Beaches received a call for help and requested assistance from nearby Surf Clubs and rescue services. The SLSNB Duty Officer who happened to be at the surf club alerted the Avalon Beach Surf Patrol who immediately launched the IRB.
They were the first to arrive on the scene after battling through horrendous conditions over 2 kilometres of ocean, and rescued the boat's male captain and a male and female passenger.
The 8 second short period windblown choppy 3-4 metre South swell and a Southerly wind which was consistently gusting at 45 kilometres per hour made it highly dangerous for the IRB just to get out the back off the beach.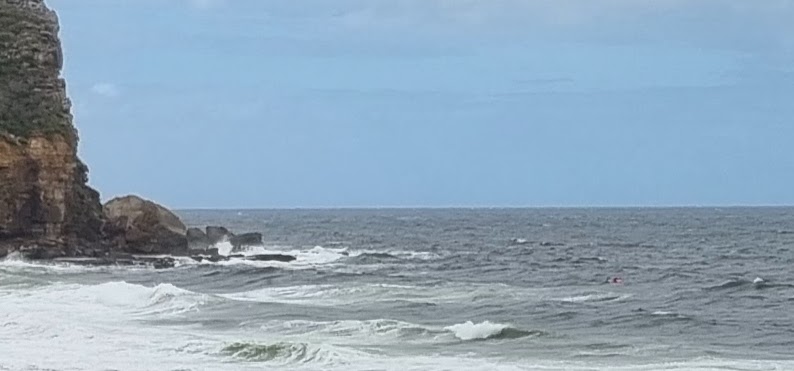 Photos: Attempting to get clear of the breaking waves - Almost clear of the surf zone, into the full force of the strong wind and large choppy ocean swell. We lost sight of the IRB after it rounded North Avalon Headland but were in radio contact.
Conditions meant that the experienced crew had to make several evasive turn and runs for safety before being able to get through the 5 or 6 lines of breaking surf (witnessed by the writer who happened to be at the club on other surf club business), before being able to safely round North Avalon Headland to proceed to the reported location.

Photo: Showing general beach conditions. 2+ metre waves breaking out the back, rips everywhere meant the beach was closed to swimmers.

IRB Driver Zac Dale and crew Todd Barber later said that at first they could not see the boat through the choppy swell, but then caught sight of a small narrow upturned V about 5 ft high out of the water, which they realised was the bow of the vertical 35 ft boat.
Three people (2 males, one female) who were wearing lifejackets were in the water, slowly drifting toward the rock shelf over which the waves were breaking about 300 metres from Whale Beach.
They were pulled into the Avalon Beach IRB, a full 5 minutes before the others who had responded to the call for help (Whale Beach SLSC IRB, SLSNB Duty Jet ski, the SLSA rescue helicopter and the Police Boat) were able to arrive at the scene and stand by to assist.
The rescued people were transferred from the IRB to the Police Boat for transport into Pittwater, as it was deemed too unsafe for either or both ABSLSC and WBSLSC IRBs to attempt to take them through the surf either to Avalon Beach, or to Whale Beach.
After the rescue, the cruiser sank to the bottom in deep water off Careel Head (where it will no doubt await recovery). Apparently the power boat's bilge pump failed.
Marine Area Command - NSW Police Force stated:
''This afternoon, our Broken Bay crew and Surf Life Saving Australia responded to a "MAYDAY" call off Avalon at Pittwater. A vessel quickly started taking on water, and if not for the quick thinking of the skipper and owners, things could have become tragic.
They promptly raised the alarm via a mayday call and by calling "000", donning life jackets and grabbing go-bags and EPIRBS.
Luckily, they were only in the water a short time before surf jet-skis and our crew arrived. This is a great example of knowing the right things to do in case of an emergency.''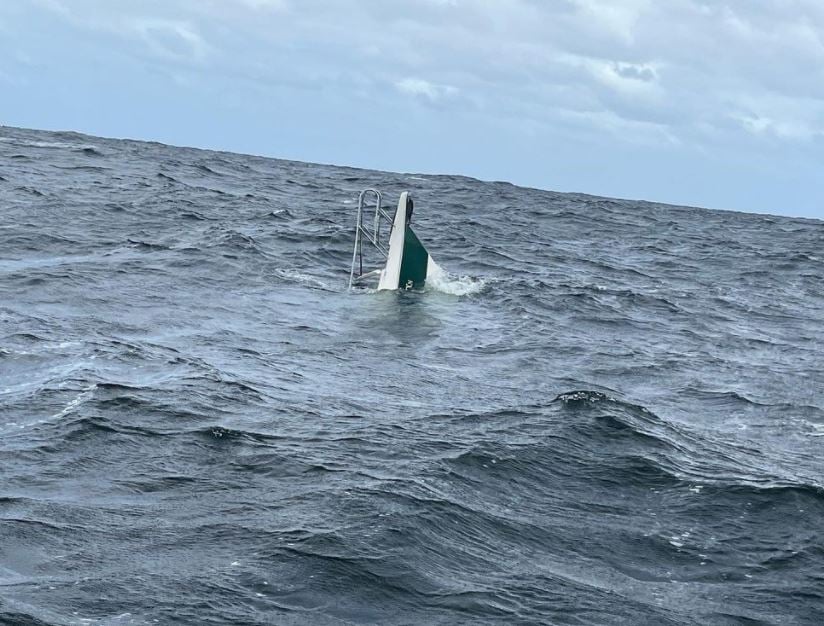 Photo: Marine Area Command - NSW Police Force
It then took the Avalon Beach SLSC IRB volunteer crew some considerable time heading straight back into the South wind and swell to return the 2 kms to the club for a well deserved hot shower! and to carry out the remainder of their patrol till 5pm.
Well done to Zac Dale and Todd Barber.
Roger Sayers
Life Member ABSLSC
Councillor Korzy Calls For Council To Support The Rebuilding Of A New Public Acute Services Hospital On Mona Vale Campus Site: March 2022 Meeting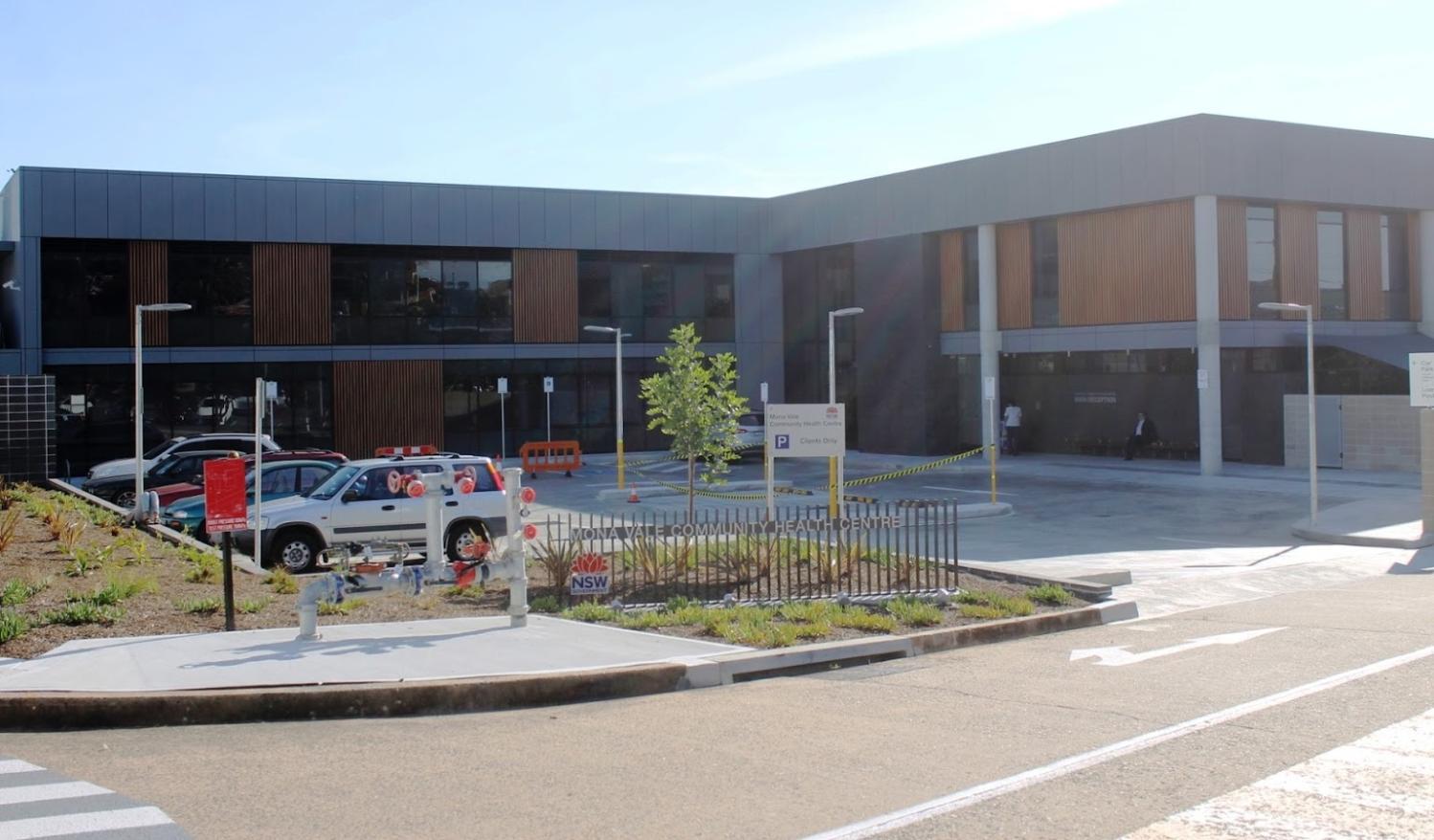 Front Entrance of the 2016 completed Mona Vale Community Health Centre building
A Motion submitted by Councillor Miranda Korzy for the March 2022 Council Meeting calls for the retention in public ownership of the whole of the Mona Vale Hospital site, for the footprint of the now demolished main hospital building and emergency ward to be maintained as open land for the rebuilding of a new public acute services hospital and for any further development on the hospital land to be for public health services only.
Pittwater Online spoke to Councillor Korzy, asking as she had previously served as a member of the Save Mona Vale Hospital Committee was this a follow on from that advocacy.
''Clearly I've carried my belief in the need for a public hospital providing acute services at the Mona Vale site with me from the SMVH committee onto council - and I believe that a large section of the Pittwater and Narrabeen community agree with me on this.'' Cr. Korzy said
''But this is also a follow up to the 2020 NSW Parliamentary inquiry into Northern Beaches Hospital which recommended:
"That the NSW Government take immediate steps to engage directly with Northern Beaches state Members of Parliament, community leaders and other stakeholders to investigate the ways and means to restore a public level 3 emergency department to the Mona Vale Hospital as soon as possible".
Two years down the track from that inquiry, we need to make sure that engagement happens.''
''The flooding which closed Wakehurst Parkway for a large part of last two weeks has reminded us how isolated Pittwater - including our offshore communities - and part of Narrabeen can be. But even if that flooding was eliminated, every road out of the area was closed at some point during the 1994 bushfires with flames leaping across Narrabeen lagoon.
'' Secondly, we know for a whole series of reasons that we will need acute services returned to that site in the future. I therefore hope that this new council will offer the same backing to residents that Pittwater did. I also want to ensure that the hospital site does not become covered in private clinics or other developments that make it difficult to rebuild our public emergency, surgery, maternity, intensive care and other acute services. No-one should have to bring their credit card with them to check into hospital.''
Councillor Korzy's Motion lists the recent closure of the parkway during the rain event has highlighted problems for Pittwater residents in accessing acute hospital services.
During these events, weather conditions often make it impossible for helicopters to transfer patients out of the area.
The Motion points out that the loss of emergency, maternity, paediatrics, surgery and other acute hospital wards from the Mona Vale site means that many residents must now travel more than 20 km to reach the nearest facility. In fact, Bondi and Erskineville are closer to Northern Beaches Hospital than much of the Pittwater Council Ward. The unique situation of the many offshore communities also demonstrates the inequity of local hospital services.
Ms Korzy also cites a shortage of hospital staff and beds at both Royal North Shore and Northern Beaches Hospitals during the Covid pandemic, with many hours' wait for beds, also points to the urgent need for expansion of acute services within the LGA.
Projected population growth in our area will also drive the necessity for new acute facilities on the coastal strip, with the current population of 272,322 projected to reach 312,503 by 2041, an increase of nearly 15 per cent.
Parry Thomas, Chairman of the Save Mona Vale Hospital Committee, stated yesterday (March 19, 2022) that;
''The Save Mona Vale Hospital Committee strongly supports Cr. Korzy's motion and encourages all Councillors to vote for the motion.''
''The Save Mona Vale Hospital Committee with the support of a huge number of Northern Beaches residents, has been fighting for the retention of hospital services at Mona Vale Hospital and for the protection of the hospital land for well over 20 years.''
''The campaign to save the hospital was very strongly supported by Pittwater Council, who were not only responding to the wishes of the Pittwater residents, but also recognised the importance of the services provided by the hospital and the very significant contribution Mona Vale Hospital made to the Pittwater economy. Mona Vale Hospital was the largest employer in the Pittwater LGA and also used the services of many local businesses. Without Pittwater Council's support it is unlikely the site would still be in public hands and still providing non-acute hospital services.'' Mr Thomas said
''NSW Health made a decision to close and demolish the acute hospital at Mona Vale, they then earmarked the site for private development. This is exactly what NSW Health did with Prince Henry Hospital, at Little Bay. They closed, sold and developed it into a housing estate. Community anger and action resulted in the NSW Government agreeing to retain Mona Vale as a non-acute hospital.
''NSW Health never gave up on the idea of privatising as much of the site and services as possible, so they developed a plan to offer long term leases to selected parties, to build on the site and operate "health related services". These services were never fully defined.
The community made it very clear that they wanted the site retained for public health services. They especially wanted the footprint of the former acute hospital retained as open space, to ensure that when the time came for a new acute hospital, the land would be available for its construction.
I had many meetings and discussions with our local member, Mr Rob Stokes, on this subject and, on more than one occasion, he stated his support for retaining a large "Village Green". At one meeting, he indicated to me that he felt it was essential, because it was inevitable that, in the future, the land will be needed for a public acute hospital.
It has long been recognised that The Mona Vale Hospital site is an ideal location for an acute hospital serving the needs of the Northern Beaches Community. With the relocation of acute services to the Northern Beaches Hospital many Pittwater residents' access to these services have been severely degraded, a situation made infinitely worse at times of bushfires and floods.'' Mr. Thomas said
The Hon. Rob Stokes, MP for Pittwater, now serving as the New South Wales Minister for Infrastructure, the Minister for Cities, and the Minister for Active Transport, has reiterated again and again over many years that the Mona Vale Hospital campus will not be sold and will retain its public ownership status. The Pittwater MP's advocacy has seen the fulfilment of work commenced by the Mona Vale Hospital Auxiliary for Palliative Care on the campus, has incorporated the use of solar power, a new support services building, the opening of a brand spanking new Community Health Centre with a range of services for the community was a very good day.
A/Professor Richard West AM MB BS FRCS FRACS, VMO Surgeon Royal Prince Alfred Hospital, said on Saturday, he supports Cr. Korzy's call for Mona Vale Hospital.
''Mona Vale Public Hospital has been providing quality healthcare to the Northern Beaches community for over 50 years and will continue to do so in the future.''
Mona Vale Public Hospital is a high-level rehabilitation and sub-acute hospital with more than 250 staff providing services including:
56-bed inpatient rehabilitation and assessment
10-bed inpatient and outpatient palliative care
10-bed inpatient geriatric evaluation and management
24/7 Urgent Care Centre
Community Health Services
Radiology, pathology and pharmacy
A dental clinic
Ambulance
Helipad
These services are the responsibility of the New South Wales Department of Health. These vital services are not provided at the Privately operated Northern Beaches Hospital.'' Mr. West said
''The Northern Beaches is unique in that it does not have a fully functioning public hospital.''
I have over 40 years experience working as a surgeon in the public hospital system in Sydney.
There should be no privately operated services at the Mona Vale hospital site. Any private medical services should be on private land.'' A/Prof. West stated
''Following the recent floods the Wakehurst pathway needs to be urgently made completely flooded proof and upgraded.
I strongly support the motion before the council that Council advocate with the NSW and federal governments to:
Retain the entirety of the Mona Vale hospital site in public ownership.
For the footprint of the now demolished main hospital building and emergency ward to be maintained as open land for the rebuilding of a new public acute services hospital.
For any further development on the hospital land to be for public health services only.''
Avalon Beach Centenary Nature Of Avalon And Our Indigenous Culture Celebration At Avalon Art Gallery & Dunbar Park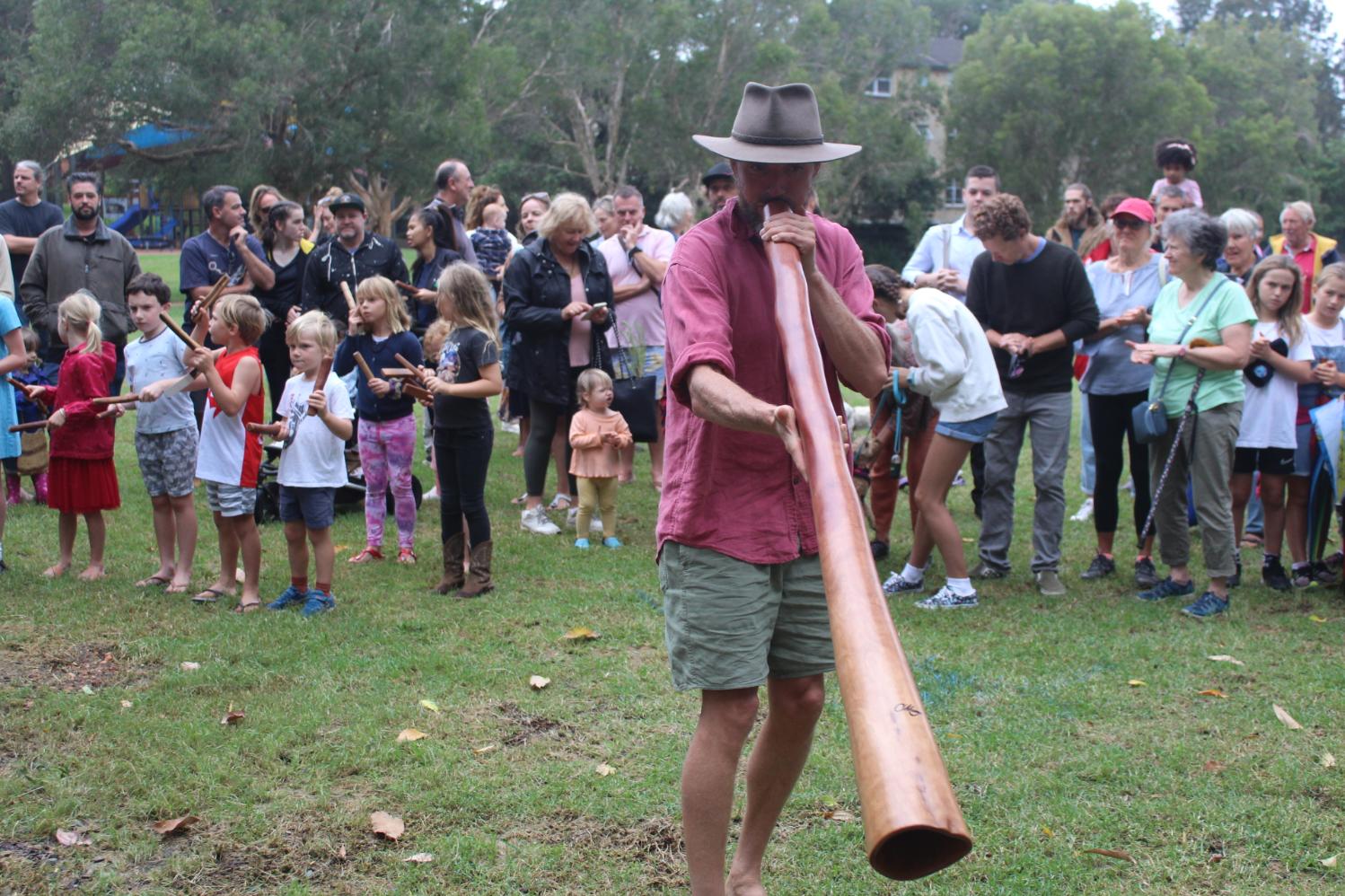 Avalon Beach Centenary Celebration of the Nature of Avalon Beach and our Indigenous Culture
with
didgeridoo by Matt James. Photo: A J Guesdon
The Avalon Beach Centenary Celebrations continue with the opening on Friday March 18 of opening of The Nature of Avalon Exhibition: Art Exhibition 2 of this year long festival.
The Avalon Beach Culture Collective Inc are being supported by internationally renowned photographer Andrew Gregory whose stunning works have featured in Australian Geographic over the last 18 years. A resident, Mr. Gregory has another passion, for Powerful Owls and become involved in the Powerful Owl Project and local group Canopy Keepers.
Along with Andrew's stunning photo essays on local Powerful Owls this exhibition features the essential tree hollow these birds require if they are to survive.
''Owls aren't doing well in the bush and are moving into urban areas. Breeding pairs are dedicated to a nest tree, trees with suitable hollows are rare in urban backyards and reserves and competition amongst species for them is fierce.'' Andrew explained
''I believe in the last few years there has been so much tree felling and clearing that the balance has changed. Pittwater wasn't set up with wildlife corridors in the plan. Native wildlife in urban areas aren't just confined to large reserves - our backyards form corridors and provide areas for breeding and shelter, particularly for the owl's prey species.
There are also many other factors that contribute to a successful nest tree. It has to be the right tree in the right place. Many are in pocket reserves close to houses and the loss of surrounding trees can have an impact on the integrity of the reserve, also affecting the micro climate. Owners of properties in areas near nest trees also aren't being informed, so clearing on land adjoining sensitive areas happens. There is also the 10/50 rule to contend with.''
To redress the balance Andrew has started making tree hollows and one of these, along with explanative literature, is on display as part of the The Nature of Avalon Exhibition: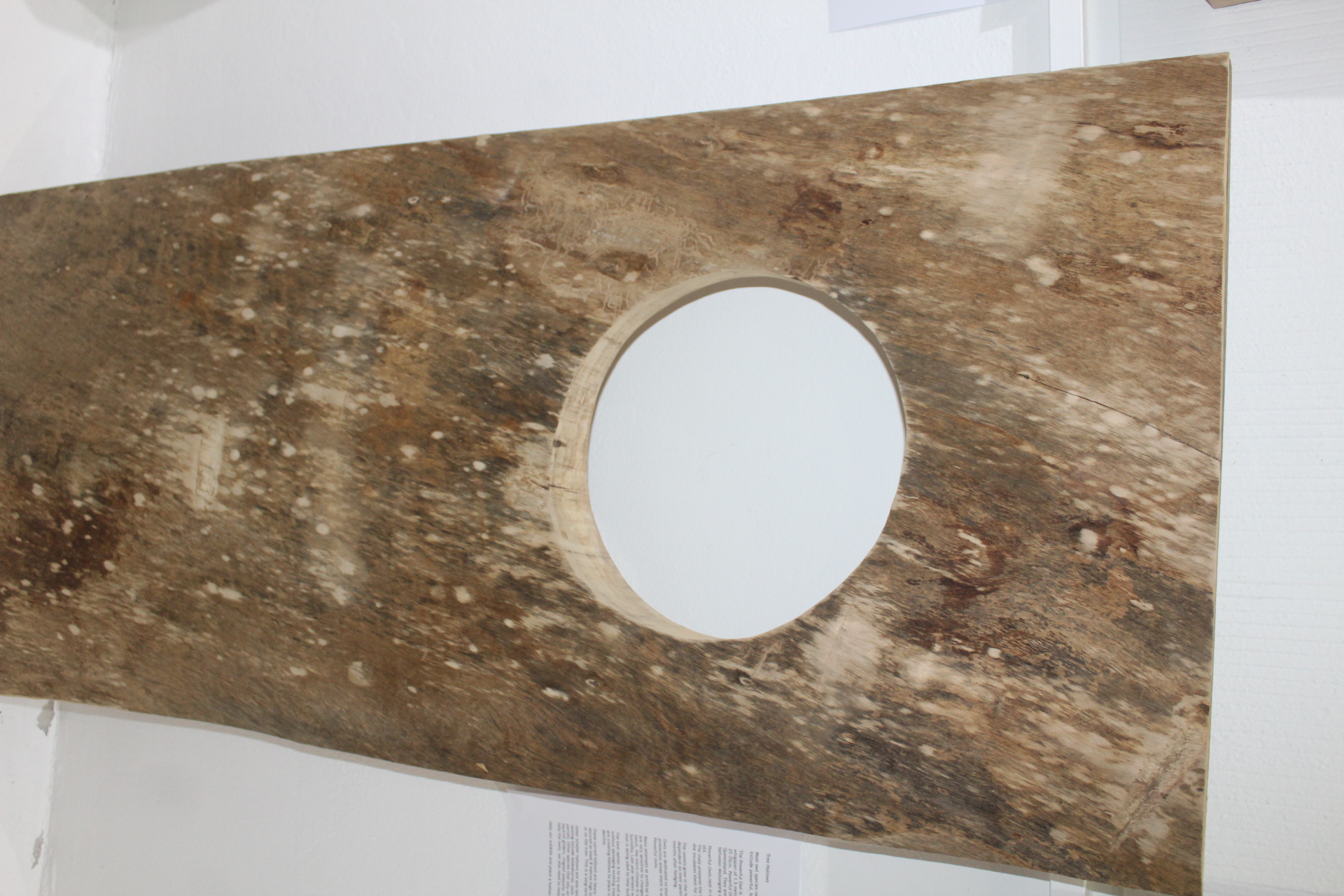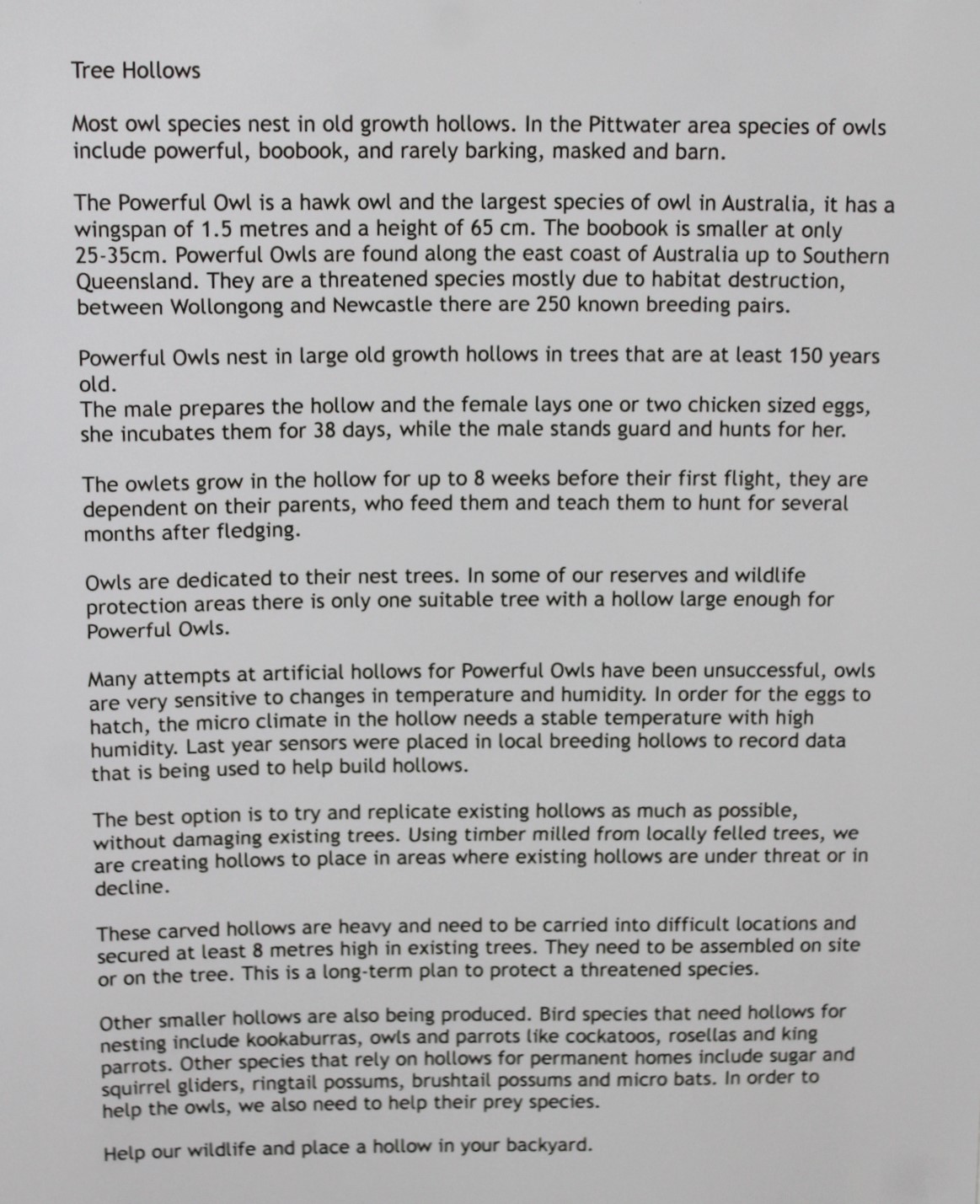 Andrew is also doing talk with John Dengate on July 24th at Avalon Beach RSL - there is also a solo exhibition proposed for July featuring the Powerful Owl Project.

Marcella Balt, Avalon Public School and married to Andrew, was among those who suggested at the first meeting of the community that the planting of 100 trees would be a great way to celebrate and honour Avalon Beach. This project has been taken on by all the local schools, the Avalon Beach Culture Collective and fostered by the great work Canopy Keepers are doing.
Artists whose works also form part of The Nature of Avalon Exhibition are Architectural Designer Mia Asker and Builder: Simon Robertson who together have formed Asker-Robertson; a boutique design and construction company specialising in high quality timber construction and the fusion of existing and modern architecture in design, a featured owl painting from the brush of Tara Winona, Karen (Blue) Stuart; ceramist, who is inspired by our oceans and al living in them, repurposing sculptor Rob Cole, Owen Crick's drawings, soulful imagery from photographers Louise Whelan and Greg Barrett, the wonderful marine life focussed works of bronze sculptor Brenda Ingham, and work by painter Nikki Quarry.

A standout was Louise Whelan's Fungi Connections - digital printed Collage on Cotton fabric in salvaged 1970's frames. This work was one of the Finalists in the 2021 Northern Beaches Environmental Art & Design Prize.
Guests were entertained by great music from Bad Kitty and the Alleycats.
The exhibition runs until April 19 - well worth a visit. The Avalon Art Gallery is in the picture theatre arcade.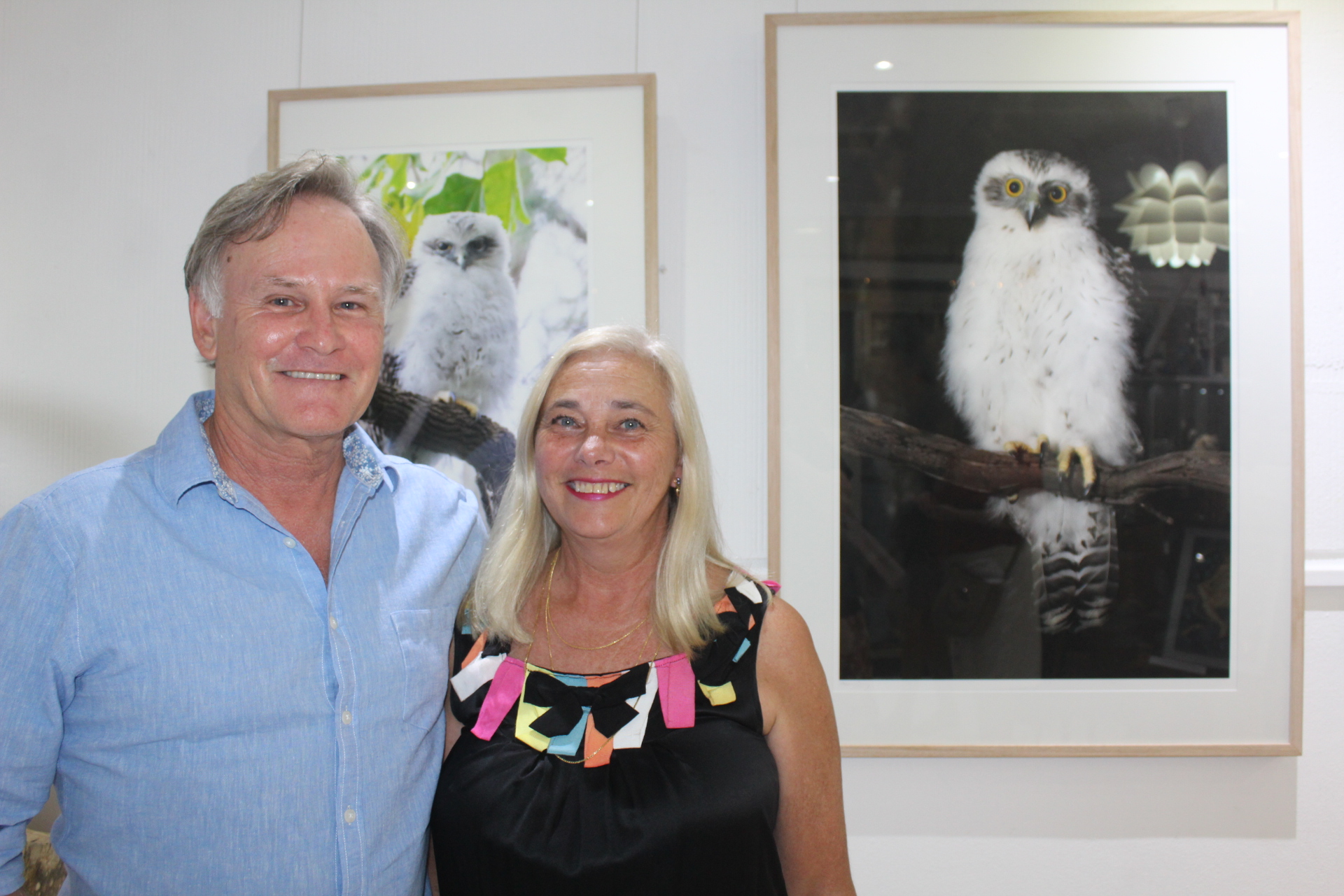 Andrew Gregory and Marcella Balt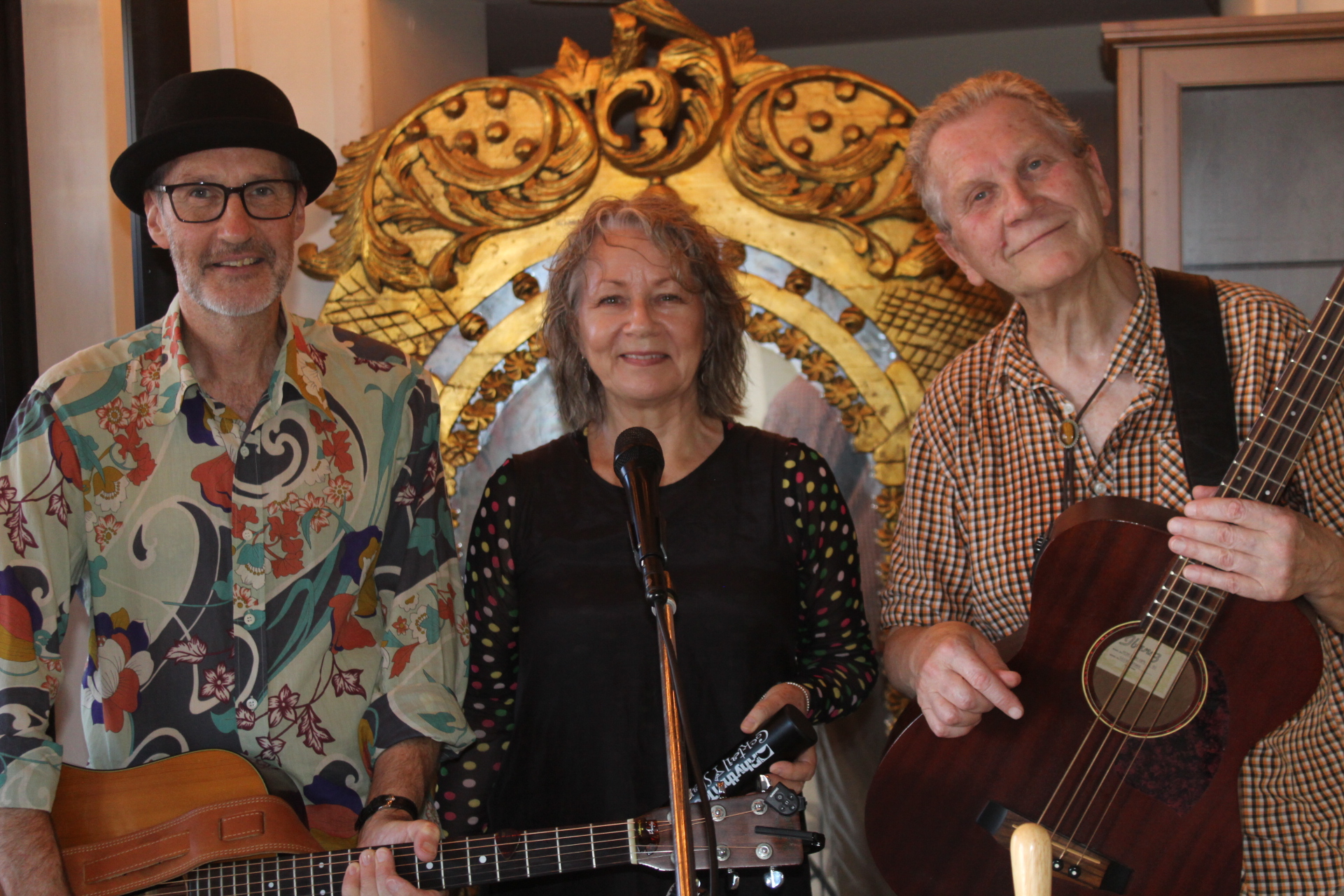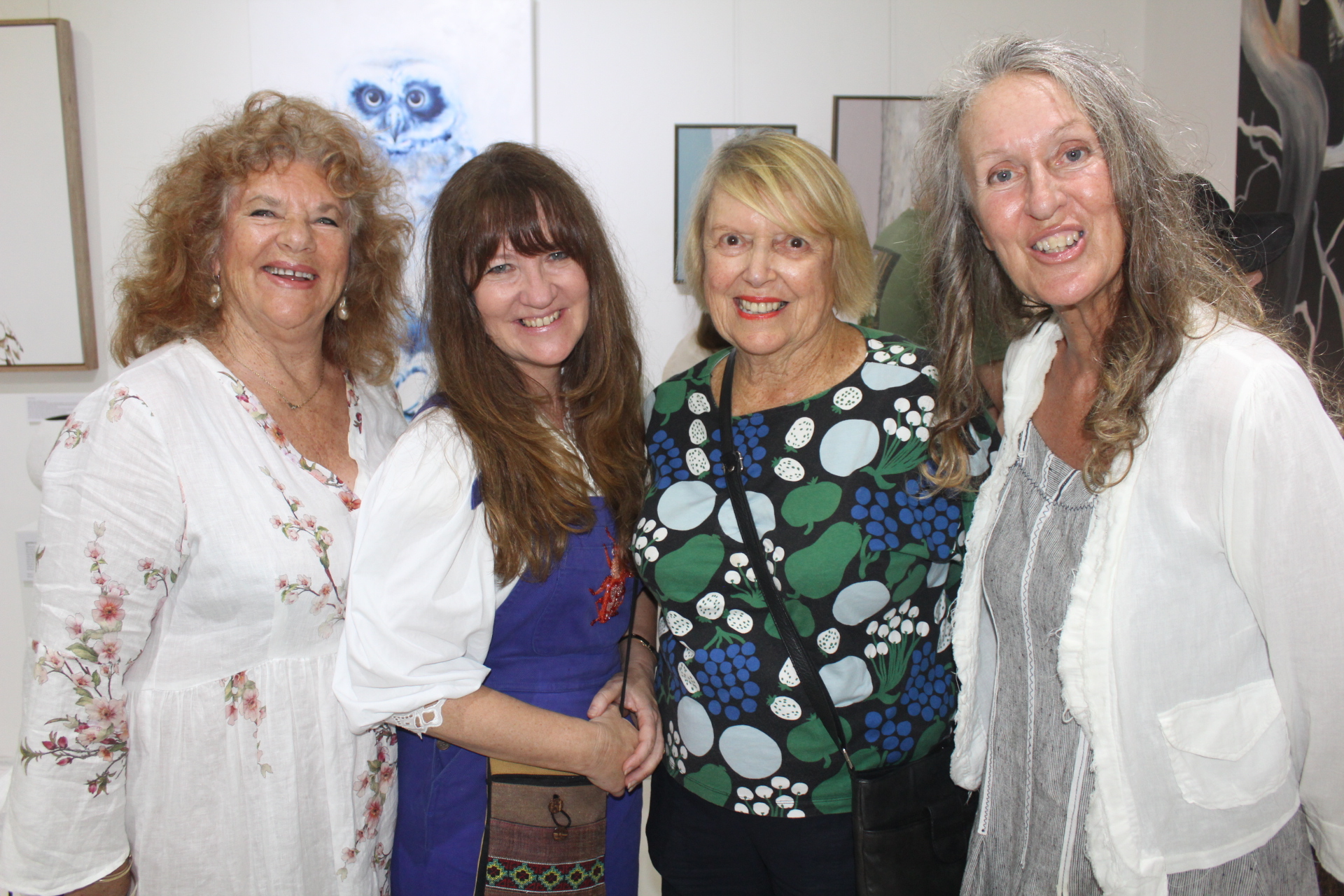 A Powerhouse of Women Creatives: Patsy Clayton-Fry, Louise Whelan, Jan Roberts, Christine Simpson
On Saturday March 19 the celebrations continued in Dunbar Park with a Centenary Celebration of the Nature of Avalon Beach and our Indigenous Culture. Sponsored by Johnson Bros Mitre 10 Hardware, Avalon Beach, this day on Avalon Beach's 'village green' provided an opportunity to connect with our local indigenous peoples and learn about their culture.
Uncle Neil Evers, local Garigal man and a descendant of Bungaree, gave a Welcome to Country, followed by a Smoking Ceremony to prepare the ground for the commencement of planting of the Centenary 100 Native Canopy Tree Memorial by students from our four local schools.
All up 14 trees, melaleuca quinquenervia, were planted around the perimeter of Dunbar Park - Pittwater Online took some photos of the students doing this so a possible future photo showing how much the students and the trees have grown can be compared.
Melaleuca quinquenervia, commonly known as the broad-leaved paperbark, paper bark tea tree, punk tree or niaouli, is a small- to medium-sized tree of the myrtle family, Myrtaceae. It grows as a spreading tree up to 20 m (70 ft) tall, with its trunk covered by a white, beige and grey thick papery bark. The grey-green leaves are egg-shaped, and cream or white bottlebrush-like flowers appear from late spring to autumn. It was first formally described in 1797 by the Spanish naturalist Antonio José Cavanilles.
Native to New Caledonia, Papua New Guinea and coastal eastern Australia, from Botany Bay in New South Wales northwards into Queensland, M. quinquenervia grows in swamps, on floodplains and near rivers and estuaries, often on silty soil.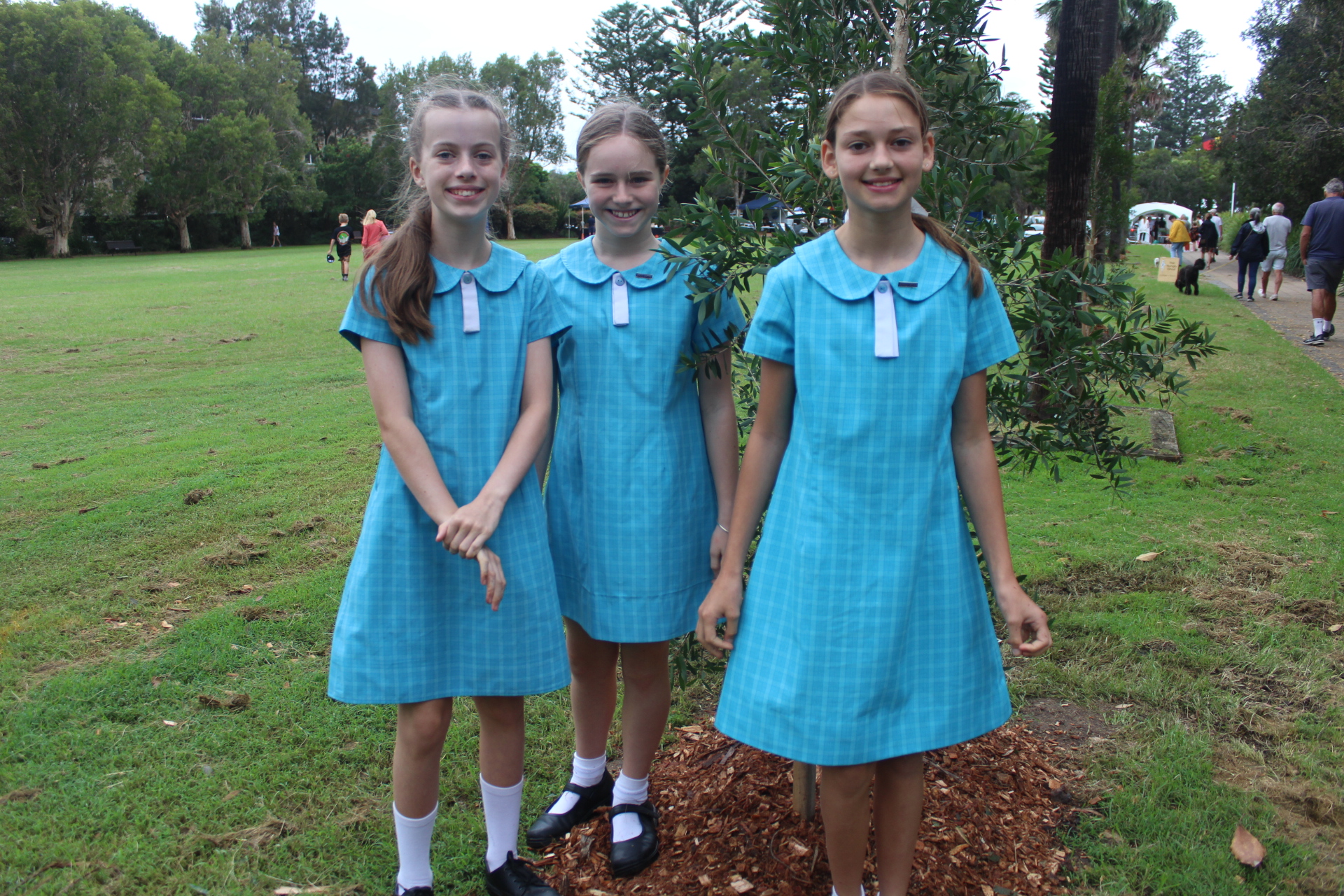 Maria Regina Catholic School Avalon students planting their tree
Jan Roberts, author of Remembering Avalon: Growing Up in the 1940s & 50s, who has arranged a reprint of this great book, introduced the tree planting, explaining Conrad Grayson from Sym Studios volunteered his time and expertise to work up a design. Influenced by the effects of Covid, Conrad proposed moving away from a linear design to creating conversation semi circles throughout reserves.
Remembering Avalon: Growing Up in the 1940s & 50s is a book of the memories of 15 people who grew up in Avalon in the 1940s and 1950s, including the editor. It was written so the children and grandchildren of the 15 writers would understand what post-war Avalon was like. Wonderful photographs and art work are also included. You can buy copies at the Avalon Art Gallery at present.
Accompanied by didgeridoo by Matt James and singing in language by Aleta Wassell, beautiful sounds filtered across the park. Clapping sticks were provided to join in with this was followed by stories and an opportunity to meet members of the Aboriginal Support Group Manly Warringah Pittwater.
Canopy Keepers handed out 100 native tube stock for planting in your garden and information on best species for your area, and why tree canopy and hollows are so important to our local fauna. Sydney Wildlife gave a demonstration and information on how to build a possum box and a sample micro bat box as well as insights into other local fauna. ORRCA were on hand to inform the community about their work and an upcoming workshop for the community at Newport in April. Avalon Fresh were also on hand, offering great seasonal fruit.
The Centenary Celebration of the Nature of Avalon Beach and our Indigenous Culture in Dunbar Park included Aboriginal Dancers and an Aboriginal Dancing workshop with Aleta for the kids, Boomerang painting for youngsters, Grass weaving with Karleen Green, the Uluru statement explained, Uncle Laurie Bimson with his boomerangs, yummy Bush Tucker and information on this and an Aboriginal Artefacts on display made by the wonderful Laurie Bimson.
This was a sacred, ceremonial, all in and everyone welcome celebration of community and felt like one huge family gathering in the park to honour place and people, heritage and art, knowledge and the future by celebrating all of our pasts.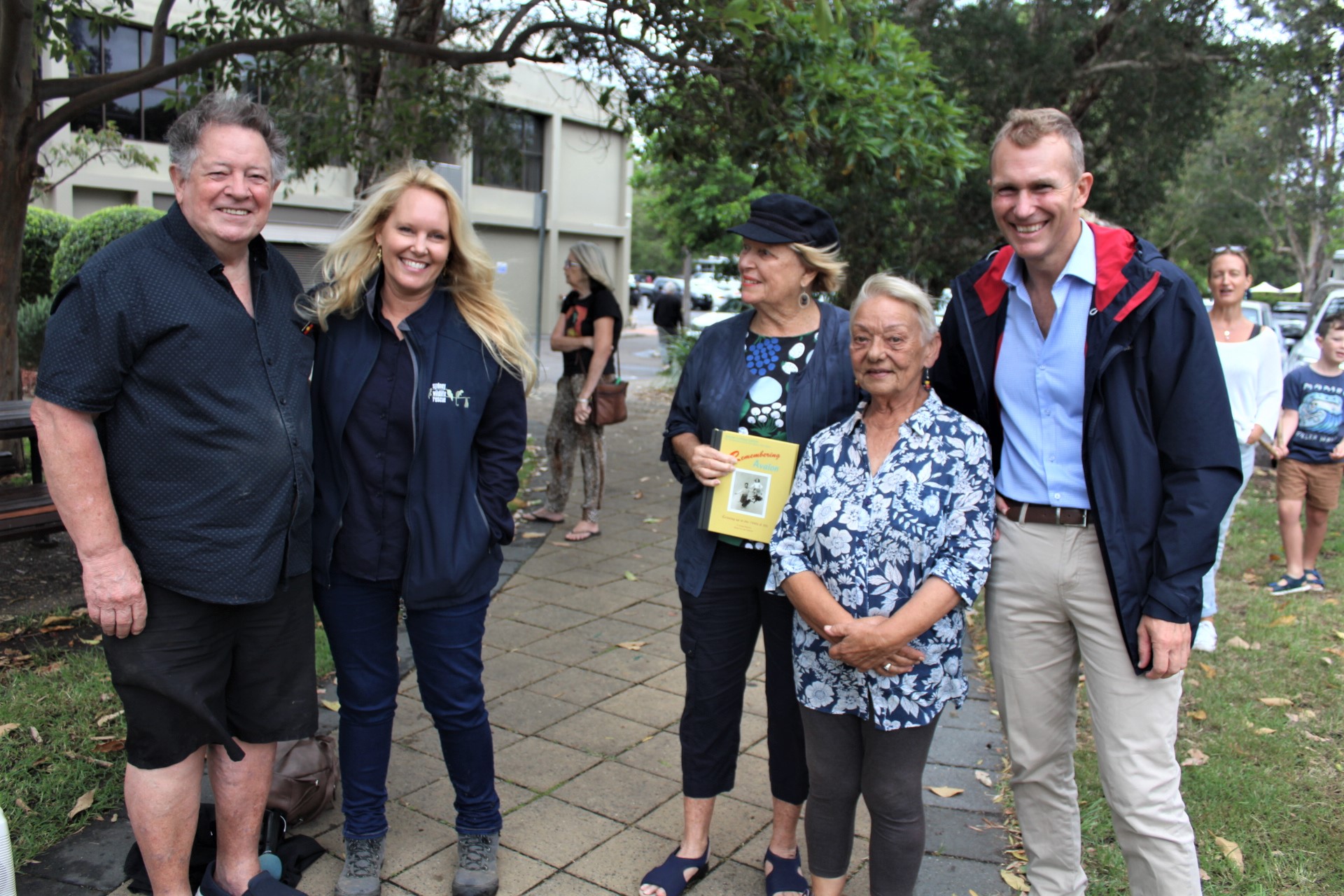 Uncle Neil Evers ASGWMP, Lynleigh Greig Sydney Wildlife, Jan Roberts Author of Remembering Avalon, Aunty Clair Jackson Budawa Aboriginal Signage Group and Rob Stokes, MP for Pittwater
Junior Lifesaver Of The Year 2022 Finalists Announced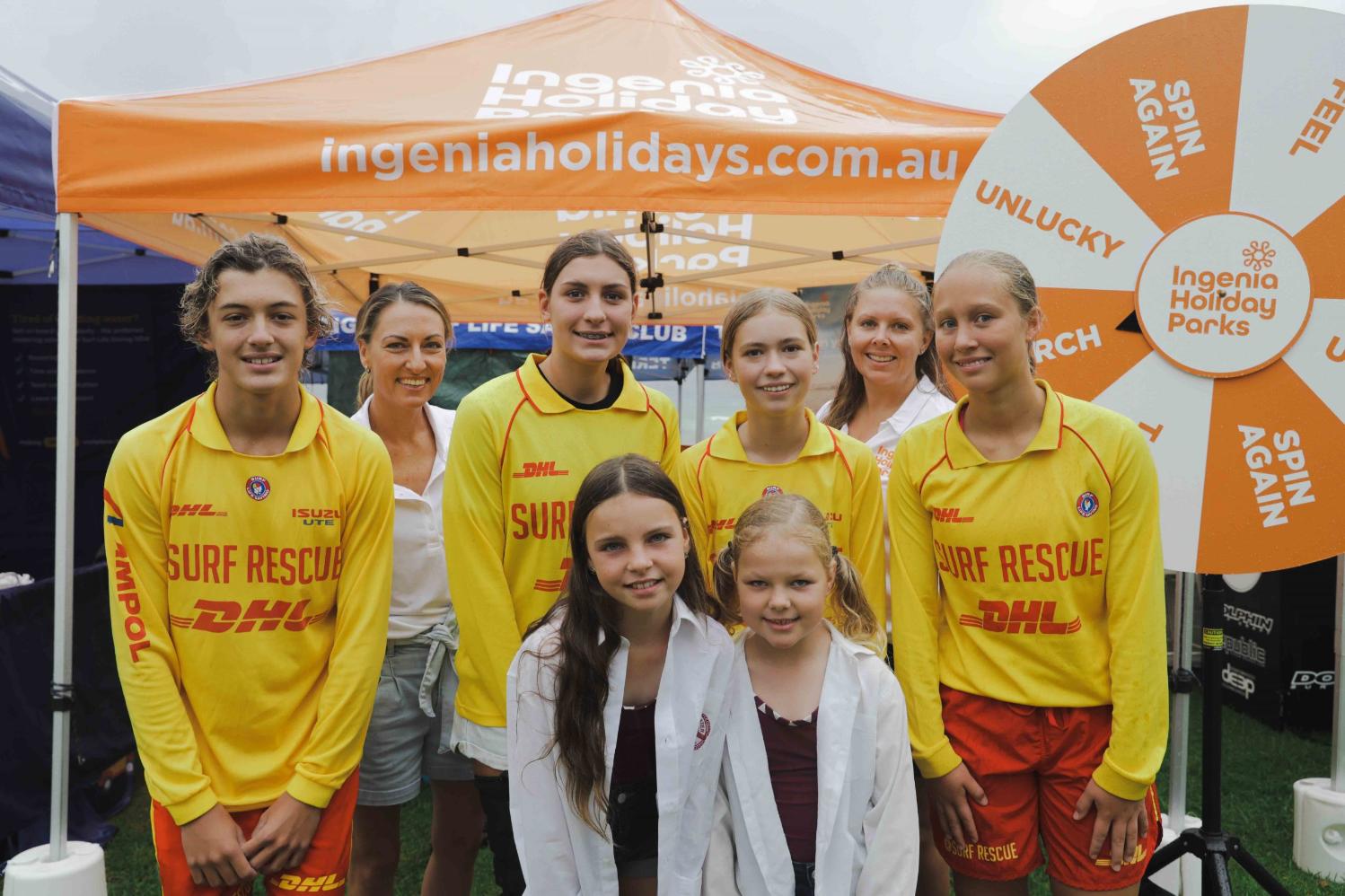 Surf Life Saving New South Wales announced the Junior Lifesaver of the Year 2022 Finalists on Wednesday March 16, which includes Harrison White from Newport SLSC and Emily Lock from Long Reef SLSC.
More than 50 of the state's brightest young lifesavers will come together on the Northern Beaches next month for the Ingenia Holiday Parks Junior Lifesaver of the Year (JLOTY) Program and the Youth Opportunity Makers (YOM) Workshop – two of Surf Life Saving NSW's flagship youth development programs.
Held from 12-14 April at The Collaroy Centre, the programs assist young lifesavers to grow networks, establishing lasting connections and building knowledge through fun and interactive activities.
The JLOTY Program brings together all 22 of the Junior Lifesavers of the Year, nominated by the 11 Branches. At the end of the program, the overall NSW Junior Lifesavers of the Year (male and female) will be awarded.
Collectively, the group will further develop their skills by working with like-minded young members and the program aims to build a greater awareness of opportunities and individual abilities in the membership.
Former JLOTY program participants, Lily Gazzard from Kiama Downs SLSC and Andie Widseth from Redhead SLSC, said the class of 2022 can expect plenty of personal growth as part of the program.
"They will get to meet a lot of influential people and they'll have a lot of fun and just learn a lot," Lily said.
"They can expect a lot of advice.
"We have so many connections now, when we want to help our club, we can."
"You definitely meet a lot of different people and get to know a bit about what other clubs do and how they cater for Surf Life Saving," Andie added.
"It will help them to find new opportunities for what they can do in the future – they can get their Bronze, or Silver Medallion, join an IRB crew, stuff like that.
"They're going to have lots of fun."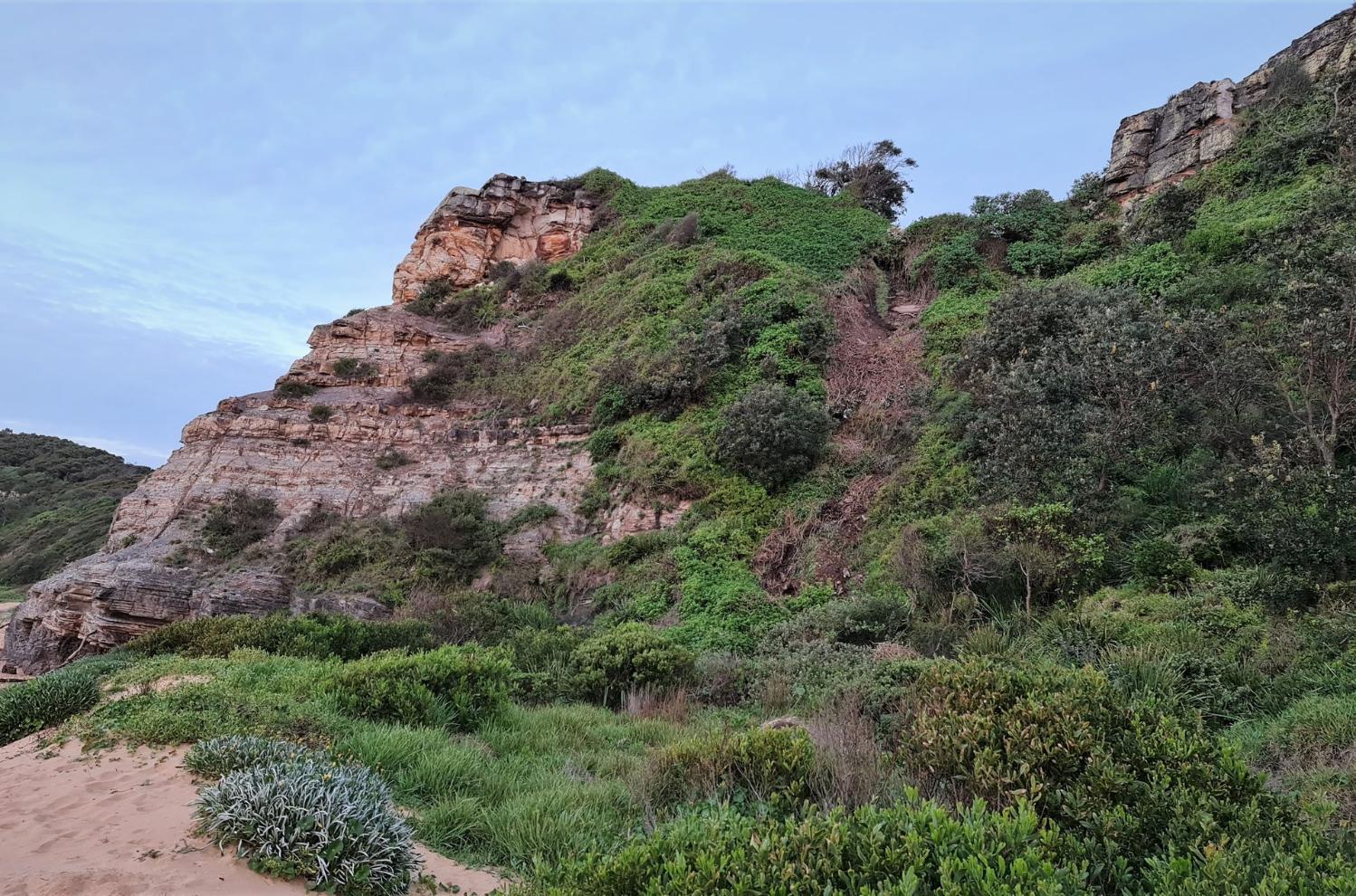 Landslip at Turimetta Beach after weeks of rain. Photo: Joe Mills, taken March 18, 2022

Past Features Archives (pre 2014)
Pittwater Online News was selected for preservation by the State Library of New South Wales and National Library of Australia. This title is scheduled to be re-archived regularly.
Archived Issues (2014 on) may be accessed here: pandora.nla.gov.au/tep/143700