February 3 - 9, 2019: Issue 392
New facilities at Mona Vale Hospital Taking Shape + Local MP Praises Staff Response over Holiday period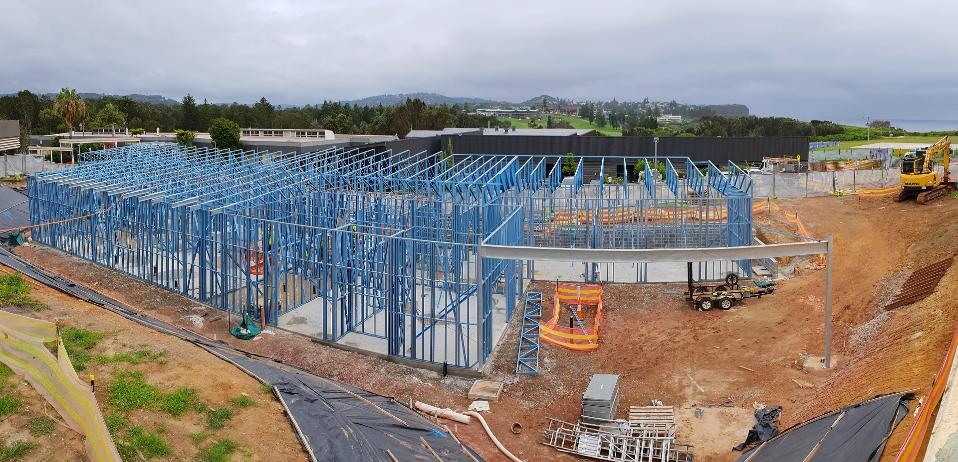 Construction photo of Mona Vale Hospital's new Support Services Building - supplied
Infrastructure Improvements Continuing at Mona Vale Hospital
January 30, 2019
Mona Vale Hospital's new Support Services Building is taking shape.
The new building will accommodate modern kitchen, laundry, cleaning, staff and engineering facilities which are essential for the hospital's ongoing operation.
Groundworks for the new building commenced late last year and structural work is now underway.
"This is yet another important infrastructure improvement at Mona Vale Hospital," Rob Stokes said today.
"In recent years we've seen the start of a series of multi-million dollar building works at Mona Vale Hospital and this latest project is a really important part of the mix.
"The ongoing investment at Mona Vale Hospital is to ensure that new and continuing medical services are provided in modern, state-of-the-art buildings.
"This is not only important for patients – it's also really important for the hundreds of incredible staff that work at Mona Vale Hospital.
"I'm delighted that for the first time in decades we're now seeing a continuing flow of funds for infrastructure improvements at Mona Vale Hospital," Rob Stokes said.
Work is also being finalised on the construction of a new hospital helipad. The helipad is being relocated to enable the construction of a new 20-bed inpatient building on the eastern side of the hospital.
Other upcoming infrastructure projects at Mona Vale Hospital include the construction of a new permanent ambulance facility and extensive renovations to the Urgent Care Centre building.
These projects follow the construction of the new Community Health Service Building in 2016, the 30-bed Beachside Rehabilitation Unit in 2014 and the expansion of the Palliative Care Outpatient Unit in 2013.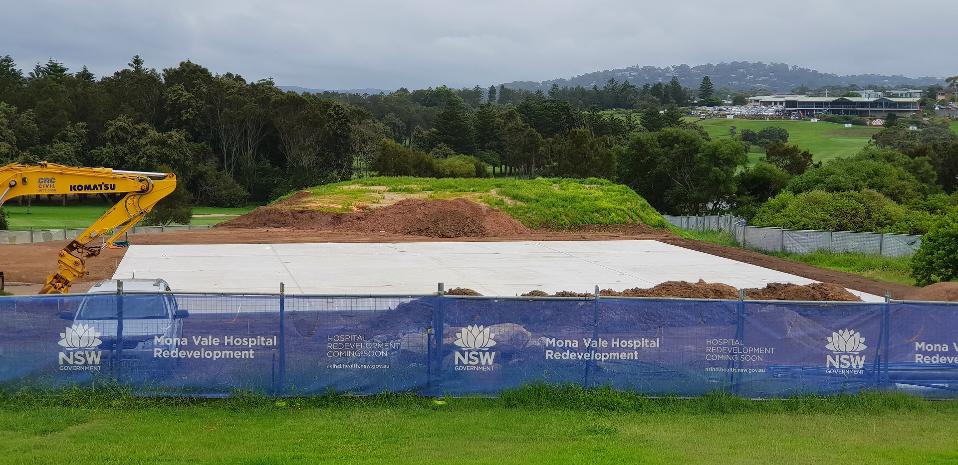 Construction photo of New Mona Vale Hospital Helipad - supplied
Praise for Mona Vale Hospital's Medical Staff
January 31, 2019
Member for Pittwater Rob Stokes has praised the incredible work of Mona Vale Hospital's medical staff over the busy Christmas and summer holiday period.
Since November, more than 3,500 patients have presented to Mona Vale Hospital's Urgent Care Centre which is staffed by a skilled team of emergency trained doctors and nurses.
The emergency medical unit operates 24 hours a day and also provides access to co-located medical imaging, physiotherapy and pathology services.
"Mona Vale Hospital's staff are continuing to do an incredible job," Rob Stokes said today.
"The summer holiday period is always a busy time at Mona Vale Hospital and this year was no different.
"By working in close cooperation with the major hospital at Frenchs Forest – we now have local access to a range of high-level medical services that have never before been available on the northern beaches.
"Many of the medical staff in the Urgent Care Centre have been long-term employees at Mona Vale Hospital and are well known to local residents.
"We're incredibly fortunate to have these talented doctors and nurses continuing to serve our community," Rob Stokes said.
The NSW Ambulance Service is continuing to remind the community that in the event of a medical emergency always call triple zero (000) and request assistance. This is particularly important for anyone who is experiencing chest pains or breathing difficulties.
HIGH PRAISE FOR MONA VALE HOSPITAL'S URGENT CARE CENTRE
Saturday January 19th, 2019: Media Release - Brad Hazzard Minister for Health Minister for Medical Research
The Pittwater community has embraced Mona Vale Hospital's new Urgent Care Centre, with more than 3,500 patients visiting since the 24/7 facility opened in November.
Health Minister and Member for Wakehurst Brad Hazzard said there has been fantastic feedback from locals about the Urgent Care Centre, which is part of the NSW Government's $600 million investment in Northern Beaches health services.
"The Urgent Care Centre model was recommended by Emergency Medicine doctors, including the former Head of Emergency at Mona Vale and it has proved to be a great success," Mr Hazzard said.
"The Urgent Care Centre has services similar to an Emergency Department, including CT scanning and ultrasound, antivenoms, onsite pathology and more.
"Pleasingly, feedback from locals is that the highly skilled medical team are doing an outstanding job treating patients around the clock for a range of illnesses and injuries.
"The doctors at Mona Vale Hospital's Urgent Care Centre want members of the community to understand that if you have chest pain or severe breathing difficulties to call triple zero (000). The paramedics can then make the decision as to where you need to go."
More than 50 patients a day are treated at the Urgent Care Centre for such things as minor fractures, sprains and cuts, dehydration, mild asthma and sporting injuries.
To date, only six per cent of patients presenting to the convenient, walk-in centre have been transferred by ambulance to the Northern Beaches Hospital or other larger hospital.
Before the 488-bed Northern Beaches Hospital opened, the majority (60 per cent) of emergency ambulance pick-ups in the Mona Vale area were taken to Royal North Shore Hospital, which is 15 minutes further away by ambulance.
An additional permanent ambulance station is being established at Mona Vale Hospital and 12 additional paramedics were introduced to the Northern Beaches area before the new hospital opened.
The entire Mona Vale Hospital campus remains in government hands and will continue to have an important role in the future linking with the new Northern Beaches Hospital and community health centres.
Mona Vale Hospital's redevelopment will also see a new 10-bed inpatient palliative care unit and 10-bed elderly care and assessment unit.
These will operate alongside existing inpatient services, including the Beachside Rehabilitation Unit and Assessment and Rehabilitation Unit and the Urgent Care Centre.
The $600 million Northern Beaches Health Service Redevelopment is meeting the changing needs of the community and is part of a new network, including Northern Beaches Hospital and the three community health centres at Seaforth, Mona Vale and Brookvale, as well as the Mona Vale Hospital.
People with serious or life-threatening conditions should call triple zero (000).