February 7 - 13, 2021: Issue 482
Palliative Care Unit At Mona Vale Hospital realised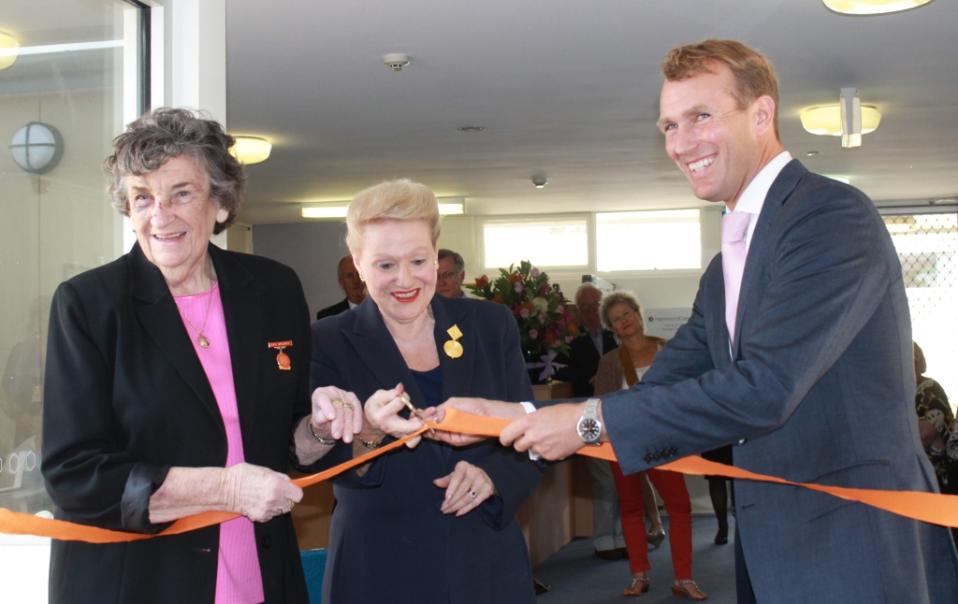 2013: Palliative Care Services and Upgrade opened - Eileen Gordon, then President of the Mona Vale Hospital Auxiliary, The Hon Bronwyn Bishop ad the Hon. Rob Stokes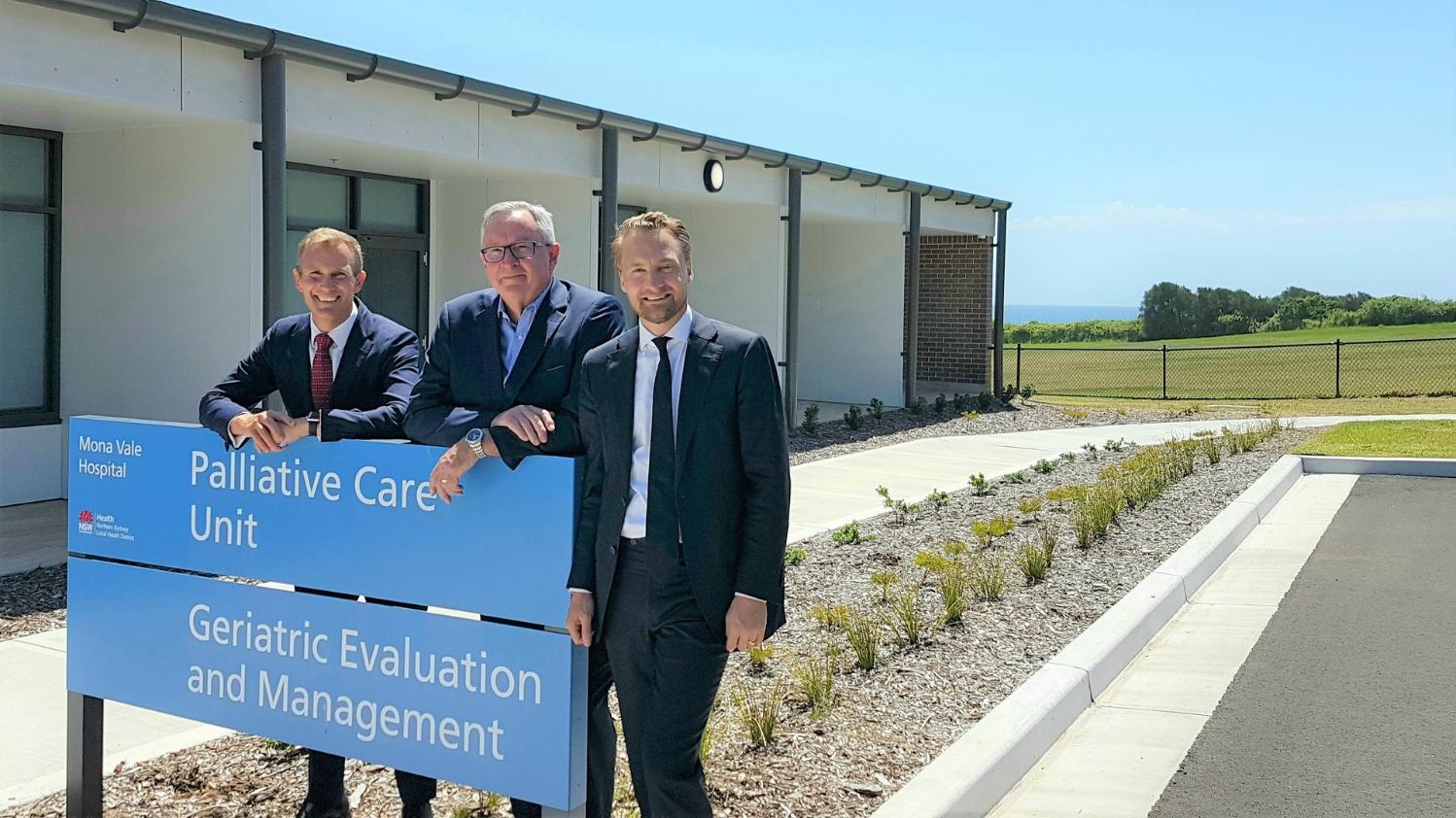 2021: vision Realised - Pittwater MP Rob Stokes, Wakehurst MP Brad Hazzard, Manly MP James Griffin
After decades of work from members of the community and local state MP's the day has finally arrived.
On Thursday, February 4th, 2021, the Palliative Care Unit on the Mona Vale Hospital Campus was officially opened.
Background: On 29th.October, 1989 the Palliative Care Service at Mona Vale Hospital was opened by the Honourable Bronwyn Bishop, Member of Parliament for Mackellar.
The Palliative Care unit was run by the widely-revered Dr John Doran, and offered 24-hour home support. He was soon joined by Jo-Ann Steeves as Volunteer Co-ordinator. This was a start, but a Hospice was needed too. A group of volunteers, led Volunteer Co-ordinator, Jo-Ann Steeves, started fund-raising with a concert in 1992, which raised a remarkable $10,000. Later, the Combined Auxiliaries, headed by Cora Adcock, donated $2,000 and commenced fund-raising in this community with fetes, raffles, concerts, etc.
In October, 1992, The Area Health Board requested funding for a Hospice at Mona Vale Hospital from health authorities. On 25th.February, 1995, Community Services Minister, Mr Jim Longley, announced that a new 12-bed Hospice was to be built at Mona Vale at a cost of $2million, to be completed in August, 1997.
At this time, the Auxiliaries had raised $115,000. THEN came a change of State Government and Labor refused the Hospice at Mona Vale. The community fund stood at $187,368. All active fund-raising ceased and the Funds remained in a Trust Fund with the Health Department, attracting Interest and also an annual Management Fee.
Over the ensuing years, the delivery of palliative care services has changed, with the focus now being to keep people in their own familiar surroundings by providing the services they need instead of treating them in acute hospitals – better for the patient, better for the budget. The CORE of this is an adequate Palliative Care Day Hospital.
So, on 17th.May, 2007, the Mona Vale Hospital Auxiliary wrote to the General Manager of Mona Vale Hospital requesting that community funds held in Trust Fund 306704 be used to extend "The Cottage" where staff were doing their best to provide services in a facility that was inadequate.
And so began the Paper Trail from Auxiliary to Health Dept, Attorney General, Crown Solicitor and finally the Commissioner for Dormant Funds who ruled on 1st. Sept.2010 that the funds be released for the purpose of extending the Palliative Care building. A Trust was established with four Trustees and on 17th.January,2011 these community funds were finally released to the Palliative Care Trust Fund - $244,767. A process of a frustrating 3yrs 8months.
In 2011 the Palliative Care Trust Fund had detailed plans for extensions to the Palliative Care Unit which might serve this community well then and in the foreseeable future. These detailed plans had been supplied pro-bono by a well respected local architect, Emile Jansen, and approved by the Hospital Engineering Department.
With the extraordinary delays in releasing these community funds, building costs had escalated and we found that we could only fund the new administration section with adequate offices for doctors and nurses and the new physiotherapy unit, leaving the refit of treatment rooms, kitchen, bathroom, common room and reception plus the new physiotherapy deck and ramp exercise areas unfunded.
We really did not want a HALF-BAKED facility and so the Mona Vale Hospital Auxiliary asked the Health Department, NOT for the 1995 $2million, but to match the funding of this community with $244,767. After all, this was a Health Department Facility on Health Department Land. With the support of Rob Stokes, Member for Pittwater, the State Government agreed to honour the promise of Mr Jim Longley in 1995 to match Auxiliary funds and $240,000 was added to the fund, MVH Kiosk donated $40,000, Rotary Clubs of Pittwater, Terrey Hills and Dee Why/Warringah added their support with combined donations of over $70,000, and Professor Vicki Taylor, CE of NSL agreed to waive the $60,000 fee that would normally be payable to Capital Works for overall supervision of the building project.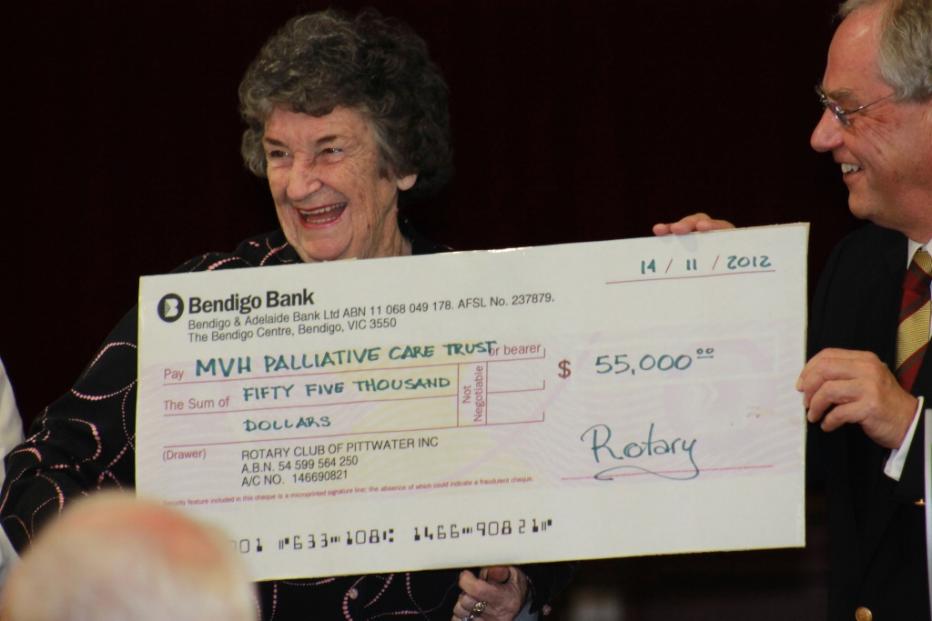 While all this was going on, Friends of Northern Beaches Palliative Care, led by President, Jo-Ann Steeves, were busy organising the refurbishment of the original Cottage – new carpet, painting etc with the help of a State Government grant.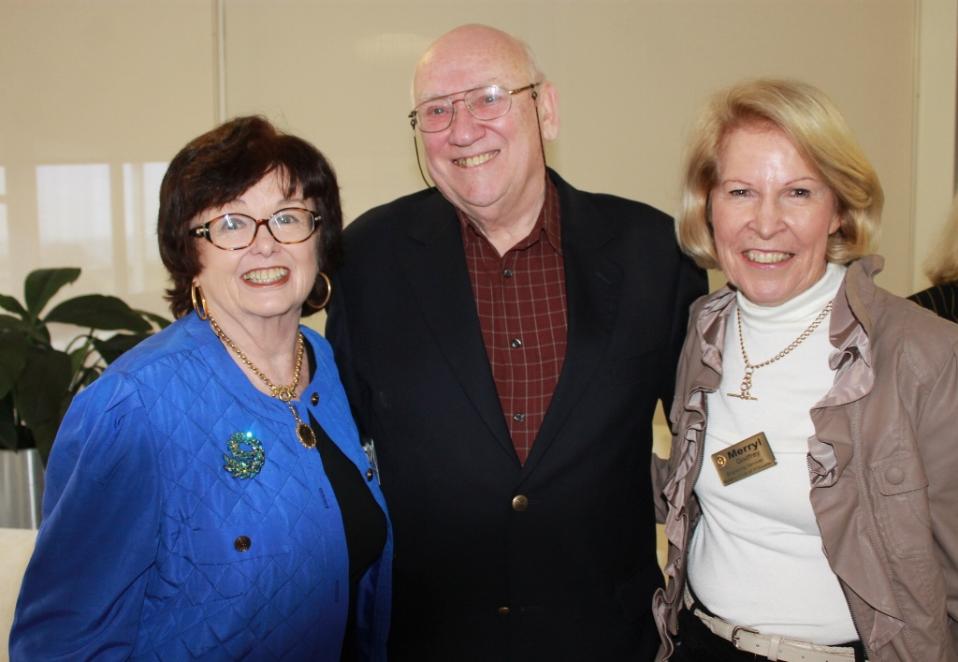 The new building was going ahead, but disappointingly, we had exhausted all funds and had no means of building the $60,000 verandah which was a major feature and joined the two buildings. Then a miracle happened in the form of the Shirley Great Foundation, the Auxiliary found another $15,000 and the General Manager obtained $10,000. So we were able to build the beautiful verandah.
So, with all this help, this community has been able to provide a $660,000 purpose-built facility for the provision of Palliative Care Services.
Our thanks go to all the people who have supported this project and to the Trustees.
Eileen Gordon, 2nd.October, 2013.
(And now, Pittwater, Warringah and Manly, we need a Hospice .... ) - And Now, we do.
Pittwater Online News contacted Eileen this week for comment.
''After decades, it is indeed a wonderful achievement. Our community has worked so long and so hard to see the original Cottage extended to provide increased day care facilities and now our long-awaited inpatient palliative care. Our palliative care centre is now complete and our community has the palliative care that we have needed for so long. I would like to thank Rob Stokes for his long-term support in bringing this project to fruition.'' Eileen said.

Pittwater Online News also spoke to 2015 Pittwater Woman of the Year, Friends of Northern Beaches Palliative Care President Jo-Ann Steeves and Gail Carew of Rotary and the Mona Vale Hospital Auxiliary, who have both toiled for years through fundraisers and advocacy for this great day.
Jo-Ann and Gail stated:
It has been a long and obstructed journey to achieve inpatient Palliative Care for our Northern Beaches. The local community has persisted with loyal support and, on 4th February 2021, their perseverance was rewarded.

Back in October 1989 Dr John Doran established the community service in the grounds of Mona Vale Hospital. It was his plan to progress straightaway with the addition of inpatient care for people with life-limiting illness. Meanwhile the team of specialized medical and allied health professionals and volunteers has supported thousands of local patients and their families in the clinic and in their homes. The holistic care is physical, emotional, spiritual and familial. When PC hospital care was needed it was out of area where the imposed tyranny of distance separated people at a time when being together with loved ones was ultimately important.

Spirits soared briefly in the early '90's when a twelve bed unit was granted. It was soon rescinded. But hope and support never dwindled as the hospital auxiliaries, Mona Vale (led by Cora Adcock and Eileen Gordon) and Friends of Northern Beaches Palliative Care (with Jo-Ann Steeves), remained stalwart with unwavering resolution.

Meanwhile, with community funding (including Rotary via Gail Carew), a clinic was attached to the Palliative Care Service, increasing the ability of the team to expand and enhance their service to the Northern Beaches from Palm Beach to Manly.

In June 2014 an intense, pro-active lobby group gathered with determined objective to achieve what had been impeded and thwarted. Councillor Kay Millar brought on board the then Pittwater Council.

Seven years later, with valued support of The Hon Brad Hazzard, The Hon Rob Stokes, James Griffin MP and NSLHD CEO Deb Willcox, a gloriously sunny day greeted the opening of the state-of-the-art, ten bed facility. It adjoins a ten bed Geriatric Evaluation Unit. Staff have been chosen for professional expertise and qualities that optimize the care rendered by this medical specialty.

The unit sits on the edge of the ocean and the golf course. Each room is single, with a private balcony and comfortable accommodation for a loved one to remain overnight. Lounges, a contemplation area and other amenities have been created to optimize the experience of patients and visitors. Families, including frolicking pets, can be in visual proximity outdoors. The nurturing Northern Beaches culture, in which they have lived, will embrace patients on their journey.

The Mona Vale Hospital Auxiliary and Friends of Northern Beaches Palliative Care, with community assistance, will continue support for the unit. FONBPC, with a NSW grant, is currently completing a see-through safety fence, a paved path connecting to the NB Council walk and landscaping.

We express enormous gratitude to all who have encouraged and supported us on acquisition of the Northern Beaches Inpatient Palliative Care unit. Let us continue, together, to enhance the experience of our loved ones, friends and neighbours.
Northern beaches patients nearing the final stages of life will be supported and cared for closer to home with a new, purpose-built palliative care unit at Mona Vale Hospital.

Health Minister Brad Hazzard, Member for Pittwater Rob Stokes and Member for Manly James Griffin toured the unit today, which will open next week and is funded under the NSW Government's $619 million upgrade of Northern Beaches health facilities.
"Palliative care patients will receive the very best, highly specialised care focused on both their physical and emotional needs while remaining close to family and friends," Mr Hazzard said.
"The NSW Government is committed to providing best practice multi-disciplinary palliative care services that give patients and their families real choice and support during what is undoubtedly one of the most difficult times."
Since 2017, the NSW Government has invested an extra $145 million to palliative care and reducing avoidable hospital admissions, on top of an annual investment of $220 million. The 2020-21 NSW Budget also includes a $56 million additional funding boost for palliative care services.
Member for Pittwater Rob Stokes said the new inpatient building has two wings – a dedicated 10-bed palliative care unit and a 10-bed Geriatric Evaluation and Management unit (GEM) – which will further enhance the diversity of medical services available at Mona Vale Hospital.
"This is another important addition to Mona Vale Hospital and will see a specialised palliative care unit available for the first time on the Northern Beaches," Mr Stokes said.
"These new services will join the urgent care, community health, diagnostic, rehabilitation and other speciality services provided at Mona Vale Hospital and further boost the number of medical staff on site."
Member for Manly James Griffin said it would provide respite for patients and their carers.
"Everything from the fittings to the artwork has been selected in consultation with groups like Friends of Northern Beaches Palliative Care and Northern Beaches Inpatient Palliative Care Working Group, so the unit can meet all the needs of those admitted," Mr Griffin said.
The Geriatric Evaluation and Management unit will provide early assessment and treatment for people experiencing health conditions associated with aging, such as a tendency to fall, reduced mobility and cognitive impairment.
About 50 staff will work at the facility across the disciplines of medicine, nursing, physiotherapy, occupational therapy, social work, clinical psychology, neuropsychology, podiatry, speech pathology, dietetics, pharmacy, administration and environmental services.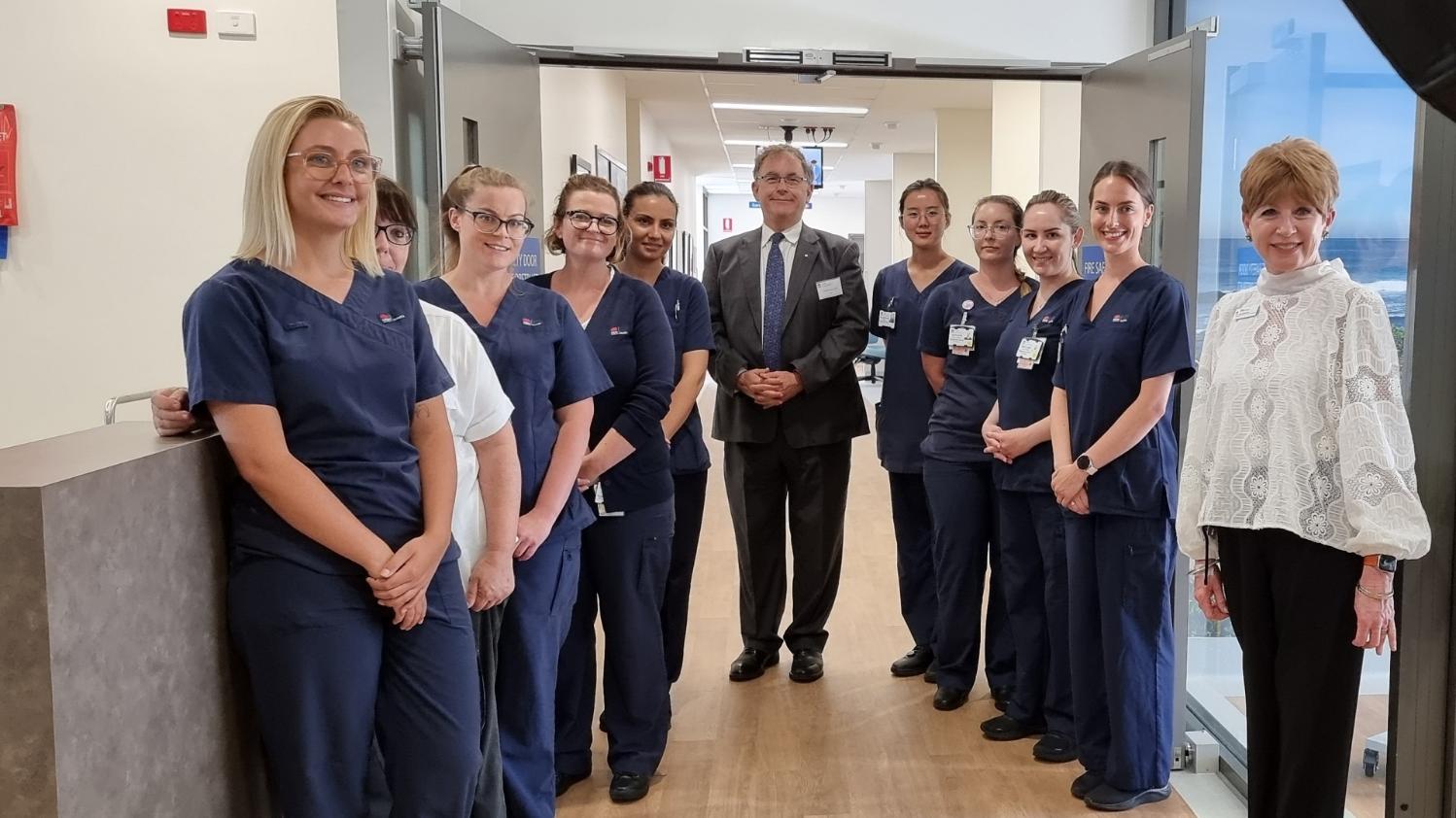 At right: Deb Willcox, Chief Executive Northern Sydney Local Health District with MVH Palliative Care staff