July 22 - 28, 2018: Issue 368

Barrenjoey Milky Way Arch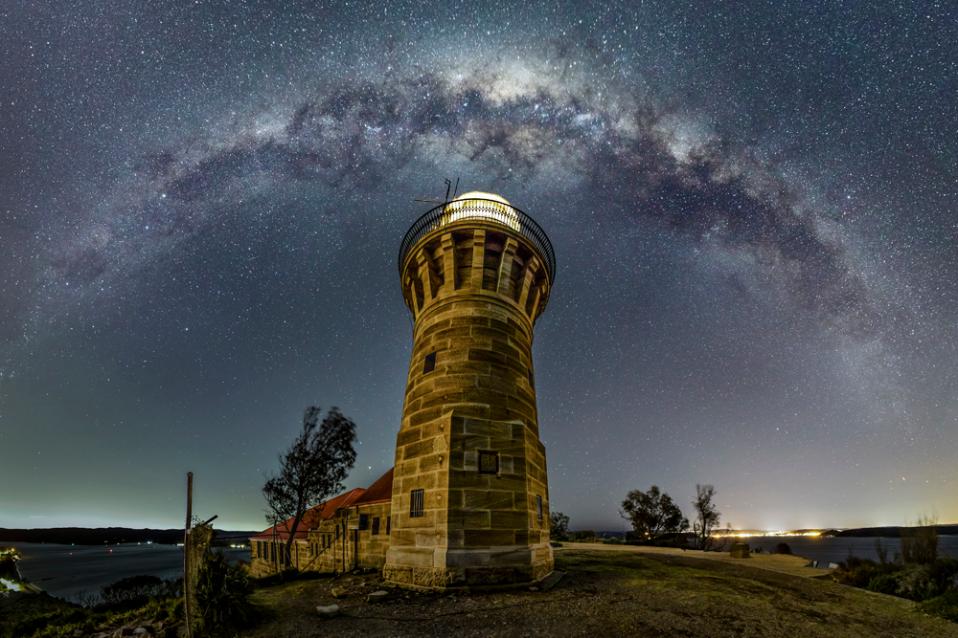 Wide-Field winner in the 2018 CWAS David Malin Awards: Barrenjoey Milky Way Arch. Supplied: ©Tom Elliott/David Malin Awards
Winter is one of the best times to view and enjoy the night sky. Cold weather provides a great opportunity to observe the night sky, and even capture it with a camera - a medium called 'astrophotography'.
In July 2016 Pittwater Online brought you the announcement of Warrumbungle National Park in Central Western NSW being declaredAustralia's first Dark Sky Park, recognising and protecting its key role in astronomical research. The announcement was made by Pittwater's MP Rob Stokes when Minister for Planning and Environment.
"Warrumbungle National Park has long been recognised not only for its beauty at ground level, but also for the wonder it holds in the night sky above," Mr Stokes said.
"It's an outstanding place to view the night sky and, with the nearby Siding Spring Observatory, plays an important role in Australian astronomical research."
As part of that announcement the 2016 StarFest Celebrations, which will
run again this year
. StarFest isn't the only celebration of the brilliant starscape above this country - there is also the CWAS AstroFest, which held its inaugural AstroFest event in 2004.
The festival endeavours to bring to the people of the Central West world renowned astronomers, both professional and amateur, so they may share their enthusiasm and love of the heavens. Among the annual celebratory events is an astrophotography competition that's open to all amateur astronomers in Australia.

In July 2018, the Central West Astronomical Society's astrophotography competition was held again as part of the
CWAS AstroFest
. Amateur astronomers and photographers from around Australia were invited to take part in the exhibition and to submit their astrophotographs for consideration in the prestigious "David Malin Awards".
This year's competition had eight categories:
Deep Sky

Wide-Field

Nightscapes

Solar System

Animated Sequences: Scientific and Aesthetic
Themed Section - "Revealing the Colours of the Stars"

Junior (18 years old and younger)

The photographs were judged by world-renowned astrophotographer, Dr David Malin. The winners were presented with the "David Malin Awards" in the presence of invited dignitaries, during the CWAS AstroFest conference on 14 July 2018. The dignitaries included Dame Jocelyn Bell-Burnell, Cr Ken Keith (Mayor of Parkes Shire Council), Alan Brightman (General Manager - Sunstudios, Canon Australia), Dr Fred Watson (AAO) and Dr Andrew Jacob (Sydney Observatory).
Gordon gentleman Tom Elliott's image, Barrenjoey Milky Way Arch, won the Wide-Field category this year. The image was taken at one of his favourite locations, the Barrenjoey Lighthouse in Pittwater.
The panorama combines 38 images of the Milky Way and the lighthouse.
"There's a wide angle picture of the sky combined with a wide angle picture of the foreground, but they're not the same wide angle," Dr Malin said.
"It's a strong image, mainly because of its symmetry, but also because of the difficulty of getting a lighthouse into an image like this.
"Lighthouses are usually tall and they would block off the Milky Way.
"So [the photographer] stood back from it a little bit and used a very wide angle lens which is why it looks a bit distorted."
See all of the winners and find out more HERE
Community Will Fight To Retain Mona Vale Hospital Emergency Department And Building: Structure Is 'Sound' Advocates State- No Need For Demolition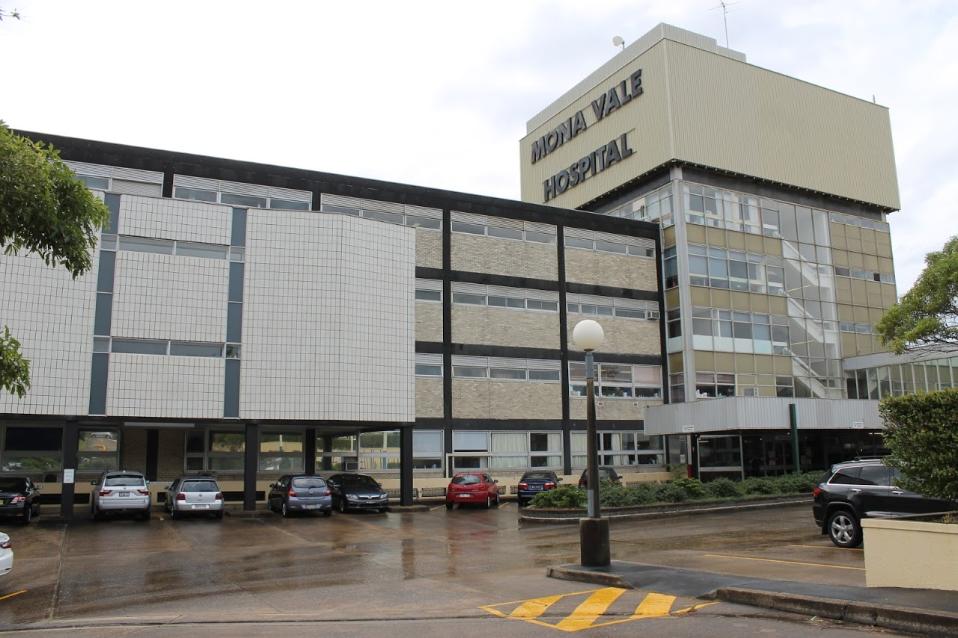 The new Northern Beaches Hospital is as far from residents in Palm Beach as it is from Bondi, advocates for Mona Vale Hospital said last week, reinvigorating the campaign to prevent its closure.
Parry Thomas, former Save Mona Vale Hospital chairman, told a community forum on Wednesday night that the original reason for building the new hospital was to take pressure off Royal North Shore Hospital, which had no room to expand.
The current catchment for Mona Vale and Manly Hospitals was the coastal strip but that would grow for the new hospital - to include not only Frenchs Forest but suburbs like Roseville and possibly Mosman, Mr Thomas said.
"It doesn't do diddly squat for us," he told the meeting.
"If you live in Avalon, you're being asked to travel to Frenchs Forest, which is as far as asking someone from Bondi, from Camperdown, from Five Dock, from Beecroft – just goddamn unreasonable."
Northern Beaches Hospital map by Zoe Wild

It was standing room only at the forum in Mona Vale Memorial Hall, organised by the Protect Pittwater Association to alert residents to the closure of Mona Vale Hospital on October 30 and of shortcomings with the new arrangements.
MVH Emergency department currently assesses around 80-90 patients per day with 30-40 of these requiring admission.
- Australian Nurses and Midwives Association NSW officer Dennis Ravlich
The Northern Beaches Hospital site surrounds will be a building site for the next 20 years because 20 storey buildings will be going into the precinct (for that amount of build-time) which will stymie access to the new hospital.
- Professor Richard West, A.M., former RPA Surgeon
Mona Vale Hospital is structurally sound, we (Save Mona Vale Hospital organisation) have researched this.
- Parry Thomas, former Save Mona Vale Hospital chairman
Full Report by Protect Pittwater Association runs HERE - includes John Illingworth's films of speakers
Also running this Issue: Q&A With Greg Bruce: Health Services Union Ambulance Councillor And Serving Paramedic by Protect Pittwater Association
Bayview Seniors Development: Sydney North Planning Panel Notice Of Public Meeting Now Listed On DPR Webpage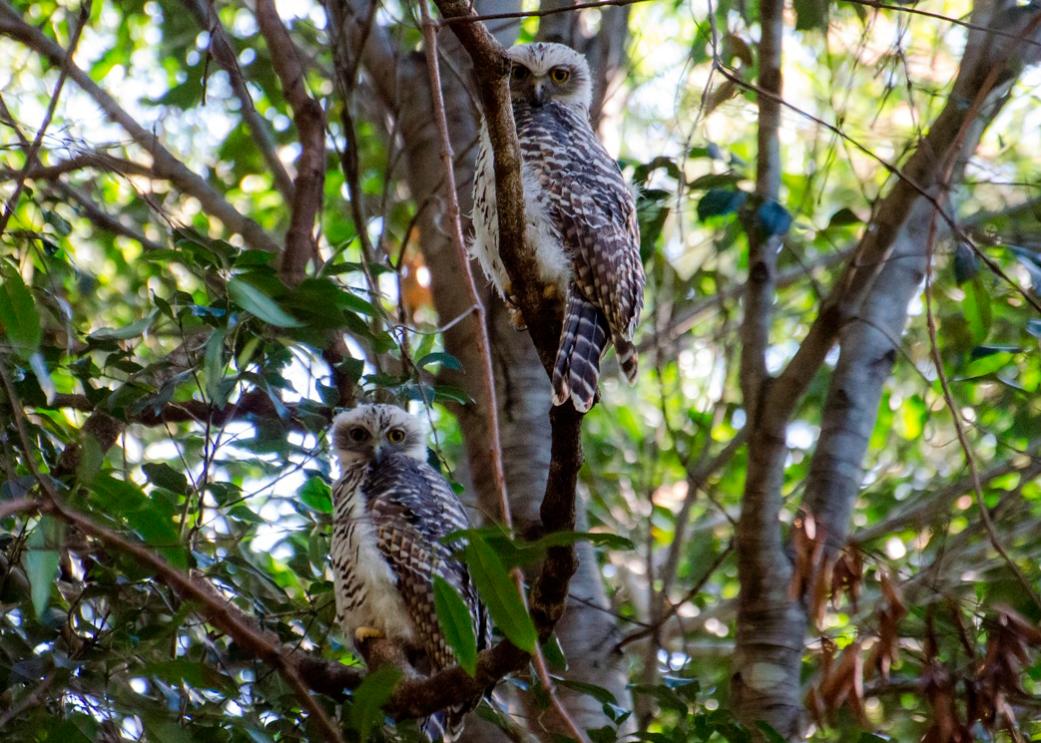 Powerful owls at Bayview golf course perimeter - photo taken 12/12/2017 - photo supplied.
In
April 2017
Pittwater Online
ran the news that
a NSW Department of Planning and Environment Planning Services Delegate issued a Site Compatibility Certificate (SCC) for a development within Bayview Golf Course. The application and an
accompanying report
, first received by the Department on May 3rd 2016, under Clause 25(4)(a) of the
State Environmental Planning Policy (Housing for Seniors of People with a Disability)
seeks to establish the construction and occupation of seven (7) separate buildings of predominantly 3-4 storeys in height for the purposes of 95 in-fill self-care dwellings with ancillary services and facilities.
The application had previously been rejected due to flood risks and because it was slated to be built in a high priority wildlife corridor, home to many vulnerable species including powerful owls and microbats.
In
February 2018
, with a Development Application (
DA2017/1274
) now lodged with council and submissions being received, an overview of the scope of the development and its impact, and the campaign by the club itself exhorting members to make submissions 'for', so the club could remain financially viable through the $ gained from the developer, an update was run. The DA 'Submissions' resulted in 459 submissions being received; 320 in support, 139 objections - many of the 'fors' identifying themselves as members of the club.
some foraging habitat', as 'not a significant impact' against most of the species listed)
, concerns
about evacuation issues if there are fires(
Revised Bushfire Report lodged 09/07/2018
) Page 9; 'It will be recommended that the Bush Fire Evacuation Plan be prepared for the
new facility in accordance with the NSW Rural Fire Service guidelines for emergency management plans as part of this development" - page 17 "
Access for fire services and opportunities for occupant evacuation will be considered adequate for
this property."
, as well as
the perception that if this application is approved it will create a significant precedent, not only for the whole area but also further developments on the golf course itself;
"
If seniors 4 storey apartments can be built in the middle of a high priority wildlife corridor, and that's not considered 'environmentally sensitive' nor worthy of protection, then we can expect similar large scale seniors living complexes to be built on any wildlife habitat or ecologically sensitive land in the Northern Beaches." Bayview residents stated then.
"If the DA is approved and 4 storeys is allowed on this site then expect to see 4 storeys or higher everywhere in the vicinity, including on rural land that borders on any residential land (under SEPP Seniors Housing legislation). Also on other golf courses in the NBC area or see even further development on this same golf course site, as a precedent will be have been established. Once this precedent happens Council will have no power to enforce height rules. If this is DA is approved then the SEPP Seniors Living legislation and the SCC legislation will be used by developers to develop as much land as possible all around the area."
Running concurrently was and is a petition created by Bayview residents opposed to the development that has now attracted well over 32 thousand signatures against the development as Issue 368 is published.
As the
Cost of Work is listed as $ 84,131,144 it was expected the proponents would go to the Sydney Planning Panel North if refused by council. In fact the proponents had already lodged their DA in January, prior to the Local Planning Panels becoming mandatory for all local councils on March 1st, 2018.
In this instance it is the Sydney North Planning Panel who will decide the matter with a Public Meeting Notice published this week, prior to any announcement of 'for' or 'against' by council.
The Public Meeting will be held on Wednesday August 8th at Dee Why. Those who wish to address the panel must register to do so.
Details run at link below and in the Community News page.
During the Winter School Holidays break, and on the heels of the SNPP Public Meeting announcement, the following was received:
Re: Pittwater Online Coverage of Proposed Seniors Housing Development at Bayview.
Look around the Northern Beaches and you'll see battles being waged in nearly every electorate between residents' action groups and the state government. From Manly to Palm Beach, the warzones are green spaces, open spaces, heritage buildings and community facilities. The terms of conflict are consistent: the government is attempting to override local opposition to overdevelopment in underserviced Northern Beaches suburbs. Mainly through the regional Planning Panel set up by the Government, even going against expert advice on specific developments from their local MP and their previous Planning Minister .
The immediate factors are the back-to-back victories of a business first (people second) Baird/Berejiklian government, which decided in 2016 to forcibly merge councils and appoint administrators to oversee decision-making. Stripped of local representation through their Council, the residents were forced to self-organise to oppose reckless developments.
The deeper trends are the subject of academic debate. How does the modern individualised subject who no longer sees himself or herself as belonging to a neatly identifiable bloc choose to engage in politics? Frequently, it seems, by joining a residents' action group.
The common refrain by those whose commercial interest is interrupted by these groups is to accuse them of NIMBYism, naive tree-huggers unaware of economic imperatives. Developers argue that they are responding to demand fuelled by Australia's soaring ageing population with very, very little regard for biodiversity & the local character of the area.
A classic example is the $200 million Bayview Golf course development of 95 luxury retirement units, 4 storeys high on
OPEN SPACE and within a high priority Wildlife corridor
with the need to remove some 252 mature trees (with hollows).
32,187 people have signed a Change.org petition to "Ban development in wildlife corridors"
The Bayview Golf course development proposal
DA2017/1274 (rejected once)
will be determined, not by the large Northern Beaches Council, but by the Sydney North Planning Panel of 5 panel members on 8th August 2018 at N B Council Chambers Dee Why .
B-Line To Newport NOT Going Ahead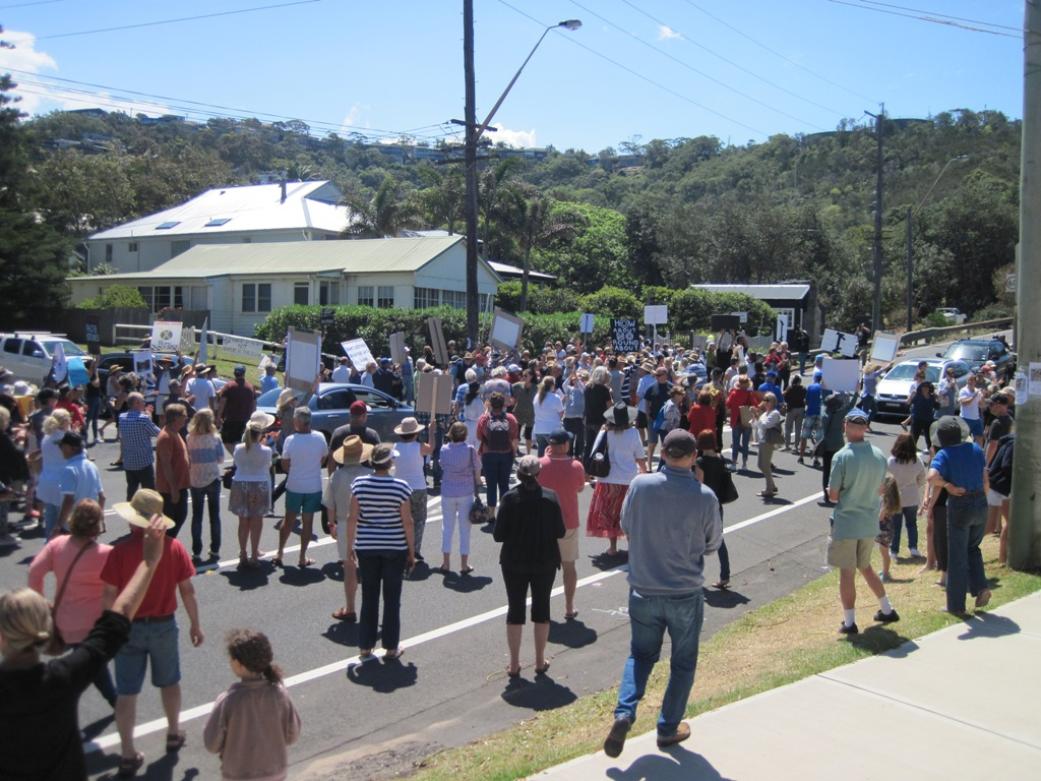 Proposed roundabout demonstration by residents at B-Line to Newport Rally, 2017 - photo supplied
Newport Bus Improvements Take A Different Route
Transport for NSW Media Release
Transport for NSW is investigating further options to improve bus services for customers living north of Mona Vale following a decision not to pursue a proposed extension of the B-Line route to Newport.
"We've listened to the community and it's clear that the most popular solution to improve public transport in the short term is to enhance existing bus services to meet the travel needs of Newport, Avalon Beach and the surrounding suburbs," said a Transport for NSW spokesperson.
"Over the last 12 months Transport for NSW has been investigating infrastructure changes needed to allow the B-Line buses to operate to Newport, and we've discussed with the community a draft concept for a new roundabout at the intersection of Neptune and Barrenjoey Roads.
"From the feedback we received the clear message from our customers was that while they wanted more frequent buses, the preference was to increase capacity and frequency of existing services.
"We remain committed to improving bus services north of Mona Vale and will look at opportunities where we can enhance travel options for customers."
The Hon. Rob Stokes, MP for Pittwater said on Friday,
"There were some ridiculous and misleading rumours being spread around the community.
"There was no proposal to build a bus terminal, no proposal to remove rows of trees, no proposal to construct new car parks and no proposal to introduce clearways.
"The most disappointing and mischievous rumour being peddled around the community was that the B-Line would somehow change planning and development rules. This is simply not true.
"The reality was the complexity of the underground utility relocations, and the timeframes involved, simply weren't practical.
"Transport for NSW took the time to undertake the necessary investigations, they did their homework and they listened to the community.
"Nevertheless, I'm determined to see improvements to public transport services north of Mona Vale and I'm strongly advocating for this."
The community groups who have sought to deter the B-Line to Newport extension are also advocating for improvements, including the restoration of Express services north of Mona Vale that were cancelled when the new bus timetables were announced.
Warriewood Valley Development Rezoning Rejected By Council Now Approved By Sydney North Planning Panel For Flood Zone: '0' Becomes '22'!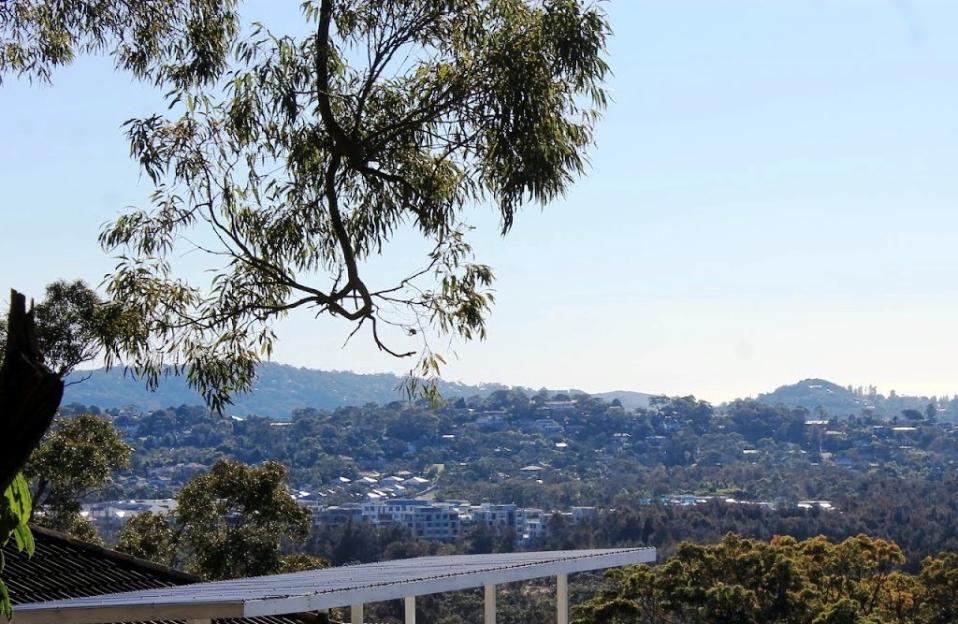 The view into Warriewood valley from Powderworks road, Narrabeen
The Sydney North Planning Panel has again come down on the side of
amending
the Pittwater LEP to favour a development in Macpherson street Warriewood that had been objected to by the community and subsequently objected to by the council.
The Planning Proposal
PP0003/16
, (lodged 11/11/2016) Planning Proposal - Amend Clause 6.1(3) of the Pittwater LEP in relation to Buffer Area 1M to permit 22 dwellings on 2 Macpherson Street, Warriewood and Development Application
DA2018/0339
:
Community Title subdivision of 1 lot into 24 lots, inclusive of 22 lots for future dwelling houses (Submitted: 06/03/2018) fail to take into account that this site has long been known to all
as being unsuitable for building because of the flood danger. The site is an important detention area for the downstream sections of Narrabeen Creek and
this is why the land was given the present zero dwelling yield.
"
The Planning Panel has knowingly placed residences and people in harms way. They have not only intensified development in a flood prone area (which actually goes under water regularly) but also have approved filling of a significant flood storage area thereby causing impacts on surrounding properties." -
former General Manager of Pittwater Council, Mr Angus Gordon OAM,BE, M Eng Sc, FIE (Aust) C P Eng
, July 6th, 2018
As the Median price for a house in Warriewood is currently $1, 610, 000, for a unit $1, 060, 00*, the cost of going to the SNPP clearly favours an ongoing spree of developers seeking to override LEP's, DCP's for profit. This is set to feature in Pittwater's future through the relatively cheap by comparison fees to apply to the
Sydney North Planning Panel to overturn objections to having your home flooded and your green spaces destroyed so others may profit
.
The Macpherson street decision, alike the
DA for Crystal Bay, Newport
(wherein the community's and their 'planning instrument' via the then Pittwater Council to retain a Pittwater foreshore that doesn't look like Hong Kong was overruled), will be the subject of yet another missal to the Minister for Planning and Environment querying the legitimacy of the panel's decision.
The Motion brought by Councillor Vincent De Luca OAM at this week's Extraordinary Meeting (Tuesday July 17th) runs in full
here
. This includes, apart from the decision to;
'
Write to the Minister for Planning and all local State MPs expressing Council's concern regarding the Panel's decision in view of the flood risk as outlined in past Reports to Pittwater Council and formally request the Plan NOT be made.'
An (a) that 'Council seek urgent advice from Counsel as to the prospects of overturning the decision of the Sydney North Planning Panel.'
So the ratepayers bill for the SNPP climbs further in what may be the first challenge to the Department of Planning & Environment's instigation of Planning Panels on March 1st, 2018 '
so the process of assessment and determination of DAs with a high corruption risk, sensitivity or strategic importance are transparent and accountable
'.
The instance is also a great example of why community organsiations, such as the
Warriewood Residents Association
, will remain a vital part of each valley and village within Pittwater, as separate entities and when they work together.
There is also concern that the Public Meetings for hearings on such matters are not being widely publicised in places where they may be seen and read. To a query to residents in Warriewood it was confirmed that only 4 people attended the Warriewood meeting. According to the SNPP documents on the
2 Macpherson street webpage
, 'There were no speakers from the community at the public meeting'.
The times for such Public Hearings is also attracting criticism as they are scheduled either during or close to the end of the working day of residents, making it difficult, unless work is abandoned, to appear before the panel and state their case.
Those who plan to speak for or against future developments should also note they are required to register to speak.
Surf Lifesavers Tame Pool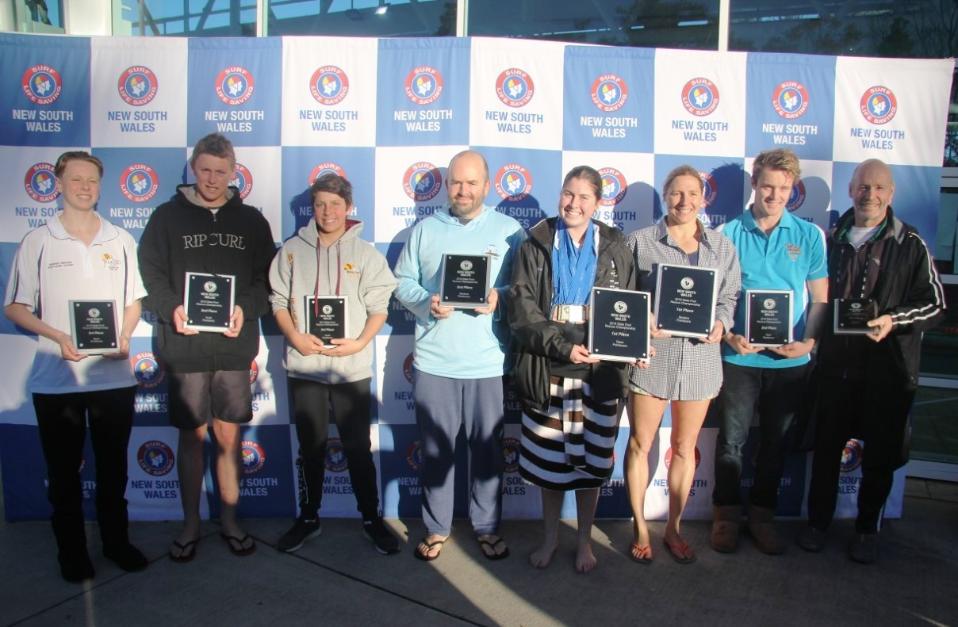 Tuesday July 17th, 2018

It was a highly successful and enjoyable weekend in the pool for the lifesavers that competed at the 2018 NSW Surf Life Saving Pool Rescue Champions held in the Peninsular Leisure Centre at Woy Woy on the state's Central Coast.
Over 400 athletes competed for the 165 medals on offer throughout the two-day competition with plenty of skill on display in what is regarded as a highly technical sport.
In a first for the sport in NSW the U11 age group was introduced to the competition with the rising talent acquitting themselves well on the big stage.
It was a dress rehearsal of sorts for next month's Australian Championships in Adelaide as the competitors were joined by athletes from other states, which certainly added depth to the event.
In recent seasons there has been an increased focus on encouraging clubs to consider entering the Pool Rescue Championships as a means to keep fit over the winter months, and this tactic has proved to be successful with a significant increase in competitors with over 25 NSW clubs taking to the start-line in the final tally of 33.
Local club Terrigal completely dominated the Youth Division to take overall honours thanks to some outstanding performances by Charlise Wheeler (U15s) who finished her campaign with 8 gold medals, while club mate Charlie Walker (U13 boys) also impressed with his four gold, three silvers, and a bronze.
In the end, Terrigal finished over 100 points clear of second placed Newport with Bulli rounding out the podium.
Newport also earned a podium finish in the Open division.
Fauna monitoring in the upper catchment of Ingleside Chase Reserve: Success!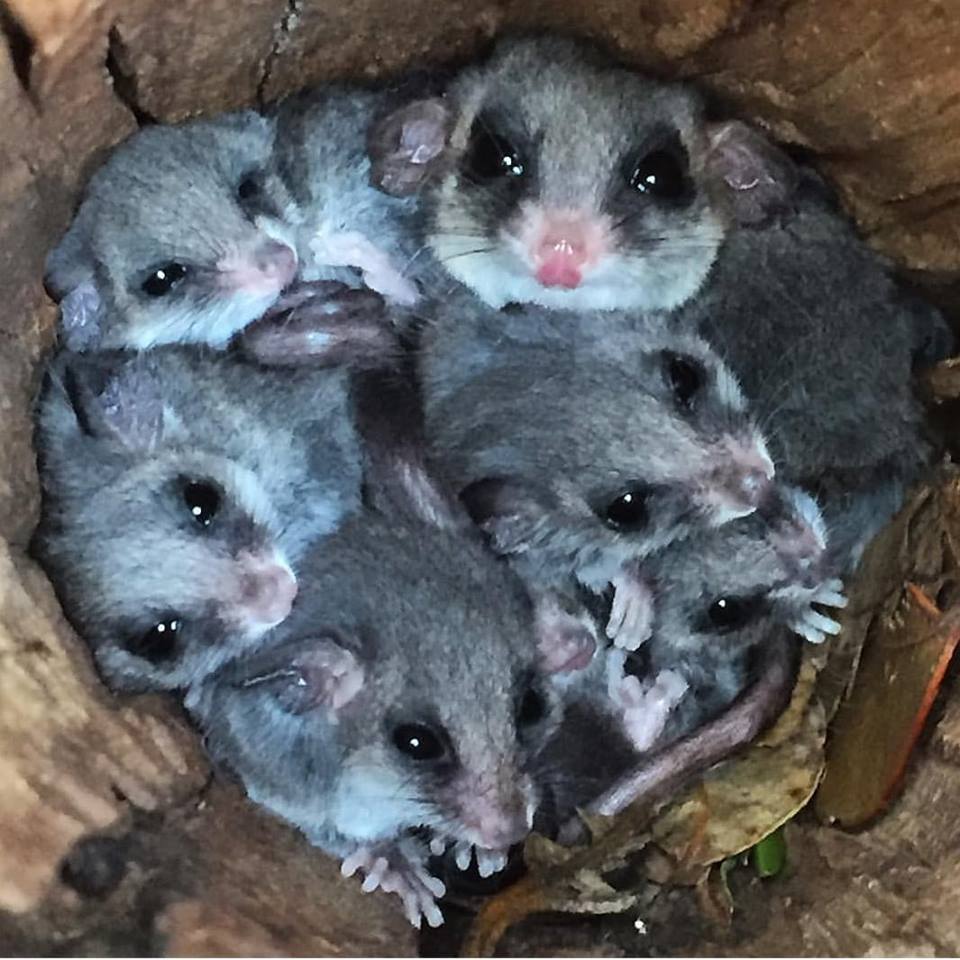 Eastern pygmy possum mummy and 6 babies in nestbox survey lines up around Ingleside installed by Sonja Elwood. Image courtesy Sonja Elwood. Photo credit: Emma Griffen - July 2018.
Council has been undertaking Fauna monitoring in the upper catchment of Ingleside Chase Reserve, monitoring the activities of Eastern Pygmy Possum. This project has been underway since 2012.
This work included 30 nest boxes being installed in the heath area near Ingleside Chase Reserve and the Ingleside-Elanora Heights area.
Find out more about the great works being done by attending the Friends of Narrabeen Lagoon Catchment August 2018 Forum. Read all about current, ongoing and finishing bush regeneration projects in this Issue's
PBP's page focus
-
Bush Regeneration Near Creeks In The Narrabeen Lagoon Catchment.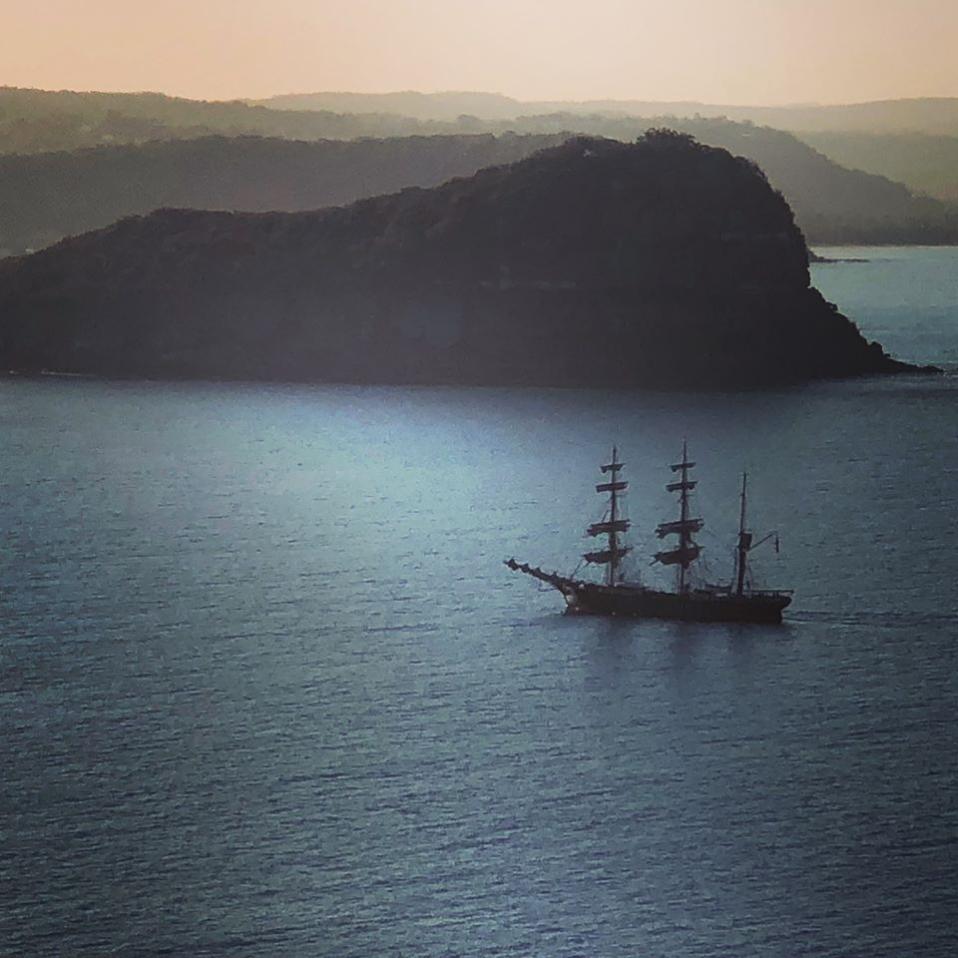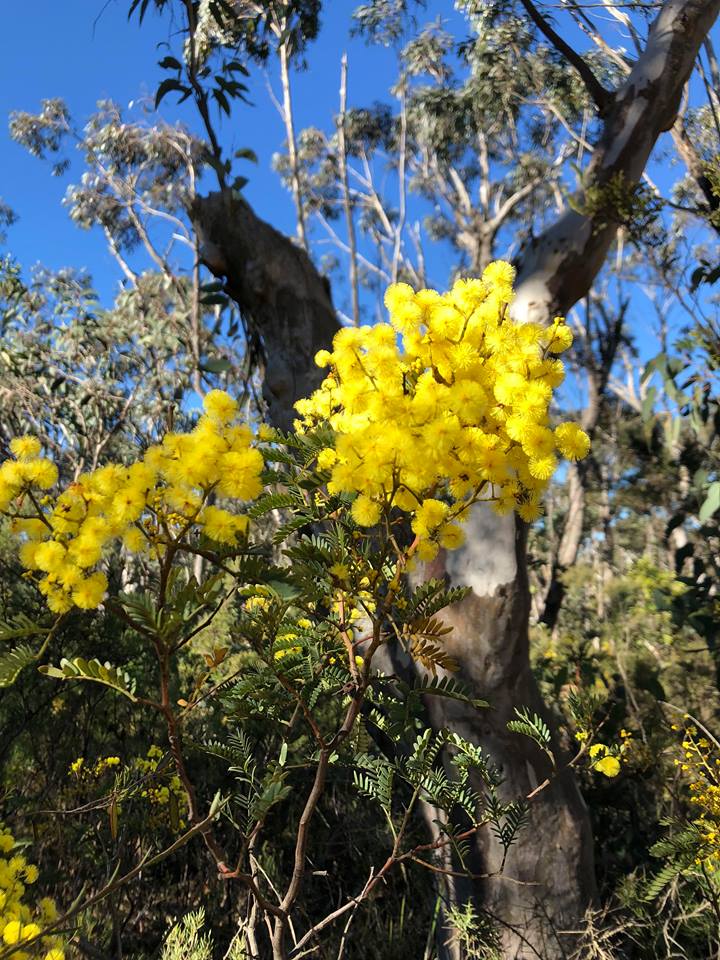 Winter Wattle is beginning to appear -
photo by Adriaan van der Wallen.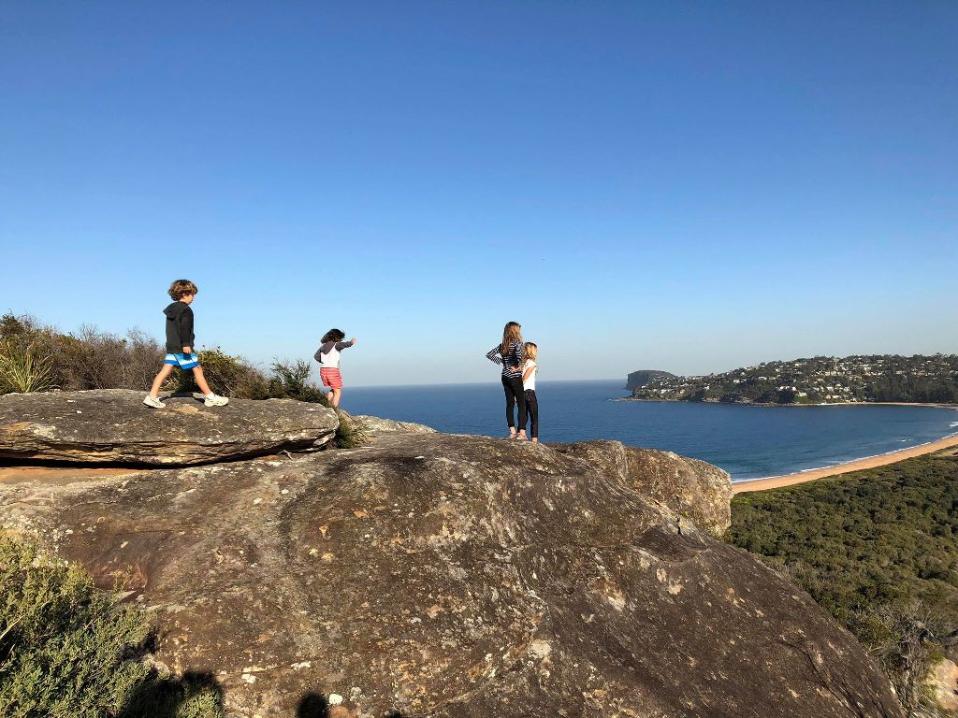 Barrenjoey fun, school holidays 2018 - photo by Adriaan van der Wallen.
More great photos by Adriaan
run as this Issue's
Pictorial
.
Past Features Archives (pre 2014)
Pittwater Online News was selected for preservation by the State Library of New South Wales and National Library of Australia. This title is scheduled to be re-archived regularly.
Archived Issues (2014 on) may be accessed here: pandora.nla.gov.au/tep/143700
Search Pittwater Online Articles