June 22 - 28, 2018: Issue 368
Q&A With Greg Bruce
Health Services Union Ambulance Councillor And Serving Paramedic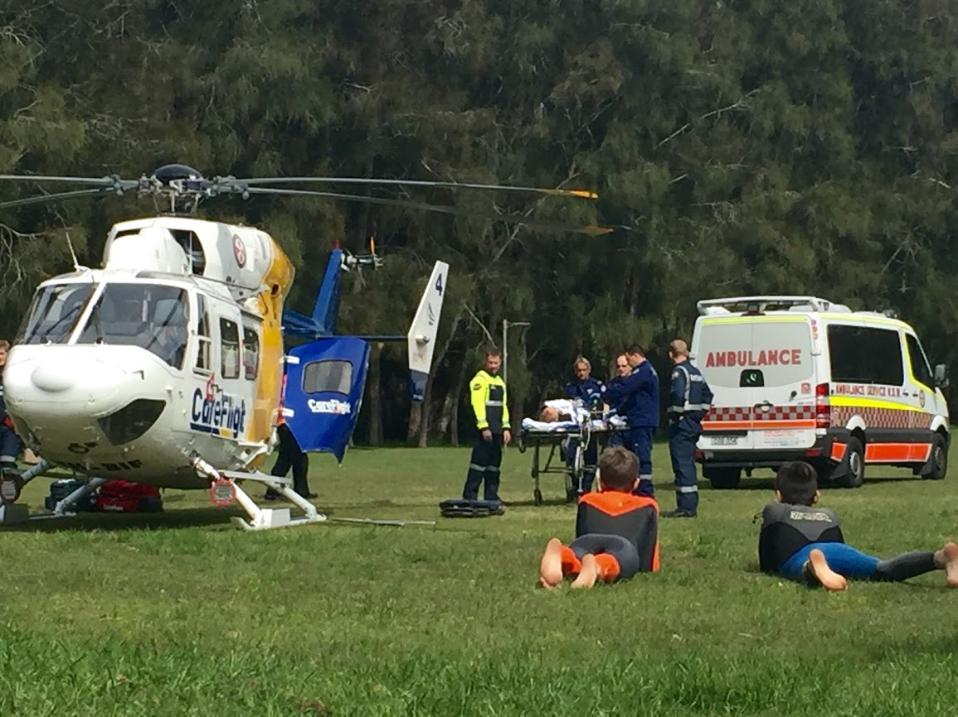 Emergency airlift from small green reserve opposite Avalon Public school and adjacent to Avalon Golf course: Helicopters also land at Careel Bay Playing fields, and at North Palm Beach (beside Nth PBSLSC) to ferry emergency cases to hospital. Photo supplied by Reader.
Q&A with Greg Bruce
Health Services Union Ambulance Councillor and serving paramedic
Mr Bruce was unable to attend Wednesday night's Protect Pittwater Community Forum at Mona Vale – The Fight's Not Over – due to work commitments.
Instead he sent this communiqué to the meeting, answering questions put to him by Protect Pittwater, and has given permission for them to be published.
The Q&A includes a response to Pittwater MP Rob Stokes' announcement on Tuesday that Mona Vale Hospital would receive a new ambulance station as part of the NSW Government's $150 million Sydney Ambulance Metropolitan Infrastructure Strategy (SAMIS) program.
In it Mr Bruce says that: "This announcement is not new" and that the new station would take funding away from stations in other areas.
How long will it take for paramedics to reach patients in Pittwater - including Palm Beach, Avalon and the offshore communities - and then get to the new Northern Beaches Hospital?
When transporting to hospital, the travel time will be increased roughly by between 15 minutes and 30 minutes depending on traffic conditions, under normal driving conditions.
How much difference will the extra travel time make to treatment outcomes?
While each case or patient is different, our CEO recently commented in an article on future additional paramedics that it: "is about saving lives, reducing fatigue, improved safety and increased capacity to treat and transport patients in a timely manner". It is also well recognised in conditions such as cardiac arrest, myocardial infarctions (heart attack), serious trauma and stroke that time is important to the overall outcome of the patient.
What sort of conditions would go to the new Mona Vale Urgent Care Centre?
Ambulances will not be transporting patients to this location. They will be required to transport some patients from the Urgent Care Centre to the appropriate hospital, which will have an unknown effect on ambulance resources.
What are ambos' thoughts about absence of (cardiac) and stroke treatment facilities and neurosurgery at the new hospital?
In reality there will be no change to the transport times of patients for these conditions as they currently are transported to Royal North Shore and this will continue.
Can ambos see any problems with offloading patients at the new hospital if public beds are full?
HSU and paramedics are not in favour of private/public hospitals. They have failed in this state previously as well as in other states, so we are nervous about how many beds will actually be available and wonder if the proper consideration has been given to how many beds are needed in the new hospital. (This is) based on the ageing population within this area that requires longer stays in hospital and also if they recognise that, due to the location of the hospital, more patients will arrive in the future than is currently being experienced by Manly and Mona Vale Hospitals.
What will happen if all roads in and out of Pittwater (ie Wakehurst Parkway, Mona Vale Road, Powderworks Rd and Pittwater Rd) are closed as happened in the 1994 bushfires?
This is an interesting question as we have previously had a hospital on the beaches. I would think in an urgent case they would be helicoptered out but this is a one in a hundred year event and if it happened again we would have to triage patients and deal with as best we could possibly at the Mona Vale site.
How often and in what situations would a helicopter be used?
Normally helicopters are considered on the beaches for serious trauma cases north of Mona Vale, due to the transport time (for travel to Royal North Shore Hospital). They are also used in case of cliff, bush and remote cases such as in the National Park areas. How often is difficult to say as they may be used more than once on some days, multiple times over a week and then not for a week or more.
What happens if it's not available?
The case is transported by road, which can happen now with a patient and helicopter crew transported by road.
What can paramedics do to stabilise people who are having a heart attack or stroke?
In the case of heart attacks, all ambulances have ECGs with defibrillators, advanced airways, a range of cardiac drugs. Intensive Care Paramedics have additional drugs and skills for this type of patient.
In the case of stroke, all ambulances diagnose and transport patients with stroke symptoms in the first 4 hours to RNS. Outside of this they are transported to the local hospital. Without having confirmation I assume this, in the future, will be Frenchs Forest.
Pittwater MP Rob Stokes has announced a new ambulance station at Mona Vale Hospital. Do you think that will make any difference?
This announcement is not new as it was announced last year. Our stance on this is that we support the additional staff in the area and all across Sydney. The announcement of 700 additional staff for the state over the four years is seen as a long time coming and, while we celebrate this, the fact is that we believe that Sydney alone needs 700 additional staff now - to put it in line with other states and manage the current workload. A comparison on the number of dual crewed crews shows that we are 59 crews below Melbourne over a 24-hour period.
On the actual requirement of a new station, our view is that these additional staff should be located at the existing Narrabeen station, as it is only 4km away. Additional staffing will help provide more available crews, which is vital in responding to our workload. However, these additional staff have been in the area since early last year yet we have experienced no discernible improvement in our ability to respond.
As stated previously, the lack of crews Sydney-wide regularly means that crews from this area are sent away leaving only limited crews available to respond. It should be noted that there is an agreement in place to ensure a set number of crews are maintained at each location, however the NSWA will not agree to add Mona Vale to this agreement, so at times while there may be an additional crew say at Artarmon and non-rostered at Mona Vale, they normally will not replace the one missing at Mona Vale.
What is new is that they have announced that it will be part of the $150 million SAMIS program (Sydney Ambulance Metropolitan Infrastructure Strategy). This new location was never part of this strategy, so it can only be seen as taking money from some other area and not properly funding this location. As stated, we believe it is a waste of money and the staff should be located at Narrabeen Station.
Protect Pittwater Association
July 22, 2018