July 22- 28, 2018: Issue 368
Palm Beach As Far From New Northern Beaches Hospital As Bondi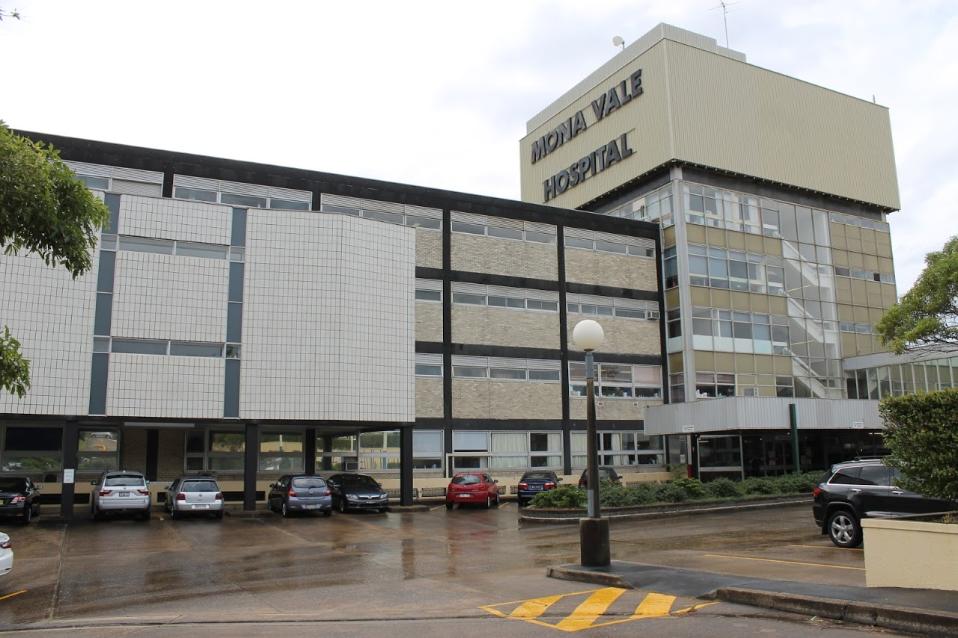 Palm Beach as Far from New Northern Beaches Hospital as Bondi
July 22, 2018: Media Release - Protect Pittwater Association
The new Northern Beaches Hospital is as far from residents in Palm Beach as it is from Bondi, advocates for Mona Vale Hospital said last week, reinvigorating the campaign to prevent its closure.
Parry Thomas, former Save Mona Vale Hospital chairman, told a community forum on Wednesday night that the original reason for building the new hospital was to take pressure off Royal North Shore Hospital, which had no room to expand.
The current catchment for Mona Vale and Manly Hospitals was the coastal strip but that would grow for the new hospital - to include not only Frenchs Forest but suburbs like Roseville and possibly Mosman, Mr Thomas said.
"It doesn't do diddly squat for us," he told the meeting.
"If you live in Avalon, you're being asked to travel to Frenchs Forest, which is as far as asking someone from Bondi, from Camperdown, from Five Dock, from Beecroft – just goddamn unreasonable."
Northern Beaches Hospital map by Zoe Wild

It was standing room only at the forum in Mona Vale Memorial Hall, organised by the Protect Pittwater Association to alert residents to the closure of Mona Vale Hospital on October 30 and of shortcomings with the new arrangements.
Retired Professor of Surgery Richard West, who lives locally but worked at Royal Prince Alfred Hospital for 40 years, highlighted the impact of travel time to the new hospital and its impact on patient outcomes.
Prof West said Mona Vale Hospital must be retained as a Level 3 Hospital, which includes a full emergency department, to treat people who might need resuscitation such as those suffering asthma attacks and anaphylactic reactions.
"A hospital's got to have a casualty department, its got to have beds, its got to have operating theatres," he told the forum.
However, he also pointed out the shortcomings of the new hospital, saying that although it would be a state of the art Level 5 facility, it would not offer neurosurgery so could not deal with major trauma.
"There is a golden hour when you have major trauma in which you have to get to the hospital," Prof West said.
"You can be resuscitated in the ambulance but the quicker you get to hospital the better."
Neither would it offer cardiac surgery or clot-busting drugs to stroke patients, he said.
"If you get a stroke you either have a clot or a haemorrhage in the brain," Prof. West told the forum.
"If you have a clot and you get the appropriate thrombolysis treatment within three hours, you can dissolve the clot, and you can completely recover…
"By the time you get to (Royal) North Shore (Hospital) time will have run out."
Ambulance services in Pittwater will also need to be upgraded to meet benchmarks for travel, he said, and called for a feasibility study into ambulance transport to Northern Beaches Hospital and a public bus running there along Wakehurst Parkway.
Australian Nurses and Midwives Association NSW officer Dennis Ravlich agreed that all acute services would close at Mona Vale Hospital from the end of October.
The "Urgent Care Centre" which was then due to open would treat sprains and strains, Mr Ravich said.
Ambulances would not transport any members of the community there, no matter what level of care they might require, and instead go straight to Northern Beaches Hospital or Royal North Shore, depending on the patient's condition.
"It is not an emergency department," he said.
"Essentially, to access the services of the Urgent Care Centre you will need to be able to walk in."
Patients would need to self-assess whether they thought they needed hospital admission.
"If you think you might require admission to a hospital, best not go to the Urgent Care Centre because they will not be able to deal with your situation," he said.
Mr Ravlich predicted that whilst the Urgent Care Centre would operate around the clock initially, that could change after it is reviewed in a year's time.
"The community will be herded towards Northern Beaches Hospital and then in 12 to 18 months they will be able to say maybe we don't need it (the Urgent Care Centre) open at night; maybe we don't need it at all.
"It's fair to say that in other hospitals or locations where Urgent Care Centres have been established they don't often last very long."
A movie by local filmmaker John Illingsworth that was launched at the forum - The Life of Rob … and Death of Mona Vale Hospital.*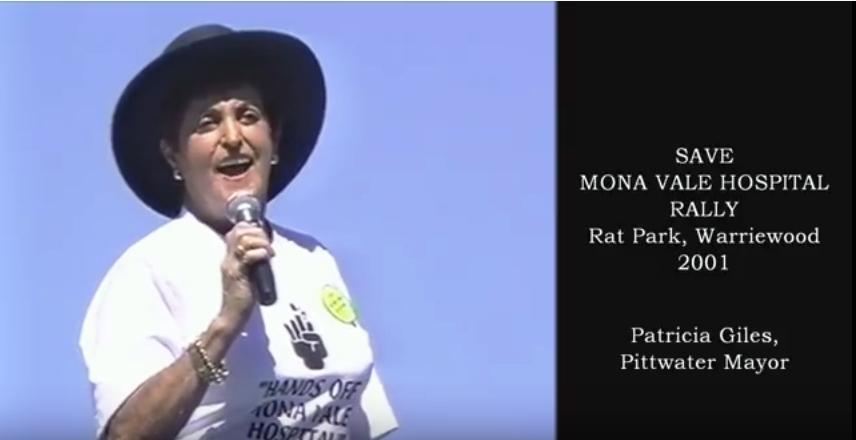 Screenshot grab from John's film ; '97% of Pittwater Residents want to retain and upgrade Mona Vale Hospital'
The film draws on documents obtained through Freedom of Information requests by another local, Phil Walker, to reveal that the NSW Health Department does not have any documents to support claims that Mona Vale Hospital must be demolished because it is structurally unsound.
Mr Thomas later told the crowd that there was nothing wrong with Mona Vale Hospital.
"It is structurally sound," he said.
"That hospital is eminently fixable, upgradable and usable."
Residents at the forum passed a motion stating:
Mona Vale Hospital land must stay in public hands.

The main building must be retained.

The hospital must be retained at a minimum as a Level 3 with a full emergency department.

Existing facilities must be upgraded.

Palliative and aged care must be kept.
Also running this Issue: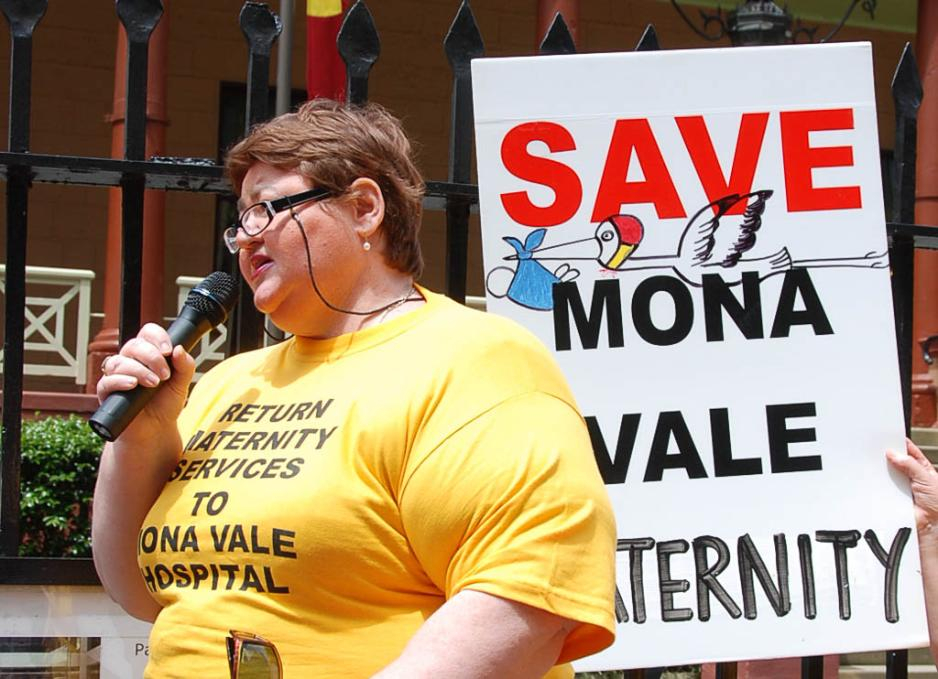 Karen Draddy (R.I.P.) -
photo by Michael Mannington.
1) PROF. RICHARD WEST AM
former RPA surgeon
The Northern Beaches Hospital site surrounds will be a building site for the next 20 years because 20 storey buildings will be going into the precinct (for that amount of build-time) which will stymie access to the new hospital.
2) DENNIS RAVLICH
Nurses & Midwives Association
MVH Emergency department currently assesses around 80-90 patients per day with 30-40 of these requiring admission.
3) PARRY THOMAS
former Chair of Save Mona Vale Hospital
Mona Vale Hospital is structurally sound, we (Save Mona Vale Hospital organisation) have researched this.
* Film is M to MA 15+
classified material
contains strong content and is legally restricted to persons 15 years and over. It contains classifiable elements such as nudity and swearing and is unsuitable for younger readers.