May 8 - 14 2016: Issue 262
Royal Prince Alfred Yacht Club Wins the 2016 Clubs NSW 'Disability, Welfare & Social Inclusion' Award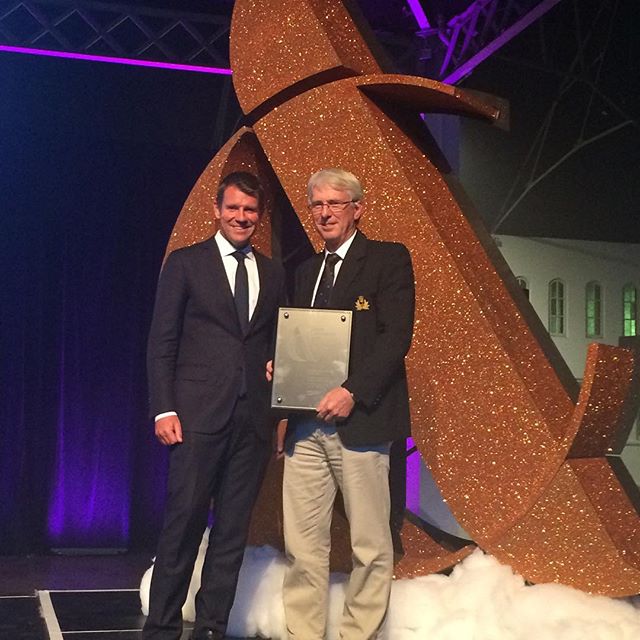 NSW Premier Mike Baird and RPAYC Commodore Ian Audsley
The Royal Prince Alfred Yacht Club Wins the 2016 Clubs NSW 'Disability, Welfare & Social Inclusion' Award.
May 7, 2016
The Royal Prince Alfred Yacht Club has won the 'Disability, Welfare & Social Inclusion' Award in the prestigious 2016 Clubs NSW Club & Community Awards for its Integrated disAbled Sailing Program.

The award, the first of the night was further recognised in its importance by being the only award of the night presented by the NSW Premier Mr Mike Baird at the Royal Hall of Industries. The award recognises the outstanding work the RPAYC and its members have achieved within the local community through their Integrated disAbled Sailing Program (IdS) which supports the funding and integration of sailors with disabilities into the Club's regular sailing program.
The award was accepted by Commodore Ian Audsley who spoke of the recent broadening of the program which now involves Soldier On, a charity dedicated to supporting ex-service men and women back into civilian life, the Another Challenge program and the continuing partnership with Sailability which has been in place for decades. He commended the efforts of long time Sailability volunteer Allan Jones who was present for the presentation.
After presentation of the award, The RPAYC General Manager Suzanne Davies commented, "we are very proud of this award and it will recognise the efforts of many participants, volunteers, staff and all RPAYC members who have so generously shared their club, welcomed participants on their boats and helped raise funds. Nathan Vardanega who runs the Soldier On programs was unable to make it tonight, but I'm sure will be thrilled".

"Dan Fitzgibbon, in particular will be very excited, as will John Bacon of Link Healthcare!" a locally based Pharmaceutical and Medical Technology business, who has financially supported this program from its inception.

Central to the Another Challenge program are 2012 Paralympic Gold Medallist Dan Fitzgibbon who, along with his sailing teammate, Liesl Tesch, have been selected for the 2016 Rio Paralympics and Alyse Saxby who, in 2015, won Gold at the Special Olympics in Los Angeles.

The IdS Program is now firmly embedded as an important part of the Club. The award reinforces the importance of sailing as a sport for participants of all abilities and the benefits that can be gained in participating in this wonder pastime.

Commodore Ian Audsley later confirmed that, "Looking forward, the RPAYC will continue to grow the IdS Program to share more of these experiences with those who face more significant challenges in their lives than most of us.
By Mark Bernardo, Marketing and Membership Services Manager, RPAYC.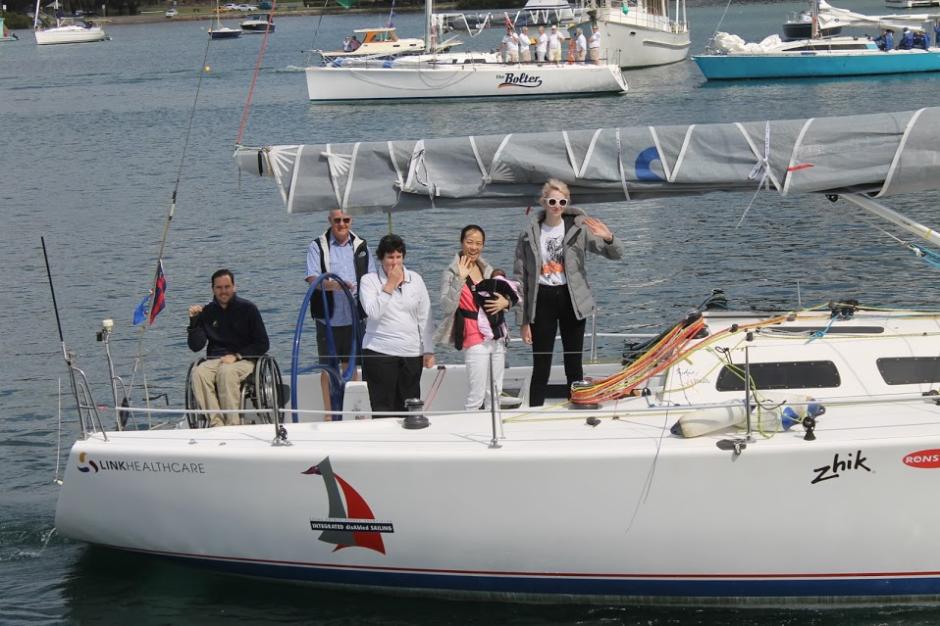 Dan Fitzgibbon, wife Kumi and daughter with friends aboard 'Another Challenge' at Sail Past and Salute to Commodore - 149th Opening of the RPAYC Sailing Season - September 2015
2016 Clubs & Community Awards Finalists: North Sydney and the Northern Beaches

Six clubs across North Sydney and the Northern Beaches have been recognised for their meaningful contribution to the local area, being named as finalists in the prestigious 2016 Clubs & Community Awards. The Awards recognise the immense contribution clubs make to their local area and the state across a range of categories including Arts & Culture, Education, Environment, Emergency Services, Health, Youth Leadership, Amateur Sport, and Disability, Welfare & Social Inclusion.

The Awards also recognise outstanding individuals and clubs working together to improve their community through the Heart of the Community and Clubs in Collaboration Awards.

ClubsNSW CEO Anthony Ball said that this year's Awards received a high calibre of entries, including several nominations from local organisations working alongside clubs.

"These Awards recognise and celebrate the many ways in which registered clubs get involved and support their local communities with purpose and pride," he said. "Across the state clubs are always the first to roll up their sleeves or lend a helping hand, and these Awards are all about recognising that community spirit."
This year's North Sydney and Northern Beaches Finalists are:
•Dee Why RSL Club – Disability, Welfare & Social Inclusion Category
•The Royal Prince Alfred Yacht Club – Disability, Welfare & Social Inclusion Category •Pittwater RSL Club – Youth Leadership Category
• Harbord Diggers – Leadership Category
• Seaforth Bowling Club – Arts & Culture Category
•Roseville Memorial Club – Heart of the Community Category

Dee Why RSL has been recognised for its delivery of the Veterans Centre Sydney Northern Beaches, a unique service which caters for young servicemen and women returning from duty in Afghanistan and Iraq. With record numbers of young veterans returning home to our community, the much-needed Centre offers holistic support, recreational activities and employment opportunities for veterans and their families who desperately require assistance.

The Royal Prince Alfred Yacht Club has been announced as finalist for its efforts to help those living with a disability access world-class facilities and sail competitively. Through the program they have provided a crucial pathway for sailors of all abilities.

Another finalist, Pittwater RSL was nominated for their innovative mentoring program which brings together club employees and members to mentor high school students. The initiative has seen the students gain confidence, learn new leadership skills and get better test results!

Harbord Diggers, as part of Mounties Group, is a finalist in the Youth Leadership category for its partnership with Stewart House to support children who have little or no access to sporting opportunities and basic everyday necessities.
Seaforth Bowling Club has been recognised for its innovative music program, encouraging all members of the community to participate in the Club's Cabaret Show, which also raises money for the Bear Cottage Charity.

Finally, the Roseville Memorial Club is a finalist for its impressive commitment to supporting live music and local sport. This energetic commitment has not gone unnoticed in the community with membership of the Club doubling in recent years.

Mr Ball said that the people of North Sydney and the Northern Beaches should be proud of their local clubs and their nominations. "I would like to commend these six finalists and congratulate them on their commitment to making their communities a better place to live."