November 22 - 28, 2015: Issue 241
Newport SLSC Hosts Round Two of 2015-2016 Surf Boat Premiership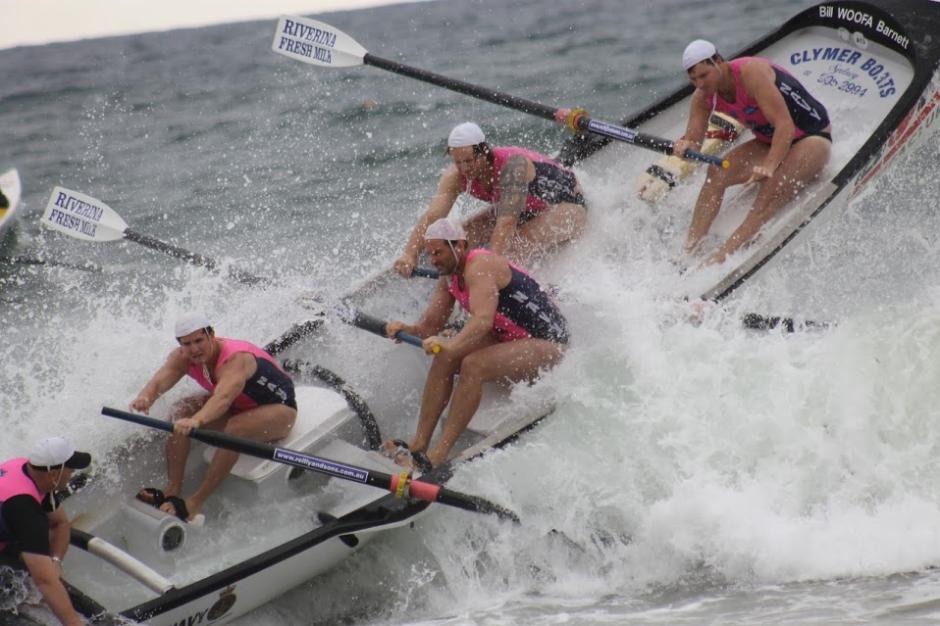 North Narrabeen flying at Newport Beach - A J Guesdon picture, 2015.
Newport Surf Club, hosted of Round Two of the Surf Life Saving Sydney Northern Beaches Boat Premiership turned on some cool weather, perfect for rowing, and a few waves to make getting out to the cans a warming up exercise and coming back in a smooth flow, for those that caught a beneficial wave.
Saturday November 20th 2015 also saw the debut of a new teams from Newport in the women's Under 23's, from Warriewood, all 16 years old! – Team Dragon, and a new member Caitlin, join the former 'Sweet Cheeks' of Bilgola in the first row out for all of these crews.
One of the members of Newport's women's Under 23 is Zoe King, daughter of Michael King, ensuring rowing for Newport and keeping the spirit of local Surf Boat Carnivals persists into a great future.
More HERE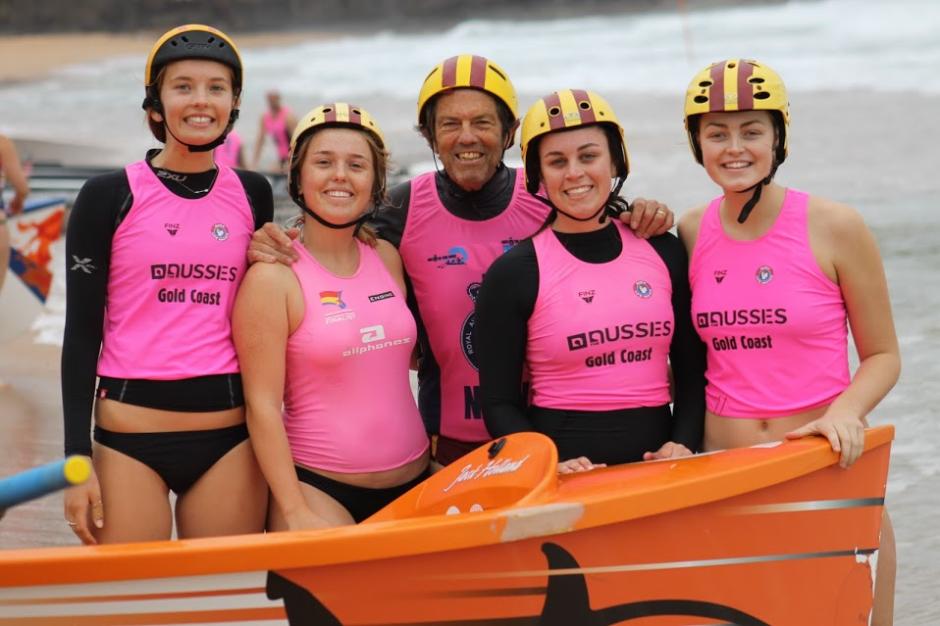 Newport Surf Club Women's Under 23's - the future looks bright for surf boat racing at Newport Surf Club.
Palm Beach Sailing Club's Beware the Bullets Regatta 2015 Flyers On Pittwater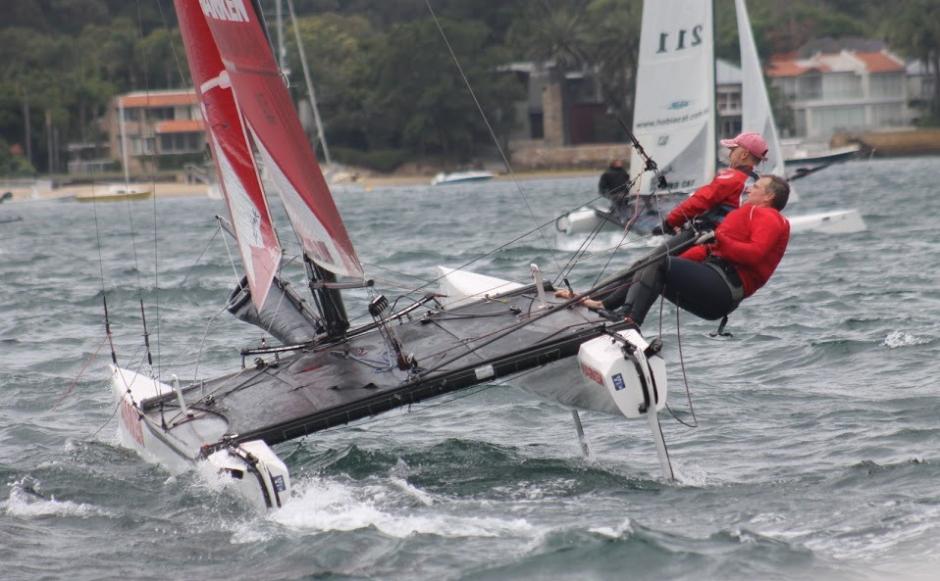 Day One of Palm Beach Sailing Club's Beware the Bullets Regatta 2015 showed how popular this regatta is becoming with three classes, Hobie 16's, F18's and Wetas lining up off the Basin to commence races. Fliers and their sails coloured up the north end of the Pittwater estuary all Saturday afternoon with a good breeze make each round fast and competitive.
With World Champions alike Rod and Kerry Waterhouse, Anthony Duchatel and Steve Schaffer among this year's fleet of racers, seasoned sailors from the west, Foster and Woy Woy, including PBSC member Upu Kila, this year with niece Charmaine from New Guinea as crew, along with some of the best Youth sailors, watching Day One of this year's Beware the Bullets regatta had everyone's adrenaline up.
More HERE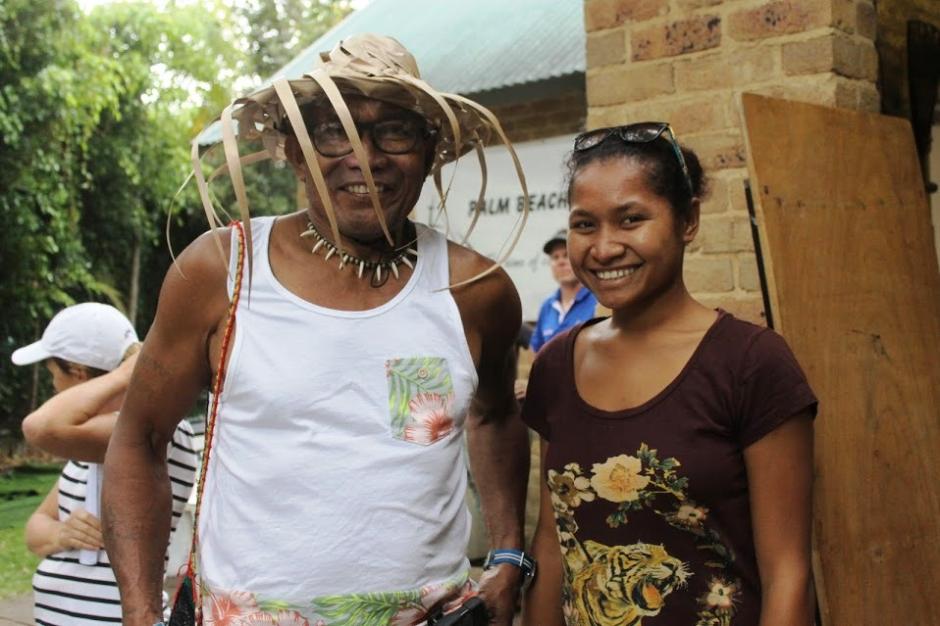 Upu Kila with niece Charmaine - AJG picture
Chloe Doggy Parton Wins Best In Show at Avalon Market Day Dog Show 2015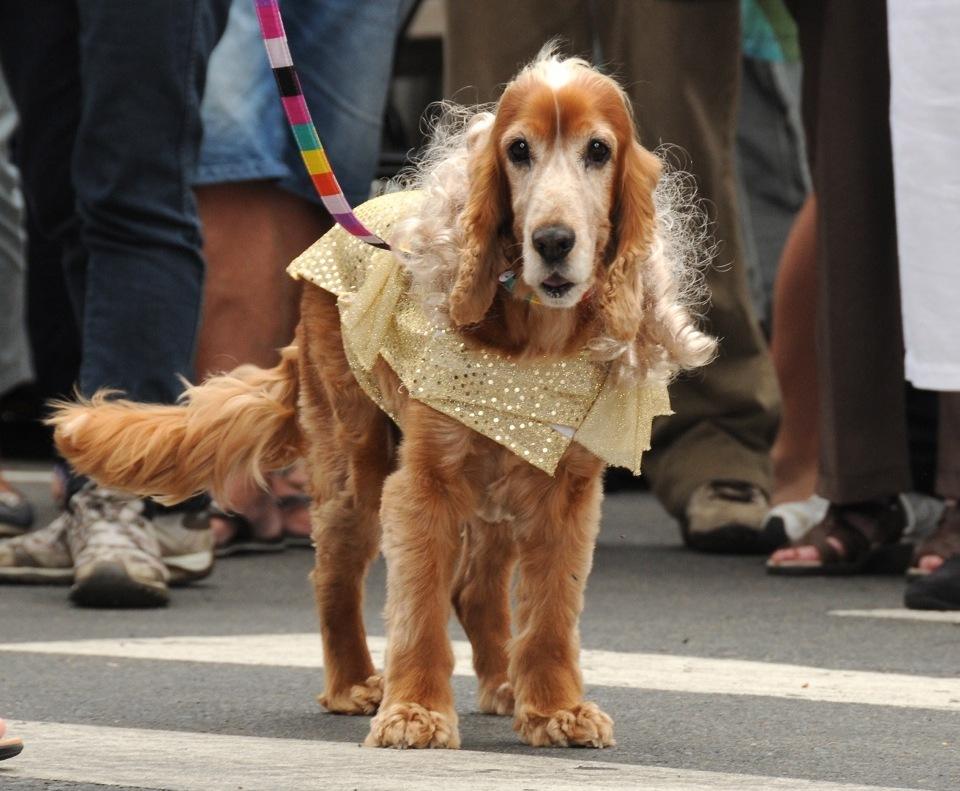 Chloe Doggy Parton! - Picture by Adrian Boddy Photography, 2015
The Dog Show as part of Avalon Market Day grows in popularity each year. Great fun for young and slightly older alike, this morning feature event commences the day long entertainments of great music and something for all and featuring local people, and their furry loved ones in this case.
There were more than a few rescue dogs amongst this year's contestants and a few that were near the hundred years mark – in dog years!
The Programme consisted of Best Trick, Best Dressed, Best Rescue Dog.
MC for the Dog Show was Pittwater gentleman David Koch, whom you can see on your television of a morning. Mr. Koch kept the crowd laughing with sharp repartee and stepped in when necessary to help some dogs respond to 'sit' when those gathered in the central crossroads were proving too much of a distraction.
He remarked he couldn't wait to see the standard of tricks next year since such a high benchmark had been set in 2015...
More HERE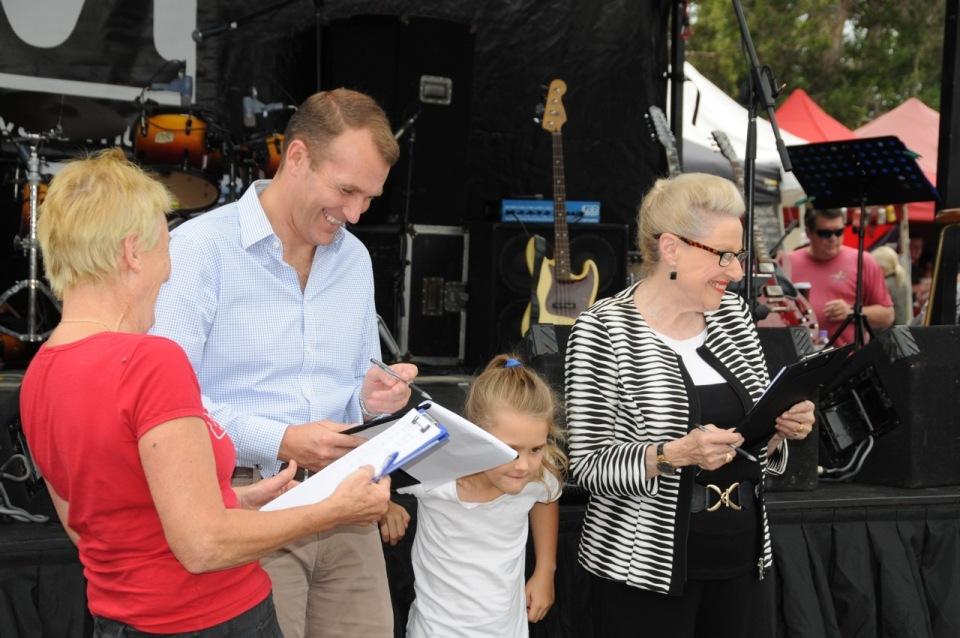 Avalon Dog Show Judges keeping very straight faces during the most serious task they were undertaking - Picture by Adrian Boddy Photography, 2015
Pittwater Prefers to Remain Pittwater: Greater Pittwater Option Forwarded as Second Preference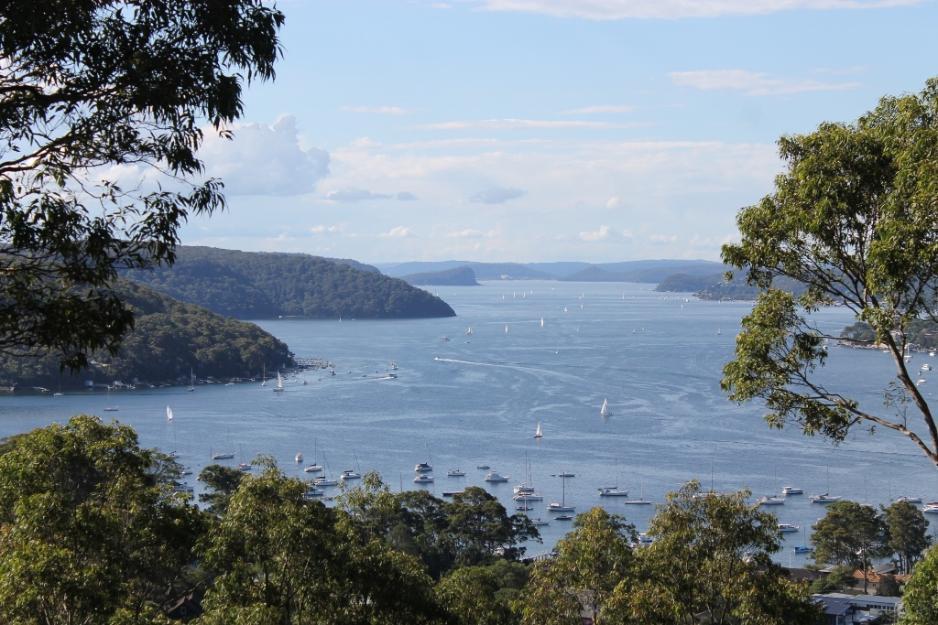 Pittwater Council has reaffirmed its preference for the status quo; however it will be submitting a second merger preference that, if supported by the State Government, could see the three councils on Sydney's northern beaches merge to become two new local government entities.
At its meeting last night, Council re-affirmed its opposition to forced amalgamation of councils in New South Wales and its commitment to local government remaining local and ensuring local democracy.
Pittwater Mayor Jacqueline Townsend said the resolution on merger preferences was possibly the hardest decision ever made by Pittwater Council.
"With the State Government looking like it's pressing ahead with mergers, and our preference for the status quo rejected by IPART, we would be doing our community an injustice if we didn't submit a further merger preference," Cr Townsend said.
With that, Pittwater Council will submit a first preference to stand alone; a second preference to merge Pittwater with part of Warringah to achieve two councils on the northern beaches; and a third preference to also merge Pittwater with part of Warringah, that would achieve two councils in the SHOROC region.
More HERE: Including Councillor Julie Hegarty's Address to November 16th Council Meeting and Local Democracy Rally Film featuring speech by Alan Jones AO in Martin Place on Wednesday November 18
Pittwater Community Arts 11th Art Exhibition and Sale: 2015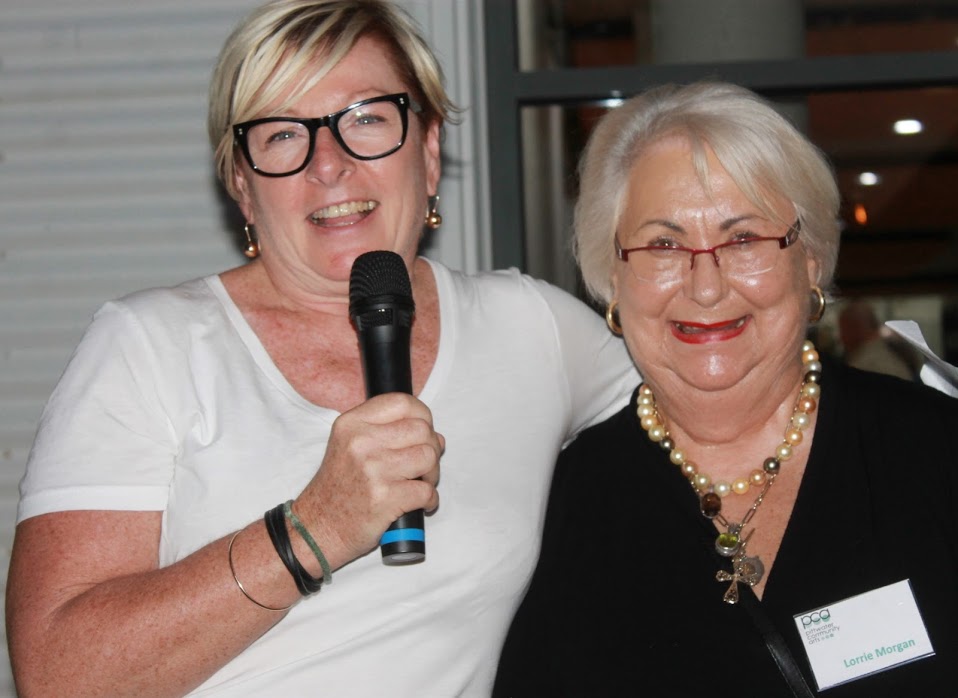 Mayor of Pittwater, Jacqueline Townsend with Pittwater Community Arts President Lorrie Morgan - AJG Pic.
The 11th Annual PCA Art Show and Sale was opened on Friday evening by Pittwater's Mayor, Cr. Townsned, who announced the 2015 Prize Winners and Honourable Mentions as judged by award winning artist Evert Ploeg .
Open today, last day for 2015 (Sunday November 22nd) at Avalon Recreation Centre from 9 a.m. until 5, with works ranging from $35 upwards – this is the perfect place to find something unique for someone special for Christmas or invest in a work that will give you pleasure way beyond price.
More HERE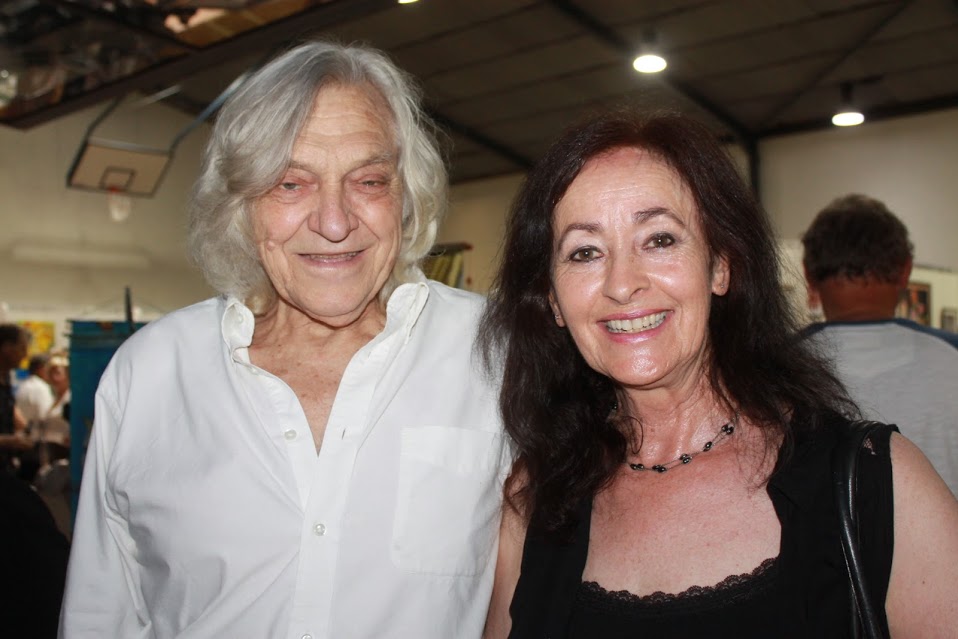 Lovett Bay lady and gent – Antonia Hoddle (Exhibiting Artist) with husband Michael Kitching (Artist – Sculptor) on Friday evening
Spring in Pittwater: November 2015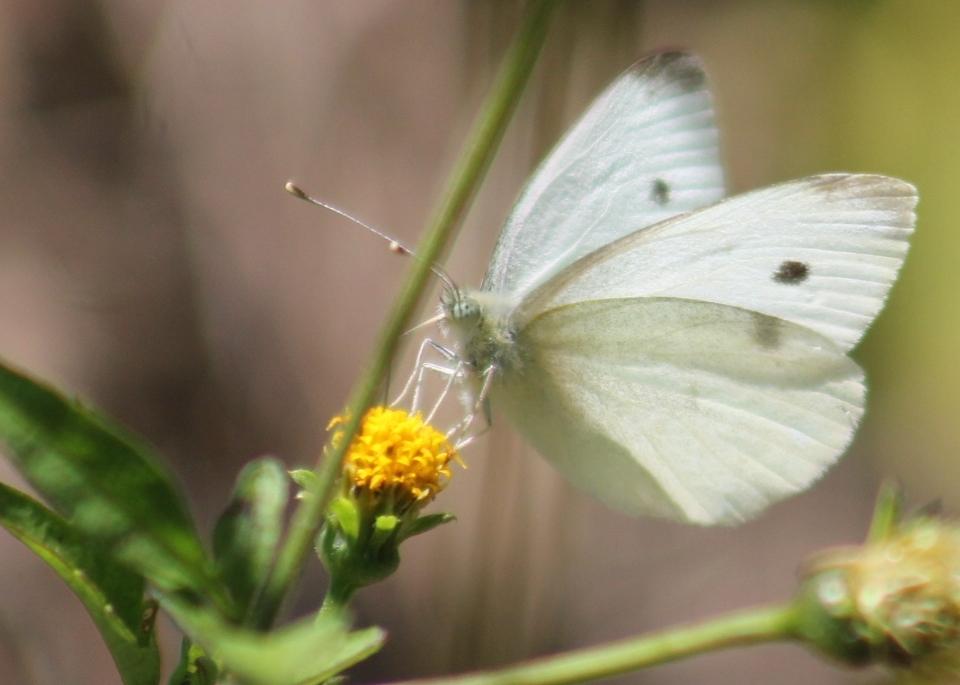 Cabbage Moth feasting on Dandelion flower: proving even 'pests' can be beautiful - AJG Pic.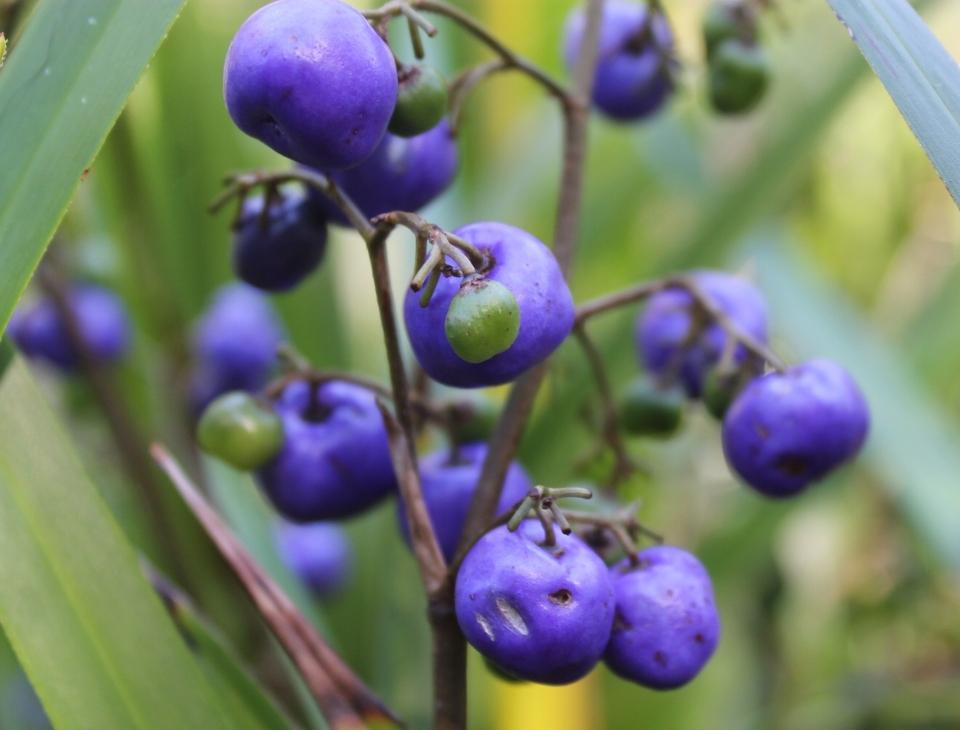 Dianella tasmanica commonly known as the Tasman Flax-lily or Tasmanian Flax-lily - flowers in Spring and Summer - berries present in early to late Summer: the fruit is edible and high in Vitamin C. Dianella tasmanica was first described in 1858 by eminent English botanist and explorer Joseph Dalton Hooker. The genus name is derived from the Roman goddess Diana, with a diminutive suffix -ella.
Pittwater Online News is Published 8 a.m. Every Sunday Morning and is By, For and About Pittwater - and all that adjoins her green hills and blue waters.
8 a.m. - Winter and Spring - 6 a.m. Summer and Autumn