November 22 - 28, 2015: Issue 241
Newport SLSC Hosts Round Two of SLS SNB Surf Boat Premiership 2015-2016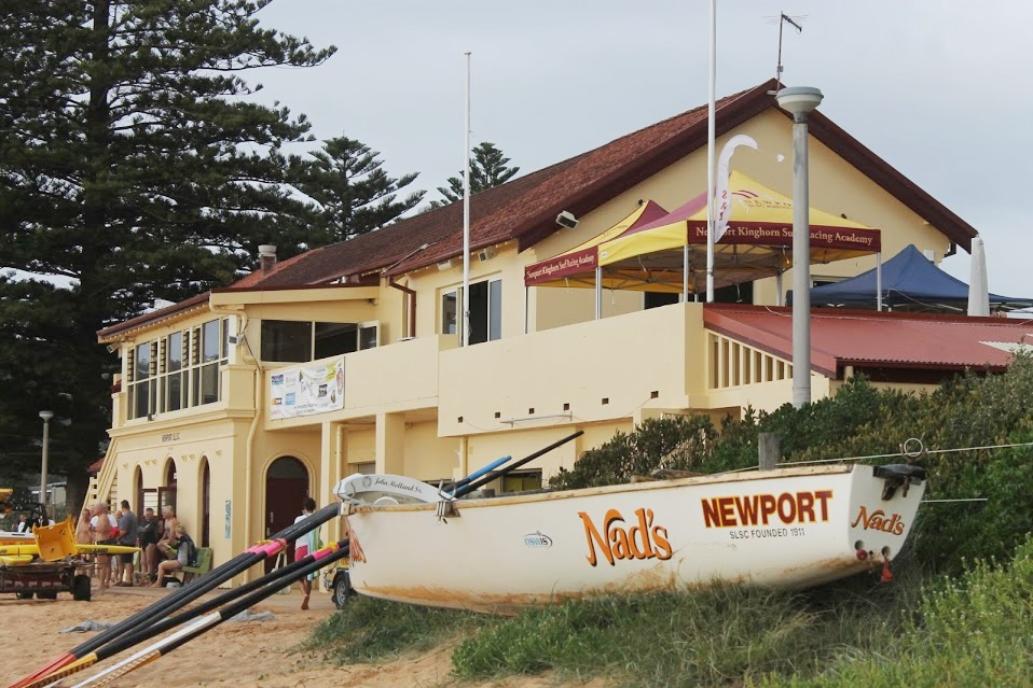 Newport SLSC Hosts Round Two of SLS SNB Surf Boat Premiership 2015-2016
Newport Surf Club, hosted Round Two of the Surf Life Saving Sydney Northern Beaches Boat Premiership and turned on some cool weather, perfect for rowing, and a few waves to make getting out to the cans a warming up exercise and coming back in a smooth flow, for those that caught a beneficial wave.
Saturday November 20th 2015 also saw the debut of a new teams from Newport in the women's Under 23's, from Warriewood, all 16 years old! – Team Dragon, and a new member Caitlin, join the former 'Sweet Cheeks' of Bilgola in the first row out for all of these crews.
One member of Newport's women's Under 23 is Zoe King, daughter of Michael King, the last family member of the third generation of Kings to join in rowing for Newport, will be keeping the spirit of local Carnivals thriving.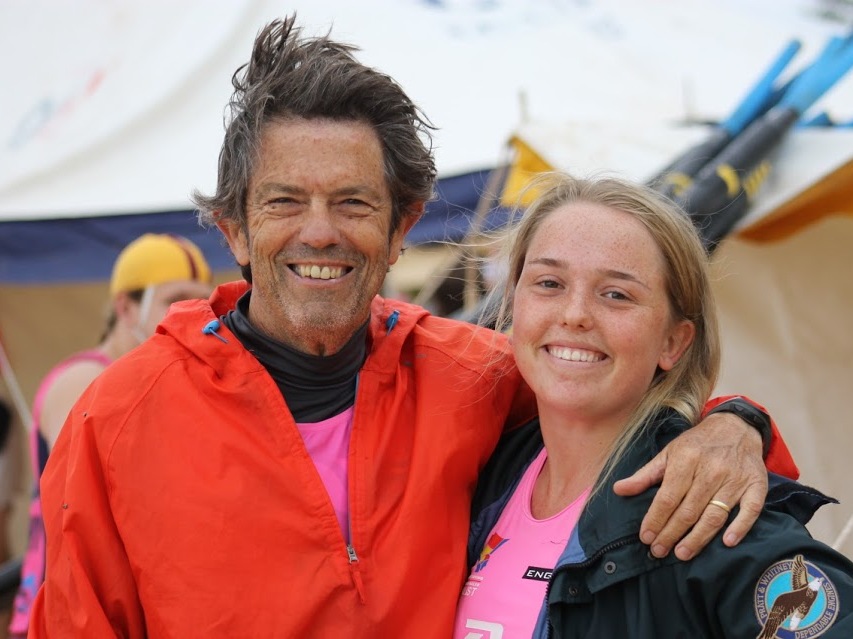 Newport came back to the beach before their fellow Northern Beaches debut crews for the first race, followed by Bilgola and Warriewood. These will be three teams to watch this season as their confidence grows and is just fantastic news for the sport itself. Younger rowers, or those thinking of taking up this ancient and time honoured sport, may like to follow our History pages into January next year, commencing this week, where we share a few insights into some of Pittwater's earliest rowers, many of whom were founders of local surf clubs and early developers of lifeboats. Among these are Sydney, when it was still 'Port Jackson', Australian and World Champions.
You are joining absolute legends! and a Legends Creed.
Check out a few previous pages, as a start point, if interested - there's also some current Sweeps Profiles available here too:
The Fearless Men of Palm Beach SLSC's Surf Boats First Crews - A Tale of Viking Ships, Butcher Boats and Robert Gow'€™s Tom Thumb 'Canoe'
George Mulhall First Champion of Australia in Rowing - First Light-Keeper at Barranjuey Headland
The Surf Life Saving Sydney Northern Beaches Surf Boat Premierships are also about having fun, building teamwork, skills for life, that transfer into every part of life, stamina, resiliance and becoming or meeting brilliant sweeps and brilliant rowers ...and more fun!
Warriewood's Team Rusty, sporting brand new cossies, as Russ Lamb is a Legend!: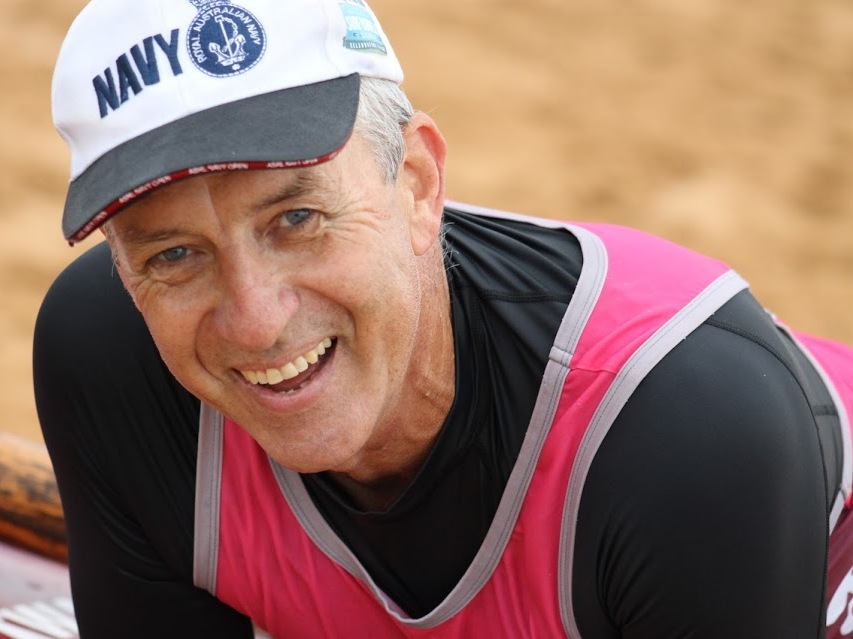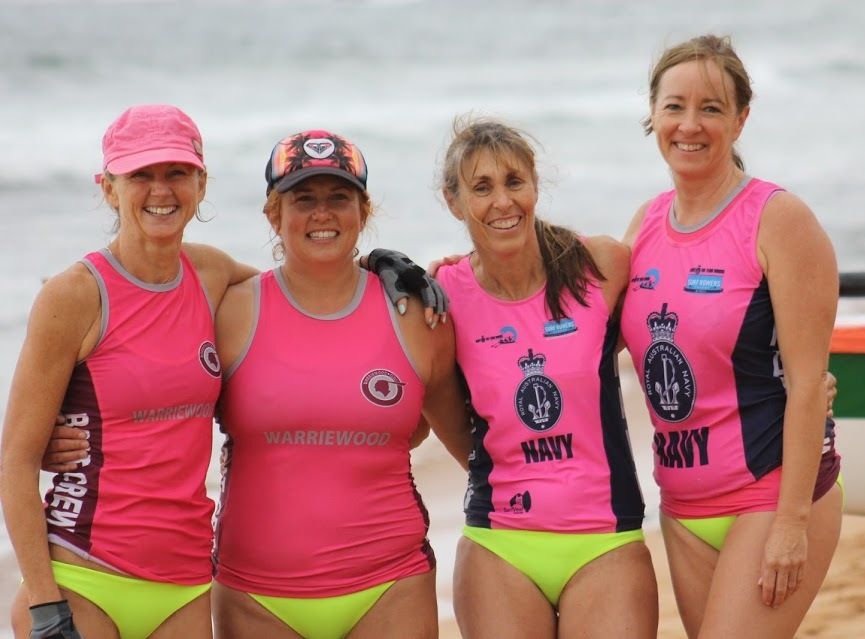 After the Briefing Michael King welcomed all the crews and thanked them for attending, paying special tribute to crews from Bronte and South Maroubra, hoping they enjoy the conditions and the day.
Mr. King explained the comp. would be a three rounds for all Divisions day with everyone getting a Final, ergo;
"Everyone wins!"
"It's great to see so many people here on the sand after last weekend at Dee Why and wonderful to see so many attending to ensure we keep these local Carnivals going. Thank you again for coming and please join us in the clubhouse afterwards for some food and a drink." Mr. King said in closing.
Conditions were a little bit dumpy over the bank closest to the beach on a course set north of Newport Clubhouse with a sou' easterly keeping all competitors chilled beneath grey skies - a contrast of extremes to Friday's 40+ heat.
The best 'shoot' witnessed, and applauded by all participants, was Newport's guided by sweep Rob Emerson just prior to having the 'squeeze' put on them by Palmy and Manly crews from the north and south, a situation which quickly resolved itself into a state of 'Perfect Gentlemen'. Parallel parking like this doesn't get witnessed on land everyday, let alone on a sandbank being filled by an incoming wave, and shows the skill level already to the fore so early in this season's Surf Life Saving Sydney Northern Beaches Boat Premiership.
Warriewood SLSC hosts the next Surf Boat Carnival on December 5th , Round Three.
Pittwater Online will be on the beach for the full Warriewood SLSC 2015 Surf Boat Carnival. Album of 'warm up's from Newport Surf Club – Round Two, and first few races loaded for all HERE
Results
Open Men.
1. Avalon Beach Pink Bits, 2. Bronte, 3. Sth Narraben, 4. Newport Makos, 5. Dee Why Chingans
Open Women.
1. Palm Beach Patriots, 2. Palm Beach Pterodactyl 3. Mona Vale McChickie, 4. Manly Mighty Ducks, 5. Avalon Beach Antiques
Reserves.
1. Warriewood Business time, 2. Palm Beach Project, 3. Manly Boat People 4. Mona Vale Quarter Pounders, 5. Nth Steyne Alive
U19 Girls
1. Newport Nibbles, 2. Bilgola Beach, 3. Warriewood Dragons
Few snaps from Newport's 2015-2016 Season surf Boat Carnival, beginning with the kind of smoothness stunt drivers would love to possess: