November 22 - 28, 2015: Issue 241
Palm Beach Sailing Club's Beware The Bullets Regatta 2015: Day One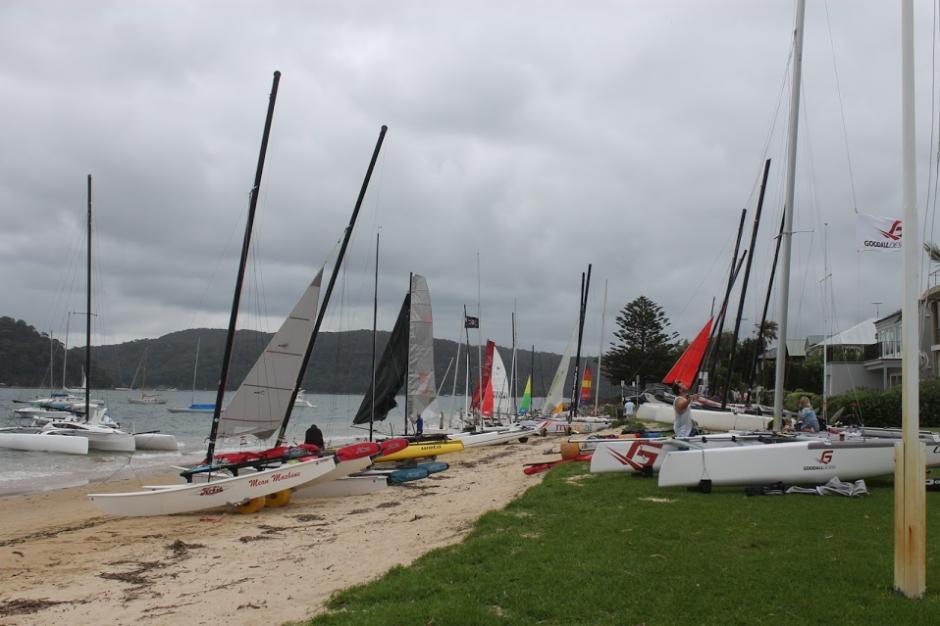 Palm Beach Sailing Club's Beware The Bullets Regatta 2015
Palm Beach Sailing Club's beware the Bullets Regatta – November 21-22, 2015
Day one of Palm Beach Sailing Club's Beware the Bullets Regatta 2015 shows how popular this regatta is becoming with three classes, Hobie 16's, F18's and Wetas lining up off the Basin to commence races. Fliers and their sails coloured up the north end of the Pittwater estuary all Saturday afternoon with a good breeze make each round fast and competitive.
Palm Beach Sailing Club has a strong family emphasis and teams of mother and daughter, father and daughter as well as crews that are most definitely 'fleet' together made easy work of the course and as one aboard the 41 foot RIB provided by Quay's Marina at Bayview as the third safety boat remarked "You could watch them all day."
Palm Beach Sailing Club's Commodore, Richard Lacey kicked off proceedings by welcoming all and thanking David Renouf for being P.R.O. again for this year's regatta. Mr.. Renouf started the F18's off first, followed by the Hobie's and Weta's in rolling starts of non-stop action.
With World Champions alike Rod and Kerry Waterhouse, Anthony Duchatel and Steve Schaffer among this year's fleet of racers, as well as seasoned sailors from the west, Foster and Woy Woy, including PBSC member Upu Kila, this year with niece Charmaine from New Guinea as crew, as well as some of the best up and coming youth sailors out on the estuary, you can understand why those watching were mesmerised in between 'wow'!s.
As always the focus at PBSC is on 'All about fun!'. Visitors and members converged back at the clubhouse after racing for a BBQ and debrief.
A few readers have asked us what a 'Bullet' is in sailing – Commodore Lacey explained it's a 'strong piece of breeze', which is what all seemed to be using well yesterday, slipping easily from one side of the estuary to the other to find the top mark, let go their kites, before flying towards Barrenjoey again.
Day Two runs today, Sunday November 22nd – so if you see these wonderfully colourful racers zipping about the estuary – you'll know why.
Palm Beach sailing Club would like to thank the Sponsors of the 2015 Beware the Bullets Regatta: DBY Boat Sales, RSH Electrical Sailing Scene, Andrew Nelson and Company Pty. Ltd. , and The Quays Marina, Marina Manager Stephen Hosking for their support of this year's Beware the Bullets Regatta.
Palm Beach Sailing Club sails from Sandy Point, Palm Beach, every weekend apart from during the Christmas Break. Their season begins at the end of August with a 'Heart Starter' and finishes in May with the wonderful 'Fish and Chip' run to Patonga. There are various Training Events and other social good fun days – such as the 'Princess Race' – one of our favourites as well as a Club Championship throughout the Season. Find out more at: www.pbsc.org.au
Full results next Issue.
Pittwater Online News has loaded a PBSC Bullets Regatta 2015 album HERE for participants to help themselves to – and a few run in this page so our readers can appreciate how spectacular the action was on Day One of this year's regatta.