November 16 - 22, 2014: Issue 189
NSW 10/50 Vegetation Clearing Code Fast Tracks Tree and Bush Destruction For Wrong Reasons - Protest Held at Mona Vale This Week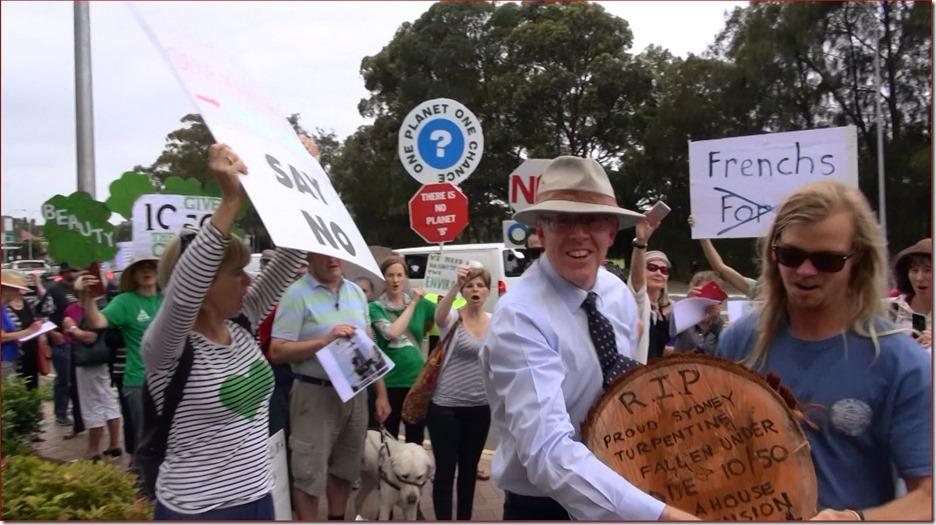 10/50 Code Protest - picture courtesy John Illingsworth, 2014.
NSW 10/50 Vegetation Clearing Code Fast Tracks Tree and Bush Destruction For Wrong Reasons - Protest Held at Mona Vale This Week
About 100 people rallied to call for a moratorium on the 10/50 vegetation clearing code on Monday 10th of November.
The code is designed to reduce the risk of bushfires but because its basis for action is self-assessment, many trees and under scrubbing is being destroyed not for bushfire protection but to enhance views, remove trees in the way of a development application, get rid of annoying leaves on the lawns or car and so on. At present we are losing around 10 trees a day under this code.
The 10/50 Code was introduced in response to the terrible bushfires the lower Blue Mountains last year. But its One-size-fits-all application means suburbs with little risk of fire are treated the same as the most dangerous areas.
Pittwater Natural Heritage Association was joined by local community groups and angry people from many North Shore leafy suburbs. Some concerned arborists also came.
Speakers were Marita Macrae of PNHA, Corinne Fisher from Lane Cove and Pittwater Mayor Jacqueline Townsend, who pointed out that Pittwater already has adequate provisions and advice to keep people safe from bushfires in our area, because of close cooperation between Pittwater Council and the Rural Fire Service.
The protest was held outside the office of Rob Stokes, our local member and Minister for the Environment. The protesters presented him with a slab of a very old turpentine cut down under the code but admitted by the owners to be to facilitate a house extension.
A letter presented to his office called for an immediate moratorium pending the review of the code.
"I'm continuing to hold discussions with the NSW Rural Fire Service Commissioner and the Minister for Emergency Services on ways to the Code can be improved to better reflect community concerns." Rob Stokes said on Monday
"The NSW Rural Fire Service announced immediate amendments to the Code in late September and fast-tracked a review that was originally scheduled for August next year. " Mr Stokes stated.
The changes announced in September were:
The 10/50 entitlement area for Category 2 Bush Fire Prone Land is now 150 metres, reduced from 350 metres
Councils will have the ability to reclassify smaller parcels of vegetation from Category 1 to Category 2 therefore reducing the entitlement area.
(Category 2 is areas where the vegetation poses a reduced fire risk.)
"These changes address council and community concerns while maintaining an appropriate level of protection for properties and the community," Commissioner Fitzsimmons said on September 30th.
The changes were announced to the way the entitlement area applies in some areas, particularly around areas of bushland which pose a lower risk of bush fire. The 10/50 online assessment tool at www.rfs.nsw.gov.au was updated to reflect the changes.
The NSW Rural Fire Service was accepting submissions until Friday, 14 November as part of the Review on the 10/50 Code. We shall bring you an update on any further modifications that may be incorporated as these are announced.