October 20 - 26, 2013: Issue 133
Gary Cook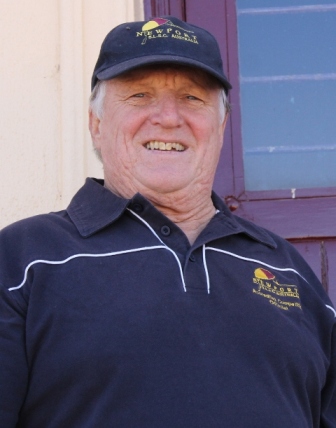 Our Surf Life Saving Clubs are not just in the clubhouses themselves – they stem from the people who have dedicated decades of time and acumen to building them up and maintaining every aspect of them while developing new programs and new equipment to meet the changing demands and rise in popularity of being on our beaches. What is in these people is what has kept and keeps them the best in the world. What is in them has built infrastructure.
Knowledge of the 'seascape' of a beach is something learnt by being on that beach. For over five decades Gary Cook has served Newport Beach SLSC in one capacity or another. He is still serving Surf Life Saving.
I was born in 1948 at Royal North Shore Hospital- St Leonards. My early childhood was spent in North Sydney area before we moved to Wahroonga where my father Samuel Cook owned and operated a Retail and Wholesale Butcher Shop. The family lived in a small two bedroom flat above the shop. Dad, Mum, younger brother and myself. Dad worked very long hours and the business became very successful with the retail shop and also supplying meat to a number of private schools in the area that had Boarders as part of their student group.
Primary School for me was at Warrawee Public School, a short bus ride down the Pacific Highway from Wahroonga. Following this went I attended Asquith Boys High School where I completed my Leaving Certificate in 1964, being a School Prefect in my last two years there.
As the family got a bit older Dad and Mum felt that we needed more space and some recreational facilities on the weekend. To this end he bought a large two storied weatherboard house in Foamcrest Avenue in Newport just two streets back from the beach as a weekender. This gave the family the beach or Pittwater options for our recreational choices. Dad really enjoyed fishing and after initially fishing off the beach at Newport in a dinghy near the reef moved on to a 30' Cruiser out of Pittwater and moored it at Taylors Point near Clareville.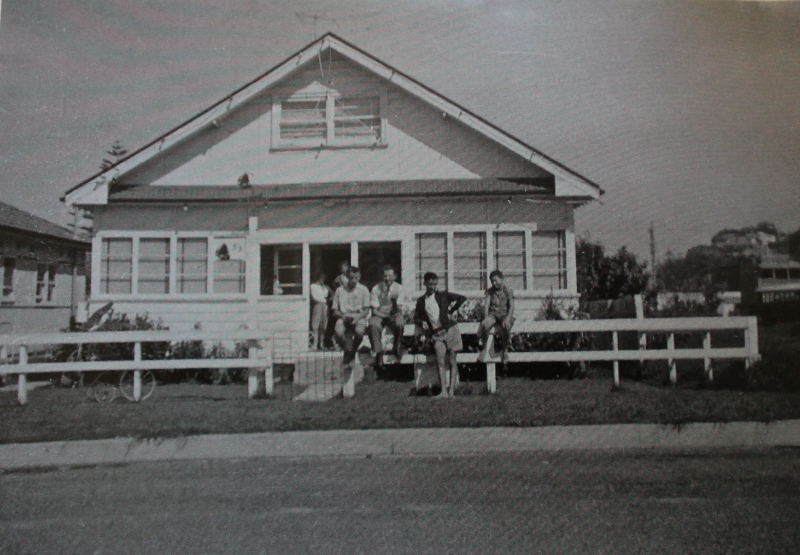 53 Foamcrest Avenue, Newport - The Cook Weekender
I joined Newport Surf Club in the later part of 1961 as a Cadet Member after my parents advised me that I should do something useful with my time at weekends. This helped me as I did not play sport around the Wahroonga area as we always went to Newport on the weekends and school holidays.
Although I was keen to join my father in the Meat Industry he insisted that I look for a more stable job that would offer more long term employment benefits. I had been keen to become a boat builder following completion of my Intermediate Certificate in 1962 and had an Apprenticeship lined up as I had worked on a voluntary basis in a Boat Building yard during Xmas School holidays and had impressed the owners with my Woodworking skills learnt at High School. However as I was only 14 years of age at the time my parents insisted I do my Leaving Certificate and move past the early School Leaving age of 15 years.
Following High School I applied to join The Commercial Banking Company of Sydney which had a Branch at Wahroonga. I had a School mate who had joined the Bank earlier who said it was a good job and quite stable and my parents were quite impressed. The Manager at the Wahroonga Branch of this Bank interviewed me and then rang the next day to enquire when I would like to start. I happily accepted but requested a further week off after High School finished and started with them on 6/1/65 with my first posting as a Junior being at Roseville about a 20 minutes train ride from Wahroonga.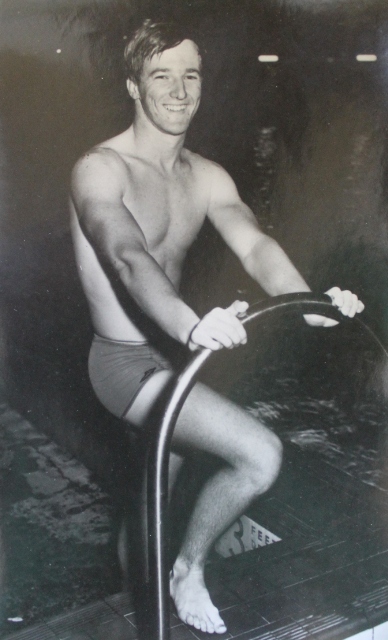 At rigft: Gary was part of CBC Swimming Team - aged 19/20 here.
The Bank life seemed to agree with me and I worked my way up the ranks from Junior to Teller, General Hand, Security Clerk, Assistant Accountant, Accountant and then Manager with my first Managerial posting at Artarmon, a fairly new branch with a staff of five. When I left five years later we had a staff of ten because the business had grown so well. After this I moved approximately every three years to various Branches as a Manager in the North Shore and Manly-Warringah areas.
My last posting was at Milsons Point where I took early retirement at age 48 after being with them for 31 ½ years as the Bank was then becoming the National Australia Bank after merging with the Commercial Banking Company of Sydney. We were advised that many of the local suburban Branches were to be closed and Branch Managers were not given any guarantees of their future employment opportunities.
I met my wife Christine in 1971 at the Head Office of the Commercial Banking Company of Sydney Limited. We bought a house in Terrey Hills in 1972 before we were married and still live in the same house today which has been extended a couple of times to accommodate the growing family. It is interesting to note that my mother's maiden surname was Hills, a daughter of Mr Samuel Hills who first settled the suburb of Terrey Hills with a Mr Terrey and which was then named after them. My daughter Amanda was born in 1975 followed by another daughter Lisa born in 1977 and our son, Daniel, was born in 1979.
We now have four grandchildren, two to Amanda- Hayden aged 9 and Hannah aged six and two to Lisa, Hayley aged 5 and Kiera aged 3 years. I have been a keen vegetable gardener since my early teens and now enjoy showing and teaching my grandchildren where their food comes from.
Amanda and Lisa are both married with Amanda living in Mona Vale and Lisa living at Terrey Hills. My son Daniel owns a home also in Terrey Hills and just a short distance from us. He is currently the Superintendent at Elanora Country Club following his apprenticeship at Monash Country Club and Terrey Hills Country Club and then taking on a Greg Norman sponsored Scholarship in America and then working full time to broaden his knowledge. His last overseas appointment was at Augusta where the US Masters Championships are held each year. He is now invited back each year to assist during the tournament which is a huge honour for an Australian.
All my children went to Terrey Hills public school and then Mater Maria High School at Warriewood. My mother, a DVA widow, now lives at Mona Vale with my unmarried brother following the sale of the old Newport family home to developers around 15 years ago. This site is now occupied by the fairly new Coles Supermarket fronting Barrenjoey Road and going through to Foamcrest Avenue. There were 17 beds in Foamcrest during our time there, many of them filled with dad's fishing mates on weekends.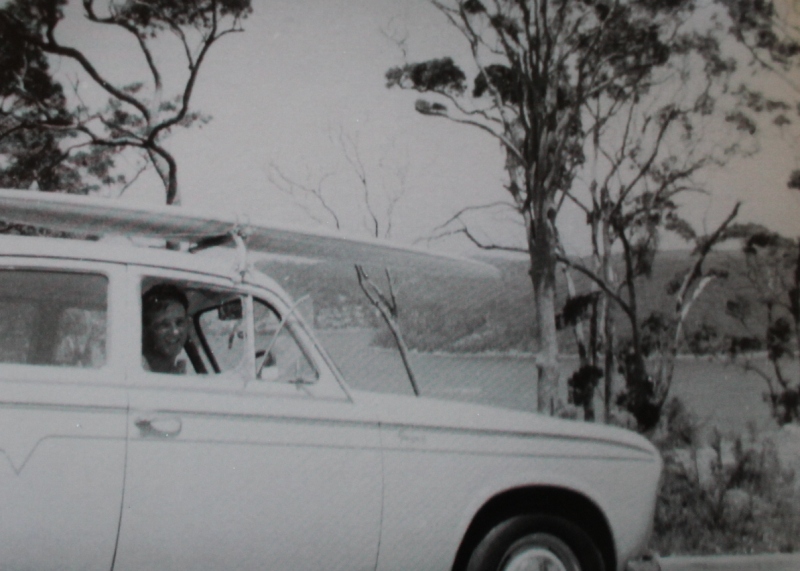 Gary in his Peugeot, 1966
After leaving banking I was fortunately offered a temporary job with Pages Hire at Chatswood, a Party Equipment Hire Company which was partly owned by Mr Tom Guthrie, who was the Patron of Newport SLSC. Things worked out pretty well and I became the Branch Manager and ended up staying with the company for five years. We parted company when they closed their local Branches and merged them all to Kingsford.
I then was looking for other employment and found it working for the Benevolent Society on behalf of the Department of Veterans Affairs helping elderly people, mainly War Widows, to stay in their own homes by doing gardening and handyman work. I had always been a keen gardener from early teenage years to earn extra money so I could buy my first car.
Unfortunately the funding dried up from DVA and I was asked to finish. I had built up a great rapport with many of the veterans, which included Country and Western music star Smokey Dawson and his wife Dot, so I continued to work for a number of them on a private contract basis. Around this time I was approached to join another Party Hire Company- known as Partytime Hire at Chatswood on a permanent part time basis. My job there was to go out to potential customer's homes to measure up and quote for Marquees for functions and parties. This unfortunately came to an end with the Global Financial crisis which impacted heavily on many small businesses. The family company that I had worked for could now not afford to employ me any longer.
My focus on building up my Gardening and Lawn Mowing contracting business has kept me in good stead since.
The March Past, unlike the beltman races when SLS first began, is still part of all Carnival Programs. Why is it important to keep the March Past as part of Carnivals and SLS?
March Past has been part of the SLSA Carnival scene since 1920 in a number of forms from 20 man teams to the now 12 person teams. Everyone loves a parade with the spectacle of colour, precision of the marching teams and the sound of the Band. Many surveys have been done over the years of people attending Carnivals and the March Past is always near the very top of events that people want to see and experience. It is an event for all ages with Nippers 8-14 years then moving into -17s then -23s and finally Opens so there are stepping stones all the way through. It also allows those who are not physically able or have enough time to train extensively for other events to still represent their club in a competitive area. Many of the team members in the Opens group are Office Bearers within their Clubs such as President, Secretaries, Treasuers etc and that sets a good example to other members within their Club. Teams can be all men or all women or any mixture of both so again plenty of opportunities for all that are interested. At Championship Carnivals there are medals to be won exactly the same to those of the Iron Man or Boats etc with most teams very competitive in their endeavours to chase results. It is said within the SLSA movement that a good sign of a strong club is one that fields a March Past team at carnivals on a regular basis.
During your term as President of Newport SLSC what was the most challenging thing you had to overcome?
Chasing Sponsorship Funds together with retaining and building the membership.

To anyone who is new to Surf Life Saving - young, a youth or an adult, why would you recommend they get involved?
There are opportunities for everyone from those with the least physical ability to those that are very active. We have a wheelchair bound member who is a long term Radio Operator at the Branch Surfcom HQ and there are also members from our "Special Squad" who have mental and physical disabilities who are trained to become Patrol Support to assist the able bodied Patrol members. There are also many training courses within the organisation which can assist members with employment opportunities leading into and during their working life.There are no boundaries for members, just depends on the amount of time and energy they have for the movement. Of course the camaraderie within the club group and other clubs all over Australia is priceless.
What was the best thing about spending weekends at Newport while a youngester?
There was always someone to hang out with down at the beach to surf, swim or beachcomb (walking along the beach seeing what the tides had brought in). Or walking around to the wharf near Newport Arms Hotel to do a spot of fishing.
What would you ask all visitors to Newport to do during the coming season (stay between the flags or listen to and follow requests from SLS Members on Patrol)?
What you have said is spot on regarding Stay between the flags and follow requests from Patrol members but also respect the beach and its surrounds by taking any rubbish that you may have accumulated with you and place it in the appropriate recycling bins.
What is your favourite place/s in Pittwater and why?
Riddle Park at Bayview and Clareville Beach on Pittwater. Newport Beach on the Ocean side of Pittwater Area. We have a family catch up time at Bayview, a paddle and a picnic. I also enjoy paddling a surf ski early on a Sunday morning at Narrabeen Lakes when I get time.
What is your 'motto for life'?
Never give up (on your hopes, dreams and aspirations).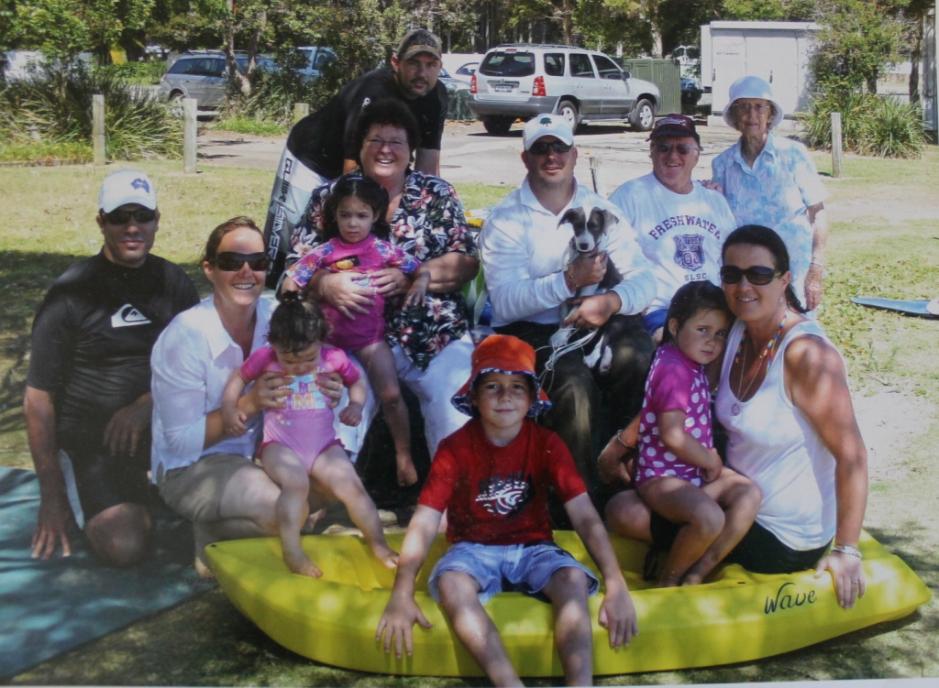 Family Day at Riddle Park.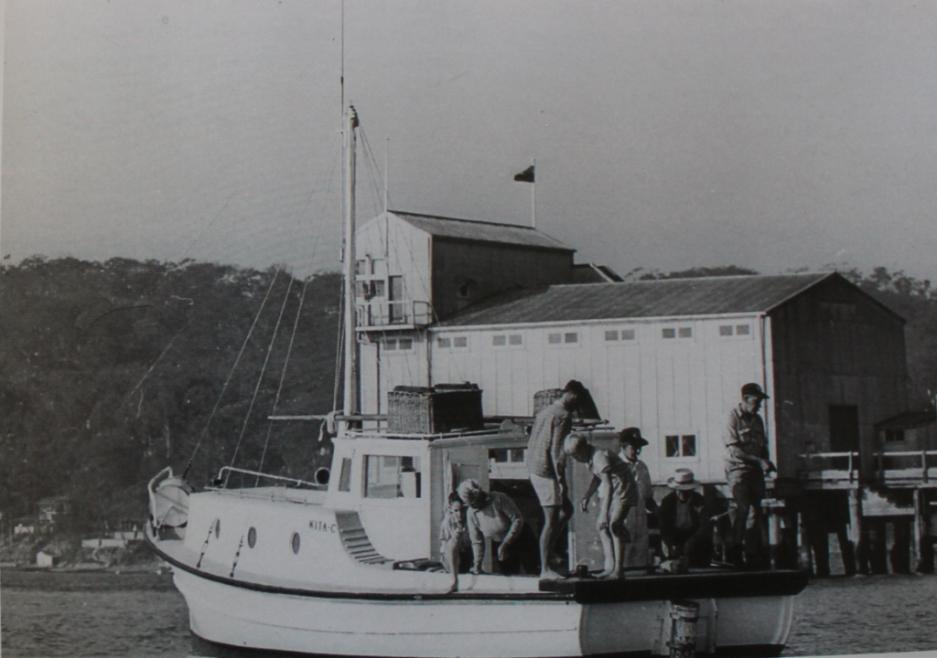 Gary Cook, Jeff Cook, Sam Cook, Vi Plaice and Col Lutwyche on Nita C at Taylor's Point.
Gary Cook – abbreviated SLSA History
Newport SLSC
Newport SLSC - Awarded Life Membership 1979.
Gary will be due for his 15-year SLSA Official's Award and 25-year Coach's Award in 2010 together with his 50-year SLSA Service Award in 2011.
1961 Joined as a Junior
1962 Completed Qualifying Certificate - N 2178
1964 Completed Bronze Medallion - N 12062
1969 Completed Instructors Certificate
1970 Management Committee - Competition Organiser
1971 Club Executive - Club Captain
1971-73 Assistant Secretary & Branch Meetings Delegate
1973-1980 Club Executive - Deputy President
1976 Advanced Resuscitation Certificate
1978-79 Management Committee - Publicity Officer
1979-89 Open Surf Carnival Organiser
1992-94 Open Surf Carnival Organiser
1979 Awarded Life Membership – Newport SLSC
1980-83 Club Executive - Club President
1980-1995 March Past Coach
2003-2005 March Past Coach
2007-2008 March Past Coach
1983-84 Management Committee - House Captain
1983 Sydney Metropolitan Championships - Carnival Organiser
1985 Presented with a Club Outstanding Service Award
1986-87 Management Committee - Competition Organiser
1986 Manly-Warringah Branch IRB Championships - Co-Carnival Organiser
1988 SLSA 25 Years Service Award
2002 Completed Resuscitation (CPR) Certificate
2004-09 Management Committee - Assistant Secretary
2006 'John E Holland' Most Outstanding Club Committee Member Award
SLSA 40 Years Service Award
SLSA 20 Year Coaching Award
SLSA 10 Year Competition Official's Award
Active Beach Patrol Member for 16 years with 9 of those years as a Patrol Captain
1967-71 Club Malibu Board Champion
1969-70 Club Overall Senior Champion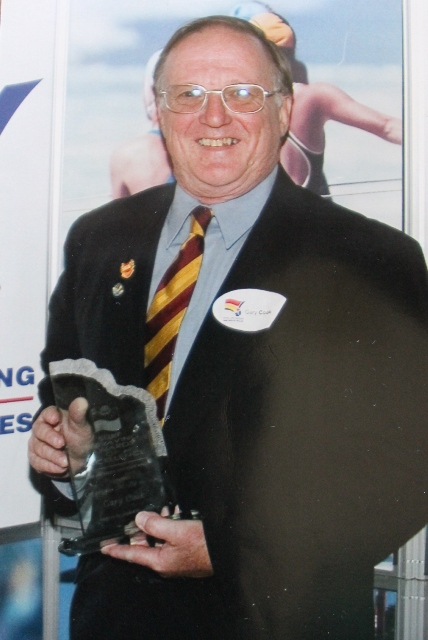 Gary was very involved with the Club's Power Boat Group with the vessel 'Bartender' as a Driver and Crewman from 1969-74. He has been a very active member of the Club's Anniversary Dinner Committees (held every five years) since 1979 to 2009. In particular Gary was one of the principal drivers and organisers for the Club's recent Centenary Dinner as part of its 100-year celebrations. Without Gary's involvement the event would not have been such a success.
Building Committee from 1986 to1988, the Judiciary Committee since 1996 to 2009 and also a member of the newly formed (2006) Club Honours Committee from 2006 to 2009. He has also been the organiser of Trophies for Club Championships and Special Awards presented at the Club's Annual Presentation events and Annual General Meetings for the past 25 plus years.
Additionally Gary has been the co-ordinator of numerous fundraising activities including;
Telephone Book deliveries and the securing and maintenance of the very valuable 'Vitaplex' Vitamins Sponsorship Funds in the past.
He is also the principal facilitator and organiser in the research and preparation of applications for SLSA service recognition awards, including National Service Medal awards for Club Members. This he has done over a number of years.
Furthermore Gary has provided significant assistance to the author of Newport SLSC's 100 Year History Book, which was recently published and subsequently launched by notable author Peter FitzSimons, with outstanding reviews. He has provided nearly 30 years of Newspaper & Magazine Clippings, Memorabilia and Photographs. Also putting together the history of March Past Teams and results for the Club in this Book.
Gary provides significant individual March Past coaching assistance, which has been given over a long period of time to the following clubs, Palm Beach (Ladies), Newport (Seniors and Juniors), Warriewood Seniors (Ladies & Juniors), Narrabeen Beach Juniors, Collaroy, North Curl Curl, Freshwater, Queenscliff, Manly (Juniors, U21s and Seniors) together with Burning Palms within Sydney Branch, also he has mentored many March Past/Beach Area Judges.
Gary Cook - Championship Competition Results with Newport SLSC
1969 & 70 Sydney Northern Beaches (SNB) Malibu Board-Bronze Medal
1970 SNB Malibu Board Teams & Long Board Teams - Silver Medal
1977 SNB March Past-Bronze Medal
1978 SNB March Past-Silver Medal
1978 Sydney Metropolitan Champs March Past - 3
rd Place, Bannerette
1978 Australian Championships - March Past - Bronze Medal (Dick Twight as Coach
& Standard Bearer)
1979 SNB March Past - Bronze Medal
1985 SNB March Past - Bronze Medal
1985 Sydney Metropolitan Champs March Past - Bronze Medal
1986 SNB March Past - Silver Medal
1986 Sydney Metropolitan Champs March Past - Bronze Medal
1987 SNB March Past - Silver Medal
1987 Sydney Metropolitan Champs March Past - Bronze Medal
1988 SNB March Past - Bronze Medal
1989 SNB March Past - Bronze Medal
1991 SNB March Past - Bronze Medal
1993 SNB March Past - Bronze Medal
1993 Inter-cities March Past - Bronze Medal
1995 NSW State Championships- March Past - Bronze Medal (First all female team to win a medal in Open Competition) – Coach
2003 SNB March Past - Bronze Medal - Coach
2008 SNB Handicap Point Score March Past Competition - Bronze Medal – Coach
2009 SNB Handicap Point Score March Past Competition - Gold Medal (Queenscliff SLSC) – Co-Coach
Surf Life Saving Sydney Northern Beaches (SNB)
Sydney Northern Beaches - Distinguished Service Award 2002.
Sydney Northern Beaches - Awarded Life Membership 2006.
Joined SNB Board of Surf Sports (BOSS) in 1995;
• Gained Level 1 Competition Official's Accreditation
• Gained Level 2 Competition Official's Accreditation in 1998 (still current)
• Gained Scrutineer's Accreditation 1999, remaining current and regularly undertaking such duties at SNB Inspection Days.
SNB & SLSNSW State IRB Championships 1999 - Competition Official also officiated at SNB IRB Branch Championships 2000 & 2001.
Regular Official at SLSNSW State Open & Masters as well as Australian Senior Championships since 1996 in Beach and March Past Areas together with SLSNSW State Age Championships since 1999.
SNB Competition Panel 2000-2003, then SNB BOSS Committee 2005-2009/10.
SNB Competition Official of the Year 2001 & 2002 (Nominee 2003, 2004, 2005, 2007, 2008 and 2009.
SNB Regular Carnival Official for Junior, Masters& Senior Carnivals since 1995/96;
SNB Open Carnival Referee, Deputy Referee & Beach Referee on numerous occasions;
SNB Open & Masters Branch Championships Beach Referee 1999, 2002-2007;
SNB Branch Open & Masters Championships - Deputy Carnival Referee 2008 and 2009;
SNB Judiciary Committee 2008/09 and 2009/10.
Copyright Gary Cook, 2013.