November 16 - 22, 2014: Issue 189
Newport SLSC's Gary Cook Receives SLSA President's Medal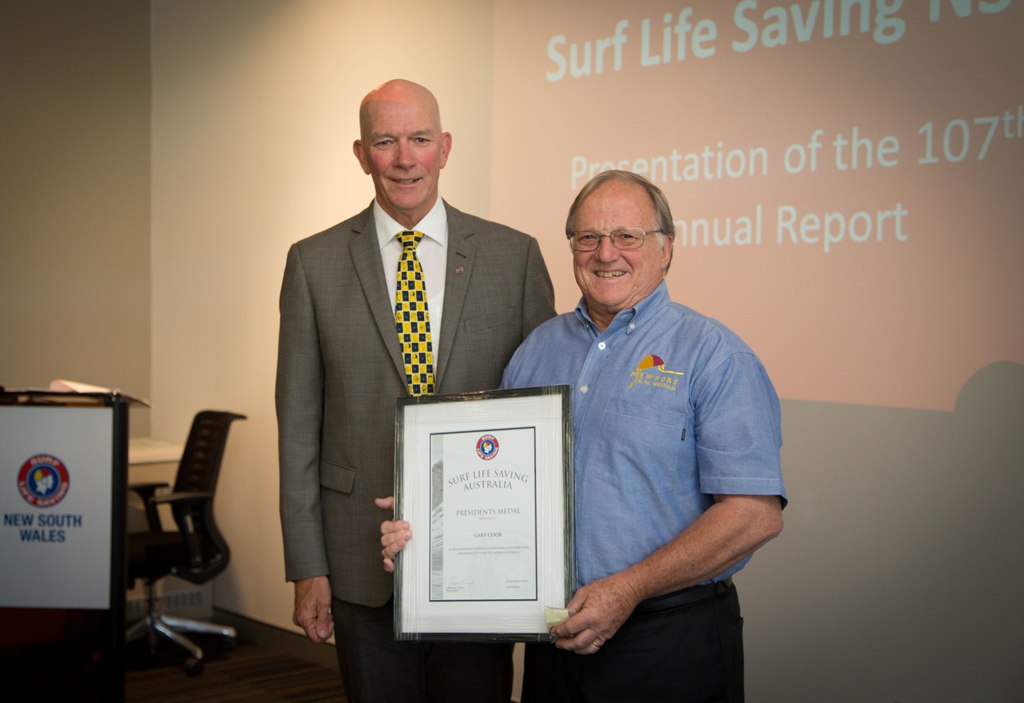 Mr Graham Ford, President of SLSA, presenting Gary with his President's Medal Certificate and Medal.
Newport SLSC's Gary Cook Receives SLSA President's Medal
One of the outstanding members of the Newport SLSC we have had the privilege to run as a Profile of the Week was presented with the surf Life Saving Australia's President's Medal on Friday November 7th at the headquarters at Belrose.
The SLSA President' Medal was first introduced in 2007 when there were three levels of Awards established - Life Membership, President's Medal and Sustained Service Certificate. Prior to this there was only the Life Membership category.
To put this Award into some form of perspective there are currently approximately 100 living SLSA Life Members and there have been 41 President's Medals awarded since 2007 out of a total SLSA Australia wide membership of close to 167,000 people.
So it is a very great Honour to receive one of these Awards.
In 2014 there were only two SLSA Life Memberships awarded and three President's Medals including Gary's award.
This is the first President's Medal to be awarded to a Newport SLSC member in its 105 year history. The late Bert King OAM is the only member of that Club who has been awarded SLSA Life Membership.
The Citation on the Certificate reads "IN RECOGNITION OF YOUR OUTSTANDING CONTRIBUTION AND SERVICE TO SURF LIFE SAVING AUSTRALIA"
This award is not based on years of service although it is part of the criteria (Gary is currently in his 53rd year of continuous membership with Newport SLSC). There are SLSA Service Awards for 25, 30, 40, 50, 60 & 70 years Membership.
Gary is very happy with the Award and has no plans for retirement from the movement in the near future.
" Maybe a bit of scaling back but whilst my health remains good I will continue as I enjoy it so much, particularly the camaraderie side of things with fellow Club members and other SLSA members Australian wide." Gary told us this week.
Mr. Cook is currently giving Coaching assistance to Warriewood Ladies and Queenscliff Men's March Past teams, and also assisted with the Mona Vale Nippers March Past team last season where his eldest daughter Amanda Berrell was the Head Coach.
This is on top of his usual Carnival Official duties right up to the Australian Championships, Gear Scrutineering and assistance with Beach Gear maintenance.
Gary is also still working part time as a self employed contractor.
CONGRATULATIONS…..Gary Cook, one of the two coaches of the Queenscliff Surf Life Saving Club March Past Team has been awarded the prestigious SLSA Presidents Medal for service to Surf Life Saving at club, state and national levels. Whilst Gary's first loyalty is to his home club, Newport, he and Ray Isaacs have spent the past five years as coaches of Queenscliff's march past team and have become very much honorary members of our club. All members will join with the march past in congratulating Gary on the well deserved honour. Well done Gary. - Queenscliff SLSC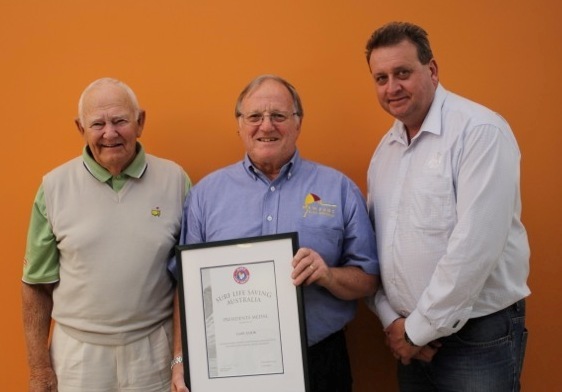 Mr Bob Langbein, Gary Cook and Doug Menzies who were both very instrumental in putting Gary's Nomination forward to SLSA. Bob is a long term member (60+years) of Collaroy SLSC where he is a Life Member and is also a Life Member of SLSSNB Branch and SLSNSW. Doug is a past President and now Life Member of Newport SLSC and also the President SLSSNB Branch.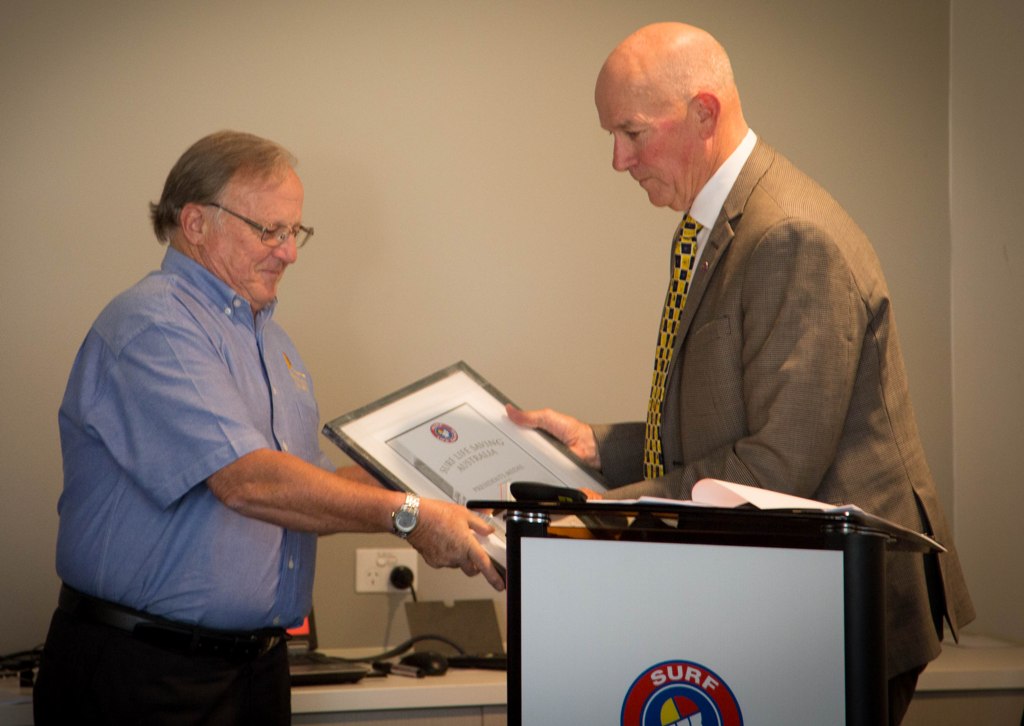 GARY COOK- BRIEF COMMUNITY SERVICE RECORD (2014)

Newport SLSC
Joined 1961 as a Junior, continuous membership to 2014 -53 years
Patrolling Member for 16 years, 9 years as Patrol Captain
Driver and Crewman "Bartender" Surf Rescue Power Boat 1969-1974
Positions held, President, Deputy President, Club Captain, Competition Organiser, Assistant
Secretary, Carnival Organiser, Publicity Officer & House Captain
Total 26 Years on Management Committee including 11 years on Club's Executive
Current member of Judiciary, Pool to Peak Swim, Life Membership & Honours, Board of Surf Sports & 105 Year Celebration Sub Committees
Life Membership granted 1979
Most Outstanding Committee Member 2006
Clubman of the Year 2010
New Surf Boat "Gary Cook" launched 2011
Surf Life Saving Sydney Northern Beaches Branch
SLSA Level 1 Surf Sports Official since 1995 & Level 2 since 1998 to present
Member of Board of Surf Sports Committee 11 years still current
Judiciary Committee 6 years still current
Competition Official of the Year 2001 & 2002
Distinguished Service Member 2002
Life Membership granted 2006
President's Award presented 2013
Instrumental with one other in obtaining over $20,000 worth of Sponsorship from the Beach Club at
Collaroy for Electronic Beach Event Finishing Equipment plus associated gear to complement same
Surf Life Saving New South Wales
Chairperson NSW March Past Panel 10 years
Competition Official of the Year 2002 & 2005, Runner up High Commendation 2008
State Championships Area or Sectional Referee on 25 occasions
Life Membership granted 2009

Surf Life Saving Australia
SLSA Surf Coach Level 1 since 1985 & Level 2 since 1988 to present
Member of SLSA National March Past Panel 18 years still current
Deputy Chairperson SLSA National March Past Panel 3 Years then Chairperson 8 years still current
SLSA Athletes Commission member 6 years
NSW State Representative & Finalist SLSA Competition Official of the Year 2006
Surf Sports Official at Australian Championships past 16 years- Masters Beach Referee past 3 years
Chief Judge Opens Beach area past 3 years and March Past Co-ordinator past 11 years
SLSA 50 year Service Award presented in 2012
President's Medal awarded 2014(Second highest Service Award available)
Other Community Activities
Justice of the Peace for own Employers, the local Terrey Hills Community, Newport Surf Life Saving Club and other SLSA members since 1972 to present
Supplier of large amounts of Rosemary for lapel sprigs to Pittwater RSL Club members from own garden for their local Anzac Day ceremony and then the Sydney City march a week later for past 12 + years
Transport of Donated items for Newport Red Cross from donors for past 10 + years. Mother, Thelma Cook, a DVA Pensioner has been a shop volunteer there for past 15+ years.
Red Cross Blood Donor over many years nearly 60 donations
Honorary Auditor for a Men's luncheon group "The Wednesday Club" as part of the Royal Motor Yacht club at Newport for the past 15 years
Distributor of cartons of donated used Tennis Balls from a Tennis Centre at Collaroy over a number of years to local Primary Schools, Kindergartens, SLS Sydney Northern Beaches Branch Surf School, Surf Club Nipper Groups including Special Needs Groups, The Wheel Chair Athletes Assn. of NSW for their younger age disabled Tennis players and the Red Cross shop at Newport

Copyright Gary Cook and the Cook Family, 2014.