November 16 - 22, 2014: Issue 189
New Fire Trucks For Pittwater's Rural Fire Service Brigades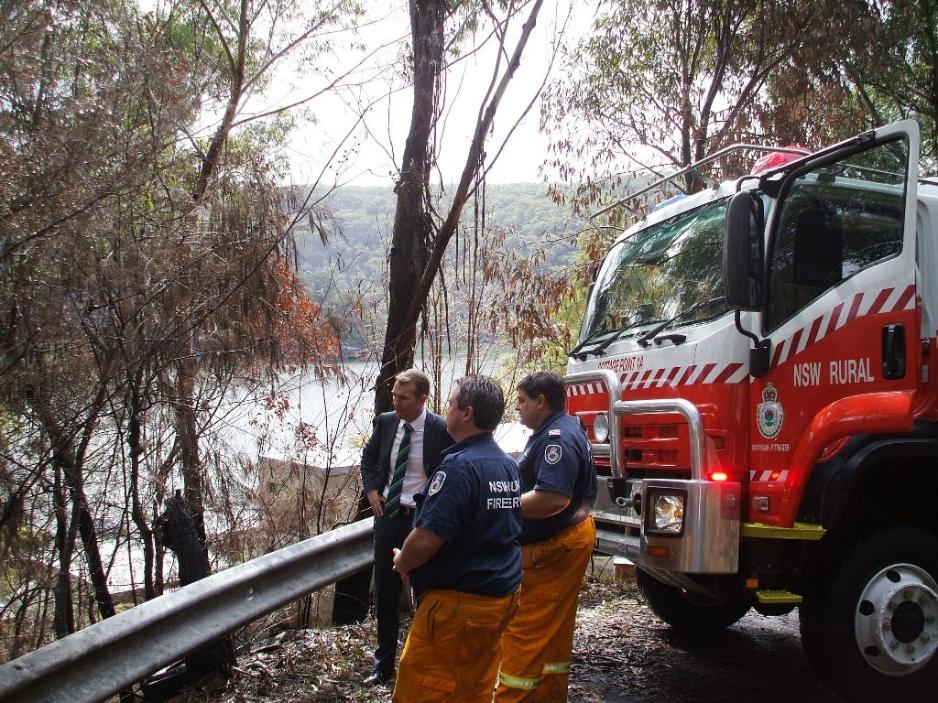 Rob Stokes inspecting summer bushfire preparations with Cottage Point Rural Fire Service Captain Jon Russell and Brigade President Shannon Jackson - picture supplied.
New Fire Trucks For Pittwater's Rural Fire Service Brigades
10 November 2014
Member for Pittwater Rob Stokes today announced five new fire trucks will be provided to Rural Fire Service brigades throughout Pittwater.
The NSW Government is investing over $30 million to continue upgrading the State's Rural Fire Service fleet and brigades in Pittwater including Cottage Point, Scotland Island, Duffys Forest, Coal and Candle and the District Headquarters at Terrey Hills will be among the beneficiaries.
"These new fire trucks will provide a welcome boost for our local brigades," Rob Stokes said today.
"With technology constantly improving it's vital our Rural Fire Service volunteers have access to the latest equipment and resources.
"We're really fortunate to have so many dedicated volunteers willing to put aside family, work and personal commitments to help keep our community safe.
"These outstanding volunteers do a sensational job during difficult and often chaotic circumstances.
"This investment in new equipment is a key part of ensuring our community continues to maintain the highest levels of bushfire protection," Rob Stokes said.
Pittwater has eleven Rural Fire Service brigades including Ingleside, Great Mackerel Beach, Terrey Hills, Cottage Point, Coasters Retreat, Duffys Forest, Coal and Candle, Scotland Island, West Pittwater, District Headquarters and Tumbledown Dick.
_____________________________________
Strengthened Laws Target Bushfire Season Stupidity
10 November 2014
Member for Pittwater Rob Stokes today said tough new laws will be in place this summer to crack down on those who deliberately ignore bushfire warnings.
The NSW Government's strengthen laws target those who deliberately light, or allow a fire to escape, during Total Fire Bans and those who are careless with flammable items including cigarettes and matches.
Recent changes to the Rural Fires Act include:
- Increasing the punishment for offenders who deliberately and recklessly light a fire during a Total Fire Ban to $132,000 and/or seven years imprisonment.
- Allowing the NSW Police and NSW RFS to penalise less serious offenders with fines up to $2,200.
- Doubling the penalties for 18 fire related offences if they occur during Total Fire Bans, including the careless disposal of cigarettes and matches.
"These new laws target those who are lazy or malicious during the most dangerous bushfire periods," Rob Stokes said today.
"It's disappointing that changes are need but people continue to ignore the warnings and place others at risk.
"Throwing cigarettes from vehicles is the most commonly witnessed and stupid offence.
"Those who break the law, ignore the warnings and expose others to danger must be bought to account.
"Bushfires have devastating impacts on lives, properties and communities and everyone must be extremely conscious of this.
"The NSW Rural Fire Service is warning this summer could be particularly dangerous and is encouraging everyone in vulnerable areas to prepare a Bushfire Survival Plan.
"Advice on preparing a Bushfire Survival Plan is available on the NSW Rural Fire Service website www.rfs.nsw.gov.au .
"With summer upon us it's vital we all heed the warnings and act sensibly to help protect our community," Rob Stokes said.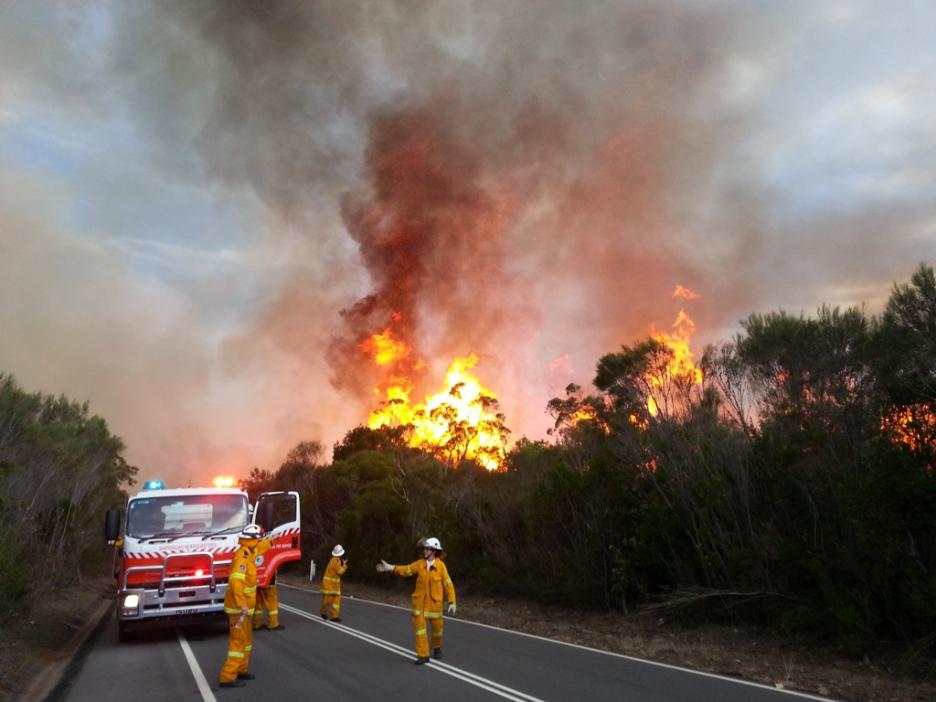 West Head Fire January 2013 - picture supplied.