April 2 - 15 2023: Issue 578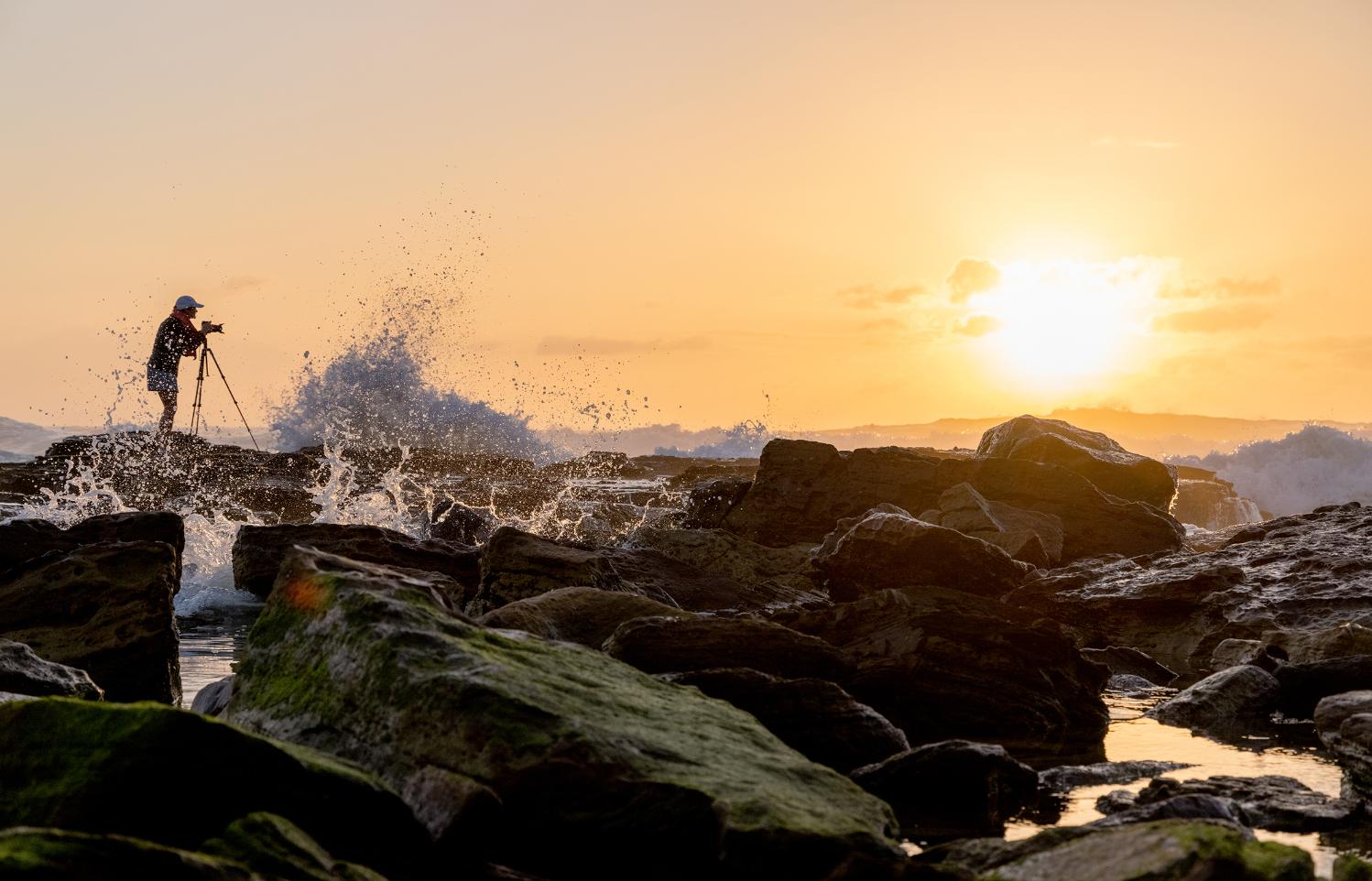 Sally at work. Photo: Scott Cameron
On March 1st 2023 retiring Member for Pittwater Rob Stokes announced acclaimed artist and youth mentor Sally Mayman as the 2023 Pittwater Woman of the Year.
The award was announced at the annual Zonta International Women's Day Breakfast, at Royal Prince Alfred Yacht Club, and recognises outstanding achievements of local women and their valuable contribution to the Pittwater community.
Sally is a celebrated artist and photographer, volunteer surf life saver, Youth off the Streets Artist in Residence, and a proud contributor to student wellbeing and excellence at Barrenjoey High School and Avalon Primary School.
"Sally is an incredibly talented artist and photographer with a unique ability to use her skills for a broad range of benefits," Rob Stokes said.
"Sally's amazing art speaks for itself - but it's how she uses her expertise to support and inspire others that's particularly impressive.
"Pittwater has a proud and accomplished artist community and Sally exemplifies the very best of how art can have many positive utilities and purposes.
"We know art helps people to express themselves. Sally embraces this by directly supporting young people who are experiencing challenging and emotional circumstances.
"By sharing her passion and skills, Sally has had immeasurable influence on young people throughout our community and right across Sydney.
"This award is a great way to acknowledge and celebrate Sally's ongoing efforts and contribution," Rob Stokes said.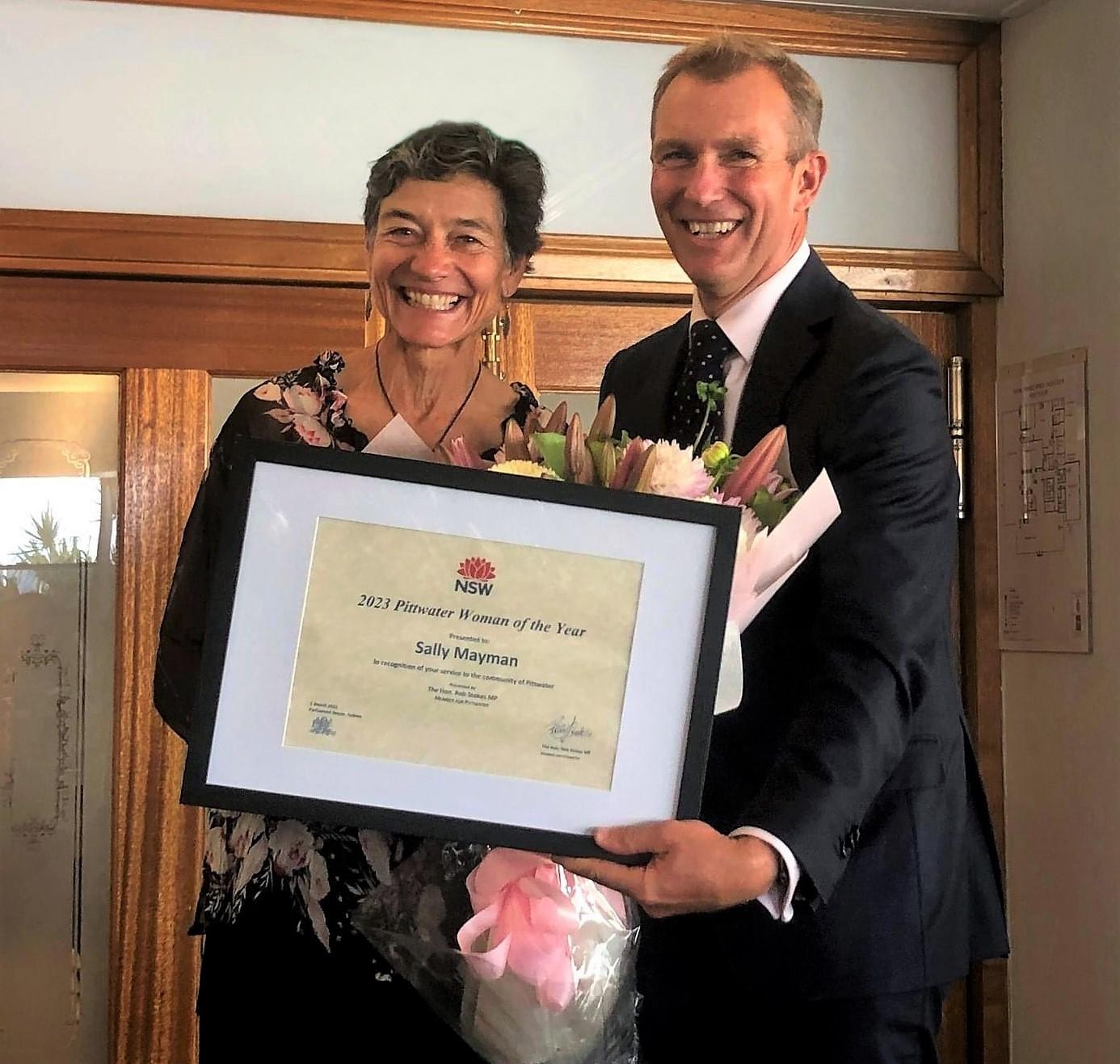 Sally has experienced and is experiencing a coalescing of all her inner aims manifesting through the ideas and projects she implements through her practice. Whether it's one of her dawn strolls to the beach just to capture the candid unposed happening to communicate the essence of time and place and people, or her larger projects, framed to allow those who are struggling to express what is within in a way that is unlocking their very individual and unique and special selves; their inner voice. It's like an architecture for the soul, a way and means of navigating life itself.
This Issue a few insights into a local working Artist who is quietly making a difference in our community.
Congratulations on being named the Pittwater Woman of the year Sally – how do you feel?
Totally overwhelmed, it is such an honour. I was overwhelmed by the number of women in that room at the Zonta breakfast who are doing amazing things in our community. To be recognised within that group, is really an honour. I just felt totally overwhelmed. I'm also so appreciative that someone has been watching what I've been doing over the last 10 years. You just do what you do and don't expect anything like this, so it does come as quite a surprise, but a beautiful surprise, to be seen and recognised for the essence of who you are what you do is quite remarkable.
Whoever nominated me had obviously done their research [laughs]. And to get to meet the Zonta women was just fantastic – I think they're amazing. It's wonderful when there is a group of women who just quietly and humbly do so much – they don't shout about it, they just get on and do some incredible work. I was honoured to be considered by them. For women like that doing that doing such important kind of work to consider me, I just feel completely overwhelmed.
My mum and my eldest son Jim really wanted to be there, which I really appreciated so that was great.
You have put in the hard yards though Sally – you have had a focus on our indigenous peoples and celebrating their viewpoint, you have also made yourself available to help a lot of our younger people to be able to express themselves. Where does it all come from?
Both those questions have roots going back many years and have been journeys with many influences.
During my childhood we spent a month each year travelling through remote parts of Australia. My Dad had lived in the bush for ten years working as a Geophysicist and was keen to show us Australia's unique beauty. I have fond memories of camping under star filled skies and remember feelings of awe and respect for the vast landscape. I in turn wanted our boys to experience this as well as gain an appreciation of First Nations Peoples spiritual connection to Country. We took our boys out of Avalon Public School and travelled around Australia for eight months in 2007. While on the Dampier Peninsula north of Broome we stayed with local families who were running ecotourism ventures on their land. Here we shared camp fires, listened and learned first hand about Country and Culture.
Coming back to Sydney I was struck by the contrast of what we had experienced on the Dampier Peninsula and the media's portrayal of Indigenous People. The positive stories were just not being told.
This fuelled my desire to try and understand the complexities of life for Indigenous People and their deep spiritual connections they have with Country. This led to working on the Saltwater Country series with Dale Kentwell from 2008 - 2010.
For many years following this I tried to work with local First Nations artists on the Northern Beaches, with mixed success. Finally last year it came together with the workshops and Barley Ki Giballee exhibition.
Working with young people stems from going on a Raleigh International Expedition to Guyana, South America in 1993. I was the expedition photographer working with 25 other staff and about 80 young 'venturers'. There was an incredible positive energy as we worked with local communities building schools, renovating a leprosy hospital, mapping illegal logging and running health clinics.
There was a percentage of inner city young people who were given the opportunity to go on the expedition and their transformation was incredible. "It made me really appreciate how outdoor, hands-on positive experiences, can change young people's lives. "
I was reflecting on that; when I was in my mid-20's I went on an Operation Rally Expedition to Guyana in South America as the expedition photographer. I was working with around 25 staff who were aged 25 to 28 and we were working with around 80 young people aged 18 to 22. There was an incredible positive energy within this group. I really respected and watched those working with them, as there was a percentage of inner city younger kids who were given the opportunity to go on this expedition, and was absolutely amazed with their transformation. I just started thinking 'wow, there's some really amazing work you can do with young people that can change their lives'.
Coming back from Guyana I began volunteering at the youth drop-in centre at Manly on a Friday night.
A friend of mine was a Social Worker and I was involved in taking kids on physical challenges, such as canoeing down the Barrington River, along with and hiking and climbing adventures. Physical activities I had always been involved in, so was relaxed in those environments.
Physical activities I had always been involved in so was relaxed in those environments. I again witnessed the positive change in young people, seeing them gain confidence and improve their self esteem and emotional wellbeing. I wondered how I could create these positive changes through art.
I started trying to run running programs where I could engage young people to put this to the test. Sometimes I received funding, sometimes I didn't, but I was determined to see if I could make it work.
I ran a couple of programs through the Avalon Youth Hub, Youth Off the Street's schools and the Beach School.
Momentum built and I realised that group Art has such a strong impact, not only in engaging young people, but in giving them a voice. I feel to be seen and heard in that way was and is very powerful.
This fuelled my passion for continuing this kind of work.
Having worked for a year with Youth Off the Streets students at Merrylands and the Central Coast, we held on an amazing exhibition " Ripples "at Gaffaa gallery in Sydney. The impact it had on the students was incredible. Many could not hold your eye in a conversation when I started, but with their artworks on the wall they were talked to total strangers with the confidence of a seasoned Artists.
It was something that affirmed that if I can make a slight difference somewhere, if I've helped improve a young person's belief in themselves themselves, then I feel like I've done my job.
After that year I came back to what I've always been passionate about doing for our community; trying to find where I can make a difference within our community. Previously I had worked on a Cultural Mapping project with Barrenjoey High School's year 9 students and the success of this led to me becoming the schools Artist in Residence. In this role I have had many wonderful opportunities to work with young people on a variety of projects.
In 2018 we created the Beyond the Bends cookbook, which was a voluntary labour of love and a fantastic fund raiser for the school. Through food we brought together many students, parents, staff and local businesses to celebrate our unique community. The cookbook is a lovely reminder of what is so special about the people and place we live in - it was a fantastic project!
Last year the Barley Ki Giballee workshops and exhibition combined working with young people and two First Nations artists and was a dream come true for me.
You also go the distance in your whole approach though Sally; there has been numerous times through the years when you have sent Pittwater Online great photos of the Winter Festival held at Barrenjoey High School as part of their fundraising to get the Performance Space at BHS built and open, even when you head down to Avalon beach after the Dawn Service on ANZAC day you snap a few of the students who have attended enjoying the sunrise and having some quite minutes together as well so they can be included in each year's record. Why do you do that?
I was always trying to promote the school and the many positive initiatives they were involved in. I was happy to spread the love and sent Pittwater Online any images I had captured to help the community as well.
It's just been many years of doing what I can to help create positive change.
When did you first pick up a camera and start on your photography? And what was the first shot you took?
My first camera was one of those 110 instamatic cameras which I took on a family holiday to Tasmania when I was seven. I remember wedging myself into these rocks so I could capture an unusual angle of a waterfall!
Following that I learned to use my Dad's Pentax K1000 and I remember his patience over several nights as he explained the relationship between aperture and shutter speeds. From there I had an amazing and inspiring teacher, Lisa Torma, in high school. I went on to study photography for four years while working as Tim Hixson's assistant. Tim shared a studio in North Sydney with Gary Grealy, Robert Morehead and Scott Cameron, who were all inspiring photographers. I feel so blessed to have worked with them, it was such a positive and creative environment to be in. Tim has always been a wonderful mentor and I still seek his advice and wise guidance.
I worked in London for a couple of years assisting high profile advertising Photographers. You start as a third assistant and work your way up to first assistant.
I soon realised that environment wasn't for me though.
I spent a year travelling through Africa where people's essential day to day living was in such contrast to the world of London, I didn't feel I could go back to it. I felt useless as a photographer as I wanted to help people change their lives for the better. A conversation with my brother altered my perspective as he wisely saw the positive in what I could do. He said, " use your gift to tell people's stories, create awareness and this can lead to change."
So I began collaborating with people to share their stories with my first experience of this being on the Guyana Expedition.
Which was the first BIG project – the Beach Faces & Wilderness Places exhibition that was in the Manly Art Gallery and Museum or Saltwater Country?
My first exhibition in 1990 was a collaboration with artist Mark Hayes called Beach Faces & Wilderness Places. It featured a collection of portraits from Manly Beach and landscapes from South West Tasmania. We exhibited at the North Steyne surf life saving club. "The Intimate Witness" followed at Bondi Pavilion. This collection of portraits and landscapes told stories from Africa and Guyana with a percentage of proceeds going to Austcare - now ActionAid Australia.
Saltwater Country was shown at Manly Art Gallery and Museum in 2010. This project was a few years in the making as there were many First Nations protocols we wanted to observe. We didn't want to just turn up as we felt the project needed to be a collaboration from the start. A chance meeting with Albert Wiggan a young Bardi leader, who invited us onto country made this possible. The stories, photos and paintings became a powerful and timely body of work. The Wilderness Society included the work in their awareness campaign about the proposed James Price Point gas hub, giving that and the project more traction. Eventually the Western Australian State Library bought the entire collection for its timeliness and cultural significance. Fremantle Press then published a book of the work, Seeing Saltwater Country.
That's an acknowledgement of the importance of all that work and what the project aimed to communicate Sally, so it's great the Western Australian state mechanisms recognised that and have ensured it becomes part of all our records so others may have access to that work going forward, and forever.
Yes, Dale and I were so pleased for all our collaborators that their voices were heard and publicly valued in this way. It was a very special time for both of us when we returned to visit the Communities, taking copies of the photos and paintings with us. They were excited to see them and Going back and talking with all the people we'd been with and taking them prints of the images and the paintings was wonderful because they were so in awe of the fact that they could go down to the State Library in 50 years time and still see that work. So that recognition for them I thought was wonderful.
You also let yourself have a bit of fun with the great traditions and have taken part in the Ludlites exhibitions during the Head On Photo Festival – did Tim Hixson rope you into that?
Tim is the founder of that group and yes invited me to join them.
We exhibited for many years together, celebrating plastic cameras and film photography. I have been included in that. I have also taken part in the Festival itself with my work being accepted several times in the and put my work in for the Portrait prize and Landscape prizes. which is part of the Head On Festival. I was very honoured that last year I was in the Landscape prize, I've been in the Portrait prize a I have also held a few exhibitions as an associate exhibitor during the festival. It's exhibitor few times as it's just such a wonderful showcase of Photography, both International Photography and Australian Photography. Moshe, the fellow who runs the festival, is just amazing, the amount of effort he puts into it is that is just phenomenal.
There are many prizes you have been involved with, which ones do you usually support?
I try to always enter the Ravenswood Australian Women's Art Prize and the Northern Beaches Environmental Prize. I have been a finalist in both of these a few times.
I feel what Ravenswood is doing is fantastic as they are really promoting women Artists and inspiring the next generation of women artists.
[The Ravenswood Australian Women's Art Prize is an annual acquisitive prize that was launched in 2017 to advance art and opportunity for emerging and established women artists in Australia. It is the highest value professional artist prize for women in Australia. There are three prize categories – the Professional Artist Prize of $35,000, the Emerging Artist Prize of $5,000 and the Indigenous Emerging Artist Prize of $5,000.]
Recently I was The other thing I've been privileged to do lately is be involved or included in the Australian Women In Photography time capsule for last year.
[ The Australian Women in Photography (AUSWIP) has a mission to develop, promote, and support female and non-binary creatives in the photographic industry. Inspired by the #metoo movement and noticing a gap in the Australian market for a female-focused photographic organisation, AUSWIP immediately began connecting Australian creators and sharing work via social media. AUSWIP maintains a directory of Australia's top professional female and female-identifying photographers, hosts social events, photographic talks, and maintains a community via social media. At the end of each year, AUSWIP produces a highlight of Australian female work, 'AUSWIP Time Capsule'. Visit: https://www.auswip.com.au/2021atimecapsule ** and https://www.instagram.com/p/CpCnjpGvlC7/
How did the Beyond project begin?
This series was a result of Covid and lockdowns. Every dawn I photographed the ocean, pool and people at south Avalon. The final collection and book is a celebration of our community coming together to support each other while interacting with the natural world. These timeless connections are physical but also deeply emotional and spiritual. They are intimately woven with our sense of belonging and well being.
We couldn't come together, but we could come together with distance between us and still support each other and this became the series in 'Beyond'. There was that wonderful sense of community that I was trying to capture in those Portraits – even though we couldn't be close to each other we still all supported each other through that time.
The cover of the book that collates those captures, 'Beyond', has a black and white image of everybody lined up on the pool edge, which was alike the edge of what was happening at that time – everybody was not together, but there is still movement between them - so there is this unspoken connection between everyone. That image summed up that time for me with that coming together. These were various groups supporting each other through this time of uncertainty, sharing a passion for swimming, surfing and being part of something greater than ourselves.
What is the difference between how you shoot Portraiture and how you capture Landscapes?
I love both Portraiture and Landscape photography. With the Landscape photography I'm often driven by the light and what the light is doing at a particular time. So light often drives my desire to do Landscape and what is happening within that landscape. In Portrait it is very much the same thing but in both Portrait and Landscape I'm trying to capture emotional essence.
When it is someone you are trying to capture the essence of them. That can be quite a challenge – sometimes you can fleetingly capture that moment, but it's that trust you need to commence. That can take time, or sometimes there's something you can do to make them feel at ease quite quickly. I do wonder sometimes whether being a woman does help with putting people at ease; I think there's a different energy that does help.
I think that with the series that came from those dawn patrols, Beyond, benefited from people being used to me being down there every morning, I just became part of what happens each day. That allowed me to capture what is happening without people performing and allowed a real capturing of people in their environment. That was very much my intention with all of those shots; to capture the beauty and wonder of Nature and how people react and interact with this. I didn't want it to be getting people to perform and change what they do, I just wanted to capture that natural behaviour.

How did you become involved with the Youth Off the Streets Cycle of Courage program? It seems to require a diverse skill set.
Having worked with Youth Off the Streets students on several creative projects I became aware of their Cycle of Courage program. This culminates in a 1000km, seven day ride from Sydney to Surfers. The experience is extremely tough, life changing and empowering for students and one of YOTS major fundraisers. Being the 20th year, I felt this unique and powerful story needed to be documented and shared to a wider audience. Having recently started riding a road bike for triathlons I felt my new skill could be put to better use here! After mentoring a group of students in filmmaking and photography we created a film at the end of each day's ride. Posting this to social media enabled many to come on the journey with us.
Riding with the students is such a joy and privilege, I'm looking forward to this year's ride which leaves on the 29th of April.
The 2022 project Barley Ki Giballee: You And Me Come Together, The Exhibition - Avalon 100 Celebrations (2021 - 2022) at the Avalon Beach surf club was another huge success – what are your thoughts now you have had a chance to rest for a moment?
Getting to work with Corey was just fantastic, she has just got so much to contribute, and the most wonderful woman. Seeing all those works the children made up in the club, their ideas realised was what we wanted to achieve.
What are your favourite places in Pittwater and why?
The whole of Avalon Beach and particularly the south end rockpool, because of its community. It's very much like having another family and to have that sense of belonging is so important.
What is your 'motto for life' or a favourite phrase you try to live by?
Is what I'm doing beneficial? – that's always the filter – and – is it bringing me joy?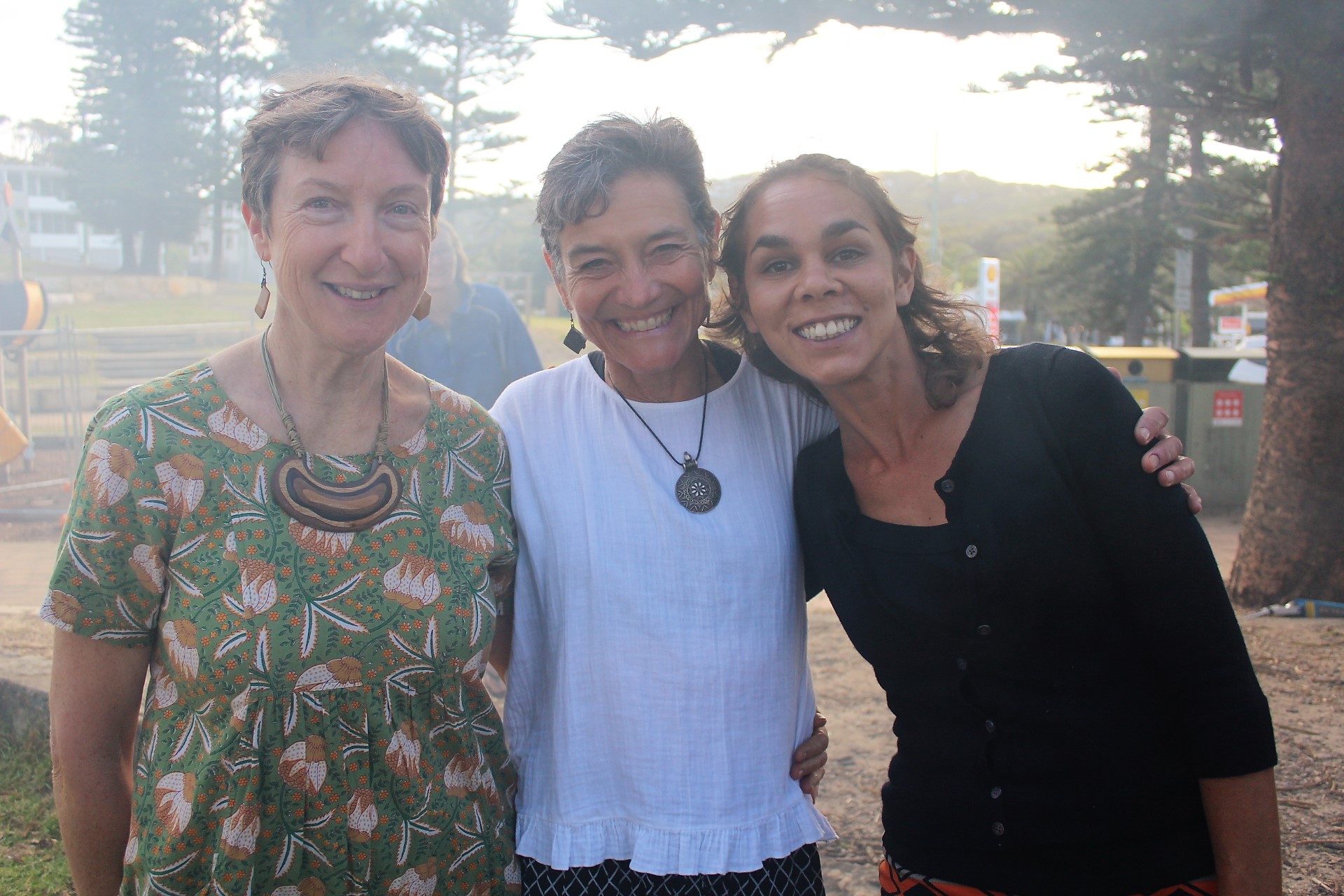 Left to right: Barrenjoey High School's Sandy Chockman, Sally Mayman and Corey Kirk during the Smoking Ceremony opening of the Barley Ki Giballee: You And Me Come Together, The Exhibition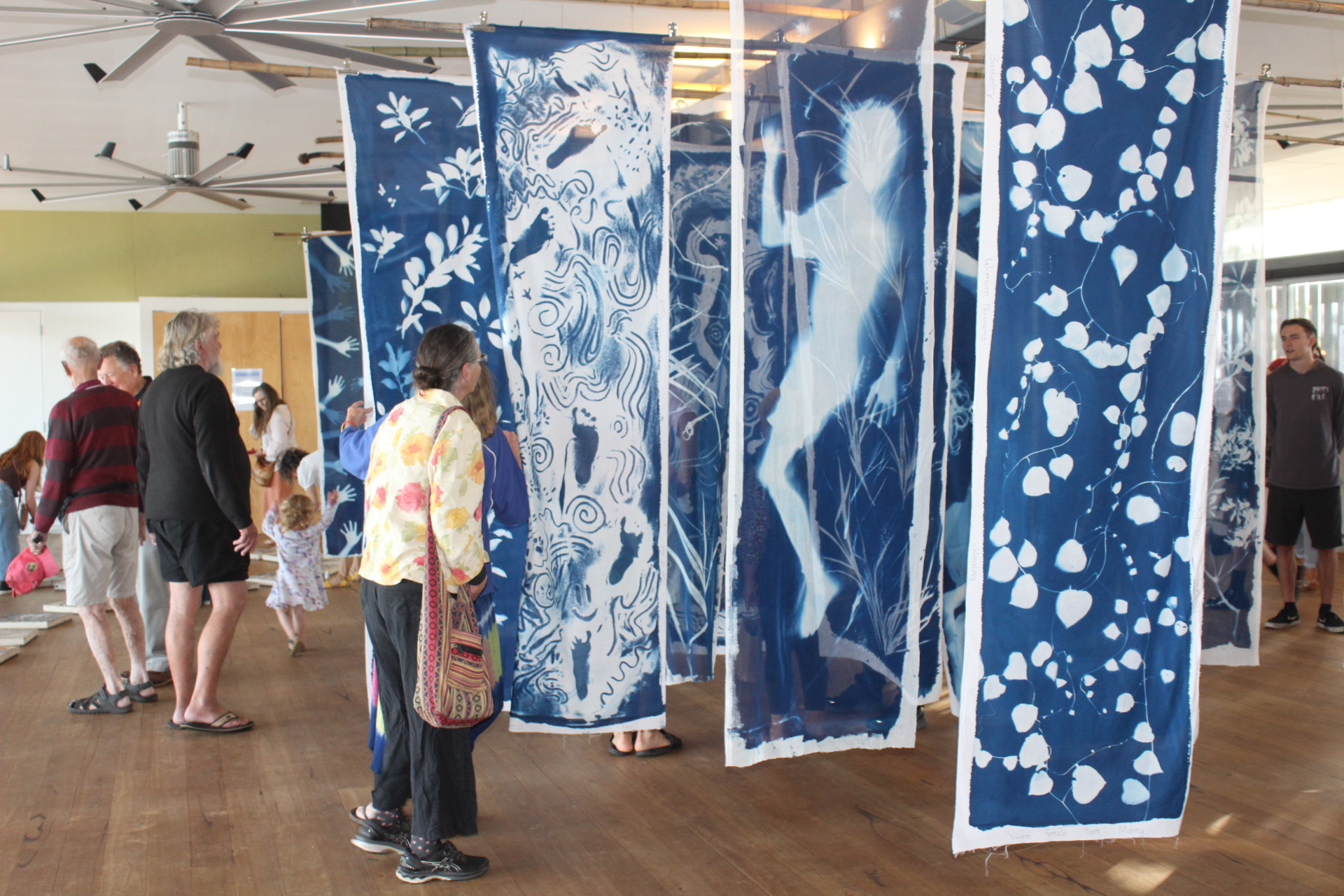 Inside the Barley Ki Giballee: You And Me Come Together, The Exhibition - Photos: A J Guesdon
Previously:
Exhibitions and Projects
2023 Pittwater Woman of the Year
Artist in residence Grammar School
Artist in Residence Barrenjoey High School
Included in the AUSWIP time capsule for 2022
2022 Barley Ki Giballee exhibition
Finalist Ravenswood Womens Art Prize
Finalist Northern Beaches Art Prize
Finalist Head On Landscape Prize
Semi Finalist Head On Portrait Prize
Eramboo artist Residency
Northern Beaches Council Grant Connecting and Collaborating
Artist in Residence Barrenjoey High School
2021 "Soliphilia" exhibition Art Gallery on Palm Beach
Artist in Residence Barrenjoey High School
Workshops with Youth Off The Streets
Finalist Northern Beaches artist book awards
Finalist Head on Landscape prize
Finalist Northern beaches Environmental Art and Design prize
2020 Completed Masters of Art UNSW Art and Design
Artist in Residence Barrenjoey High School
Art program Mogo Public school - began and then suspended with Covid-19
Moran Prizes school photographic workshops term 1
Cyanotype art making with Youth Off the Streets
"Grateful" film making with Youth Off the Streets
2019 Finalist Ravenswood International Women's Art Prize
Art Program with Youth Off The Streets
Ripples Art Off the Street Exhibition Gaffa Art Gallery
Film Making and Photography Workshops - Avalon Youth Hub
Artist in Residence Barrenjoey High School
Out of the Earth Exhibition - The Beach School
Words / artist project Northern Beaches Council
2018 Finalist Ravenswood International Womens Art Prize
Tarkine in Motion - artist activism Tasmania
Mentoring students at the Beach School
Workshops with Youth Off the Streets
UNSW group show Gaffa Gallery
Head On Ludlites group show - " Space "
Mentoring Youth of the Street students, film making for the cycle of courage
Beyond the Bends cookbook
Artist in residence Barrenjoey High School
Mentoring students in film making - best cinematography and festival directors awards Creative Creatures film festival
2017 Artist in Residence Barrenjoey High School
Beach School "Out of the Blue" Exhibition
Manly Gallery Group Show 'Land'
Annandale Galleries group show.
Head On 'Ludlites love Utopia', Exhibition Bondi Pavilion
2016 Cultural Mapping Youth exhibition Avalon
Manly Art Gallery Northern Light, group show
Head On 'Ludlites Love History' group exhibition
Add On group exhibition
2015 Annandale Galleries group show
Manly Art Gallery Public Exhibition Space
Add On group exhibition
2014 Add On group exhibition
2013 Manly Art Gallery group exhibition
The Australian Family project Brisbane
The Australian Family project Columbia
2012 Manly Art Gallery group exhibition
2011 Saltwater Country exhibition, The Rocks
Discovering Country exhibition, The Rocks
Earth Fire Water exhibition, Centennial Park
2010 Saltwater Country exhibition, Manly Art Gallery
Saltwater Country exhibition, North Head
Saltwater Country exhibition, Glen Street Theatre
2006 Monthly group exhibitions, Paddington,
2004 Motherhood Series
2003 "Around the Bends" group exhibition, Artzspace, Avalon
1995 "The Intimate Witness" Bondi Pavilion, NSW
The ABC centre, Sydney, NSW
Group Exhibition, The Bank Gallery
1990 "Beach Faces & Wilderness Places" exhibition, Manly, NSW
Art Gallery of NSW purchases four landscapes