September 3 - 9, 2023: Issue 597
Narrabeen Sports High School upgrade update: August 2023 - essential + Urgent Maintenance works currently being undertaken under new NSW Government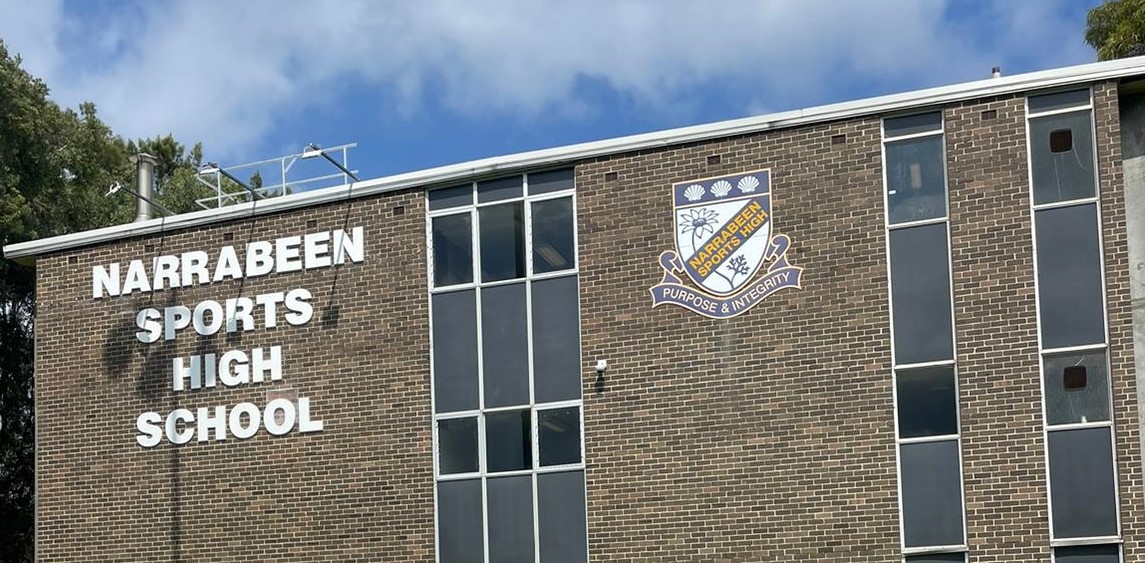 In 2018 Narrabeen Sports High School was announced as an Olympic Pathways school in the sport of surfing.

Surfing NSW CEO Luke Madden and President of the NSW Sports High Schools Association (SHSA) Roger Davis launched the new partnership at Maroubra Beach on Friday October 26 alongside students from Matraville Sports High, Narrabeen Sports High, Illawarra Sports High, Hunter Sports High and Endeavour Sports High.
Luke Madden said: "Now that we are an Olympic sport, it is essential that we explore ways to further develop our sport. We see this partnership as a vital component in the identification and development of talent and a key to building a high-performance pathway for our sport in the state."
The program provides a comprehensive curriculum that includes skill and technique development and fitness as well as strategies to enable students to build the mental capabilities required to be successful in the competitive world of surfing.

In February 2023 this was re-announced with other sports added in. The state's seven Sports High Schools officially became Australian Olympic Pathway Schools from February 8, 2023.
Then NSW Education Minister Sarah Mitchell MLC and NSW Sports Minister Alister Henskens SC, MLA with Australian Olympic Committee (AOC) Chief Executive Matt Carroll, jointly announced the partnership, aimed at boosting opportunities for talented NSW athletes to progress their sporting and academic careers.
In a further boost for schools across NSW, the state government has also announced Australia's largest Olympic education initiative, with an extension of the "Olympics Unleashed" program set to reach 250,000 school students over the next three years.
Minister for Education and Early Learning Sarah Mitchell said the unique designation from the Australian Olympic Committee for these schools was fantastic news and would help boost the State's efforts to create future generations of Olympians and Paralympians.
"Our seven Sports High Schools in NSW are the only secondary schools in Australia to have this prestigious recognition," Ms Mitchell said.
"This reflects the great strength of our sports high school network, and their excellent track record in fostering both sporting high performance and academic achievement. I can't wait to see the next generation of medal-winning athletes coming from our public schools as we look to Brisbane 2032."
The seven Sports High Schools in NSW receiving this recognition are Endeavour Sports High School, The Hills Sports High School, Hunter Sports High School, Illawarra Sports High School, Matraville Sports High School,
Narrabeen Sports High School
and Westfields Sports High School.
The then NSW Government also confirmed a $1.5 million boost to extend the successful "Olympics Unleashed" school program, aimed at supporting students through the power of sport, until 2026.
"The award-winning Olympics Unleashed program, which teaches our students important life skills in decision making, goal setting and overcoming adversity, has reached more than 75,000 Year 9 students over the last three years," Ms Mitchell said.
"Continuing it for a further three years will mean thousands more young people, including primary school aged students for the first time, will benefit from the program delivered by Olympians and aspiring Olympians.
Then
Minister for Sport Alister Henskens said the NSW Liberal and Nationals Government is committed to supporting the State's seven sports high schools in their endeavour to develop future Australian Olympians.
"The students at our sports high schools today will be our heroes standing on the podium at the Brisbane 2032 Olympics, and this partnership will strengthen their opportunity for international success," Mr Henskens said.
The first-of-its-kind in Australia, this initiative will encourage even more high school students to reach for the stars, as well as provide programs to help young people stay focused and motivated while they're studying and trying to forge a pathway in their respective sports."
AOC Chief Executive Officer Matt Carroll said the Australian Olympic Pathway Schools designation is an important recognition of the value of the Sports High Schools network in NSW.
"The key to sporting excellence is to align participation, pathways and high performance into the virtuous circle. To have this alignment at high school level is powerful, particularly as we look to Brisbane 2032 and beyond.
The Australian Olympic Pathway Schools designation provides an additional motivation and validates the specialisation being undertaken within each Sports High School.
We have seen Olympic Training Centres recognised around Australia and overseas, but never at the school level in this country.
"The AOC is thrilled by the extension of the Olympics Unleashed program. Our Olympic athletes can deliver these sessions across the state, including regional areas and Indigenous communities. We will reach 1800 schools across the three years.
"It's important that our young people pursue a passion – we want students to get active but finding your passion may lie beyond sport. Olympics Unleashed teaches students the value of finding a passion and really becoming their best selves. That's the most important lesson.
"Our thanks to the NSW Government for their investment in the future of our youth.
This is such an exciting time for our Olympic sports with a green and gold runway leading to Brisbane 2032 and opportunities for a decade beyond that."
The state's Sports High School have produced 32 Olympic athletes, including
Kyah Simon
(Football),
Brandon Starc
(Athletics),
Maurice Longbottom
(Rugby 7s),
Kaarle McCulloch
(Cycling - Track),
Dani Stevens
(Athletics) and
Mariah Williams
(Hockey).
Olympic sports currently with programs at NSW Sports High Schools include:
Athletics
Baseball/Softball
Basketball
Football
Golf
Gymnastics
Hockey
Rugby Union
Surfing
Swimming
Tennis
Water Polo
However, since Pittwater Council had a synthetic turf field built at North Narrabeen Sports High in 2012, which they won two awards for, the facilities at Narrabeen have not been upgraded or even maintained and had subsequently deteriorated to the point where some facilities would be deemed hazardous and others way below an acceptable standard.
In 2018 the Coalition NSW Government committed to upgrading Narrabeen Sports High School and Narrabeen North Public School with new and improved education facilities to ensure all students can learn in modern, fit for purpose environments.
Masterplanning undertaken in 2019 for the Narrabeen education precinct or campus considered the long-term opportunities across both campuses. In 2020 concept plans were scheduled to be completed.
In June 2021 then Pittwater MP Rob Stokes announced funding had been secured in the 2021/22 NSW Budget for the Narrabeen Education Precinct- this was listed as $3.135m for the Narrabeen Education Precinct in Budget papers. A further $15.5 million to commence the upgrade of the Narrabeen Education Campus (total cost subject to tender) was announced as part of the 2022/23 NSW State Budget.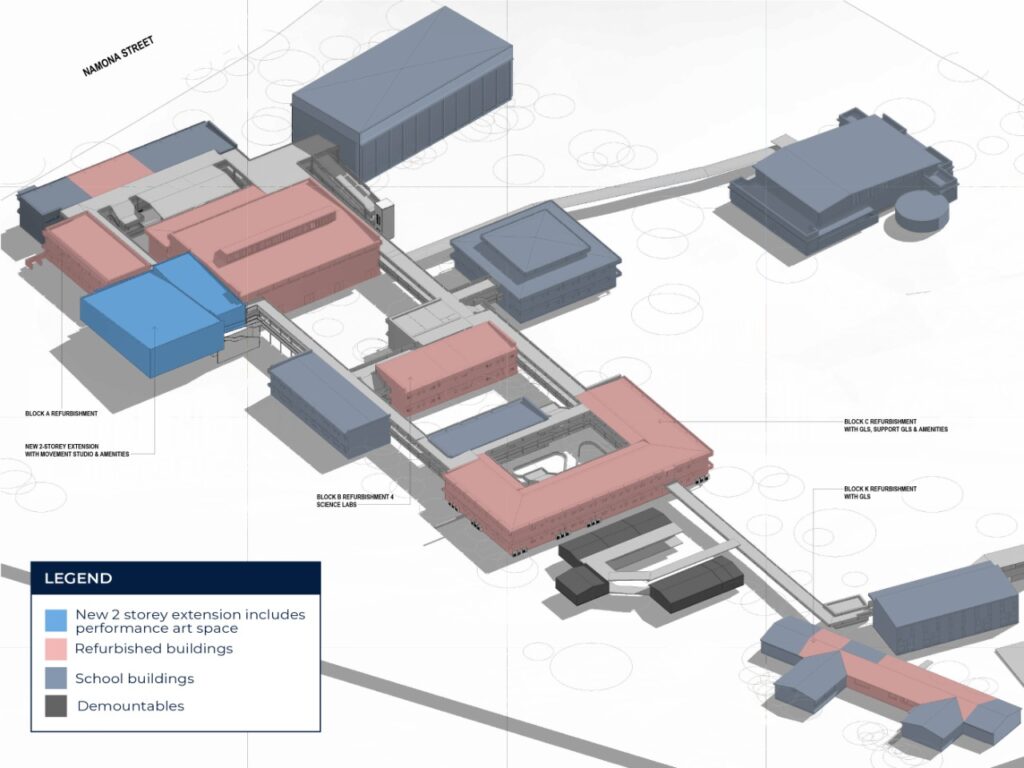 Narrabeen Sports High School layout plan. Image Credit: School Infrastructure NSW, 2021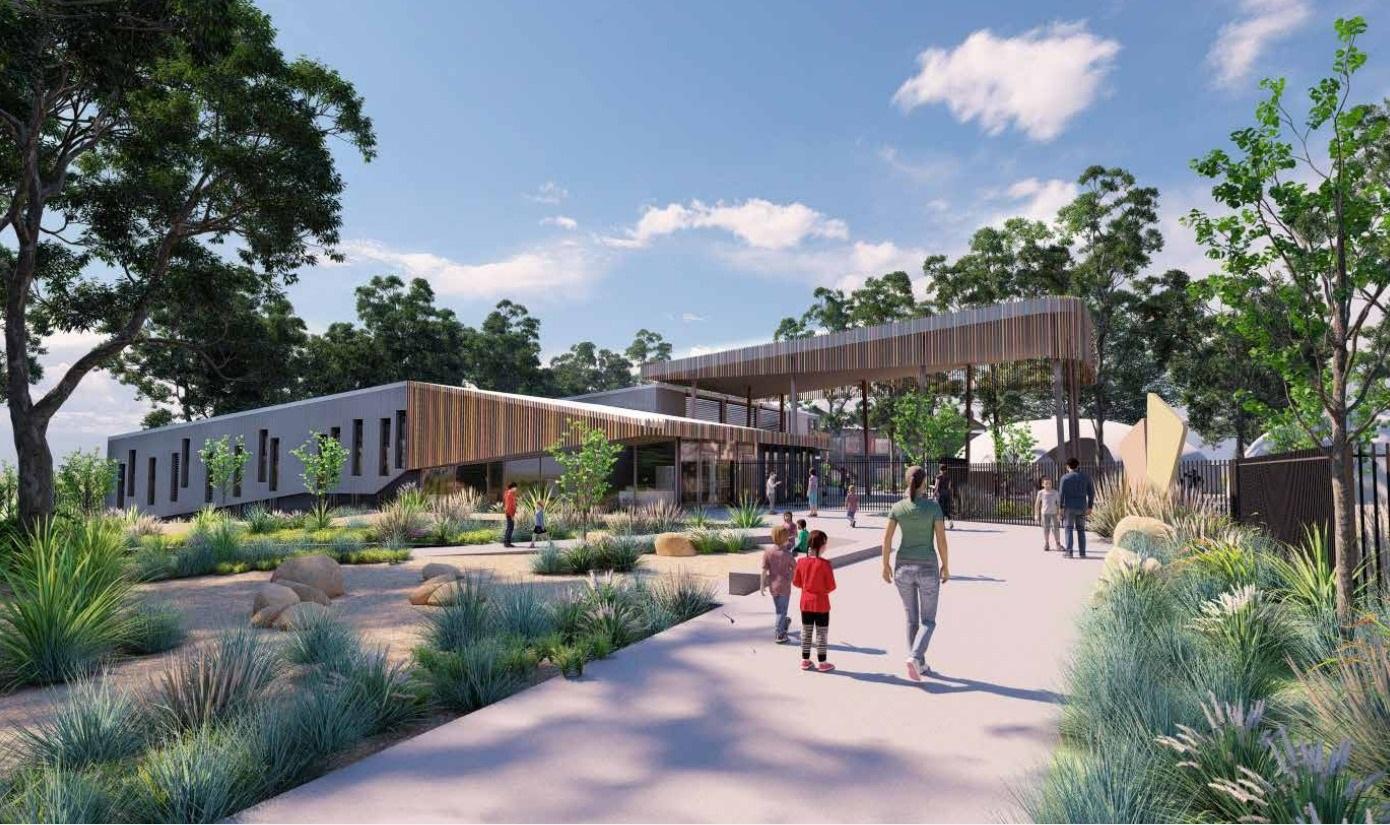 Artist impression of the new multipurpose hall and administration hub at Narrabeen North Public School.
Image Credit: School Infrastructure NSW, 2022
In October 2022 the documents for the Narrabeen North PS DA were made available on Council's website for feedback.
ADCO Constructions was awarded the design and construct main works contract to deliver the Narrabeen North Public School upgrade. The development application (DA) for the main works at Narrabeen North Public School was approved by Northern Beaches Council in June 2023. That allowed construction works to begin on site. Site establishment at Narrabeen North Public School started in late June 2023, with works to remove hazardous materials from the site undertaken during the Winter school holiday break to minimise potential impacts on students.
The Narrabeen North Public School works are scheduled to be completed in 2024.
Narrabeen Sports High works remained at a standstill though.
New Pittwater MP Rory Amon stated as part of his election commitments, ''I am committed to seeing the continued improvement of our local schools, including the $60 million upgrade of the Narrabeen Education Campus (Narrabeen North Public School and Narrabeen Sports High School).''
There had already been some 'noise' around election time earlier this year that the works for Narrabeen Sports High may get 'put on hold' or even defunded if the Coalition Government didn't win another term.
Mr. Amon kept his promise and pursued the funding that had been allocated be put towards where it was intended, sending in a statement weeks back about the conditions of the classrooms, bathroom facilities without toilet doors and leaking rooves at Narrabeen Sports High School, and calling for immediate remediation works to be commenced so students returning from the Winter break could focus on being students rather then the stains on the walls or toilet cisterns that were cracked and stalls without doors.
Apparently the roof sheets, toilet systems and doors that could have been bought just up the road for a few hundred dollars and put in by a community working bee isn't the way it can be done nowadays - it has to be through official channels and it has to cost millions and a community has to wait until it can be done - even if there is a clear need to get it done yesterday.
With the change of government, residents have been advised for future project updates, works notifications, or other relevant documents related to the current upgrades of Narrabeen Sports High School or Narrabeen North Public School after July 2023, to please visit their separate project pages: Narrabeen Sports High School project page and the Narrabeen North Public School project page
The term 'Narrabeen Education Campus' has disappeared with the stroke of a pen.
The new NSW Labor Government has stated it remains committed to delivering the much-needed upgrades at Narrabeen Sports High School.
The new NSW Treasurer, The Hon. Daniel Mookhey MLC will deliver his first full budget on September 19 2023. Mr. Mookhey has already warned of significant challenges for the state, including major projects the new government has inherited from the old that have blown out by billions.
However, the August 2023 update by School Infrastructure NSW released last week records:
'In the first week of Term 3, School Infrastructure NSW met with the school's leadership to confirm their priorities and make sure that the upgrades meet the needs of the students and staff.
As an outcome of this discussion, it has been decided that the upgrade will include essential and urgent maintenance including the following:
renewal and repairs for the science labs, prep rooms, and chemical storerooms in Block B
replacement of all roofs in Blocks A, B, C, D and E
refurbishment of student and staff amenities (bathrooms and changerooms)
upgraded technological and applied studies classrooms in Block A
refurbishment of existing classrooms within Block C
refurbishment of Block K including data upgrades.
Discussions with the school about future upgrades to core facilities are continuing.
Progress summary
We expect to award the contract to complete the refurbishment of the science labs, prep rooms, and chemical storerooms in Block B in early August 2023. Works will start shortly after this and are expected to be finished by late 2023.
Stage 1 of the roof works will involve replacing all roofs with new material in Blocks A, E and D, including external walkways. Procurement has started and we expect to commence these works in Term 3, 2023.
Stage 2 of the roof works will involve replacing all roofs, including coverings in corridors, in Blocks B and C. We are still developing a schedule for these works and will notify the community closer to the works starting.
Next steps
Procurement for refurbishment of the student amenities will start in August 2023. We expect to finish these works by the end of 2023.
The contracts to complete the refurbishment works of the TAS classrooms in Block A, Block C classrooms, and the new classrooms in Block K will be released later in 2023. Works are expected to start in late 2023 or early 2024 and will be completed throughout 2024.
Essential and urgent maintenance will be prioritised.
Construction work hours
Standard working hours will be 7 am to 6 pm Monday to Friday, and 8 am to 1 pm on Saturdays. No work will take place on Sundays or public holidays unless otherwise advised.
Managing construction impacts
Noise, vibration and dust impacts will be managed carefully while works are taking place in order to minimise any potential disruption to student learning. Construction will take place progressively in planned stages across the school and we will conduct all work in accordance with the project's environmental management plans.
The impact of construction work on student learning is an issue we treat with the highest priority.
We will work closely with the principal to program noisy works appropriately with consideration given to sensitive periods for the school such as exams.
For more information about how we manage impacts from construction in the community and our schools, visit our fact sheet: www.schoolinfrastructure.nsw.gov.au/construction-impacts.html
How can I get involved in the project?
We are committed to working together with our school communities and other stakeholders to deliver the best possible learning facilities for students. Your feedback on this project is important to us. For more information, questions, or to make a comment please contact us at the details below.
Further updates will be released as the project progresses.
School Infrastructure NSW
Email: schoolinfrastructure@det.nsw.edu.au
Phone: 1300 482 651
www.schoolinfrastructure.nsw.gov.au
Member for Pittwater Rory Amon stated on Monday September 4 he welcomes the news that Narrabeen Sports High School (NSHS) will receive some much-needed upgrades.
"When I visited Narrabeen Sports High in June, I was shocked at the state of the facilities. Local kids deserve better. They deserve an environment in which they can learn and thrive.
"Narrabeen Sports High is a first-rate school, with first-rate teachers, students, and parents. The naming of the School as an Australian Olympic Pathway School last week is testament to this. Unfortunately, we've been let down by the physical state of the school.''
Yes, the Olympic Pathway School listing for Narrabeen Sports High School has now been announced a THIRD time.
"Thanks to the persistence of the school's devoted staff, and P&C, the Department of Education has confirmed that about $20 million will now be invested. Huge thanks must go to School Principal, Heidi Currie, and the P&C President, James Wiggins, and Secretary, Dr Peter McDonald," said Mr Amon.
"We must continue to support the School's staff and P&C. On 16 August I wrote to the NSW Treasurer, requesting that the Government provide $60 million + in the 2023-24 Budget, to ensure all necessary upgrades of Narrabeen Sports High School can be completed. I will continue to work with the staff and P&C, and liaise with the Minister for Education and Government on this matter," Mr Amon said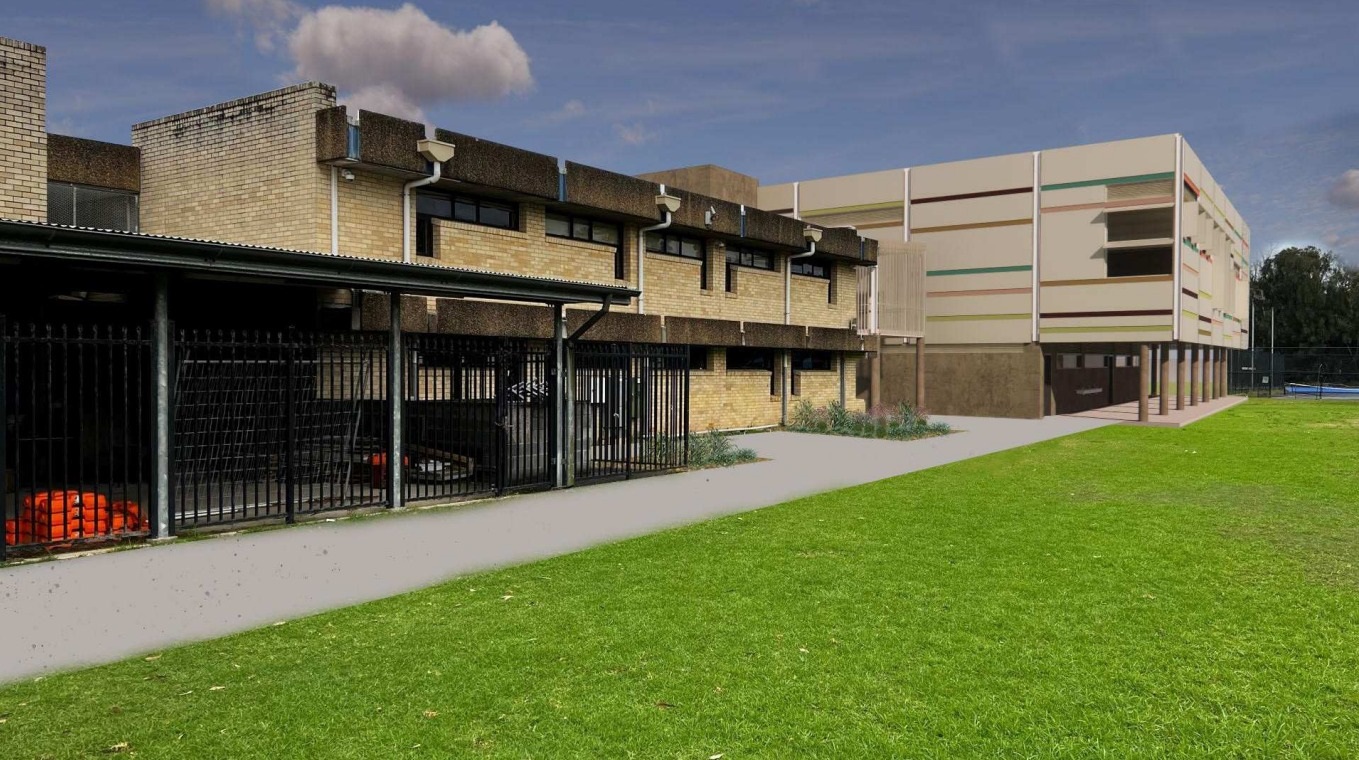 Artist Impression of new works at Narrabeen Sports High School. Image: SINSW, 2022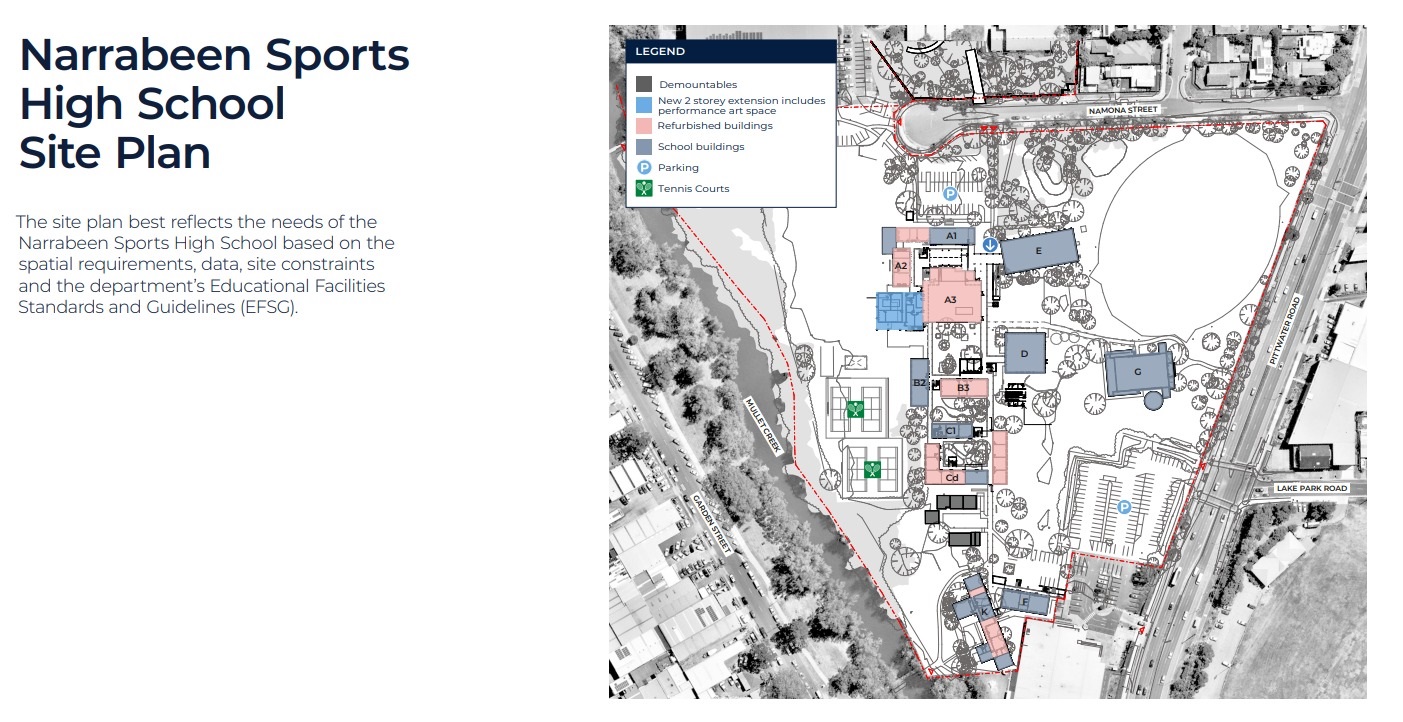 Narrabeen Sports High School Site Plan. Image: SINSW, 2022