October 14 -20, 2012: Issue 80
Volunteer Marine Rescue NSW: Broken Bay Unit Naming And Commissioning Ceremony For New Wharf And New Lifeboat 'BB20' – 'David B Harrison'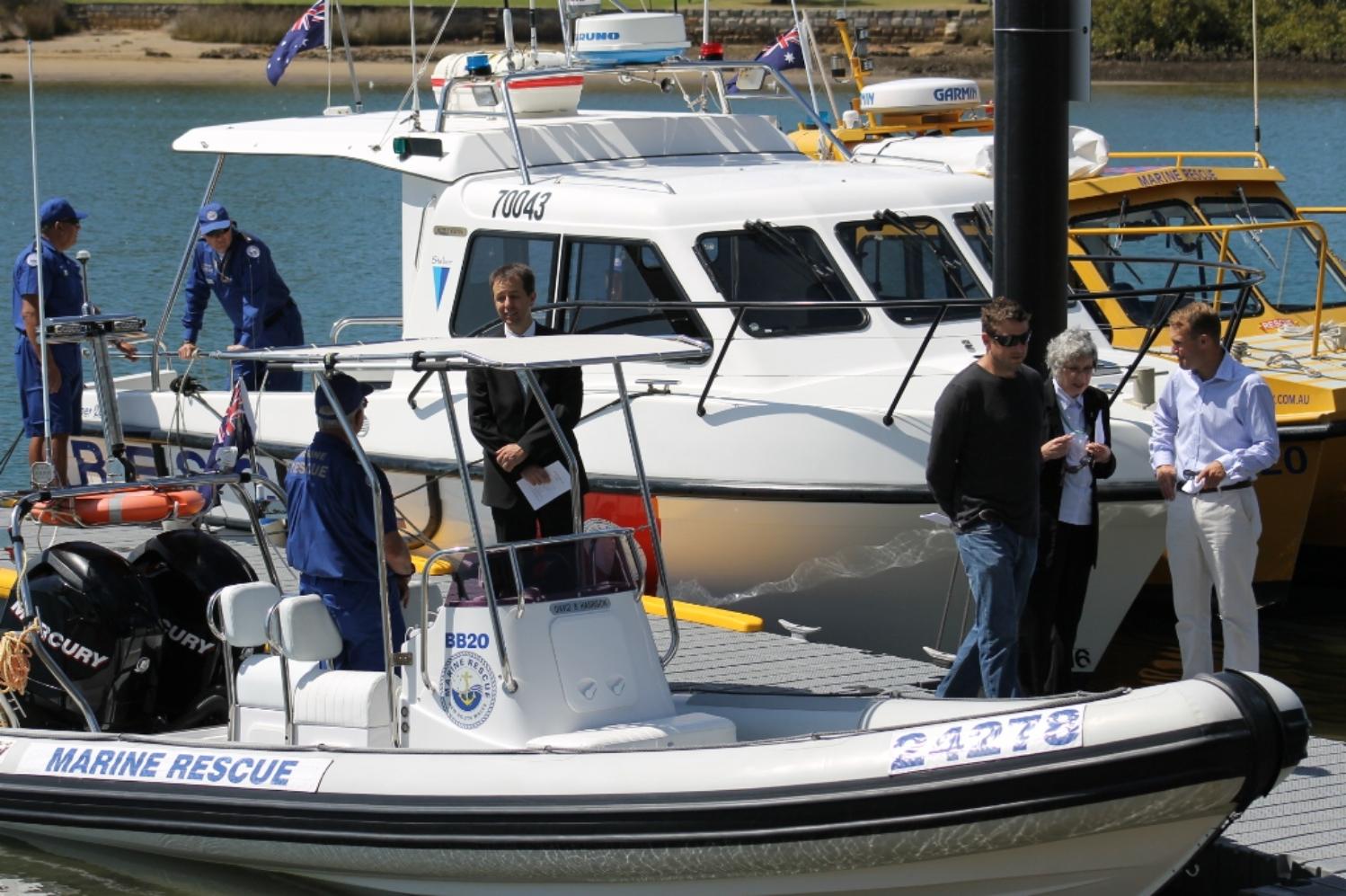 Front to Rear: 'David B Harrison', the 'Peter E Weston' and Cottage Point Marine Rescue Vessel 'Cottage Point 20 (CP 20)'.
On Saturday 13th October 2012 Marine Rescue Broken Bay Unit commemorated the completion of its new wharf and the naming of their new additional lifeboat the "David B Harrison". The local member for Pittwater the Hon Rob Stokes MP participated in the ceremony at Rowland Reserve Bayview which was attended by Cr. Ian White and led by Unit Commander George Patterson.
Marine Rescue Broken Bay whose motto is 'safety of life at sea' formally opened the security gate to their new wharf at the boat ramp at Rowland Reserve, Bayview. This wharf has been a triumph of persistence to get completed. It has taken about 12 months to get through the process before permission was granted for its construction. Former Unit Commander Victor Lawrence and Michael Seale were warmly thanked for their determination and persistence in ensuring this wharf was completed and also for all the hard work he did in ensuring the David B Harrison became a reality.
Hon Rob Stokes reiterated in his address the vital service this volunteer unit has provided since pre-war days, during the course of WWII and even up until today. The Broken Bay Unit of Marine Rescue celebrates its 75th year in November 2012 and has provided assistance to countless ocean going vessels and people during these decades.
Following the wharf ceremony the new lifeboat the 'David B Harrison' was dedicated in prayers led by Reverend Jason Ramsey of Newport which included a blessing of the vessel;
"Oh God, we pray that you would bless this vessel and the missions it is called upon to carry out in search and rescue. Bless those who sail in her and guide them in their task of rescuring those in need."
The David B Harrison, named after a long serving member who has been a part of the BBMR since 1974 was 'christened' with champagne by Mr Harrison's wife Margaret in the traditional way for sea-going vessels. This new lifeboat is capable of travelling at over 30 knots to assist in any rescue that may arise.
We asked Mr Harrison, who was wearing the Centennial Medal, a National Medal for Community Service and his 30+ years Long Service Medal for Marine Rescue to share a few memorable moments from his decades of volunteer service in Marine Rescue;
"Years ago Chris Cardiff-Jones of the Canoe Association asked us to provide our safety vessels for the canoe race from Windsor to Brooklyn. This was done at night time. it is now in its 37th year with over 500 paddlers raising money for charity. It started from nothing and now is known worldwide as the Hawkesbury Canoe Classic. So it was great to support that.
The other memorable achievement was forming the Royal Volunteers Coastal Patrol's Education Board; setting up education training for members and purchasing the vessel the 'Harold Nobbs', named after one of our original Division Commanders, on which we trained many for 10-15 years. The Yacht Federation were trained through that, the Coast Guard, TAFE students and our selves. "
How did you first get involved with BBMR sir?
"We used to come down here and fish off the coast. These folk always asked us where we were going and when we'd be back. After so many years and seeing all the great work they do we decided it was time to put something back in, so myself and Margaret's dad, who was already in it, came here thereafter."
David and Margaret's sons James and Andrew attended the ceremony yesterday, stating when asked that they were very happy about the vessel being named after their father, James pointing out his dad had been doing this for longer then he'd been alive.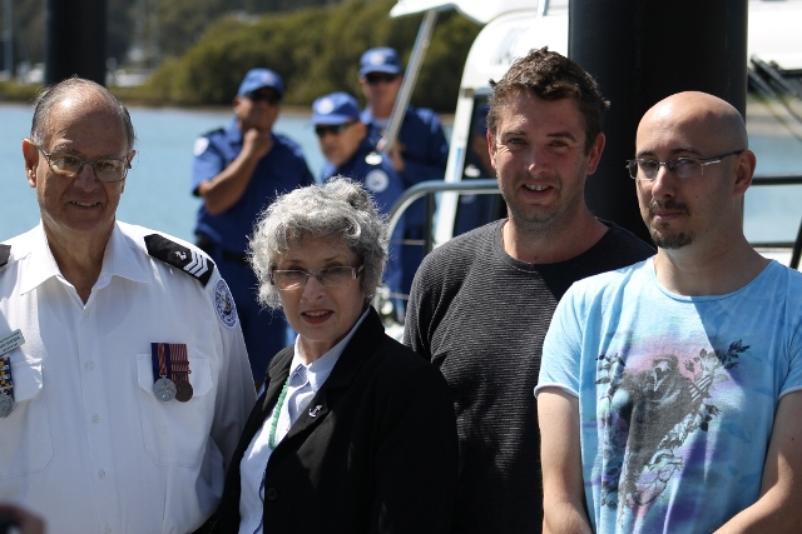 Harrison Family: David, Margaret, Andrew and James.

Another great note from yesterday was the news that local gent Terrance Joyce has this week been appointed and newly promoted to Superintendent and is now Regional Training Officer. He will have around 1200 volunteer Marine Rescue men and women to keep up to date, which represents around a third of New Souths Wales. This is another indication of the calibre of folk looking after those in the Broken Bay area of this Marine Rescue Unit.
The Volunteer Marine Rescue Unit of Broken Bay offers a variety of courses to those new to boating or even those who wish to upgrade their skills to keep themselves safe at sea.
More information can be found at their website: www.marinerescuebrokenbay.org.au
Michael Mannington's Volunteer Photography Public Gallery
Report and photos this page A J Guesdon, 2012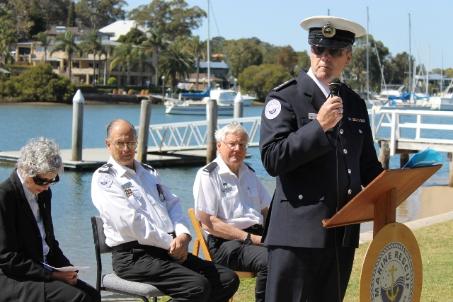 Unit Commander George Patterson. Behind him (l to r) Margaret and David B Harrison and Alan Turner-Morris.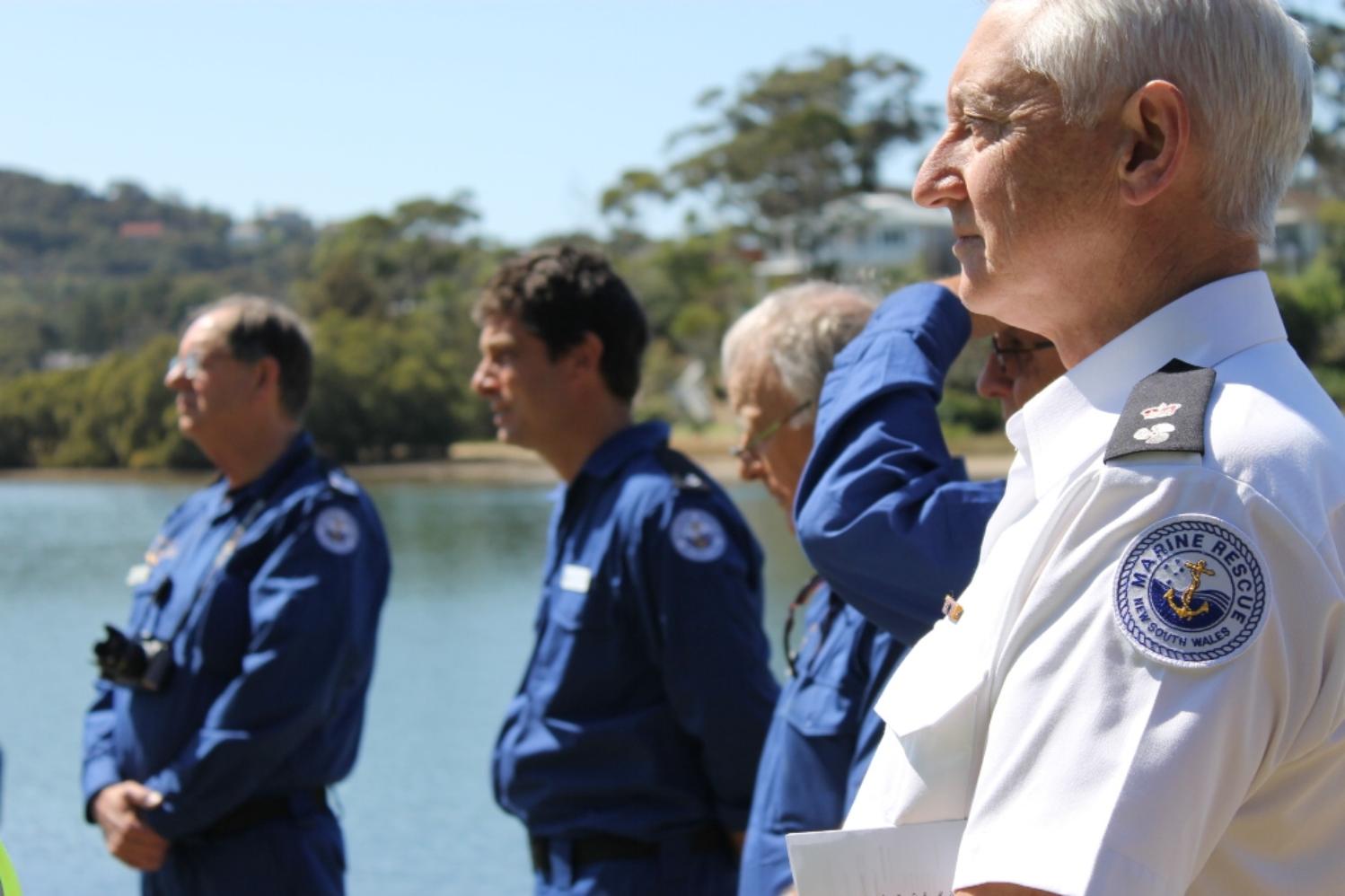 At front of frame; Superintendent Terrance Joyce.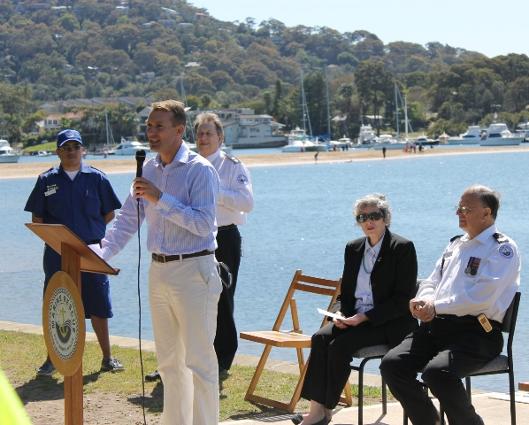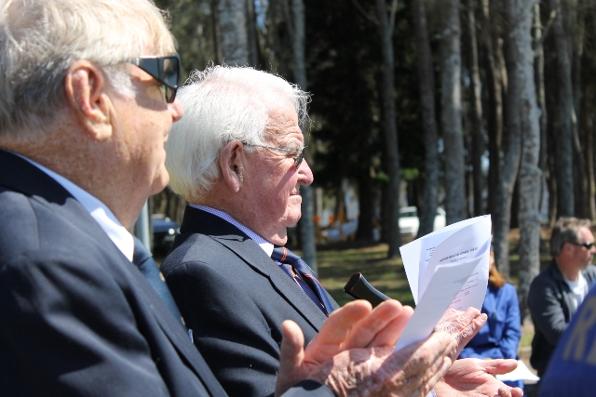 L to r: Geoff Wilson (former Division Commander BBMR) and Don Southwell, Life Members of Marine Rescue who began with the Volunteer Coastal Patrol in 1968.