March 13 - 19, 2022: Issue 530

February 22 To March 9 2022 Weather Event: Some Records
The past few weeks of heavy rains have brought out the best in our community. When floods inundated NSW North Coast towns, where many of us have relatives, supplies were quickly organised and sent north.
As the rains continued here, turning the seas off our coasts into muddy brown slicks and storm swells, Surf Life Saving NSW announced the cancellation of the rest of the 2022 State Championships on Monday March 7th:
''Surf Life Saving NSW has made the difficult decision to cancel the remainder of the 2022 NSW Surf Life Saving Championships.

This decision has been made in the interests of competitor safety and wellbeing. In considering the impact that the recent and continuing extreme rainfall has had on water quality and clarity, the impact that large swells have had on the beaches as well as a forecast for hazardous surf conditions for the remainder of this week, it was the strong recommendation from the Championship Safety Committee that it would not be safe to proceed with the event.




This has been an extremely challenging and difficult set of circumstances for the Championship Committee to contend with over the last few weeks.

SLSNSW had been hopeful that the original postponement of the Open and Masters events would allow the Championships to continue and we are extremely disappointed that despite the best efforts of everyone involved in the planning and conduct of the Championships, it is clear that the weather will not improve sufficiently, nor is the beach environment safe from the past two weeks of extreme rainfall.

Additionally, the involvement of many key volunteers in the flood rescue effort has put a significant strain on the ability to ensure the required level of water safety is in place for the event. The Championship Committee believes it appropriate to make the decision to cancel now, to ensure all participants can make changes to their various travel plans.

The Committee has decided that the First Aid Competition will proceed and will be held on the weekend of 19-20th March to allow results that determine entry into the Australian Championships to be recorded.

As the event is entirely land-based it was considered safe and appropriate to continue and postponing this by a week will allow the impact of the current extreme weather event to subside and give competitors the chance to travel safely to the event.

SLSNSW will be liaising with Club Team Managers on questions regarding entry fees, IRB collection and entry into the Australian Championships for restricted events normally determined by results at the NSW Championships.

On behalf of Surf Life Saving NSW and the Championship Committee, we thank everyone for their understanding and support.''
Torrential rains increased, prompting the evacuation of areas of Warriewood, Narrabeen and low lying areas surrounding Manly Dam as that overtopped on March 8th.

Local volunteers in NSW SES Units Warringah / Pittwater and Manly, backed up by every volunteer not already serving elsewhere in NSW RFS Brigades Terrey Hills, Belrose, Davidson, Beacon Hill, Ingleside and the Warringah/Pittwater Headquarters, who all had multiple vehicles out, volunteers from Surf Life Saving clubs were also called in to help.
Local NSW SES volunteers first responded to calls for help on February 22nd and are still responding to calls 2 1/2 weeks later - this atop all the work they did in December 2021 after storms ripped through the area just before Christmas.
On Friday March 4th at 14:30 NSW SES Warringah / Pittwater Unit, who have been absolute champions throughout this weather event, had a crew of volunteers who were at Mackeral Beach assisting with property protection due to large swells in Pittwater.
They were working on sandbagging the houses to prevent water getting inside.
NSW SES Warringah / Pittwater Unit said ''Thank you to Elvina RFS giving our crew a lift over to assist!''
On Saturday volunteers were back on the road to help residents with fallen tree branches, leaks in rooves and landslides.
They did the same again on Sunday March 6th, as well as dropping sand at North Narrabeen SLSC and Denzil Joyce carpark in Curl Curl so people could make sandbags for what was forecast to be an even bigger amount of rain coming. Sunday night Mona Vale road, at the Forest Way Terrey Hills intersection the amount of water was landing so fast the road flooded.
Volunteers worked all night attending calls for assistance.
The Marine Rescue Broken Bay unit were sent west on March 4th;
''Our BB20 and crew have been activated this morning to assist with flood relief support at Wiseman's Ferry. Thankyou to all the volunteers across our emergency services currently deployed for their time and support of our communities.''
They were tasked with food provisioning to communities in land locked areas at Lower and Central MacDonald areas. CC13 and BB20 helped many isolated residents along the Hawkesbury River at Wisemans Ferry.
Marine Rescue Broken Bay, March 5th, 2022:
''An amazing experience working together with our SES team. With the afternoon ticking on, our BB20 team will begin to collapse our response team and return back to normal operations but as always, ready to assist at anytime.''
Monday was torrential. By 9am Tuesday roads at Manly began to flood. Just before 1pm Transport for NSW announced local bus services were finishing where they were due to flooding and road closures. The deluge went on and on - by 2pm Narrabeen began to be impacted and grew worst just as end of school time hit. The volume of water that had poured down for weeks could not be soaked into the land and, reduced, vegetation any longer; there was too much too fast, as had happened in the north of the state and Queensland. This band of cloud had not diminished or dispersed as it moved south.
Local NSW RFS brigade members called in to help pump out flooded underground garages at Manly had worked all day, took hours to get there through flooded roads from the Belrose and Terrey Hills areas, worked until the am and then had to get home again - a journey that was still arduous and hours long through flooded terrain.

Council staff had also been 'on duty' all night in the week just gone, some knocking on thousands of doors in impacted areas to check on the vulnerable during the storms and in the aftermath, when the sun finally came out again.
Total February rainfall for Sydney (Observatory Hill) was 356.0 mm, which is 298% of the long-term average at the former Observatory Hill site, or 271% of the average over recent decades.

Collaroy (Long Reef Golf Club) and Wyong (Mount Elliot) had their highest total February rainfall on record while Randwick (Randwick St) and Rose Bay (Royal Sydney Golf Club) had their highest total February rainfall since 1990. Collaroy topped 419.0, smashing the 352.6 'highest total ever' of February 2020. Avalon Beach topped Collaroy though, 392.8 was its total in February 2020, and 360.0 was the March 2021 total for Avalon. Avalon Beach (Avalon (Palmgrove Rd)) opened in 1958.

The March 2021 total for Collaroy was 411.0. The average for Collaroy in February used to be 140.6. Records have been kept for Collaroy since 1965.
On Tuesday, March 8th, Ingleside received over 200mm of rain in the last 24 hours with 125mm of that falling in the period from 9am to 3pm.

With an incoming high tide meeting the volume of water streaming off already soaked land, it's understandable why the decision was made to evacuate the areas that would be most impacted before nightfall, that high tide, and the possibility that electricity would be cut off by rising elements and people may need to be evacuated in the dark.
There was flooding everywhere else though - Careel Creek burst its banks, flooding adjacent yards in Elaine Avenue and Catalina Crescent. This image of Avalon Honey gentleman Giles Stoddard shows the impact on his bee hives. The water came up so quickly and so high, filling the whole of the Careel Creek banks, it lends credence to the recollections of earlier Avalon Beach residents such as Doreen Cherry of floods in the 1950's that carried people living in the then present camping ground behind the dunes and beside the creek out to Careel Bay. The BOM's records for Avalon Beach show 149.4mm fell on February 19th, 1959. January 1948 and May 1953 show up in the newspapers of the time as flood events along the same creek and in the same camping area - but prior to BOM records being kept.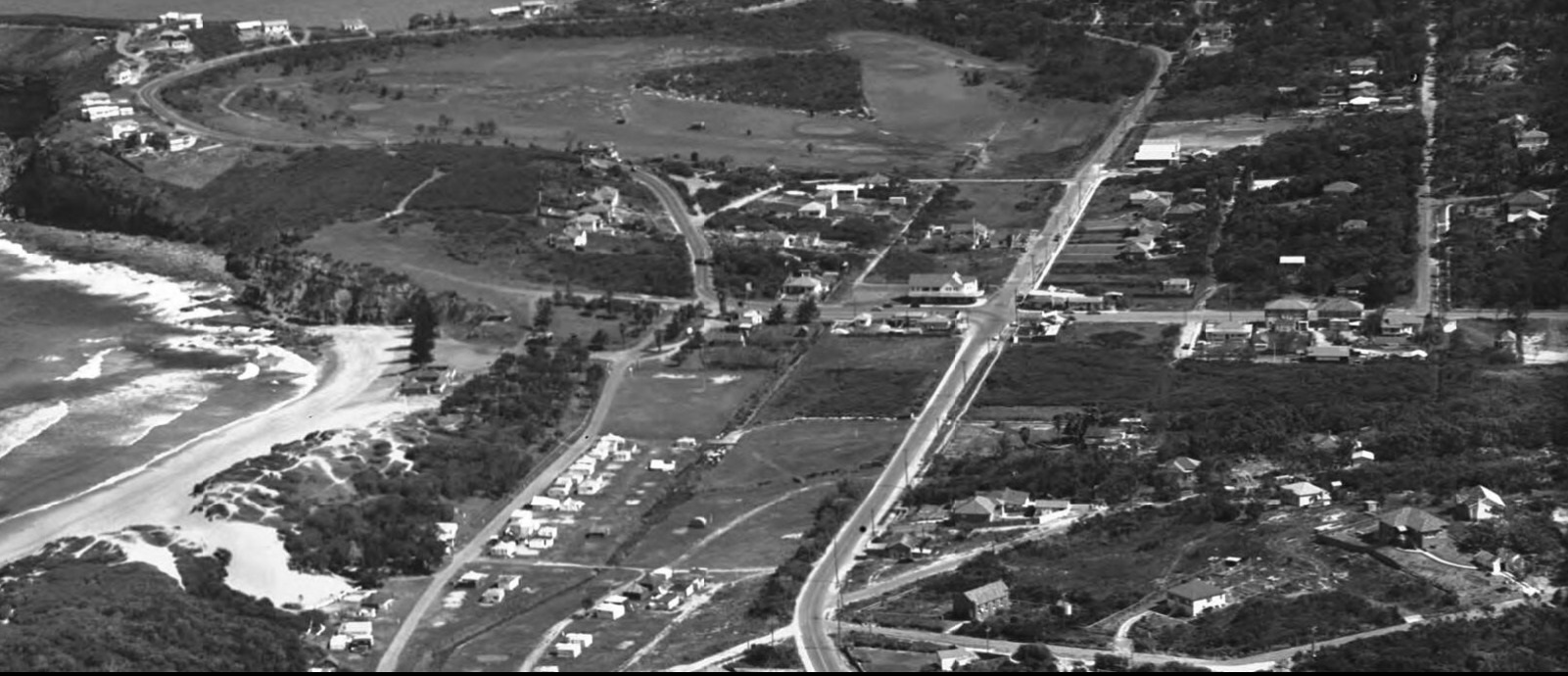 Hurley, Frank. Avalon Beach & surroundings [Aerial views, Sydney, New South Wales] circa 1950-52 (enlarged section from to show camping ground alongside Careel Creek and surrounds) Retrieved from http://nla.gov.au/nla.obj-160005527

Avalon Honey's Giles trying to save his bees: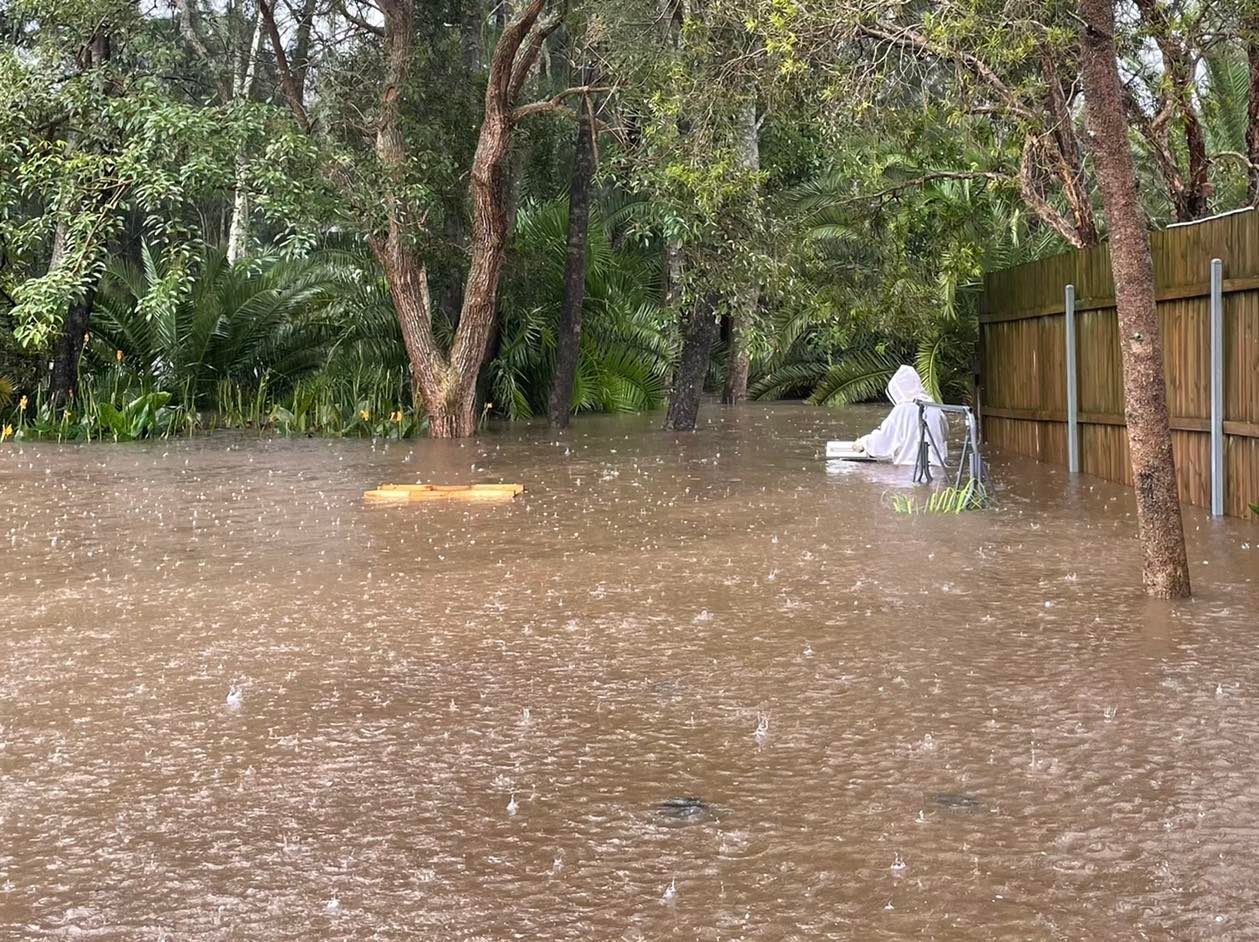 That didn't stop Giles asking others to donate blood if they could later the very same day, March 8th, as Red Cross sent out the following:
'''Blood donors are urgently needed across Australia as the impact of flooding and road closures resulted in a shortfall of 3,000 donations – the equivalent of an entire Saturday's supply – with further impacts expected throughout this week.

If you're thinking 'How can I help?', donating blood ensures that patients in all communities get the medical treatment they need. Book a donation today: https://donateblood.page.link/4flds ''
Mr. Stoddard is an Avalon Beach SLSC member - a club that offered to throw open its doors for those who were being evacuated.
The next day he found out ways to save the bees that didn't drown in these hives, that recovered from being damp and were flying around getting pollen as soon as possible. Lifesaver-Beesaver is his new title.
At Newport the old footprint of the lagoon that once rushed out just south of where the Combers now stands, stretching all the way back to the Bowling Club and brimmed west by current day Barrenjoey road made a reappearance along its old channel across and through this landscape - flooding at the lights, along Ross street and even through the carpark behind the Combers recurred. At the Cocoa Bar, Newport Beach - exterior and interior storage area (their photos):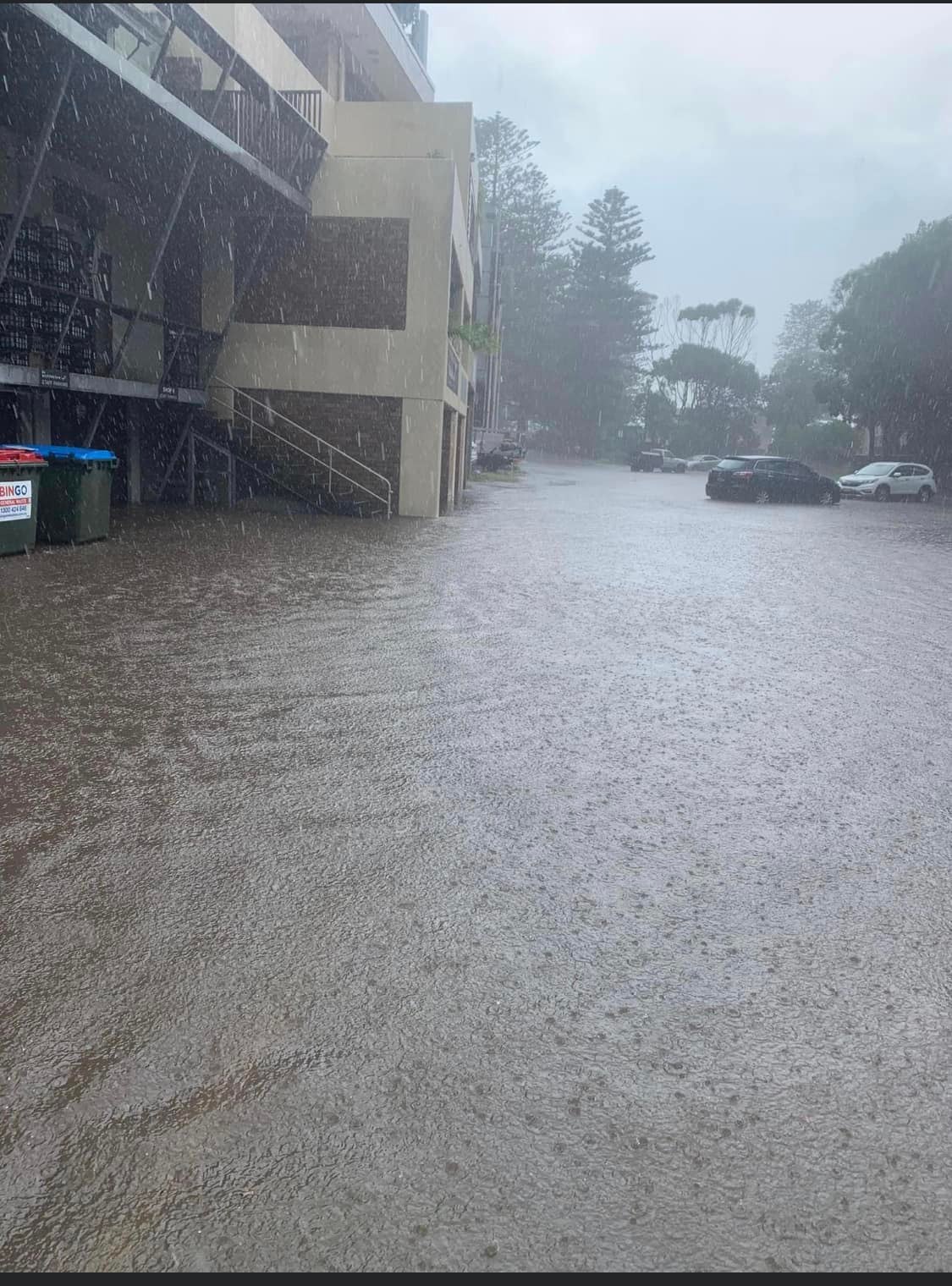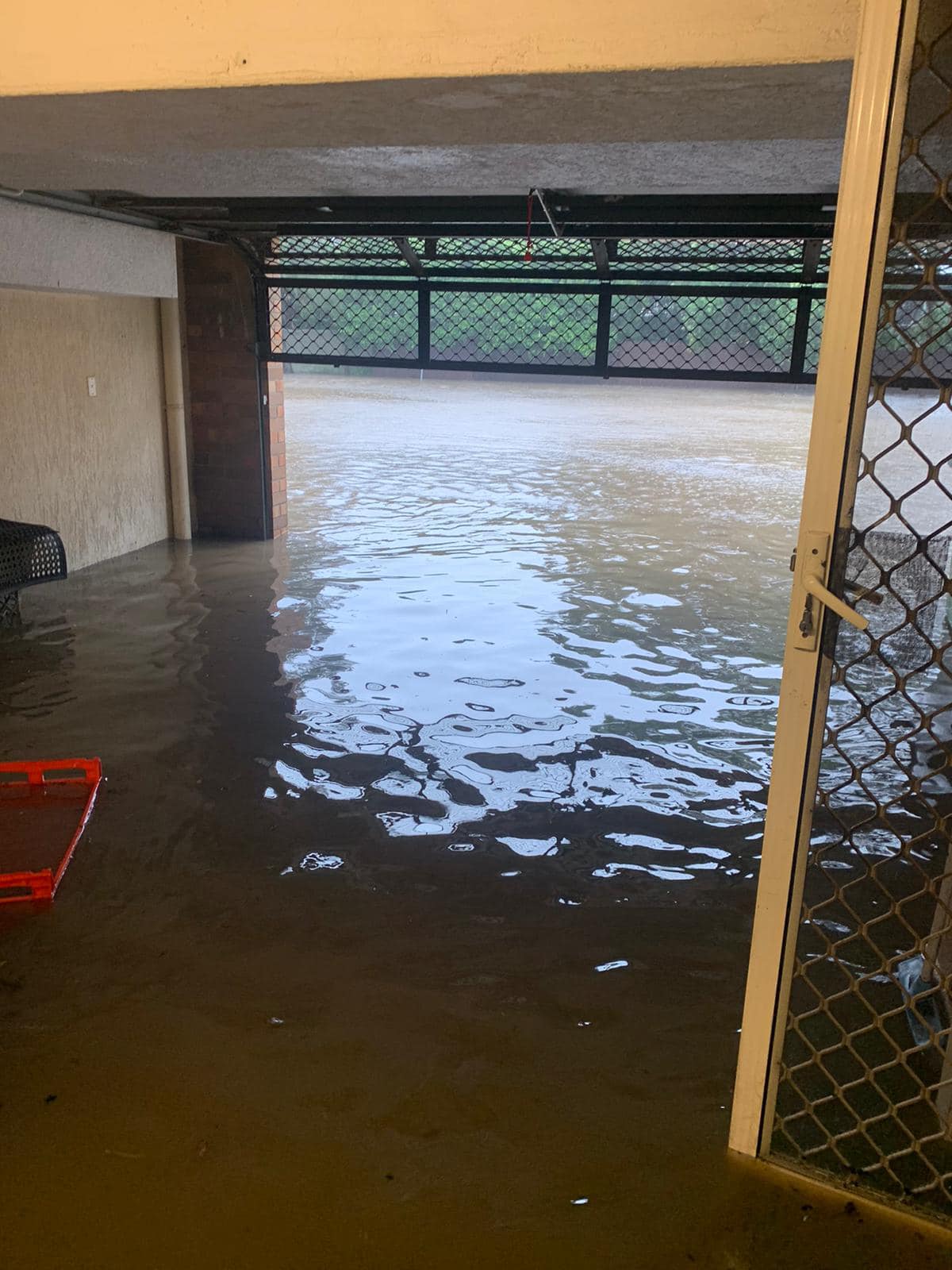 Newport - at lights flooded. Photo by and courtesy Zenne Manger: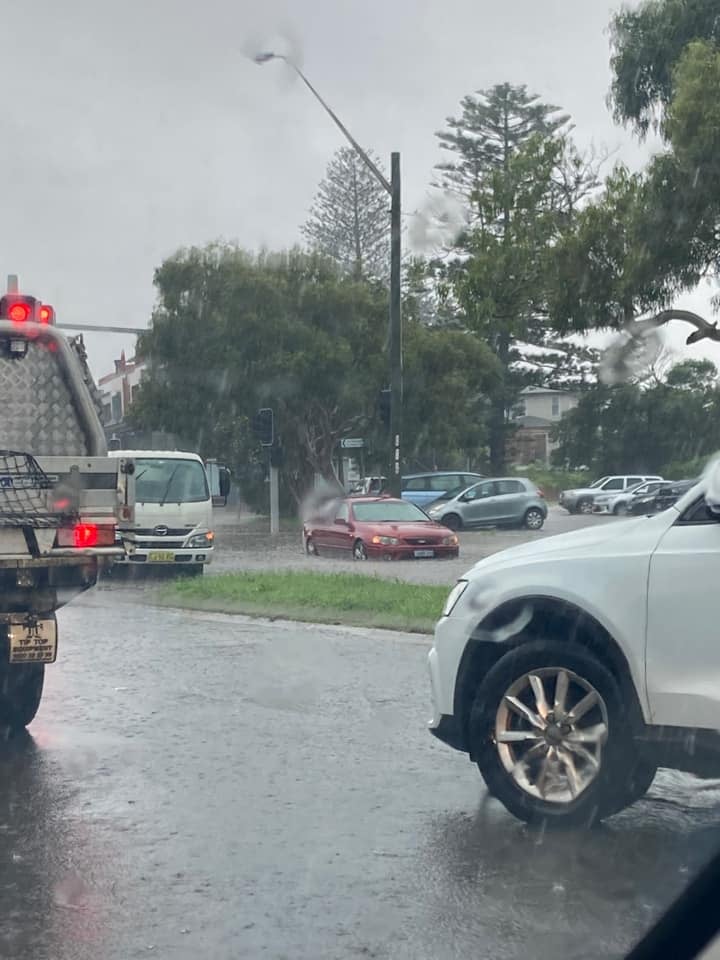 Dave Whiteman, whose childhood home was in Newport at Ross St and the Boulevarde next to Gretel Park, (originally built in the early 50's by Bob Turnbull who had a Real Estate agency in Newport - Mrs Turnbull had a hair salon in the main street), recalls; ''Gretel Park was named after a suggestion to Warringah Shire Council by my father after Frank Packer's yacht Gretel challenged for the Americas Cup in Newport Rhode Island in September 1962. Whenever there was heavy rain, the drains would overflow and the whole area would flood.''
Dave's archive of photos from then: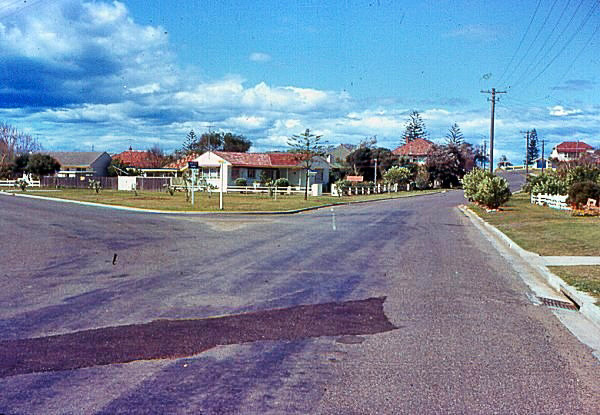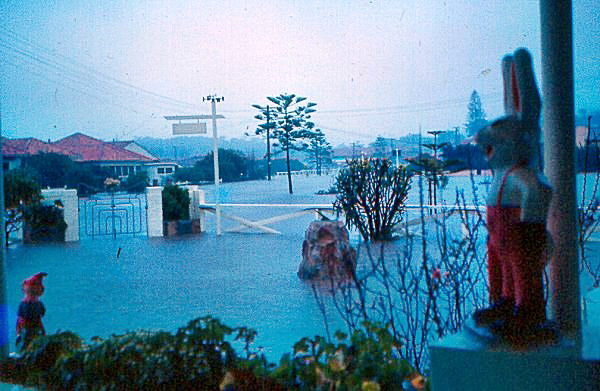 Newport Lagoon was filled in via work relief gangs in the 1930's, although other works would continue, basically encasing the whole remnant flow in concrete right through from Bardo road and Newport oval, for decades after.
At Mona Vale Golf Course the Black Swamp, its original 'flow' lines as part of this landscape, remerged - this video sent in by Brian De Bono:
In Narrabeen itself these champions responded to a call for help from the SES, posting on their FB page:
Narrabeen Beach Surf Life Saving Club Inc.; March 9, 2022;

Narrabeen Beach responded to an urgent call to assist the SES yesterday. Experienced lifesavers Doug, Ian, Kirsten, Sean and Rob conducted welfare checks and evacuations in serval locations in North Narrabeen. A big thank you to those lifesavers - you are valued and appreciated within the club and in the broader community!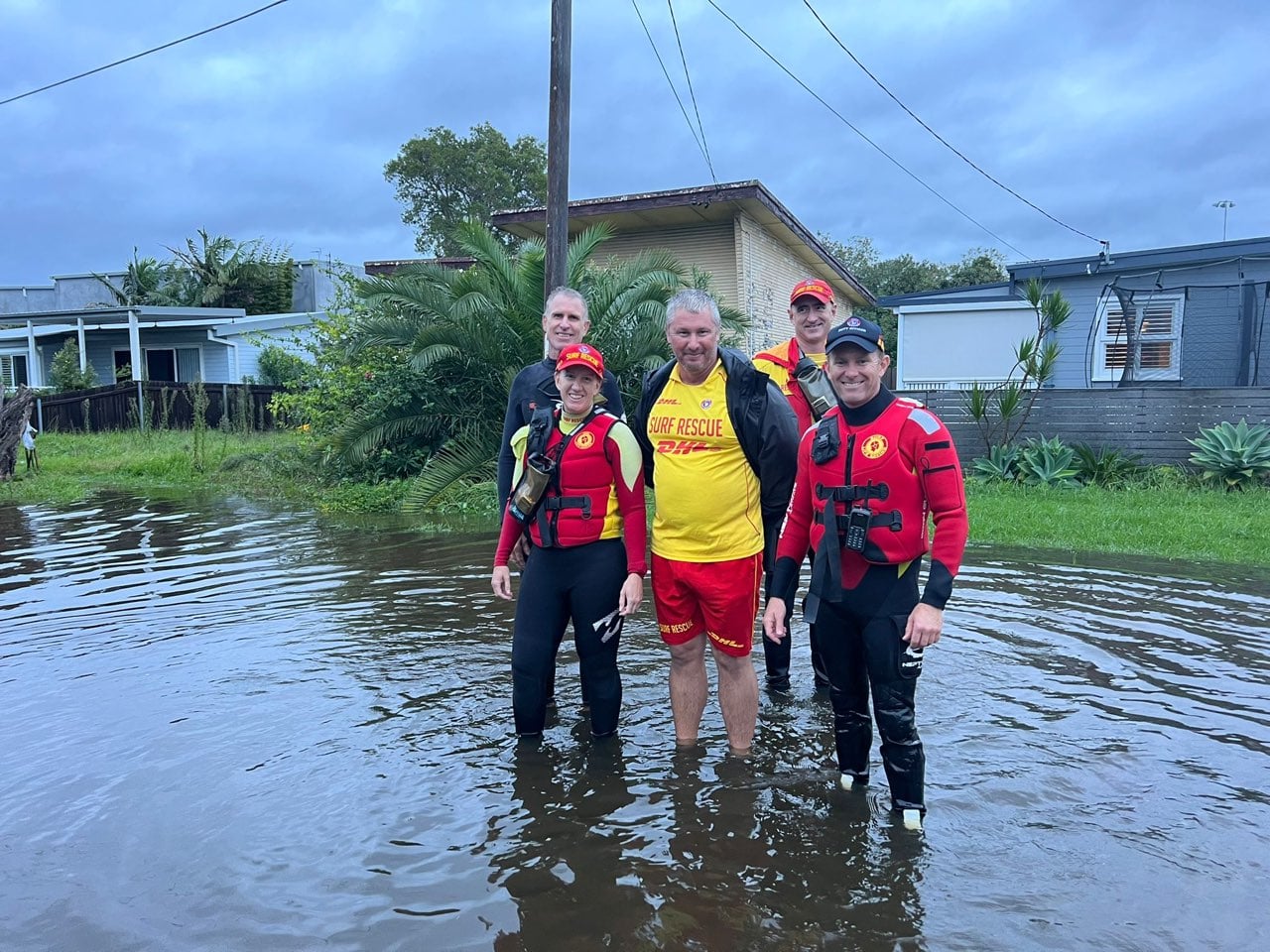 Joe Mills, venturing out when he could over the last few weeks from Narrabeen north to Warriewood took the following photos and a few videos.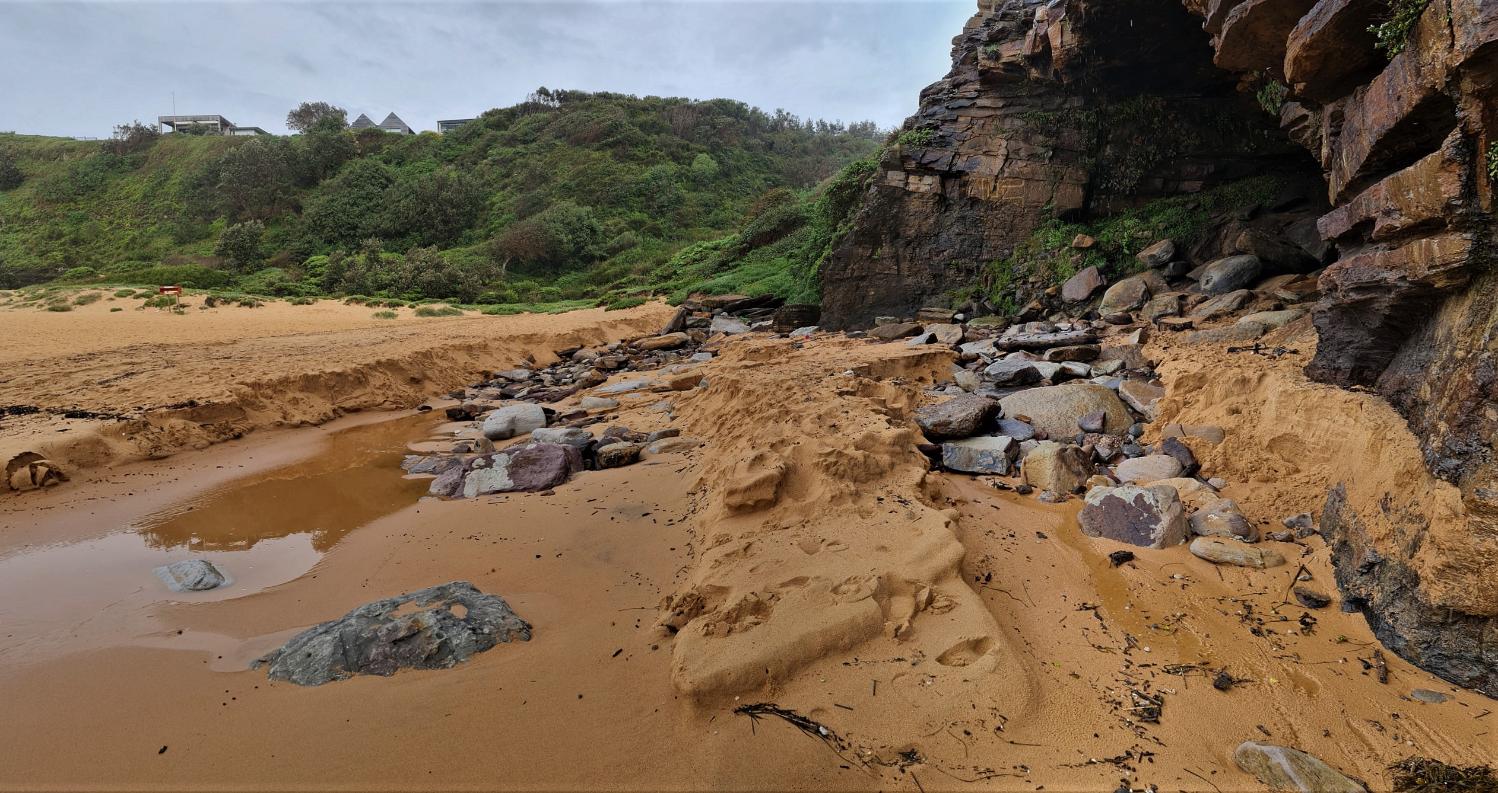 Erosion at Turimetta Beach. Photo: Joe Mills, February 28, 2022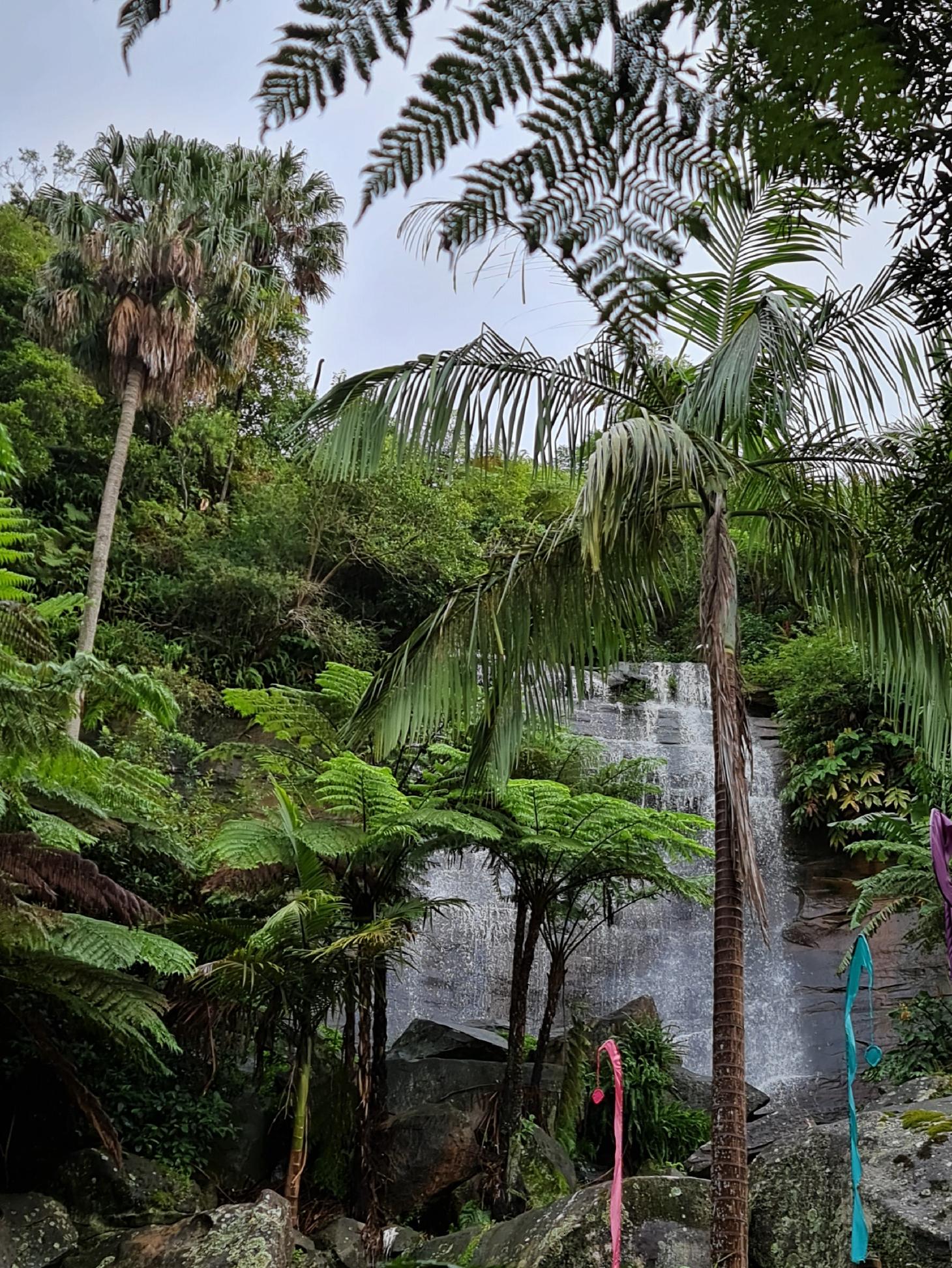 Above and below - Waterfall and creek at Eungai Place North Narrabeen this week. Photos: Joe Mills, March 2nd, 2022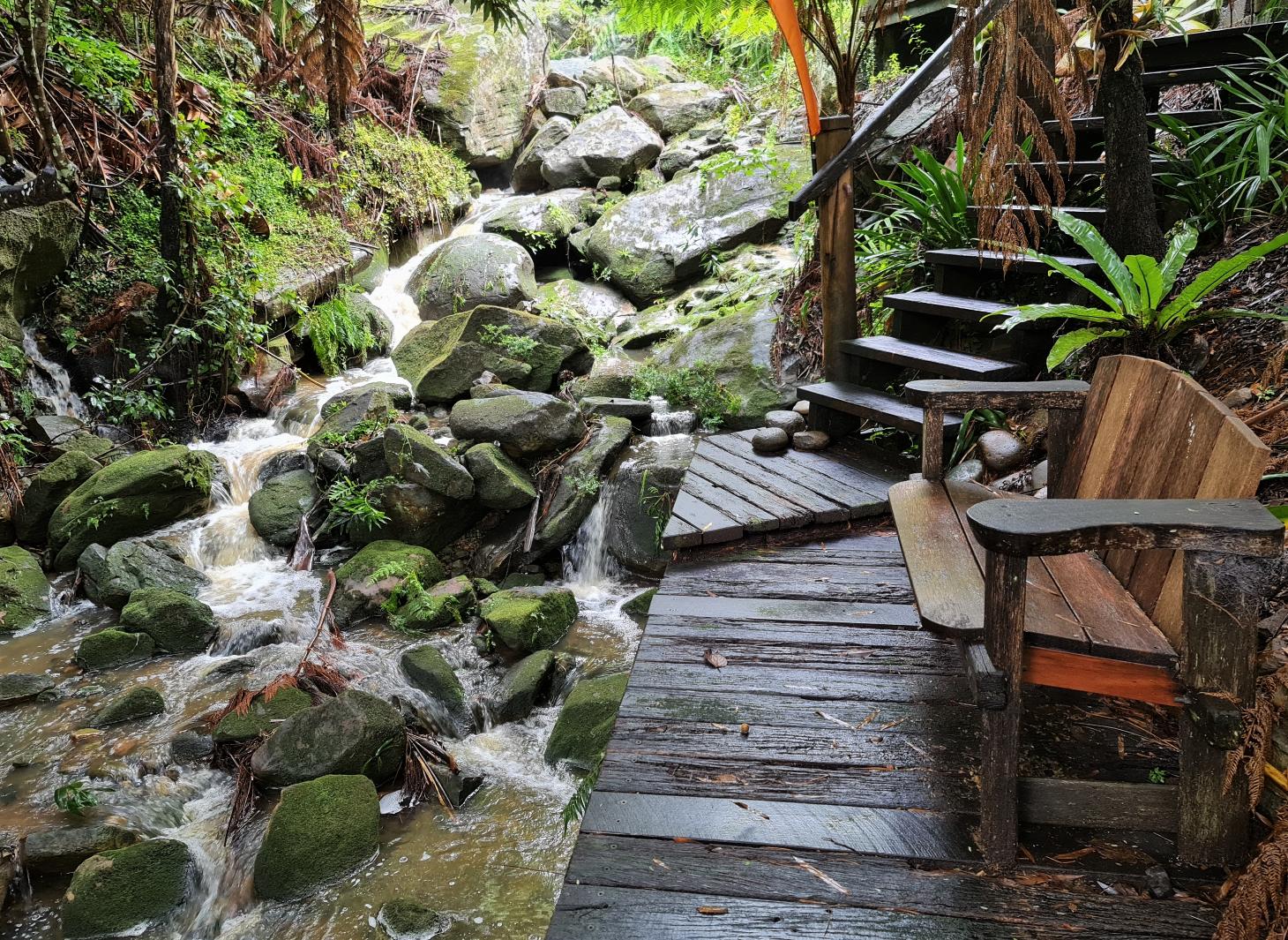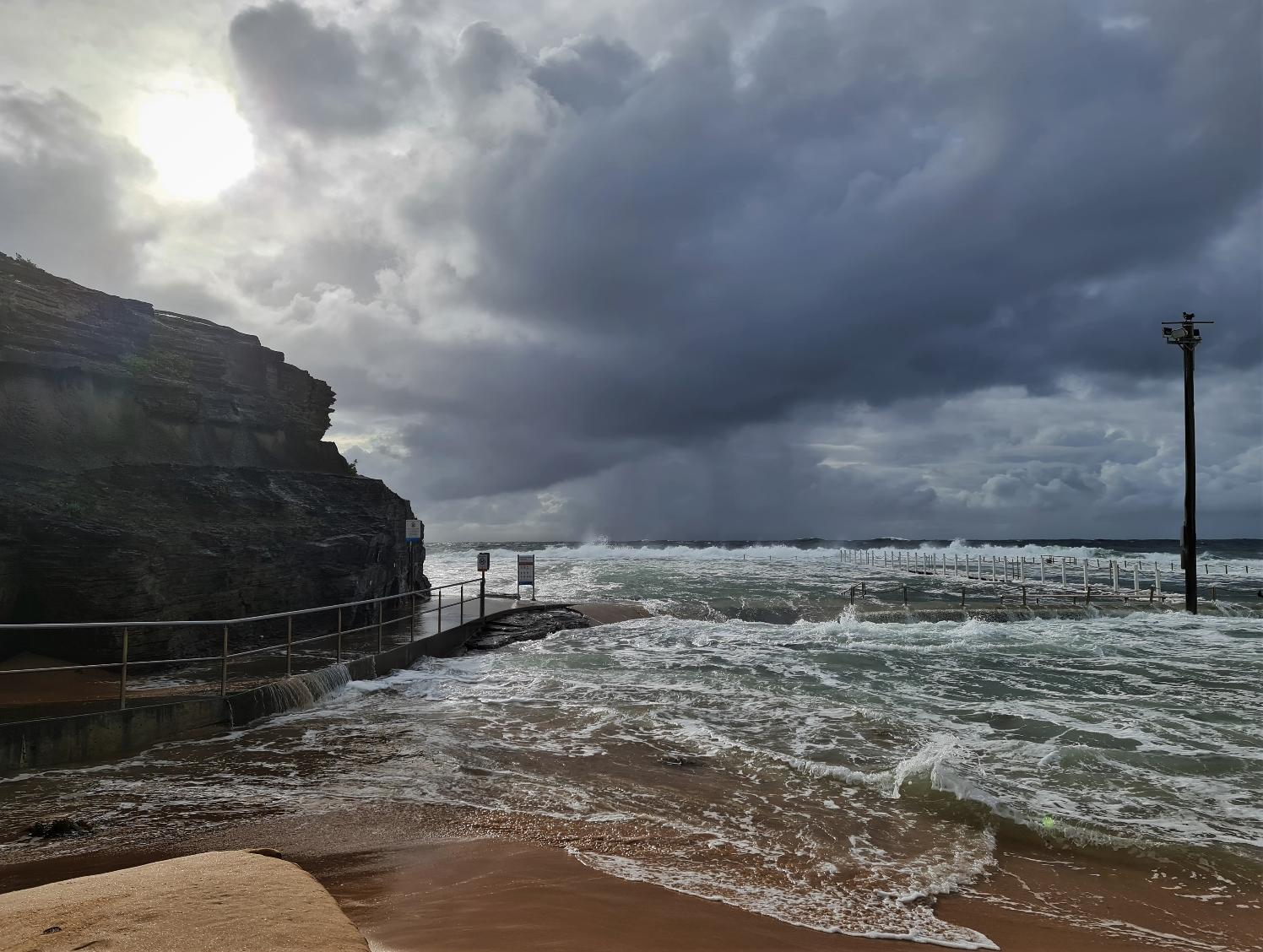 North Narrabeen rockpool this week. Photo: Joe Mills, March 2nd 2022
One of Joe's Videos of opposite the entrance to Opal Aged Care on Garden Street earlier on Tuesday March 8th, in the afternoon:

At Irrawong Falls, Warriewood Wetlands on March 7, 2022: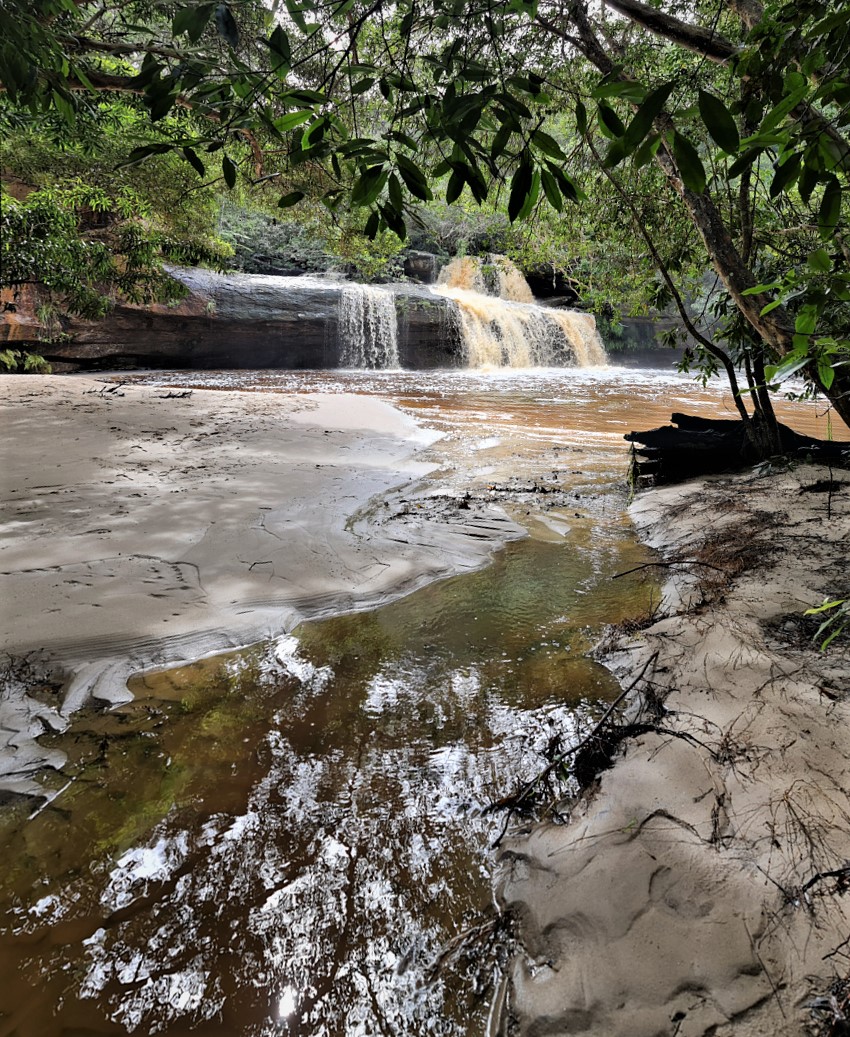 Flooding at Brandt's Lane & Macpherson Street Warriewood, March 8, 2022: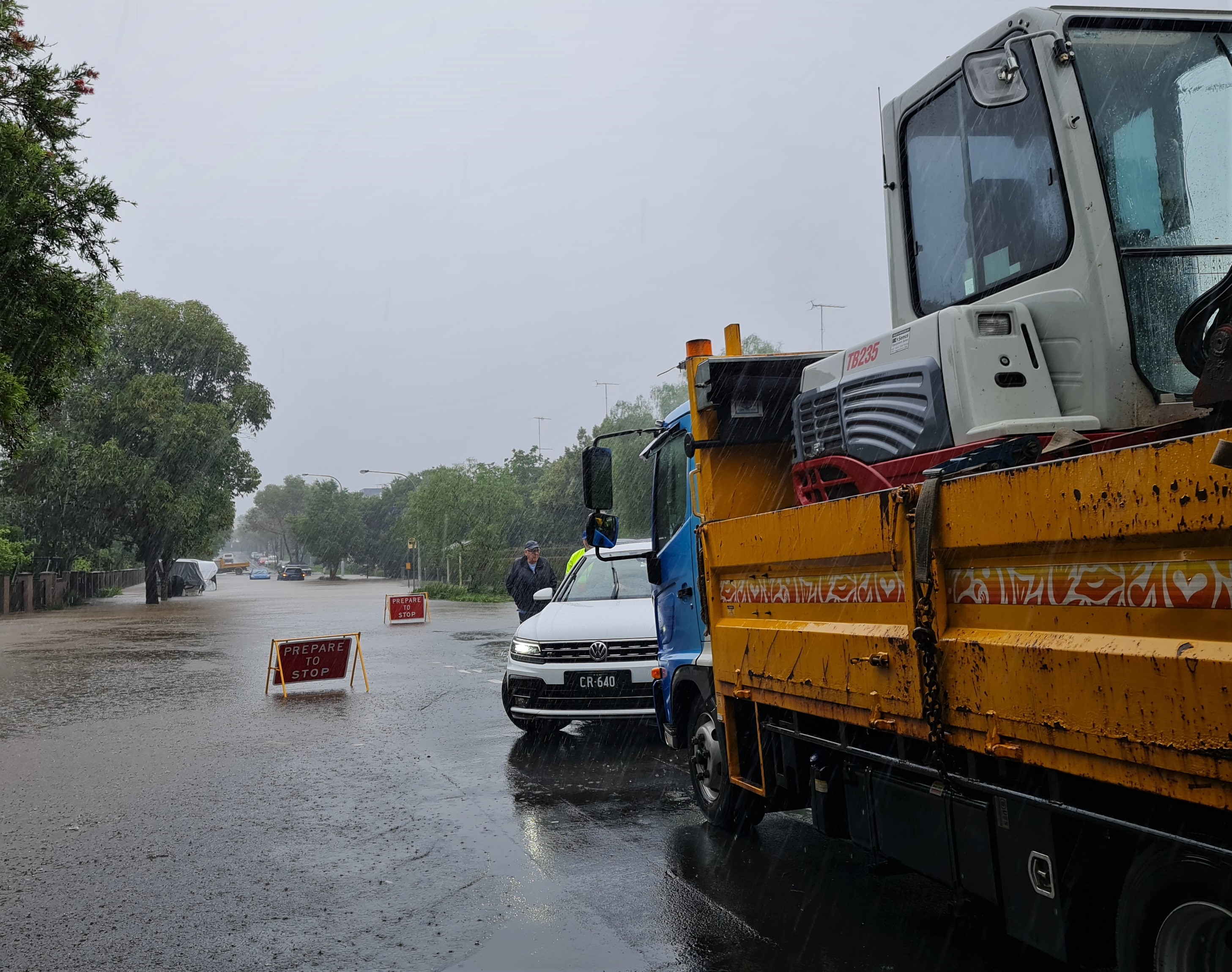 On the 9th of March 2022: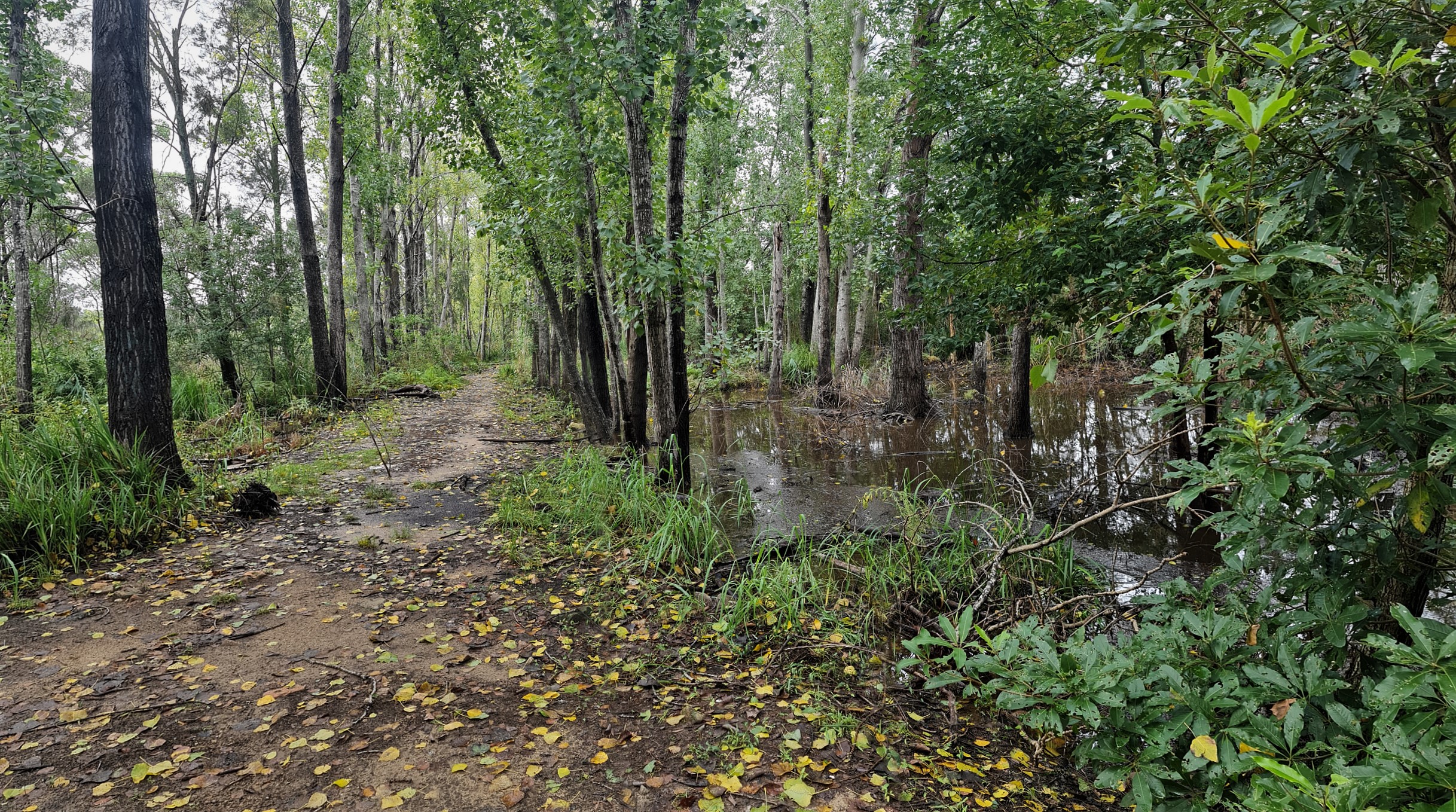 On March 10th, 2022 at Turiemtta Beach: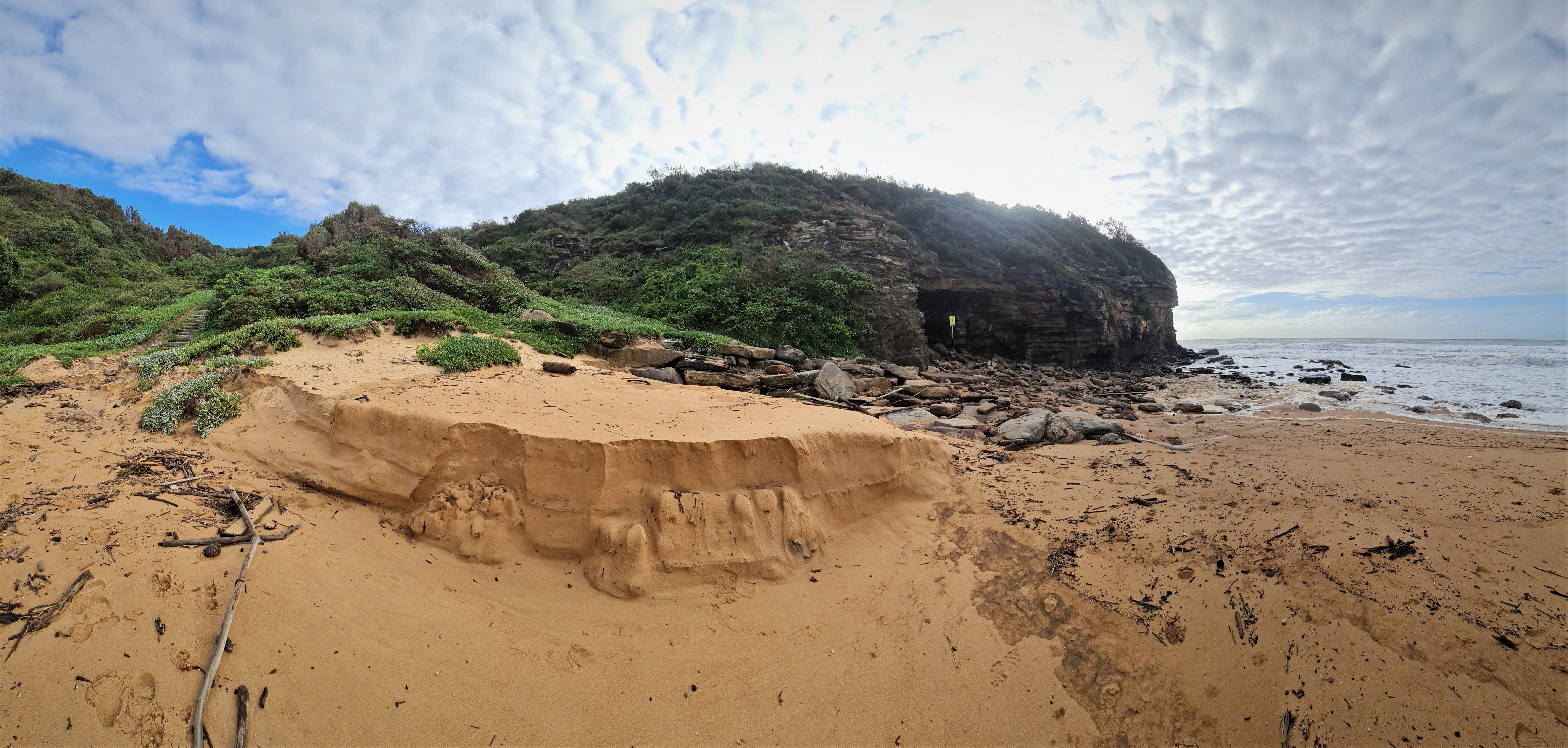 On March 11, 2022 at the Narrabeen- Turimetta rock platform the skies were more blue than grey although it took until Saturday for some warmth to come back:
On the coast the erosion commenced during the first rains and the first weekend of the NSW SLS States, as can be seen in the photo above, and in Joe's captures, continued along the coast.
Adriaan van der Wallen took this image of North Avalon Beach on March 9th, 2022, saying ''What beach?'':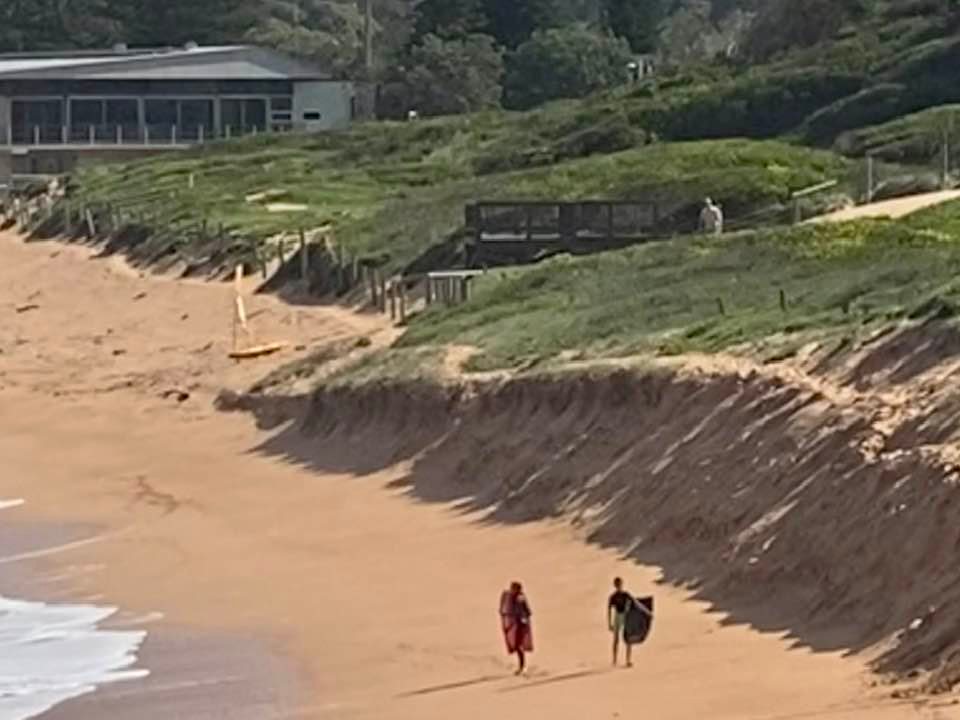 Local NSW RFS Brigades and NSW Marine Rescue units have similarly been 'on duty' for weeks, either here in western Sydney or further north.
On Thursday March 3rd Ingleside NSWRFS volunteers responded to the call to assist the community of Lismore with the flood clean up. Their tanker and 5 crew were initially to remain on the ground until Monday March 7 assisting with the clean up along with a number of other Emergency Services. On Tuesday March 8 Ingleside still had their tanker deployed to Lismore with two crew. A further 5 volunteers on another tanker were deployed to Liverpool at 9am the same day and their Pumper and ute had been out since lunchtime on the Northern Beaches assisting with the floods.
On Wednesday March 9th Ingleside NSWRFS volunteers were continuing to assist with the flood damage in Coraki. Team members were happy to have the Prime Minister, Scott Morrison and NSW Premier Dom Perrottet drop in to say hello and thanks to Emergency Service workers.

In fact, Mr. Morrison spent so much time chatting with the volunteers from RFS, SES and NSW Fire & Rescue teams on the ground or meeting residents privately and being briefed, he kept media waiting for around an hour and a half in Lismore Council chambers and missed a large group of protestors outside who were calling for his ministry to immediately address the growing impacts of climate change.
Mullumbimby gentleman Richard Latimer took the opportunity to point out to those waiting what is needed now.
"We need a lot less resistance between us and the agencies," he said. "Drop the narrative and message of the us-and-them and the polarisation, which is hard with what we've been through."
Mr. Latimer was speaking about a whole community effort to prepare for such events in the future, a unified approach wherein there is no us and them, there's just us, as was seen by the tinny army of locals who came out to rescue others or those who begged or borrowed helicopters.
NSW SES volunteers, who all come from and are part of their local communities, were again vilified in some news reports following the PM's visit to Lismore, along with the PM himself - some of those reporters kept waiting for an hour and a half proclaiming in their follow up that locals were all 'furious' with the lack of immediate response, although those interviewed on camera were all still the quiet, calm, soft spoken and laid-back pragmatists of country towns and the Northern Rivers - underlining how being a hard fast city journalism transplanted into a soft slow place makes for jarring television and newspaper reports - something doesn't 'fit'; the story is telling itself, it doesn't need to be told.
The role of Australian Prime Ministers has always involved contact with those impacted by disasters with our first Prime Minister, Edmund Barton, working at the first parliament in Melbourne, and then NSW Premier William Lyne, while returning to Sydney in February 1901, immediately sending their sympathies to the families and friends of the 9 people who lost their lives, and the 25 that were injured, in the February 15th 1901 Sydenham train derailment.
Election year or not, and with the benefit of the doubt still in place in this nation, Australians expect the leader of our nation to be front and centre when disasters strike our communities.
Those kept cooling their heels may have also has their noses out of joint as the Prime Minister banned television cameras dogging his every step when visiting flood-affected communities on Wednesday.
Queried about his decision during a press conference, Prime Minister said he wanted to allow residents to "speak from the heart" and not face media intrusion.
"Out of respect for the privacy of those I came to speak to," Mr. Morrison said. "In these disasters, not everybody wants a camera shoved in their face.''
''I came down to listen to them and what they are going through and understand what was needed for their primary production business, paint business, all those householders, what was needed to make sure we can get this town back on its feet, and that is assisting me with other matters.
"The primary purpose is to make sure I understand fully what we need to do, and the alignment of what our plans are and our announcements are with the needs here in the community."
Although there have been some great 'old media' accounts and empathetic connections with residents coming out of these areas, being a 'reporter' does not grant anyone a licence to take someone's image without requesting permission, even if they are in a public space, and especially when they are exhausted or traumatised from a disaster, and particularly when someone is bereaved from the loss of a loved one.
Ambulance chasing, eavesdropping on Police scanners, and the hollow and shallow imposition 'Clickbait' takes much and gives little.
For those still miffed because they missed out being hounds pursuing their current favourite fox, some of our local volunteers did meet the Premier and the Prime Minister. Ingleside Rural Fire Brigade posted these photos at 13:41 on Wednesday March 9th while toiling in Coraki with the following caption;
''Was great to have the Prime Minister, Scott Morrison and NSW Premier Dom Perrottet drop in to say hello and thanks to Emergency Service workers today.''
NB: these are NSW RFS Ingleside Brigade's photos - and belong to them.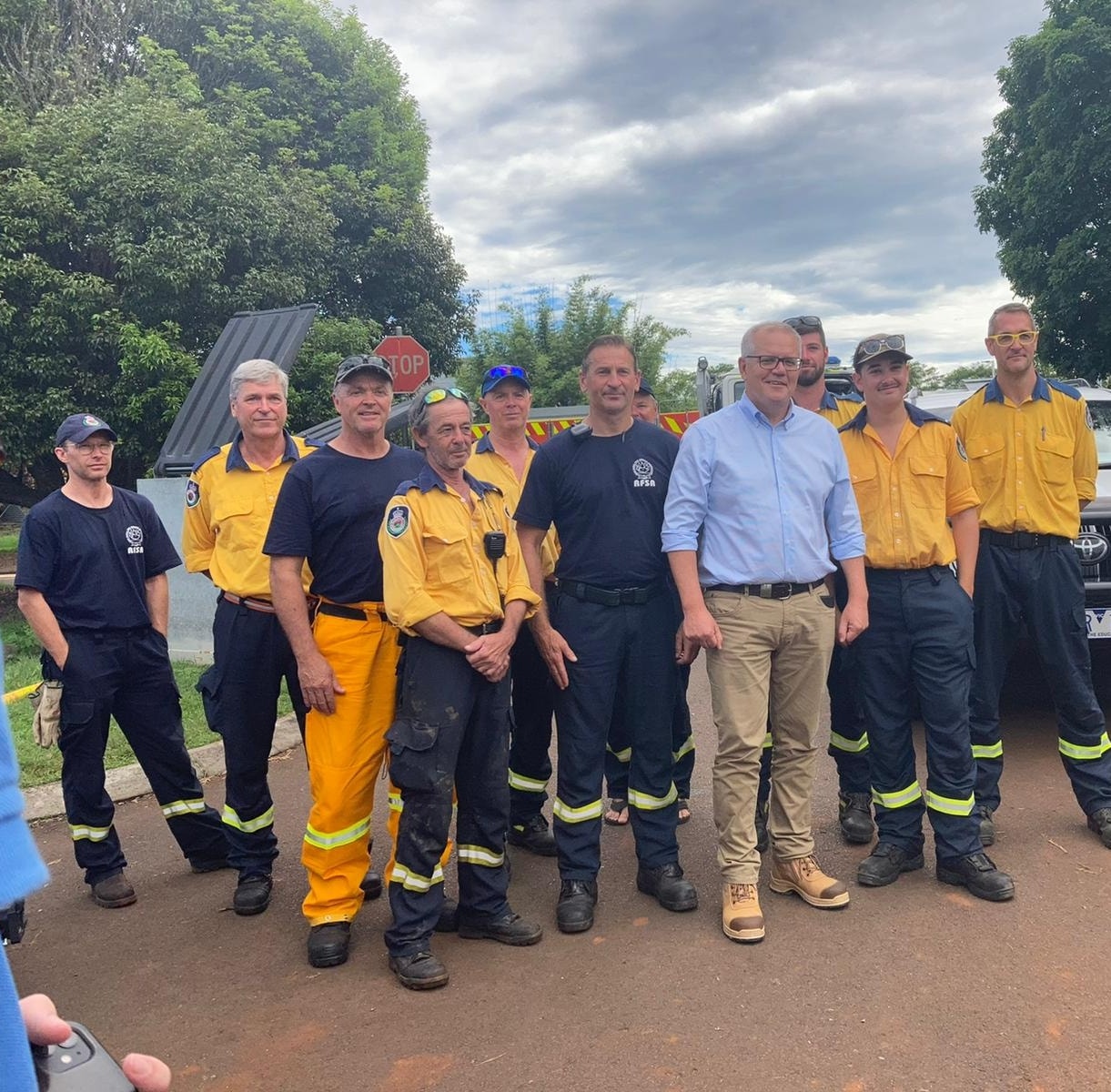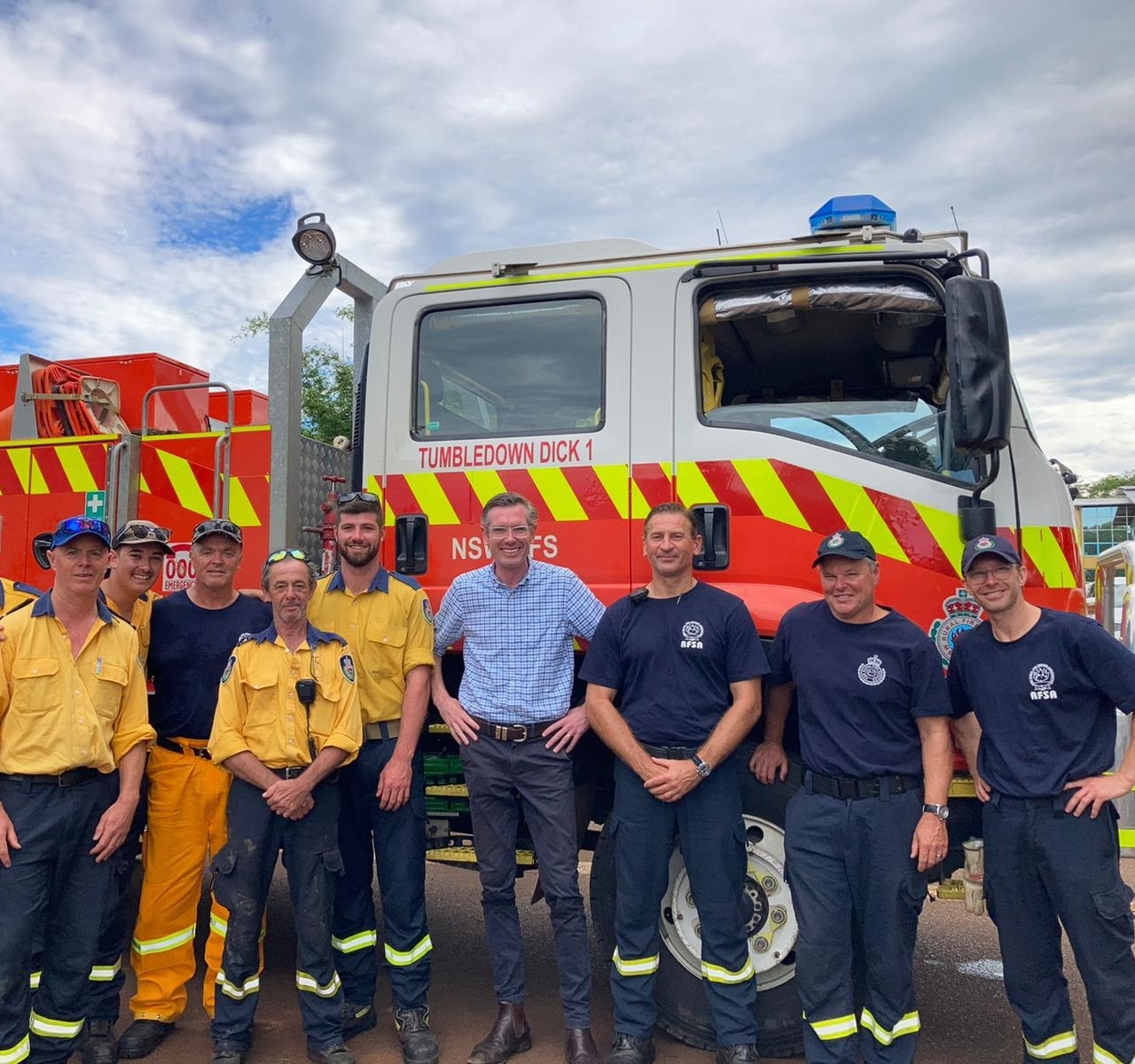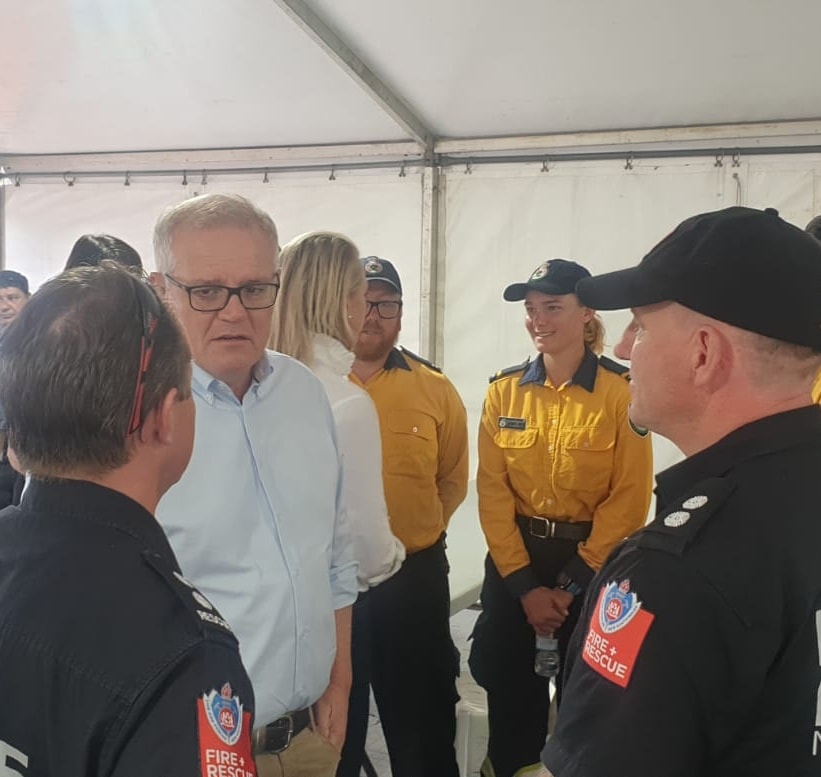 Why is Tumble's rig in the background? I hear you wonder....
Because Ingleside's rig was with South Coast based NSW RFS - Long Beach Brigade. They were posting on Friday:
''Shout out to Ingleside Rural Fire Brigade for the use of their Cat1 as our team support the clean up effort around Lismore. We promise we'll take good care of her.''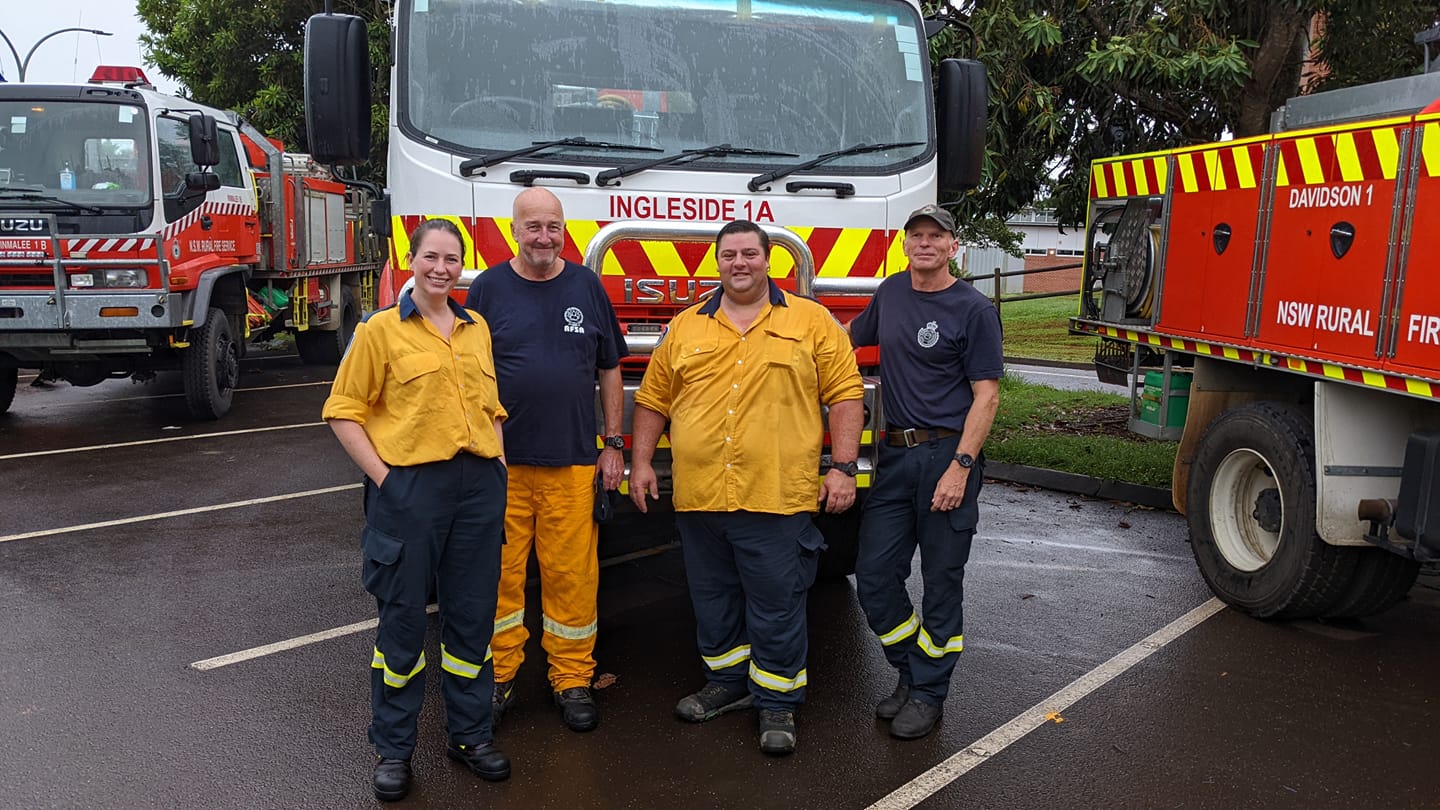 NSW RFS - Long Beach Brigade's photo- Facebook
All this pause for a moment and take a chance to let us at home know they're ok by our local volunteers underscored the real story going on during the past few weeks - community members looking after community members and all being part of the same 'army' of people who are there to care and get the rubbish cleaned out, whichever uniform they're wearing, yellow, blue, green or caked in mud because I live here brown. They have come from the south coast, they have come from Western Australia, they have come from everywhere locally too - from those here taking supplies north to our local RFS firies.
The Northern Rivers - Northern Zone of the NSW SES has 14 Units; Ballina, Broadwater, Casino, Coraki, Kyogle, Lismore City, Mullumbimby, Murwillumbah, Richmond Tweed, Tabulam, Tweed Coast, Tweed Heads, Urbenville and Woodburn to assist a 2020 Estimated Residential Population (ERP) of 307,047. The 2020 Lismore City Estimated Resident Population for 2020 was 43,667, for Ballina it was 45,217 in 2020.

There are also several NSW RFS units in the area, with trucks and vehicles, not boats.
Kyogle Fire Control Centre (FCC) Brigades are; Bonalbo, Green Pigeon, Grevillia, Hanging Rock – Kyogle, Kyogle Headquarters, Mallanganee, Mummulgum, Old Bonalbo, Sextonville, Tabulam, Toonumbar, Wiangaree, Woodenbong, Wyneden. Lismore FCC Brigades; Alphadale, Bentley – Lismore, Blue Knob, Boatharbour, Caniaba, Clunes, Dunoon, Goolmangar, Jiggi Valley, Larnook, Lower River, Nimbin, Northern Rivers Support, Rosebank, Stony Chute, The Channon, Tullera, Tuncester, Wyrallah. Richmond Valley FCC Brigades; Bungawalbyn, Casino, Casino East, Ellangowan, Hogarth Range, Middle Creek, Myall Creek Road, North Casino, Rappville, Shannonbrook, Tomki, West Coraki, Whiporie, Woodburn, Woodview.

Diving a little deeper shows all the local NSW SES and RFS units, like the residents themselves, lost mobile phone connections and internet during the flood event itself. One unit stated after the waters had subsided that like the rest of their community, the Incident Management Team worked under tough conditions during the flooding: losing power and internet at times, with only intermittent phone signal.
''Tasked by our Unit Commander to sort out the hundreds of Requests for Assistance (RFAs), we quickly set up a system: one member called State Operations to receive RFAs, dictated these down the phone line, to be delivered by hand to our Deputy Unit Commanders to task our teams in the shed.
''It required post-its, phones, and plenty of patience. We even called one of our Unit Mums to look up a contact number for us, because we had no access to online phone books! NSW SES volunteers worked with Liaison Officers from NSW Police and NSW Ambulance in our HQ, to ensure an effective multi-agency response.''
These teams also ran out of fuel for their boats, which had to be helicoptered or moved in by NSW Marine units.
The flood warnings first issued by Lismore SES on February 26, at 1:02, changed to the Northern Rivers SES stating ''Flash flooding risks will escalate in Northern NSW, with widespread heavy falls of up to 500mm isolated''. A Media Release from the SES dated February 27th states:
HEADS UP. DO NOT WAIT. ACT NOW!

The Bureau of Meteorology and NSW State Emergency Service are advising residents in Northern NSW of local intense rainfall leading to dangerous and life-threatening flash flooding.

Thunderstorms from Sunday afternoon may produce rainfall totals of up to 250mm within a six-hourly period.

NSW SES Deputy Incident Controller, Supt. Mark Elm said rainfalls have the potential to reach 500mm in 24 hours across the northeast corner of NSW over Sunday and Monday.

In addition to the rainfall, spring and large high tides occurring over the coming days together with a potential East Coast Low developing over Tuesday and Wednesday residents need to act now.

"NSW SES are urging residents of the Northern Rivers and Mid North Coast to prepare now for flash flooding, Supt. Elm said"

Residents need to take the following steps to prepare their property now, and don't delay.
Clean your gutters, down pipes, and drains
Trim trees and branches from around your house
Lift furniture, valuable possessions
Have plan, know where you will go if you are ordered leave your home.
Prepare a home emergency kit
'Businesses should enact their Flood Plans, raise stock and inventory off the ground as high as possible Supt. Elm said.'

We are reminding all members of the public, "Do not walk, drive or ride through flood water!" It is not worth your life!

Keep up to date with the latest information by visiting the NSW SES and Bureau of Meteorology websites and social media platforms.
On the 27th to evacuation orders for Lismore at 16:45 (with people warned to pack up on Friday the 25th and some residents stating then 'nobody is paying any attention'). Woodburn and surrounds were issued evacuation orders at 4:23 for on the same day, the 27th, and at 1:30 on March 1st for Ballina, all through the main Northern Rivers SES social media pages as well as the units.
A few hours later it was too late to leave - roads had been cut and a wall of water was moving through the landscape.
Tragically, a February 27th post to the Lismore SES Facebook page asking them to keep a look out for Stuart Bock, who had gone missing in town on the 26th, was confirmed as the third death in Lismore on Wednesday morning, March 2nd. Mr. Bock is one of six people who have lost their life through these floods in that area. Queensland has lost 13 souls through these floods prior to the rains heading further south, including SES Volunteer Meryl Dray.
Social media platforms are a useful tool for keeping a community informed of roads closing and evacuations during a flood event, and, as the ABC's Morning News Program demonstrated this week, conveying a message sent from a Lismore resident to them on to the SES. They're even good for sharing updates on what services are available where and when afterwards. They are not too good for older people who aren't interested in social media or when these platforms have lost connection during flood events though and especially when these units don't have time to post an update because they're out saving people. That is why the NSW SES asks everyone to keep an up to date emergency kit which includes a portable radio and batteries to enable them to listen to the ABC, the national broadcaster in emergency events.
Flooding in the Northern Rivers region was predicted to be at "minor to moderate" levels on February 25th.
The flood, which Lismore residents described as 'an inland tsunami', peaked through the town in the early hours on Monday February 28th.
Woodburn, which has only become accessible again by road again on Sunday March 6th, also lost its communications and power. The NSW SES Woodburn Unit on March 4 2022 at 22:20pm posted an update via social media:
Our Unit was inundated by the floodwaters, we have lost internet and power, but we're still operational. We asked our colleagues at Northern Rivers NSW SES to post this for us.

Our volunteers evacuated 500-600 people to the Evans Head evacuation centre. We have Fire and Rescue NSW teams on the ground, and Australian Army is bringing 15 pallets of food; the NSW Rural Fire Service is flying in 5 pallets of supplies on their Chinook helicopter. The water is receding, and we'll be going door to door. Please understand access has been the main issue.

Pass this information on to those without access to the internet. Check on your neighbours. Keep safe. Thanks for your patience!
A good note to close on - pass on the information to those without access, check on your neighbours when these events occur, keep safe and thanks for exercising your kindness and patience.
And on that note, this morning, Sunday March 13 2022, at a very early hour, Warringah / Pittwater Headquarters Rural Fire Brigade posted on their FB platform:
''Today 15 Warringah Headquarters members manning 4 appliances, along with multiple other crews from across the Northern Beaches Rural Fire District are being deployed to Wiseman's Ferry to assist with the ongoing clean up.
Special thanks to the Glenorie Bakery for the fantastic coffees on the way through.''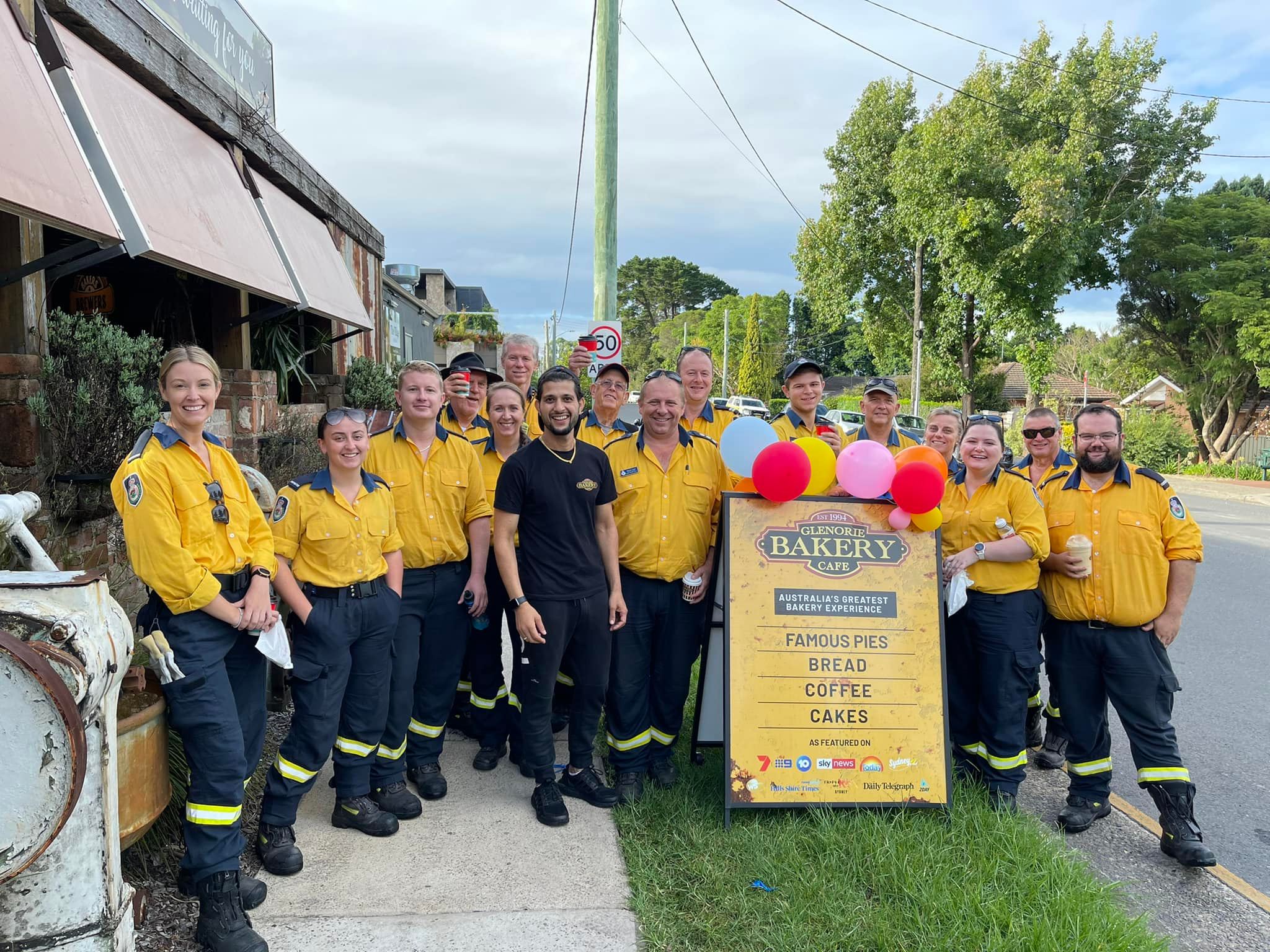 To all of those who give up their sleep or homes, as volunteers of our organisations; SES, RFS, SLS, MRNSW, NSW Fire & Rescue, the NSW Police Force and NSW Ambulance, or as neighbours, to travel near and far to help others: Thank You For Your Service.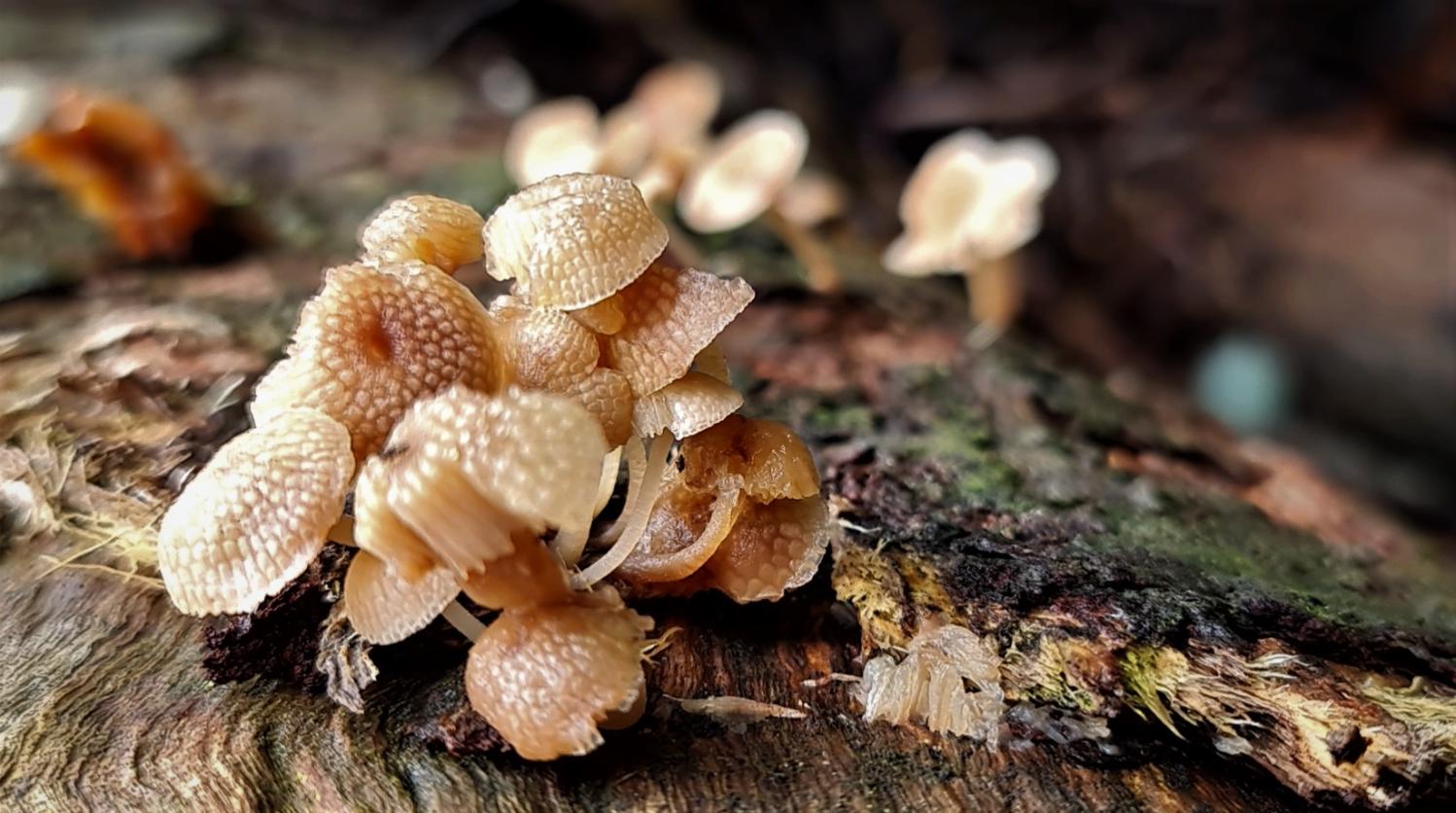 Fungi - photo by Joe Mills, March 7, 2022