March 28 - April 17, 2021: Issue 489

March 2021 1 In 100 Years Weather Event Sends Locals All Over The Beaches As Well As Far From Home To Help Others

Council's management of the Narrabeen Lagoon opening from March 19th to 27th meant that the historic flooding of Narrabeen homes wasn't as extreme as it has been in recent years.
Huge volumes of water poured down through the creeks that feed into the lagoon from Oxford Falls, Elanora and through the Warriewood floodplain. The Wakehurst Parkway commenced being covered by water on Thursday March 18th, and stayed that way for days, with the section between Oxford Falls Road still closed between Wakehurst Parkway and Aroona Road on Friday March 26th.
At Gledhill Falls - The Duckholes, a similar rush of water to the estuary was witnessed, while this photo of Lovett Falls, taken by the Church Point Ferry Service on Monday March 22nd, shows how much rain was flowing down into the bay: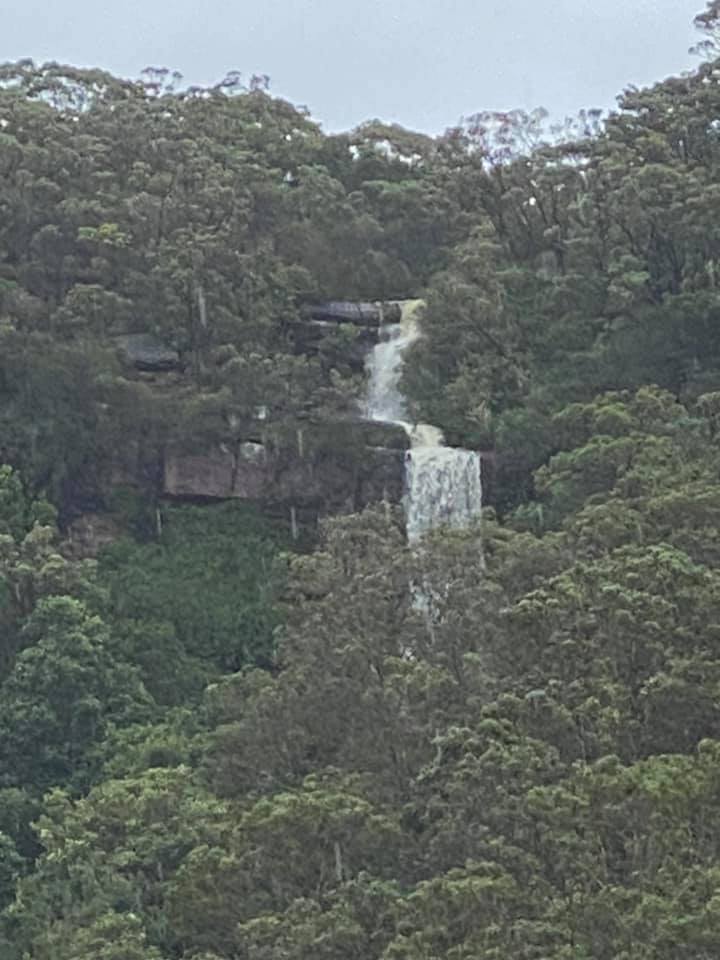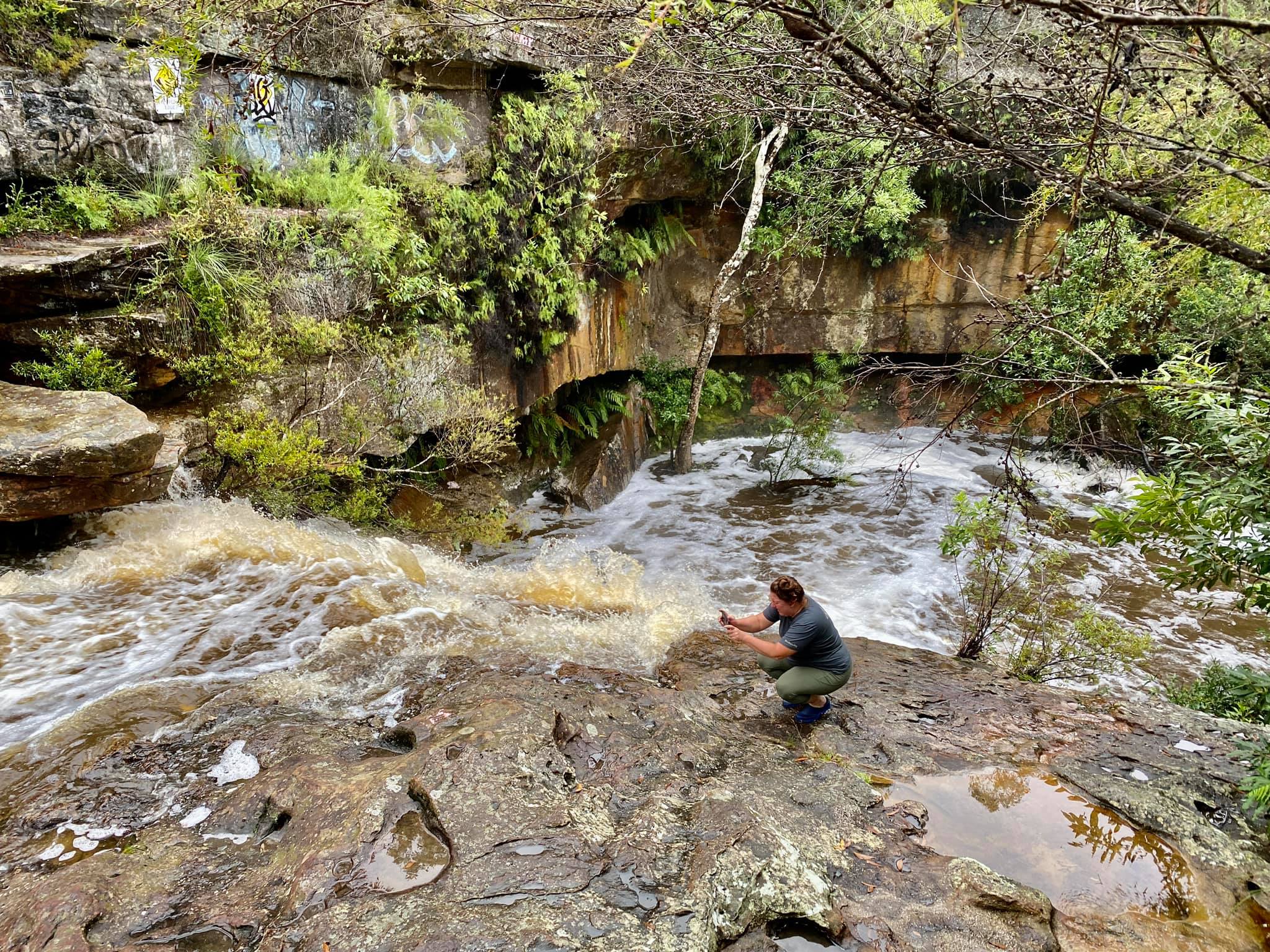 Gledhill Falls, late afternoon, March 23rd 2021 - photo by Bea Pierce
By Monday March 21st hundreds of firefighters from Fire and Rescue NSW (FRNSW) had worked around the clock to rescue and assist residents caught up in the treacherous conditions battering the coast of NSW, providing critical assistance to the NSW State Emergency Service (SES) and other emergency services agencies.
In what has been a significant weather event for the state, FRNSW had mobilised over 22 trucks, 100 firefighters, and four flood water strike teams to assist with the crisis as it continued to unfold. Further firefighting strike teams had been formed up in order to provide additional assistance if required.
Since lunchtime on Friday March 19th, FRNSW flood water rescue units have performed in excess of 200 rescues, while land based rescuers have performed over 100. Firefighters had responded to calls for assistance, assisted with large scale evacuations, and responded to people stranded in rising flood waters right across the Mid North Coast and Sydney. Additional crews were flown in to assist from other areas around the state, and crews continued to work around the clock.
FRNSW Commissioner Paul Baxter said the strike teams have the ability to respond to a wide range of emergencies, and will continue to assist the NSW SES with the ongoing situation, for as long as is required.
"Whilst the NSW SES is the combat agency for flood rescue in NSW, FRNSW provides them with support in situations of extreme weather, where there is high demand," Commissioner Baxter said.
"With the rapid onset of extreme weather that we've seen on the coast of NSW this weekend, we have deployed numerous resources to the flood stricken areas to provide our assistance, and to ensure we are prepared for anything that may eventuate."
Multiple storm and flood warnings remained active across the East Coast of NSW and soon warnings became evacuation orders for those in the Hawkesbury-Nepean catchment.
The NSW SES Warringah / Pittwater Unit commenced helping residents on March 18th too. By the 19th the Manly Unit was helping them with tree falls, flooding homes and leaking rooves. Volunteers in all local NSW Rural Fire Brigades were on duty

Local wildlife was in trouble too - Sydney Wildlife volunteers requested the community to ''please be aware when driving in these dreadful rains of wildlife trying to cross roads to find higher ground - and please call your local wildlife group should you come across any animals distressed or displaced or orphaned in these floods - Sydney Wildlife is open 24/7 on 9413 4300 - always happy to assist''
They too were on duty and trying to keep up.
On our beaches hatchling loggerhead and freshwater turtles were either washed ashore in a bad condition or washed down creeks and drains out into the ocean where rising waves threw them back onto the shores. Even on Saturday, March 27th the Australian Seabird Rescue Central Coast was still posting;
''We are getting so many calls for little hatchlings both sea and freshwater! ''

''Here is a pic of both! The way you can tell the difference is a sea turtle has flippers and a freshwater has feet.




Never put a sea turtle, whether it's big or a hatchling, back in the water, they are unwell! You need to call your local ASR. If you come across a little Freshie, it too needs to go into care, so continue to call us and we will get them to the specialists!!''
By March 22nd, 2021 Sydney Wildlife Mobile Care Unit volunteers were reporting:
Homes are being flooded in the current deluge and we're not just talking about human habitations.

A number of possums and birds have had their homes destroyed by heavy rain and they are wandering into offices and houses looking for a moment's respite from the ceaseless sogginess.

Freshwater turtles (particularly young ones) are prone to being washed down storm water drains in rainy conditions and then popping up on beaches. They cannot tolerate salt water so they quickly get into strife.

Please be tolerant of wild animals using your verandah for shelter or using your gazebo for the chance to enjoy a few dry moments.

Should you happen to see a native animal in need of assistance please call Sydney Wildlife Rescue on 9413 4300 or your local wildlife rescue organisation.
Some of the Wildlife Rescued, photos courtesy Lynleigh Greig, Georgie Bailey Campbell and Margaret Woods: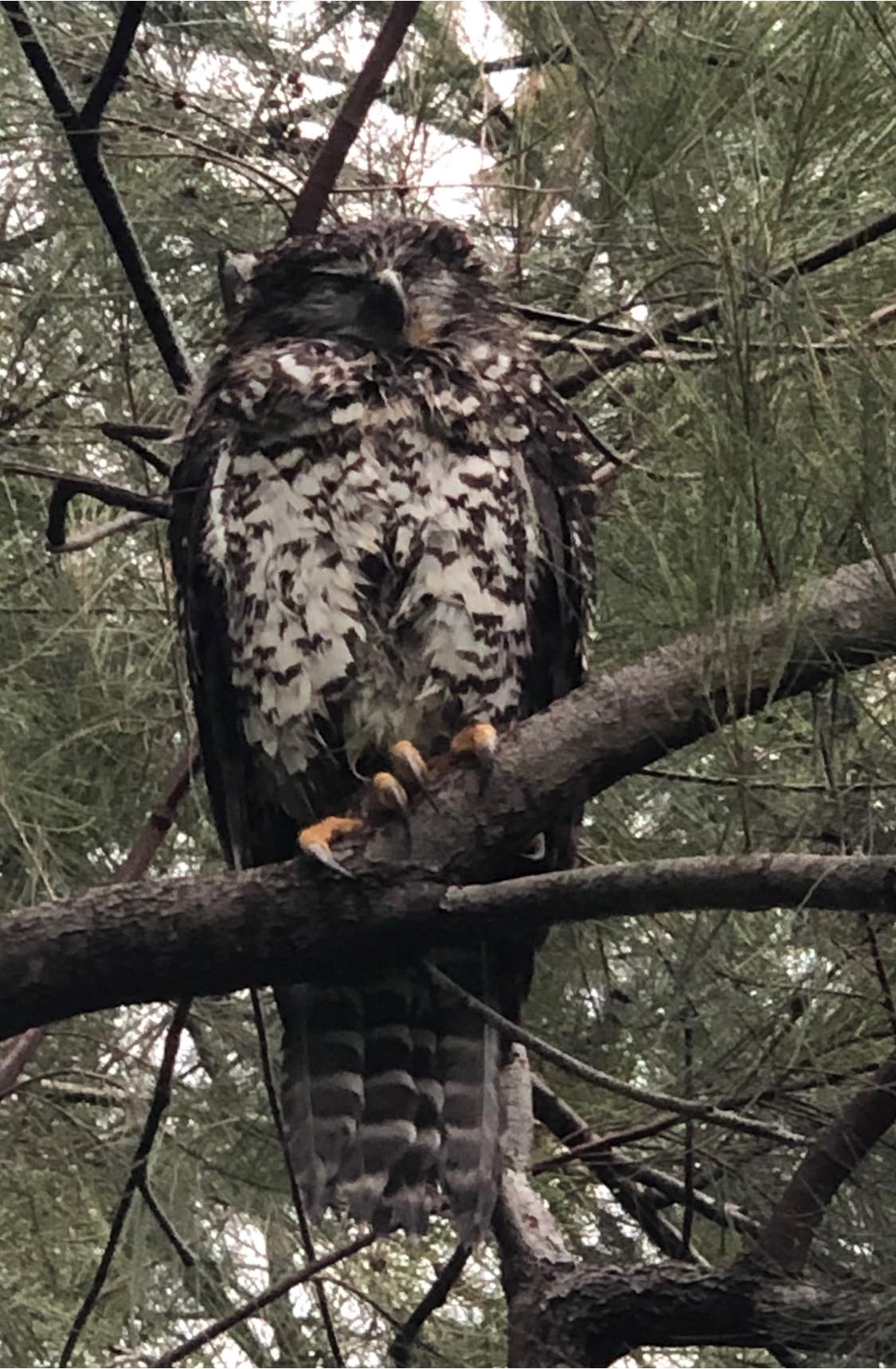 Bedraggled powerful owl. (She had other health concerns as well.)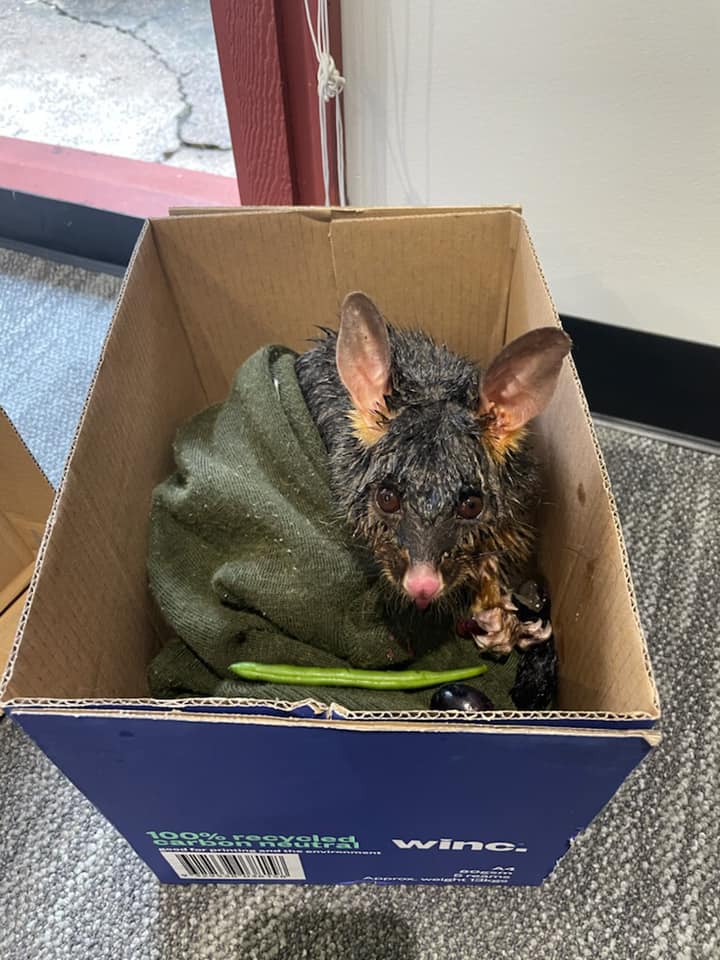 A rather soggy brushtail boy who just walked straight into the NPWS offices looking for some kindness. Luckily he was in exactly the right place! Photo by Heidi Hulspas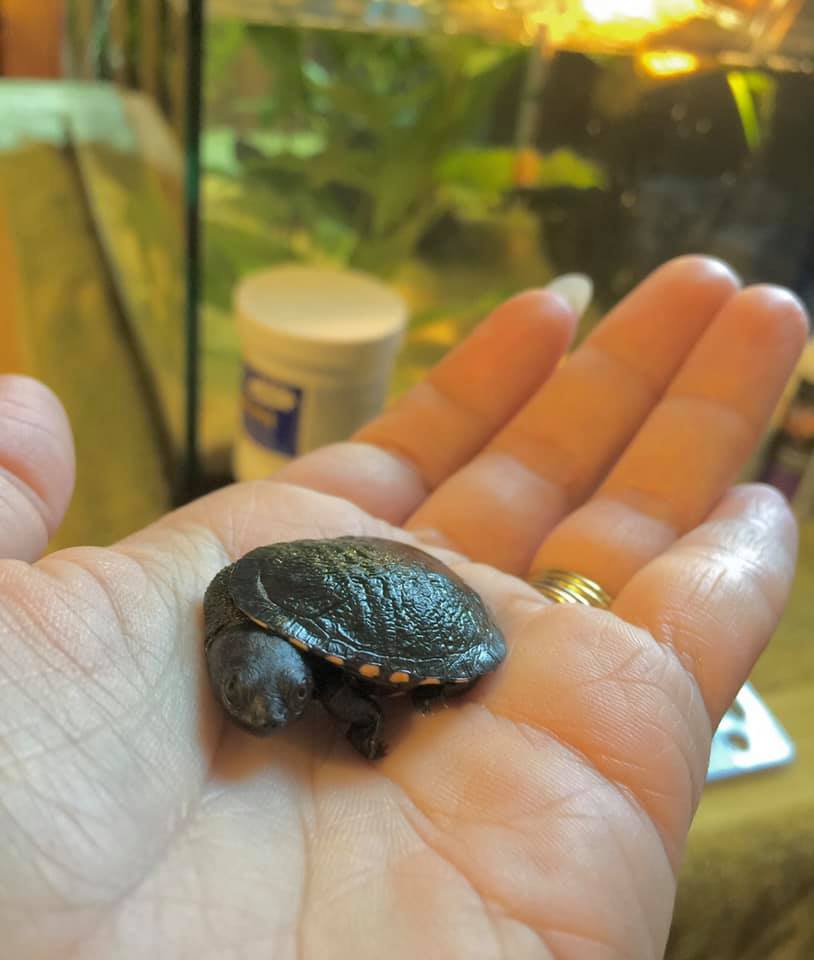 This tiny long-necked turtle was wooshed down a drain and ended up on a beach. Luckily she was found by a lady who was picking up litter on the beach. And luckily she did not make the mistake of putting the turtle into the sea.

By early Saturday afternoon, March 20th the NSW SES Warringah / Pittwater Unit had organised Sand Bag Drop Points for residents at Narrabeen and North Curl Curl. Residents had to pack these themselves - the volunteers were struggling to keep up with the calls for help.

By 4pm Macpherson street between Fantail Ave and Boondah (eastern end) in Warriewood was closed, water over the roads. The Avalon Beach SLSC Ocean swims were cancelled - ditto the Koala Rally in at Hyde Park and, on Sunday morning, a cancellation for the protest against what is proposed for Pittwater through the Local Housing Strategy, although organisers still went to Mona Vale Village Park on Sunday to meet those who could not be contacted in time.

The rain kept bucketing down. Warragamba received more than 150mm of rain in the 24 hours to 9am on Sunday, and more than 250mm over the past four days. The CBD had 110mm of rain over the same 24-hour period, while 120mm was registered at Hornsby and 168mm at Katoomba.
The NSW SES Warringah / Pittwater Unit had 4 crews on the road; ''The jobs are coming in constantly, so we ask you to be patient as we make our way out to all the calls for assistance. There is still a lot of water pooled on the roads at the moment. So if you don't need to be out today, stay home.'' the unit advised the community via their social media platforms.
''With the wind picking up, we are likely to see a number of trees fall over today. For the Northern Beaches locals we advise: Move vehicles from under trees''
The BOM also issued a high winds alert and dangerous seas for coastal waters and masses of seafoam came ashore, alike that described by residents in Pittwater in the 1860's, when 'the foam flew like snow' and the tempest brought down 'St. Michael's Arch at North Avalon Beach.
On Scotland Island 7 Ingleside Rural Fire Brigade volunteers were assisting Scotland Island Rural Fire Brigade on the Island with a large tree that has fallen into a house. Ingleside RFB crews worked to remove some of the tree and tarping of the house.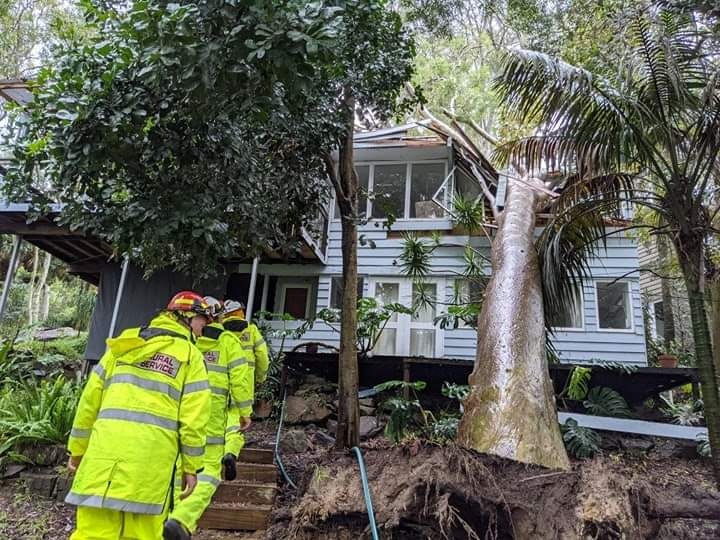 photos courtesy Ingleside Rural Fire Brigade

Monday morning was grey and torrential still.
Tragically on Monday, 22 March 2021 a man died in a single vehicle crash Terrey Hills after his car crashed into a tree.
Late that evening (23:20) the NSW SES Warringah / Pittwater Unit advised that there would be very heavy rainfall, likely leading to flash flooding for the Northern Rivers, Mid North Coast, Hunter, Sydney Metropolitan, Illawarra, and Central Tablelands districts.
With river catchment areas already wet and water volumes increasing, flooding along the Hawkesbury River began and the Windsor Bridge was submerged and as the waters moved down the river towards the Pittwater estuary, Lion Island and Barrenjoey they began to moved everything in their path.
At Palm Beach - March 22nd, 2021;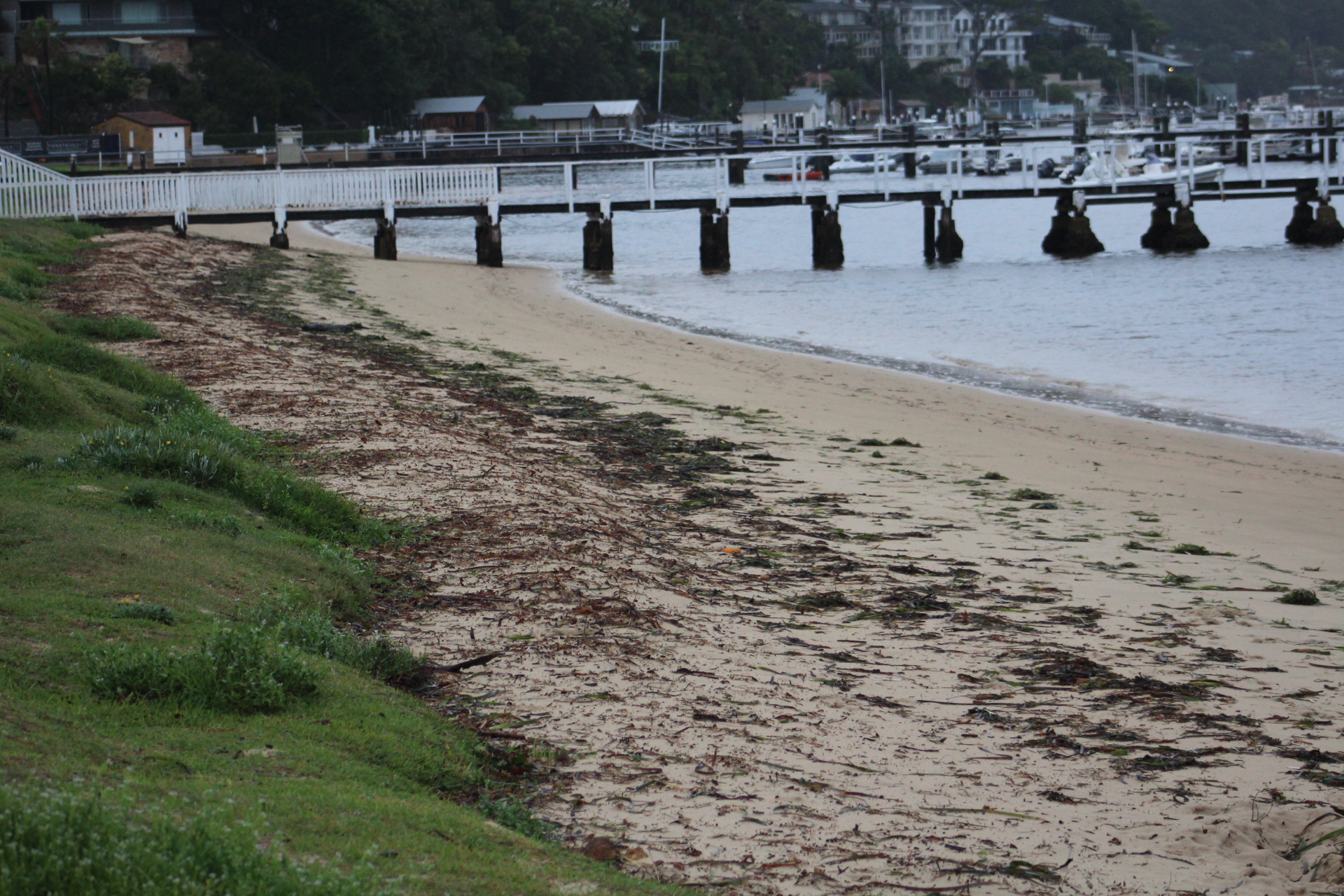 Sandy Point, on the estuary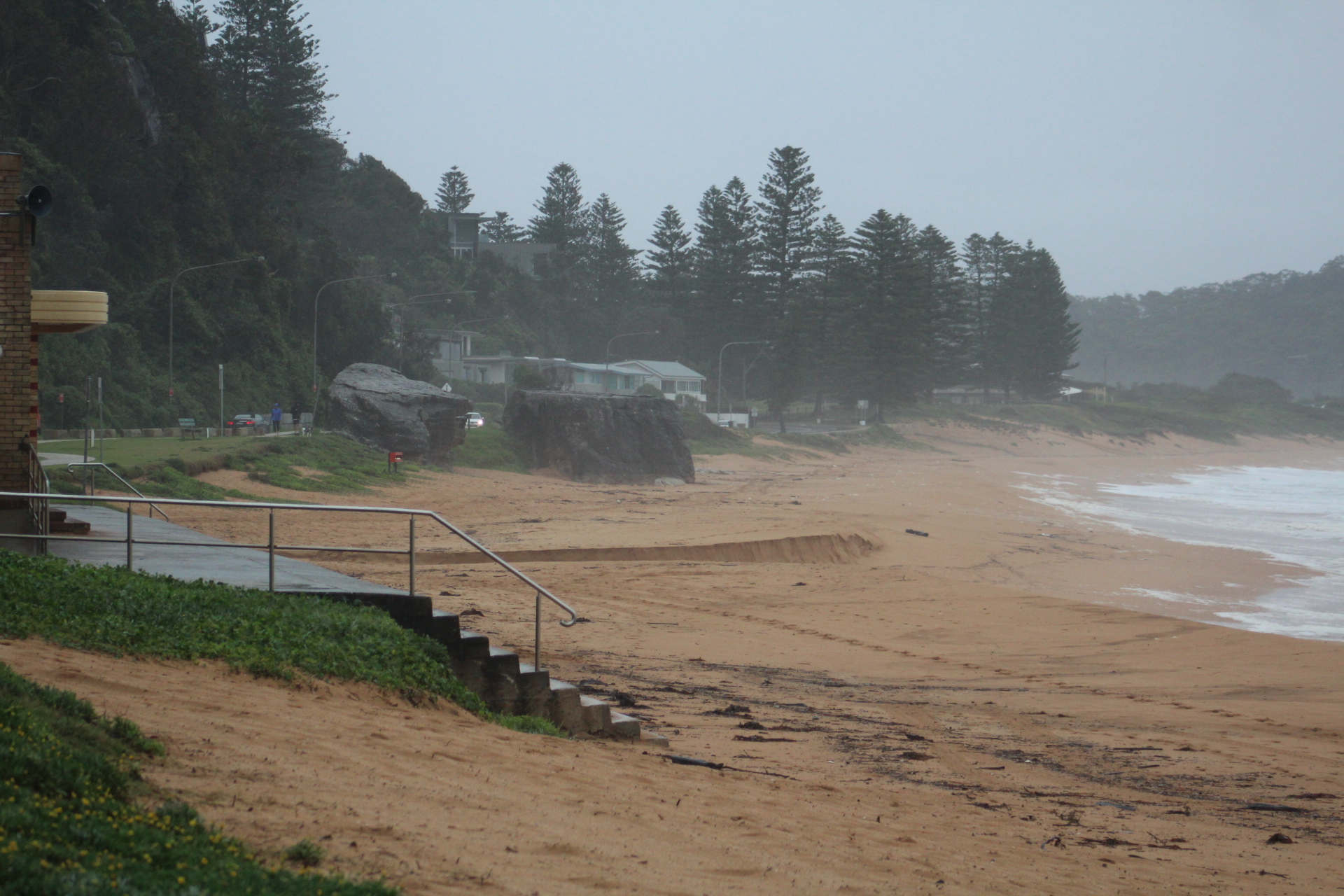 On the beach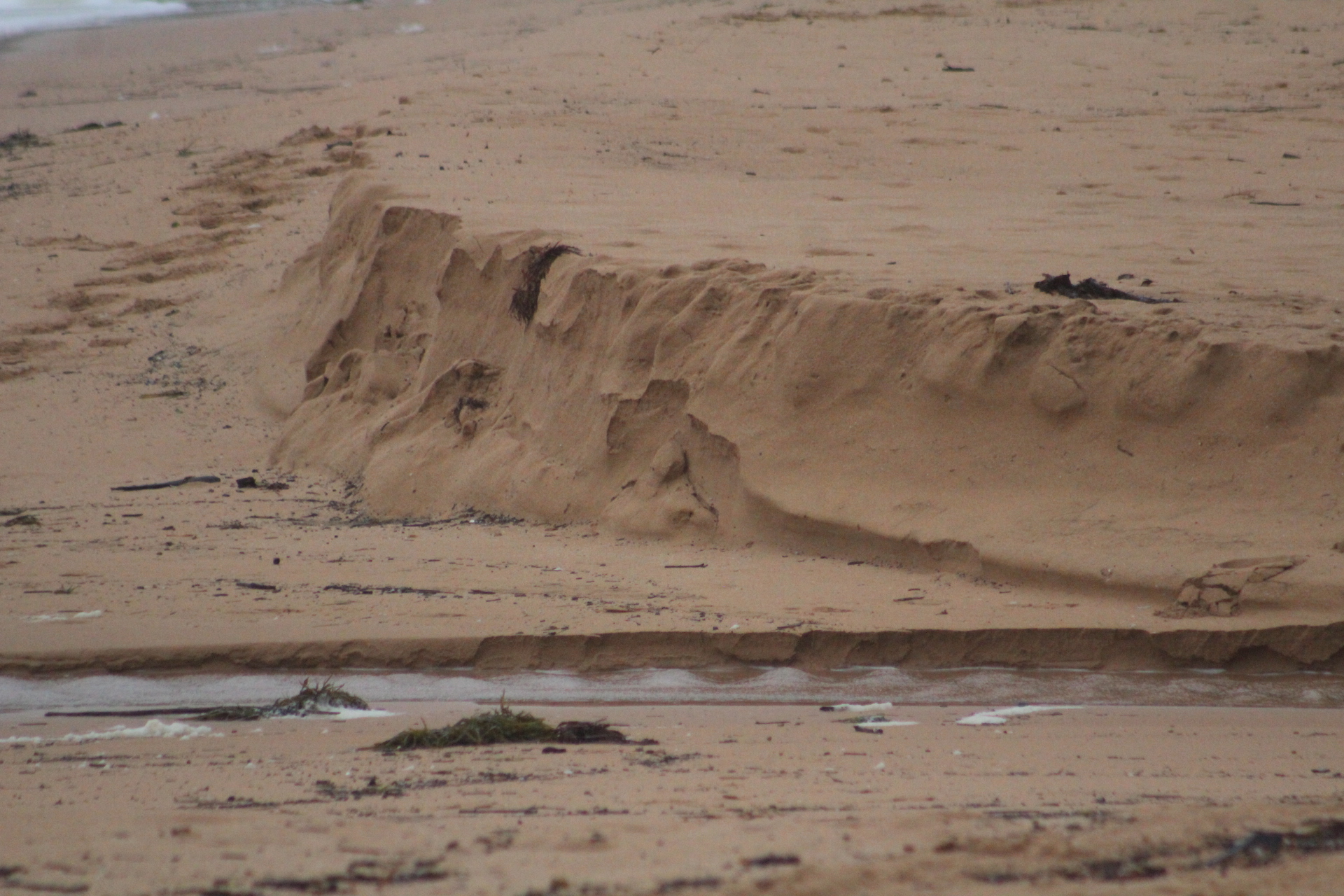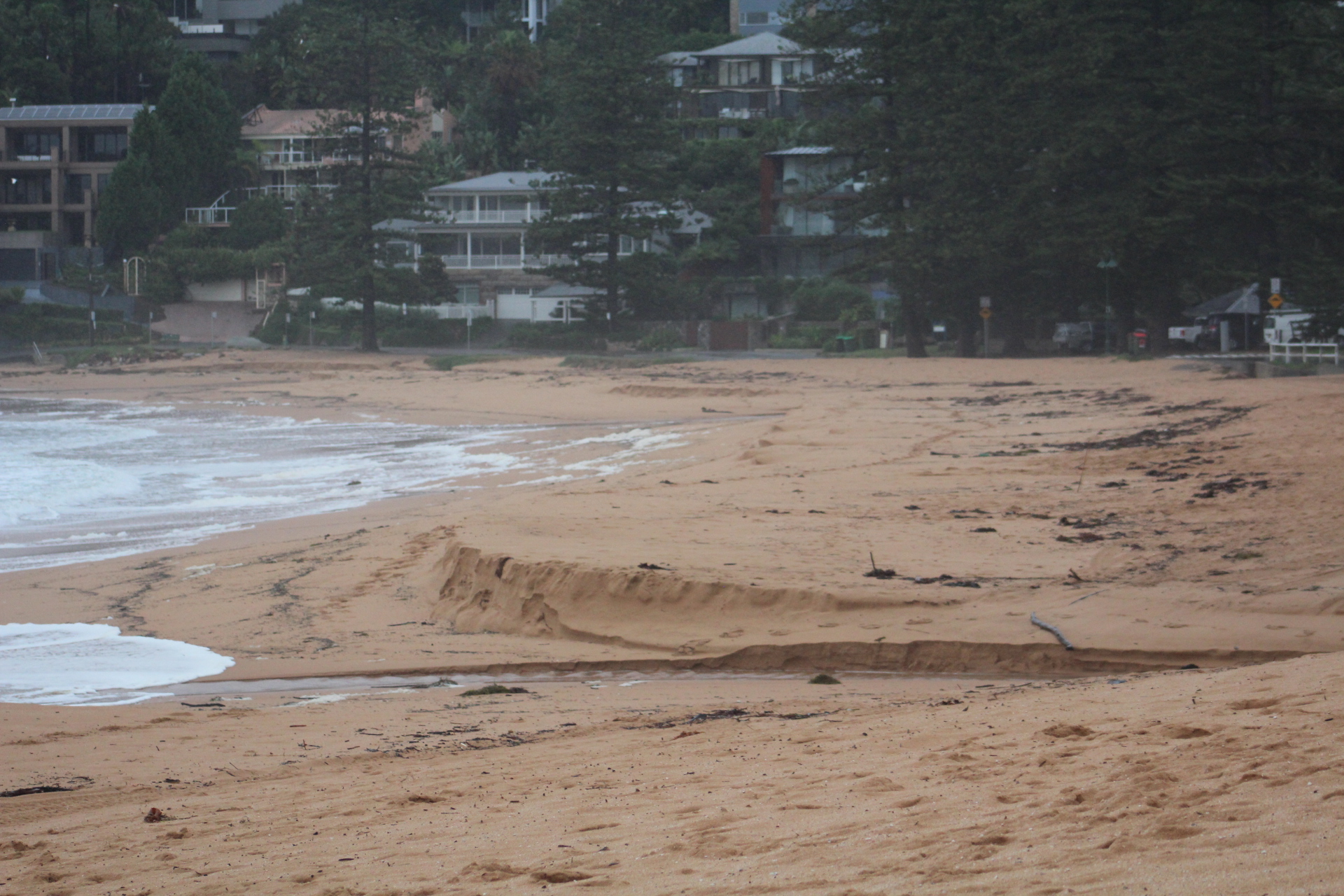 Meanwhile, Marine Rescue Broken Bay were going through Taree - deployed to evacuate stranded public along the flooded Manning River. They were soon amongst it - Marine Rescue NSW reported later that same day
Luck was on these men's side this afternoon.




As our crew members from Marine Rescue Broken Bay were making their way down the flooded Manning River at Taree South, they suddenly caught sight of two men wedged in trees on the far river bank.

With the water levels on the river high up the trees. the men were frantically waving for help.

The pair had been making their way along the river in a kayak, without lifejackets, to deliver food and supplies to one of their elderly mothers, who had not wanted to leave her isolated home.

Unit Commander Jimmy Arteaga said that the pair had been unable to make their way against the swirling current and dragged into the trees in "the middle of nowhere".

The rescue team took the men on board rescue vessel Broken Bay 20 and fitted them with lifejackets before transporting them to deliver their supplies to a grateful mum.
Even before they found these chaps;
Great teamwork between TL21 and BB20. A pregnant lady with medical complications was evacuated and delivered to an awaiting ambulance. In trying conditions a successful job. BB20 has now been tasked 1hr west to Hastings for a welfare check and evacuation as needed.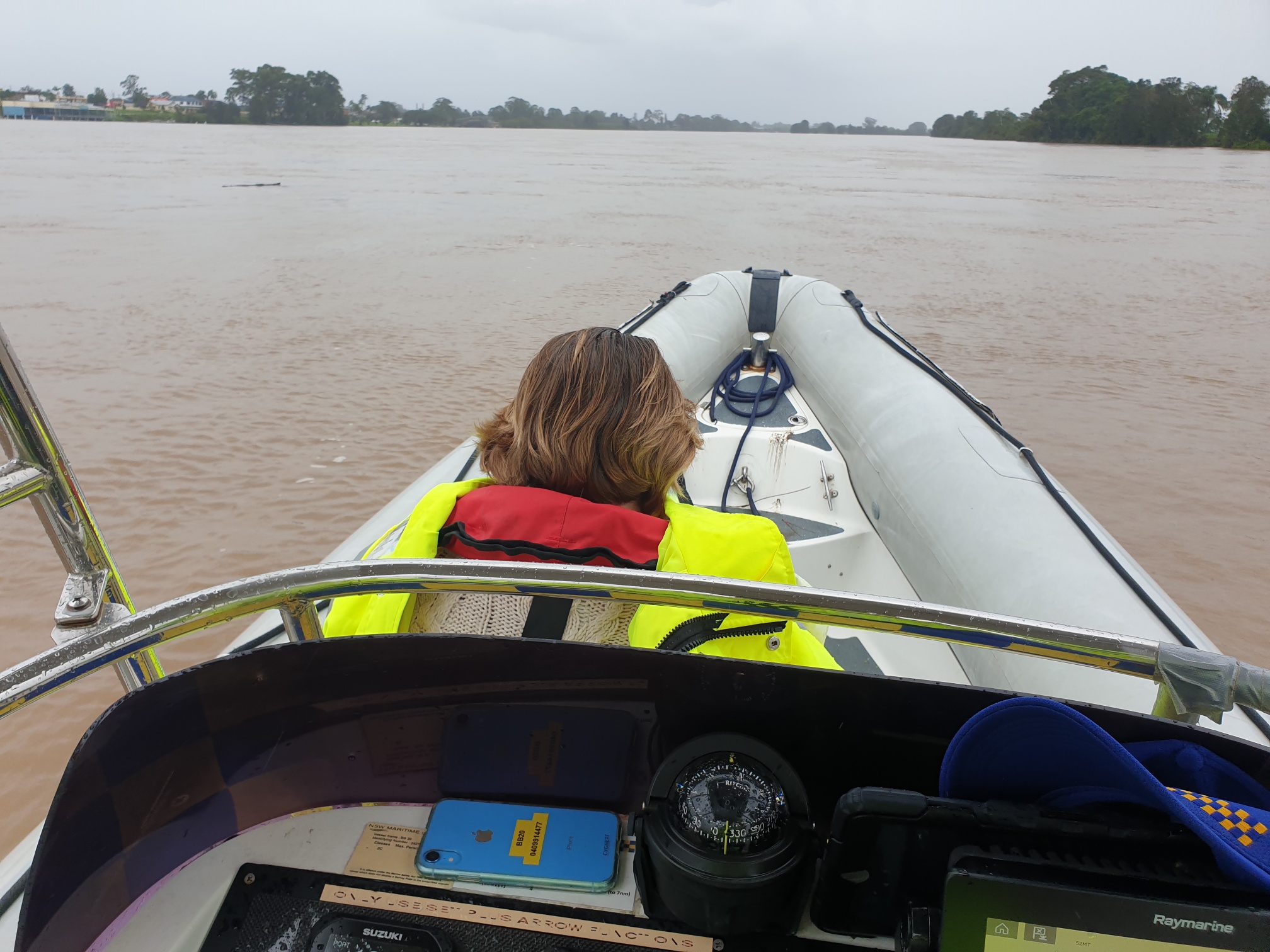 Marine Rescue NSW - March 22, 2021 8 am Update:
More than 30 Marine Rescue NSW volunteers and seven rescue vessels from regional NSW are assembling in Sydney today to bolster flood support operations.
The out-of-area crews and vessels will join their colleagues from MRNSW units in Sydney, ready to perform evacuations and other support operations as the flood emergency spreads across Greater Sydney.
Volunteers from Marine Rescue Central Coast, Norah Head (pictured) and Port Kembla will be the first on scene. Crews from the Alpine Lakes, Merimbula, Tuross and Batemans Bay left their home bases to head north first thing in the morning.
This will make for a total MRNSW commitment of 13 vessels, including volunteers and assets from the Hawkesbury, Cottage Point and Botany Port Hacking units.
MRNSW Commissioner Stacey Tannos said rain was expected to intensify and flooding to worsen across the city.
"We have planning in place to deploy our crews wherever they are needed across the metropolitan area but particularly in western Sydney on the Hawkesbury Nepean," he said.
"Many residents on the upper reaches of the Hawkesbury do not have any road access to their homes so if flooding worsens, they will have no avenue of escape other than the river.
"Our volunteers will be ready to help in any way they are needed, whether that is evacuating residents, transporting medical or other supplies or providing logistical or other assistance to the SES, other emergency services or local authorities."
MRNSW volunteers from six units – MR Port Macquarie, Camden Haven, Crowdy Harrington and three out-of-area crews from MR Ulladulla, Broken Bay and Tuggerah Lakes - have been working to provide flood support on the Mid North Coast since Friday night (March 19, 2021).
The Commissioner said crews had evacuated residents, including a six-month-old baby and a 93-year-old woman, from flooded and isolated homes and caravan parks, secured boats and a sea plane washed off moorings and cleared hazardous debris from around vessel moorings.
"Importantly, they have also helped maintain essential community infrastructure, transporting council personnel to repair a broken cable on the Settlement Point ferry at Port Macquarie and inspect a wastewater treatment plant upstream on the flooded Manning River at Taree," he said.
Commissioner Tannos thanked all the MRNSW volunteers who had been operating in difficult conditions on hazardous waterways, as well as those maintaining the service's regular services, over the weekend.
"Our volunteers are committed to serving and assisting our community whenever and wherever they are called upon. I particularly thank the volunteers who have left and are leaving their homes to travel to areas far afield to support people caught in this worsening flood emergency," he said.
Marine Rescue Broken Bay - March 22nd 12:02
Post a welfare check at Manning Point, locals John and Karen O'Donnell opened their home to provide the crew with a hot coffee and toastie. Amazing community and so glad for their generosity.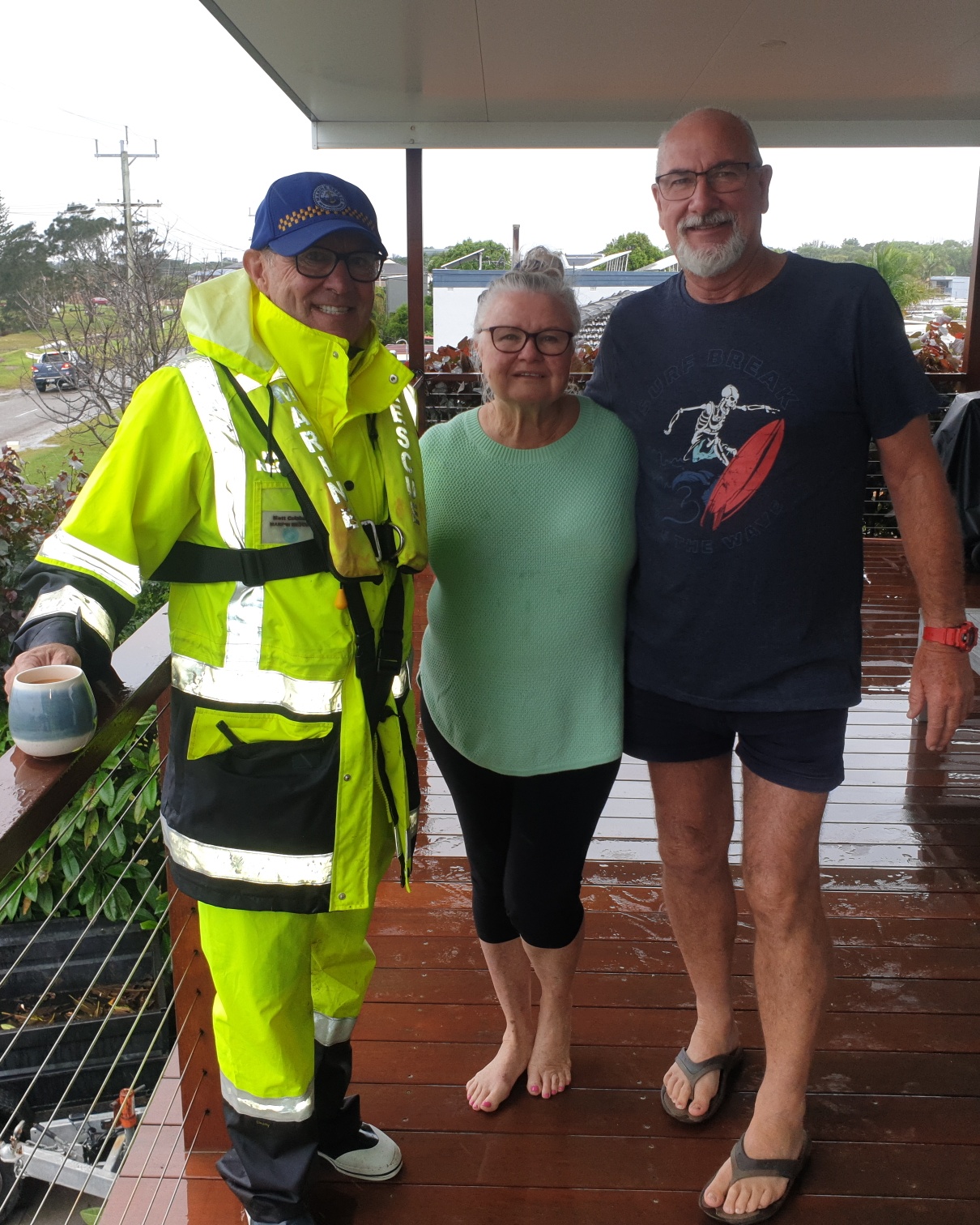 March 23rd: BB20 back on the job. This morning task will entail evacuation of residents in the low lying islands in preparation of high rain fall this afternoon.

Marine Rescue Broken Bay, 2 hours later: TL21, UL10 and BB20 have reached Dumaresq island and processing evacuees. Broken Bay members Gavin Jarvis and Matt Colahan have acquired the use of a Quad bike to make light work traversing the large Island.

Two hours after that: After an exhaustive search on the Northern side of Dumaresqu Island, BB20 has evacuated 4 resident, 3, dogs and 2 cats to safe ground All residents where happy and thankful for the assistance. The MRNSW Broken Bay team thanks all the residents that assisted by supplying Quadbikes, 4wd's and valuable local knowledge by Adam in the black cap.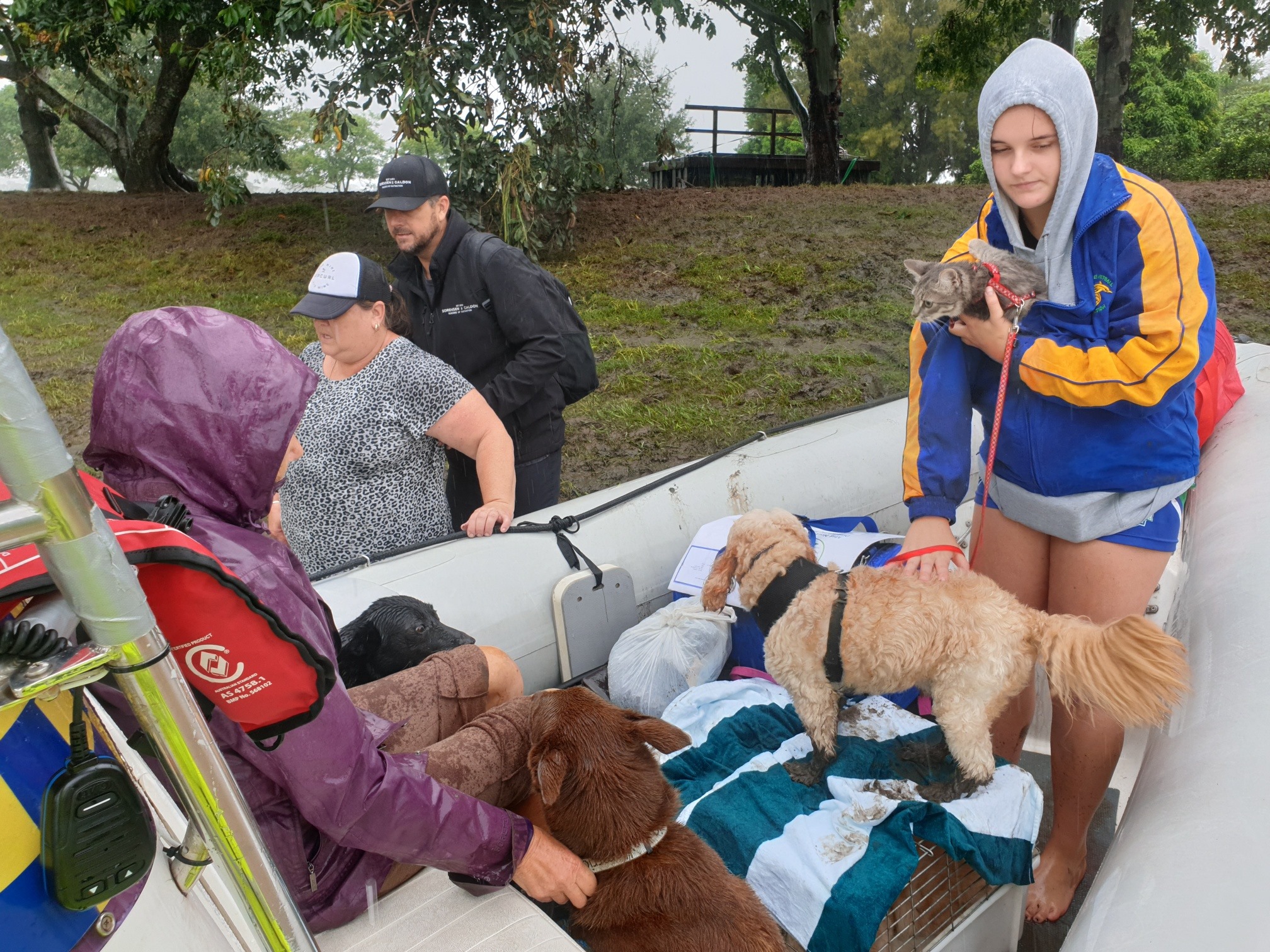 Two hours after that: BB20, TL21 and UL10 crews take a break post a busy evacuation and food provision runs for residents at Dumaresqu Island. Worn out MRNSW Broken Bay members Gavin Jarvis and Matt Colahan stoked to have helped the local residents by giving us the thumbs up signal.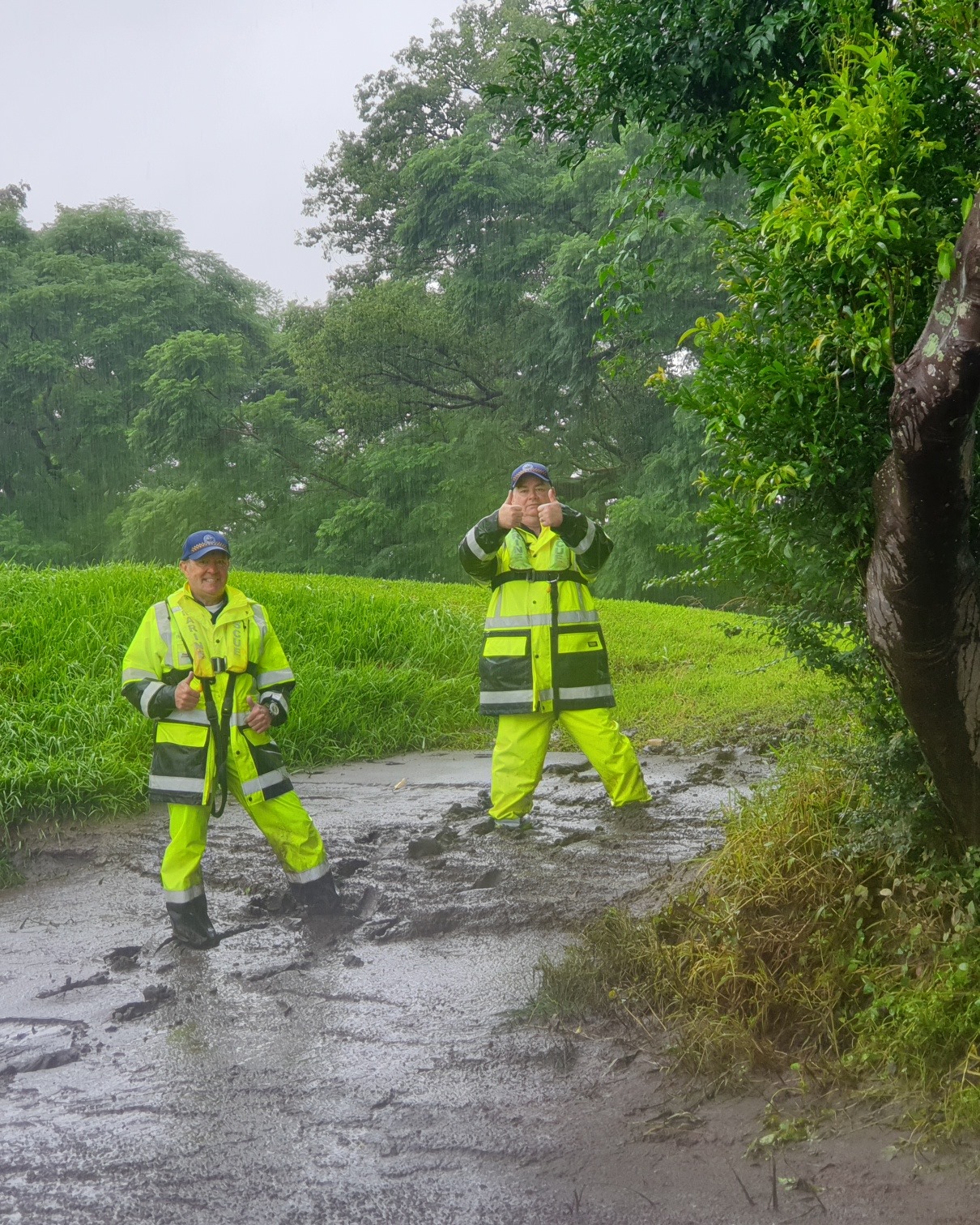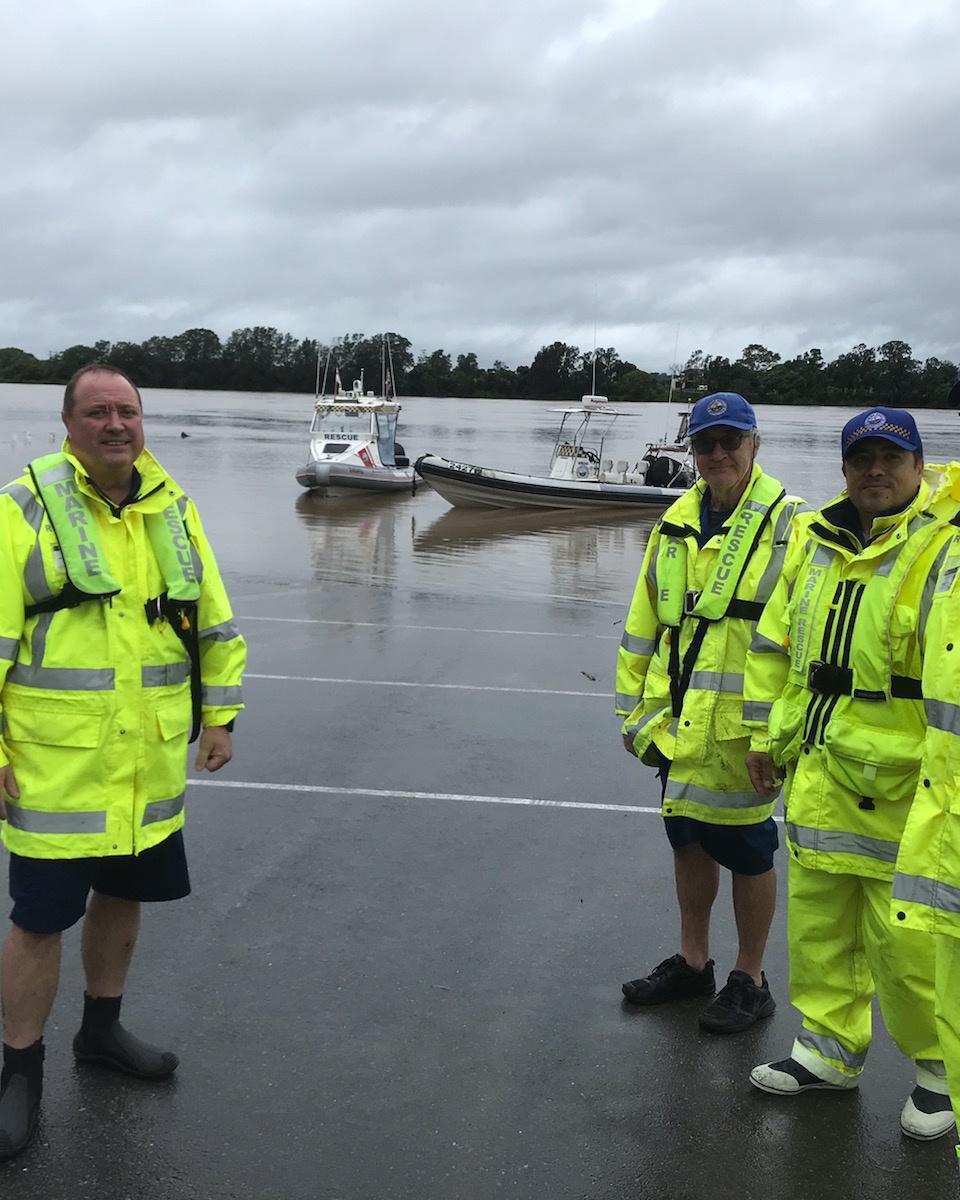 Marine Rescue Broken Bay, March 24, 2021 - 7pm:
With clearing conditions up at Taree, the Broken Bay team have now been stood down and will be returning back to our base at Bayview, Pittwater. I want to thank my hard working team Gavin Jarvis, Matt Colahan and Andrew Majewski for getting the job done in adverse conditions. To the community of Taree, thankyou for your hospitality, assistance and cooperation. Best of luck with the recovery.
Unit Commander, Jimmy Arteaga.
All photos courtesy Marine Rescue Broken Bay.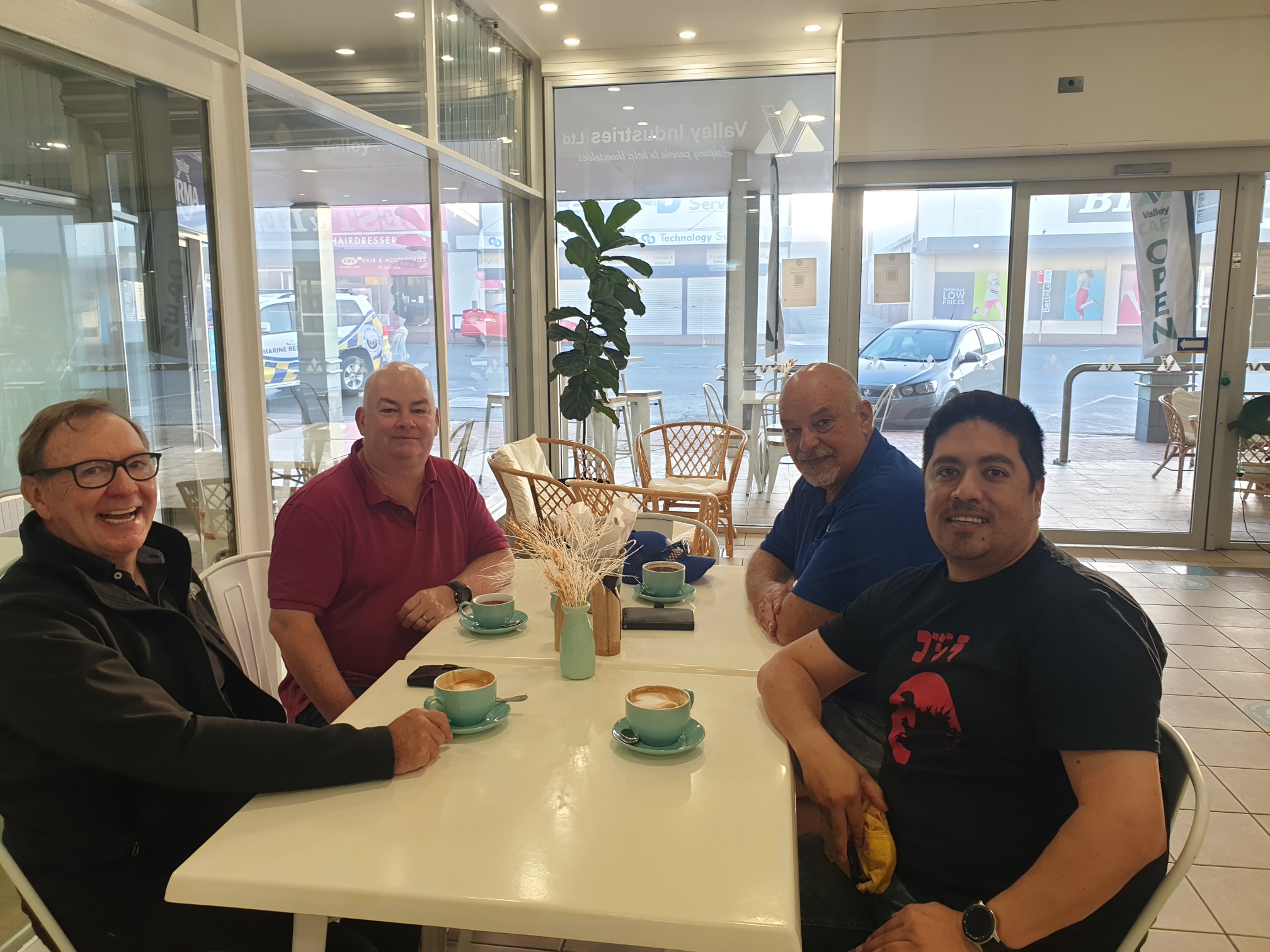 Local volunteer lifesavers from Sydney Northern Beach Branch clubs were deployed too - to Western Sydney and the flooded suburbs surrounding the Hawkesbury-Nepean catchment. In the age of the surf boat, during the 1950's and early 1960's, they used to go in via these and rescue people and take in much needed supplies by those cut off by floodwaters. By the later 1960's IRB's were coming to the fore, thanks to members of the Avalon Beach SLSC. Avalon Beach SLSC members were among those who went to help.
Avalon Beach SLSC Call Out Team was activated on March 23rd 2021 and responded with 2 IRBs and crews. SLS SNB sent in 12 IRB'S, 4 Duty Officers and 3 Branch Vehicles and were tasked to assist Sydney Branch, SES, Marine Rescue NSW and NSW Police at Sackville with evacuations in the Greater Sydney western region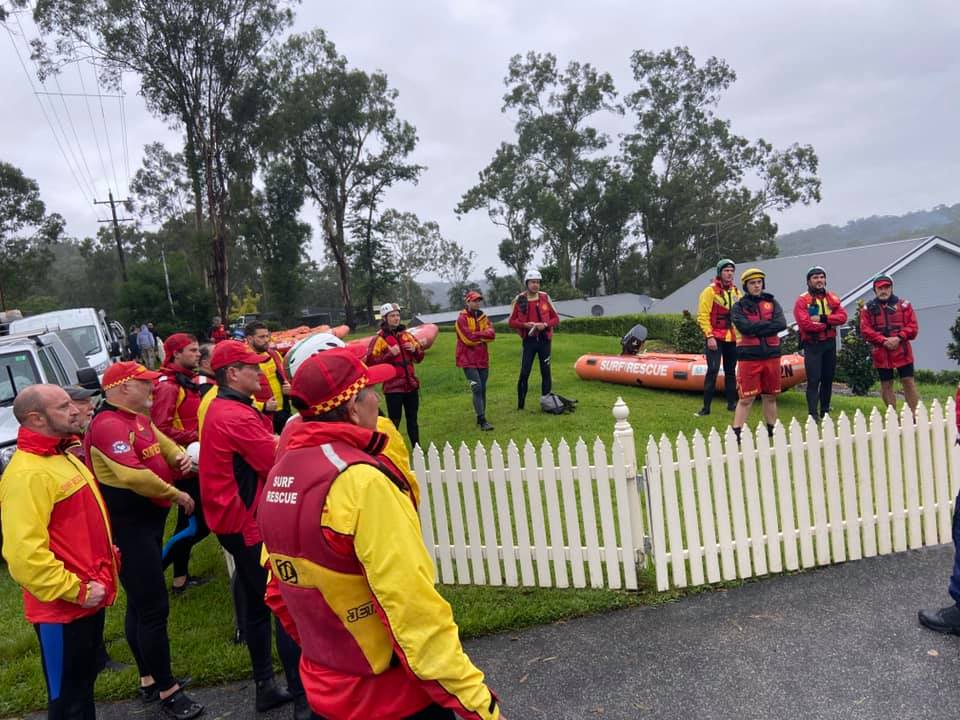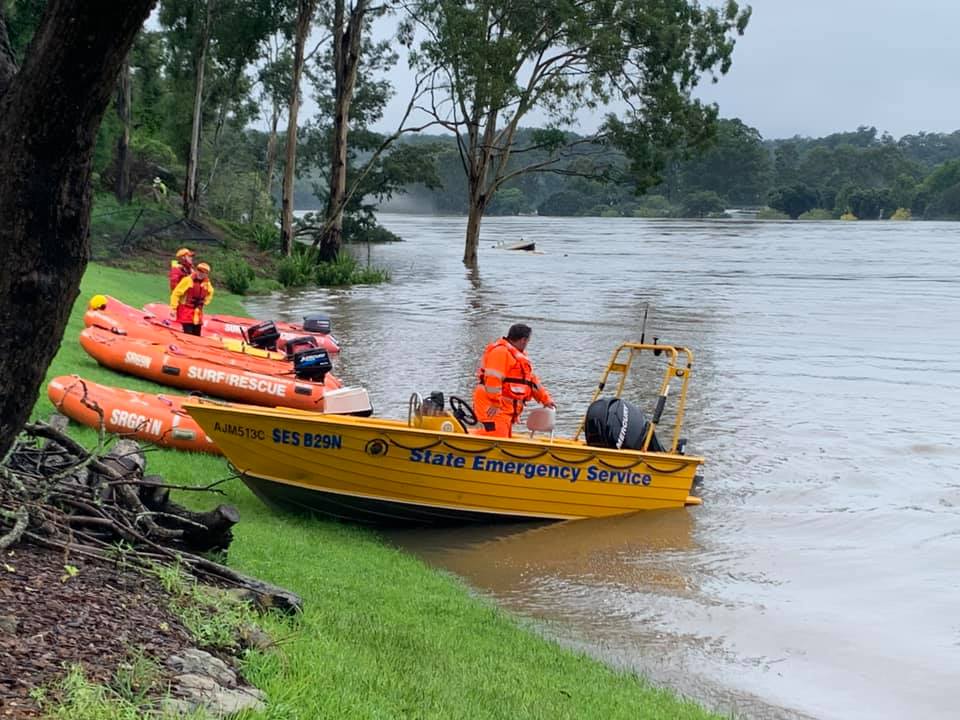 photos by Surf Life Saving Sydney Northern Beaches
Meanwhile, back in Pittwater, by Tuesday March 23rd some of the logs, sheds, fridge's, car tyres and pumpkins being carried down the river were beginning to come ashore in Pittwater and Palm and Whale Beach. The Church Point Ferry Service spotted numerous floating hazards and proceeded with caution in its trips around the southern end of the estuary, knowing it's those that are submerged but moving in fats waters that can cause accidents. Swimmers who went to have a dip at Palm Beach rockpool reported a fridge as well as lots of other rubbish was now in the pool.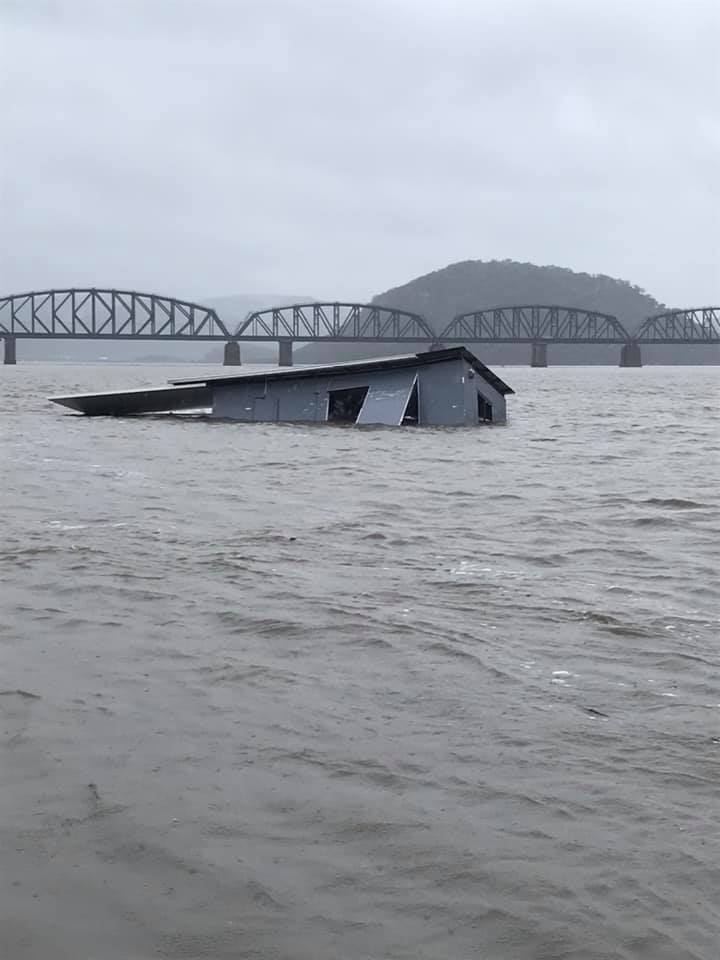 David Reynolds of Dangar Island; 'March 23rd, 11:54 Free to good home- large garden shed. Slight water damage. Pick up now North side of Dangar. Pick up in an hour Barrenjoey...' - David's photo
March 23rd, 2021: As of 9.45pm, the river at Windsor was recorded at a height of 12.80 metres. This is a slight increase. The Bureau of Meteorology reports the Hawkesbury River at Windsor will likely remain above the major flood level for the next couple of days.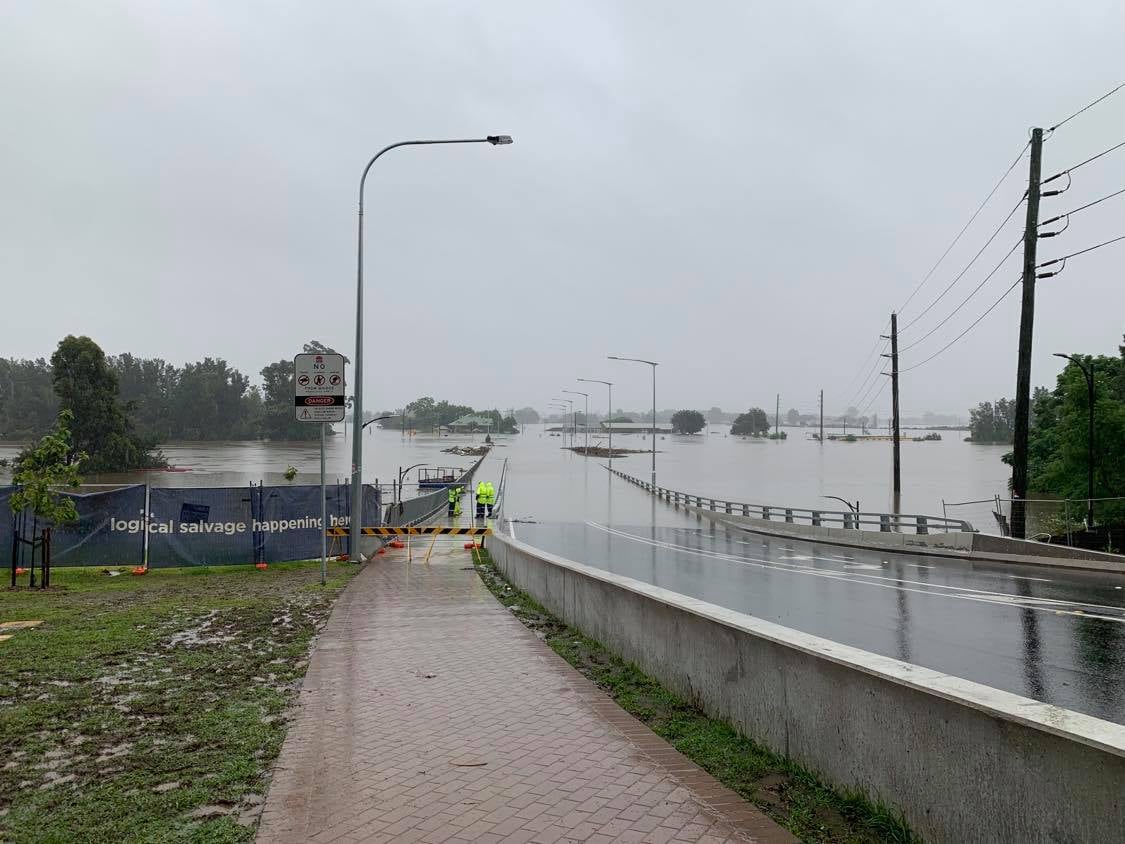 Windsor Bridge 8.45 am Photo by Paul Caleo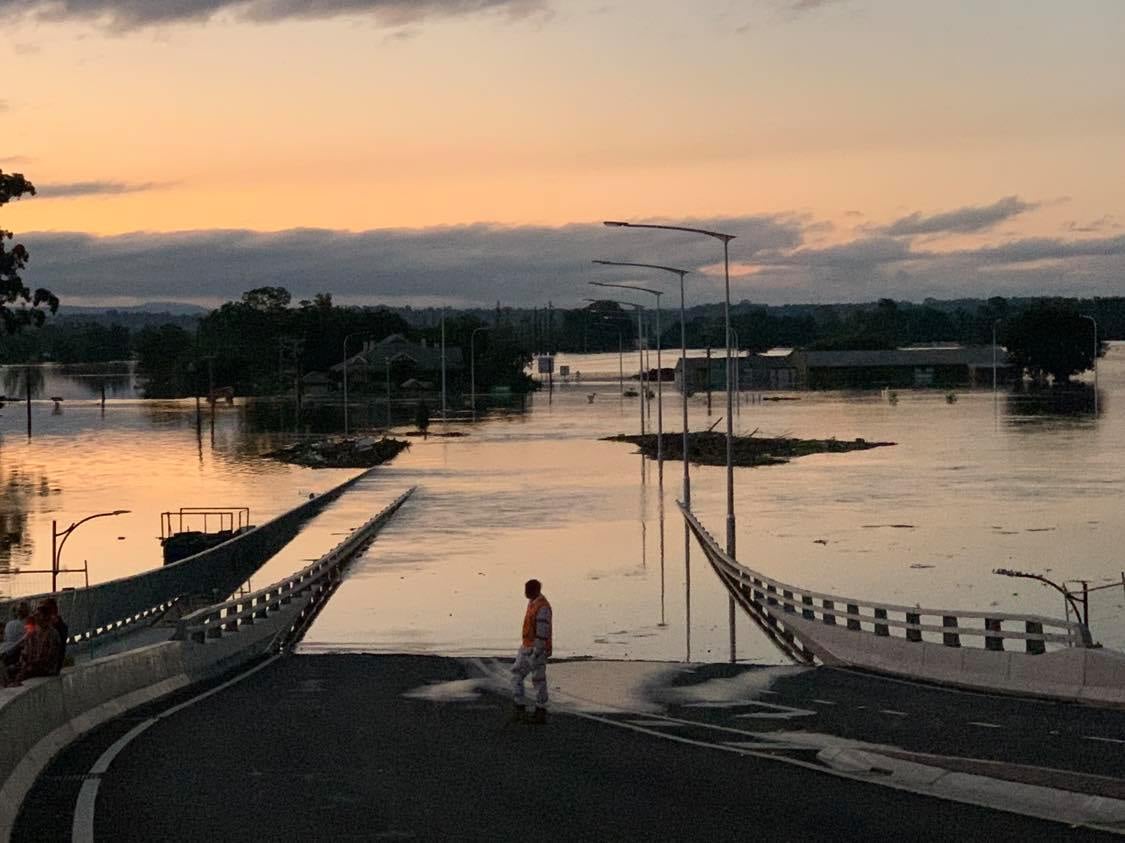 Windsor Bridge Sunset Photo by Paul Caleo
On Wednesday March 24th, even though we all awoke to bright blue skies, the annual Pittwater to Coffs Race was gone:
Club Marine Pittwater to Coffs Harbour Yacht Race cancelled
It is with great regret that the Royal Prince Alfred Yacht Club (RPAYC), the Organising Authority for the 2021 Club Marine Pittwater to Coffs Harbour Yacht Race, has cancelled the race due to safety concerns.
"The decision has not been made lightly. However, extreme weather across NSW has resulted in large amounts of significant debris in the water, potentially creating hazards for yachts along the NSW coastline," RPAYC Commodore, Allen Stormon said.
"The Club also recognises that the emergency services in NSW are already stretched at this time and we are conscious of not wanting to add complications to the situation, should an emergency arise.
"While we will miss our annual race, at this time, our hearts go out to those effected by floods throughout NSW who are doing it particularly tough right now," the Commodore ended.
While the current weather forecast for the next few days and throughout the race appeared to be looking fine along the NSW coast, the Race Committee considers this to be a responsible and appropriate decision.
"This is a disappointing result for competitors, the RPAYC and Coffs Harbour Yacht Club alike, especially as this year's race was truly shaping up to be a competitive one," a gutted RPAYC Race Director, Nick Elliott said.
"The timing of our race seemed to be spot on, with close to 50 entries received," he commented on the fleet, which included a good mix of competitive boats in the 30 to 40-foot range, an emerging short-handed division, plus some very fast multihulls, all of which the Organising Authority is hoping will return for next year's race.
Planning for next year's Club Marine Pittwater to Coffs Harbour Yacht Race, which is to start in the week prior to Easter, on Friday 8 April, 2022, is now underway.
To make up for the race loss, and despite the prolonged rain in Sydney this week, the RPAYC will run a free and impromptu Twilight Race on Pittwater. All those entered in the race to Coffs Harbour are welcome, along with the regular RPAYC Thursday Twilight fleet.
Entrants will do a short, sharp race around the cans; a perfect change of scene for the boats not normally in Pittwater at this time of the year.
To cap off the evening after racing, RPAYC will still host the Coffs Crew Party on the evening of Thursday 25 March, which is forecast to be warm and sunny. Popular band, The Aston Martinis, are scheduled to provide live entertainment. The teams from Fever Tree, Manly Spirits and Bar Karate will be on deck.
For all information on the Club Marine Pittwater to Coffs Harbour Yacht Race, please visit: http://www.pittwatertocoffs.com.au/
By Di Pearson
Landslip at Palm Beach: March 24, 2021
Photos by Adriaan van der Wallen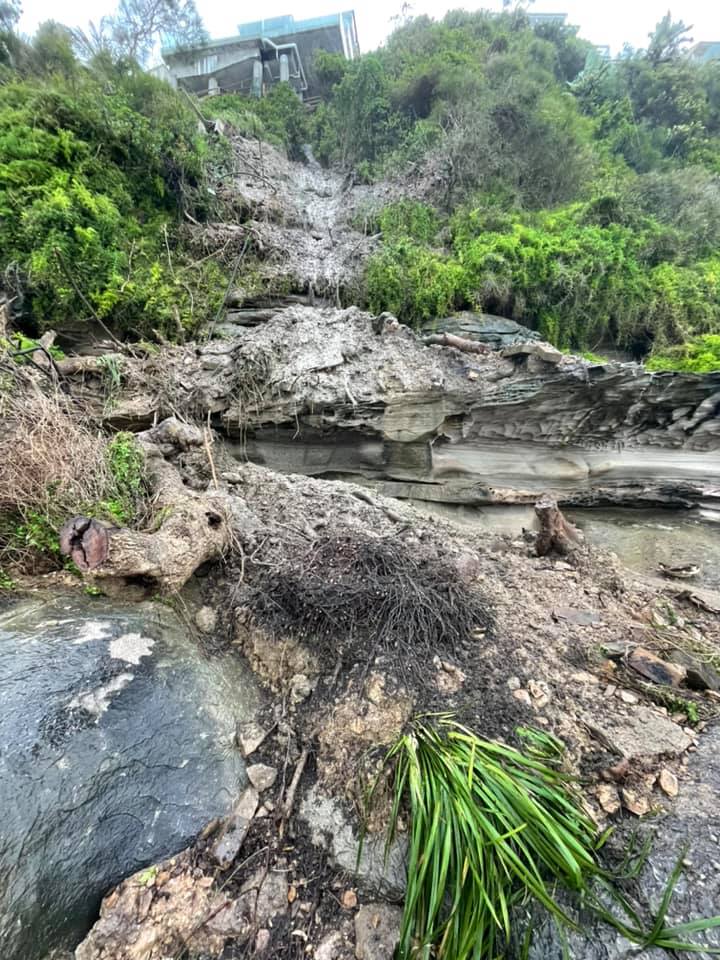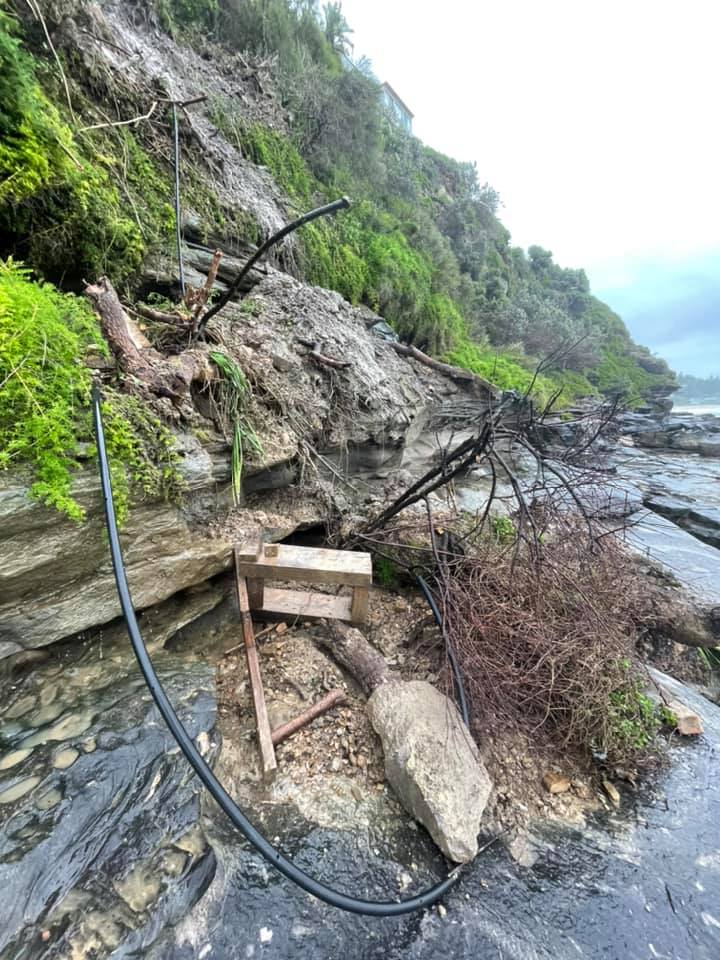 On Thursday Turimetta beach and North Narrabeen was pristine still, even though the long brown flow of water could be seen offshore. The water flowing out of the lagoon was tannin coloured - but the Narrabeen Lagoon was still open. By Friday morning Turimetta beach looked like a tip.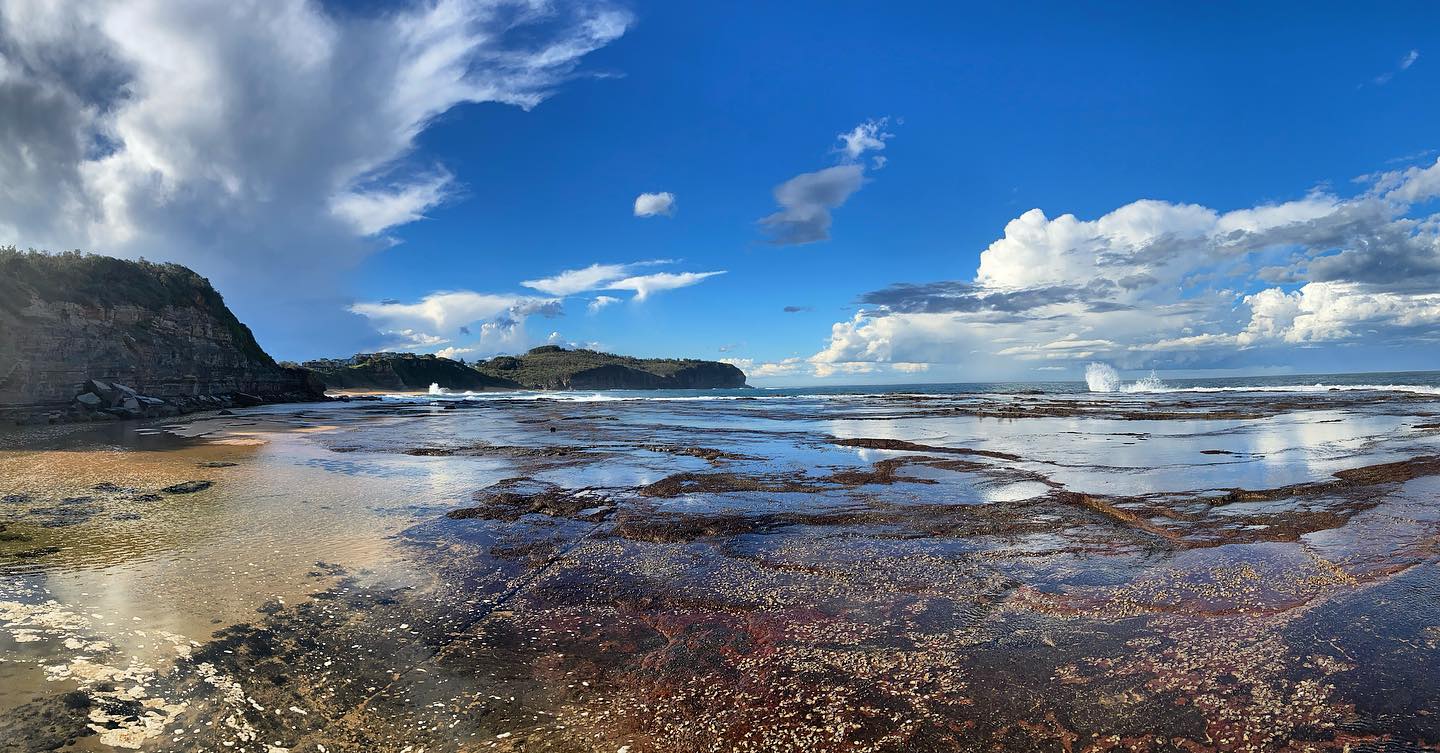 March 25th, 2021 photo by Selena Griffith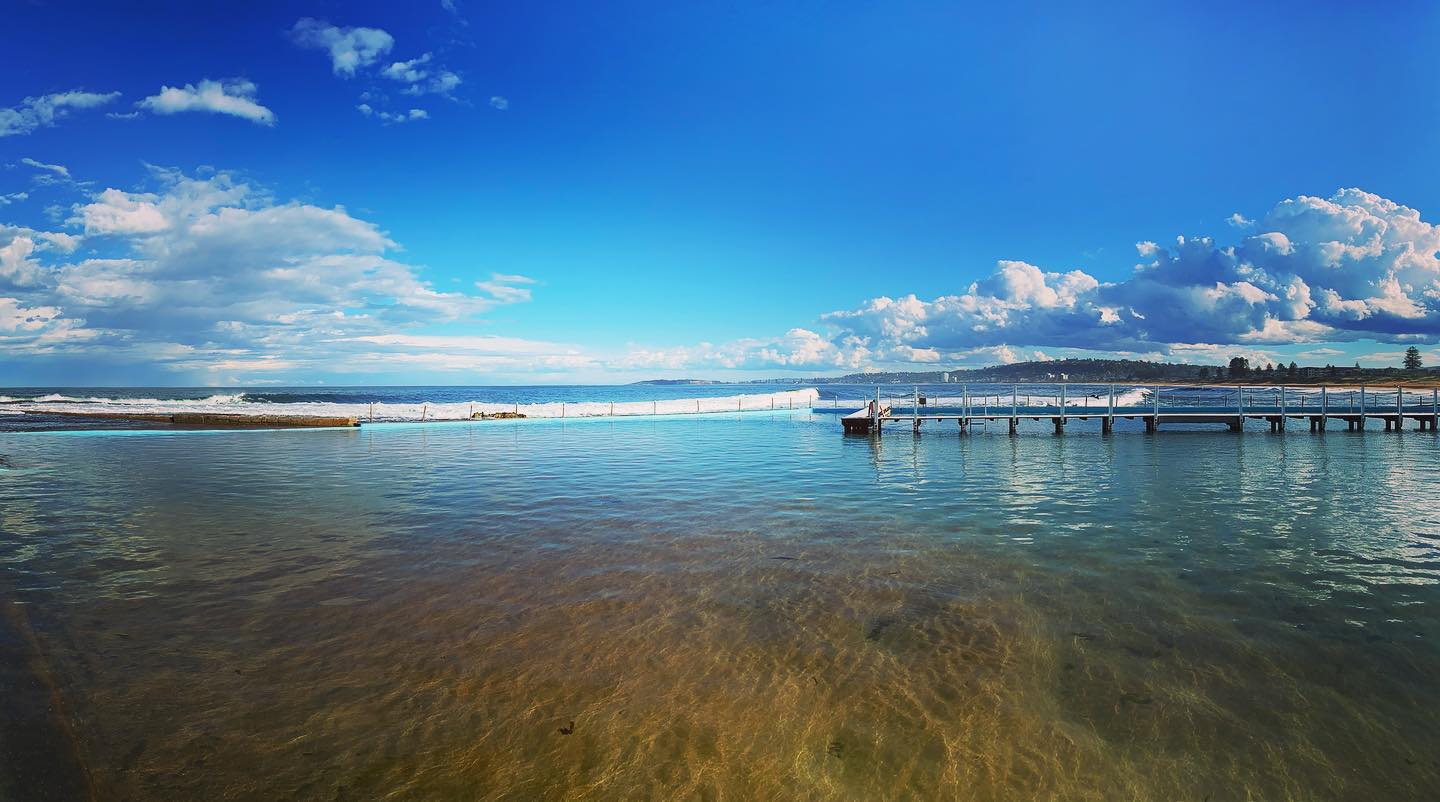 March 25th, 2021 photo by Selena Griffith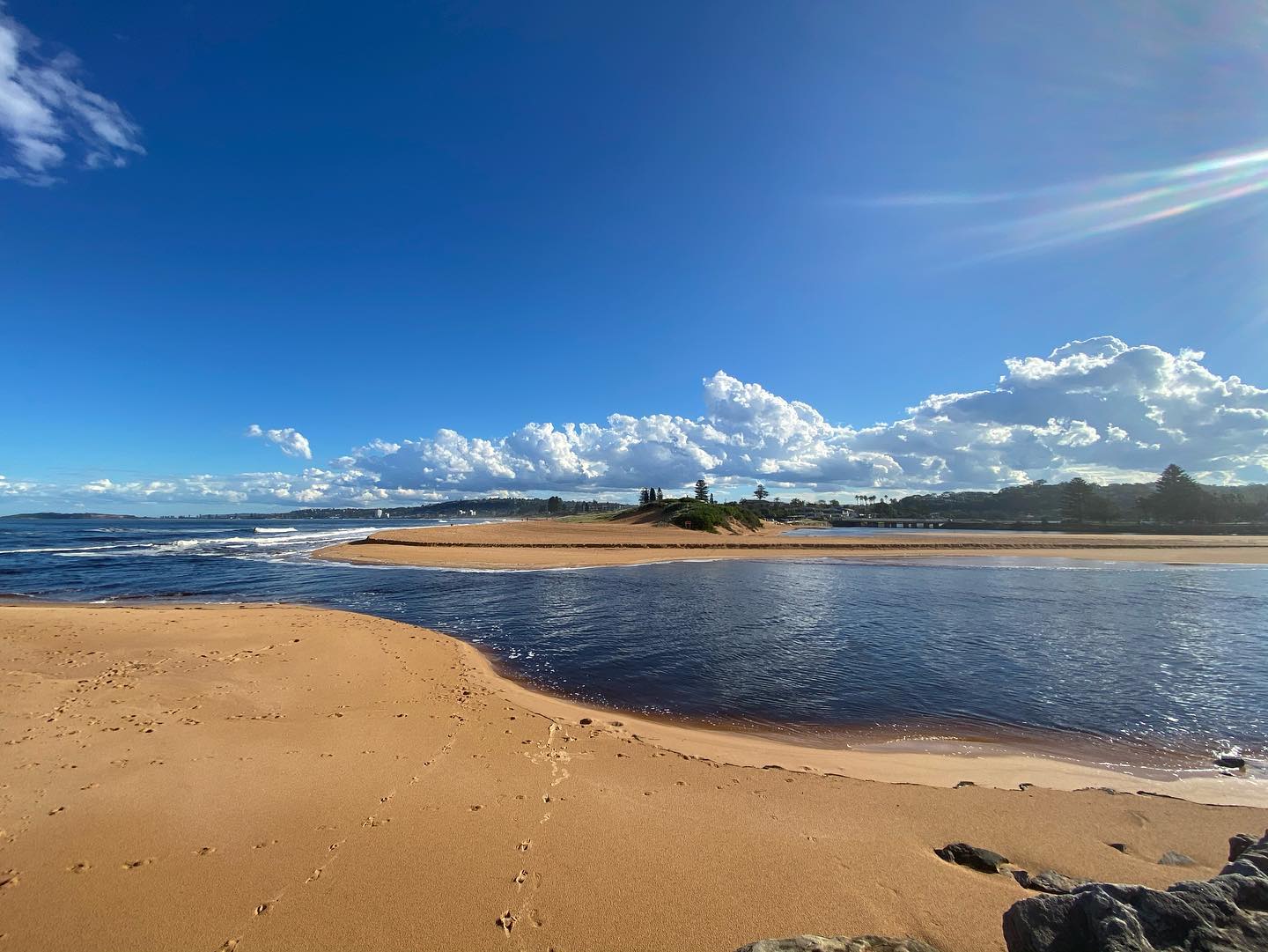 March 25th, 2021 photo by Selena Griffith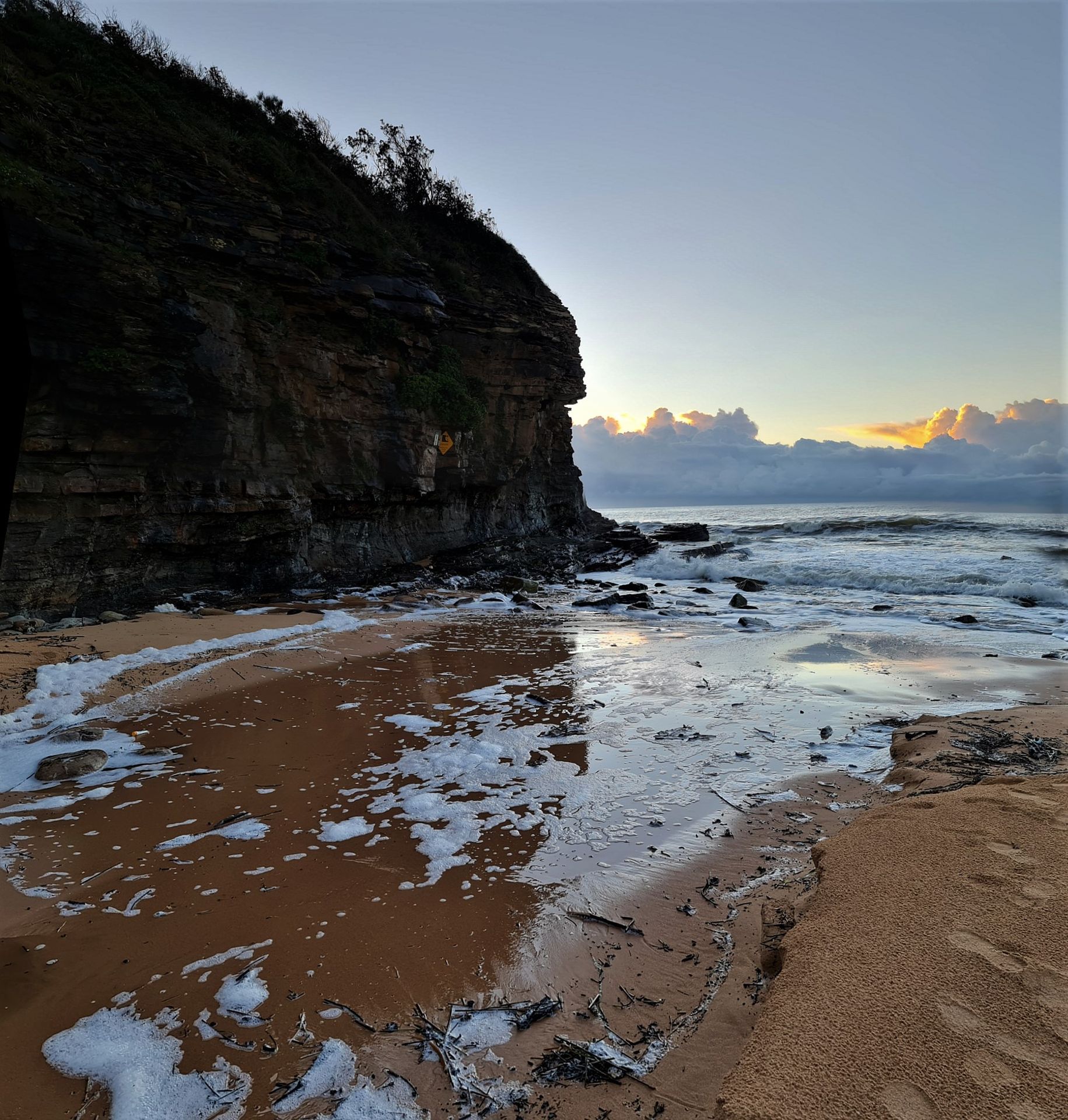 Turimetta and North Narrabeen March 26th, photo by Joe Mills
RAAF Pilots flying over Barrenjoey to a Commemorative Service at the Hyde Park Memorial for the RAAF 100th Year caught some of the flood tide from a bird's eye view: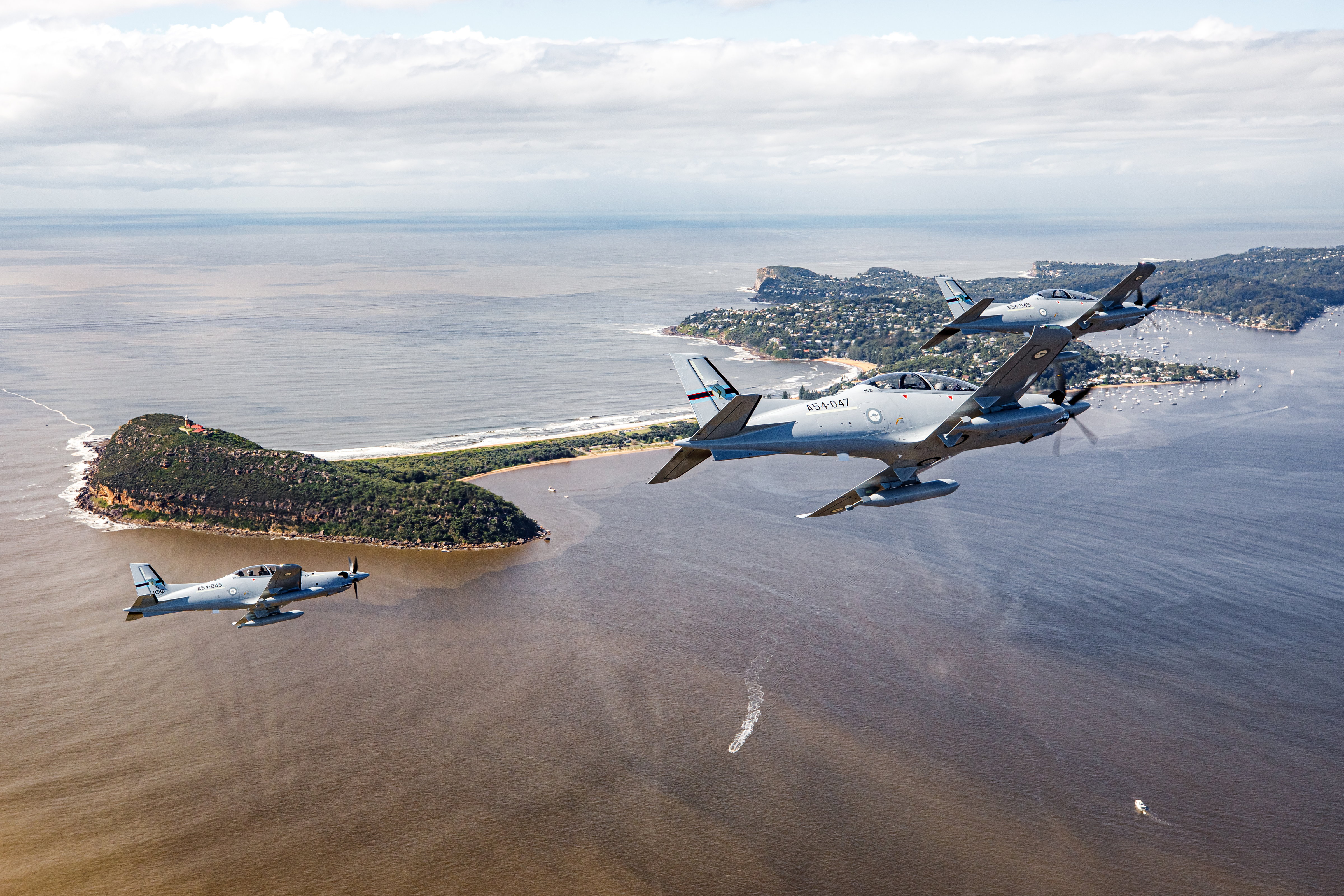 Photo: Pilatus PC-21A aircraft from No. 4 Squadron based at RAAF Base Williamtown turn on final heading to fly in formation over Sydney in support of a Royal Australian Air Force Centenary commemorative service held at the Anzac Memorial in Hyde Park. Photographer: CPL Craig Barrett.
Even late Saturday March 27th you could still see the brown flow beyond Barrenjoey headland while the amount of debris on the estuary beaches and coastal beaches grew: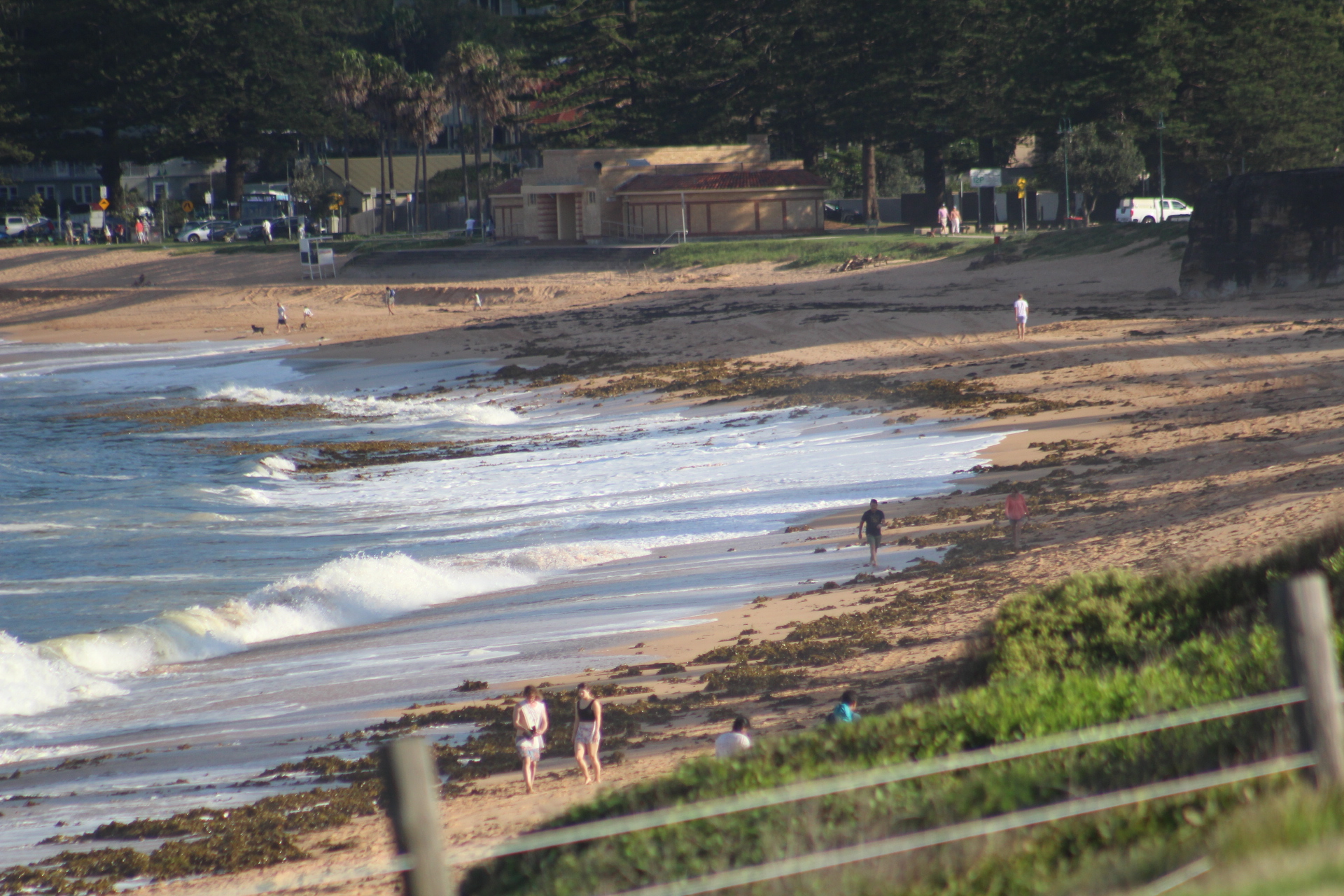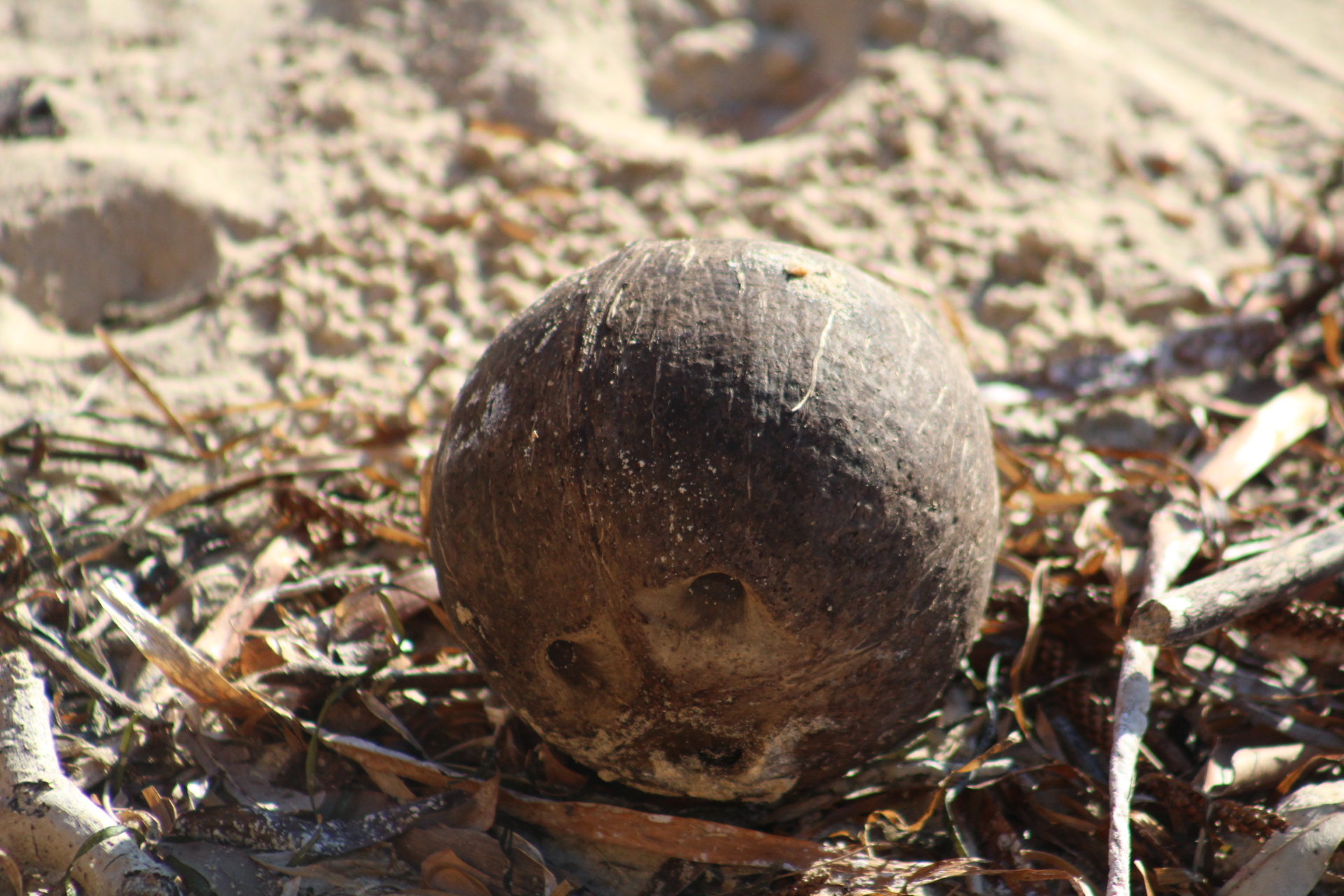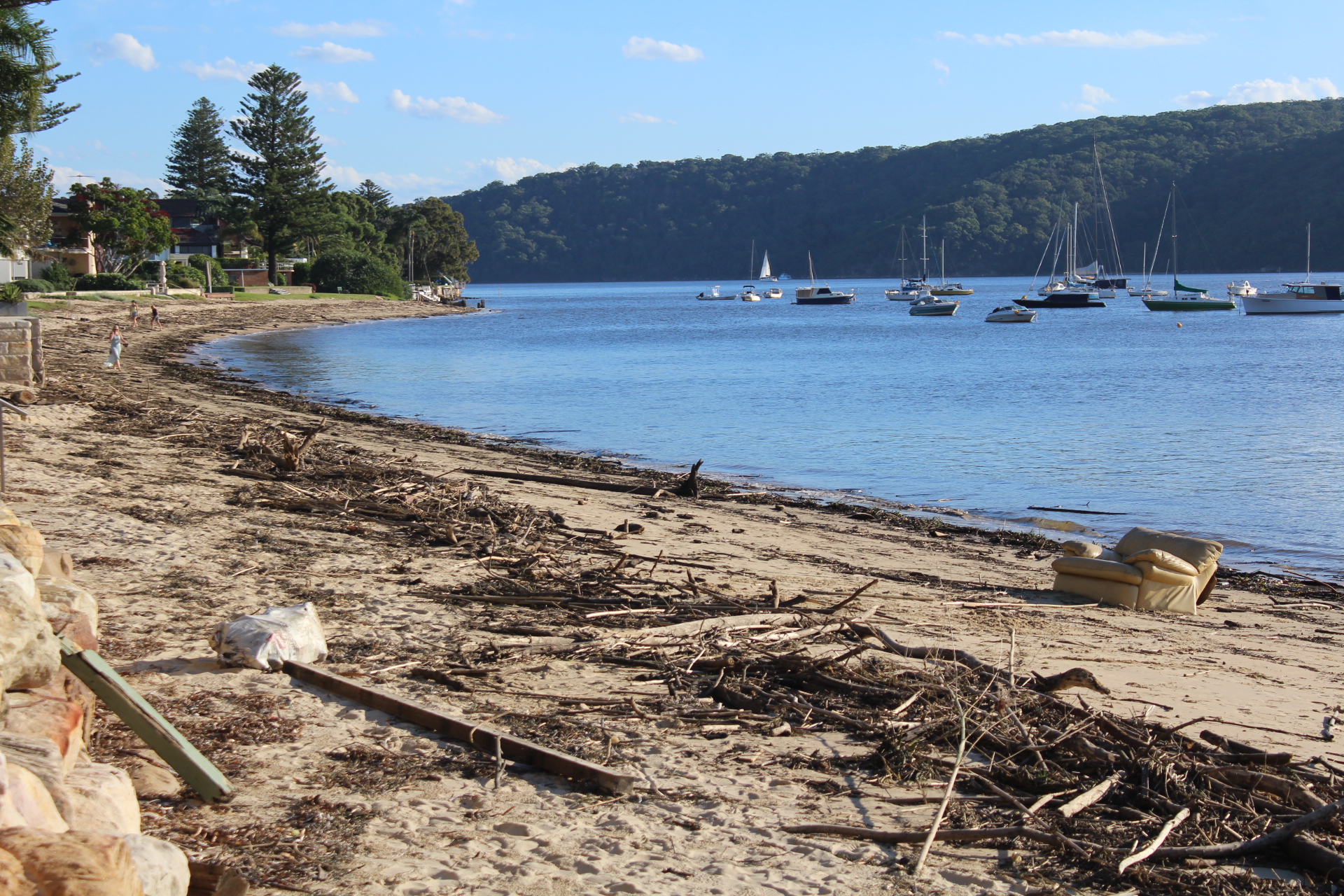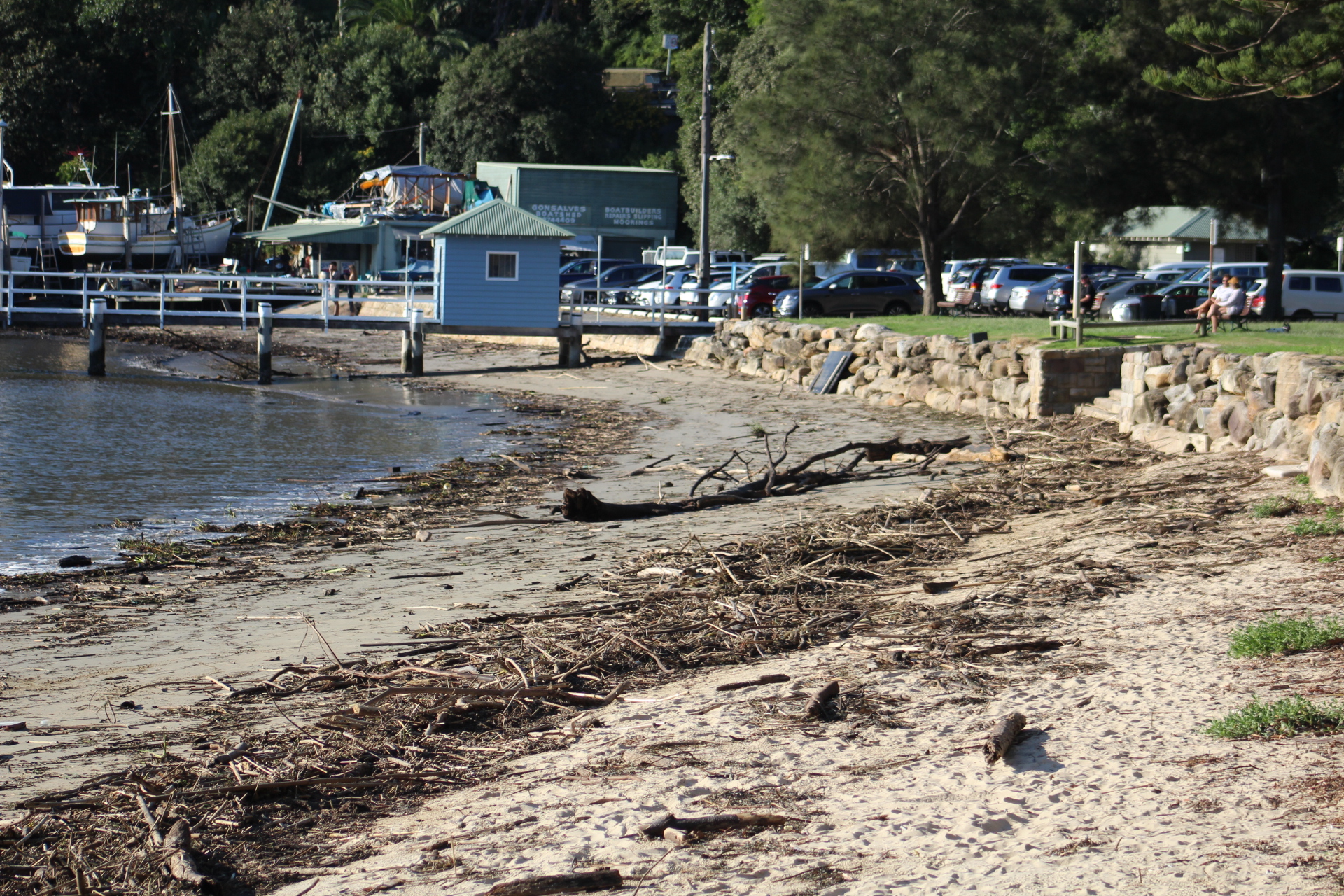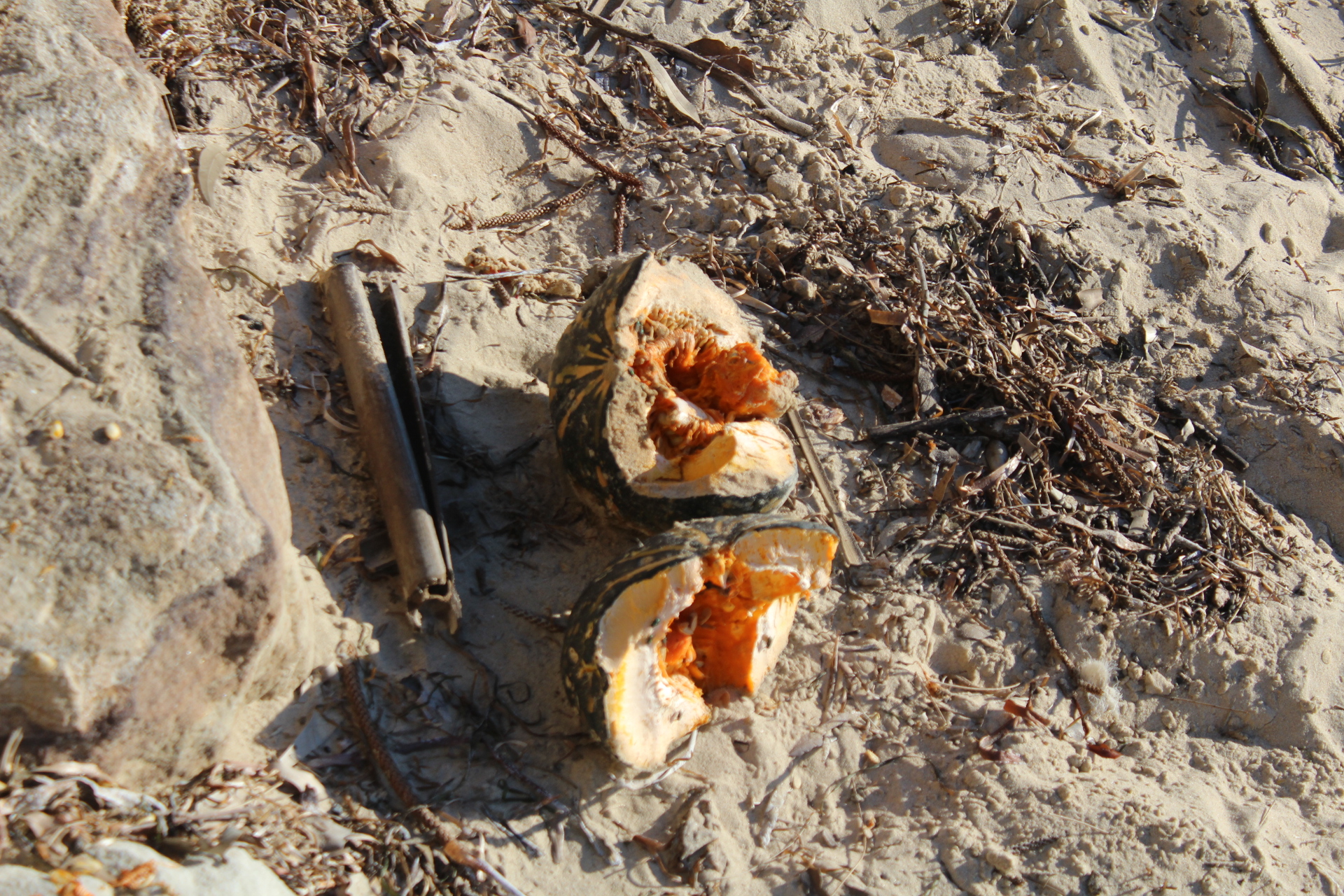 Pittwater Online News has put together some history notes for this Issueto accompany the coverage of this 1 in 100 years weather event.
That runs in Hawkesbury River: 1 In 100 Years Floods - Some History and What Washed Up On Pittwater Beaches
Marine Rescue NSW - Friday March 26th, 2021:
Marine Rescue NSW has appealed to boaters along the NSW coastline to stay off the water this weekend.
Deputy Commissioner Alex Barrell said conditions in many areas along the coastline were not safe to head out on boats, jet skis or other craft such as kayaks or canoes.
"We really do urge boaters to stay off the water until conditions clear," he said. "There will be huge amounts of debris in the water, both floating and submerged, such as large trees and dead animals, caravans and garden sheds.
"You don't want to be hitting anything like that. Not only is it going to damage your boat but a collision can easily fling those on board into the murky and polluted water, risking their lives and their health.
"Channel markers and other navigational aids will have been washed away or displaced in floodwaters and channels and sandbanks can have completely changed shape since the last time you went out."
Marine Rescue Coffs Harbour is warning local boaters of a build-up of sand outside of the boat ramp mouth that is causing boats to bottom out or catch their props as they head out or return.
"On Thursday night, a crew from Iluka Yamba deployed to save a solo sailor on a yacht with engine failure who was trying to cross the bar into the Clarence River under sail but kept being pushed back out to sea by the murky floodwaters pouring downstream," Deputy Commissioner Barrell said.
He thanked MRNSW volunteers who had been working since late last week to support flood operations, many in areas far from home.
"They have evacuated residents and their pets, filled sandbags, conducted welfare checks and in one case, ensured an elderly woman received food and other essential supplies after rescuing her son and a mate from a tree after they got stuck trying to reach her in a kayak on the flooded Manning River," he said.
"We thank them all for the commitment to serving the community, whenever and wherever they are called upon."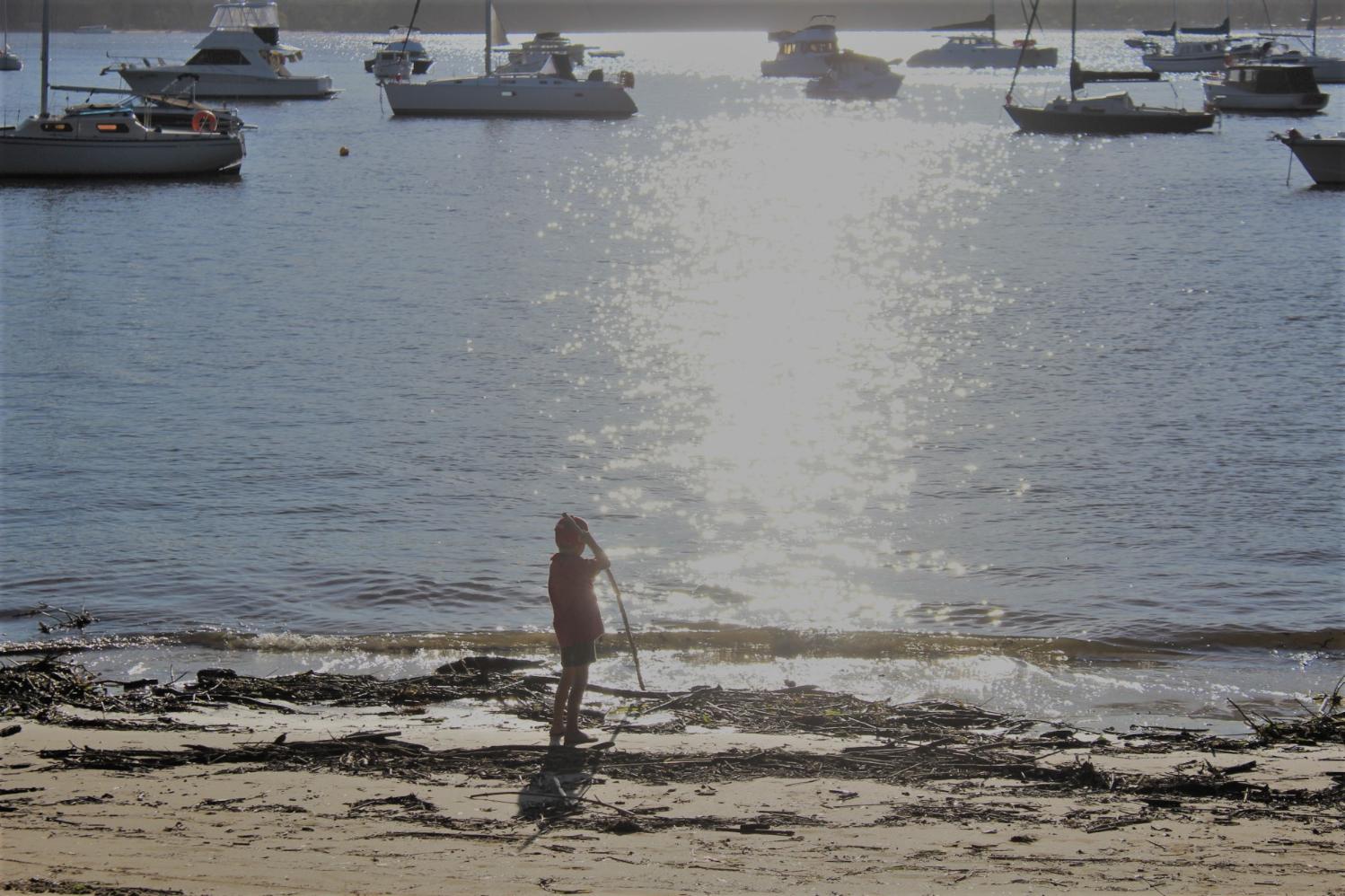 Snapperman Beach, Pittwater, 5pm, Saturday March 27th, 2021 - photos not credited in report are by A J Guesdon, 2021