November 15 - 21, 2020: Issue 474
Marine Rescue Broken Bay New BB30 - The Michael Seale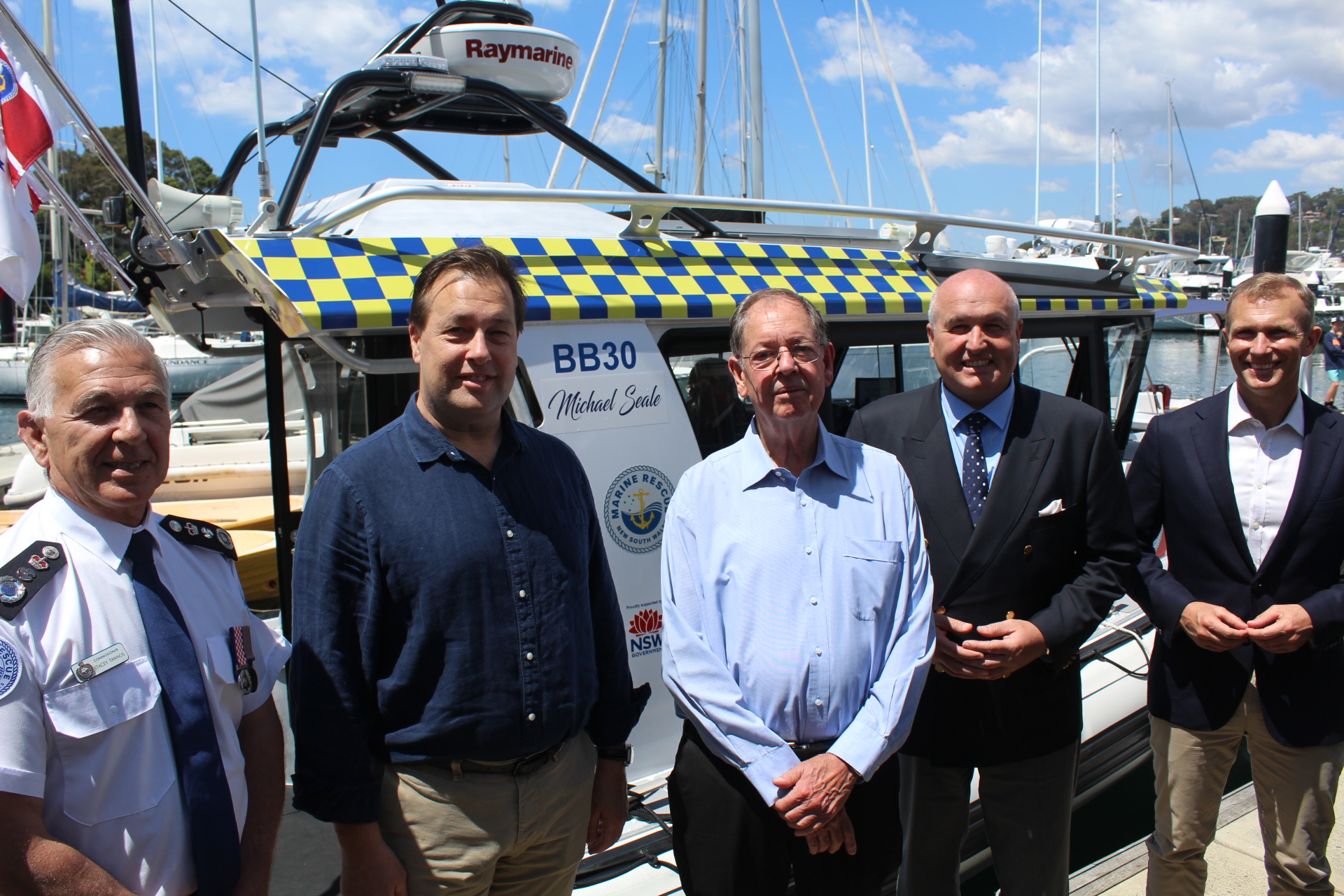 Marine Rescue NSW Commissioner Stacey Tannos, MP for Mackellar Jason Falinski, Michael Seale, NSW Minister for Police and Emergency Services David Elliott, MP for Pittwater Rob Stokes with the Michael Seale - photo by A J Guesdon.
The waterways of the northern beaches will be safer after the official commissioning of a new $613,000 rescue vessel for Marine Rescue NSW, ahead of the busy summer season.
NSW Minister for Police and Emergency Services David Elliott joined Member for Pittwater Rob Stokes and Marine Rescue NSW Commissioner Stacey Tannos to officially welcome the new vessel, Broken Bay 30, to the MRNSW fleet, on Saturday November 14th at the Compass Terrace of the Royal Motor Yacht Club Broken Bay. Unit Commander Jimmy Arteaga announced the vessel would be named after long-time member Michael Seale, who had committed 30,880 days or 38 years' service to MRNSW and the RVCP.
He said the naming was richly deserved, recognising Mr Seale's record of service and input in many roles, including as a vessel Master, a Director and Chair of the RVCP, his involvement in the purchase of the unit's vessels, a Director on the initial Board and Fleet Committee of MRNSW, Deputy Unit Commander and Administration Officer.
Pittwater MP Rob Stokes added further celebration to the Naming Ceremony when he announced 100 thousand dollars would be provided to upgrade the club rooms and base for the Marine Rescue Broken Bay unit through the state government's Community Building Partnerships.

Newport resident and Garigal man Neil Evers gave the Welcome to Country, specifically speaking of the place where all were meeting on the shores of Pittwater, provided insights into the theme for NAIDOC Week 2020 - Always Was, Always Will Be - of the oldest continuous culture in the world, from his perspective. His Welcome was rich with his own family history, connection to this Country, and stands as its own page this Issue.
Mr. Stokes spoke after Neil. Rob served as a 19 year old in the Royal Volunteer Coastal Patrol, and recalls a small room in the Royal Motor Yacht Club at Newport where training sessions were held and so continued Neil's theme by sharing some of the history that had been shared with him from then. He thanked Marine Rescue Broken Bay Unit Commander Jimmy Arteaga for his greeting of all present and Neil for his very thoughtful and appropriate Welcome to Country, continuing;
''Neil told us a lot about the Aboriginal history of this rich environment which we are the inheritors of. It brought to mind one of the earliest drawings of this place, made from either Taylor's Point or near the current Bayview Baths, 'View in Broken Bay New South Wales. March 1788', made by naval officer and diarist, William Bradley for his journal `A Voyage to New South Wales'. One of the features of that etching was some Aboriginal women in a dug out canoes, which bears testimony that this has always been a maritime port. The Pittwater of today is the largest recreational port in the nation. So ensuring that Marine Rescue has the capability to keep people safe on the water is obviously very very important.'' Rob said
''With that in mind I want to acknowledge all of the volunteers who are with us today and all of the Directors and everyone who serves in Marine Rescue NSW and makes it the successful unified organisation it is today.
Reflecting a little bit on the history of the Broken Bay unit – this unit has a history dating back more than 80 years, commencing in the 1930's. The antecedent of Marine Rescue Broken Bay was the Volunteer Coastal Patrol. I remember from many many years ago the flagship of the unit, or the division as it was called then, was The Krait, which was the vessel on which Z Force raided Singapore Harbour during the Second World War.
The Krait was later, from 1964, a rescue vessel with the then Volunteer Coastal Patrol and so BB30, Broken Bay 30, certainly follows in some very proud footsteps. It speaks further to the rich maritime history of this area when you find out that Z Force trained for that mission in the bays in and around Pittwater and Broken Bay. Rohan Walter, who is here today, reminds me that it was his work along with the West Head Awareness team that cleared away the bush at West Head to reveal the WWII Fortifications that stood at the entry of the Pittwater during the Second World War to prevent any risk of Japanese invasion. In fact, if you go up the Hawkesbury River, you will see embedded in the mud flats, the remnants of the HMAS Parramatta that saw service in the First World War. So there is all sorts of history around here of our proud maritime traditions and this is in many ways a historic day as it recognises where the Marine Rescue has come from and where it is going. It is also very good to be here today and see Mike Seale here with his family as it was Mike who put me through, many years ago, my Coxswain's, which speaks to the legacy of Marine Rescue in the legacy it provides but also the education that it provides to local seamen and seawomen.
I wanted to make one further announcement today in stating that the unit has been successful in securing a 100 thousand dollar grant towards the new base at Rowland Reserve which I know is something that has been long worked for – that will go some way towards ensuring that you haver the capability to provide the volunteer service that we all depend on.
My final point is to thank the Minister for Police and Emergency Services David Elliott for his being here today – he won't tell you but I will, that after a very busy week in parliament with sittings that went into the early a.m., David has come all the way this morning from the North Coast because that is the respect with which he regards all of you and I'd like to thank him on all of our behalf's.''
Member for Pittwater Rob Stokes said the 10 metre Naiad vessel is fully-equipped with a suite of search and rescue, communications and navigation technology and advanced first aid equipment, including a cardiac defibrillator and oxygen.
"The incredible Broken Bay volunteers are now better equipped than ever to respond to emergencies and save lives on Pittwater, Broken Bay, the Hawkesbury River, Brisbane Waters and up to 30 nautical miles offshore," Mr Stokes said.
"Being on our waterways is a great way to spend the Summer months and it's pleasing to know that our communities will be protected by this impressive new vessel and the volunteers of Marine Rescue NSW."
Mr Elliott said the vessel will be an asset ahead of what is expected to be a very busy Summer on the waterways.
"The NSW Government is committed to ensuring our volunteers have the safe, fit-for-purpose equipment they need for their life-saving work," Mr Elliott said. "This modern new vessel is a significant investment in boating safety on Sydney's northern waterways, which are a magnet for local and visiting boaters."
"The NSW Government is a proud supporter of Marine Rescue volunteers, which is why we have invested an additional $37.6 million to deliver 38 new rescue vessels, improve volunteer operating facilities and enhance the marine radio network."
''It has been a busy couple of days and a busy couple of days for Marine Rescue NSW as well – yesterday I attended the opening of the new 1.7 million dollar headquarters for Marine Rescue Lake Macquarie.
Rob and Neil are quite right in what they have said – the traditions of the maritime heritage predate the European history and the use of the bay and the sea and river system is entwined with the indigenous history as well.
I have a genuine respect for the work that Commissioner Tannos does and I thank both Rob Stokes and Jason Falinski for being such advocates for the Marine Rescue units in their electorates.'' Mr Elliott said.
''We have a record budget through our the Emergency Services into Marine Rescue, it's the largest investment into emergency services ever made. This has been a unique opportunity for Marine Rescue NSW to move into a new generation with its facilities, with its training, with it capabilities, as instanced today with BB30, but it also gives us, the public servants in uniform, an opportunity to say to you, the volunteers of Marine Rescue, and in fact the volunteers throughout the entire volunteer emergency services, that the government doesn't just consider you, because you're volunteers, as not being professional – the reality is, whether you're salaried or volunteers, our emergency services are all professionals.
The least we can do is ensure that this record investment goes into the capabilities, the structure and the technology that will see you, as volunteer professionals, be given professional kit. I'm delighted, as I join the Commissioner from one end of the state to the other, seeing that new kit get rolled out.
I think, after the 18 months that we've seen, with bushfire, with Covid, with storms and floods, we are seeing the modern emergency services volunteer acquire the sort of legendary status that we traditionally reserved for the ANZACs, and for that I'm very very grateful – we certainly would not have been able to do and get done what we've gone through as a nation without the nearly 200 thousand people that volunteer with our combat agencies – whether it be the RFS, the SES, St. John Ambulance, Marine Rescue, or Surf Life Saving.
To the team in the local Marine Rescue Broken Bay unit; I'm handing you over the keys to this new vessel – don't break it! – I have a great deal of faith that you will put it to good use, that you will treat it as your own. I know through speaking to the Police Commissioner and Marine Rescue Commissioner Tannos that this will be an extremely busy Summer as Australians try to enjoy their backyards with staycations and that this will become the new norm as we evolve over the next 12 months out from the effects of Covid-19. This will put more pressure on our waterways and will put more pressure on you and I'm very grateful. I think Australians are reassured that you're out there. Thank you once again.''
Marine Rescue NSW Commissioner Stacey Tannos said Broken Bay 30 was one of 103 vessels, worth more than $25 million, delivered to volunteers over the past decade. He said the service was expecting this summer to be one of its busiest yet, with more boaters heading to the coastline for local holidays and pushing the boat out more often.
"We take great pride in building all our boats in NSW, supporting regional jobs and the regional industry," he said.

"Our volunteers are well trained and rescue-ready for a busy few months. They'll be on duty at our 45 units throughout the summer to rescue boaters who find themselves in trouble on the water," Commissioner Tannos said.
MR Broken Bay Unit Commander Jimmy Arteaga thanked the State Government and the local community for its support in helping to fund the vessel, which is named after long-standing unit member Michael Seale.
"The State Government last year gave residents the opportunity to vote for the projects they wanted to see funded in their local area through the My Community Projects grants program," he said.
"The fantastic community in the Pittwater electorate really got behind our volunteers and voted for our new rescue vessel. As a result, we received a $200,000 grant towards the cost of the boat.
"It's powerful and highly-manoeuvrable and means we can be on the scene of an emergency faster than ever, which is vital when minutes can be the difference between life and death on the water."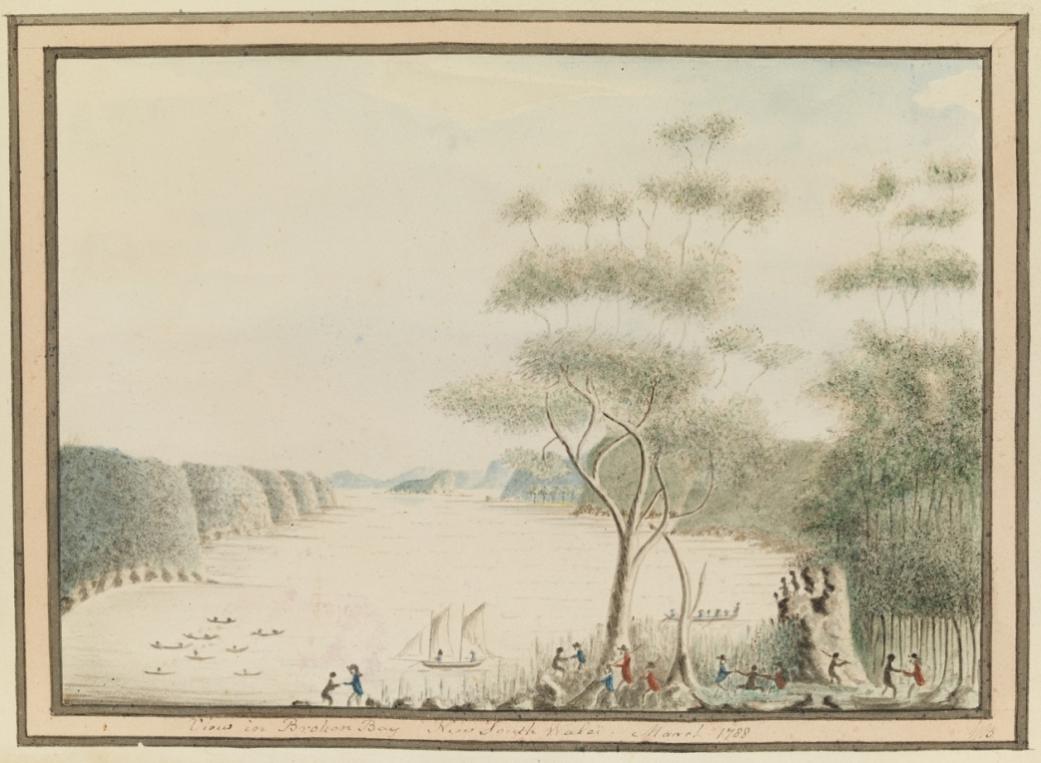 '
View in Broken Bay New South Wales. March 1788
'. Image No.: a3461013h.
Courtesy Mitchell Library, State Library of New South Wales.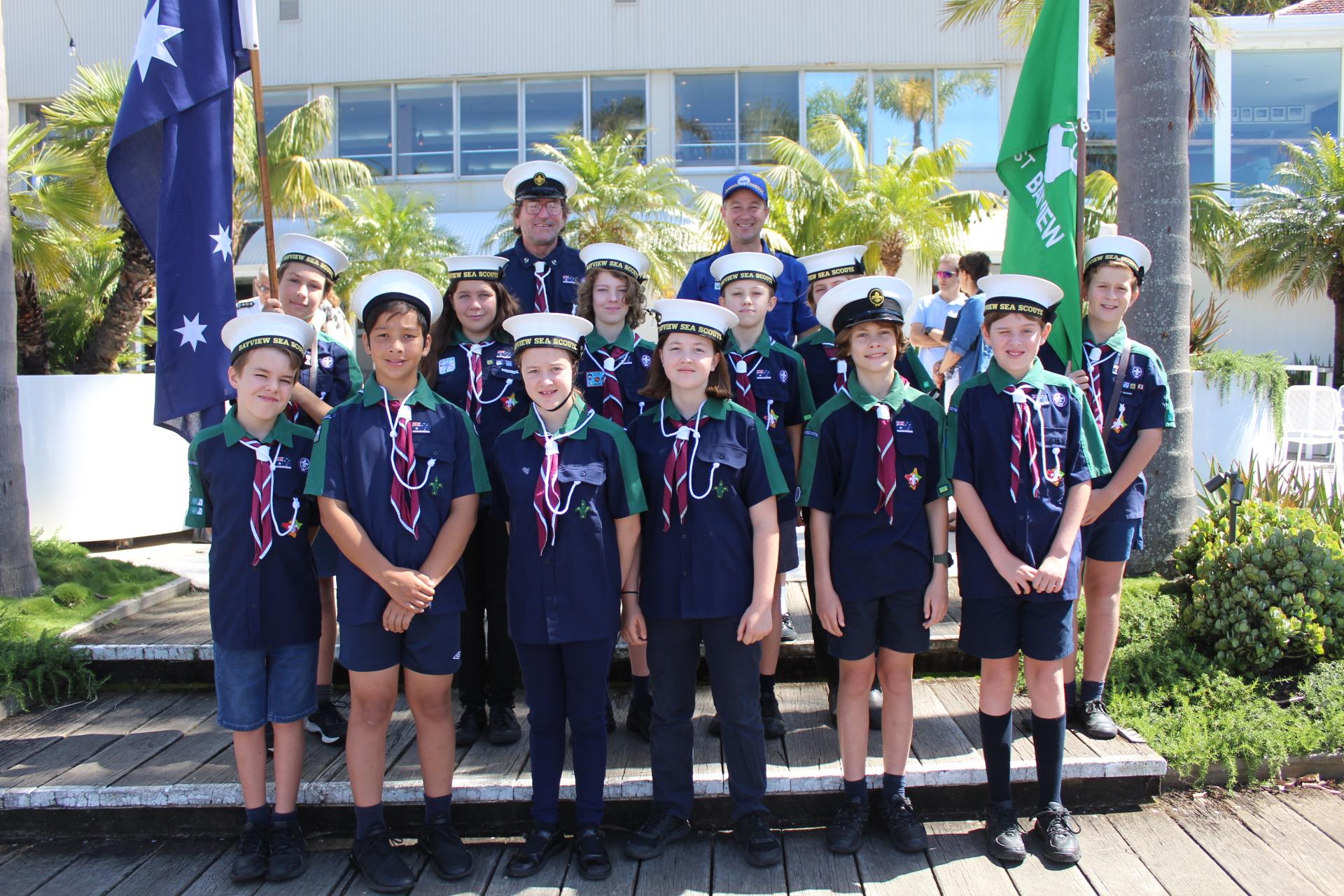 1st Bayview Sea Scouts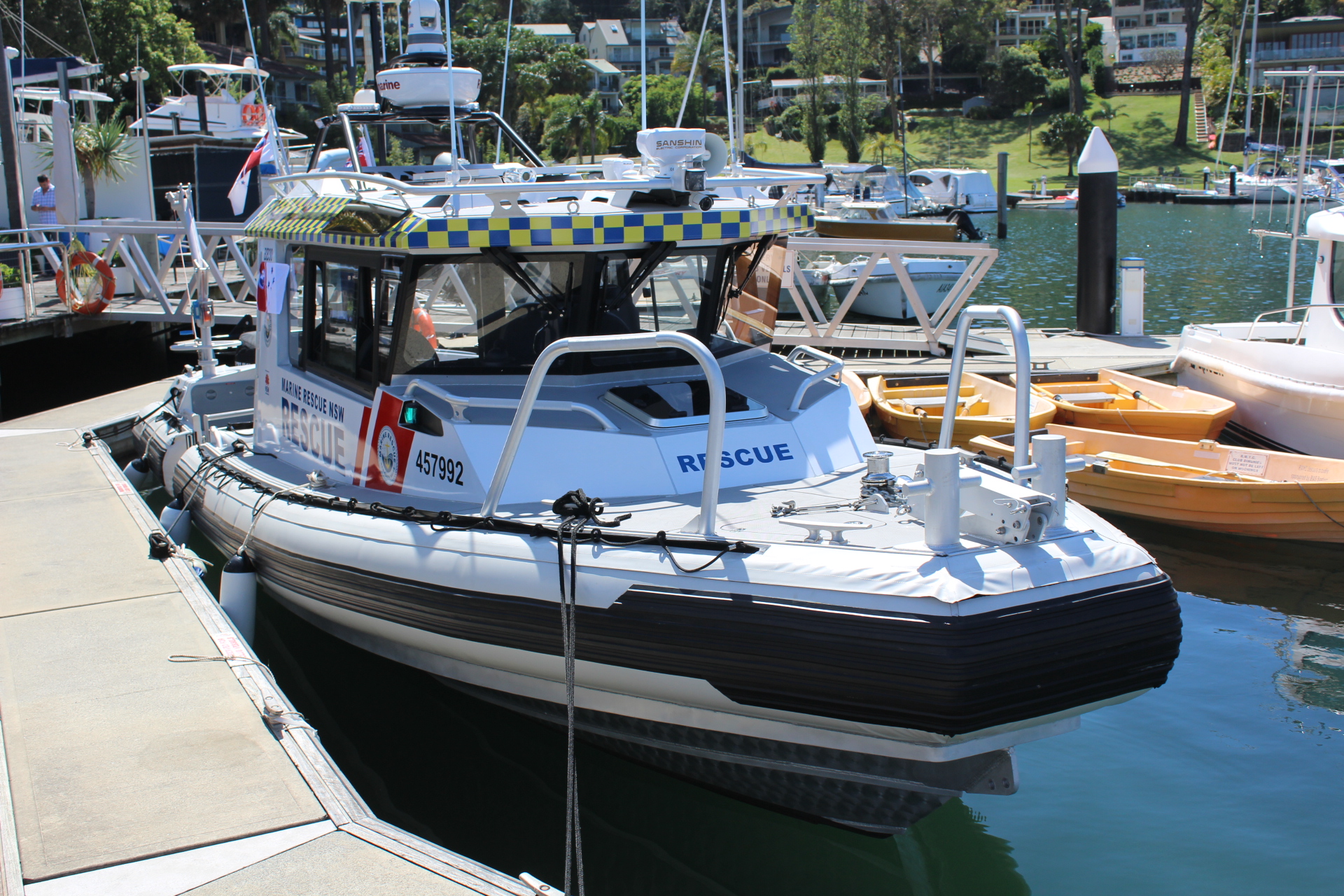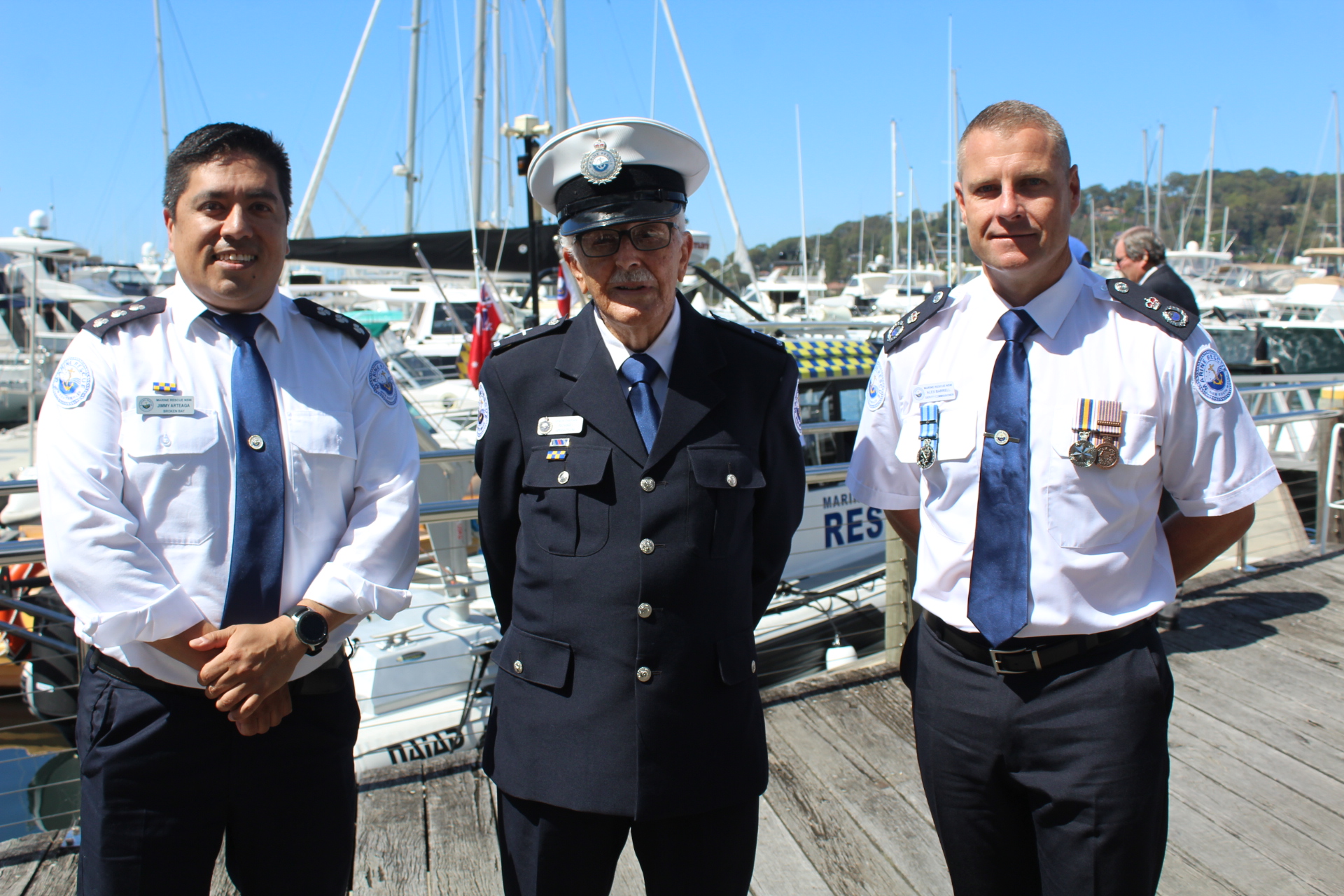 L to R: Marine Rescue Broken Bay Unit Commander Jimmy Arteaga, Marine Rescue NSW Senior Chaplain Richard Wrightson, Marine Rescue NSW Deputy Commissioner Alex Barrell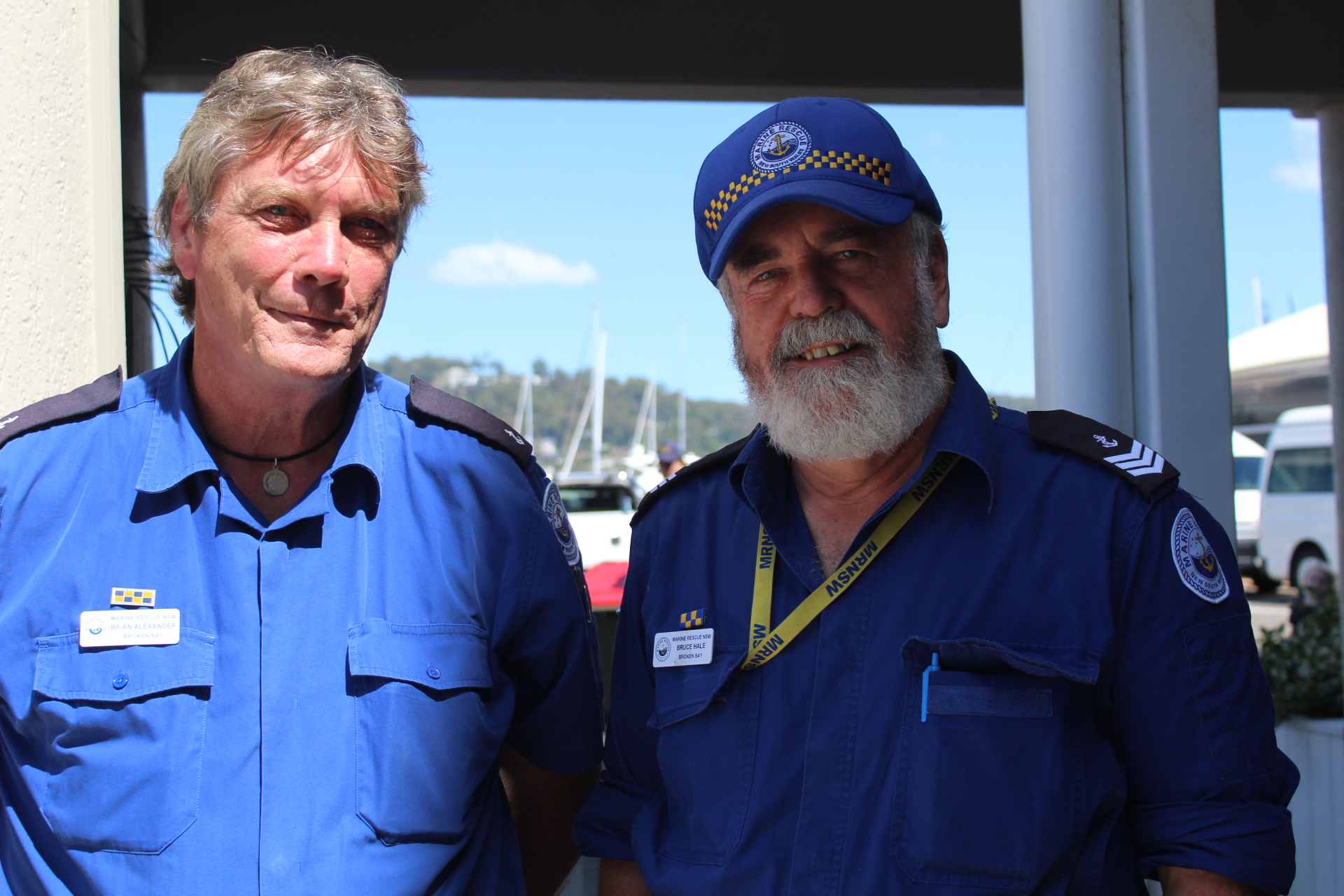 L to R: Marine Rescue Broken Bay Unit members Brian Alexander and Bruce Hale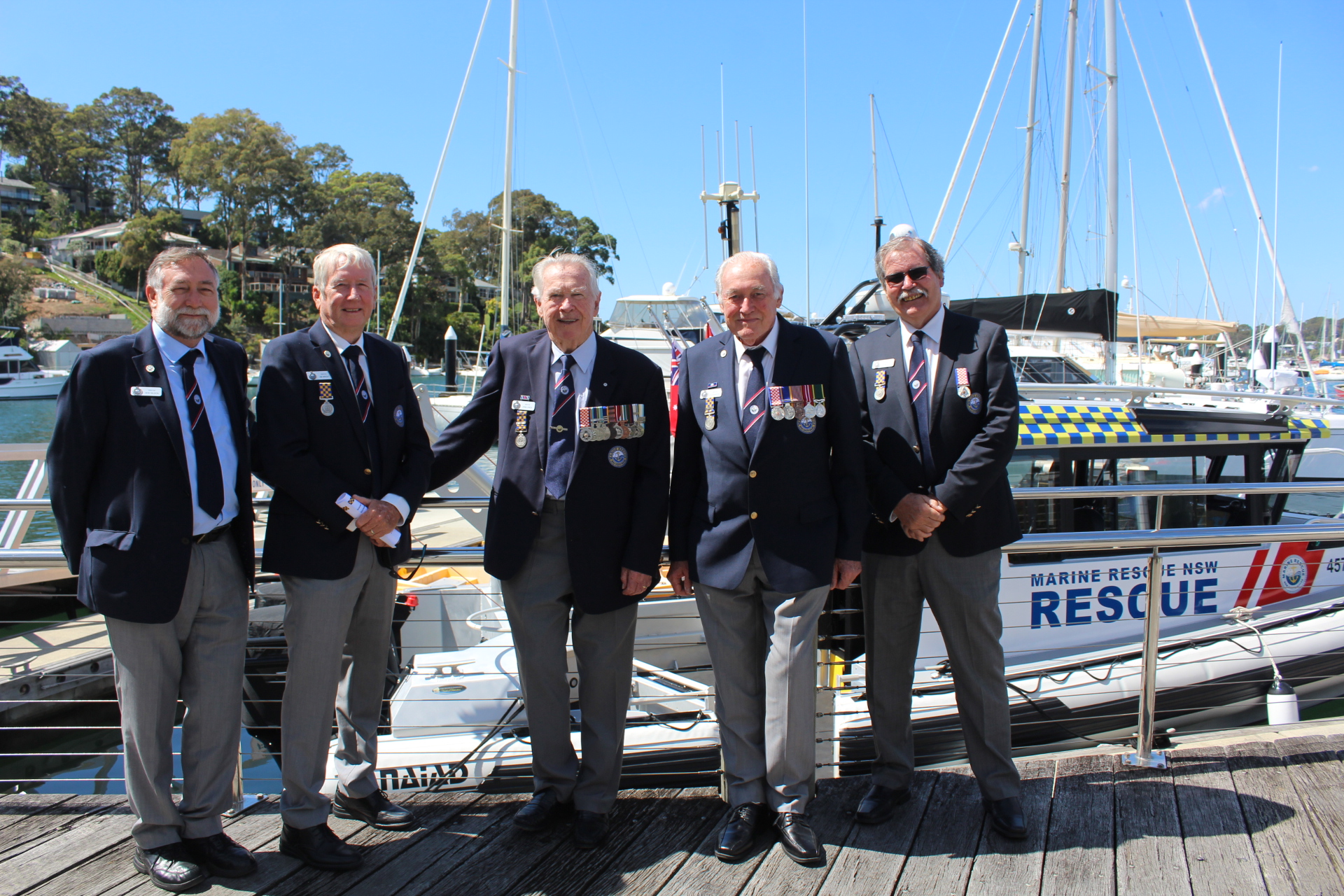 L to R: Marine Rescue NSW Directors - Bob Wilson, Jim Wright, John Lynch, Keven Marshall, Glenn Felkin
The Board of Marine Rescue NSW is democratically elected from the organisation's volunteer membership. The Board comprises three General Directors, elected by eligible members across the State, and six Regional Directors, elected by eligible members in their respective regions.
The 2019/2020 Board is: General Directors: James Glissan AM ESM QC (Chair), Patricia Fayers ESM and Robert Wilson. Regional Directors: Darcy Henriksen (Northern Rivers), John Lynch ESM (Mid North Coast), Jim Wright (Hunter/Central Coast), Kenneth Edwards (Greater Sydney), Keven Marshall ESM (Illawarra) and Glenn Felkin ESM (Monaro).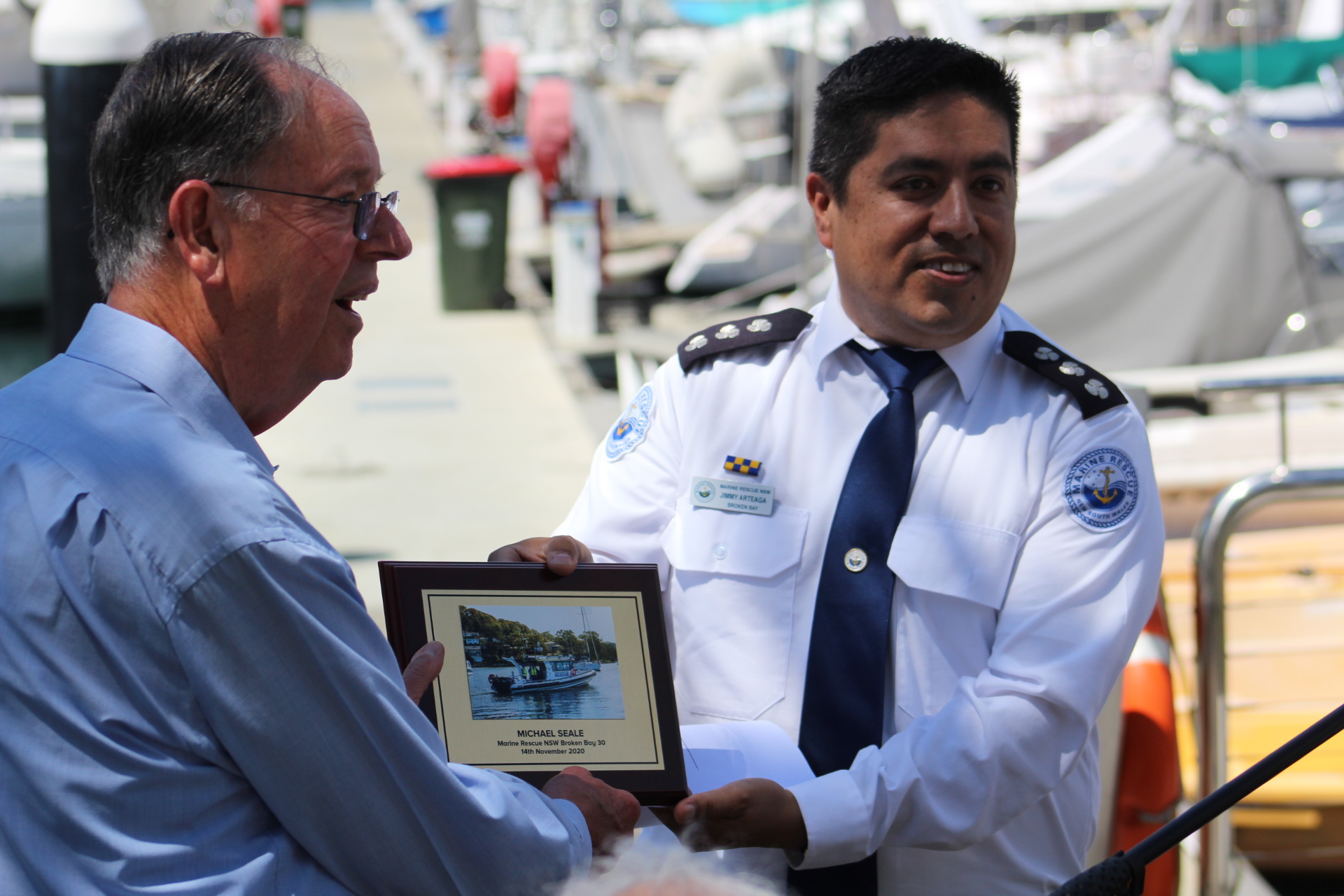 L to R: Marine Rescue Broken Bay Unit Commander Jimmy Arteaga and retired Marine Rescue Broken Bay member Michael Searle who served since 1980 with the RVCP and MRNSW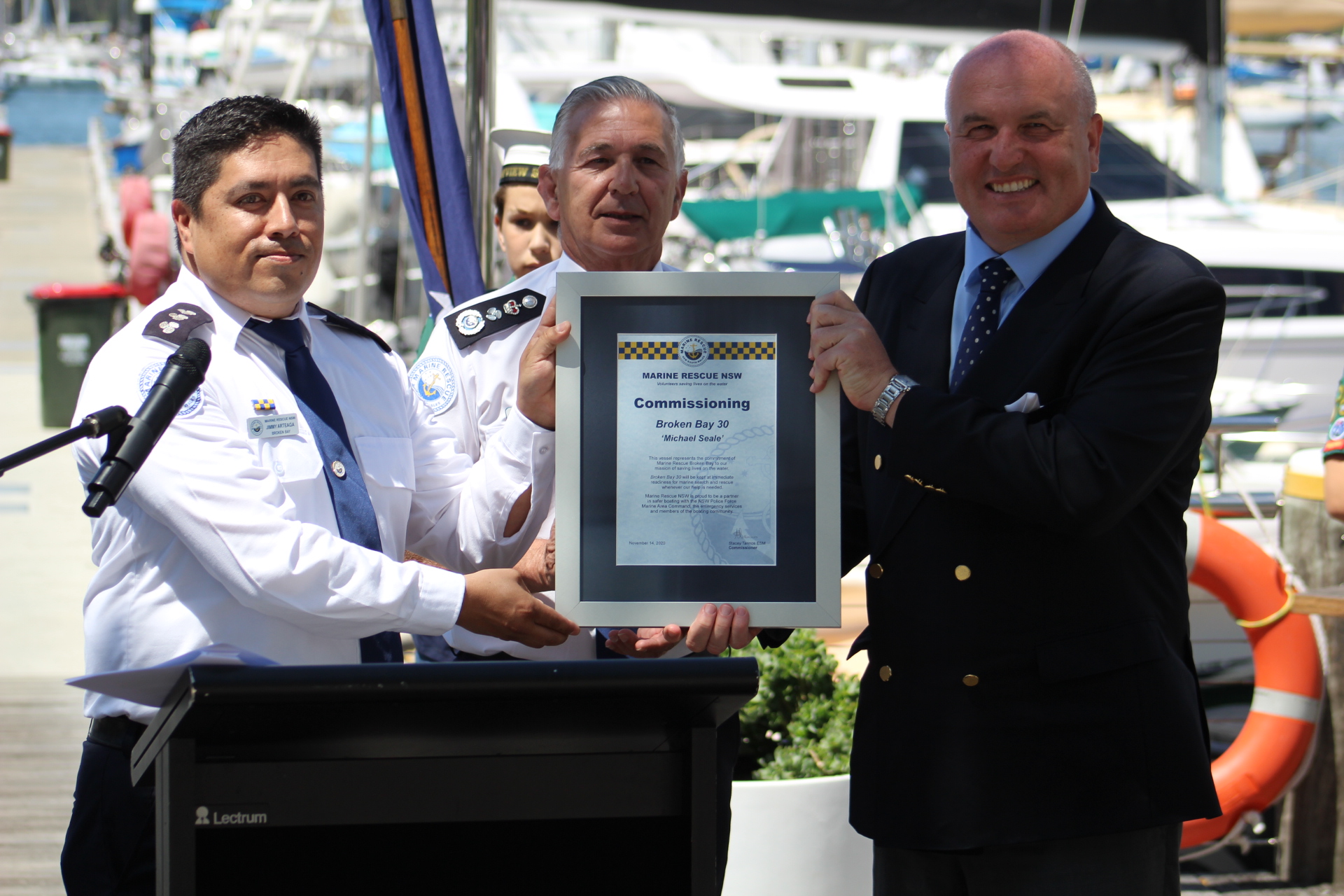 L to R: Marine Rescue Broken Bay Unit Commander Jimmy Arteaga, Marine Rescue NSW CEO Stacey Tannos ESM, NSW Minister for Police and Emergency Services The Honourable David Elliott MP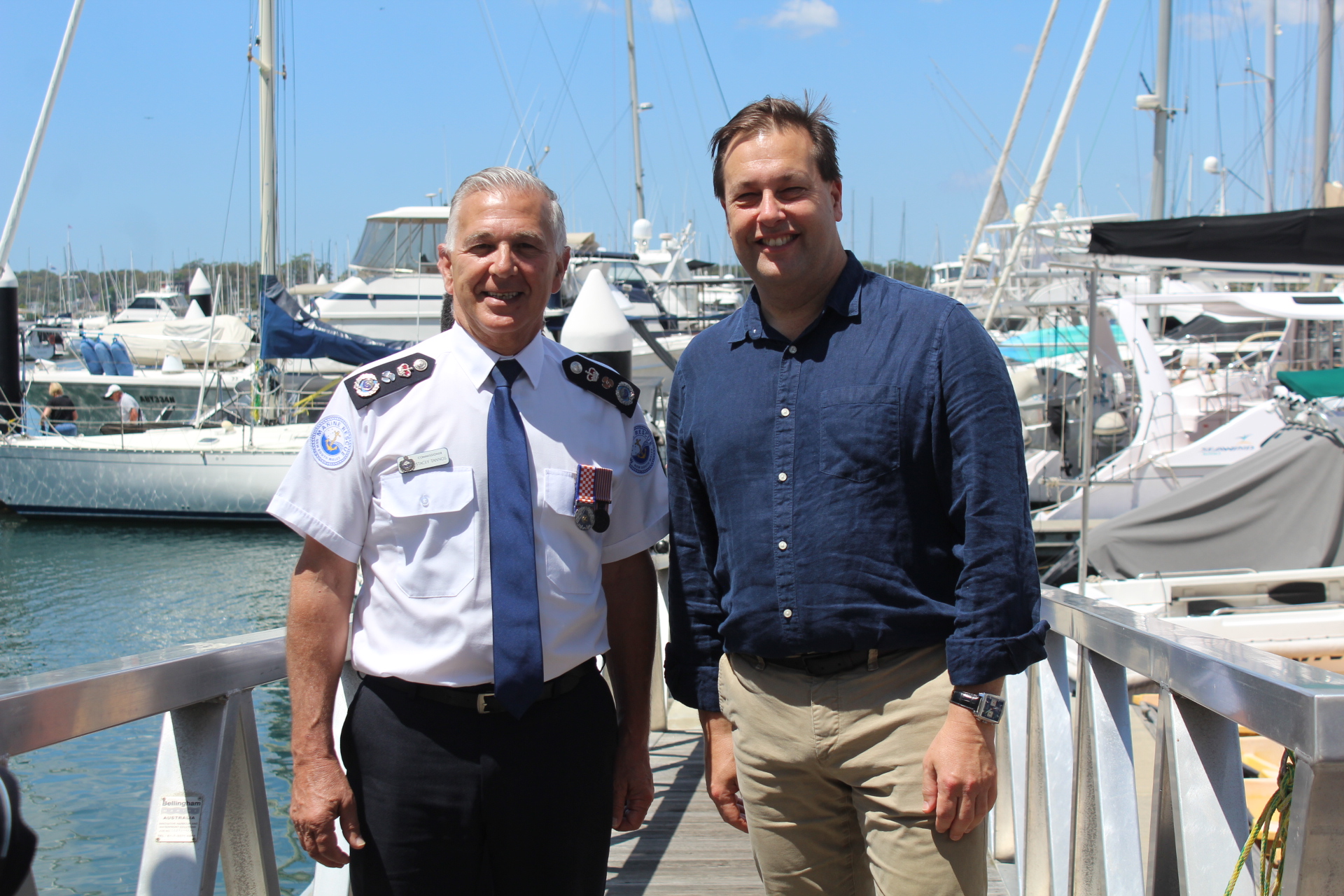 Marine Rescue NSW CEO Stacey Tannos ESM and MP for Mackellar Jason Falinski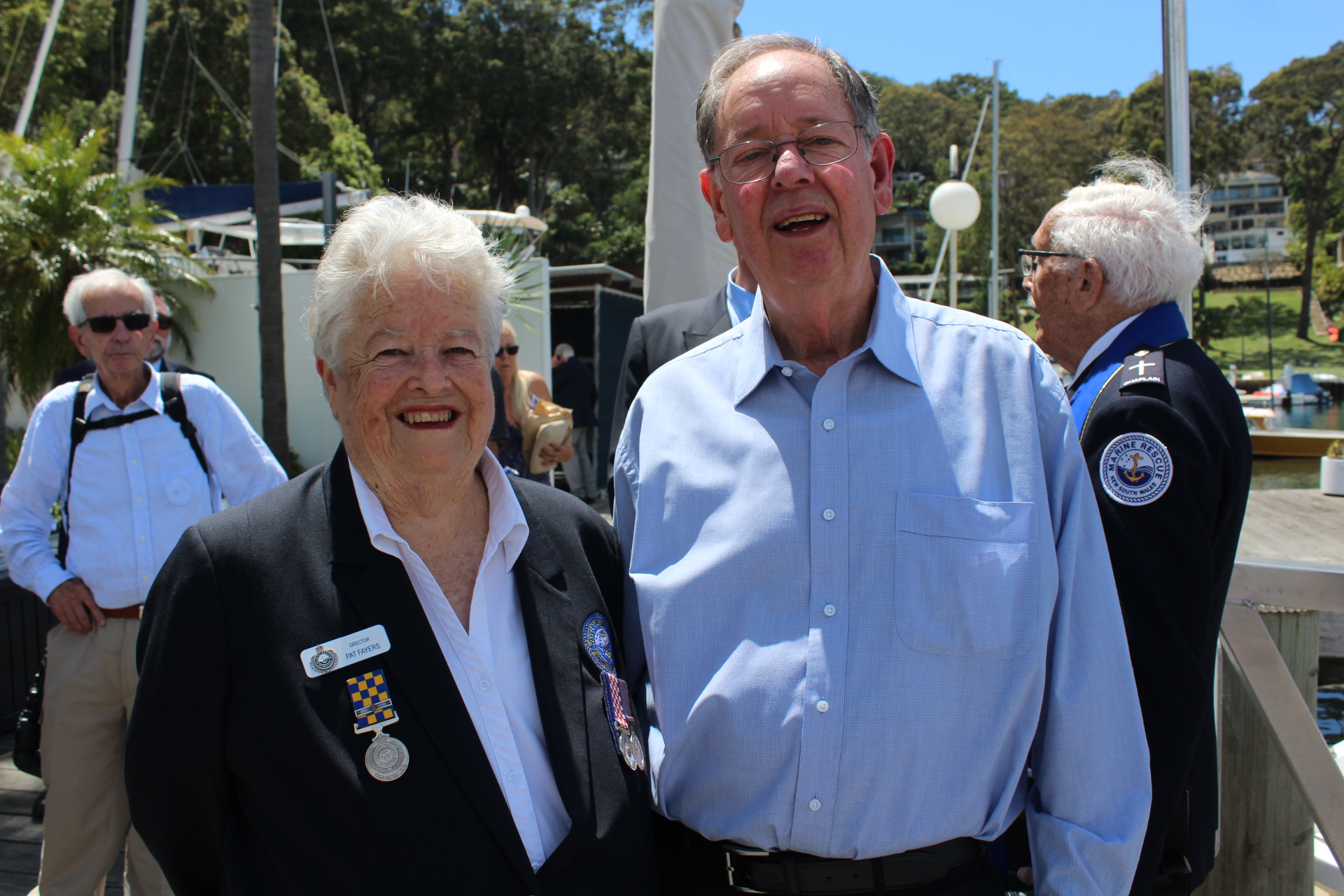 L to R: Marine Rescue NSW Director Patricia Fayers ESM and Mike Seale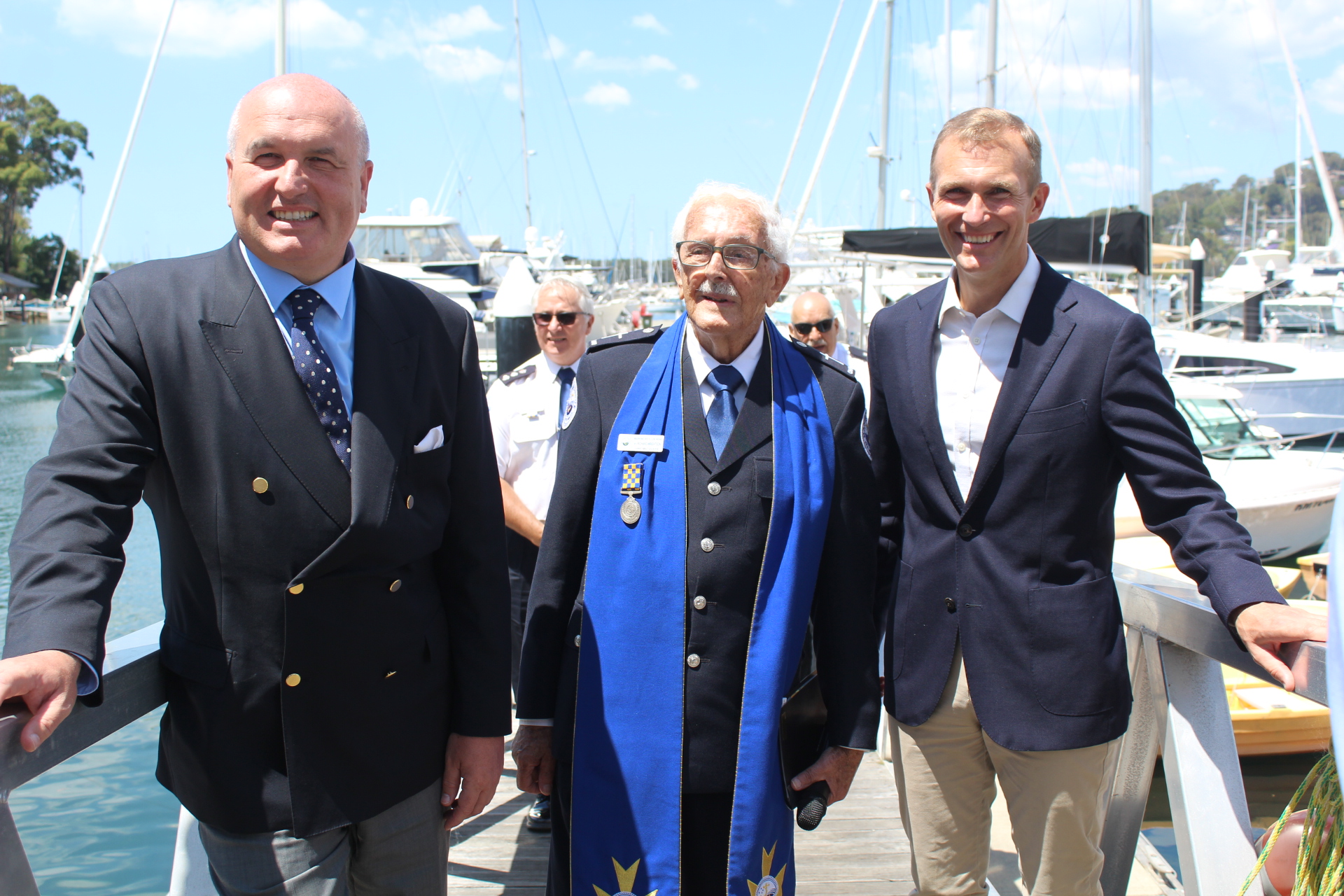 NSW Minister for Police and Emergency Services The Honourable David Elliott MP, Marine Rescue NSW Senior Chaplain Richard Wrightson, NSW Minister for Planning and Public Spaces and Pittwater MP Rob Stokes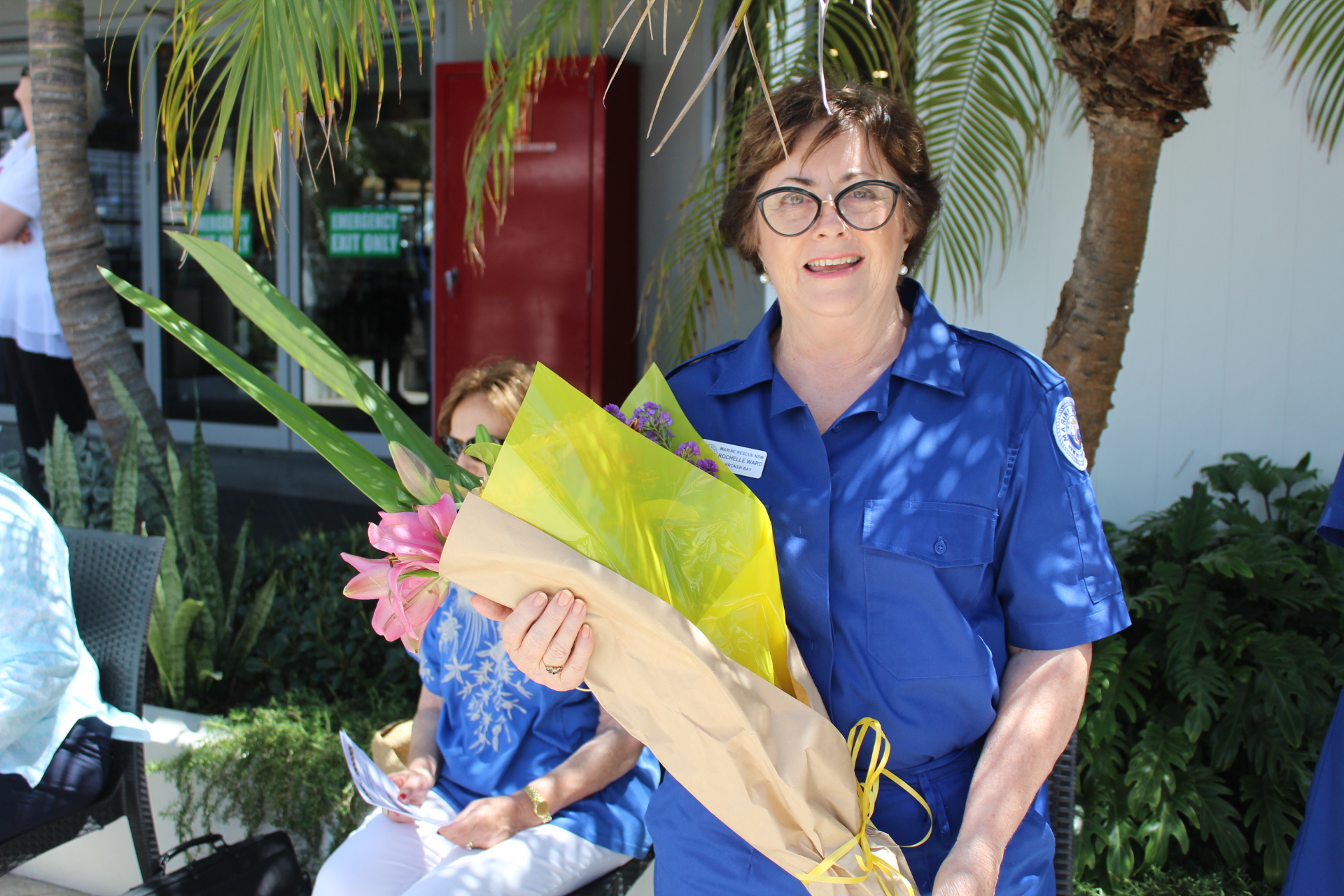 Marine Rescue Broken Bay member Rochelle Ward - organised the function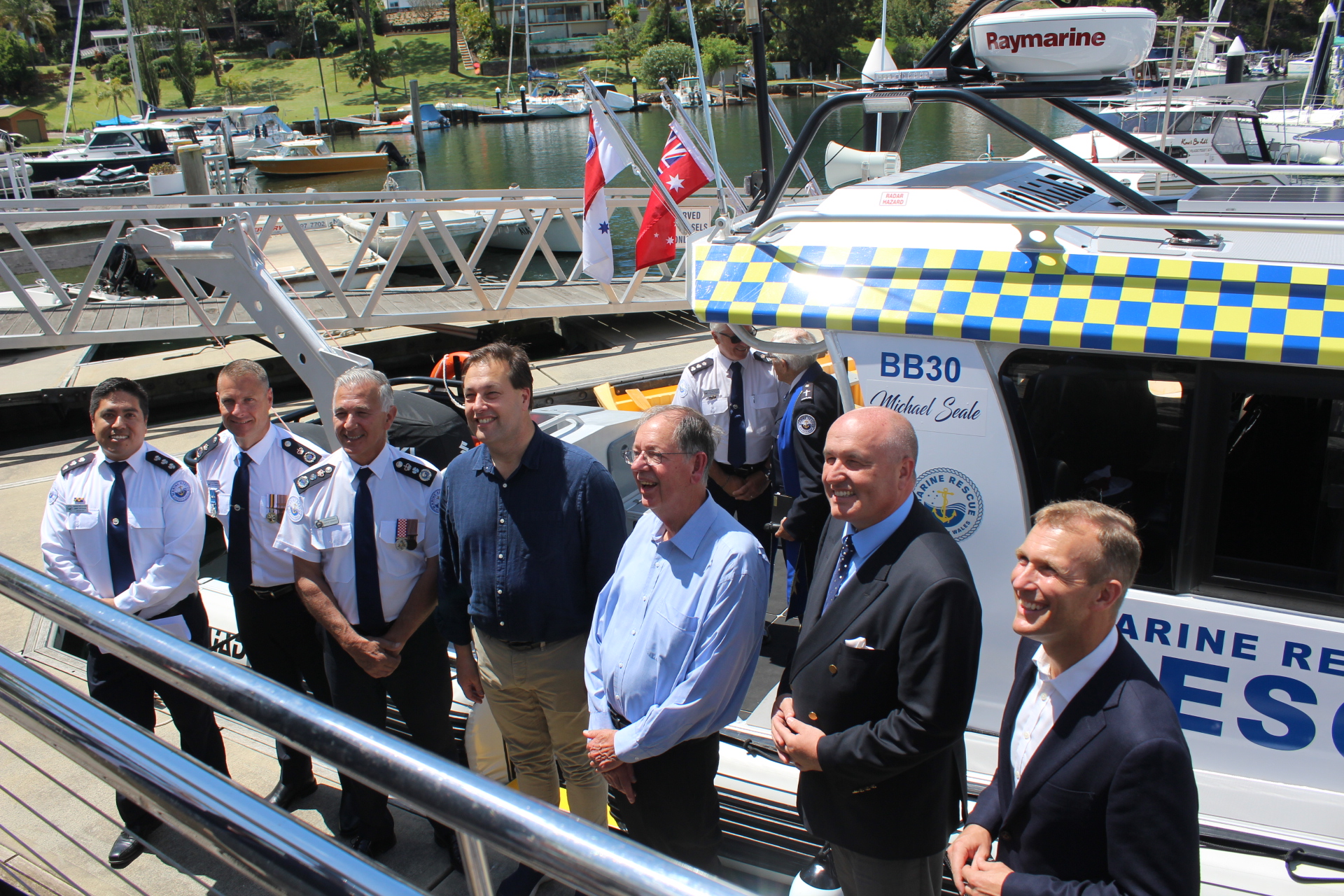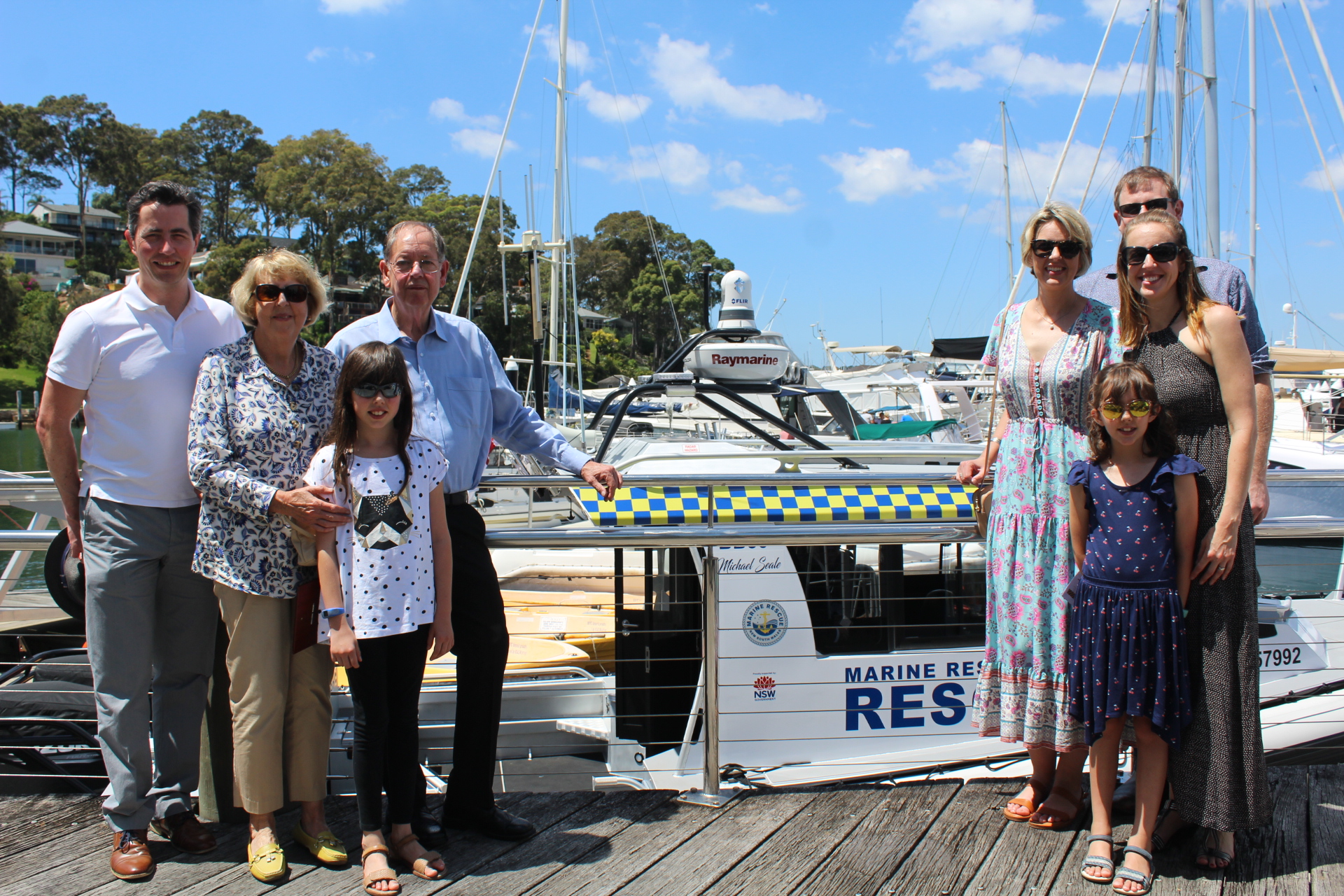 The Seale Family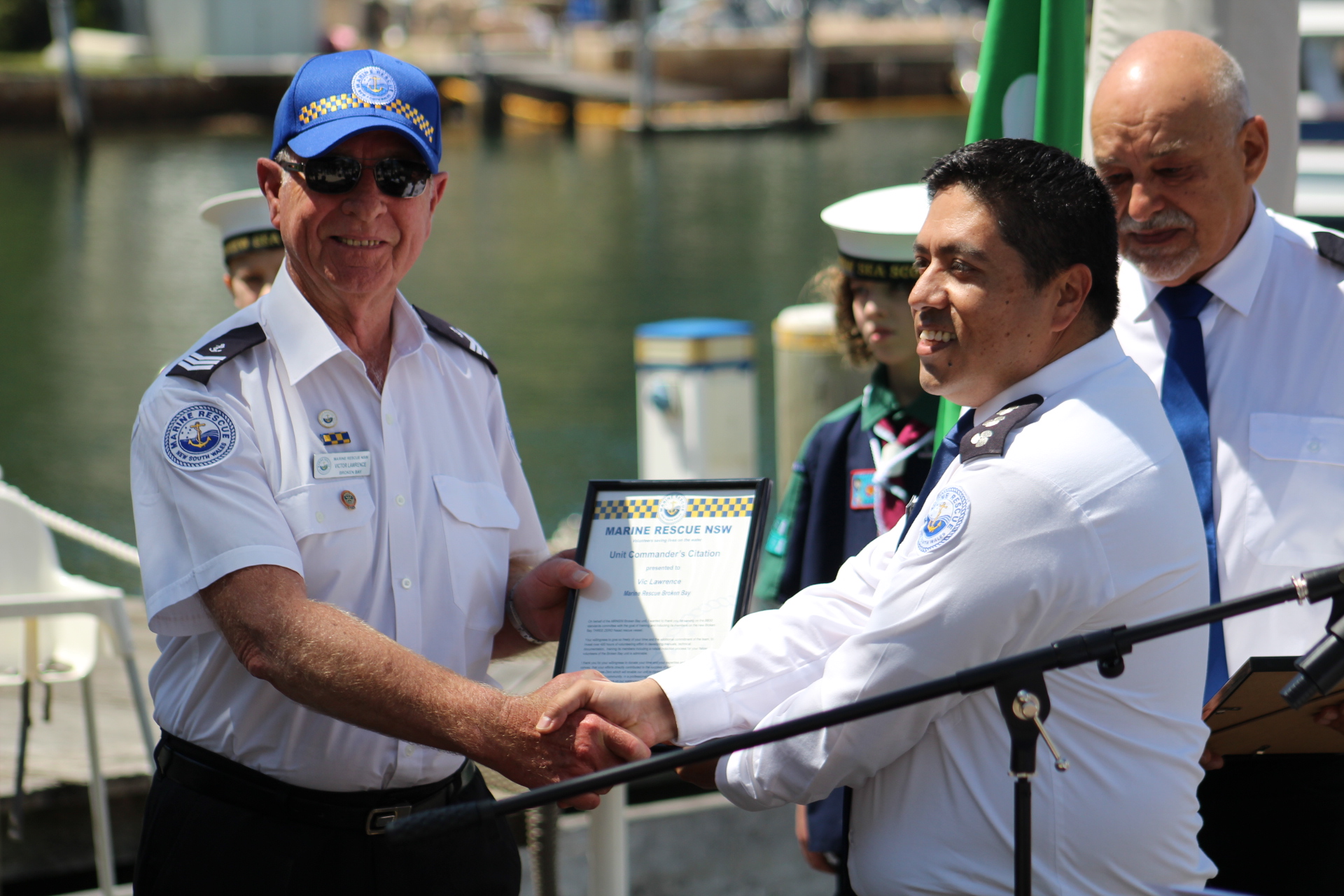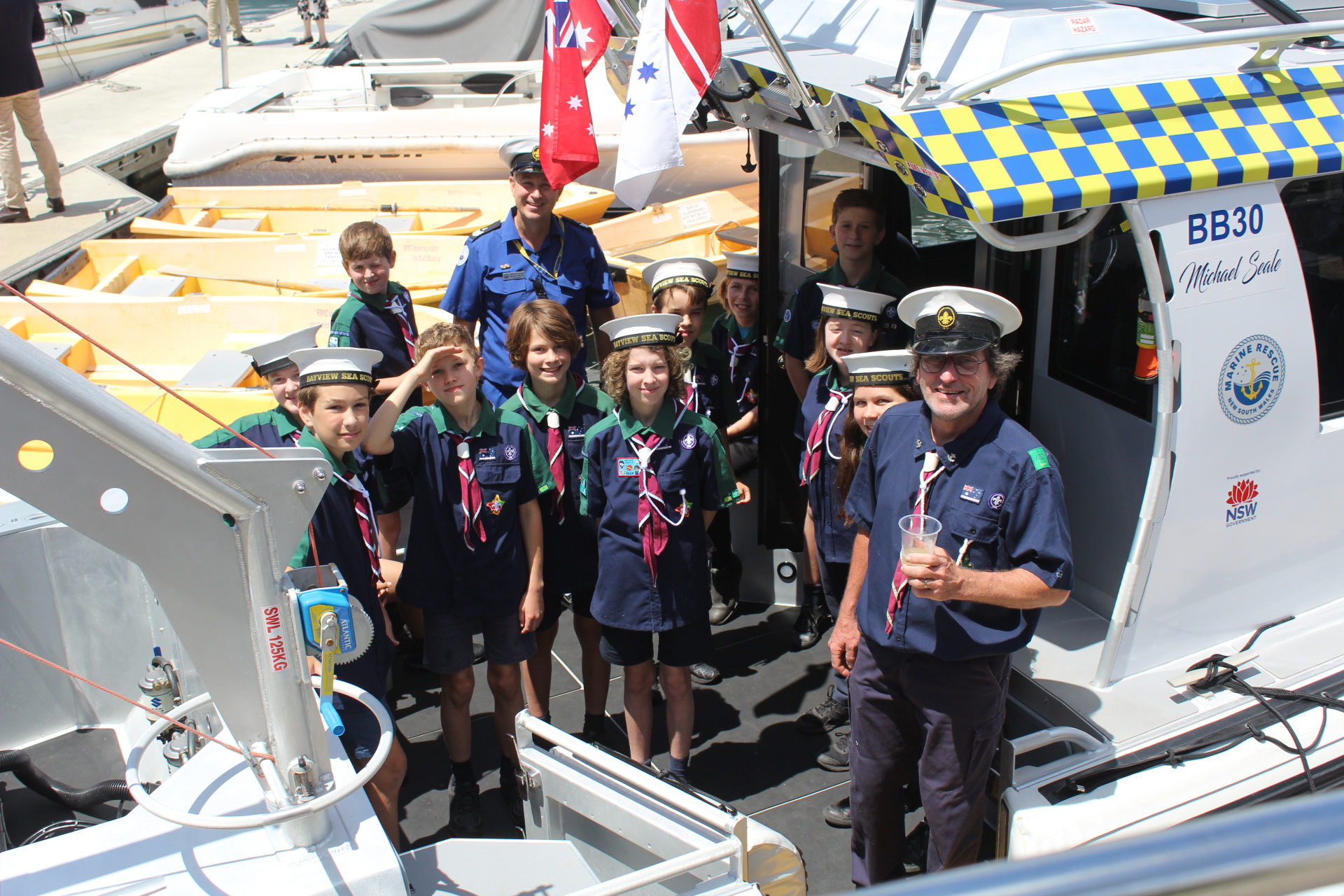 photos by A J Guesdon