May 24 - 30, 2020: Issue 451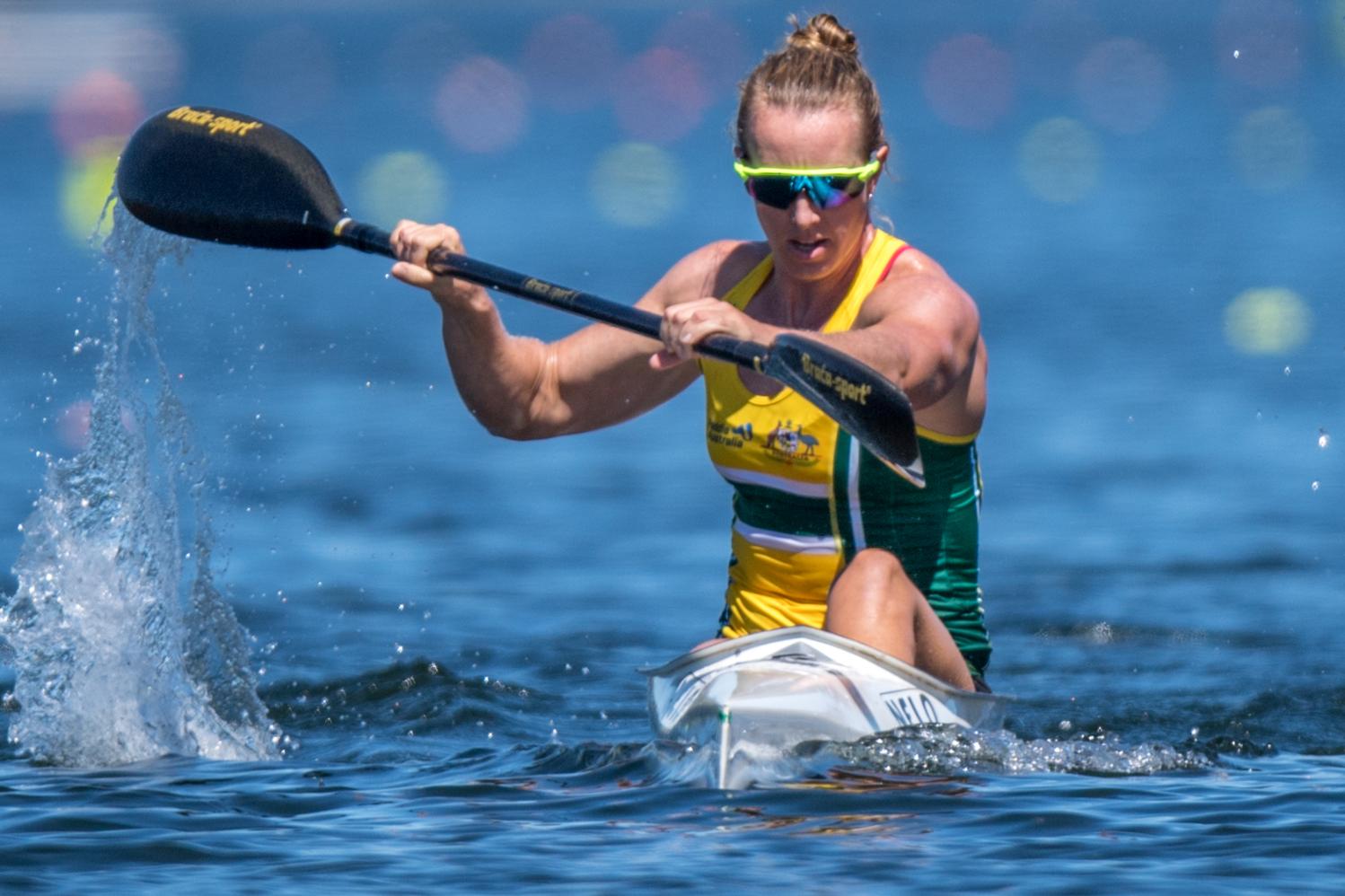 Jo Brigden-Jones has featured in numerous news reports and magazine articles lately as one of the many working as a paramedic during the COVID-19 pandemic, a career role hard earned and followed with true passion. However here Jo is known as an also passionate paddler and brilliant water woman, who follows through.
Her ability to exhale and then get up and try again when injury or setbacks in competitions come her way has extended into being a valued and sought after speaker who aims to continue inspiring others once she steps back from upper level representation in competitive sports. Among the younger members of the Sydney Northern Beaches Kayak Club Jo is already on hero status for her paddling as much as her down to earth personality, and possibly very well liked due to those brilliant cakes she creates….
Jo was recently named for the 2020 Olympics Australian Team, now moved to July 2021, which were to be the last prior to her retirement from competition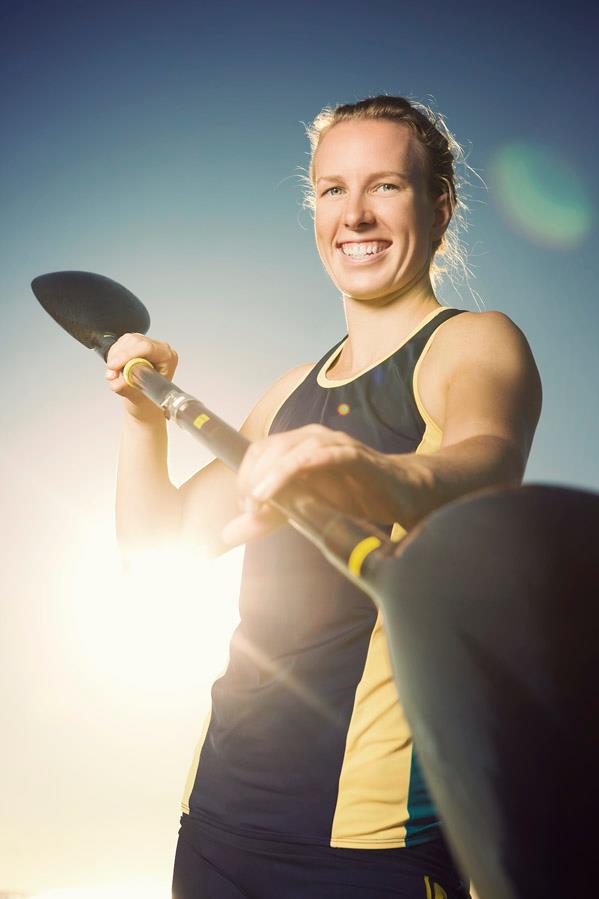 In 2011 Jo was working hard to qualify for the 2012 London Olympics. Pittwater Online ran a few insights into her hard work to secure that place in the team – and then her hard work paid off and finding the way to fund purchasing the equipment need became the next obstacle.
2012 will soon become 2021 and Jo has won her place in Australian representation again. It's time for a catch-up with one of our areas elite athletes and all else Jo has been doing since 2011.
Jo, you are cited as an 'inspiration' to younger fellow members of the Sydney Northern Beaches Kayak Club you train beside - why is it important to foster community club's membership?
I think it's very important to do this. Working as an elite athlete as a paddler is a small niche, there's not that many people paddling in world level competitions. The majority of people are involved in sports at a community or grass level and this, to me, correlates with being healthy and active, and how important that is to have a good life – if you look after your body you're going to be able to enjoy more of life. So learning how to be sporty and healthy and active at a young age and getting kids involved early through club memberships is actually equipping them with tools, or encouraging and helping them to develop tools for themselves to enjoy a happy, healthy and active life for the whole of their lives.
In recent years you have also been asked to commit to speaking engagements as well, and there once again your role in mentoring or inspiring others is being extended. Being one of those speaking at the Her Sport Her Way Gala dinner in March this year – how did you get involved in that?
I was asked to go along by the NSW Institute of Sport and Recreation. I am one of the Athlete Advisory Group members, along with Noemie Fox. They had a table there and had asked different people in different sports to come along and share insights into how well women in sports have been going during the past few years. The initiative aims to recognise outstanding achievements and develop further opportunities for women and girls to participate in sport.Her Sport Her Way features 29 initiatives that aim to increase participation, fund female-friendly facilities, maximise investment and increase the number of women in leadership.
By bringing everyone together the aim is for women to be supporting other women in sports and having more women participate in more mainstream sports, which is having that flow on effect of having lots more kids getting involved in community sports, especially girls, so they understand they can do any sport they are interested in and can actually do anything they set their minds to.
I was one of a panel of women in sports, along with Lisa Darmanin, and Head of Performance Health Kate Mahony, Senior Dietitian Sally Walker, High Performance Manager Kristen Barnes, Finance Assistant Jenny Bourke and HR Coordinator Najat Khoury all celebrated women in sport on the night.
You were also supporting the dinner at Manly to help Lifeline to Celebrate 50 Years of Service on the Northern Beaches in October 2019, so you're doing work alongside these official roles?
Yes, I think it's vital to support what happens in your local community where you can and to reach out and raise awareness. For the past year I've been a NSW Institute of Sport and Lifeline Community Custodian so we can raise awareness about all the work that Lifeline does and awareness about suicide and mental health in our community. This is such a big issue for us locally and people may not be aware that there are so many ways they can get help and so many support services available to them. It's about reducing the stigma and encouraging vulnerable people to seek help. I am one of 21 athletes doing this. Many of the Lifeline Community Custodians have a lived experience with suicide and mental illness and they are all passionate about giving back to the community and helping Lifeline reduce the increasing rates of suicide in Australia.
I think a lot of people don't know who to talk to or where to turn to if they need help. It's about starting a conversation, even just asking if someone's ok, and really finding out if they need help or need to talk to somebody about something that's bothering them, or talk and identify that they need help working through a particular issue.
You have put together a home training gym for yourself at present, and have put some Olympics memorabilia in there as well as a few items from all those representations as part of the Australian kayak team for the past 16 years at World Championships and world Cup events. Which is your favourite course of those you've competed on overseas?
I love racing at Szeged, Hungary, where the world Championships were held last year. This is one of my favourites because kayaking and paddling is one of the national sports in Hungary, it's very popular and they get really big crowds for events. So it's pretty cool sitting on the start line and hearing the crowd cheer and feeling the energy. It's always pretty special to race there and I always have my best results on that course.
You're also up at dawn paddling on Narrabeen Lagoon as well too though?
Yes, Narrabeen is a pretty special place and one of my favourite places to paddle in the world, still.
The course in Tokyo where you will be racing August 2nd to 7th 2021 – have you been there yet or know much about it?
No, I haven't been to Tokyo but I do know a few paddlers who were based there in 2019. They've said it's a good course but it can get quite windy – there's an actual wind turbine up and down the course and it can get quite bumpy, so that may be challenging next year. But it's also good that we know that so we can practice in all conditions as part of our preparations for 2021 and so that, come race day, we'll be prepared for anything.
Will you be heading over early to do some work in the conditions?
Yes, I think we're heading over a few weeks prior to our starts so we can acclimatise – it will be quite hot and humid in Tokyo at that time of year, northern hemisphere Summer to our Winter. Our heats are all around 10 minutes so its just adapting so we can be at our peak during that time frame.
You're not just a fantastic athlete and one of Australia's dual Olympians – you're also a Nurse, Paramedic and a brilliant cake maker?
Yes, I have a bit of a sweet tooth. It's fun for me to bake and a good way for me to switch off if I've had a stressful day at work or during training. I get in the kitchen and make some nice things I can share with my friends so everyone can enjoy these.
Your other big dream for years was getting qualified as a Paramedic. Has that been challenging given all the COVID-19 restrictions everyone has adapted to in recent months?
Yes. There have been some changes and some adaptions we've made. Given how infectious the coronavirus is we're super cautious at every job we attend, ensuring we check with the patient or people on the scene whether they've had any symptoms and following protocols so that we're protecting ourselves and the patient.
The 2020 Tokyo Olympics have been postponed until July 2021, how will you maintain your momentum now that an extra year has been added on?
Obviously there are some challenges in maintaining that regime and some restrictions we've had to work around that have interfered with our training routines – we can't train with our squad, we couldn't have face to face coaching with our coaches. So we've taken the foot off the pedal a little bit as you do need that physical and mental break and breather as you know it will get really intense in the lead up to.
We'll start the build up again soon with some more structured training.
At the other end of that – you are thinking of retiring after this next Olympics – is that still in your plans?
Well yes, except now it's at the end of August 2021 instead of August 2020.
You will still keep your oar in, or your paddle in?
Oh yes, of course. I really enjoy paddling so that's why I do it.
We also have some young girls that I train with who are going to be great international paddlers over the next few years, so it would be nice If I could play a role in helping them progress in their sport and be of some help to them.
Many of these would already see you as a mentor so it would be great to see you sharing all those skills and experience you have developed. When did you start paddling?
2001. So it will be two decades of work by the time I retire from Australian representation, so it would be great to share some of what I've learned.
What are your favourite places in Pittwater and why?
One of my favourite places is Warriewood headland – I just love the view up there, it's nice and open and I'll often do runs up there to finish off with that nice aspect where I'm looking out over the water and have that off the ocean fresh air.
You have stated elsewhere that your athletes philosophy is 'stay calm, think clearly, stick to the basics and trust your body to get the job done, however challenging that may be.' Do you have another motto or phrase you try to live by apart from that you have applied to your sporting career?
I think I try to move along the lines of trying to do something that will improve you as a person everyday, something that will make you a better person, for yourself, and for others. That's my starting point whether I'm training or at work.
More about Jo
Jo began paddling with SNBKC as a young 14 year old and she's now been selected to her second Olympic team.
Jo Brigden-Jones is an elite athlete in the sport of sprint kayaking. Since 2004, Jo has represented Australia every year in international competitions all around the world. Her highlight was racing at the 2012 Olympic Games in London where her K4 crew placed 9th. Racing at the Olympics was an incredible reward for years of commitment and hard work. Jo is one of Australia's most versatile paddlers as she has raced over all sprint distances (200m, 500m & 1000m) in all boat classes (K1, K2 & K4) at various World Championship and World Cup events. Jo has won a World Championship medal and multiple World Cup medals. She also has 40 Australian National Titles to her name.
After a successful 2020 domestic season of racing, Jo was named on the Australian Olympic Team to compete at the Tokyo 2020 Olympic Games. The Olympics have been postponed to July 2021 due to the Corona-virus pandemic. This will be Jo's second Olympic Games team, a goal she has been working towards for many years. With the official postponement of the Olympics and the cancellation of all international events for the remainder of the year, Jo will now be spending most of the year training and preparing for next years events while continuing her work as a paramedic.
In 2016, Jo commenced full time work in her dream career as a paramedic and she has successfully able to combine her work with training commitments and remain a world class paddler. In the 2017 season Jo won two silver medals at the World Cup in Belgrade, Serbia. Jo then went on to the World Championships and made the A final in the K1 500m event which was phenomenal considering Jo was not able to train full time given her work commitments. The 2018 and 2019 domestic and international seasons were also a success with final appearances at the World championships in K2 and K4. A record breaking K4 500m race in 2018, saw Jo and her crew win a silver medal and break the Australian record at the World Cup event. The same crew combine to secure Australia a K4 quota place at the Tokyo Olympics.
It has't been all fun and games for Jo, with much heartache and adversity along the way. Jo has injured her shoulder on two occasions, requiring reconstructions on both her left and right shoulders. After months of rehab, Jo made successful comebacks to her sport on both occasions. Jo has also had to deal with non selection after missing out on the 2016 Olympic Team. At the selection trials, Jo won 3 selections races and place second in 3 selection races but still managed to miss out on a place on the Australian Team.
HIGHLIGHTS
2012 Australian Olympic Team, London
Selection to the Tokyo 2020 Olympic Games
16 years of National Team representation - 2004 - 2019
Bronze medal, K2 200m, World Championships 2011, Szeged, Hungary
Multiple World Cup medals - Gold, Silver, Bronze between 2008-2018
10 time World Championship finalist
Ranked number 1, ICF World Cup Series 2010
40 time Australian National Champion
AWARDS & HONOURS
Australia Day Ambassador - 2019, 2018, 2017 & 2016
Manly Pathway of Olympians - plaque placed in 2013
NSW Institute of Sport - Personal Excellence Award finalist 2017, 2015, 2014
Charles Sturt University Distance Education Sports Person of the Year 2012 & 2014
Sport Achievement Award - Australian Institute of Sport 2011
Paddle NSW Female Paddler of the Year 2011
Pittwater Council - Sportsperson of the Year 2010
University of Technology, Sydney, Sportswoman of the Year 2008 & 2009
University of Technology, Sydney, Full Blue award 2008 & 2009
Layne Beachley 'Aim For the Stars Foundation' scholarship
Visit: www.jobrigdenjones.com.au
Follow Jo's Facebook Athletes page: www.facebook.com/jobrigdenjonesathlete
In text image Copyright to Chris Benny Imaging