August 10 - 16, 2014: Issue 175
Jo Brigden-Jones and Naomi Flood into Finals of The 2014 ICF Canoe Sprint World Championships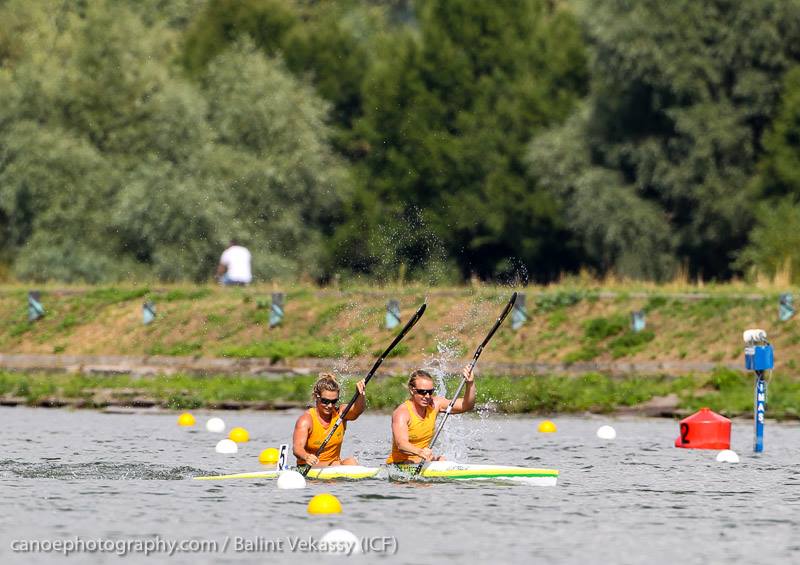 McGrath and Reynolds win on debut - Flood and Brigden-Jones into Finals
by Tom Collings, Saturday, 9 August 2014
Day three of the ICF Canoe Sprint World Championships concluded in Moscow overnight with Victorian Amanda Reynolds providing the highlight winning bronze. On her World Championships debut the paracanoe paddler won bronze in the LTA K1 200 final. Reynolds fought a neck and neck battle with Mihaela Lulea for the bronze medal and through sheer determination she managed to hold off the Romanian by 0.137 seconds.
"It was great. We had a nice little tail wind but I could not have expected better," Reynolds said.
It was a simply remarkable performance by the Sherbrooke paddler who has only spent 12 months training and competing in paracanoe. Reynolds believes she has moved a step closer towards her dream of competing in Rio and believes she has more improvement to come.
"We have only got the new boat a couple of weeks before we left and we only used it a couple of weeks for training so I think once I get better with the boat and more use to it hopefully the times will start rolling down again," Reynolds said.
Arms only paracanoeist Colin Sieders improved on his seventh placing last year to finish sixth in the K1 (A) 200 final. The Penrith Valley paddler finished 4.358 seconds behind Hungarian Andras Rozbora who won the gold medal in 49.375. Ian Marsden of Great Britain took home the silver ahead of Russian Igor Korobeynikov.
Sieders time of 53.733 was a new PB and he was happy with his performance.
"Last year we came seventh and I didn't want to go backwards and I wanted to make sure I am progressing towards Rio and sixth is a good start to that," Sieders said.
Sieders believes he still has plenty of improvement in him and is looking forward to a big year next year.
"It is the qualifier to get into to Rio so we really need to step up in the next 12 months to make sure we are definitely in the top six but ideally in the top four or five."
Fresh off the back of her V1 200 A silver medal on Wednesday Queensland paddler Kara Kennedy stepped up a class to finish sixth in the V1 200 TA final.
Kennedy finished seven seconds behind British paddler Emma Wiggs who took home the bronze in 1:00.358.
"It was a good strong solid race and I was very happy with how I handled the race from start to finish so I ended on a good note," Kennedy said.
Brock Ingram was the last of the Australian paracanoe athletes to feature on Friday winning the men's K1 200 LTA B final in 41.997.
In the able bodied events NSWIS pairing Naomi Flood and Jo Brigden-Jones had a dream start to their K2 500 partnership by progressing through to Sunday's final.
The Australian pairing recorded a time of 1:41.521 to finish third in their semifinal 1.30 seconds behind British pair Lani Belcher and Rachel Cawthorn.
"We are really pumped. It was great to have a good semi. It was bloody hard out there but we did what we had to do and we progressed from the heat this morning so happy with the result. We are pretty pumped," Flood said.
Having now reached their goal of making the A final the girls plan to take it to a host of European crews in the final.
"We still have plenty of things to work on and we are looking forward to the A final, we are in the mix, we are in the hunt, we will be in one of the outside lanes but will take it to the Euros and see how we go," Flood said.
Brigden-Jones later secured a place in the K1 200 semifinals after finishing fifth in her heat.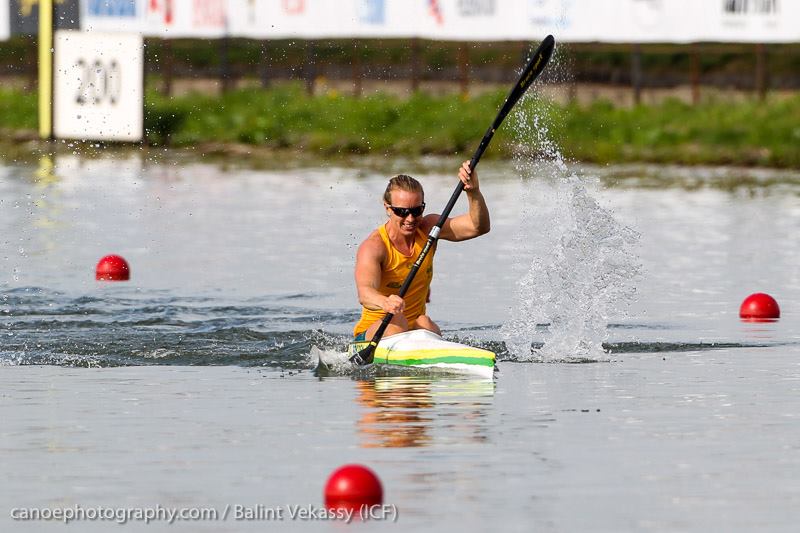 Ken Wallace will also feature in an A final on Sunday after he won his K1 500 semifinal on Friday.
In the event he won gold in at the 2008 Beijing Olympic Games, Wallace showed he still has it going within a whisker of setting a new PB.
Wallace struggled in the warm up but once the gun was fired he went into race mode and secured comfortable semifinal victory.
"I had a really good start and it went on from there. I didn't really see the rest of the field to the very end but a 1:36.0 is nothing to sneeze about so I am pretty happy," Wallace said.
After a solid start with a second place finish in their heat the Olympic K4 1000 crew of David Smith, Tate Smith, Murray Stewart and Jacob Clear surprisingly missed out on a place in the A final after finishing fifth in their semifinal.
Their time of 2:54.490 saw them finish 1.828 seconds behind Portugal who won their semifinal ahead of crews from Serbia and Slovakia.
Stewart will look to bounce back in the K1 1000 final on Saturday.
Western Australian Alana Nicholls narrowly missed out on a place in the women's K1 500 A final after finishing fourth in her semifinal.
The Bayswater paddler finished 3.511 seconds behind German Franziska Weber who on the second semifinal in 1:46.709.
Nicholls will contest the B final on Sunday.
Fresh off the back of an impressive U23 World Championships Jordan Wood and Michael Booth will benefit from competing at senior worlds after securing a place in the K2 500 B final.
The Australian pair recorded a time of 1:31.879 to finish fifth in their semifinal.
The men's 200 metre heats concluded a busy day of racing for the Australians with Lachlan Tame in the K1 and Jesse Phillips and Steve Bird in the K2 progressing to their respective semifinals.
Australia got off to a superb start on the opening day of the ICF Canoe Sprint World Championships in Moscow, Russia winning two medals. Almost two years to the day since he lost both legs serving his country in Afghanistan, Curtis McGrath has won his first paracanoe world title.
In record pace the 25 year old held off British paddler Jonathan Young by half a boat length to win the V1 200 TA final in 48.596.
"It is quite I special result and I am honoured to be the world champion," McGrath said. "It has been a lot of hard work, a lot of man hours, a lot of coach hours so it is really good to come away with a medal."
Experienced paracanoeist Kara Kennedy followed McGrath's lead to win silver in the V1 200 A final. Her second silver medal in as many years.
The popular Queenslander finished six seconds behind British paddler Jeanette Chippington who won the gold in 1:00.016.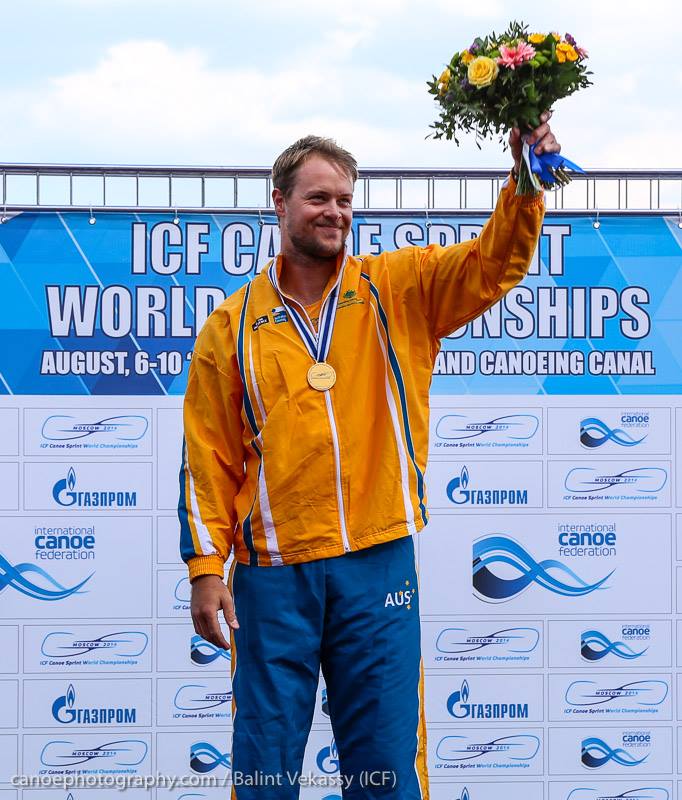 Curtis McGrath - photo courtesy Australian Canoe Sprint Team
Keep up to date at Australian Canoe Sprint Team, at: team.canoe.org.au/
____________________
The 2014 ICF Canoe Sprint World Championships is being held from 6–10 August 2014 in Moscow, Russia. They were chosen at an ICF board of directors meeting in Budapest on 10 April 2010.
Canoe sprint competitions are broken up into Canadian canoe (C), an open canoe with a single-blade paddle, or in kayaks (K), a closed canoe with a double-bladed paddle. Each canoe or kayak can hold one person (1), two people (2), or four people (4). For each of the specific canoes or kayaks, such as a K-1 (kayak single), the competition distances can be 200 metres (660 ft), 500 metres (1,600 ft), or 1,000 metres (3,300 ft) long. When a competition is listed as a C-2 500 m event as an example, it means two people are in a canoe competing at a 500 metres (1,600 ft) distance.
The 2014 ICF Canoe Sprint World Championships finals racing get underway today from 3:30pm AEST.
This year's World Championships have seen 870 of the world's best athletes fight it out over five days of racing in Moscow, Russia. Australia are fit and ready to race following an intensive training block and a successful World Cup series.
Leading this year's team are London Olympic K4 champions Tate Smith, David Smith, Murray Stewart and Jacob Clear, fellow Olympic champion Ken Wallace and NSWIS pair Jo Brigden-Jones and Naomi Flood who look set to field a deadly new K2 combination.
Australian team: Murray Stewart (NSW), Jacob Clear (QLD), Tate Smith (QLD), David Smith (QLD), Ken Wallace (QLD), Jordan Wood (QLD), Michael Booth (QLD), Lachlan Tame (NSW), Stephen Bird (WA), Brodie Holmes (WA), Jesse Phillips (WA), Jo Brigden-Jones (NSW), Naomi Flood (NSW), Alana Nicholls (WA), Alyce Burnett (QLD), Catherine McArthur (SA), Bernadette Wallace (QLD) and Jaime Roberts (WA).
Paracanoe preview
Australia's paracanoe team features a blend of new and old with the experienced trio of Kara Kennedy (QLD), Brock Ingram (WA) and Colin Sieders (NSW) being joined by newcomers Curtis McGrath (QLD), Amanda Reynolds (VIC) and Susan Seipel (QLD).
With paracanoe set to make its debut at the Paralympic Games in 2016 this event provides an important milestone for those athletes looking to secure themselves a place on the plane to Brazil.
ICF Sprint World Championship Facts and Figures (Infostrada Sports Group)
Ø Australia's most successful athlete at the World Champs is Katrin Borchert. Borchert emigrated to Australia in February 1994. She won K2 500 m and K2 1000 m events at the 1998 World Championships in Hungary with Anna Wood and then the K-2 1000 m world title in 1999. Borchert won a total of 20 medals at the ICF Canoe Sprint World Championships with nine gold's for four different countries: 1989 for East Germany (3), 1990 for West Germany (1), 1991-3 for Germany (2), and 1994-2001 for Australia (3).
Ø Anna Wood won three gold and three silver over 10 Championships.
Ø Eight Aussies have won gold medals: Katrin Borchert & Anna Wood (K2 1000m 1998, '99, K2 500m 1998), Nathan Baggaley (K1 500m 2002, '03, '05) Ken Wallace (K1 5000m 2010, '13), Clint Robinson (K1 1000m 1994), Daniel Collins & Andrew Trim (K2 500m 1997), Martin Hunter (K1 500m 1989).
Ø The first medal was won by John Sumegi, a silver in the Men's K1 500m at the 1979 World Championships in Duisburg, West Germany.
Ø The first gold was won by Martin Hunter, at the 1989 Worlds in Plovdiv, Bulgaria, also in the Men's K1 500m.
Ø Ken Wallace won the last gold medal, in the men's K5000m in 2013, after taking the same event in 2010.
Ø The most successful nation over all world championships is Hungary with 185 gold medals (185 gold, 139 silver, 121 bronze). Germany is behind them with 103-76-63 (does not include 14 West German golds). The Hungarians lead in both men and women's tables, but East Germany still retains second place on the women's table (38-6-7), just ahead of Germany (36-37-10). In the men's table, Hungary leads the Soviet Union (89-56-57).