December 6 - 12, 2015: Issue 243
Jo Brigden-Jones and Naomi Flood Win K2 500 Final at Grand Prix 1 – Adelaide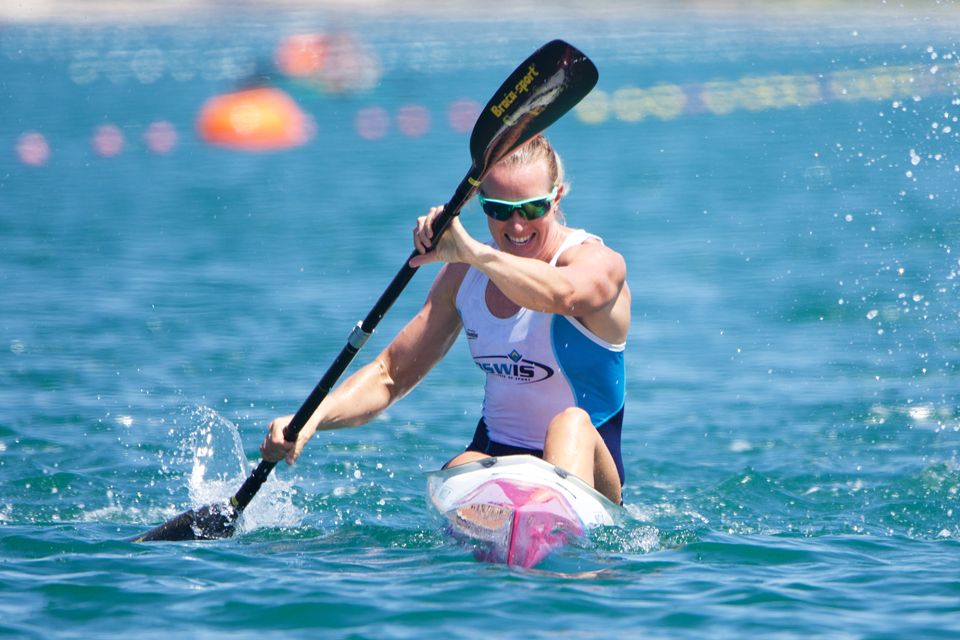 Pittwater's Jo Brigden-Jones in Action - Picture courtesy Team Australia
SPRINT WOMEN TAKE FIRST STEP ON ROAD TO RIO
December 4, 2015: Australian Canoeing Regattas
Australia's top female sprint canoeists have taken the first step towards erasing their disappointing 2015 with a solid performance on the opening day of the first Grand Prix in Adelaide, on Friday December 4.
Just 0.03 seconds split the top two boats in the women's K2 500, with London Olympians Naomi Flood and Jo Brigden-Jones prevailing over under 23 World Championship bronze medalists, Alyssa Bull and Alyce Burnett.
After failing to qualify a boat for next year's Olympics at the Milan World Championships, Australia will need to rely on qualifying through Oceania events early next year.
"Obviously it is really early, but any race you get to do is always good to line up and have a good crack," Flood said.
"To come away with the win is great for us, but it is more about the processes, just things like getting time in the boat together because we live in different states at the moment."
Prior to the Grand Prix starting Jo Brigden-Jones stated she is determined to bounce back in 2016 after she and her fellow teammates learnt some tough lessons this year.
Brigden-Jones was part of the women's K4 500 crew at the World Championships which finished 11th to narrowly miss out on qualifying four quotas for Rio.
"I am definitely very motivated to make sure my performances next year are very strong so I can qualify myself onto the team," Brigden-Jones said.
"There will be some tough racing this season as everyone wants a spot on the team but I'm looking forward to the challenge."
Since the conclusion of the World Championships in Milan, Jo has completed her university degree in paramedics, and spent a month on placement with a NSW Ambulance paramedic crew.
The 27 year old has also been focusing on building an endurance base for the season ahead which commences with the GP1 in Adelaide running from 4 to 6 December.
"My focus for GP1 is just to have a good hit out and to see where I'm at," Brigden-Jones said.
"Part of the national plan at GP1 is identifying some K2 crews to race for the rest of the season, so we will be racing three different K2 500 races."
This season Brigden-Jones will focus on three Olympic events – K1 500, K1 200 and K2 500.
"I believe it's possible to be successful across all these events."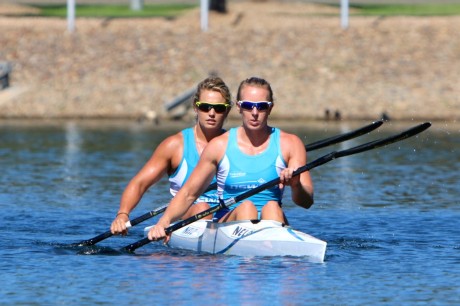 Later in the day the senior women also contested the K1 500 heats with Brigden-Jones, Burnett and Bull each securing a safe passage through to the final on Saturday after winning their respective heats.
Sunshine Coast paddler Alyce Burnett won the gold in the women's K1 500 final at the first Grand Prix in Adelaide on the Saturday.
In the first event of the domestic season, Burnett edged London Olympian Jo Brigden-Jones by 0.33 seconds to secure the victory in 1:53.81.
The women's major event of interest on the final day of racing, today Sunday December 6th, will be the K1 200 with Jo Brigden-Jones, Alyce Burnett and Brianna Massie the front runners after automatically qualifying for the A final after winning their respective heats today.
The other key finals to be raced on the final day include the men's and women's C1 200 and C2 200, women's K2 200 and men's K1 500. Plus a host of paracanoe and junior events.
Visit the Australian Canoeing Regattas website for results, lane draws and race schedules.
Like the Team Australia Facebook or follow us on Twitter for live race updates, interviews and photos.
As can be read in the results when we searched for those for Jo - Northern Beaches paddlers are excelling in South Australia:
Grand Prix 1 - Date: Fri 4th - Sun 6th December, 2015
Results for Jo Brigden-Jones
Event 22 - WK1 500 Womens Open K1 500
Heat 1 Race 32
OFFICIAL RESULTS Distance: 500M
Place Name Club State Lane 500M Margins
1st Brigden-Jones, Jo Sydney Northern Beaches NSW 4 1:52.55 0.00
2nd McArthur, Catherine Holdfast Bay SA 6 1:53.99 1.44 +1.44
3rd Mann, Rebecca Bendigo VIC 7 1:56.55 2.56 +4.00
4th Massie, Brianna Kawana Waters QLD 3 1:57.77 1.22 +5.22
5th Godoy, Deandra PaddleNSW Direct NSW 8 1:59.58 1.81 +7.03
6th Dober, Keily Sydney Northern Beaches NSW 2 2:05.64 6.06 +13.09
7th Silvester, Samantha Canoes Plus VIC 1 2:16.64 11.00 +24.09
Nicholls, Alana Bayswater WA 5 SCRATCHED
Progress: Plan B: 1->A Final; 2..7->Semi Final
A Final Race 66
OFFICIAL RESULTS Distance: 500M
Place Name Club State Lane 500M Margins
1st Burnett, Alyce Sunshine Coast QLD 4 1:53.81 0.00
2nd Brigden-Jones, Jo Sydney Northern Beaches NSW 5 1:54.14 0.33 +0.33
3rd Bull, Alyssa Sunshine Coast QLD 6 1:56.36 2.22 +2.55
4th McArthur, Catherine Holdfast Bay SA 7 1:57.35 0.99 +3.54
5th Roberts, Jaime Bayswater WA 9 1:58.53 1.18 +4.72
6th Minogue, Hannah PaddleNSW Direct NSW 3 1:59.63 1.10 +5.82
7th Mann, Rebecca Bendigo VIC 1 1:59.89 0.26 +6.08
8th Massie, Brianna Kawana Waters QLD 2 1:59.98 0.09 +6.17
9th Godoy, Deandra PaddleNSW Direct NSW 8 2:05.44 5.46 +11.63
________________________________________
Event 25 - WK2 500 Womens Open K2 500
Heat 1 Race 1
OFFICIAL RESULTS Distance: 500M
Place Name Club State Lane 500M Margins
1st Brigden-Jones, Jo Sydney Northern Beaches NSW
Flood, Naomi PaddleNSW Direct NSW 4 1:53.05 0.00
2nd Bull, Alyssa Sunshine Coast QLD
Burnett, Alyce Sunshine Coast QLD 5 1:55.62 2.57 +2.57
3rd Reynolds, Shannon PaddleNSW Direct NSW
Minogue, Hannah Bayswater WA 6 1:56.69 1.07 +3.64
4th Bryant, Allison Manly Warringah NSW
Mann, Rebecca Bendigo VIC 3 1:57.13 0.44 +4.08
5th Duncan, Rachel PaddleNSW Direct Sydney NSW
Dober, Keily Northern Beaches NSW 7 1:57.98 0.85 +4.93
6th Cummins, Deanne Bayswater WA
Silvester, Samantha Canoes Plus VIC 2 2:14.91 16.93 +21.86
Progress: Plan A: 1..4->Final + Fastest 5th
A Final Race 13
OFFICIAL RESULTS Distance: 500M
Place Name Club State Lane 500M Margins
1st Brigden-Jones, Jo Sydney Northern Beaches NSW
Flood, Naomi PaddleNSW Direct NSW 5 1:46.84 0.00
2nd Bull, Alyssa Sunshine Coast QLD
Burnett, Alyce Sunshine Coast QLD 3 1:46.87 0.03 +0.03
3rd Nicholls, Alana Bayswater WA
Roberts, Jaime Bayswater WA 4 1:50.37 3.50 +3.53
4th Massie, Brianna Kawana Waters QLD
Gilliman, Caitlin Kawana Waters QLD 6 1:51.98 1.61 +5.14
5th McArthur, Catherine Currumbin Creek SA
Wallace, Bernadette Holdfast Bay QLD 2 1:52.69 0.71 +5.85
6th Reynolds, Shannon Bayswater WA
Minogue, Hannah PaddleNSW Direct NSW 7 1:52.95 0.26 +6.11
7th Bryant, Allison Manly Warringah NSW
Mann, Rebecca Bendigo VIC 8 1:55.29 2.34 +8.45
8th Kidd, Francesca West Lakes SA
Bulmer, Josephine Onkaparinga SA 1 1:58.46 3.17 +11.62
9th Duncan, Rachel Sydney Northern Beaches NSW
Dober, Keily PaddleNSW Direct NSW 9 1:58.49 0.03 +11.65
Event 47 - WK1 200 Womens Open K1 200
Heat 2 Race 95
OFFICIAL RESULTS Distance: 200M
Place Name Club State Lane 200M Margins
1st Brigden-Jones, Jo Sydney Northern Beaches NSW 5 0:41.94 0.00
2nd Roberts, Jaime Bayswater WA 4 0:42.28 0.34 +0.34
3rd Godoy, Deandra PaddleNSW Direct NSW 7 0:44.55 2.27 +2.61
4th Minogue, Hannah PaddleNSW Direct NSW 6 0:44.81 0.26 +2.87
5th Kidd, Francesca Onkaparinga SA 8 0:46.52 1.71 +4.58
6th Bryant, Allison Manly Warringah NSW 3 0:47.27 0.75 +5.33
7th George, Phoebe Perth Paddlers WA 2 0:47.82 0.55 +5.88
8th Cummins, Deanne Bayswater WA 1 0:48.95 1.13 +7.01
Progress: Plan B: 1->A Final; 2..7->Semi Final