May 15 - 21, 2011: Issue 6
Joanne Brigden Jones
Bubbly and vivacious Mona Vale local Joanne, 'Jo', is a firm proponent of the 'I think I can' chant. Out in all weathers, open and charming, her fleetness on water is backed up by a steady pacing towards health, knowledge and excellence in sport. Cool weather brings out the inner fire in some and Jo, recovering from shoulder surgery, has the impetus and drive to make her dream of representing Australia in the 2012 Olympics a reality. Her recent 4th at the Poznan World Cup in the 1000m, her first event since her operation, is the first of many races Jo will compete in in the lead up to qualifying for the London Olympics in the K1 flatwater kayaking events. Jo competes in the K1 200, 500 and 1000 meters events.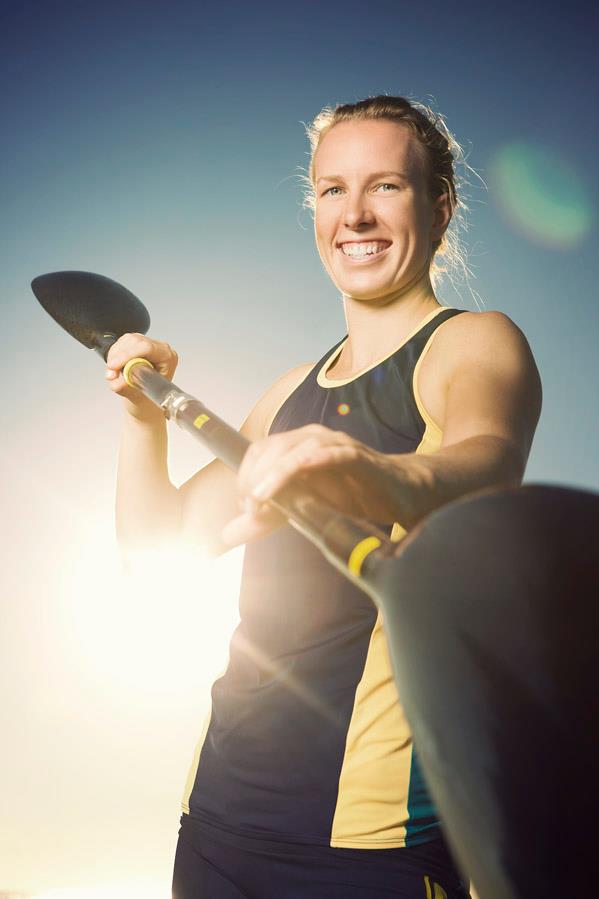 Flatwater racing kayaks are generally made out of extremely lightweight composites such as Kevlar, carbon fiber, or fibreglass. They are narrow and extremely unstable and require expertise to paddle well but are fast in the hands of proficient users. The beam of a flatwater boat is typically barely wider than the hips of its paddlers and requires the paddler to bend their legs in the boat, allowing for a long and narrow shape to reduce drag. The three types of Canoe sprint kayaks are K-1 (single paddler), K-2 (two paddlers) and K-4 (four paddlers). A flat water racing K1's maximum length governed by the ICF is 17.6 feet (5.2 m). These boats are raced at the Olympic level by men and women over courses of 200, 500 and 1000 meters and can reach speeds of almost 18km per hour. At Beijing's 2008 Olympics Australians won Bronze medals in kayaking; Hannah Davis, Lyndsie Fogarty, Chantal Meek, Lisa Oldenhof, canoe/kayak flatwater, women's kayak four (K4) 500m, 1:34.704 and Ken Wallace, canoe/kayak flatwater, kayak single (K1) men's 1000m, 3:27.485 and Robin Bell, men's canoe/kayak single (C1) slalom, 180.59. Kayaking will be held August 6th through 11th at Eton Dorney during the London 2012 Olympics.
This week we hear a little about what goes into training for these events and an insight on Jo's life off the water.
How long have you lived in Pittwater ?
I have lived in Pittwater my whole life. I was born in Mona Vale Hospital in 1988 and have lived in the suburbs of Bayview and Mona vale since birth. It's such a great part of the world to live in. I love the beaches, the dramatic headlands, the calmness of Pittwater and the wonderful community spirit that Pittwater has.

What is your favourite place or memory in Pittwater?
My favourite place in Pittwater is Mona Vale headland. I love going up there and just looking out to sea, down to manly and up to Palm Beach. It's a great place to reflect, think about life and make plans for the future. I often run up to the headland as part of my cross training and I love stopping for a breather and just taking it all in.

Why and when did you take up kayaking ?
I started kayaking in 2001 after I was selected in a talent identification squad run through the Sydney Northern Beaches Kayak Club, located out the back of Narrabeen Sports High School. I had no idea what kayaking was when I went to the try outs for the squad but I thought it would be a bit of fun and I had nothing else to do that morning when the try outs were on. I also wanted to find a sport I where I could get quality coaching as I was doing well at a few sports at that time but wasn't doing much training for any of them.

You did very well at Poznan over the weekend, what are future plans between now and the 2012 Olympics?
Poznan was a starting point for me this season as I had shoulder surgery late last year and was out of the water for 5 months. I only started back paddling in February so I am a bit behind in my preparations for this year. World Championships are in August and the main aim of that regatta is to qualify boats for Australia so that we can compete at the Olympics. Hopefully I will be back at my best by August so I compete well and get my confidence up with racing. After World Champs it will be our off season and an important part of our preparations for next year. I will be training 3 times a day, 6 days a week, it's a busy and tough life but I love it! Selections for the Olympic Team will be in March 2012, so I will have to perform well at the selections regattas to be named on the team. It's an exciting time and I am really looking forward to the challenge.

Will you be going to England early to 'acclimatise' ?
In 2012 we will spend about 3 months in Europe leading in to the Olympics. It takes a lot out of your body with the long trip over the Europe plus the change in time zone so staying in Europe for longer periods allows for better preparation without disturbances of travelling. The Australian Institute of Sport has recently opened a 'European Training Centre' located in northern Italy, which provides a perfect base to train and prepare for European competitions. It is like a home away from home there with all the facilities and support services that I will need.
I will be racing at the Olympic course later in the year as part of the Olympic test event to provide athletes with the opportunity to test out the Olympic venues. In 2010, I trained on the Olympic course for a week so I am already familiar with the course and the set up in Eton rowing course.
I really believe if you set yourself a realistic goal and work out a plan to get you there, you can achieve that goal. I set myself both long term and short term goals. My long term goal is winning a medal at the London Olympics. My short term goals are to do with my training to get to the Olympics. Goals keep you on track and it makes you reassess what you are trying to do and how you are going to achieve that goal. I have always found that you become more focused once you set yourself a goal.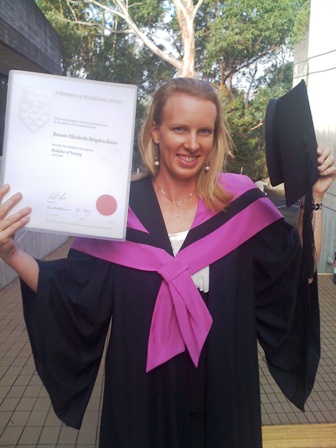 Some goals I set for myself I don't achieve but I end up learning so much just from the experience of trying to get there. It is very true that you learn more from your failures than you do from success. It makes success so much sweeter because you can look back at all the tough times you have been through to get to that pinnacle moment of achievement.
What do you do outside of kayaking?
I recently graduated with a Bachelor of Nursing from the University of Technology, Sydney. It took me 4 years to complete my degree and at some stages it was very difficult balancing paddling, university assignments and clinical placements. I am very glad that I am now a registered nurse as it means I can work in a respected profession. I have always been interested in the medical field. Since I was young, I wanted to be a paramedic and I still do but I think this will have to wait until I have finished my kayaking career. It was a good decision to continue to study while full time training as it gave me something else to think about other than kayaking. I plan on getting a nursing job after the World Championships to build up my nursing skills, confidence and it will be great to earn a bit of money! I currently work as a waitress at Monash Country Club. It's a great casual job that allows me to be flexible with training and travel and also gives me money so I can fill up my car with petrol so I can make it to training!
Why do I kayak?
I love the challenge of Kayaking, having to push myself every day to find my limits – physically and mentally. It's addictive, I am fast but I want to find out how much faster I can be, there is no limit to it. The lifestyle is great, I love waking up early each morning to paddle on Narrabeen Lake. I always get to see the sunrise and it's such a beautiful place to train. I get to travel a lot around Australia and the World. I have paddled in some magnificent places and some of my best memories are of my trips away for kayaking. I have made some great friends through kayaking and also have met many inspirational people who have taught me a lot about sport and life. There are many high's and low's every day, week and during the year but it's that one moment of glory I am searching for after I have the perfect race. That perfect race will hopefully be in the Olympic final!!
What is your 'motto' or phrase you try to live by ?
"If you can dream it, you can do it"
Sponsors !
It takes a lot of hard work and guts to get to the Olympics. The cost in money, time and energy is immeasurable. The kayaks needed by the team costs thousands of dollars each. If you can contribute please look at the brochure below. Let's get Jo to the GAMES!