June 4 - 10, 2017: Issue 315
Jo Brigden- Jones Wins Silver at Canoe sprint Cup in Belgrade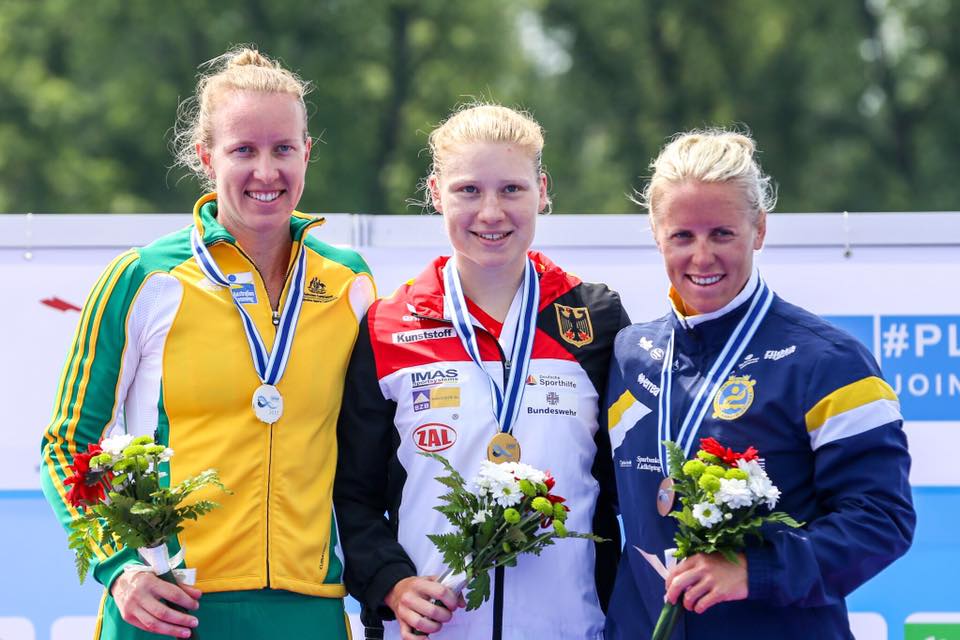 Jo Brigden-Jones, Back on the podium!

Jo Brigden- Jones Wins Silver at Canoe sprint Cup in Belgrade
June 4, 2017
Jo Brigden Jones - SNBKC athlete just finished 2nd in the women's K1 1000 at World Cup in Belgrade Serbia. Congratulations Jo - what an awesome return to the international stage.
Australia has won a silver medal and recorded three fourth placings on day two of the ICF Canoe Sprint World Cup in Belgrade, Serbia.
Jo Brigden-Jones, in one of her rare forays into the K1 1000, finished second and teammate Cat Macarthur fourth in a tough race.
"It's quite painful, but I still like it," Brigden-Jones said.
"I can barely stand-up my legs are hurting so much. But it was good, a good challenge for me, good to put myself out there in a new environment.
"So I really enjoyed it, but I'm hurting now. My leg pain blew up pretty early, and I rely on my legs a lot."
Jo took out the K1 200 at the Australian Canoeing Sprint Nationals held at Penrith in March this year and became National Champion in the K1200m.
Macarthur was happy to have shown strong improvement from one week ago.
"I've learned a lot from doing these 1000's over the last few weeks," she said.
"I really pushed myself quite hard, but I'm dead now. I've always struggled with 1000's not knowing how hard to push and when.
"I'm really happy with finishing fourth. It's hard, but I can't be unhappy with fourth after finishing seventh last weekend."
Alyce Burnett finished fourth in her first ever senior K1 500 international final, missing the podium by only a fraction of a second. Her K2 500 teammate, Alyssa Bull, won the B final.
Bull and Burnett teamed up later in the day to win their K2 semi-final to progress to Sunday's final.
Three-time Olympian Ken Wallace and Rio debutant, Jordan Wood, finished fourth in the final of the K2 500.
"It's not so much fun getting fourth, but it's a massive improvement on last week," Wallace said.
"We're learning how to race a bit better as a crew. Last weekend was the first race we'd done together, we're just progressively getting there, but fourth is still hard."
Australia will also have men's and women's K4 boats in action on Sunday, Billy Bain will once again contest the final of the K1 500, and Brigden-Jones and Jaime Roberts are in the final of the K2 200.
From Australian Canoeing: http://canoe.org.au/
GOLD AND SILVER FOR AUSTRALIA ON FINAL DAY OF SPRINT WORLD CUP
June 5, 2017: Australian Canoeing
Australia has picked up a gold and a silver medal on the final day of competition at the International Canoe Federation Sprint Canoe World Cup in Belgrade.
Alyssa Bull, who won silver in the K1 1000 in Szeged one week ago, cemented her reputation as the iron woman of canoe racing with a solid win in the K1 5000 final on Sunday afternoon.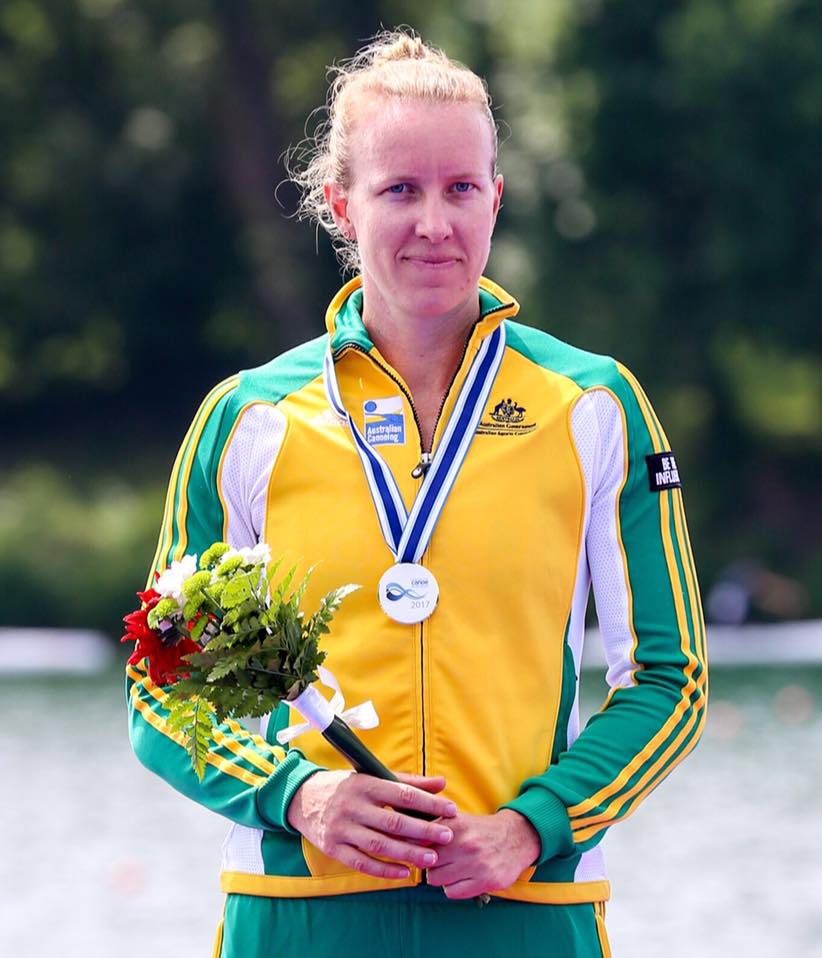 Jo Brigden-Jones joined WA's Jaime Roberts to win silver in the K2 200, adding to the silver medal she won in the K1 1000 on Saturday.
Earlier Bull teamed up with Olympic teammate, Alyce Burnett, to finish fourth in the K2 500, agonisingly close to a breakthrough podium at an international meet.
"Yesterday I got fourth in the K1, and today we got fourth in the K2, and both times we were super close to the medals," Burnett said.
"It sucks to be so close, but we've made a lot of improvements in the past year or two and we can't be disappointed with where we are at.
"It just puts more fire in your belly for Worlds coming up."
"Our aim for these World Cups was to make top half of A-finals, and I suppose just to come so close, it makes us more hungry," Bull said.
Brigden-Jones said it was a shock for her and Roberts to win a K2 medal in their first international race together.
"It's pretty crazy, I really didn't expect it so it's a bit of a bonus," Brigden-Jones said.
"It was fun to do the K2 200. We've never done K2 together, so we've just been learning a bit each day."
Roberts said the silver medal was a highlight of her career.
"We nailed our start, and it just set up the race perfectly," she said.
"It's caught me a bit by surprise. It's pretty awesome to be up there on the podium, and I definitely want to be up there again."
In other results, Ken Wallace finished fourth in the men's K1 5000, the women's K4 500 crew finished seventh, and Billy Bain was seventh in the final of the men's K1 500.
The Australian team heads home on Monday and will return to Europe for the Sprint Canoe World Championships in the Czech Republic in August.
The Australian Canoe Sprint team arrived in Europe in May ahead of the first ICF World Cup of the year in Szeged, Hungary, as they begin their new Olympic cycle.
For 2008 Olympic gold medallist Ken Wallace it's the start of a campaign to get to a fourth Olympics, and for 2012 gold medallist Murray Stewart a third, as the team looks to build on it's impressive Olympic record.
The team also includes two of Wallace's K4 teammates from Rio, Riley Fitzsimmons and Jordan Wood, who are also the reigning K2 1000 U23 World Champions.
Paralympic gold medallist Curtis McGrath, silver medallist Amanda Reynolds and bronze medallist Susan Seipel will lead a five-strong Para Canoe team.
The women's team includes 2016 K2 500 finalists, Alyce Burnett and Alyssa Bull, and our own 2012 Olympian Jo Brigden-Jones.
"Nice to be back racing in the green and gold and to be reunited with friends from around the world" Jo posted on her facebook page on May 28th - which is an understatement for all cheering her on from here who think it's GREAT to see her back and doing something she excels at.
Go Jo!