inbox and environment news: Issue 562
November 13 - 19, 2022: Issue 562
Circadian Rhythms
Most of us have possibly noticed by now that the world is filled with rhythms - there's rhythms in the way the waves come to shore and roll back out again, rhythm in the way the blue hills meet the blue skies and shape the winds that blow through them. But did you know our bodies also have an innate rhythm?
What are circadian rhythms?
Circadian rhythms are physical, mental, and behavioural changes that follow a 24-hour cycle. These natural processes respond primarily to light and dark and affect most living things, including animals, plants, and microbes. Chronobiology is the study of circadian rhythms. One example of a light-related circadian rhythm is sleeping at night and being awake during the day. The Average Teen Circadian Cycle image shows the circadian rhythm cycle of a teen.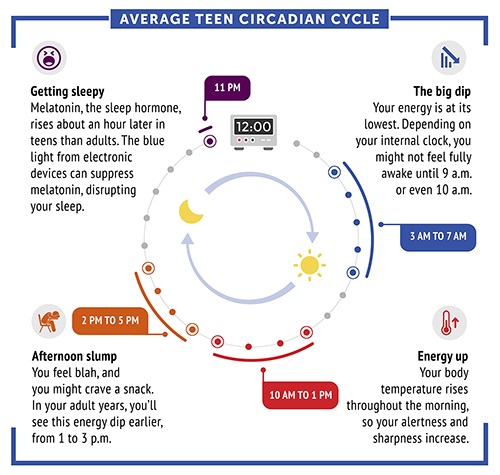 Circadian: A term derived from the Latin phrase "circa diem," meaning "about a day"; refers to biological variations or rhythms with a cycle of approximately 24 hours.

What are biological clocks?
Biological clocks are organisms' natural timing devices, regulating the cycle of circadian rhythms. They're composed of specific molecules (proteins) that interact with cells throughout the body. Nearly every tissue and organ contains biological clocks. Researchers have identified similar genes in people, fruit flies, mice, plants, fungi, and several other organisms that make the clocks' molecular components.
What is the master clock?
A master clock in the brain coordinates all the biological clocks in a living thing, keeping the clocks in sync. In vertebrate animals, including humans, the master clock is a group of about 20,000 nerve cells (neurons) that form a structure called the suprachiasmatic nucleus, or SCN. The SCN is in a part of the brain called the hypothalamus and receives direct input from the eyes.
Does the body make and keep its own circadian rhythms?
Yes, natural factors in your body produce circadian rhythms. For humans, some of the most important genes in this process are the Period and Cryptochrome genes. These genes code for proteins that build up in the cell's nucleus at night and lessen during the day. Studies in fruit flies suggest that these proteins help activate feelings of wakefulness, alertness, and sleepiness. However, signals from the environment also affect circadian rhythms. For instance, exposure to light at a different time of day can reset when the body turns on Period and Cryptochrome genes.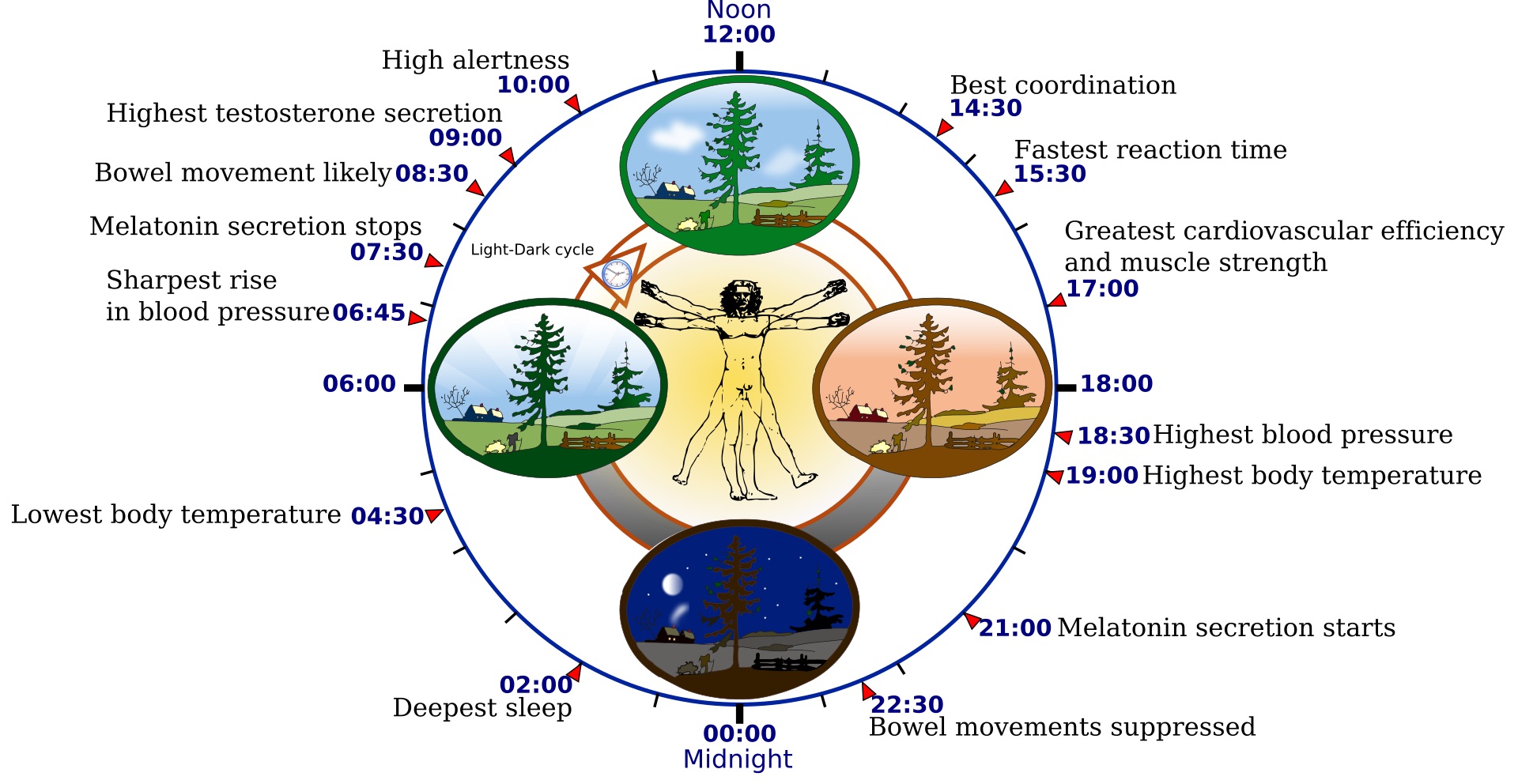 Overview of biological circadian clock in humans. Biological clock affects the daily rhythm of many physiological processes. This diagram depicts the circadian patterns typical of someone who rises early in morning, eats lunch around noon, and sleeps at night (10 p.m.). Although circadian rhythms tend to be synchronised with cycles of light and dark, other factors - such as ambient temperature, meal times, stress and exercise - can influence the timing as well. Image: P human body.svg and Image: Nuvola apps clock.png, respectively.

Outside the "master clock"
More-or-less independent circadian rhythms are found in many organs and cells in the body outside the suprachiasmatic nuclei (SCN), the "master clock". Indeed, neuroscientist Joseph Takahashi and colleagues stated in a 2013 article that "almost every cell in the body contains a circadian clock." For example, these clocks, called peripheral oscillators, have been found in the adrenal gland, oesophagus, lungs, liver, pancreas, spleen, thymus, and skin. There is also some evidence that the olfactory bulb and prostate may experience oscillations, at least when cultured.
Though oscillators in the skin respond to light, a systemic influence has not been proven. In addition, many oscillators, such as liver cells, for example, have been shown to respond to inputs other than light, such as feeding.
Ganglion cells are the final output neurons of the vertebrate retina. Ganglion cells collect information about the visual world from bipolar cells and amacrine cells (retinal interneurons). This information is in the form of chemical messages sensed by receptors on the ganglion cell membrane.
There are two common types of ganglion cells in typical vertebrate retinas, one type with relatively small dendritic arbors and sustained light responses and another type with larger dendritic arbors and more transient light responses.
The process of photoentrainment, through the activation of photoreceptor transduction cascades, influences the circadian physiology of many life forms from primitive invertebrates to primates.
In humans, a population of intrinsically photosensitive retinal ganglion cells (ipRGC's) is responsible for mediating the circadian rhythm - they project directly to the SCN, where they help in the entrainment (synchronisation) of this master circadian clock.
What happens when your circadian rhythms are off?
Without the proper signalling from the body's internal clock, a person can struggle to fall asleep, wake up during the night, or be unable to sleep as long as they want into the morning. Their total sleep can be reduced, and a disrupted circadian rhythm can also mean shallower, fragmented, and lower-quality sleep and lead to other problems.
Given the essential role of sleep for productivity and overall health, there are often significant consequences when a person's circadian rhythm is off.
How long it takes to reset your circadian rhythm will depend on how much you're trying to move it by and how quickly you're doing it. It may take a few days or weeks for your body to fully adjust, but you will feel the difference, literally, by allowing yourself to have this.
6 Tips for Improving Your Circadian Rhythm
Create a sleep schedule. One of the easiest ways to improve your circadian rhythm is to go to bed at the same time every night. After you have done this for a while you will find your body wants to go to sleep at that time.
Limit stimuli. Make sure your room is dark and quiet when you're ready to sleep.
Exercise earlier in the day - doing the 'hard yards' type of exercise earlier and having a swim or some form of less strenuous 'stretch' exercises later in the day eases sore muscles and sets you up for a good sleep.
Avoid caffeine after 10am.
Make breakfast and lunch your bigger meals for the day and have only a light dinner. A diet focused on carbohydrates and protein for breakfast will give you lots of energy for the day ahead. If you are still getting mid-morning or mid-afternoon cravings, reach for a handful of nuts mixed with chia and pumpkin seeds or an apple/banana and some real Greek yoghurt.
Limit screen time in the hours before sleep.
Images and info courtesy National Institute of General Medical Sciences, US and Wikipedia.
Lunar Eclipse: November 8, 2022
On Tuesday November 8 people across Australia and New Zealand were treated to a total lunar eclipse. Taking this as an opportunity to not be missed, as the next one won't be visible from our region until 2025, Bilgola photographer Mike O'Flynn took these great images and sent some in to share with you.
A lunar eclipse happens when the Moon travels through Earth's shadow. If the Moon only partly makes it into the shadow, that's a partial eclipse. In a total eclipse, the Moon becomes fully immersed and takes on a reddish/orange glow.
The only light reaching the Moon's surface first passes through Earth's atmosphere, which is why the Moon takes on a red hue. Just how red it appears will depend on how dusty Earth's atmosphere is at the time.
This November's eclipse, the period of totality – when the Moon is fully immersed in shadow – lasted 85 minutes. The whole shebang began at 7.19pm and was done by 11.49pm.
Pretty cool - t
hank you very much Mike; you're a star! - pun intended...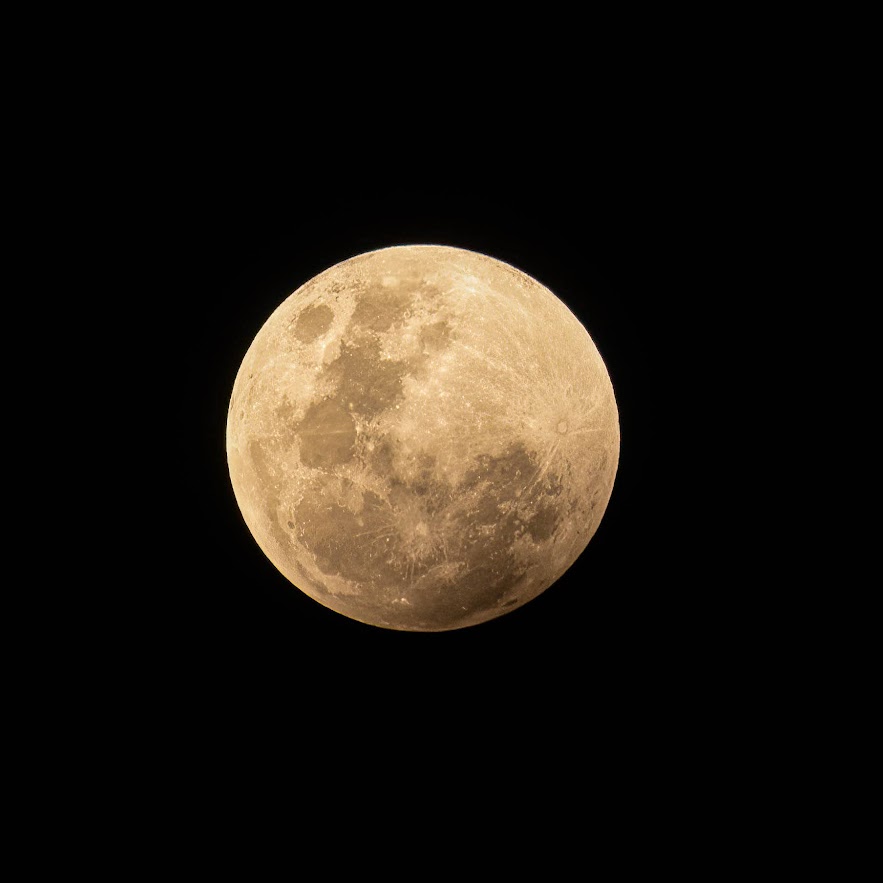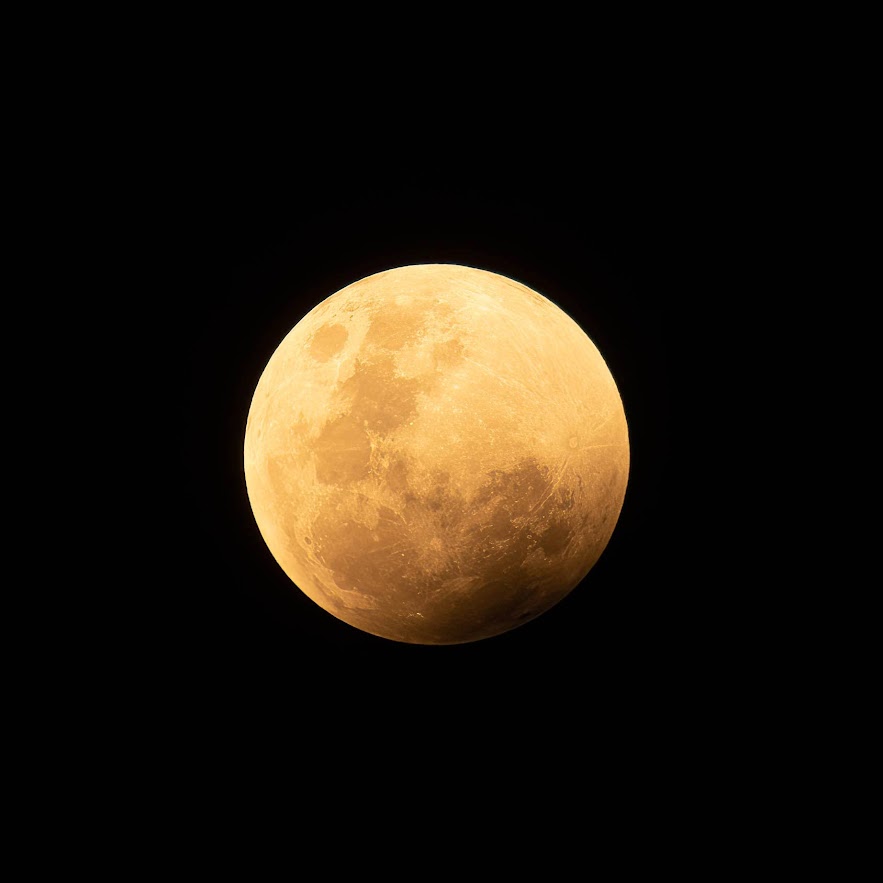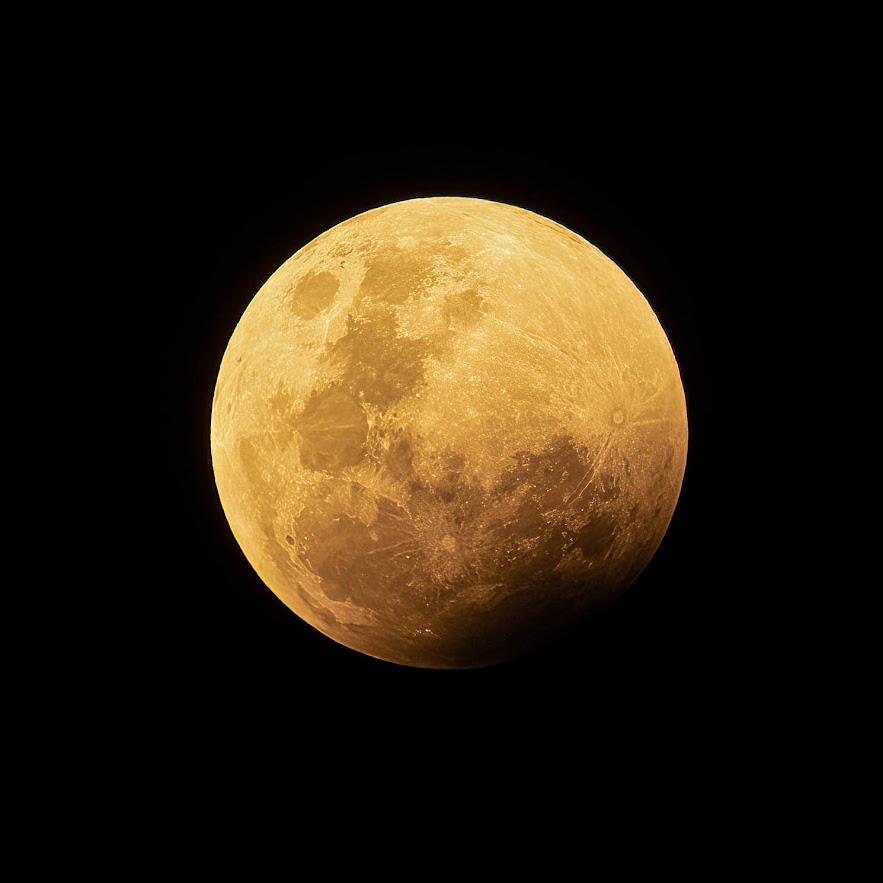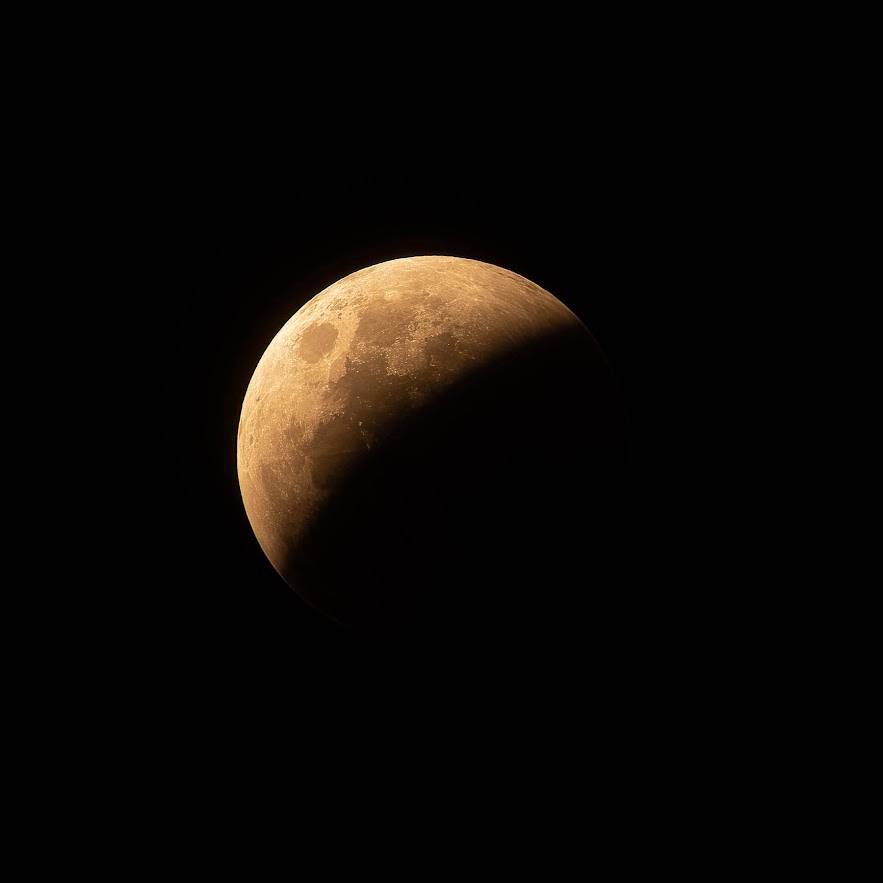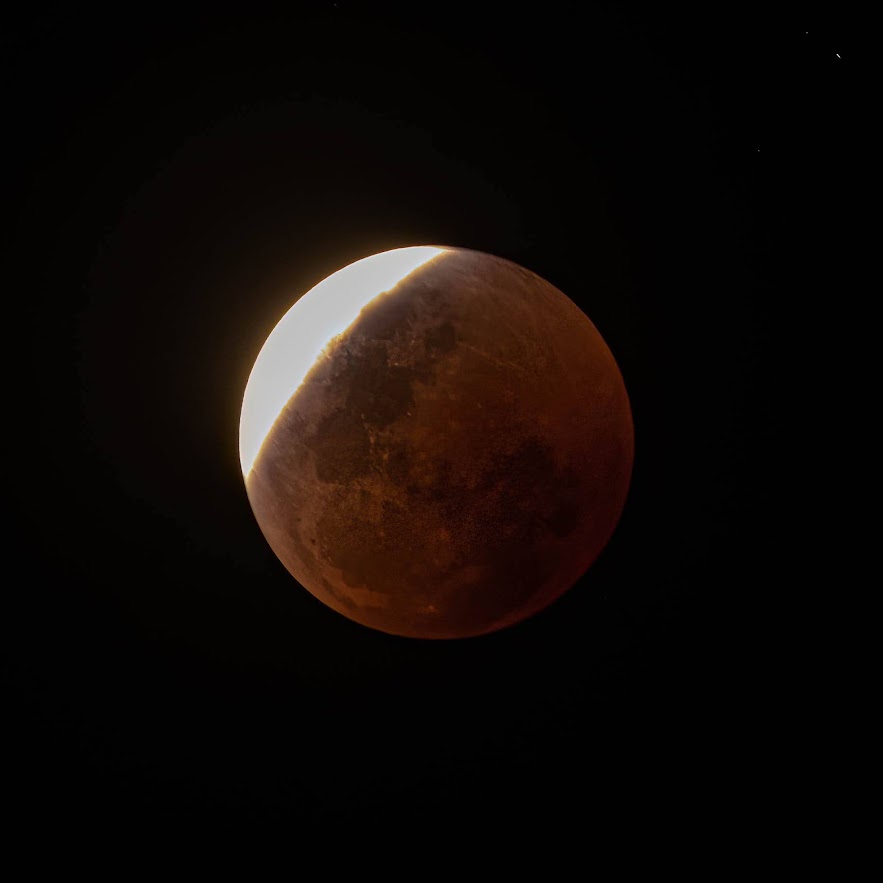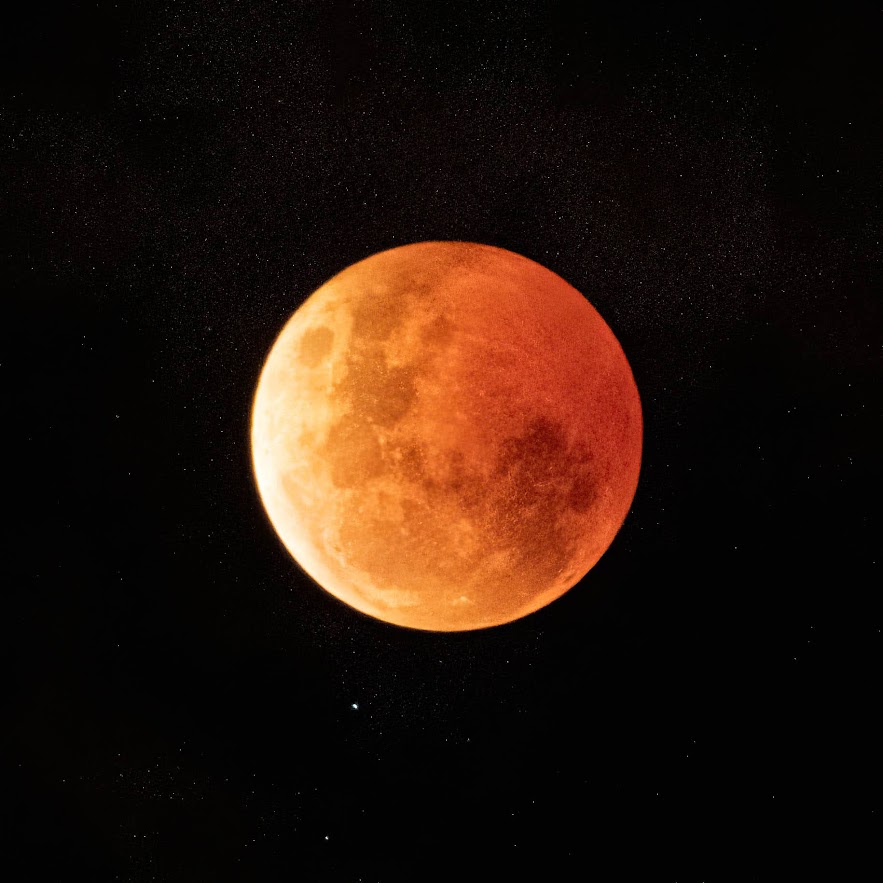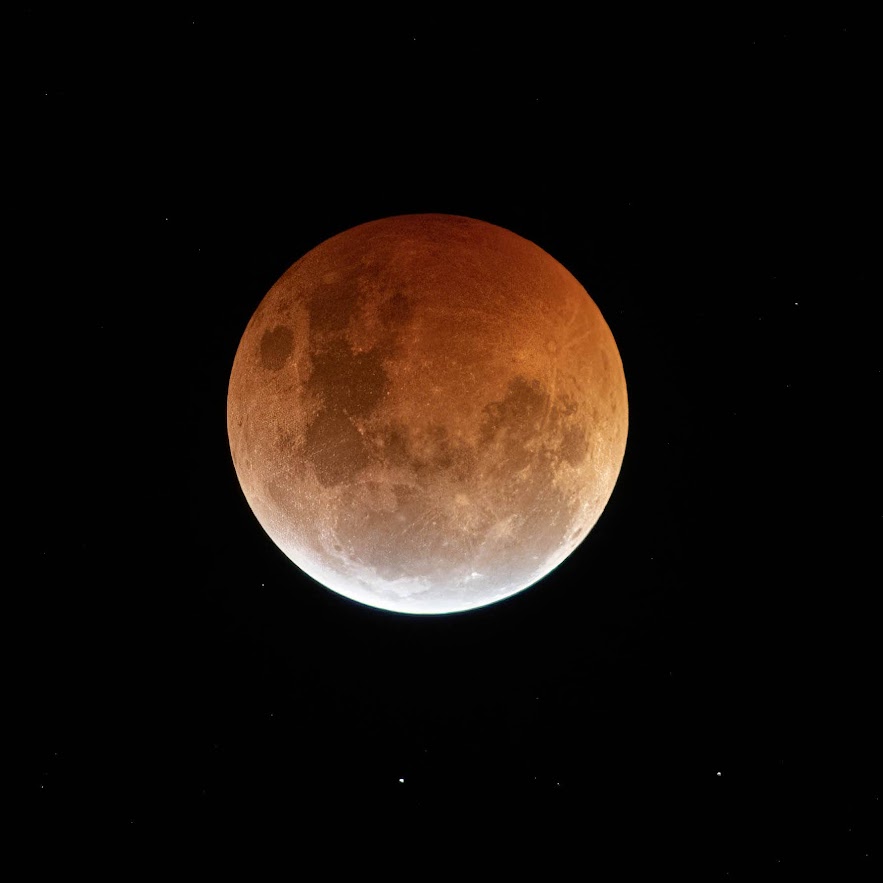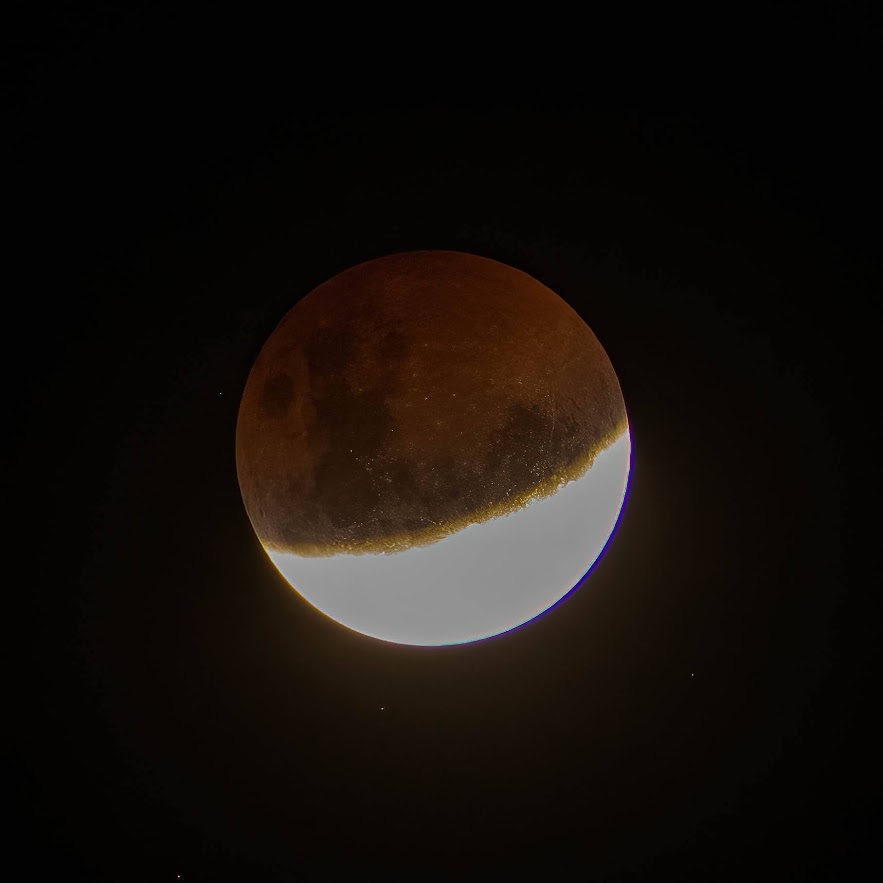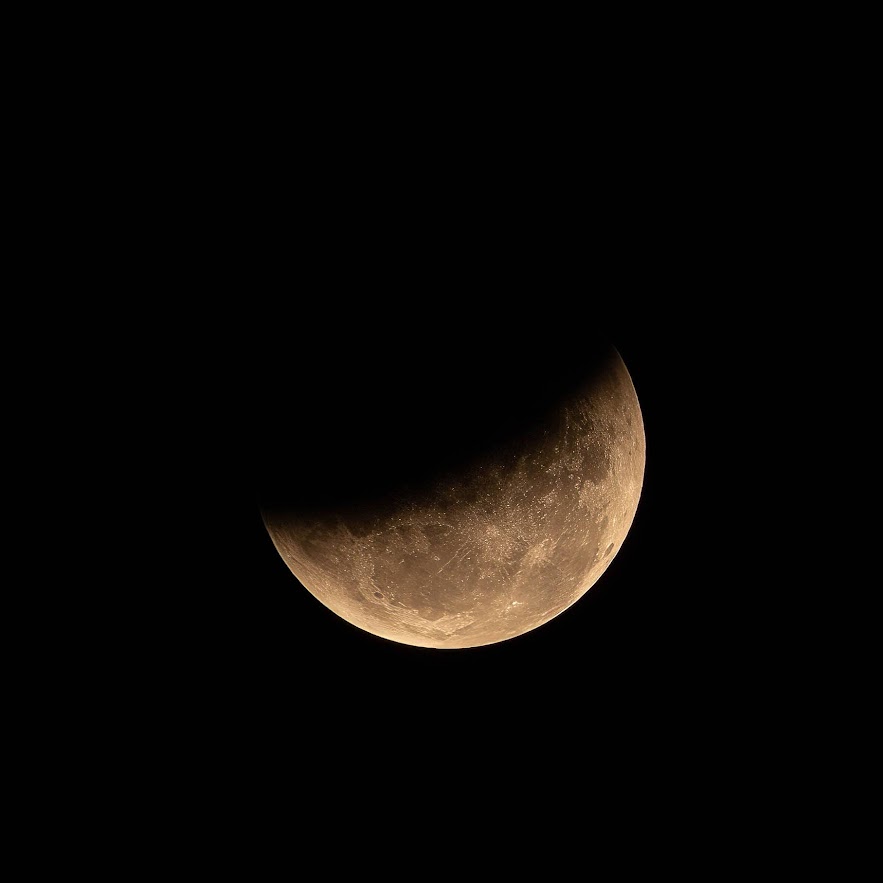 Manly Warringah Vawdon Cup 2022 Champions – Touch
Touch is a variation of rugby league with the tackling of opposing players replaced by a touch. As touches must be made with minimal force, touch is therefore considered a limited-contact sport.

The Vawdon Cup is a weekly representative competition conducted by NSW Touch Association. With teams representing affiliates such as Manly-Warringah, Penrith, Parramatta, Cronulla, Easts, Wollongong and Central Coast as well as everywhere in between, Vawdon Cup puts you up against some of the best players in the Country.
Games are played throughout the Sydney Metropolitan area catering for Open, Senior and Youth divisions. The competition normally has 12 rounds and a final series.
Games are played weekly on a Friday night with two Sunday double headers.
The competition is still split into skill-based divisions so even a beginner has a place to get started. Manly Touch has fully accredited coaches in charge of each squad which will help improve players knowledge and skills. Trials and training usually commence in early June each year.
Players must be a minimum of 15 years of age to play in the Opens Divisions and must be between 13 to 17 years of age to play Youth League.
Touch Football has over 400,000 registered members and an additional 500,000 children participating in school programs and related activities, or through their local clubs - the Avalon Bulldogs, for instance, runs a Summer Touch Footy comp which runs from October to December each year. This places the sport among the top participant based, organised sports in Australia.
New South Wales Touch Football (NSWTA) is the official body for the sport and it is the role of the organisation to develop and grow the sport of Touch Football in this New South Wales.
The first formalised Touch Football competition was South Sydney Touch Association in 1968. Touch Football continued to grow and during the 70`s it took hold in the country areas. The first country competition was Wagga Wagga Touch Association in 1973 with the first women's competition officially starting in Ballina in 1975.
The New South Wales Touch Association was constituted in 1972 and at that point there were six competitions and approximately 1500 players.
As at 2015 the number of registered players across New South Wales had reached over 110000 and over 150 affiliated competitions.
About Manly Warringah Touch Association
MWTA encourage and have participants and volunteers from all walks of the community. MWTA provides one of the largest touch competitions in Sydney. Participants compete in both the Junior and Senior Competitions.
The Senior Competitions are held year round during Spring, Summer, Autumn and Winter months. The Junior Competition is held during the months of September thru to mid-December. Player's ages range between U/9 – U/17's in the Juniors and U/20 – over 50's in the Seniors. There are three divisions in the MWTA Senior Open Competitions: Men's, Women's and Mixed. In our Junior Competition we conduct Boys and Girls Divisions in the following age groups: U/9, U/11, U/13, U/15 and U/17.
NSW Touch - Vawdon Cup Results 2022
Girl's Youth League 1 Championship
Northern Beaches Renegades
6 Penrith Panthers 4 (
Player of the Final Brooke Bosland Northern Beaches Renegades
)
Girls Youth League 2 Championship Hills Hornets 4 Cronulla 1 (Player of the Final Shah Wakely Hills Hornets)
Boy's Youth League 1 Championship Western Suburbs 6 Wollongong Devils 5 (Player of the Final Joesph Matta Western Suburbs)
Boy's Youth League 2 Championship Hills Hornets 7 Bankstown 3 (Player of the Final Logan Bubb Hills Hornets)
Women's Division 1 Championship
Manly Warringah
6 Eastern Suburbs 4 (
Player of the Final Chloe Butcher Manly Warringah
)
Men's Division 1 Championship Parramatta 10 Bankstown 9 (Player of the Final Luke Osbourne Parramatta)
Women's Division 2 Championship
Manly Warringah
4 Ryde Eastwood 3 (
Player of the Final Kataraina Withell Manly Warringah
)
Men's Division 2 Championship Ryde Eastwood 8 Wollongong 7 (Player of the Final Ben Stevanovic Ryde Eastwood)
Division 3 Championship St George 3 Cronulla 2 (Player of the Final Jaimie Phipps St George)
Men's Division 3 Championship Peninsula 10 Penrith 6 (Player of the Final Kieran Diamond Peninsula)
Men's Division 4 Championship Balmain 7 Appin 6 (Player of the Final Dane Ryan Balmain)
Women's Premier League Championship
Manly Sea Eagles 5 Defeated Canterbury Bulldogs 4 (Player of the Final Laura Peattie Manly Sea Eagles)
Men's Premier League Championship Penrith Panthers 10 Defeated Central Coast Dolphins 9 (Player of the Final Tjadyn Ashby Penrith Panthers)
1st Penrith Panthers 119pts
2nd Western Suburbs 99pts
3rd Manly Warringah 95pts
1st Penrith 190pts
2nd Western Suburbs 128pts
3rd Manly Warringah 126pts
Lisa Neal Shield (Minor Prems Women's)
Owen Lane Shield (Minor Prems Men's)
Central Coast Dolphins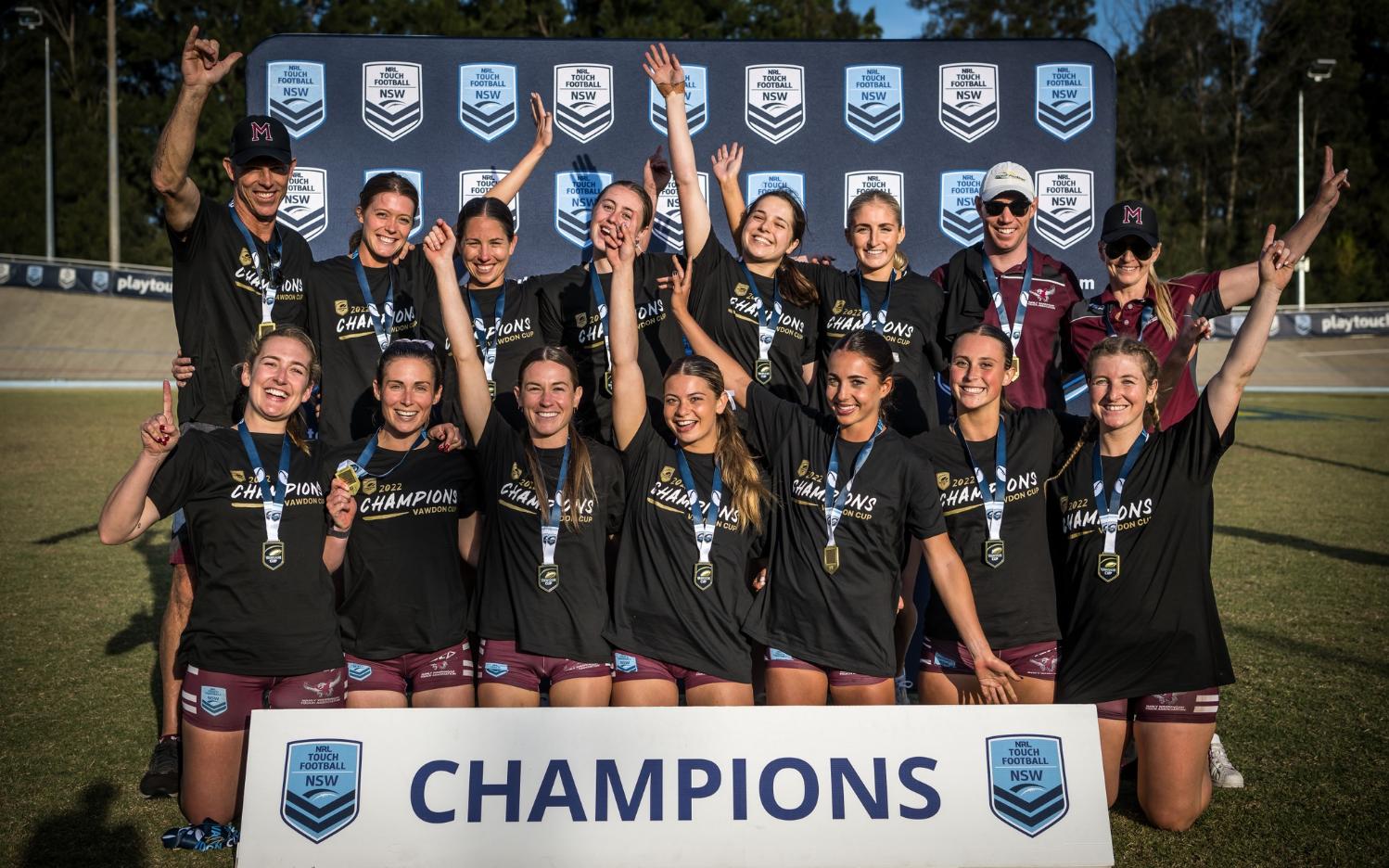 2022 Vawdon Cup Women's Premier League Champions - Manly Sea Eagles. Photo: New South Wales Touch Football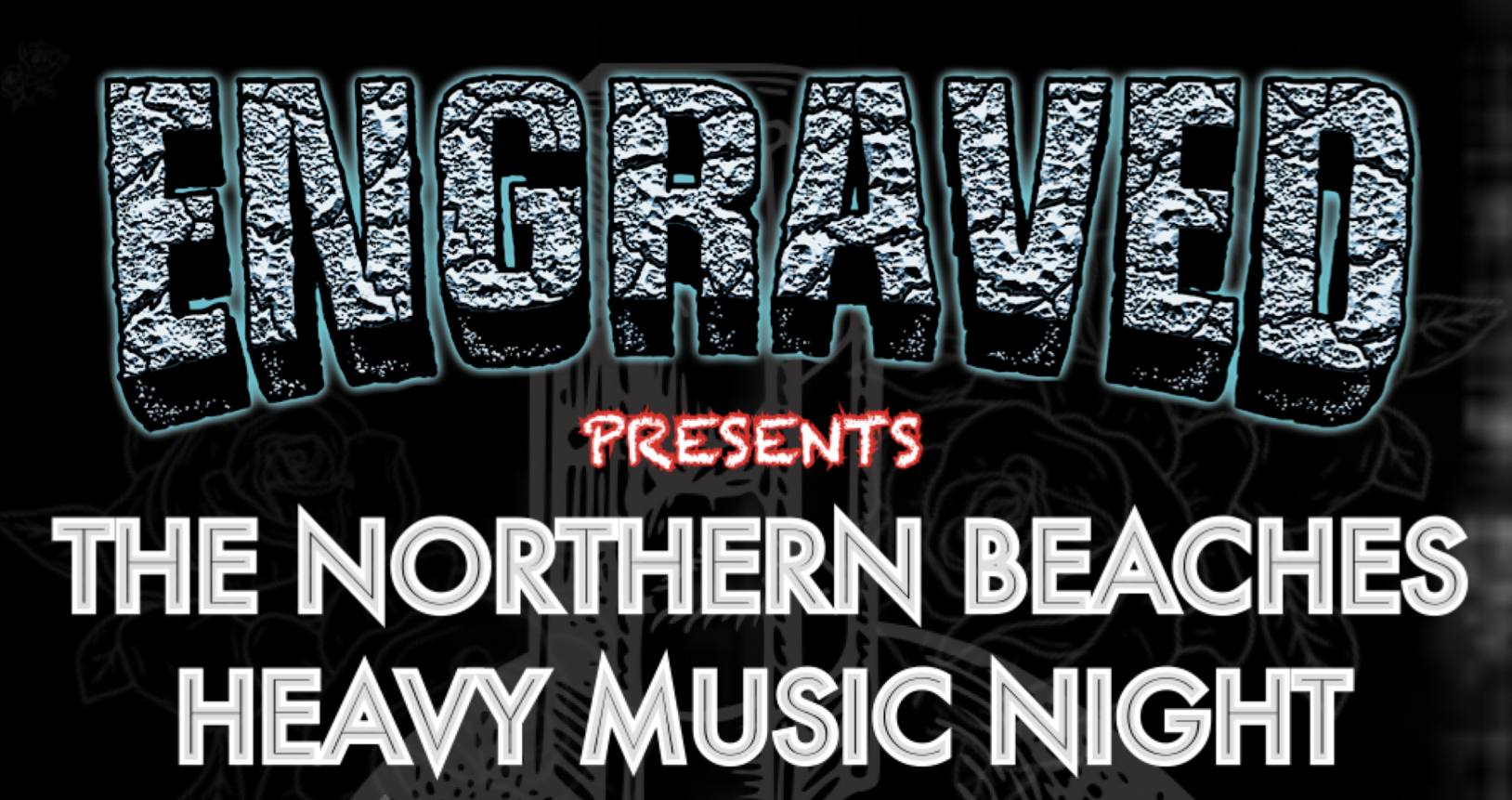 Northern Beaches Metal locals ENGRAVED are hosting the first ever ALL AGES Heavy Music Night! On Friday the 25th of November, a catalogue of talented artists come to together for a night of metal at Ararat Cultural Centre in Frenches Forest.
The line up includes: ENGRAVED with special guests; Russian Novel, Bridge Left To Burn, Inpha One, Ben Challenger and Huntsman.
Venue: Ararat Cultural Centre,
3 Grattan Cres, Frenches Forest, NSW 2086
Doors open at 5pm, bands start from 5:30.
Tickets: $5 online pre-sale, $10 at the door.
Food will be sold at the venue.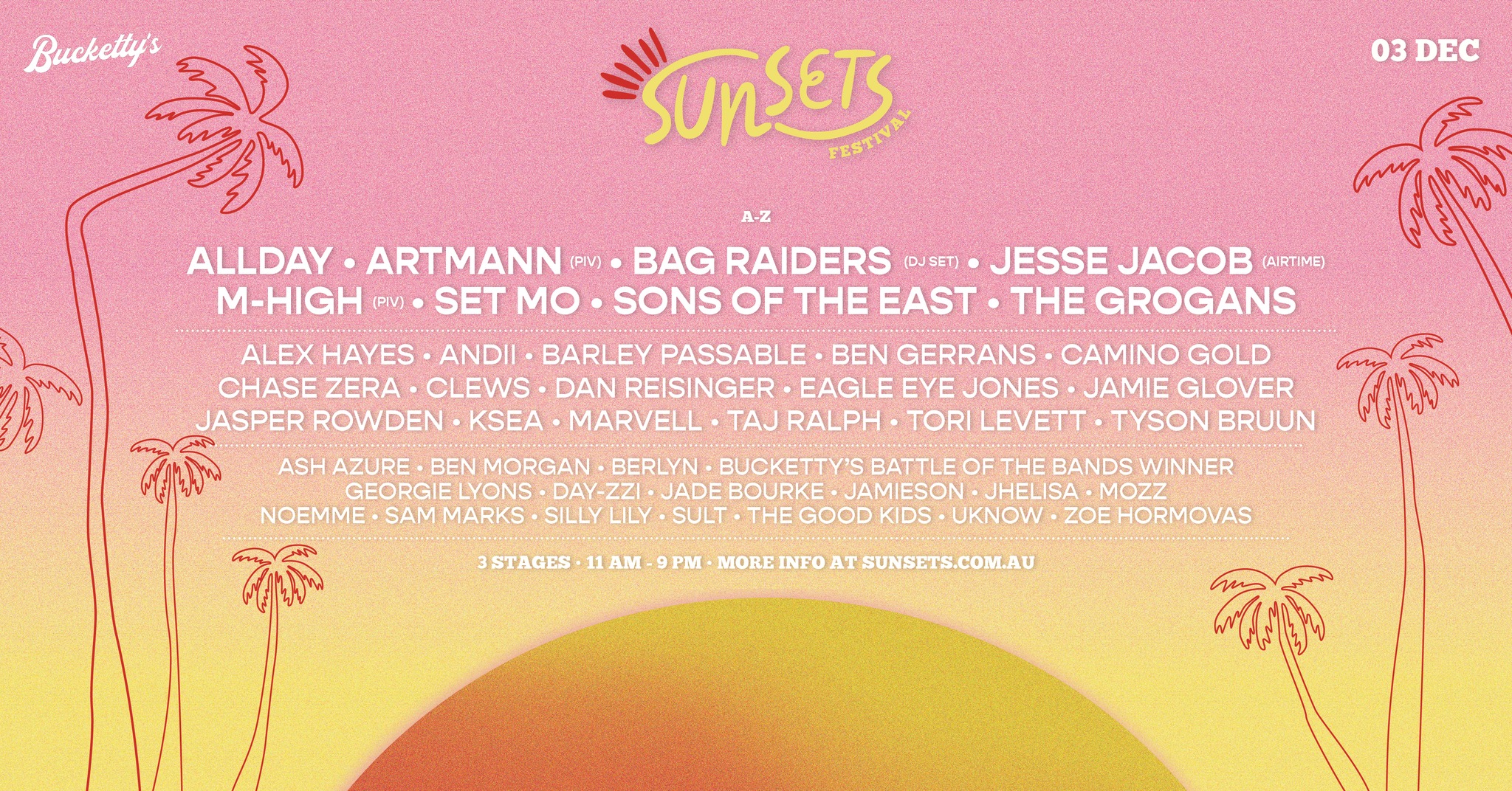 Celebrate summer's first Sun Set. 3 stages. 42+ artists. Making memories. Together
School Leavers Support
Explore the School Leavers Information Kit (SLIK) as your guide to education, training and work options in 2022;
As you prepare to finish your final year of school, the next phase of your journey will be full of interesting and exciting opportunities. You will discover new passions and develop new skills and knowledge.
We know that this transition can sometimes be challenging and the COVID-19 pandemic has presented some uncertainty. With changes to the education and workforce landscape, you might be wondering if your planned decisions are still a good option or what new alternatives are available and how to pursue them.
There are lots of options for education, training and work in 2022 to help you further your career. This information kit has been designed to help you understand what those options might be and assist you to choose the right one for you. Including:
Download or explore the SLIK here to help guide Your Career.
School Leavers Information Kit (PDF 5.2MB).
School Leavers Information Kit (DOCX 0.9MB).
The SLIK has also been translated into additional languages.
Download our information booklets if you are rural, regional and remote, Aboriginal or Torres Strait Islander, or living with disability.
Support for Regional, Rural and Remote School Leavers (PDF 2MB).
Support for Regional, Rural and Remote School Leavers (DOCX 0.9MB).
Support for Aboriginal and/or Torres Strait Islander School Leavers (PDF 2MB).
Support for Aboriginal and/or Torres Strait Islander School Leavers (DOCX 1.1MB).
Support for School Leavers with Disability (PDF 2MB).
Support for School Leavers with Disability (DOCX 0.9MB).
Download the Parents and Guardian's Guide for School Leavers, which summarises the resources and information available to help you explore all the education, training, and work options available to your young person.
School Leavers Information Service
Are you aged between 15 and 24 and looking for career guidance?
Call 1800 CAREER (1800 227 337).
SMS 'SLIS2022' to 0429 009 435.
Our information officers will help you:
navigate the School Leavers Information Kit (SLIK),
access and use the Your Career website and tools; and
find relevant support services if needed.
You may also be referred to a qualified career practitioner for a 45-minute personalised career guidance session. Our career practitioners will provide information, advice and assistance relating to a wide range of matters, such as career planning and management, training and studying, and looking for work.
You can call to book your session on 1800 CAREER (1800 227 337) Monday to Friday, from 9am to 7pm (AEST). Sessions with a career practitioner can be booked from Monday to Friday, 9am to 7pm.
This is a free service, however minimal call/text costs may apply.
Call 1800 CAREER (1800 227 337) or SMS SLIS2022 to 0429 009 435 to start a conversation about how the tools in Your Career can help you or to book a free session with a career practitioner.
New Courses To Strengthen Digital Workforce
November 9, 2022
An army of cyber security, cloud computing and artificial intelligence experts will be trained at the State's first revolutionary Institute of Applied Technology (IAT) with the NSW Government today unveiling of a suite of 19 new digital-focused courses.
The new facility, located at Meadowbank, is a partnership between TAFE NSW, Microsoft, the University of Technology Sydney and Macquarie University, and will focus on turbocharging the take-up of digital skills to strengthen our State's workforce.
Minister for Skills and Training Alister Henskens said the new IAT, which opens in February next year, is now taking enrolments in courses spanning artificial intelligence, cyber security, cloud computing, machine learning and data analytics.
"These courses have been developed hand-in-glove with industry to meet current and emerging skill needs," Mr Henskens said.
"At a time when cyberattacks are on the rise, this training will allow people to quickly build the skills we need for a strong and safe digital economy.
"With Australia needing another 17,000 cyber professionals by 2026, now is the time for people to enroll in courses at our new IAT and get the skills they need for jobs in cyber security, digital forensics, data engineering, machine learning, and more."
To meet this increasing industry demand, the IAT will offer a combination of flexible microskills and microcredentials to cater for new learners as well as current industry workers who require upskilling to maintain pace with the rapidly evolving sector.
Member for Ryde and Minister for Customer Service and Digital Government Victor Dominello said learners can stack multiple microcredentials to create a nationally recognised certification, such as a diploma, or advanced diploma, or count towards a degree with participating education partners.
"Ryde is being transformed into an education and employment powerhouse, and this revolutionary new training facility will help attract, retain and upskill local workers, which is a fantastic win for our community," Mr Dominello said.
In addition to the 19 programs now available, the IAT will release another 16 courses in time for Semester 2, 2023. For more information, visit the Institute of Applied Technology
Local Students And Support Staff Have Opportunity To Train As Teachers
November 6, 2022
Classroom support staff in NSW public schools will be guaranteed a permanent teaching job once they finish their training under a new Teacher Supply Strategy program to grow the teaching workforce.
The Grow Your Own Teacher Training program will initially support up to 100 School Learning Support Officers (SLSOs) to upskill and study teaching degrees while working in local schools.
Deputy Premier and Minister for Regional NSW Paul Toole said the program recognises the outstanding contribution SLSOs make in classrooms across the State and helps remove barriers to a teaching career.
"We have generous financial incentives, including housing, to encourage teachers to work in our regional schools, but we're also committed to fostering local talent," Mr Toole said.
"Our regional SLSOs have strong ties to their local community and are already doing fantastic work in our schools. We want to do all we can to support them to upskill and progress their careers without having to travel away from home."
Minister for Education and Early Learning Sarah Mitchell said the Grow Your Own Teacher Training program is complemented by another Grow Your Own stream that will encourage year 12 students and community members living in rural and regional areas to explore a career in teaching.
"The Grow Your Own Community Entry Pathway is about supporting school leavers who are interested in becoming teachers to stay at their local school and gain hands-on experience as SLSOs or classroom teacher support officers," Ms Mitchell said.
"Through both Grow Your Own streams we are building new pathways to teaching careers that encourage and support young people into this rewarding profession."
The NSW Department of Education has partnered with Charles Sturt University and Western Sydney University to deliver the Grow Your Own Teacher Training pilot program.
Participants will commence their studies in early 2023 and remain employed as an SLSO in their current school while studying. They receive $10,000 training allowance per year (up to $30,000 for the degree) and can work part-time as an educational paraprofessional in their final four semesters of study.
Applications opened this week, with a focus on rural, regional schools and high-demand metropolitan areas.
To support schools to introduce a Community Entry Pathway model, an online toolkit is rolling out to provide resources and information on how to identify and recruit year 12 students and community members.
For more information visit: https://education.nsw.gov.au/teach-nsw/become-a-teacher/grow-your-own
Be The Boss: I Want To Be An Electronic Repair Technician
If you like fiddling with mobile phones, computers and similar equipment than a career in the Electronic Repair Technician industry may be for you.
There are currently a few local businesses that specialise in this,
at Belrose
and Warriewood, so you won't spend a whole dfay travelling to and from your workplace either.
Electronic Engineering Technicians conduct tests of electronic systems, collect and analyse data, and assemble circuitry in support of Electronics Engineers and Engineering Technologists.
Day-to-day
develops, constructs and tests electronic equipment and associated circuitry in accordance with technical manuals and instructions of Electronics Engineers and Engineering Technologists
estimates material costs and quantities of electronic circuitry and equipment
evaluates performance of electronic equipment
inspects designs and finished products for compliance with specifications, drawings, contracts and regulations
installs, repairs and modifies electronic equipment.
Through a mixture of theory and practical course work, learn to:
Fabricate, assemble and dismantle electrical equipment and devices
Solve technical issues in analogue and digital electronic and communications circuits and systems
Use industry-relevant computer applications
Implement safe work practices and regulations
Course Outcomes
Gain practical experience and develop specialist skills that give you an advantage in the job market.
Experience in applying key electronic principles to a range of real world industry challenges
The skills to build and test electronic circuits using different electronics components and devices
Techniques to install, set-up, test, repair and maintain electronic equipment and devices at a component/sub-assembly level
Drawing on environmentally-minded electronic practices and procedures
A strong pathway to continue your study and enhance your career opportunities
The average electronic technician salary in Australia is $71,500 per year or $36.67 per hour. Entry-level positions start at $60,000 per year, while the most experienced workers make up to $110,000 per year.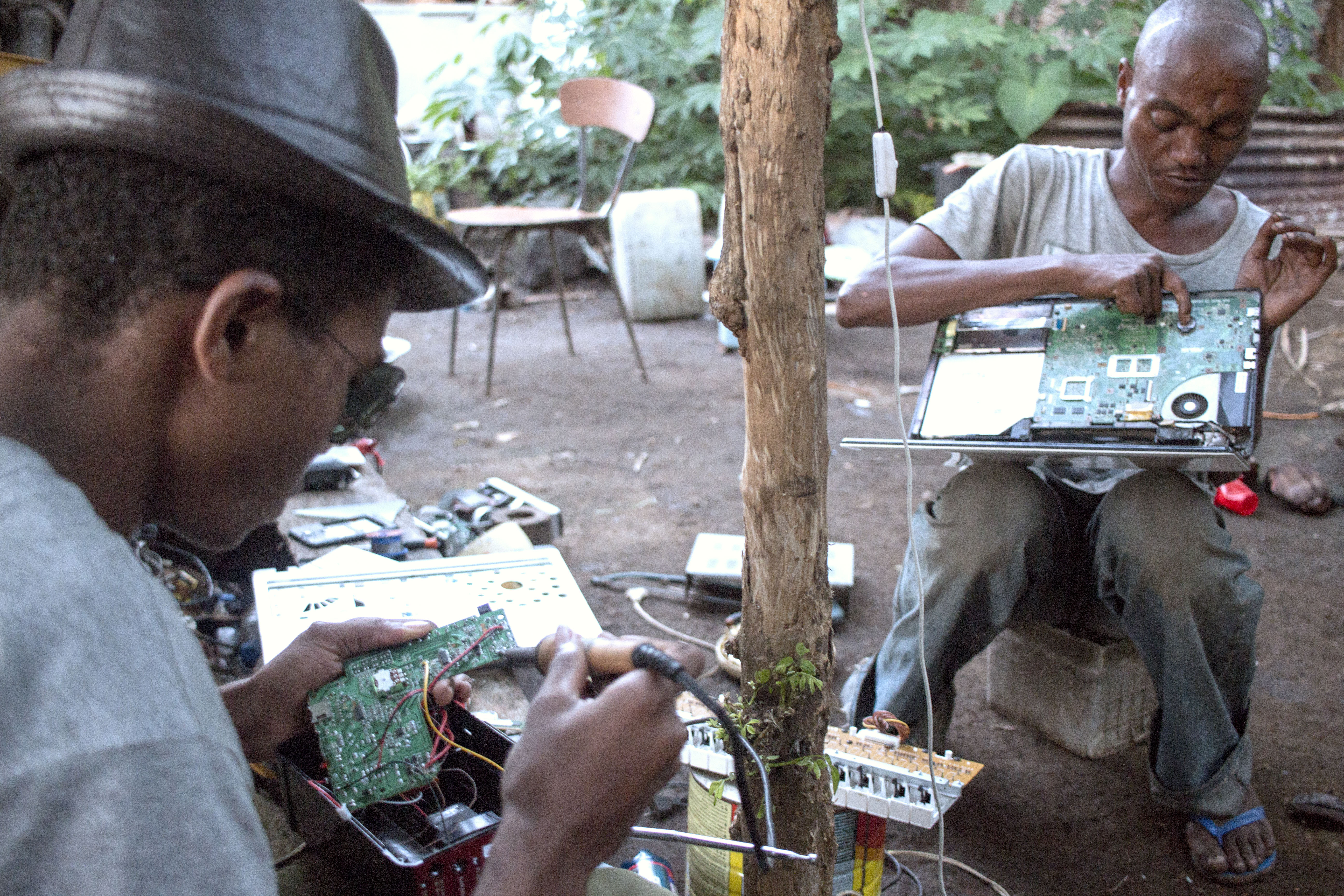 Summer Skills Fee Free Courses
Summer Skills is a fee-free* short course program to support school leavers, aged between 15 – 24 years, obtain job-ready skills over the summer months.
Whether you plan to attend TAFE NSW, university, have a gap year or are still undecided, we have a course that can give you the skills for a brighter future.
Priority industry areas have been identified under Skilling for Recovery and include short courses in Early Childhood Care, Aged Care, Disability, Hospitality, Construction, Agriculture, Business and Administration, IT and Digital, Retail, Transport and Logistics, Manufacturing/Engineering and Sport and Recreation.
For example - starting November 23, 2022 at Ryde: STATEMENT OF ATTAINMENT IN COMMERCIAL COOKERY BASICS
visit: https://www.tafensw.edu.au/course-areas/food-and-hospitality/courses/statement-of-attainment-in-commercial-cookery-basics--SG00007780
Or starting November 24th at Ryde: STATEMENT OF ATTAINMENT IN ESPRESSO COFFEE
Find out more at: https://www.tafensw.edu.au/summer-skills
Also Available:
Word Of The Week: Shambolic
Word of the Week returns in 2022 simply to throw some disruption in amongst the 'yeah-nah' mix.
adjective; "chaotic, disorderly," 1961, derived from 'shamble' in the sense "disorder"
shamble; verb; (of a person) move with a slow, shuffling, awkward gait. noun; a slow, shuffling, awkward gait.
compare shambles (noun); A scene of great disorder or ruin. A great mess or clutter.
A scene of bloodshed, carnage or devastation. A slaughterhouse. (archaic) A butcher's shop.
From "meat or fish market," early 15c., from schamil "table, stall for vending" (c. 1300), from Old English scamol, scomul "stool, footstool" (also figurative); "bench or stall in a market on which goods are exposed for sale, table for vending." Compare Old Saxon skamel "stool," Middle Dutch schamel, Old High German scamel, German schemel, Danish skammel "footstool." All these represent an early Proto-Germanic borrowing from Latin scamillus "low stool, a little bench," which is ultimately a diminutive of scamnum "stool, bench," from a word root skmbh- "to prop up, support."
In English, the sense evolved from "place where meat is sold" to "slaughterhouse" (1540s), then figuratively "place of butchery" (1590s), and, generally, "confusion, mess" (1901, usually in plural).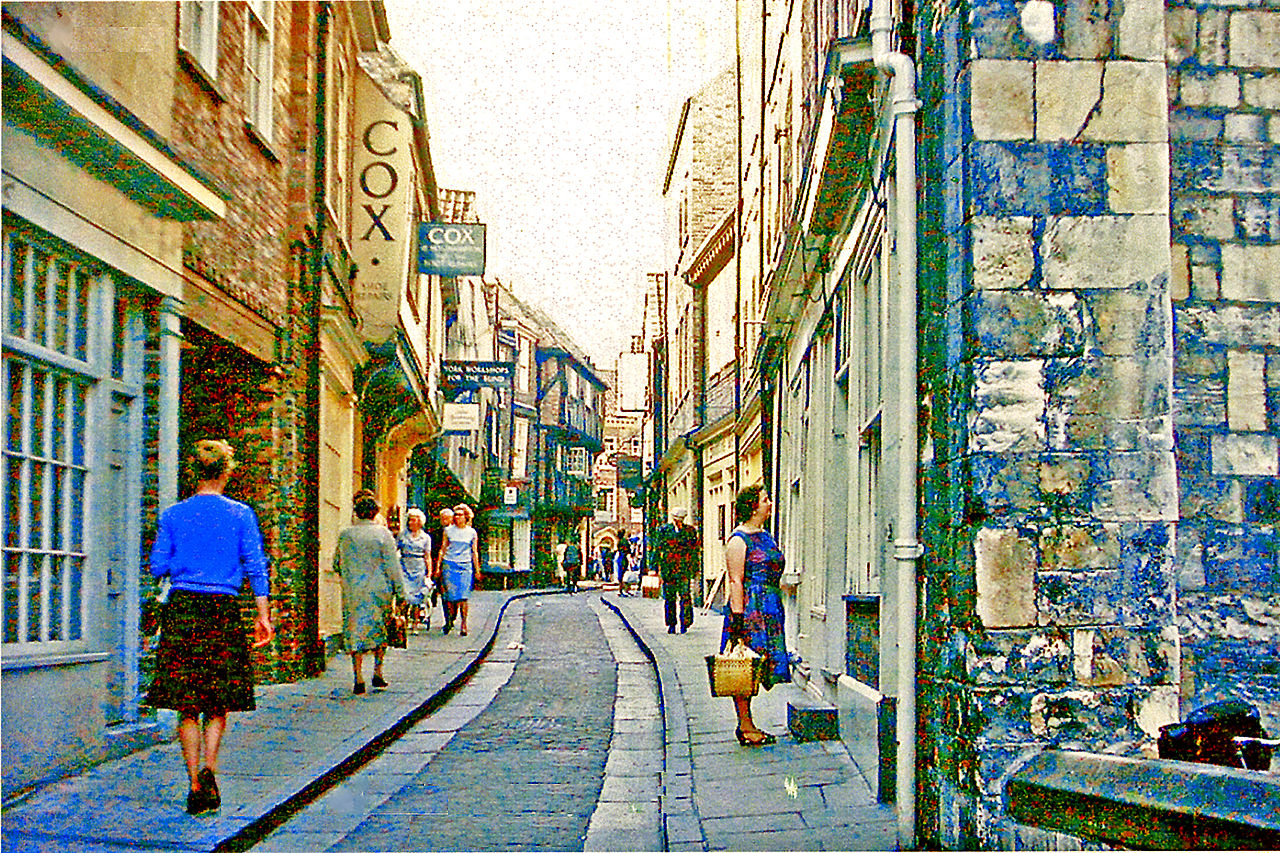 York: The Shambles, 1965. Geograph Image: Ben Brookshank

The Church - Under The Milky Way
Hoodoo Gurus - Come Anytime

Split Enz - Message To My Girl
Goanna - Solid Rock (Sacred Ground)

Christine Anu My Island Home
I Am, You Are, We Are Australian
The lyrics to 'I am Australian' were written in 1987 by Bruce Woodley of 'The Seekers' and Dobe Newton of 'The Bushwackers' and set to music composed by Bruce Woodley.
The Seekers were a group of musicians from Melbourne, Australia who came together in 1962. This recording was made during a Melbourne performance during their 25 Year Silver Jubilee Reunion Celebration tour in 1993.
Lead vocals: Bruce Woodley (guitar) & Judith Durham
Other vocals: Athol Guy (double bass) & Keith Potger (twelve string guitar)
Landmark
Made by The Commonwealth Film Unit 1972. This short film was produced in 1972 from historic and contemporary footage of The Sydney Opera House including footage of its complex construction and the site's previous use as a tram depot. It has a musical score but no narration and is our first offering to celebrate the 40th anniversary of the opening of the Sydney Opera House on 20th October 1973. This incredible building by architect Jørn Utzon has indeed become a landmark.
Have Your Say On The Future Of Help At Home
The Australian Government is redesigning and improving in-home aged care. A new program will launch on 1 July 2024.
The Department of Health and Aged Care is seeking feedback throughout the development of this new program.
We are now inviting feedback on a
discussion paper
which provides a draft design for the future in-home aged care program. It takes in feedback from previous consultations on board.
Tell us your thoughts on in-home aged care
If you receive in-home aged care, care for someone who does or work in the sector we want to hear from you. We'd like to hear your views on draft design and questions raised in the
discussion paper
.
Our areas of focus are:
ensuring flexibility to respond to changing needs
care management and self-management
funding to cover the cost of care and provide value for money
increasing early support for independence at home.
If you'd like to provide feedback on the new in-home aged care program, the details are below:
Deadline:
Submissions are open until Friday, 25 November 2022.
Seniors Welcome New Concession Card Limits
National Seniors Australia welcomes changes to eligibility rules for the Commonwealth Seniors Health Card (CSHC). Tens of thousands more retirees can now receive cheaper health costs and cost-of-living concessions.
The CSHC is a Federal Government concession card that provides access to cheaper medicines through the Pharmaceutical Benefits Scheme (PBS) and other federal concessions as well as concessions offered by some state and territory governments.
CSHC income test limits have now been increased to $90,000 for a single (up from $61,284) and $144,000 for couples (up from $98,054). To get the card, you must meet residency requirements, be of Age Pension age and meet an income test
Chief Advocate of National Seniors Australia Ian Henschke has welcomed the change.
"This is good news for retirees struggling with rising living costs. Extending the CSHC card eligibility according to government calculations means an extra 44,000 retirees will now get access to concessions to help ease cost of living pressures."
"This change came about because during the Federal Election both major parties agreed to lower the income test threshold if they won. While there were some delays in getting this through parliament, we thank the government and crossbench for finally passing this change," he said.
"It's important self-funded retirees check if they are eligible, because unlike the Pensioner Concession Card, the Commonwealth Seniors Health Card is not automatically issued. You must apply, and you can do this now via Centrelink.
With this change announced, National Seniors Australia will step up its push to bring about changes to alleviate the drastic and growing workforce shortages in the care sector.
"While we support the change to the Commonwealth Seniors Health Card, there are a range of other policies the government can adopt to improve the lives of all older Australians. Changing pension income test rules to allow them to work without penalty and training more mature age workers, particularly in home care will boost the care workforce and the incomes of pensioners with limited savings."
Pensioner's Concessions: Council Rates
While on concessions - did you know that Pensioners are entitled to concessions on their Council Rates?
Concessions are available for eligible pensioners. To be an eligible pensioner you must receive a pension from either Centrelink or the Department of Veterans' Affairs, and be entitled to a pensioner concession card issued by the Commonwealth Government. You can only claim a concession on the property if it is the sole or principal place you live.
If you are eligible, you are entitled to:
Half of the total of your ordinary rates and domestic waste management service charge, up to a maximum of $250.

Half of your water rates or charges, up to a maximum of $87.50.

Half of your sewerage rates or charges, up to a maximum of $87.50

.
To apply, you need to complete a pensioner concession application form. You can obtain these forms from your council -
download our area's one HERE
Freshie Masters Carnival - Saturday 19 November
We're on! Come and join us at Australia's premier Master's Carnival on Freshwater Beach, hosted by Freshwater SLSC.
Briefing on the sand at 7:45am, Team events commence at 8am, Dash For Cash commences 10am, Brunch & Presentation 11am. No Individual SLSC Events. This is a 'Teams' Only Carnival.
Club Entries via SEMS
If you're a Master, come join us!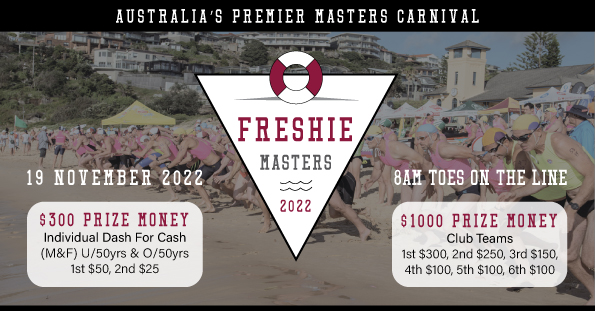 Have Your Say On Strengthening Quality In Aged Care
Minister for Aged Care Anika Wells is encouraging older people, their family, friends, carers and aged care providers to share their views on strengthening quality in aged care through the Aged Care Quality Standards.
he review responds to the recommendations of the Royal Commission into Aged Care Quality and Safety (Royal Commission). This includes strengthening key areas such as food and nutrition, diversity, dementia, clinical care and governance.
The content and structure of the current Quality Standards have been revised following significant targeted consultation with key stakeholders including consumer representatives, the sector, peak bodies and experts.
"The Aged Care Quality Standards are more than just a document. They provide a shared understanding of what is expected in aged care. They are being urgently reviewed so we can strengthen requirements and embed high quality in the aged care system. '' Minister for Aged Care, Anika Wells said
"I want to ensure all older people receive high quality care that is best suited to them and meets their individual needs, which is why it's so critical that as many people engage as possible and have their say.
"We heard what the Royal Commission said and are raising the bar for quality and safety.
"We are doing this by strengthening governance and clinical care in the Quality Standards and ensuring the diversity of older Australians and people living with dementia are better understood and considered."
Aged Care Council Of Elders
The Australian Government has established the Aged Care Council of Elders as part of governance arrangements for aged care reforms. The council plays a critical role in making sure that older Australians – who are most central to the aged care system – have input into shaping the aged care reforms.
The council provides advice from older Australians to the Government about aged care reform and ageing well. They consider views from all older Australians when providing their advice. To do so the council consults with older Australians on a range of matters including:
aged care quality and safety
the needs of older Australians and their families and carers
the rights and dignity of older Australians.
To support consultations with older Australians, the council may:
call for written submissions and surveys
hold public meetings and workshops
facilitate focus groups and individual interviews
engage in online consultations, including webinars.
The council will report on the diverse issues, views, and perspectives of older Australians to the:
Minister for Health and Aged Care
Minister for Aged Care
Department of Health.
The Council of Elders' members comprise a mix of diverse skills, expertise, and backgrounds. They represent broad geographical locations and consider views from rural, regional and remote Australia.
Members - Position
Mr Ian Yates, AM - Chair
Dr Michael Barbato, OAM - Council member
Professor Tom Calma, AO - Council member
Ms Gwenda Darling - Council member
Ms Val Fell, OAM - Council member
Ms Gillian Groom, AO - Council member
Ms Danijela Hlis - Council member
Mr Bill Jolley - Council member
Dr Gill Lewin - Council member
Professor John McCallum - Council member
Ms Sue McCann - Council member
Dr Kay Patterson, AO - Council member
Dr Miriam-Rose Ungunmerr Baumann, AM - Council member
Ms Margaret Walsh, OAM - Council member
New COVID-19 Variant Leads To Increase In Cases
A statement from Professor Paul Kelly, Australian Government Chief Medical Officer, on the increase in COVID-19 cases due to a new Omicron variant.
We are seeing an increase in COVID-19 case numbers in Australia, reflecting community transmission of the Omicron variant XBB.
We are also closely monitoring the overseas transmission of a second Omicron variant – BQ.1.
While evidence is still emerging, the experience to date with these two variants overseas is that they do not appear to pose a greater risk of severe illness and death – and that the COVID-19 vaccines provide good protection against these outcomes.
All indications are that this is the start of a new COVID-19 wave in Australia. This was to be expected and will be part of living with COVID-19 into the future.
The overseas experience is that these new variants have driven increases in case numbers – and hospitalisations at a rate proportionate to these increases – because of their ability to evade the immunity provided by prior infection and vaccination.
It's therefore timely to focus on the actions we can all take to reduce the threat of these new variants, keep the pressure off our health care workers and hospitals and continue to look forward to our summer plans.
There are three things everyone can do to reduce the threat of these variants across our communities – and help limit the size of the wave.
Firstly, make sure you are up to date with your vaccinations – including having a third or fourth dose if you haven't had them already. Make an appointment for this dose as soon as possible so your immunity is boosted for the coming months when we are most likely to see an increase in COVID-19 transmission in Australia.
Vaccination is your best protection against getting severely ill or dying from COVID-19. And evidence from overseas indicates vaccination reduces the prevalence of symptoms associated with Long COVID.
Secondly, keep a mask handy when away from home. If you're at indoor public places or in crowded settings, a mask can help protect you and reduce the chance of infecting others. It's a simple, sensible way to add another layer of protection and contribute to our collective effort to slow the spread of the virus.
And thirdly, if you have tested positive or are not feeling well, stay at home until the symptoms have passed. If you do have to leave your house, wear a mask and avoid going to any high-risk settings, including hospitals, and aged and disability care facilities.
Through these three measures, you can make a significant contribution to protecting yourself, your family and friends, and the wider community against these new COVID-19 variants.
Advice about managing COVID-19 symptoms is available 24/7 from the Australian Government's National Coronavirus Help Line: 1800 020 080. Information about managing COVID-19 is also available at
healthdirect.gov.au
.
In addition, people at risk of more severe illness from COVID-19 should talk to their GP now about their eligibility for oral antiviral treatments should they contract COVID-19.
Amendment To Pension Work Bonus Welcomed
National Seniors Australia congratulates the government on extending the $4,000 increase in the Work
Bonus limit by 6-months to the end of 2023 as an amendment to the Workforce Incentive Bill in the House of Representatives last night.
Increasing the timeframe for eligibility for the Work Bonus increase means more pensioners, Veterans, disability support pensioners and recipients of the carer payment over pension age will have an incentive to work and fill critical labour force shortages when the Bill is passed.
Chief Advocate Ian Henschke said, "the extension to the end of next year means pensioners and those reaching pension age will have more time to take advantage of this incentive to work without affecting their pension. We expect more pensioners will stay in the workforce, return to work and work more."
"According to the ABS, there are almost half a million job vacancies across Australia. More than 74,000 are in health, aged care, disability and childcare," Mr Henschke said.
"This move means people reaching pension age over the next year will have a good reason to stay in the workforce."
"The change to the Work Bonus limit means a single pensioner with no savings could earn up to $17,000 without impacting their pension and a couple as much as $32,000 (if both work part time up to the limit). We encourage pensioners to take up the offer, and for government to publicise it.
"We congratulate the Federal Government for listening to the community and for making this amendment. We also welcome the support of the Australian Greens and cross-bench Independents for pushing for this practical change to make a difference for pensioners who want to work. We hope this Bill passes quickly in the Senate. It shows you can improve people's lives without blowing the budget."
"We look forward to working with the government to make more long-term changes to make the tax and transfer system simpler and fairer so pensioners, job seekers, and others can help meet crippling workforce shortages. We will be submitting our suggestions to the upcoming Employment White Paper and May 2023 Budget."
A Pay Rise For Aged Care Workers
Aged care workers are in line for a pay rise due to the advocacy of unions, the sector and the Australian Government.
The Fair Work Commission has made an interim decision for an increase to minimum wages of at least 15 per cent for aged care workers in direct care roles on a number of different awards.
The Commission has announced a further process to consider timing, possible further increases for these workers, and whether to also grant a pay rise for aged care administrative and support staff.
The Hon Mark Butler MP, Minister for Health and Aged Care, stated

''Our Government promised to fight for a pay rise for Australia's aged care workers and we did. We made a submission to the Fair Work Commission in August that unequivocally supported a wage increase.
The Royal Commission into Aged Care Quality and Safety recommended the Government contribute to this union-initiated work value case. Unlike the previous Liberal and National government, we delivered.
The Government's submission also made it clear it would fund an increase to award wages.
We're fighting for a better future for aged care workers and older Australians.
If we don't start paying aged care workers properly we won't be able to attract and retain enough staff to care for our loved ones as our population ages.
Our Government is committed to stopping the neglect in the aged care sector – putting security, dignity and humanity back into the aged care system for workers and older Australians.''
Tony Burke, Minister for Employment and Workplace Relations, said:
"Aged care work is hard work – but it's undervalued work.
This result is the first step in changing that.
"Our Government is committed to getting wages moving again, particularly in low-paid female-dominated industries like this one."
Anika Wells, Minister for Aged Care, said:
"We need to bring workers back to the aged care sector and fill the staff shortages caused by nine years of neglect.
"One of the main causes of the gender pay gap is low pay and poor conditions in care sectors like aged care, where the majority of workers are women. Increasing wages in aged care is essential to ensuring that men and women are paid equally."
More Ways For Seniors To Stay Connected
More than 20 community-led programs have been funded by the NSW Government to empower seniors to be active and connected in their local communities.
Minister for Seniors Mark Coure said 21 programs have been funded with a share of more than $600,000 through the third round of the Reducing Social Isolation for Seniors program.
"Following this round, we have now supported 71 different programs with some $2 million to support seniors and keep them connected with their local communities right across the state," Mr Coure said.
"Seniors are an integral part of our society and we want to make sure they don't run the risk of falling into social isolation.
"These programs are about making sure everyone can participate no matter their background, language or abilities."
Camden Council is one of the local councils receiving funding through the program, which will go towards the running of its Café Connect initiative.
"Camden Council is focused on providing all our residents with the best opportunities to participate and engage in a range of local activities," Camden Council Mayor Therese Fedeli said.
"This funding goes a long way in assisting Council to continue providing our Café Connect program, which provides our local seniors with the opportunity to participate and receive information about health, social and service provisions, lifelong learning and wellbeing activities and the opportunity to socially connect on a regular basis."
North Shoalhaven Meals on Wheels also received funding to help expand its Meals Together program.
"The past few years have been extremely challenging for many members of our community, with some feeling lonely or isolated. With this funding from the NSW Government, North Shoalhaven Meals on Wheels is excited to expand Meals Together to better engage and support these members of our community," North Shoalhaven Meals on Wheels Director and Deputy Chair Luke Sikora said.
Funding of up to $50,000 was on offer in the third round of the Reducing Social IsoSQUEALlation for Seniors Grants program. Projects must run through 2022-2023.
Successful Round Two Grant Recipients include:
SNPHN Ltd (Sydney North Public Health Network)
Connections for Carers will provide opportunities for social connectedness through a series of themed social activities during 2022. These activities will be designed to bring seniors who are carers together socially and for wellbeing initiatives to provide togetherness, reduce isolation and to facilitate access to social networks, health and well-being services and support.
This project operates in Northern Beaches
, and targets the following priority groups:
Aboriginal and Torres Strait Islander people aged 50 years and over
Seniors from culturally and linguistically diverse (CaLD) backgrounds
Seniors who are carers
Seniors Making Sustainable Community Connections
Community Connections is a major Program Expansion that will provide greater services to more socially isolated seniors over 65, (50% CALD) particularly those exiting healthcare and/or waiting for aged care places. Growing out of a single intervention program into this diverse suite of multiple offerings, it will be distinguished by its capacity to address multiple barriers to participation leading to more sustainable impact. It gives clients a very high degree of control over the services they receive and the way they receive them. It has great flexibility to pivot delivery between virtual and face-to-face services, in line with COVID-related health advice.
This project operates in Bayside, Blacktown, Burwood, Camden, Campbelltown, Canada Bay, Canterbury-Bankstown, Cumberland, Fairfield, Georges River, Greater Hume, Hornsby, Hunter's Hill, Inner West, Ku-ring-gai, Liverpool City,
Mosman, Northern Beaches, North Sydney
, Parramatta, Penrith, Randwick, Strathfield, Sutherland Shire, Sydney, The Hills Shire, Waverley, Willoughby and Woollahra, and targets the following priority group:
Seniors from culturally and linguistically diverse (CaLD) backgrounds
Seniors living with disability, dementia, chronic disease or mental illness
Hello Hornsby: Connecting Seniors in Hornsby Shire
This project aims to provide opportunities for Seniors to connect with other Seniors and with our diverse and exciting community, all while having fun. We will host a series of monthly events (with an emphasis on recreation, education and wellbeing), held in different locations across Hornsby Shire, that encourage people to step outside their door and comfort zone to try something new. The aim will be to reduce isolation in our Seniors by providing a variety of opportunities to get to know other Seniors, their neighbours and their community.
This project operates in Hornsby, and targets the following priority groups:
Seniors from culturally and linguistically diverse (CaLD) backgrounds
Seniors living with disability, dementia, chronic disease or mental illness
Australian Public Health System Failing Those With Poor Mental Health: AMA
A new report card from the Australian Medical Association has found Australia's health system and its public hospitals are failing people with poor mental health — a vulnerable and 'overlooked' group of patients, who are suffering as a result.
The AMA's
Public Hospital Report Card - Mental Health Edition
found that due to the hospital logjam, patients with poor mental health often have to wait longer compared to any other patient group presenting to Australia's emergency departments.
The report showed a big drop in the number of available public hospital beds for mental health patients, as increasing numbers of more severely ill patients present to emergency departments after exhausting all avenues for help.
The report card, the latest from the AMA's Clear the Hospital Logjam campaign, shows the number of patients presenting with poor mental health has almost doubled to 121 per 10,000 Australians, up from 69 in 2004.
There has also been an almost 40 per cent decrease in the number of mental health beds in public hospitals per capita — from 45.5 to 27.5 beds per 100,000 population between 1992 and 2020.
The data show a rising reliance on ambulances to reach emergency departments with every second mental health patient (52.2 per cent) arriving by ambulance in 2020–21 compared with all other conditions, where one in three people arrive by ambulance.
On arrival, those needing admission are waiting an average of 12 hours in Queensland to 28 hours in Tasmania before they are admitted to hospital for treatment.
AMA President Professor Steve Robson said the findings were 'unacceptable' and showed systemic issues in the public hospital system needing urgent attention.
"We've been calling out the logjam in our public hospitals for months and this new report shows vulnerable patients with mental ill health are often waiting longer than other patients in the emergency department," Professor Robson said.
The AMA's Emergency Medicine Representative, Dr Sarah Whitelaw, said emergency departments were seeing more patients with mental health problems, more frequently arriving by ambulance, that are increasingly severely ill and needing intensive mental health care and admission to hospital.
"This is causing real anguish — imagine someone severely distressed and ill waiting 28 hours — more than entire day in an emergency department before being admitted to the mental health unit bed that they really need," Dr Whitelaw said.
"All hospital staff, who are doing their best under the relentless pressure, are devastated at the impact on their patients and their loved ones and are experiencing their own burn out. There are also very real and increasing risks to patients and staff from violence and aggression that results from unwell patients having to wait so many hours in a cubicle that, despite our best efforts, can be very loud and stressful with bright lights and lots of people constantly moving around.
"We absolutely need to make sure these patients get to their safe, appropriate mental health unit as soon as possible to start the rest of the treatment that they need, not leave them waiting in an emergency department longer than any other group of patients," Dr Whitelaw said.
Professor Robson said there was a yawning gap in primary care, specialist care and community mental health services — even before the National Mental Health Workforce Strategy was developed last year. It showed significant shortages of most mental health professionals, including psychiatrists, psychologists, and general practitioners, as well as a range of allied health professionals.
"It all tallies up to a health system ill-equipped to provide appropriate, acceptable care for people with poor mental health. Parents and relatives sadly know the heartache of battling though the system for years only to tragically lose their loved ones to suicide," Professor Robson said.
"We need to urgently reverse these worrying trends and stop them from becoming normal. If a mental health patient ends up in the emergency department, the system has already failed them. The solution is prevention and early intervention, with general practice playing a key role, while at the same time boosting our hospital capacity so it is ready to support patients who need hospital treatment."
The AMA is calling for:
reform of hospital funding including removing the 6.5 per cent cap on activity growth and 50–50 shared funding between states and the Commonwealth
more mental health beds, matched with medical and allied health staffing in public hospitals
the modernisation of Medicare to support GP-led collaborative primary care
an increase in the mental health community service capacity through expanded medical and allied health staffing
an urgent plan to increase our mental health workforce numbers in public and private sectors
future mental health care policy guided by the professional mental health community
funding and strategies to address the mental health crisis in public hospitals involving public hospital doctors, GPs, psychiatrists, and other mental health professionals who are all part of the disjointed, underfunded system struggling to manage mental ill health in the community.
Dr Sarah Whitelaw Launches Public Hospital Report Card - Mental Health Edition
Transcript: AMA Emergency Medicine Representative, Dr Sarah Whitelaw press conference, November 7, 2022.
Subject: Launch of the AMA Public Hospital Report Card – Mental health Edition
DR SARAH WHITELAW: Today we're launching the AMA Public Hospital Mental Health Report Card. It's really clear from this report that our hospital logjam, the immense strain that our public hospitals are currently under, is impacting this group of patients who have severe mental health illness more unfortunately than any other group of patients.
What we're seeing in the emergency department is an increasing number of patients presenting to emergency departments. We're also seeing that they're more severely unwell, more of them are coming by ambulance and more of them are needing admission to specialised mental health beds that simply aren't there. What this report makes confrontingly clear is the significant decrease in the number of mental health beds in Australia that we've had over the last 30 years - a decrease of almost 40 per cent, a decrease in the actual number of beds. And when you look at the number of beds by head of population, considering that the population increased by over 7.5 million in that time, that's a really significant decrease in the number of mental health beds available for Australians.
Unfortunately, the need for those beds just continues to go up, and the rates of presentation per head of population into emergency departments has actually doubled since 2004. So we now have patients arriving into the emergency departments who need specialised mental health admission, for whom the beds are already full, who are staying not just hours, but days. We are expecting these patients - and let's face it, up to one in five of us have mental health issues currently - these patients are our family and our friends and our loved ones, and we're expecting them to stay, often in a very small ED cubicles in an environment where the lights are very bright and 24/7, it's loud, it's noisy and they are surrounded by very unwell patients and their families. We're asking them to be quiet and stay still and delay the continuation of the specialised mental health care treatment that they need.
This is a situation that was very severe before COVID. It's a little bit unclear what impact COVID will have on our rates of mental illness in Australia, but what we do know, if we look at the last 30 years, is that the rates of mental illness and the rates of severe mental illness continue to go up. We need to plan for that. We've had an enormous amount of advocacy. We've had significant investment in this area. We've had an enormous number of recommendations from Productivity Commissions and Royal Commissions. It's time for those plans and those recommendations to be implemented. Yes, we absolutely need investment in community mental health and in preventative mental health. We need GP-led collaborative care. That is really clear. But we also need investment in our public hospital system right now. We need to increase the capacity and the number of our mental health beds available for people who are acutely unwell. That means retaining the staff that we've already got and rapidly recruiting more staff so that those beds that we do have can stay fully open.
We need the Federal Government to commit right now to an increase in public hospital funding to 50 per cent share with the states, so a 50-50 share. We need to remove that 6.5 per cent cap that prevents some of the state governments putting in the additional funding that they know is needed. We need to make sure that the state governments commit to using that extra 5 per cent funding from the Federal Government to put directly into the public hospital system. And we need all of the recommendations, the plans, the promises that are being made around Australia to deal with acute mental health illness both in the community but also in the public hospital setting, to be implemented right now. We simply can't wait any longer.
I think the key with this issue is that it's not a state issue, it's not a regional issue. Every single state and territory of Australia, in all regions, from metro to regional and remote and rural areas, we are seeing really significant problems and a group of patients who are very vulnerable in terms of our mental health problems be more disadvantaged than any other group. It's got to stop.
QUESTION: You mentioned a bit about the rhetoric and the investment that's been going on since COVID unveiled or showed us what a big issue the mental health of people are. Are we seeing public hospitals having to pick up the slack in the delay of all of these services coming through?
SARAH WHITELAW: I think that's a really good question, and I think that public hospitals- by the time a patient gets to a public hospital emergency department in need of emergency treatment for their mental health illness, often a lot of the other community and preventative healthcare opportunities have fallen through. So yes, to an extent the public hospital is picking up the slack, if you like, or dealing with the problems in our community and mental health system.
But there will always be a proportion of people who are really unwell from their mental illness. We need emergency care, we absolutely accept that, and we'll need specialised mental health admission to a unit and a bed with staff that are absolutely expert in treating that person's mental illness in an environment that's safe and appropriate for them. So whilst we need to invest much more in propping up that community system, meeting the gaps between those federal and state responsibilities and funding responsibilities, where a lot of people fall into at the moment, we also need to make sure that the capacity for our public hospitals to deal with really unwell mental health patients is still there also. We're failing on both accounts at the moment.
QUESTION: How bad is it at the moment? I mean, is it an actual crisis? Is it an emergency that's happening right now?
SARAH WHITELAW: It is- mental health care for people in emergency departments has been at crisis level unfortunately for at least the last five years, so this is not a new problem for us. What we are seeing is it's worse now than it's ever been. It's been steadily getting worse for decades, and the impact of COVID has made things much harder. In terms of strain on the whole public hospital system, it has increased the number of emergency department presentations throughout COVID.
The impact will be felt for many years to come. It's really important that we don't see COVID as a temporary crisis that needs temporary resources and that people will somehow get back to a more normal situation that won't need the resources that we're asking for. That's simply not the case. Absolutely, it is a crisis at the moment.
Imagining what it's like for a patient who's incredibly unwell from their mental illness, now that those wait times in the emergency department for admission are stretching out from hours to days and days, it's impossible to call it anything other than a crisis.
QUESTION: Why have we lost those beds? I mean, obviously the problem's only increased. Why are we seeing a reduction of beds?
SARAH WHITELAW: Again, a terrific question. In the early '90s Australia, like many countries around the world, decided it was more appropriate, and if we could invest more in community healthcare for mental illness and preventative care, that we should be able to reduce the need for admissions to specialised psychiatric institutions. So at that point our strategy was to reduce the number of beds available or get rid of the number of mental health care beds available in standalone psychiatric institutions, but also in other mental health units. And unfortunately, we haven't invested what we needed to in community and preventative care to actually decrease the number of people needing admissions to the point where we had enough beds for them.
We've also seen an increasing number of people having mental illness and an increasing number of people having really significant mental illness that does in fact need acute mental health care and acute mental health admission. We knew this around 2015 to 2016 when the other OECD countries started to realise that some of them had reduced the number of mental health care beds that they had available quite too far. And no matter how good your community and mental health preventative systems are, there will always be people that need emergency care and need emergency admission. We have realised that, but unfortunately at the moment it's just too little, too late. There are a number of initiatives and recommendations that recognise the need to increase beds and to increase staff. They need to be prioritised. We can't wait another five or 10 years for those plans to be implemented. We really need to take a step back and look at how significantly disadvantaged our mental health care patients are and the fact that that's getting worse for them and really re-prioritize our resources and do something about this right now.
QUESTION: COVID showed us how quickly there can be a health response in terms of setting up COVID wards, that sort of thing. Do we need to take a similar attack with what's going on in the mental health area?
SARAH WHITELAW: Absolutely. We need to involve clinicians right across the mental health care workforce. That's allied health, that's specialised mental health care nurses, that's our specialist general practitioners. Our psychiatrists, our psychologists, our other medical staff, and our other clinical staff right across the spectrum, together with patients and their families, need to apply that COVID crisis mentality, if you like, realise that this is a crisis. We need to act fast. We need to take advantage of some of the great lessons that COVID taught us about how quickly we could act when we all realise that this was a crisis, that we needed to listen to each other and get some solutions in place as quickly as possible. That's a lesson from COVID that we don't want to lose.
QUESTION: How critical is changing the funding model to this happening?
SARAH WHITELAW: Absolutely critical, both for the public hospital system in general and its place within our health system, but particularly for these mental health patients who are really suffering. That increase in a 50 per cent commitment from the Federal Government will allow hospitals to recruit more staff, and that is something that they need funding security for. No amount of temporary or patchwork siloed grant funding can actually allow our health system to recruit the staff that they need long term into the future, and that is why it's crucial that the Federal Government makes a commitment to long-term increasing its public hospital funding to 50 per cent.
QUESTION: Anything else you'd like to add?
SARAH WHITELAW: No. I think we're done. I think that just that key issue that, really, this is a crisis all around Australia that I think is sometimes difficult for people to grasp - the breadth of the problem, that it's not just their experience in their public hospital; that in fact, if you replicate that hundreds and thousands of times a week for mental health patients across Australia, you'll begin to realise the breadth of the problem.
QUESTION: It's got to be hard as well for the people working in the ED where they're doing triage. Obviously, when it comes to breathing, people who have got broken bones, that sort of things, mental health issues must fall way down the category.
SARAH WHITELAW: Look, they don't. And many people are really unwell with their mental health issues and they also need emergency care. So they get triaged into that same system of urgency. What is absolutely causing despair amongst staff and their patients is the sense that you know what care these patients need, you know how quickly they need to continue their specialised mental health treatment, you know how important it is for them to be in an environment that's safe and appropriate for them, but you can't make that happen. And to watch people these people have to stay in an environment that is absolutely more stressful for them for hours, sometimes days, is really difficult for staff to watch when you aren't able to do to the job that you feel you should be able to do for these patients.
It is important to recognise that there is a contribution to increased occupational violence associated with people being forced to wait in emergency departments for so many hours waiting for admission. And that's happening around us every day. That is something that staff and patients also deal with, that increased aggression and behavioural issues and behavioural disturbances, that sometimes result in physical harm but almost always result in mental stress and strain and contribute to burnout for mental health staff but also for staff in the emergency department. That's a really significant problem when every single one of our healthcare workforce counts.
QUESTION: Do the staff exist? If we were to bring back these beds, I mean, are there staff to recruit?
SARAH WHITELAW: I think- when we think about a bed, we often think about a physical bed. And when we talk about beds, we mean a bed that's really staffed with nurses, allied health clinicians and doctors, and other hospital staff that actually are involved in caring for the patients in that bed. So at the moment we do have a workforce shortage, but we've also got a funding shortage. So, to an extent, there isn't any point recruiting more workforce unless we're looking at why the workforce are currently leaving and making sure that we're doing everything we can to keep the workforce that we've got and that we're appropriately funded to be able to employ new workforce that we recruit. So when we train new people, we also have to dedicate the funding to be able to employ them to provide that care.
QUESTION: Thank you.
SARAH WHITELAW: No worries.
Thunderstorm Asthma Season Is The Perfect Storm Brewing: AMA (NSW)
AMA (NSW) is urging NSW residents to be extra cautious as thunderstorm asthma warnings have been issued around the State.
"As we enter the peak season for thunderstorm asthma, it's important to remember the risks and how to protect yourself from what can turn into a deadly weather event," said AMA (NSW) President Dr Michael Bonning.
Thunderstorm asthma is triggered by a combination of high pollen levels, strong winds, hot temperatures, air moisture, and wet weather. In 2016, a thunderstorm asthma event in Melbourne claimed the lives of 10 people and left thousands suffering with breathing difficulties.
"We're now at a time where many suffer with prolonged effects from COVID-19 and although those that suffer from asthma and seasonal hay fever are classified as high risk, it doesn't mean those who have never experienced asthma before won't be affected by thunderstorm asthma," said Dr Bonning.
Experts have predicted this year could be the revival of a catastrophic thunderstorm asthma event, as wet weather makes a return and pollen count levels skyrocket.
"It's crucial to understand your risk, stay on top of severe weather alerts, and avoid exposure.
"Some ways to manage your risk include staying inside with windows and doors shut, checking the forecast regularly, speaking to your GP about your concerns and need for medication or an inhaler, carrying your inhaler with you everywhere you go, being alert to asthma symptoms and having an asthma plan," said Dr Bonning.
If you experience breathing difficulties, wheezing, or tightness in chest, please call 000.
For more information about thunderstorm asthma, please visit https://www.health.nsw.gov.au/environment/factsheets/Pages/thunderstorm-asthma.aspx
Aussies Warned To Take Precaution Against Mozzie Bites: AMA (NSW)
AMA (NSW) is urging all Australians who are eligible to get vaccinated for Japanese encephalitis to get jabbed, and for those who are ineligible to take precautions against mosquito bites.
This comes amidst predictions of a high-risk summer and slow vaccine uptake in at-risk communities.
"It's really simple," said AMA (NSW) President, Dr Michael Bonning. "Some NSW residents should be rolling up their sleeves to get their vaccine, while others need to keep them rolled down."
He added, "It really depends on where you live and work, and what your risk of exposure is.
"Anyone west of Dubbo should check if they are in a local government area of high Japanese encephalitis virus concern. In addition, if you spend more than four hours a day outdoors, or live in temporary or floor damaged accommodation, or have been involved in prolonged flood recovery efforts, then you may be eligible for a free vaccine," Dr Bonning said.
The Japanese encephalitis vaccine is safe and effective for people aged two months or older.
A free vaccine is recommended for anyone in NSW who works, lives, or is visiting a piggery or pork abattoir or rendering plant. The free vaccine is also recommended for NSW residents who work with mosquitoes such as etymologists, environmental health officers and mosquito surveillance and control workers.
"We're expecting warm, wet weather this summer and an increase in mosquitoes. Aside from being annoying and leaving an itchy welt, mosquitos can carry and spread viruses such as Japanese encephalitis. This can lead to serious illness.
"Ask your GP if you are eligible for a free vaccine. And if you're not, there are other precautions you can take to prevent bites – cover up, wear insect repellent, keep windows and doors closed or install flyscreens, and remove stagnant water from buckets or watering cans," Dr Bonning said.
Blind Spots In The Monitoring Of Plastic Waste
Whether in drinking water, food or even in the air: plastic is a global problem -- and the full extent of this pollution may go beyond of what we know yet. Researchers at the Karlsruhe Institute of Technology (KIT), together with partners from the Netherlands and Australia, have reviewed conventional assumptions for the transport of plastic in rivers. The actual amount of plastic waste in rivers could be up to 90 percent greater than previously assumed. The new findings should help improve monitoring and remove plastic from water bodies.
Rivers play a key role in the transport of plastic in the environment.
"As soon as plastic enters a river, it is transported rapidly and can spread throughout the environment," says Dr Daniel Valero from the Institute of Water and River Basin Management at KIT and lead author of a new study on plastic transport.
"But, depending on its size and material, plastic can behave very differently in the process. It can sink, be suspended in the water, remain afloat or be stopped by obstacles." Current methods for estimating plastic pollution in rivers, however, are mainly based on surface observations.
"This is the only way to effectively monitor large rivers from bridges. However, what happens under the water surface has not been sufficiently verified so far," says Valero.
Plastic particles are transported very differently
Together with his research partners, Valero now investigated the behaviour of over 3,000 particles in the size range from 30 millimetres to larger objects such as plastic cups in flowing waters. In laboratory models, each individual particle was tracked in 3D with millimetre precision using a multi-camera system, whereby the entire water column -- from the water surface to the bottom -- was recorded. With this experiment, the researchers were able to statistically prove that plastic particles behave very differently depending on exactly where they are located in a river.
Plastic that is transported below the water surface behaves as predicted by common models for turbulent flows.
"The particles are dispersed like dust in the wind" says Valero.
As soon as plastic emerges the water surface, however, the situation changes radically: "On contact with the water surface, the particles are caught by the surface tension like flies in a spider's web. Then they cannot escape easily."
This adhesive effect is just as relevant for surface transport in rivers as the specific buoyancy of a plastic particle.
For their study, the researchers used river models that were filled with plastic waste (Photo: Daniel Valero / KIT).

Better models for visual monitoring
On the one hand, the results of the experiment show that it is not enough to consider only floating plastic on the surface to estimate the amount of plastic in rivers. "The bias is significant. If the turbulent character of the transport of plastic particles under the water surface is not considered, then the amount of plastic waste in rivers can be underestimated by up to 90 percent," says Daniel Valero.
On the other hand, the results confirm that existing knowledge about the behaviour of particles in turbulent flows is relevant for the transport of plastic in rivers and that it can help to estimate the total amount more realistically. To this end, the researchers have quantified the ratio between concentrations of plastic particles at the water surface and at greater depths with different transport conditions.
On this basis, monitoring can still be carried out by visual observation of the water surface and the actual transported quantity can be calculated relatively accurately. In addition, the results can help in a very practical way, namely in the development of new approaches for plastic removal: "If you can estimate where the most plastic is, then you also know where a clean-up is most effective," says Valero.
Daniel Valero, Biruk S. Belay, Antonio Moreno-Rodenas, Matthias Kramer, Mário J. Franca.
The key role of surface tension in the transport and quantification of plastic pollution in rivers.
Water Research, 2022; 226: 119078 DOI:
10.1016/j.watres.2022.119078
Piece By Piece: The Gogo Fossils And Their Tale Of Evolution
Curtin University researchers have provided an insight into the importance of fish fossil records.

In the popular culture of the fossil record, fish usually don't make an imprint. Instead, our imaginations look up to the grandeur of dinosaurs. Yet it is the fish – down below and duller, perhaps – that fascinate vertebrate palaeontologists.
In the story of early vertebrate evolution, it is the fish that are the main storytellers. And many of them are from northern Western Australia, where the placoderms once roamed a massive barrier reef off the coast of Gondwana that is now a fossil-infused sedimentary inland formation.
Placoderms
are a class of prehistoric fish and our earliest ancestors known to have jaws. About 400 million years ago, during the Devonian geologic period – which is known as the Age of the Fishes – placoderms swam happily in anything bigger than a pond. But our earliest jawed ancestors didn't make it through the great mass extinction event of the Late Devonian. They ruled the oceans of ancient Earth, and now they're ruling the fossil record.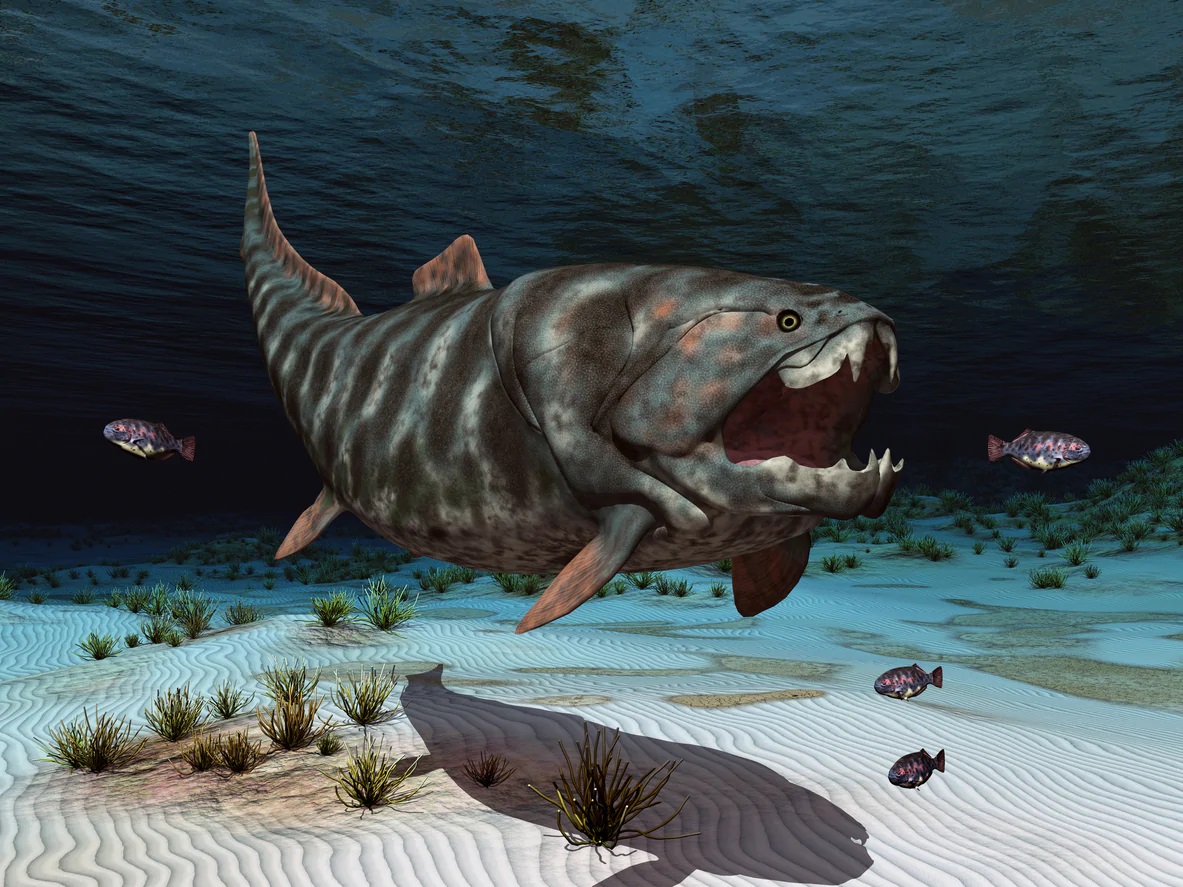 Jaws: more gripping than Jurassic Park
Placoderms have been called the 'dinosaurs of the seas' and, because the head and thorax is covered with bony plates, they're also known as 'the armoured fish'. But their best feature is their jaws. This is because, prior to placoderms, our vertebrate ancestors were like lampreys, with a pliable mouth that moseyed around sucking up food. So while we're captivated by the historic tragedy of the dinosaurs, and the evolution of opposable thumbs, jaws are the bigger deal.
Vertebrate palaeontologists and long-time collaborators Professor Kate Trinajstic and Professor John Long know placoderms, and the arthrodira in particular, probably better than anyone. Trinajstic explains that the arthrodire group of placoderms also had a neck joint that let the head rise and the jaws drop – which allowed feeding – and they ranged from moochers of the ocean floor to six-metre apex predators.
Hammer in hand, Trinajstic began exploring the Devonian reefs in Australia's northwest about 25 years ago. After being discovered in the 1940s, investigations at the Gogo Formation have been ongoing since the late 1960s, with great discoveries made by Long and others striving to further understand vertebrate evolution. According to Trinajstic, unlike the portrayals of palaeontologists feathering away at rocks with little brushes, the only way to capture a placoderm is to thwack open the limestone concretion, or 'nodules' that contain marine fossils. And they're quite common in the Gogo.
"After perishing, placoderms living on the reef would have floated out and sunk into deeper water where oxygen is absent, which gives more chance of preservation," she explains.
"And the nodules are fairly easy to find. We pick them up, hit them with a hammer so that they break along the fossil line, which is the weakest line in the rock."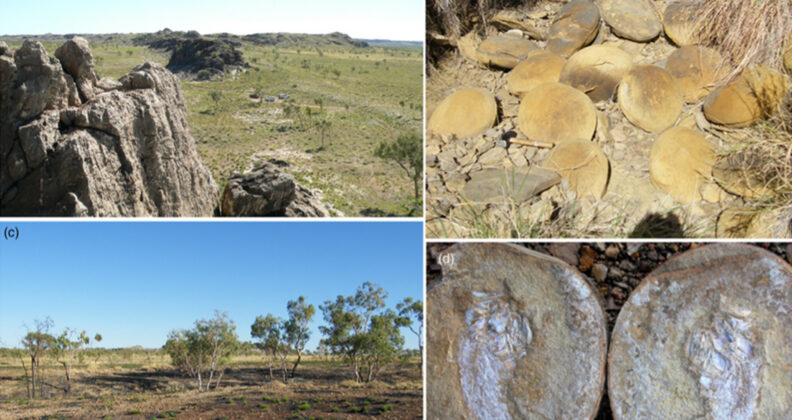 Photos of Devonian reefs of the Gogo Formation; concretions and fossil. From Trinajstic, Kate et al. 2021, fig 2.
The Gogo Formation Lagerstätte: a view of Australia's first great barrier reef.
Journal of the Geological Society (2021), 179 (1)
https://doi.org/10.1144/jgs2021-105
But if these fossil nodules are scattered randomly over the landscape, like shells on a beach, there for the picking, or thwacking, why isn't the Gogo swarming with bounty hunters?
Trinajstic says that while the Gogo is one of the world's best-preserved ancient reef complexes, and the limestone concretions are common, the location is kept fairly quiet. "And most of the time we only find fossil 'ghosts', which are just a smear."
But every so often they find more than a smear. Over the past 10 years Trinajstic has contributed several important research discoveries from the Gogo, and this year she struck gold – a nodule containing a placoderm heart that thumped 380 million years ago. The discovery has caused palpitations in the scientific body of vertebrate palaeontology, because the heart is somewhat older than the previous
vertebrate heart
discovered… by 250 million years.
Old fossils are new again
But it wasn't a case of cracking open the nodule to reveal a tiny stone heart and yelling Eureka! Long found the nodule on a field trip years ago, but Trinajstic discovered the preserved heart only recently, from scans obtained by a combination of modern imaging techniques known as synchrotron radiation (SR) microtomography and neutron imaging.
It's rare for palaeontologists to find fossils of animal tissue like organs and muscles. Soft tissue usually decays before it can be fossilised, but under rare perfect conditions, fossilised soft tissue can occur. The second challenge is that prior to SR microtomography, palaeontologists needed to apply a weak acid solution to the rock surrounding a fossil. And, along with the rock, any fossilised soft tissue – muscle, for example, that may have clung to the bones, also dissolved away. An earlier method to study the fossil's soft anatomy involved the sectioning of the fossil, which of course destroyed the original version.
But now, scanning technologies, coupled with enormous computing power, enables palaeontologists to reveal and study fossil non-destructively, and will likely uncover more soft tissue fossils for the record.
The heart of the matter… is actually the liver
Trinajstic joined Curtin as a research fellow in 2009, and since then has been using scanning techniques on Gogo fossils discovered during the past 22 years, and revealing previously unknown musculature of the placoderms. In 2011 she received an esteemed fellowship from the Australian Research Council for the project 'Fleshing out the fossil record', to further investigate the development of the skeleton and specialised musculature in early vertebrates. The results have been astounding, a specimen of the genus Compagopiscis revealing when the first teeth evolved and studies on an Incisoscutum specimen revealing the evolutionary origins of internal fertilisation and live birth!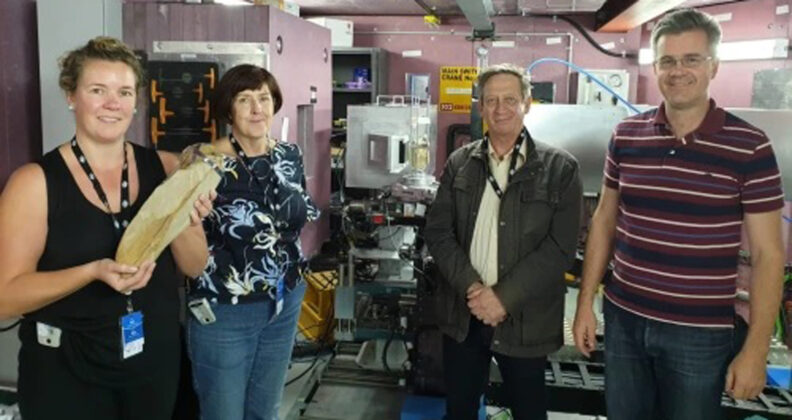 The 'Gogo team': (L-R) Dr Alice Clement, Prof. Kate Trinajstic and Prof. John Long, with Dr Joseph Bevitt at the Dingo neutron imaging facility at ANSTO.
Then, in October, Trinajstic and her colleagues published a seminal paper in Science, describing how, at the Australian Nuclear Science and Technology Organisation (ANSTO) and at the European Synchrotron Radiation Facility in France, experts scanned Trinajstic's fossil specimens – still embedded in their nodules – and created 3D images of the specimens within, and the significance of the discovering the 380-million-year-old soft tissue cluster of heart, liver, stomach and intestine.
While an old fish heart has much to tell us, it's really the arrangement of the organs found with the heart ­– the liver in particular – that tells the better story. For starters, the heart is sitting under the gills, so the fish literally had its heart in its mouth, Trinajstic explains.
"Previously in jawless vertebrates, the heart sat closer to the liver, and the progression of the heart towards the head links with the evolution of our neck region, and the space it vacated made room for lungs to develop later in the bony fishes."
In most modern fish species, the stomach sits behind the liver, and buoyancy comes from a large gas-filled organ known as a swim bladder. However, the stomach – which in one specimen even contained a bit of the fish's final meal (some sort of crustacean) sits above the liver.
"The liver is the most interesting part. It's large and would have helped the fish maintain its place in the water column, like most shark species today."
Trinajstic says that all up, they have about 30 specimens of Compagopiscis and Incisoscutum, but only three have livers preserved and only one individual specimen has a full complement of organs.
"But it's allowing us to piece all the evidence together. We can see these features were advanced in such early vertebrates, and understand more about how the head and neck region began to change to accommodate jaws."
Global respect for the Gogo
As significant as what has been found is what hasn't … lungs.
One of the tough evolutionary questions for palaeontologists is whether the earliest jawed vertebrates had lungs. Trinajstic and her colleagues may have just snapped that bone of contention.
"Most modern fish have swim bladders, and a few species have lungs whereas sharks did not. The question has been, which is the primitive? Did lungs evolve in placoderms and sharks lost them, or are they an advanced feature which evolved in the bony fish?"
"We've seen no evidence of lungs in the arthrodire fossils, which suggests that lungs evolved later in the bony fishes."
Adding these latest findings makes the Gogo arthrodires the most fully understood of all jawed stem vertebrates. And, together, Trinajstic and Long (who is based at Flinders University) are promoting the Gogo Formation's credentials for the World Heritage List, as one of the world's most significant fossil sites.
Long has pointed out that "Gogo has given us world-firsts, from the origins of sex to the oldest vertebrate heart …They show the value of the Gogo fossils for understanding the big steps in our distant evolution."
And while Trinajstic continues searching for more placoderm specimens for the puzzle, what she truly wants to find in the Gogo is a decent conodont.
Conodonts were a class of jawless marine vertebrates, possibly like lampreys, that rummaged around the ocean floor between the Cambrian and Triassic periods. Strangely, the Gogo hasn't given up a complete conodont.
"We've found the mouth elements but never found the body," she says.
But, as Long points out, the Gogo continues to yield secrets. And there's still plenty of time.
Government Confirms No Evidence For Medicare Fraud Claims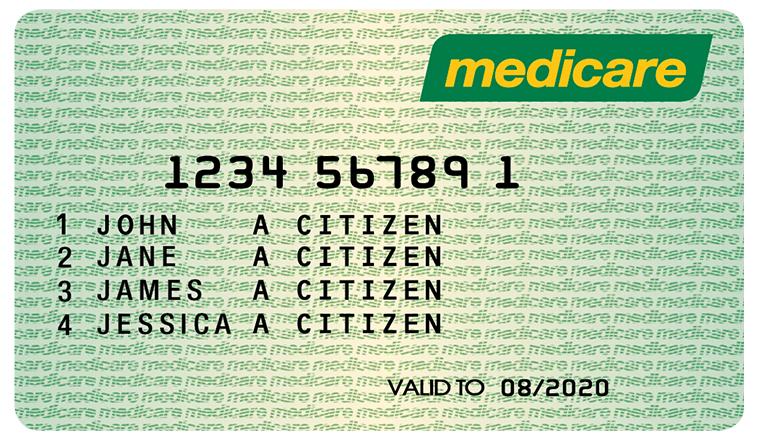 Australian Medical Association (AMA) has welcomed today's announcement that a departmental review found no evidence to support media reports that 30 per cent of the Medicare budget is being defrauded by doctors and other health professionals.
Federal Health Minister Mark Butler has confirmed that a departmental review found there was nothing to support claims made in some media reports that 30 per cent of the Medicare budget was being "rorted" by doctors and other health professionals and stressed that the overwhelming bulk of Australia's doctors and health professionals are honest, hardworking and comply with Medicare rules.
AMA President Professor Stephen Robson said the announcement was a welcome one for doctors across the country who had reported mental distress following the media reports.
"The AMA analysed the documentation these media reports relied on and like the department found nothing — not a skerrick of evidence — to support the claims made in headlines splashed across some news organisations," Professor Robson said.
"We have relied on reputable sources, and we've seen multiple experts, including former head of the MBS Review, Professor Bruce Robinson; immediate former head of the Professional Services Review, Professor Julie Quinlivan; and highly-respected health economist and former health department secretary Professor Stephen Duckett question these claims, stating publicly there was no evidence for them.
"The AMA has acknowledged consistently that while some fraud does occur, the vast majority of doctors are doing the right thing. And we have seen the mental toll these reports have taken on Australia's doctors. "We have seen and heard from general practitioners and non-GP specialists who have told us how upsetting these stories are. They have told us about being confronted by angry patients. This is a direct result of inaccurate and misleading media reports.
"Compliance is something the AMA takes very seriously, and we will work with the Medicare Integrity review that has also been announced today. The profession has nothing to hide and has a strong record of working to ensure that Medicare funding is directed to support patients, including on two recent legislative packages to improve the integrity of the Medicare system."
Professor Robson said the complexity of the Medicare system is something the new independent review announced by the government must address as it is a major cause of confusion when it comes to correctly billing Medicare.
The Medicare Benefits Schedule runs to hundreds of pages and the advice provided by the Department of Health is often confusing and inconsistent. It will be important that the Independent Review focuses on supporting health professionals to navigate the complex Medicare system and does not simply result in more red tape and bureaucracy that takes away from the time doctors need to spend with their patients.
"The minister has again highlighted the impact of years of cuts and neglect of Medicare and, while this latest review may identify potential savings that could be made, what Medicare really needs is genuine reform and an injection of new funds. This is what we what we have been proposing through our Modernise Medicare campaign. 2 "We will continue to fight for a fit-for-purpose and modern Medicare, one that supports patients to access the care they need and ensures the continued viability of private medical practice in Australia, particularly general practice."
Nurses And Midwives Plead The Case For More Research Funding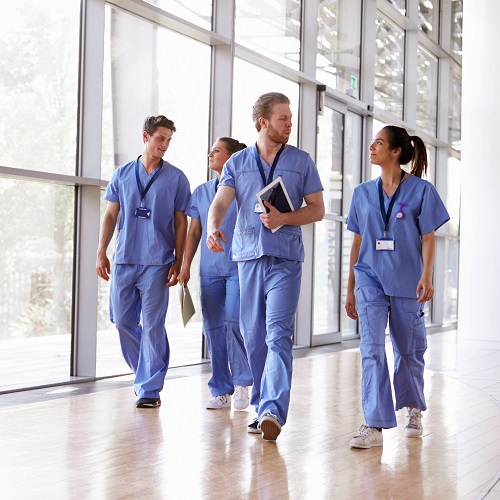 Despite being the largest health workforce in the country, nurses and midwives receive only a tiny proportion of research funding in Australia, according to a UniSA-led study published today in the Medical Journal of Australia.
"Nurses and midwives are the frontline workers in hospitals and communities and are well positioned to lead research addressing clinical and health priorities, but there are serious inequities in the system," according to Professor Marion Eckert, Director and Professor of Cancer Nursing at the Rosemary Bryant AO Research Centre at the University of South Australia.
"Nurses and midwives work across all aspects of health care delivery, across all age groups, and from metropolitan to rural and remote areas, making their reach and potential impact substantial," Prof Eckert says.
"To achieve meaningful and sustained impacts on health care outcomes, greater engagement with, and investment in, nursing- and midwifery-led research is needed."
There are more than 479 000 working nurses and midwives in Australia, comprising 57 per cent of registered health professionals.
However, of the 200 National Health and Medical Research Council (NHMRC) grants funded to clinical trials networks between 2004 and 2014, only nine (five per cent) involved nursing and midwifery-specific research; in 2020, the NHMRC Investigator Grants scheme saw only seven of 238 grants (3 per cent) awarded to nursing and one to midwifery (0.4 per cent); and only one NHMRC 2020 postgraduate scholarship was awarded in nursing (1.6 per cent).
"Notably, of all NHMRC 2020 grant round applications, only five of 673 successful applications (0.74 per cent) were nursing or midwifery focused, and only 30 of 5221 total applications (0.57 per cent) identified nursing or midwifery as the primary field of research.
"A severe lack of nursing and midwifery applicants is a major issue."
Eckert and colleagues detailed strategies needed to boost nursing- and midwifery-led research, including the need to develop research skills:
by further improving undergraduate level research skills and enabling conversion to honours programs;
by bolstering doctoral and postdoctoral research training opportunities and ensuring suitability of programs for nurses and midwives, including those who remain clinically active;
by increasing resources and improving the quality of nursing and midwifery research outputs;
by funding opportunities and embedding career frameworks for nurses and midwives to undertake research that is clinically embedded; and
by creating nursing and midwifery roles that are part clinical and part research and providing clinicians with dedicated time alongside their care duties to undertake clinical research and translation work (akin to medical colleagues).
Eckert and colleagues wrote that inequalities in research funding across gender and discipline divides "should be considered by government and funding bodies when creating funding priorities and grant criteria".
"We look forward to seeing how recent changes may begin bridging these divides," the researchers say.
"Nurses and midwives comprise most of Australia's regulated health care workers. They should therefore be key players in the design, development and leadership of clinical research, and their support as future research leaders is a sound economic investment."
The paper has been published ahead of the Australasian Nursing and Midwifery Clinical Trial Network Summit hosted by the University of South Australia on Wednesday November 9. The summit will discuss how to increase nurse and midwife-led research and improve evidence-based care to the community.
Increased Prevalence Of Metabolic Imbalances In Children During COVID-19 Pandemic Points To Unsolved Problem With Early Diagnosis Of Diabetes
During the COVID-19 pandemic, significantly more children and young people had already developed diabetic ketoacidosis when diagnosed with type 1 diabetes than in previous years. This is the finding of an international multi-center study with DZD participation now published in The Lancet Diabetes & Endocrinology.
If children and young people have already developed metabolic imbalances (diabetic ketoacidosis) at the time of diagnosis of type 1 diabetes (T1D), this can result in complications such as extended stays in hospital, poorer long-term control of blood sugar levels, brain oedema, or even a higher mortality rate. During the COVID-19 pandemic, diabetes centers across the world observed an increased prevalence of diabetic ketoacidosis in diagnosed cases of T1D. DZD researchers, together with international colleagues, investigated whether the number of diabetic ketoacidosis cases associated with the diagnosis of pediatric T1D increased more than expected. To achieve this, they analysed the number of diabetic ketoacidosis cases before and during the pandemic.
International Multi-center Study
The team evaluated data from 13 national diabetes registers (Australia, Austria, Denmark, Germany, Italy, Luxemburg, New Zealand, Norway, Sweden, Slovenia Czech Republic, USA [Colorado], and Wales). The study cohort consisted of 104,290 children and young people aged between 6 months and 18 years old who were diagnosed with T1D between 1 January 2006 and 31 December 2021. The observed prevalence of diabetic ketoacidosis during 2020 and 2021 was compared with predictions based on the years before the pandemic (2006-2019).
The Increase in the Prevalence of Diabetic Ketoacidosis during the Pandemic was Greater than Expected
Between 2006 and 2019, 23,775 of 87,228 children had diabetic ketoacidosis when diagnosed with T1D (27.3%). The mean annual increase in the prevalence of diabetic ketoacidosis for the entire cohort between 2006 and 2019 was 1.6%. During the pandemic, the numbers were significantly above the predicted prevalences. In 2020, the adjusted observed prevalence of diabetic ketoacidosis was 39.4% (predicted prevalence 32.5%) and 38.9% in 2021 (predicted prevalence 33.0%).
"The increasing prevalence of diabetic ketoacidosis associated with the diagnosis of type 1 diabetes in children is a global problem. There was already an increase in prevalence before the COVID-19 pandemic. During the pandemic, this increase was even greater," summarizes DZD scientist Prof. Reinhard W. Holl from Ulm University.
The authors of the study point out that providing a comprehensive explanation of the classic symptoms of T1D in childhood to the general public, those active in the childcare or daycare settings, and primary care physicians could help raise awareness of the symptoms of T1D. Furthermore, public health measures could be used, e.g., implementing a general islet-cell autoantibodies screening program for children to reduce the number of dangerous metabolic imbalances.
Niels H Birkebaek, Clemens Kamrath, Julia M Grimsmann, Karin Aakesson, Valentino Cherubini, Klemen Dovc, Carine de Beaufort, Guy T Alonso, John W Gregory, Mary White, Torild Skrivarhaug, Zdenek Sumnik, Craig Jefferies, Thomas Hörtenhuber, Aveni Haynes, Martin De Bock, Jannet Svensson, Justin T Warner, Osman Gani, Rosaria Gesuita, Riccardo Schiaffini, Ragnar Hanas, Arleta Rewers, Alexander J Eckert, Reinhard W Holl, Ondrej Cinek.
Impact of the COVID-19 pandemic on long-term trends in the prevalence of diabetic ketoacidosis at diagnosis of paediatric type 1 diabetes: an international multicentre study based on data from 13 national diabetes registries.
The Lancet Diabetes & Endocrinology, 2022; 10 (11): 786 DOI:
10.1016/S2213-8587(22)00246-7
Seeing Clearly Into A New Realm: UTS-RMIT Researchers Prototype A New Generation Of Quantum Microscopy
While quantum computing seems like the big-ticket item among the developing technologies based on the behaviour of matter and energy on the atomic and subatomic level, another direction promises to open a new door for scientific research itself -- quantum microscopy.
With the advance of quantum technologies, new microscopy modalities are becoming possible -- ones that can see electric currents, detect fluctuating magnetic fields, and even see single molecules on a surface.
A prototype of such a microscope, demonstrating high resolution sensitivity, has been developed by an Australian research team headed by Professor Igor Aharonovich of the University of Technology Sydney and Dr Jean-Philippe Tetienne of RMIT University. The team's findings have now been published in Nature Physics.
The quantum microscope is based on atomic impurities, that following laser illumination, emit light that can be directly related to interesting physical quantities such as magnetic field, electric field or the chemical environment in proximity to the defect.
Professor Aharonovich said the ingenuity of the new approach was that, as opposed to the bulky crystals often employed for quantum sensing, the research team had utilised atomically thin layers, called hexagonal boron nitride (hBN).
"This van der Waals material -- that is, made up of strongly bonded two-dimensional layers -- can be made to be very thin and can conform to arbitrarily rough surfaces, thus enabling high resolution sensitivity," Professor Aharonovich said.
"These properties led us to the idea of using 'quantum-active' hBN foils to perform quantum microscopy, which essentially is an imaging technique that utilises arrays of quantum sensors to create spatial maps of the quantities they are sensitive to," Dr Tetienne said.
"Until now, quantum microscopy has been limited in its spatial resolution and flexibility of application by the interfacing issues inherent in using a bulky three-dimensional sensor. By instead utilising a van der Waals sensor, we hope to extend the utility of quantum microscopy into arenas that were previously inaccessible."
An artist's impression of a quantum microscope for study of chemical reactions and to identify molecular origin. Credit: Dr Mehran Kianinia

To test the capabilities of the prototype, the team performed quantum sensing on a technologically relevant magnetic material -- a flake of CrTe2, a van der Waals ferromagnet with a critical temperature just above room temperature.
The hBN based quantum microscope was able to image the magnetic domains of the ferromagnet, with nanoscale proximity to the sensor, and under ambient conditions -- something that was believed to be impossible to date.
Moreover, utilising the unique properties of the hBN defects, a simultaneous temperature map was recorded, confirming that the microscope can be used to perform correlative imaging between the two quantities.
Lead authors for the Nature Physics paper, PhD students Alex Healey (University of Melbourne) and Sam Scholten (University of Melbourne), and early career researcher Tieshan Yang (UTS), said the van der Waals nature of the sensor had allowed the dual sensing of magnetic properties and temperature.
"Because it is very thin, not much heat is able to dissipate through it and any temperature distribution that exists is the same as if the sensor were not there," they said. "What began as an experimental annoyance ended up being a hint towards a capability of our microscope that is unique among current alternatives."
"There is a huge potential for this new generation of quantum microscopy," UTS senior researcher Dr Mehran Kianinia said. "Not only can it operate at room temperature and provide simultaneous information on temperature, electric and magnetic fields, it can be seamlessly integrated into nanoscale devices and withstand very harsh environments, as hBN is a very rigid material.
"The main future applications include high resolution MRI (magnetic resonance imaging) and NMR (nuclear magnetic resonance) that can be used to study chemical reactions and identify molecular origins, as well as applications in space, defence and agriculture where remote sensing and imaging are key."
A. J. Healey, S. C. Scholten, T. Yang, J. A. Scott, G. J. Abrahams, I. O. Robertson, X. F. Hou, Y. F. Guo, S. Rahman, Y. Lu, M. Kianinia, I. Aharonovich, J.-P. Tetienne.
Quantum microscopy with van der Waals heterostructures
. Nature Physics, 2022; DOI:
10.1038/s41567-022-01815-5
Less Gym Time, Same Results: Why 'Lowering' Weights Is All You Need To Do
Good news for those who struggle to fit a gym workout into their day: you may be able to cut your weights routine in half and still see the same results.
New research from Edith Cowan University (ECU) has shown one type of muscle contraction is most effective at increasing muscle strength and muscle size -- and rather than lifting weights, the emphasis should be on lowering them.
The team, which also included researchers from Niigata University and Nishi Kyushu University in Japan and Brazil's Londrina State University, had groups of people perform three different types of dumbbell curl exercise and measured the results.
It found those who only lowered a weight saw the same improvements as those who raised and lowered weights -- despite only performing half the number of repetitions.
ECU's Professor Ken Nosaka said the results reinforced previous research indicating a focus on "eccentric" muscle contractions -- in which activated muscles are lengthened -- is more important to increasing strength and size of muscles, rather than the volume.
"We already know only one eccentric muscle contraction a day can increase muscle strength if it is performed five days a week -- even if it's only three seconds a day -- but concentric (lifting a weight) or isometric muscle contraction (holding a weight) does not provide such an effect," Professor Nosaka said.
"This latest study shows we can be far more efficient in the time we spend exercising and still see significant results by focusing on eccentric muscle contractions.
"In the case of a dumbbell curl, many people may believe the lifting action provides the most benefit, or at least some benefit, but we found concentric muscle contractions contributed little to the training effects."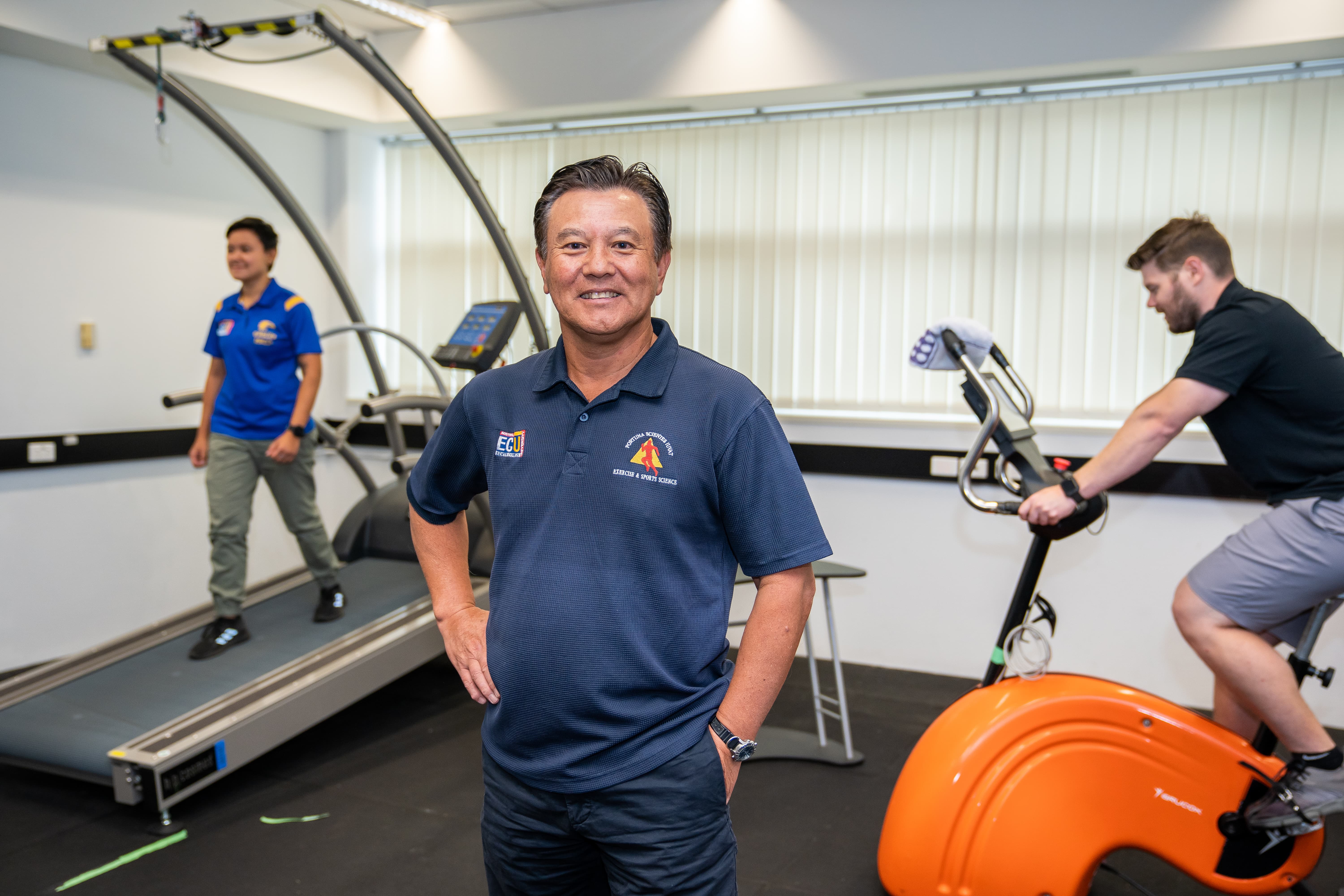 Professor Ken Nosaka. Photo: Edith Cowan University

The study consisted of three groups who performed dumbbell curls twice a week for five weeks, plus a control group who did nothing.
Of the training groups, one performed eccentric-only muscle contractions (lowering weight), another concentric-only muscle contractions (lifting weight) and another performed both concentric and eccentric muscle contractions (lifting and lowering weight alternatively).
All three saw improvements in concentric strength, but this was the only improvement for the concentric-only group.
The eccentric-only and concentric-eccentric groups also saw significant improvements in isometric (static) strength and eccentric strength.
Most interestingly, despite the eccentric-only group doing half as many reps as those lifting and lowering weights, the gains in strength were very similar and the eccentric-only group also saw a greater improvement in muscle thickness, an indicator of muscle hypertrophy: 7.2 per cent compared to the concentric-eccentric group's 5.4 per cent.
"Understanding the benefits of eccentric-focused training can allow people to spend their time exercising more efficiently," Professor Nosaka said.
"With the small amount of daily exercise needed to see results, people don't necessarily even have to go to the gym -- they can incorporate eccentric exercise into their everyday routine."
So how can we put this knowledge to use in the gym?
Using a dumbbell, Professor Nosaka recommends using two hands to help with the concentric (lifting weight) phase, before using one arm for the eccentric phase (lowering weight), when performing:
Bicep curls
Overhead extension
Front raise
Shoulder press
Using leg weight machines, Professor Nosaka recommends using the same concentric/eccentric technique when performing:
Knee extensions
Leg curls
Calf raises
Looking after home bodies
Happily, Professor Nosaka says you don't need gym weights to apply the same principles to a workout and has come up with several simple exercises one can do at home.
In the exercises, feel that the contracting muscles are gradually stretched from the start to the end of the range of motion.
After each eccentric muscle contraction, minimise the effort to go back to the starting position (i.e., concentric muscle contraction).
Repeat 10 times for each exercise.
Chair sit: From a half-squatting position, sit down slowly on a chair in three seconds, (narrower and wider stances will create different effects). If this is easy, try to sit down with one leg.
Chair recline: Sit on the front of a chair to make a space between your back and the backrest, recline back slowly in three seconds (arms can be crossed at the chest or hold at the back of a head).
Uneven squat: Stand behind a chair, lean to one side to put more weight on one leg, then squat down in three seconds.
Heel down: Still behind a chair, lean forward and raise your heels. Then, lift one leg off the ground and lower the heel of the other leg in three seconds.
Wall kiss: Lean against a wall with both arms fully extended. Bend the elbow joint slowly over three seconds until your face gets close to the wall.
Front lunge: Place one leg in front of the other and bend the knees deeper over three seconds.
'Comparison between concentric-only, eccentric-only and concentric-eccentric resistance training of the elbow flexors for their effects on muscle strength and hypertrophy' was published in the European Journal of Applied Physiology.
Shigeru Sato, Riku Yoshida, Fu Murakoshi, Yuto Sasaki, Kaoru Yahata, Kazuki Kasahara, João Pedro Nunes, Kazunori Nosaka, Masatoshi Nakamura.
Comparison between concentric-only, eccentric-only, and concentric–eccentric resistance training of the elbow flexors for their effects on muscle strength and hypertrophy.
European Journal of Applied Physiology, 2022; 122 (12): 2607 DOI:
10.1007/s00421-022-05035-w
Why Some People Are Mosquito Magnets
It's impossible to hide from a female mosquito -- she will hunt down any member of the human species by tracking our CO2 exhalations, body heat, and body odour. But some of us are distinct "mosquito magnets" who get more than our fair share of bites. Blood type, blood sugar level, consuming garlic or bananas, being a woman, and being a child are all popular theories for why someone might be a preferred snack. Yet for most of them, there is little credible data, says Leslie Vosshall, head of Rockefeller's Laboratory of Neurogenetics and Behaviour.
This is why Vosshall and Maria Elena De Obaldia, a former postdoc in her lab, set out to explore the leading theory to explain varying mosquito appeal: individual odour variations connected to skin microbiota. They recently demonstrated through a study that fatty acids emanating from the skin may create a heady perfume that mosquitoes can't resist. They published their results in Cell.
"There's a very, very strong association between having large quantities of these fatty acids on your skin and being a mosquito magnet," says Vosshall, the Robin Chemers Neustein Professor at The Rockefeller University and Chief Scientific Officer of the Howard Hughes Medical Institute.
A tournament no one wants to win
In the three-year study, eight participants were asked to wear nylon stockings over their forearms for six hours a day. They repeated this process on multiple days. Over the next few years, the researchers tested the nylons against each other in all possible pairings through a round-robin style "tournament." They used a two-choice olfactometer assay that De Obaldia built, consisting of a plexiglass chamber divided into two tubes, each ending in a box that held a stocking. They placed Aedes Aegypti mosquitoes -- the primary vector species for Zika, dengue, yellow fever, and chikungunya -- in the main chamber and observed as the insects flew down the tubes towards one nylon or the other.
By far the most compelling target for Aedes aegypti was Subject 33, who was four times more attractive to the mosquitoes than the next most-attractive study participant, and an astonishing 100 times more appealing than the least attractive, Subject 19.
The samples in the trials were de-identified, so the experimenters didn't know which participant had worn which nylon. Still, they would notice that something unusual was afoot in any trial involving Subject 33, because insects would swarm towards that sample. "It would be obvious within a few seconds of starting the assay," says De Obaldia. "It's the type of thing that gets me really excited as a scientist. This is something real. This is not splitting hairs. This is a huge effect."
The researchers sorted the participants into high and low attractors, and then asked what differentiated them. They used chemical analysis techniques to identify 50 molecular compounds that were elevated in the sebum (a moisturizing barrier on the skin) of the high-attracting participants. From there, they discovered that mosquito magnets produced carboxylic acids at much higher levels than the less-attractive volunteers. These substances are in the sebum and are used by bacteria on our skin to produce our unique human body odour.
To confirm their findings, Vosshall's team enrolled another 56 people for a validation study. Once again, Subject 33 was the most alluring, and stayed so over time.
"Some subjects were in the study for several years, and we saw that if they were a mosquito magnet, they remained a mosquito magnet," says De Obaldia. "Many things could have changed about the subject or their behaviours over that time, but this was a very stable property of the person."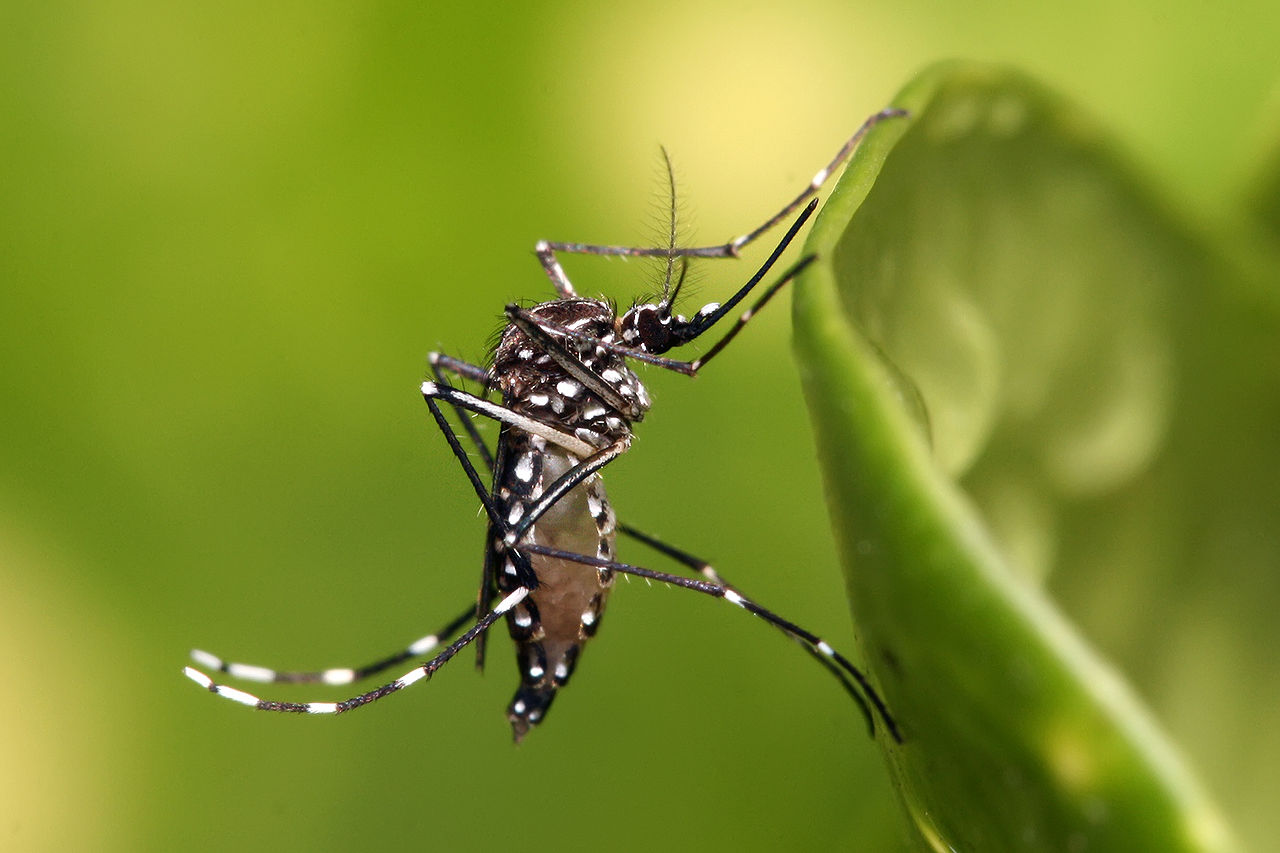 Aedes aegypti in Dar es Salaam, Tanzania. Photo: Muhammad Mahdi Karim via Wikipedia

Humans produce mainly two classes of odours that mosquitoes detect with two different sets of odour receptors: Orco and IR receptors. To see if they could engineer mosquitoes unable to spot humans, the researchers created mutants that were missing one or both of the receptors. Orco mutants remained attracted to humans and able to distinguish between mosquito magnets and low attractors, while IR mutants lost their attraction to humans to a varying degree, but still retained the ability to find us.
These were not the results the scientists were hoping for. "The goal was a mosquito that would lose all attraction to people, or a mosquito that had a weakened attraction to everybody and couldn't discriminate Subject 19 from Subject 33. That would be tremendous," Vosshall says, because it could lead to the development of more effective mosquito repellents. "And yet that was not what we saw. It was frustrating."
These results complement one of Vosshall's recent studies, also published in Cell, which revealed the redundancy of Aedes aegypti's exquisitely complex olfactory system. It's a failsafe that the female mosquito relies on to live and reproduce. Without blood, she can't do either. That's why "she has a backup plan and a backup plan and a backup plan and is tuned to these differences in the skin chemistry of the people she goes after," Vosshall says.
The apparent unbreakability of the mosquito scent tracker makes it difficult to envision a future where we're not the number-one meal on the menu. But one potential avenue is to manipulate our skin microbiomes. It is possible that slathering the skin of a high-appeal person like Subject 33 with sebum and skin bacteria from the skin of a low-appeal person like Subject 19 could provide a mosquito-masking effect.
"We haven't done that experiment," Vosshall notes. "That's a hard experiment. But if that were to work, then you could imagine that by having a dietary or microbiome intervention where you put bacteria on the skin that are able to somehow change how they interact with the sebum, then you could convert someone like Subject 33 into a Subject 19. But that's all very speculative."
She and her colleagues hope this paper will inspire researchers to test other mosquito species, including in the genus Anopheles, which spreads malaria, adds Vosshall: "I think it would be really, really cool to figure out if this is a universal effect."
Maria Elena De Obaldia, Takeshi Morita, Laura C. Dedmon, Daniel J. Boehmler, Caroline S. Jiang, Emely V. Zeledon, Justin R. Cross, Leslie B. Vosshall.
Differential mosquito attraction to humans is associated with skin-derived carboxylic acid levels.
Cell, 2022; 185 (22): 4099 DOI:
10.1016/j.cell.2022.09.034
Disclaimer: These articles are not intended to provide medical advice, diagnosis or treatment. Views expressed here do not necessarily reflect those of Pittwater Online News or its staff.