March 5 - 11 2023: Issue 574
New Marine Rescue Broken Bay Base Commissioned: A Building Designed To Look Like A Boat To Honour Its Purpose - The Work Of Marine Rescue Volunteers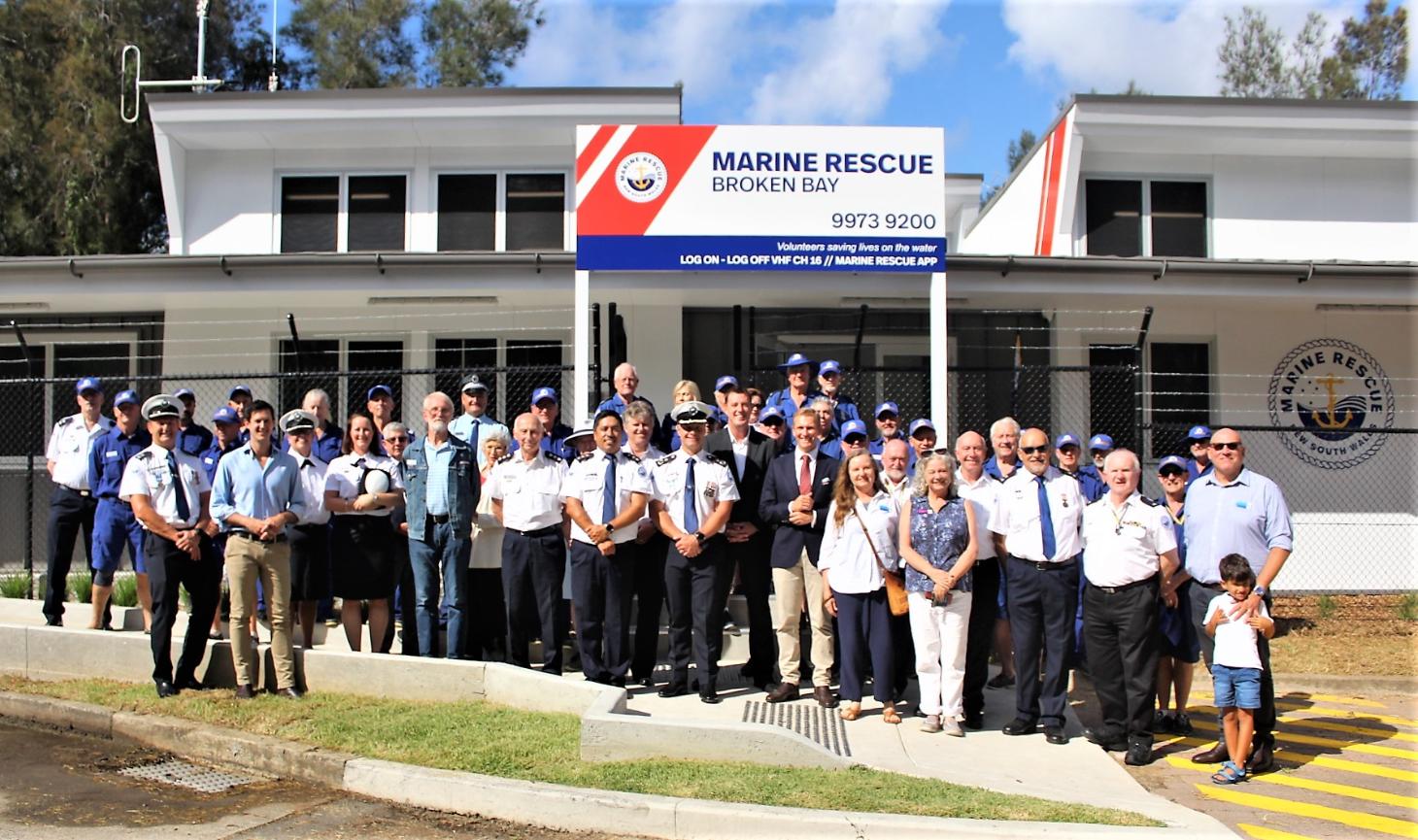 With the State Government now in the caretaker period, in one of his last acts as The Hon Member for Pittwater, the gentleman who serves as a lifesaver on Mona Vale beach, has served as a member of the Volunteer Coastal Patrol before that, has now also ensured the long-term support mechanisms for Marine Rescue Broken Bay volunteers so they can respond to calls for help on the waterways of Broken Bay and Pittwater have been realised.
Led by Unit Commander Jimmy Arteaga, Marine Rescue Broken Bay held the official Commissioning of their new Unit Base at Bayview on Saturday March 4th. Mr. Stokes, also representing Steph Cooke, Minister for Emergency Services and Minister for Flood Recovery, Mayor Michael Regan and Deputy Commissioner of Marine Rescue NSW, Alex Barrell, all shared wonderful insights on the realisation of the project and the unique aspects purposely incorporated into the structure.
Architect Michael Biddulph has designed a building that not only realises the most current fundamentals of embedded autonomous features, he drew to honour and celebrate the work of Marine Rescue NSW as the profile of a boat is a feature of the Base's ocean facing side.
As this was an historic day for Pittwater, the addresses given by those who were part of the Commissioning Ceremony form part of the record.
The official opening of a new $1.215 million Marine Rescue Broken Bay base at Bayview happened due to more than $1 million from a future-proofing driven NSW Government and a $200,000 commitment by Northern Beaches Council.
"I'm so pleased we've been able to deliver such an important base for our hardworking volunteers who keep the Pittwater safe," MP for Pittwater Rob Stokes said.
"This wonderful new facility means the members of Marine Rescue Broken Bay now have a modern and specifically designed operations base to support them in their vital work.
"The NSW Government is proud to support our Marine Rescue volunteers throughout NSW by providing them with the facilities and equipment they need to deliver essential and life-saving services," Rob Stokes said.
The new facility includes a large training and meeting space, ample storage for rescue equipment, offices, amenities, kitchen facilities, a wet area for boat crews and access for volunteers living with disability.
Marine Rescue NSW Deputy Commissioner Alex Barrell thanked the Government for its support in developing the new base.
"This funding has boosted our rescue capability on Pittwater and Broken Bay, and ensured our volunteers have facilities designed and equipped for modern emergency management," Deputy Commissioner Barrell said.
"Pittwater and Broken Bay are some of the busiest boating areas in NSW, and these new facilities will help ensure our volunteers are rescue ready should an emergency arise."
Commander of the Broken Bay Unit, Jimmy Arteaga, said the new building was the culmination of extensive planning and input by the Unit's volunteers to ensure it met their needs now and well into the future.
"This new building provides a significant improvement to our ability to train and undertake operations, as well as providing our members with a safe and secure working environment," Mr Arteaga said.
"I'm grateful for the support of the NSW Government and Northern Beaches Council and confident these first-rate facilities will also help encourage new members to join our mission of saving lives on the water."
Mr. Arteaga commenced by welcoming Mr. Stokes and Mr. Regan, Ken Edwards, Regional Director, Marine Rescue NSW Board, Alex Barrell, current Deputy Commissioner Marine Rescue NSW, Councillors Sue Heins, Deputy Mayor, Miranda Korzy, Rory Amon, Michael Gencher and Jose Menano-Pires, Senior Sergeant Michael Hrnjak, Broken Bay Water Police, Neil Evers, Elder of the Gadigal clan, Marine Rescue Broken Bay Members and families, and Unit Commanders and Deputy Commanders from surrounding Units.
MRBB Unit Commander Arteaga than asked Garigal man Neil Evers to give the Welcome to Country before the ceremony began.
Uncle Neil said;
Good morning, it is a beautiful morning.

I am a direct descendant of the Garigal people and clan. The Garigal people are the oldest living culture in the world. I pay my respects to the Elders past, present and those to come. I'd also like to recognise that today we are on Garigal country, the country of my ancestors.

So, when and where was the first boat rescue on Pittwater?; 1788, in March – when [Governor] Phillip came around the end there an aboriginal man came down and said 'don't go there, there's two big rocks. Go around the next bend, and that's where you will be able to settle'.

Had he gone there, there would have been a shipwreck –and that may have been a good thing considering what happened afterwards – but the aboriginal man, instead, invited Phillip's party up into the cave, an invitation declined. The next day they realised the cave could house 20 people, he had fresh water up there and food.[*]

The next day they were greeted with joy and dancing. Have you ever seen the painting we call 'Dancing with Redcoats'?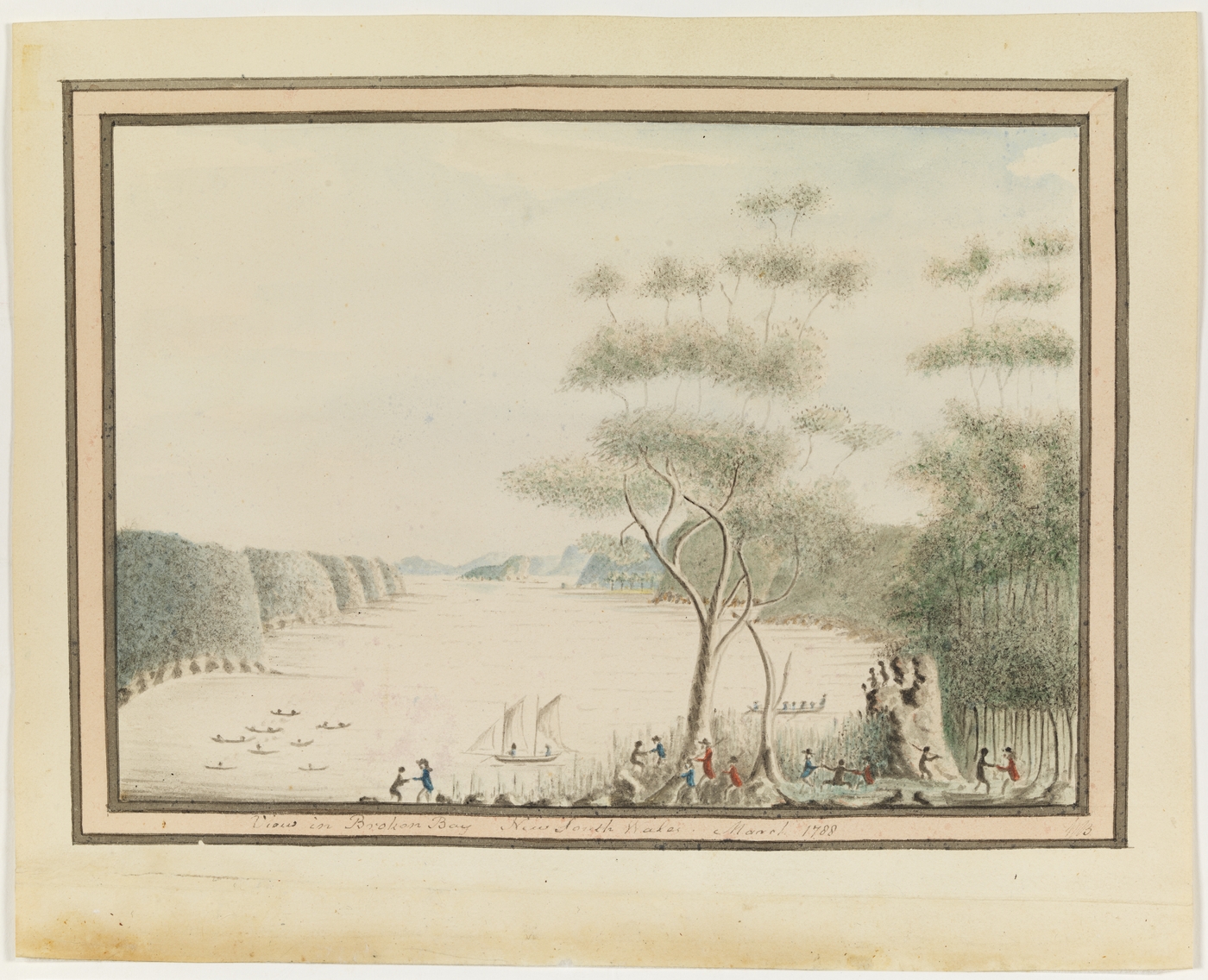 'View in Broken Bay New South Wales. March 1788' by William Bradley
It's actually taken from what we now call Clareville, looking straight up the bay to Lion Island. It is a beautiful painting in which you see aboriginal people dancing with the redcoats. [**]

It's really inspiring – but little did they know what was to come.

Yesterday I asked if I have a Message Stick from this area, but we don't, because all our Elders were completely wiped out. So we don't have the Message Stick, we don't have the painting that we can put on that is of this area, because our Elders are gone. But even so, we still welcome people to this area.

The greatest welcome was a couple of months back when you had a new vessel commissioned to serve on these waters and it was named 'Bungaree'.

Bungaree is my ancestor – he was born right here in Patonga. He sailed around Australia with Matthew Flinders, he sailed up and down this coast many times. On one of the occasions he sailed up there he got to Newcastle and disappeared. There was a corrobboree on and the easiest way to get there was to sail up.

So aboriginal people have been here for thousands and thousands of years – and it is on their behalf that I Welcome you to this incredible, beautiful country.

Welcome.
UC Arteaga then observed the Flag Party protocols and the National Anthem being sung, led by MRBB Member, Andrew Curdie.
UC Arteaga invited Pittwater MP Rob Stokes as the first of the Speakers to address those attending the commissioning ceremony.
The retiring Minister for Infrastructure, Minister for Cities, and the Minister for Active Transport in the Perrottet ministry, suggested he too may soon be able to take to a boat and he too may be one who calls for assistance in future unchartered waters now that he can cast off all anchors and explore new horizons.
Pittwater Woman Of The Year For 2023 Is Sally Mayman: Announced At Zonta Cub Of Northern Beaches International Women's Day Breakfast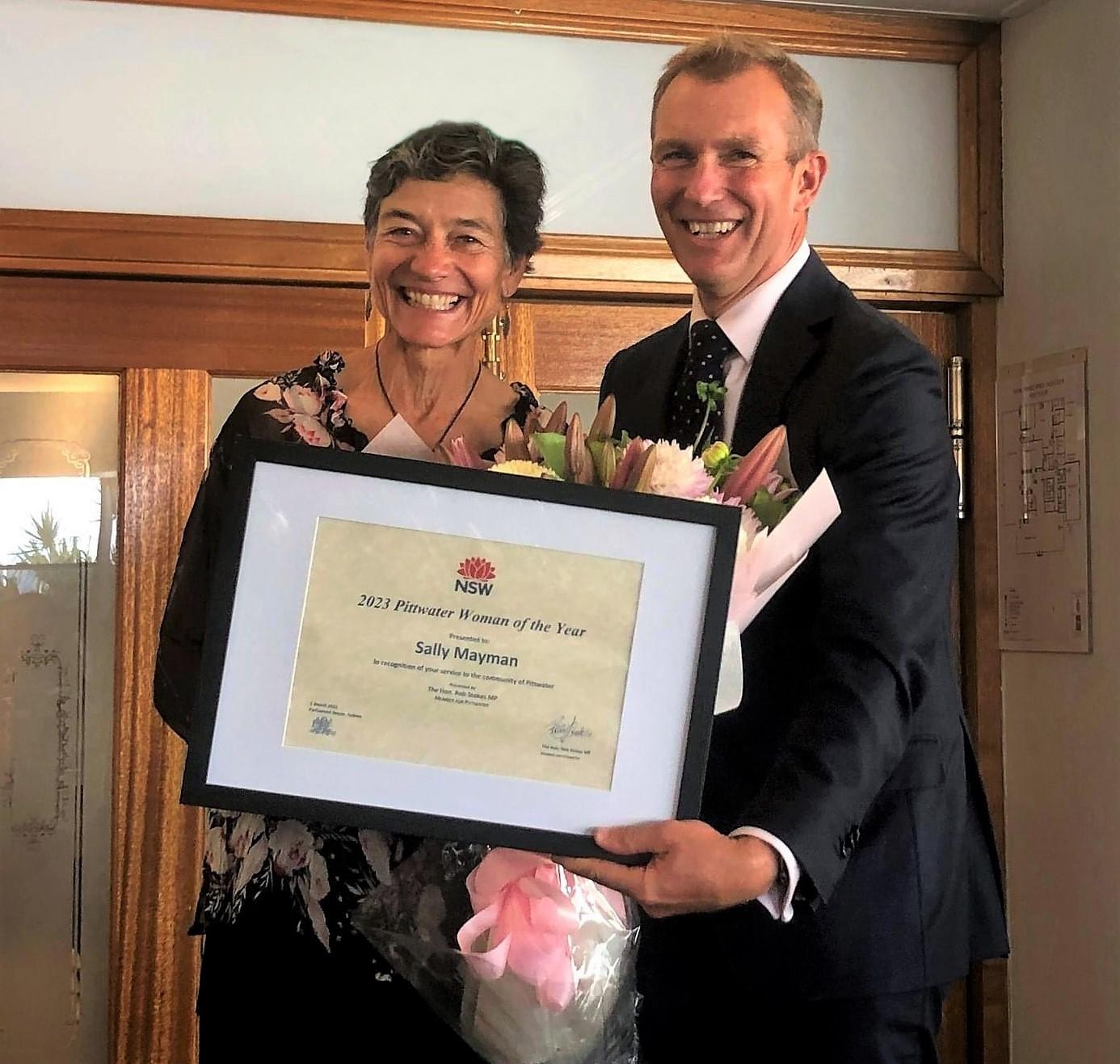 Member for Pittwater Rob Stokes announced acclaimed artist and youth mentor Sally Mayman as the 2023 Pittwater Woman of the Year.
The award was announced at the annual Zonta International Women's Day Breakfast, held at the Royal Prince Alfred Yacht Club on Wednesday March 1st, and recognises outstanding achievements of local women and their valuable contribution to the Pittwater community.
Sally is a celebrated artist and photographer, volunteer surf life saver, Youth off the Streets Artist in Residence, and a proud contributor to student wellbeing and excellence at Barrenjoey High School and Avalon Primary School.
"Sally is an incredibly talented artist and photographer with a unique ability to use her skills for a broad range of benefits," Rob Stokes said.
"Sally's amazing art speaks for itself - but it's how she uses her expertise to support and inspire others that's particularly impressive.
"Pittwater has a proud and accomplished artist community and Sally exemplifies the very best of how art can have many positive utilities and purposes.
"We know art helps people to express themselves. Sally embraces this by directly supporting young people who are experiencing challenging and emotional circumstances.
"By sharing her passion and skills, Sally has had immeasurable influence on young people throughout our community and right across Sydney.
"This award is a great way to acknowledge and celebrate Sally's ongoing efforts and contribution," Rob Stokes said.
Pittwater Online spoke to Sally after the award who said she was overwhelmed by the recognition, especially since it was made in a room filled with women who achieve so much in our community.
The annual Zonta Northern Beaches Women's Day Breakfast is one of numerous advocacy and fundraising events the club holds throughout the year. Seen as an opportunity to network with other women and groups, the morning attracts men and women from across the peninsula and has launched some great initiatives through the connections made.
The Club commenced as the Zonta Club of Warringah in 1975 with 14 Charter Members when Maggie Vale, a member of Sydney Zonta Club invited local business women to join her in forming a resident Club. Sydney became the new club's sponsor, organiser and mentor. Maggie Vaile was the first President, and the Guest of Honour at the Charter was Lady Helen Cutler, the wife of the Governor of NSW. In June 2003 the Club changed its name to its current name, the Zonta Club of Northern Beaches Inc.

Every year since the club has advocated for the advancement of the status of women through its activities.

The Club's first fundraiser was held at Avalon Theatre in 1975 to support the victims of Cyclone Tracy. The Club has long term ongoing projects including its October Advocacy Dinner, the International Women's Day Breakfast, and Australia Day Breakfast.
Zonta Northern Beaches has raised money to buy a Guide Dog, funded a water well in Sri Lanka, provided overseas financial support to a school in Kenya and two school girls in the Solomon Islands. Service projects have addressed the Zonta priorities of health, education and economic self-sufficiency of women and girls.
Projects include sewing over 2,500 Breast care Cushions, fundraising and packing over 57,400 Birthing Kits, and providing Kitchen Starter Kits for women moving to new homes from the refuge. The Club supports women and girls through education and work skills grants under the motto:
"Educate a woman and you educate her Family. If you educate a girl, you educate the future".
The Club has an active campaign to encourage applicants for the Zonta Young Indigenous Achievement Award and the Zonta Young Women in Public Affairs Award.
In 2015 representatives of the Club joined the Northern Beaches Domestic Violence Network and during the past few challenging years have done their utmost to provide the Northern Beaches Women's Shelter with practical items needed to assist their clients in re-establishing themselves as well as funding to attend courses to re-enter the workforce.
In addition, they support Zonta International service projects by sending a proportion of funds raised to Zonta International to support self-help programs worldwide, in partnership with organisations like UNIFEM and UNICEF.
In 2019 the Club was honoured to be awarded the International Women's Day Pittwater Women of the Year Award by the Hon. Rob Stokes, for the Club's ongoing commitment to the community.
''It's wonderful when there is a group of women who just quietly and humbly do so much – they don't shout about it, they just get on and do some fantastic work.'' Ms Mayman said
''Through this award I hope I can support the incredible work many women are doing in our community and further promote the importance of art in all our lives and its power to create change.''
The full interview with Sally will run next Issue, available Sunday March 12th.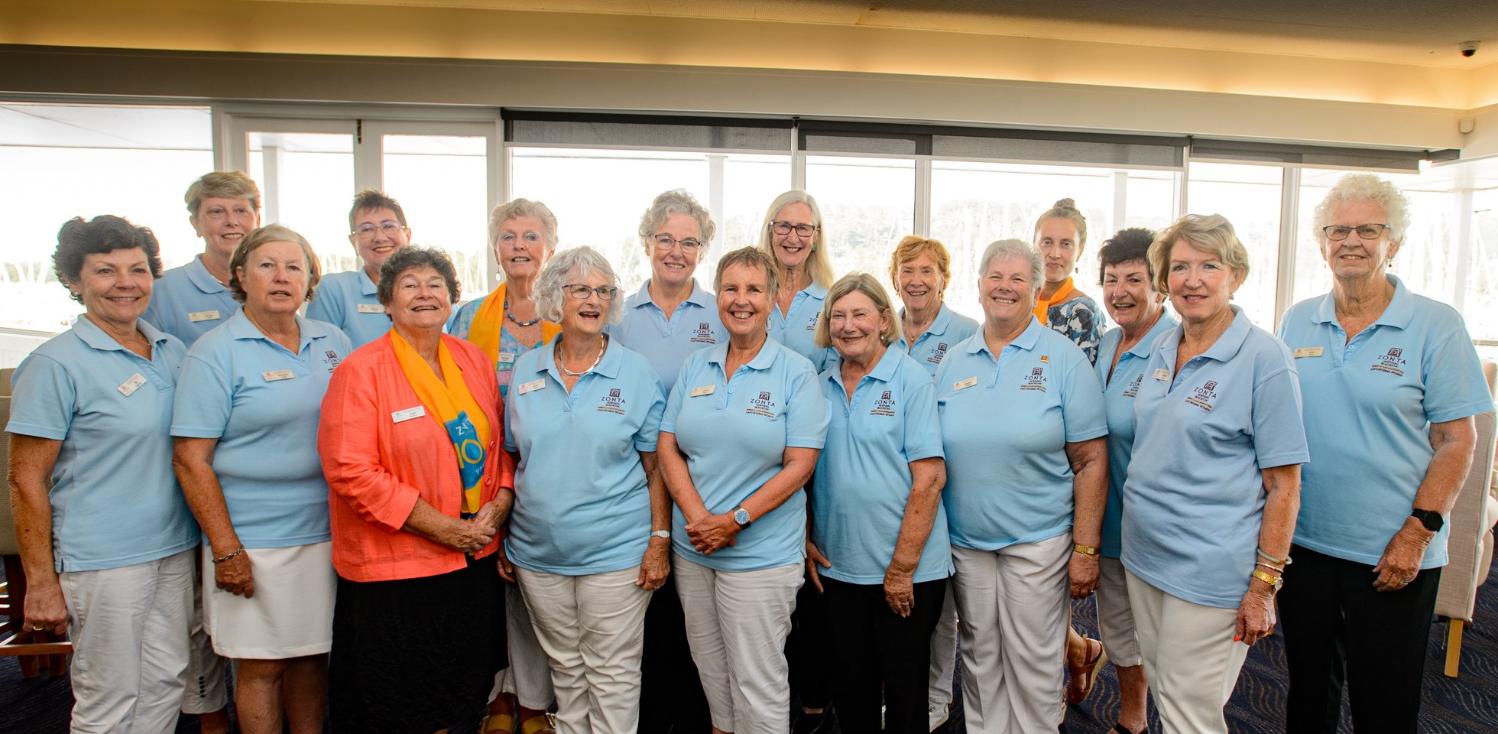 Zonta Club of the Northern Beaches, 2023. Photo: Michale Mannington OAM, Community Photography
Jack 'Johnny' Carter's Ashes Returned To His Palm Beach Home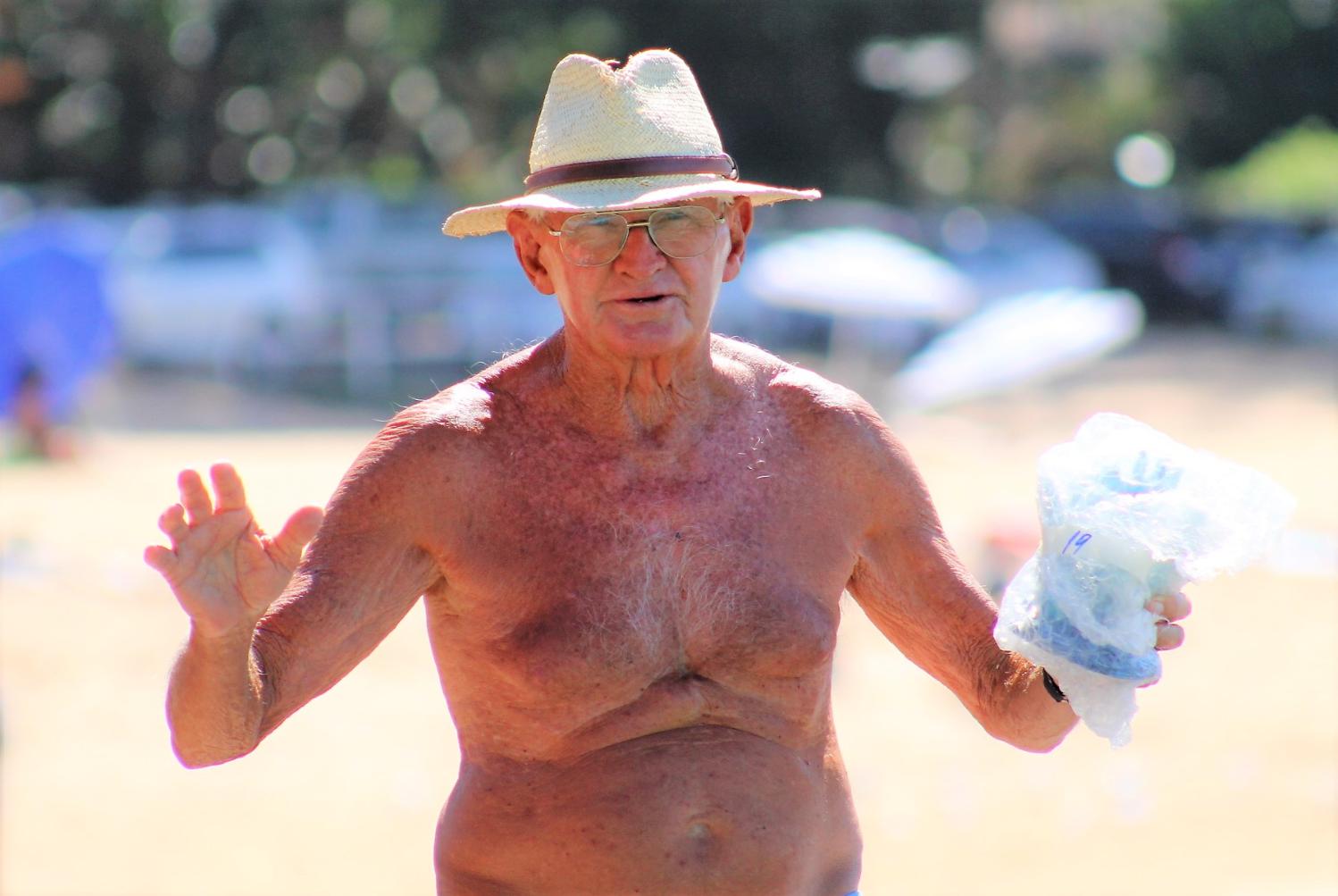 Ceremony Held on Sunday February 26th 2023
Jack 'Johnny' Carter passed away on May 10th, 2021. A much beloved fixture of Palm Beach Summers, renowned for teaching generations of youngsters how to swim, John Edward Carter first came to Palm Beach to fulfil a role as a Beach Inspector as they were known then in 1946.
In a 2013 interview with Pittwater Online he said he worked from 7 in the morning until 7 in the evening for £5 a week.
Last weekend a ceremony and paddle out by Palm Beach SLSC, attended by Jack's daughter Robey and her children, was preceded by the annual Jack Carter Cup, a challenge named for this revered Life Member of the surf club that comprises a 1.5 km swim, 6 km ski paddle (around Barrenjoey), a 2 km beach run and a 3 km board paddle. These can be done as an individual or as a team.
Following Robey stepping into her father's shoes to hand out the prizes for 1st place getters in age divisions and teams; sunglasses - an inside joke, two of Jack's closest mates at the club, Jon Erickson and Shane Oxenham, shared some insights and tributes of his 75 Summers at Palm Beach.
Jack being returned to his spiritual home had been planned for an earlier date until Covid restrictions caused his daughter Robey to move the date so all who wished to could attend. Given the community outside of the club has long been big fans of Mr. Carter, the ceremony was open to all. For those who could not attend, a transcription of these shared stories runs HERE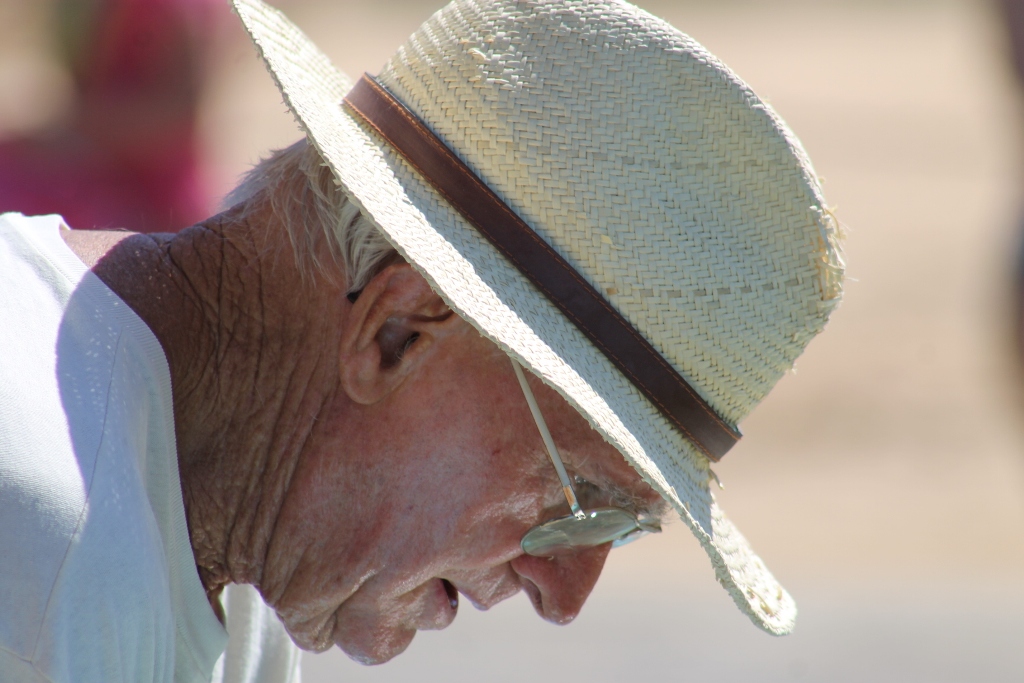 Jack teaching children to swim in 2013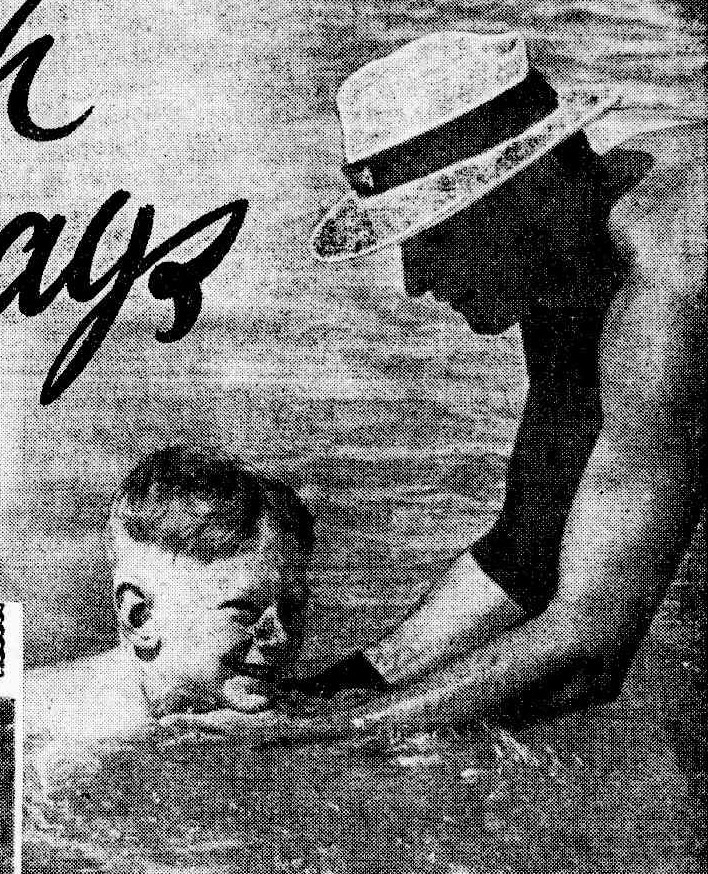 PALM BEACH swimming instructor Johnnie Carter giving a lesson to six-year-old Jeffrey Persson, who is on holidays from school. Beach Holidays (1953, December 13). The Daily Telegraph (Sydney, NSW : 1931 - 1954), p. 25. Retrieved from http://nla.gov.au/nla.news-article248837815 - Jack teaching children to swim in 1953
More in: Jack 'Johnny' Carter's Ashes Returned To His Palm Beach Home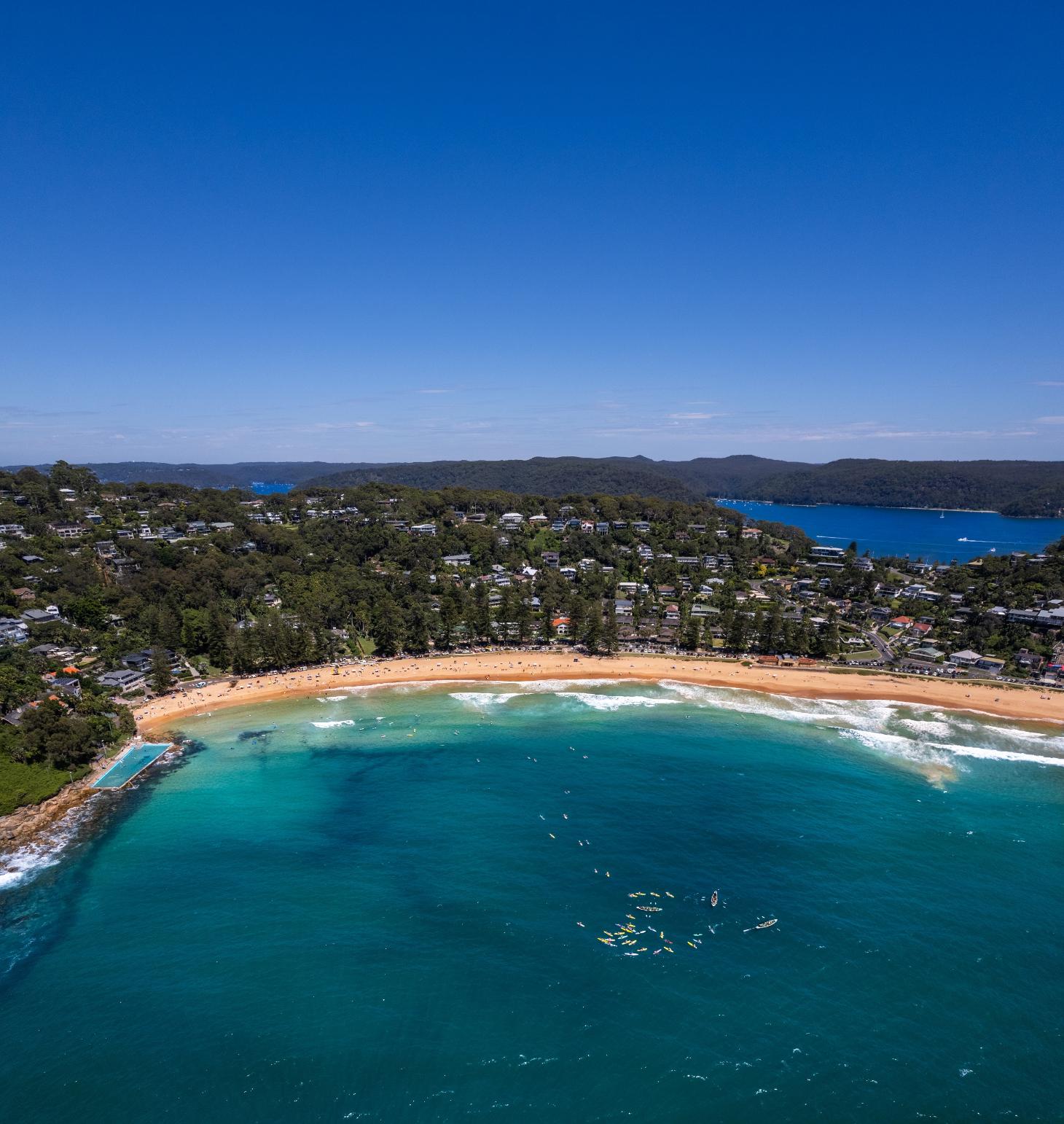 Surf Life Saving NSW State Masters Championships 2023 A 'Great Reunion' For All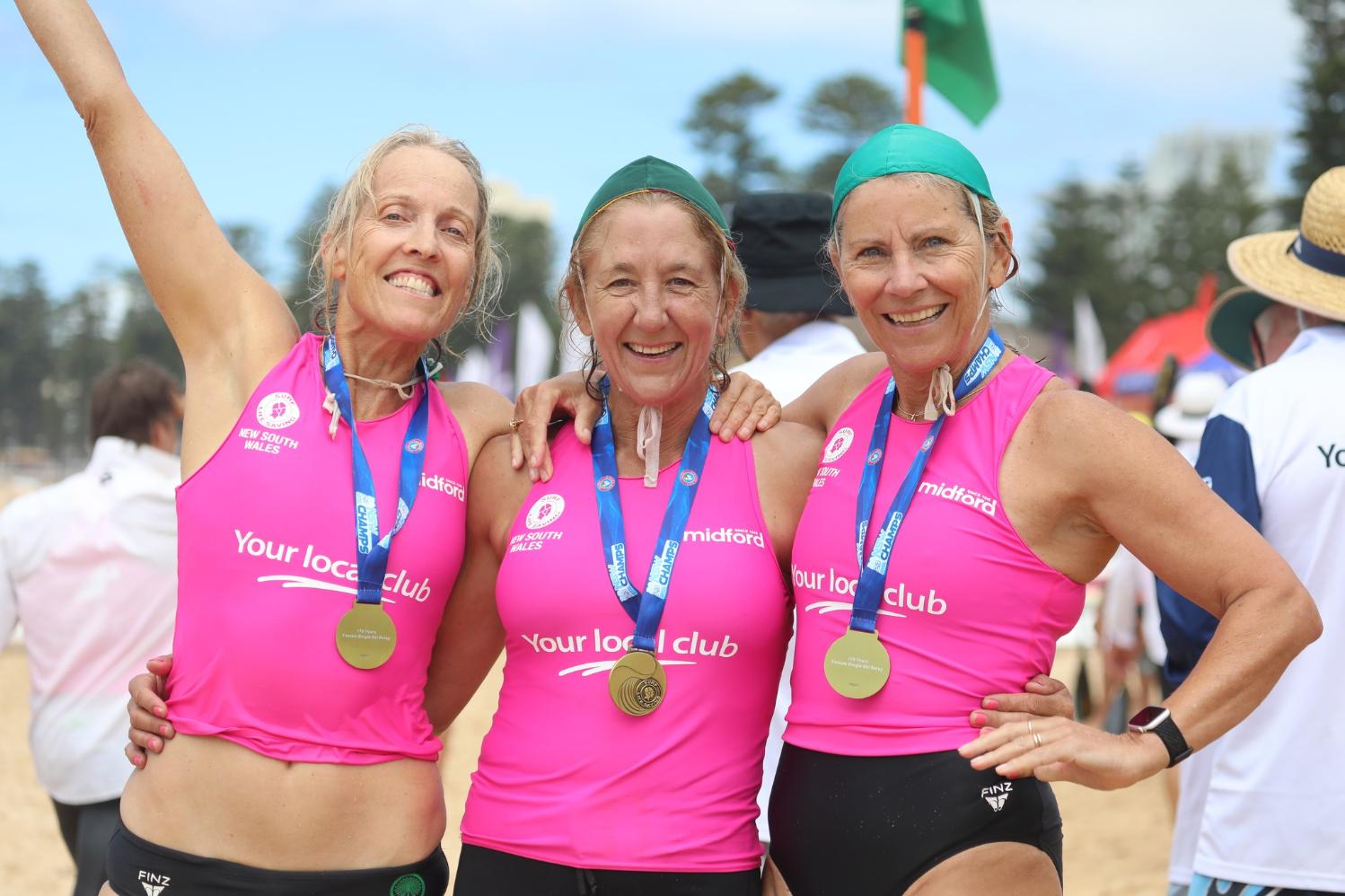 Palm Beach SLSC - one of several local clubs with small Masters Teams that had great results in the 2023 SLS NSW State Championships.
After a cancellation due to Covid followed by the cancellation last year due to adverse weather conditions and water quality, this year's SLS NSW Masters state competition 'felt like a reunion', according to Palm Beach SLSC athlete Fiona Rae.
Fiona Rae accounted for half of her club's four gold medals on the first day of competition in the 55-59 Female Iron and Single Ski. Her results reflect her shift into focusing on ocean kayaking in recent years.
In February Fiona took part in the Bridge to Beach, coming first in her age division with a time of 55:14. Danielle McKenzie, a part of the iconic Australian Nutri-Grain Iron Woman Series since 2014, was first among female competitors with a time of 50:15. Surf Life Saving NSW Awards of Excellence Athlete of the Year – Hannah Minogue, Bulli SLSC, 51:26, U23 Ski Sascha Taurins, also a Newport SLSC athlete 51:15
The Bridge to Beach is one of Australia's largest open water paddling events and regarded as one of the most spectacular in the world. Participants marshal at Blues Point Reserve for a spectacular sunrise over Sydney Harbour. Starting at the Sydney Harbour Bridge, they then paddle past the Sydney Opera House and hug the northern shores of Sydney Harbour taking in sights such as Taronga Zoo, Bradley's Head, Clifton Gardens, North Harbour Reserve and both South and North Head on their way to the beautiful Manly Wharf where the finish is. The event supports and raises money for the Fragile X Association of Australia. The 2023 edition was the 10th year for this event.
Ms Rae was also part of the 21 strong team of athletes nominated to the 2022 Australian Canoe Marathon Team to represent Australia in the Open, Junior and U23 categories at the 2022 ICF Canoe Marathon World Championships in Ponte Lima, Portugal, from September 29 to October 2, 2022. Fiona Rae competed in the W55 K1 and W55 K2, bringing home Silver medals in both her events.
Pittwater Online spoke to Fiona after the Masters events concluded.
''To win the Iron Woman is something I'm pretty happy about, I've only ever won that once before in 15 years of competing.'' Fiona explained ''I had such a good lead on the ski and knew this girl was going to swim me down, Colleen Harrison, she's a good gun swimmer, and I managed to hold her off.''
A great shot taken by Surf Life Saving NSW's team of photographers shows Rae crossing the line.
'' I got the royal treatment, they put up the blue banner for me to run through.'' Fiona said, delighted.
''Palm Beach didn't have a large team in this year but we definitely punched above our weight.''
''It was such a great atmosphere over the two days of our competition, and so good to see and catch up with people we hadn't been able to see for a while from further away than our area. What was also great was there were so many women athletes taking part this year - it really shows the positive growth of women being supported in our clubs to have so many on the sand and in the water. ''
Fiona Rae wins the ironwoman event
Five local surf clubs were in the top 10 overall point score, some with only small teams competing. Manly won second spot behind North Bondi and Palm Beach taking the tenth spot. In between were Newport (6th overall), Freshwater SLSC (8th) and Queenscliff SLSC (9th).
MLSC Masters Captain, the great Mel Brock, led a huge contingent from the original peninsula surf club, reflected in their overall tally of 459 overall, comprising 31 golds, 28 silvers and 19 bronze. Competing just a couple hundred metres from their surf club at the other end of the beach, Manly, alongside both Bondi-based clubs, has benefitted greatly from strength in numbers. When they aren't winning, they were placing inside the points across a breadth of events.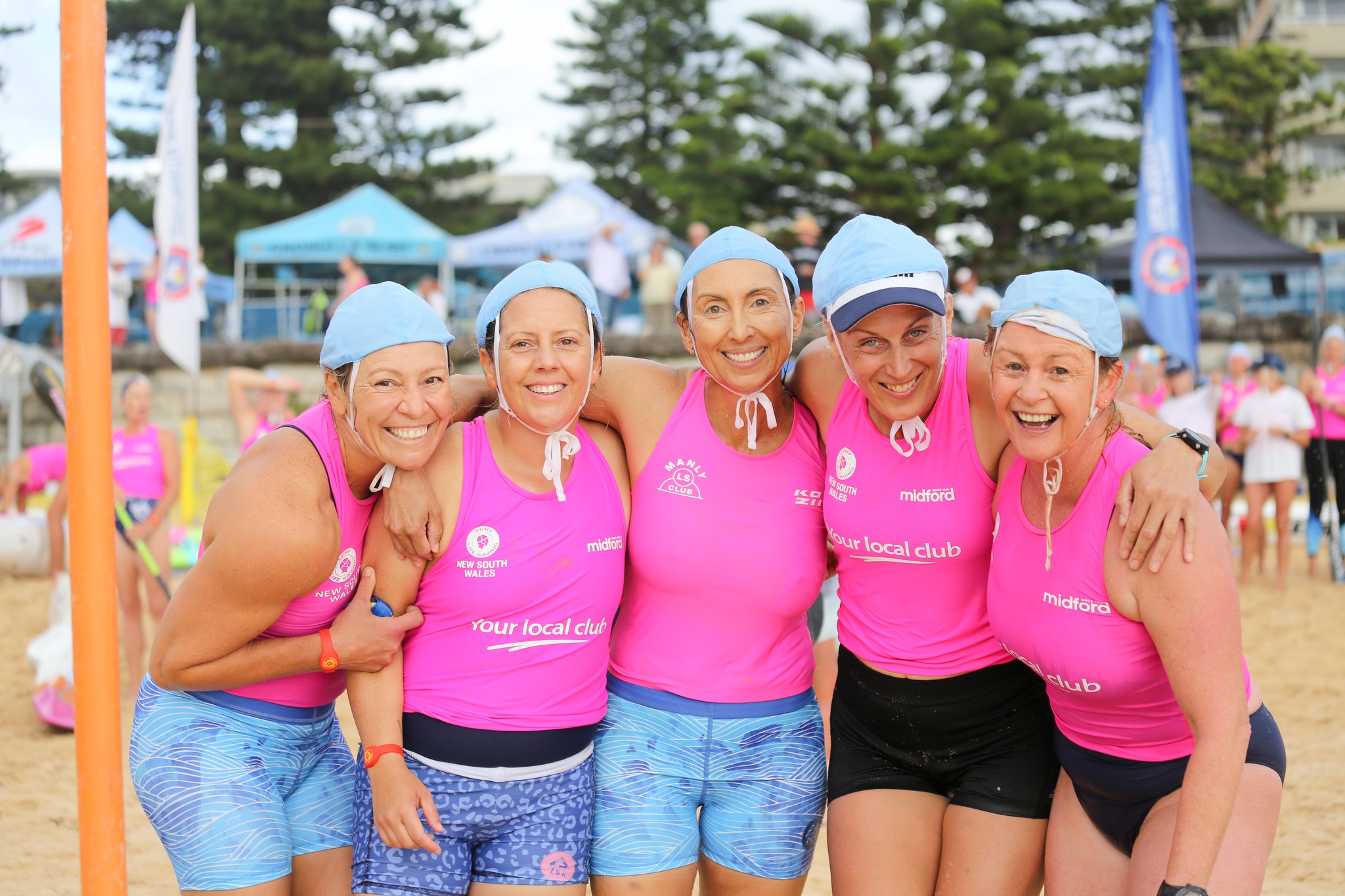 The five local clubs in the top 10 didn't have it all their own way as Collaroy's strength on the sand won through again with the Collaroy Red 230 years Beach Relay team of Linda McDowell, Kerry Armstrong, Miho Kawasaki and Philippa Wight taking the gold.
Likewise Mona Vale SLSC's gold for Team A in the 150 yrs min Female Board Relay; Kristyn Monnock, Lise Layard and Sophie Stokes, with Kristyn and Sophie also collecting the silver in the 45-49 yrs Female Board Rescue, continue years of medals in this event and as a powerful womens team in Branch, State and Nationals. Fellow club Members Peter Lever and Bryce Munro won the silver in the 45-49 yrs Male Double Ski with Narrabeen's David Tudor-Jones and Peter Wells collecting the bronze.
Mona Vale Team A for the 150 yrs min Female Taplin, Kristyn Monnock, Lise Layard and Lisa Critoph won the bronze while Newport's Team A, Louise Purnell, Felicity Peters and Janet Proudfoot took the 4th, amassing more points for their club
Newport SLSC also had a small team but managed to win 15 golds, 8 silvers and 1 bronze. Amanda Lehman and Janet Proudfoot won the gold in the 45-49 yrs Female Board Rescue, Nick Carroll winning the gold in the 60-64 yrs Male Board Race, Ironman, and silver in the single ski - wedged between Dee Why's Peter Sharkey who won the gold, and Andrew Stuart, North Curl Curl, who went home with the bronze.
Newport's Laurence McCoy, Nick Carroll and Darren Warrener won silver in the 150 yrs min Male Board Relay - they were denied the gold by the phenomenal Terrigal Team A of Hayden Smith, Michael Di Betta and Paul Lemmon. Laurence McCoy and Ashley Brown also secured more silver for Newport in the 45-49 yrs Male Board Rescue.
Warriewood's 'Sandmen'; Ben Hargy, Iain Archer, Glen Bauder and Adam Gee remain unbeatable on the beach, again bringing home the gold. Warriewood also won a silver and two bronzes.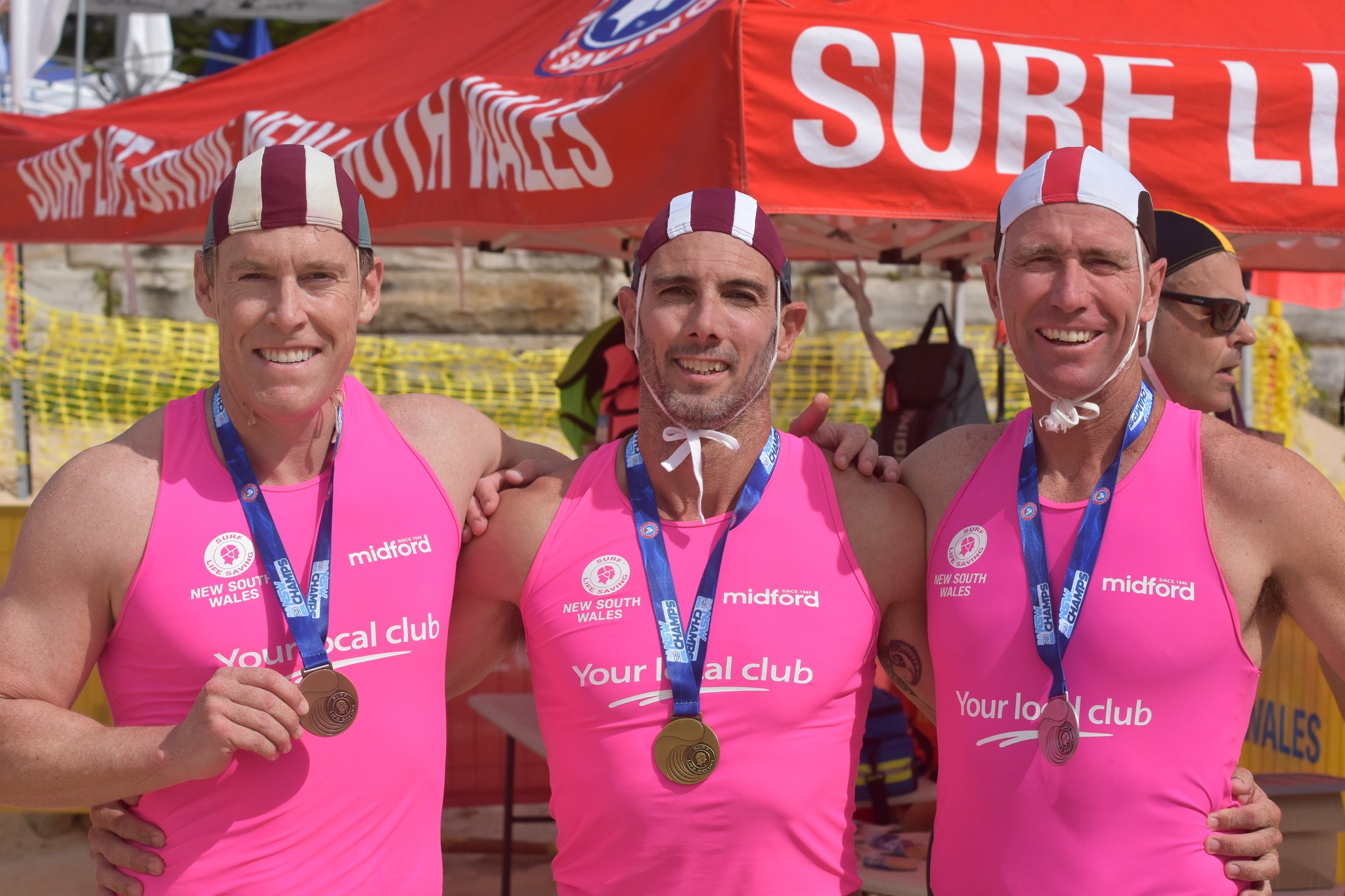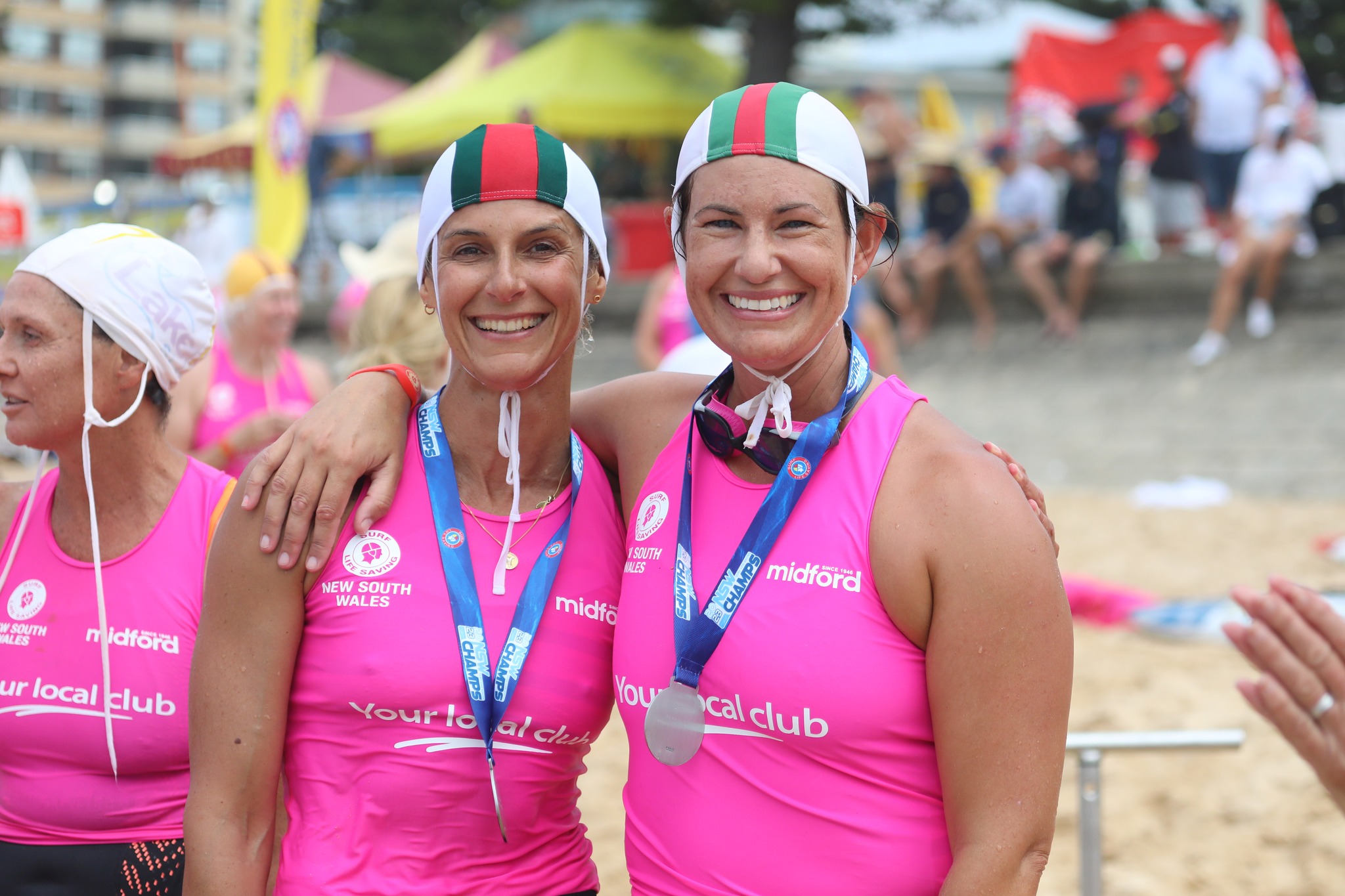 Avalon Beach SLSC girls Aisha Ferris and Julia Jones-Hughes
For the hosts, Susie Southern picked up a Beach Flags and Sprint double in the 60-64 Female category, helping Queenscliff to finish the day just outside the top three.
Appointment Of New Marine Rescue NSW Commissioner Announced As Alex Barrell: A Local Gentleman From A Family Who Have Served Our Community For Decades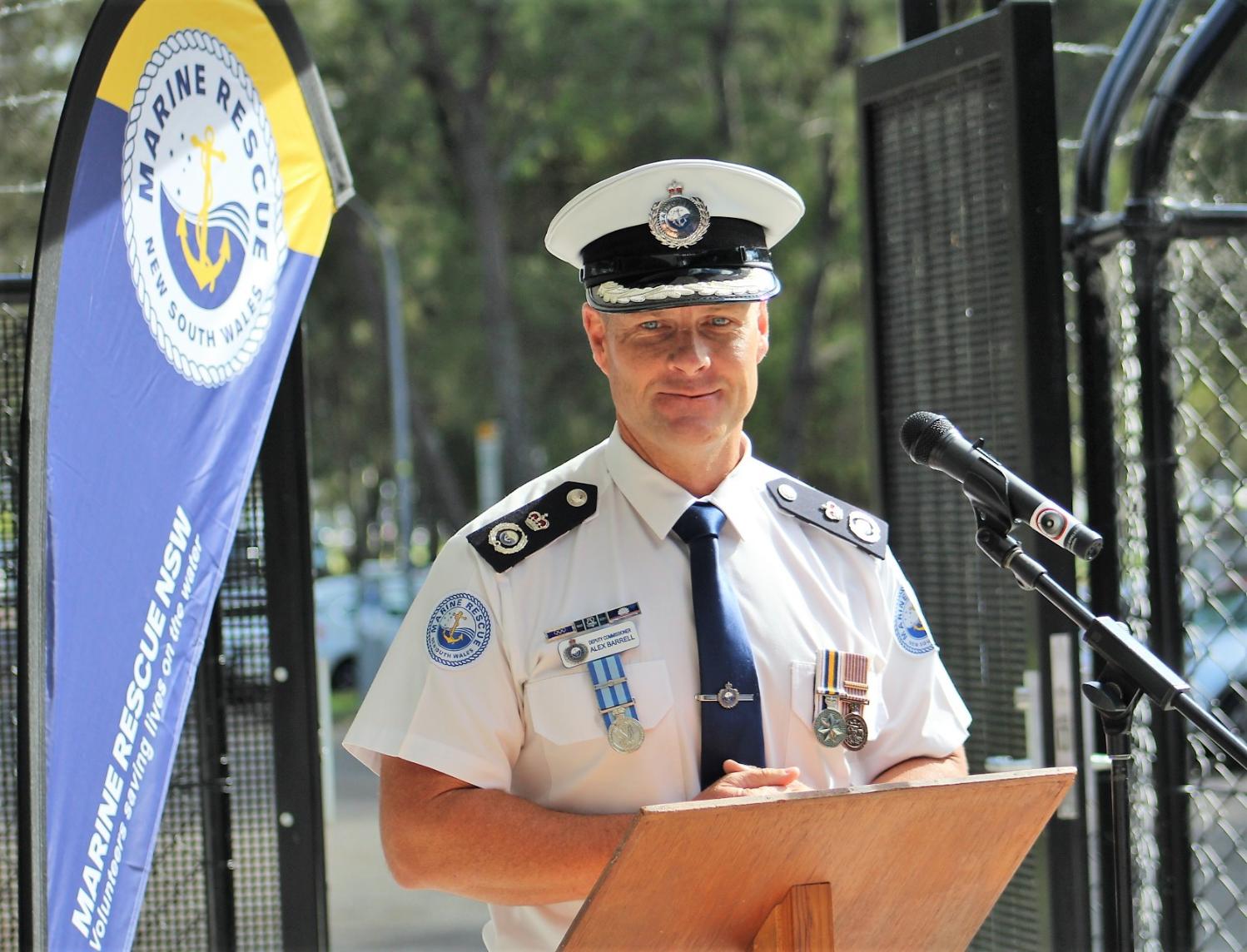 Current Deputy Commissioner Barrell at the Marine Rescue Broken Bay Commissioning of their new Base building at Bayview on Saturday March 4 2023
Announced: March 3, 2023
Chair of the Marine Rescue NSW Board, James Glissan AM ESM KC, has today announced the appointment of Alex Barrell as the new Commissioner of Marine Rescue NSW.
The Marine Rescue NSW Board recently undertook an extensive recruitment campaign to attract a new leader to take the helm from Commissioner Stacey Tannos ESM, who will retire later this year.
Marine Rescue NSW's reputation for professionalism and advancement resulted in a strong field of candidates, from a range of professions.
"Alex's relevant and extensive career experience in the NSW Water Police, maritime and rescue services made him a stand out candidate for the role." Mr Glissan said.
"The Marine Rescue NSW Board unanimously agreed to appoint Alex to the position."
In addition to his long serving career with the NSW Police Force and executive roles at NSW Maritime, Alex has held the position of Deputy Commissioner Operations and Capability at Marine Rescue NSW since October 2020.
Alex will officially commence as Commissioner on 1 April 2023. Stacey Tannos will remain with the organisation during the transition period before his retirement this year.
"On behalf of the Marine Rescue NSW Board I would also like to take this opportunity to acknowledge and sincerely thank Stacey Tannos for his exemplary leadership of the organisation over the last 12 years and wish him all the best as he sails into retirement." Mr Glissan said.
Addendum: Alex Barrell
Current Deputy Commissioner - Chief Operations Officer at Marine Rescue NSW, Member - NSW Maritime Advisory Council
Mr Barrell joined the NSW Police Force in 1994, initially serving in general duties before becoming a Police Diver. He then moved to the boats, being posted to the Eden Water Police before returning to Sydney, coordinating Botany Bay and Sydney Water Police sectors and leading Search and Rescue for the MAC.
He has spent time with the Police Emergency Management Unit, supporting the State Emergency Operations Controller and developing the Force's emergency management capacity.
Transferring across White Bay from MAC to NSW Maritime, he worked across recreational and commercial boating safety and legislation and policy areas, before stepping in as Acting Executive Director for MRNSW prior to becoming Deputy Commissioner.
"I was fortunate to grow up on and around the water and that's where I really got my passion for it. I didn't really join the police with the goal to get into marine but then I went into the Diving Unit and opportunities came to move and I find myself still in the maritime sector 25 years later," he said.
Mr Barrell is married with three children and lives in our area. He has a lengthy association with Surf Life Saving as a volunteer at the North Curl Curl and Pambula clubs and also worked as a lifeguard in Warringah and the Channel Islands, making him an excellent choice for understanding and supporting the work of our volunteers in Marine Rescue Broken Bay and all Marine Rescue units.
Alex is the son of David and Noelene Barrell and has a sister Nicole. Noelene retired from serving in the Electorate Office of The Hon Brad Hazzard, MP for Wakehurst in 2019 after a phenomenal 28 years of service to our community, commencing there soon after Mr. Hazzard was elected in 1991.
In a May 9, 2019 Tribute in the NSW Parliament Mr. Hazzard stated,
''Twenty‑eight years of service to the people of New South Wales is an incredible record in anybody's language. I acknowledge my electorate officer Noelene Judith Barrell, who has been working with me since just a few months after I was elected in 1991. Noelene has been an incredible advocate for our community. She has been a friendly ear to the troubled, a passionate helper for those who need help and a carer of locals with a range of challenges, including disabilities, homelessness and legal issues. In fact, she has been an ambassador for the community of Wakehurst. She may be my emissary but in reality I seem to be working for her.''




Photo: Vesna Perisic and Noelene Barrell. 2018 NSW Women of the Year Awards at ICC Sydney. Photo by Salty Dingo.


''Noelene's husband, David, was also intricately involved in the community. For example, he was a member of Manly and North Curl Curl surf life saving clubs and the sweep for the both boat crews. Noelene and David have two wonderful children, Alexander and Nicole*, who are adults. Nicole has helped out in my office from time to time as well. But Noelene's caring hands have reached well beyond our Wakehurst office. She has attended thousands of meetings outside the office with staff from council, police, health, housing and schools. Almost every part of government has had her soft hand firmly directing them as to what they should do in the interests of the community.''

* Nicole has also served our community over a long period of time, both at North Curl Curl SLSC and through the office of retiring MP, The Hon Brad Hazzard.
Congratulations Mr. Barrell – the whole community wishes you the very best in your new role.
Appointment Of New Marine Rescue NSW Commissioner Announced As Alex Barrell: A Local Gentleman From A Family Who Have Served Our Community For Decades

Protect Pittwater On The Streets Again Calling For Council Demerger Poll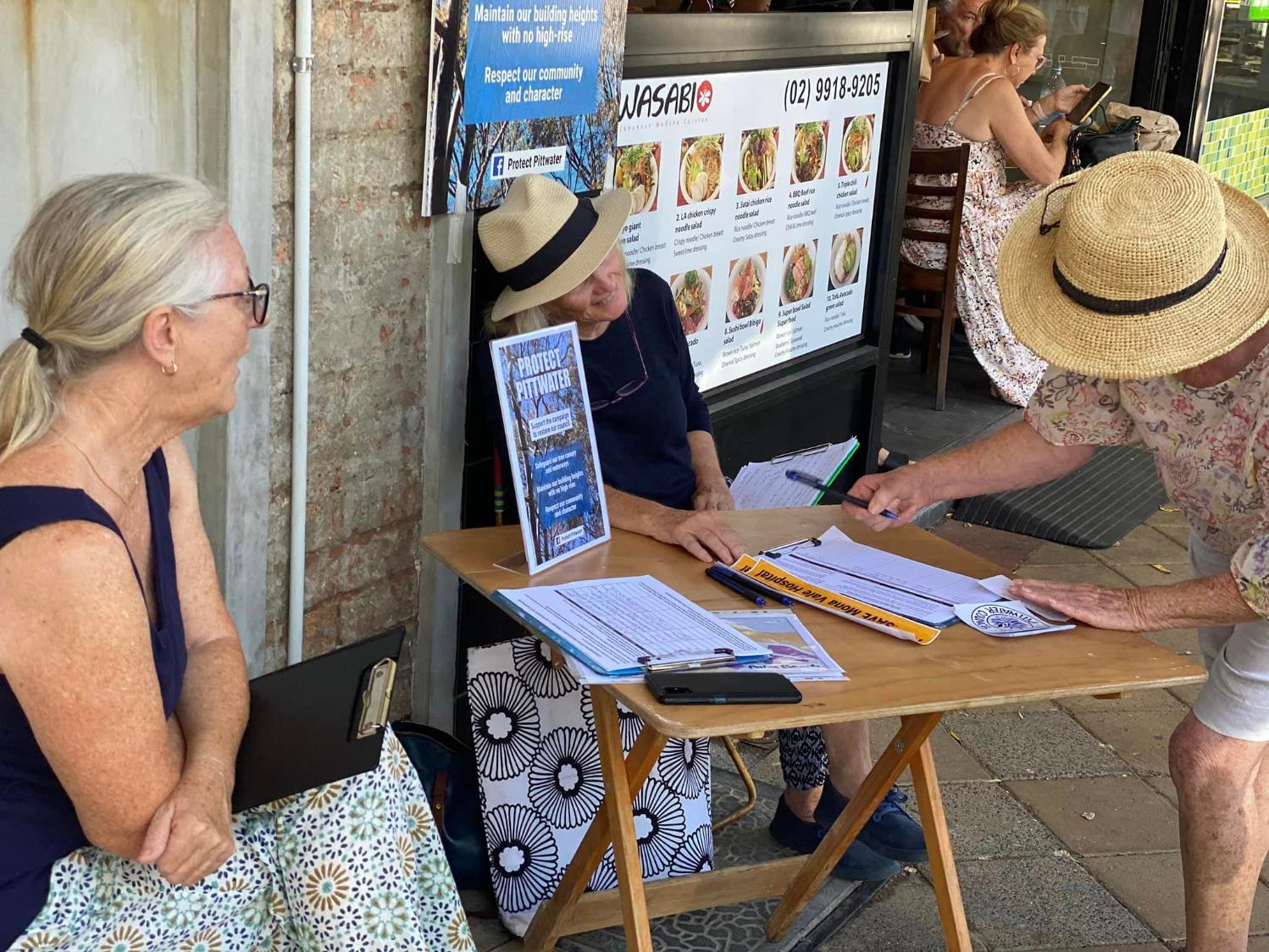 Protect Pittwater and Demerge NSW members at Avalon on Saturday March 4, 2023. Photo: supplied
Saturday March 4, 2023
Council demerger campaigners today began distributing a new "Bring Back Pittwater Council" sticker in the leadup to the NSW state election. The sticker, designed by retired Avalon art teacher Pru Wawn, depicts the Pittwater symbol of a Mangrove leaf, in royal blue.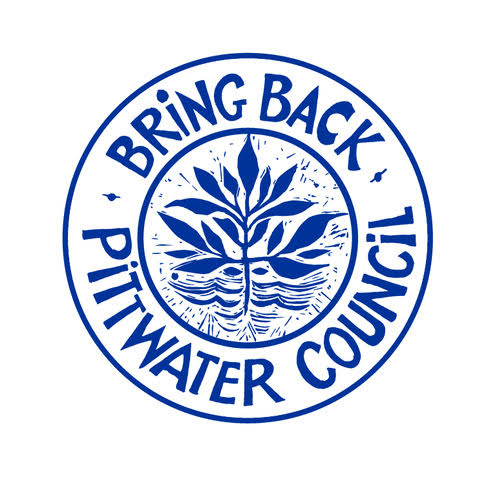 The group, including members of Protect Pittwater, Save Our Councils and the Demerge NSW Alliance, were distributing the stickers and gathering signatures in Avalon for a demerger petition and Pittwater Conservation Zones petition.
Former Pittwater councillor Sue Young was delighted by the support they received.
"It was very encouraging to see the number of people who would like to see Pittwater Council back again, and it was surprising the number of people who were still unaware of the proposed rezonings in Pittwater," Ms Young said.
"This wouldn't be happening if we still had Pittwater Council.
"Young Mums were very vocal about a lack of maintenance, particularly of our parks, and a loss of sense of community.
"And it appeared that many residents don't know what's going on with the Conservation Zones Review.
"The council should have notified everybody in the LGA whether they were directly impacted or not by the proposed changes."
Northern Beaches Council conducted a Conservation Zones Review last year, that was publicly exhibited, proposing the former Pittwater Area would lose 3,613 Conservation Zones, compared to 54 in the former Manly and one in the former Warringah.
Staff received 935 public submissions regarding the review, 60 per cent of which were from residents of the former Pittwater area.
Protect Pittwater stalwart Pip Rey said the stall had been very busy, with lots of residents collecting stickers and a queue to sign petitions on one of three clipboards at one stage.
"We were really pleased to see so many young women engaged in the issue," Ms Rey said.
Ms Young said the campaigners were providing information, rather than "telling people what to think".
"But it seemed pretty clear this morning what they want," she said.
Protect Pittwater will hold stalls in coming weeks where residents will be able to find the stickers.
DNA this week released its six point strategy for council deamalgamations. It includes a call to candidates at the NSW election to support a binding demerger poll in any of the former council areas that have been amalgamated and can present a petition in support signed by 10 per cent of residents.
The details are being distributed in a flyer.
Priorities? The Wildlife Exclusion Fences On The Wakehurst Parkway Are In A Terrible State Of Repair
Since 2007, the Department of Transport and the then Warringah Council have funded wildlife exclusion fences along the Wakehurst Parkway.
Initially these fences were in perfect condition. A new tender has been awarded recently for the maintenance of the wildlife exclusion fences.
Subsequent floods down Middle Creek have flattened the fences multiple times.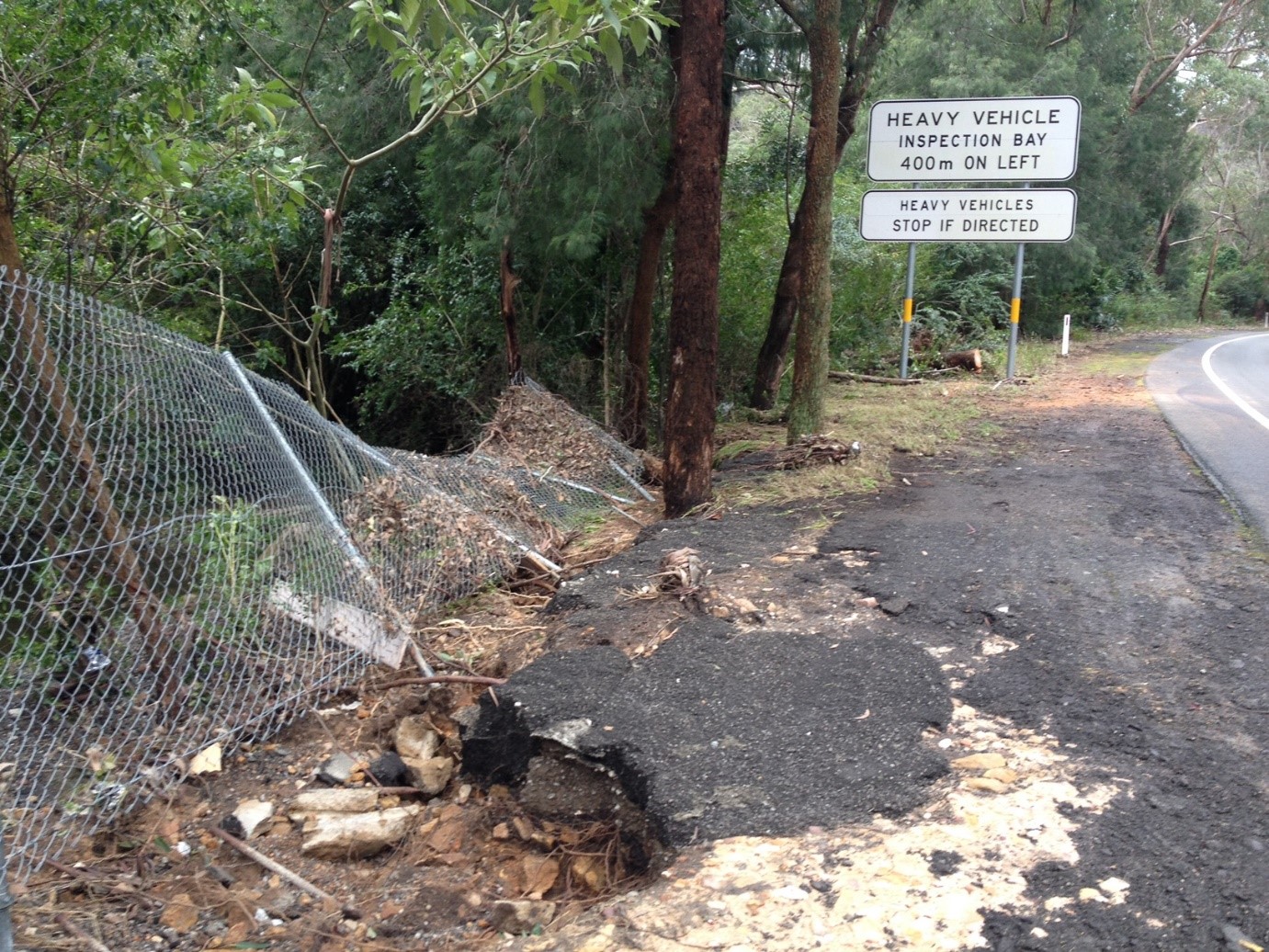 Trees have fallen on them. Cars have driven through them. The wildlife exclusion fences are in a terrible state of disrepair.
Every time the fences are damaged, wildlife can get onto the road where the wildlife may be injured or killed.
These fences are important. This map marks the swamp wallaby roadkill on the Wakehurst Parkway for 2021 to 2023.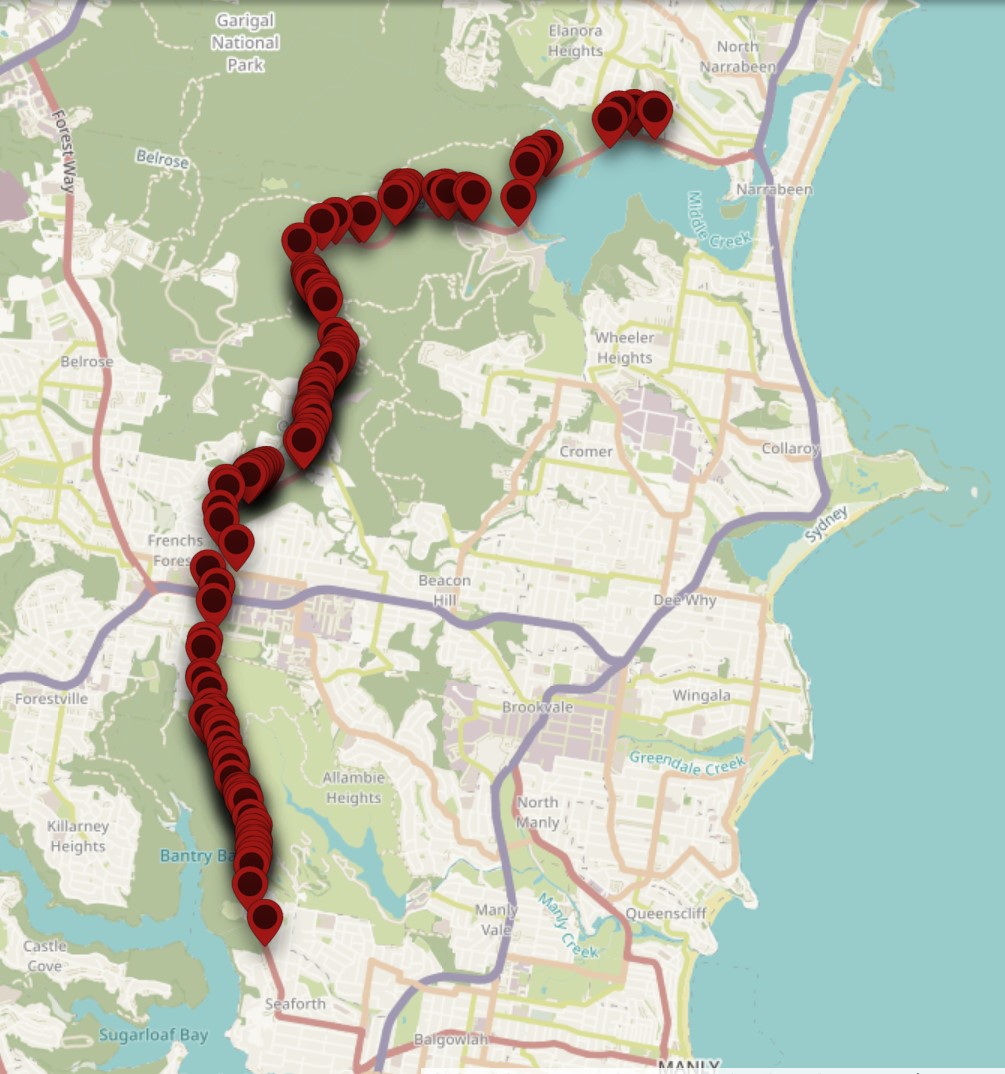 Many other animals such as owls, echidnas, and possums have also been killed.
Wallabies are unpredictable animals and dash out onto the road unexpectedly. Are we prepared to risk a human life from a head-on collision swerving to avoid an animal?
The Wakehurst Parkway wildlife exclusion fences need to be maintained regularly by the road contractors. There needs to be a plan for the temporary repair of fences when they are breached.
The exclusion fence has been flattened near Middle Creek Bridge where a car ran off the road in early February. The earliest the road contractors can repair the fence is 19 May 2023.
The Roadkill Prevention Group have temporarily repaired the fence at personal expense.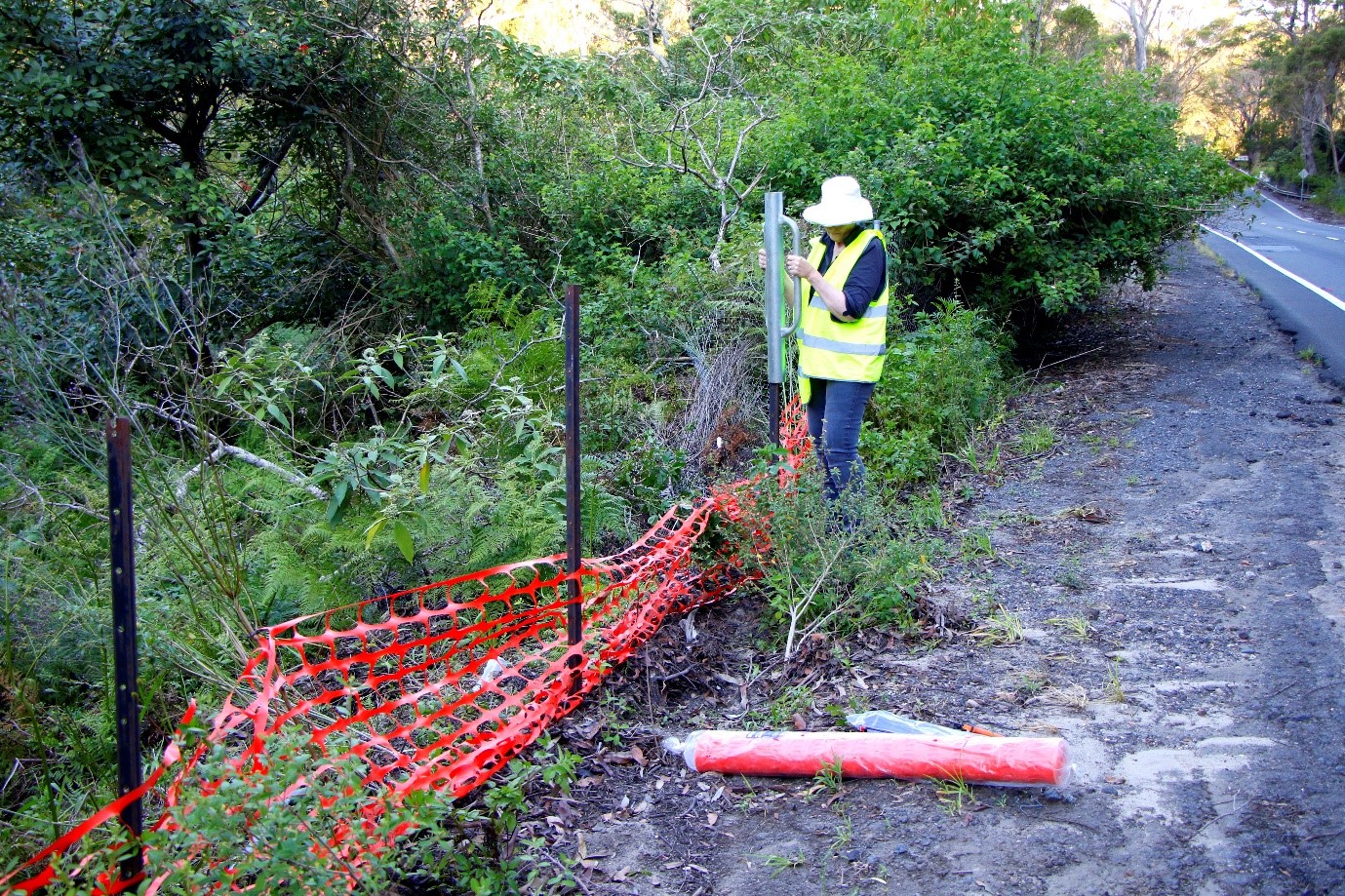 When will we see a resolution with the road maintenance contractors for a quick response to repair and maintain the roadkill exclusion fences?
Priorities? The Wildlife Exclusion Fences On The Wakehurst Parkway Are In A Terrible State Of Repair

10,500 Sign Petition To Save Lizard Rock From Development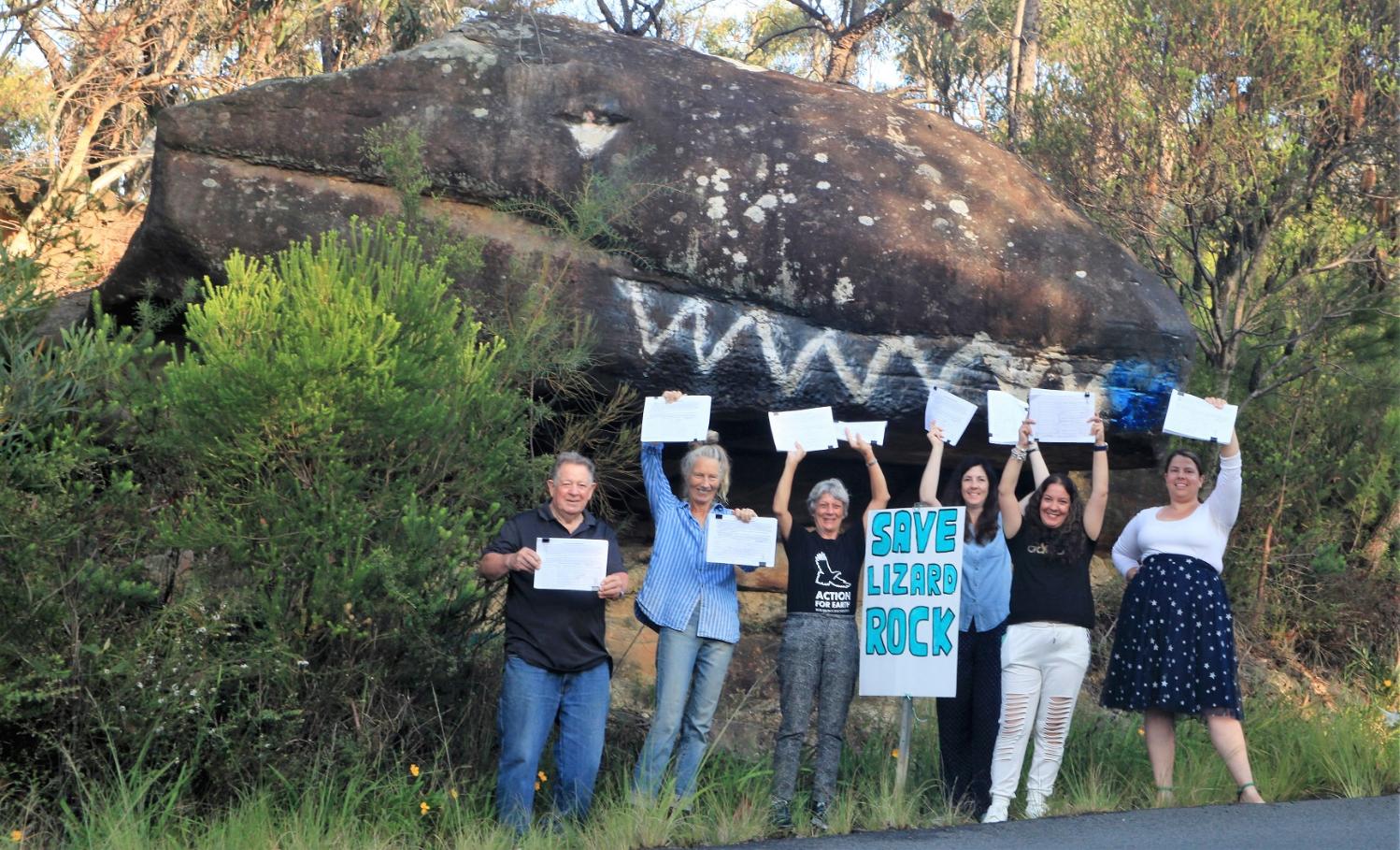 10,000 signatures held by (L-R) Garigal man Neil Evers, Dr Conny Harris, Pam Dawes, Deb Harris, Rachael Jackson, Cr Kristyn Glanville.
The Northern Beaches Bushland Guardians campaign has collected 10,500 signatures from the Northern Beaches community, and across NSW, in its campaign to save Lizard Rock and other bushland from development proposed by the NSW Government on Sydney's Northern Beaches. 10,000 signatures are required to table a paper petition in NSW Parliament. The campaign will continue to collect signatures until after the NSW State Election.
"The community has spoken - we want to protect this bushland for future generations, and we want this issue debated by the next Parliament." said Northern Beaches Envirolink Inc President Dr Conny Harris, a local GP and nearby resident on Morgan Road, Belrose.
"It has been inspiring to see the community come together from all sides to achieve this milestone of 10,000 signatures, and it has been through the work of our Envirolink volunteers and supporters."
"Developing this land sets a dangerous precedent that will not stop at 71 hectares, but open up more than 220 hectares of land to development on the Northern Beaches, and more across the state" said Dr Harris.
"The wildlife and bush at Lizard Rock is truly spectacular, with iconic species like wallabies and lyrebirds, endangered species like quolls, and known Aboriginal heritage sites. Lizard Rock forms part of the core habitat which connects into the Garigal National Park and Narrabeen Lagoon State Park" said Dr Harris.
"The Council has raised a number of highly concerning aspects to the Lizard Rock proposal, including the high level of bushfire risk identified by Council's independent experts, significant loss of biodiversity, and failure to demonstrate appropriate planning for traffic, transport and infrastructure needs." said Councillor Kristyn Glanville from Northern Beaches Council, an environment and planning lawyer by background.
"The clear lessons from the Floods Inquiry and Bushfires Inquiry was that we need to stop building houses in places where we will put lives in harm's way. There is also a desperate need to conserve our remaining pockets of nature, to counter issues such as extinction and climate change." said Cr Glanville.
The Northern Beaches Bushland Guardians have requested that the State Election candidates for the Northern Beaches in Wakehurst, Pittwater, Manly and Davidson table the petition and champion the cause in Parliament. The campaign welcomes candidates to make this pledge publicly.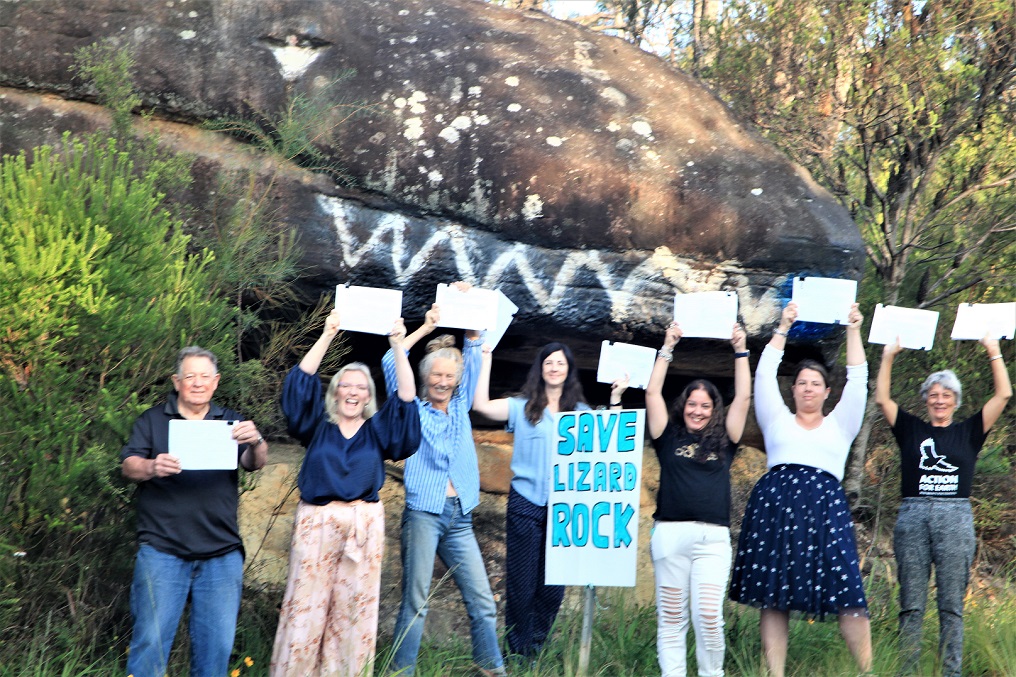 10,000 signatures held by (L-R) Garigal man Neil Evers, Sarah Baker, Dr Conny Harris, Deb Harris, Rachael Jackson, Cr Kristyn Glanville, Pam Dawes

Background
The NSW Minister for Planning has approved a Development Delivery Plan for 227.3 ha of bush land located at Lizard Rock (Morgan Road), Aquatic Drive, Forest Way, Corymbia Circuit, Paxton St, and Ralston Ave. The sites are spread across the suburbs of Belrose, Davidson, Frenchs Forest, Oxford Falls and Allambie Heights. As a result of the Minister's decision, these sites are now included in the NSW State Environmental Planning Policy (Planning Systems) 2021 ("SEPP"), with planning decisions taken out of the hands of Northern Beaches Council and decisions instead made by the State Government. The first site proposed for development is the 71 ha "Lizard Rock" site located at Morgan Road, Belrose, which proposes 450 houses.
Swamp Wallaby At Palm Beach.
Photo: Emilio Gallego
, taken Friday March 3, 2023
at Dark Gully - PLEASE do not speed through this corner
.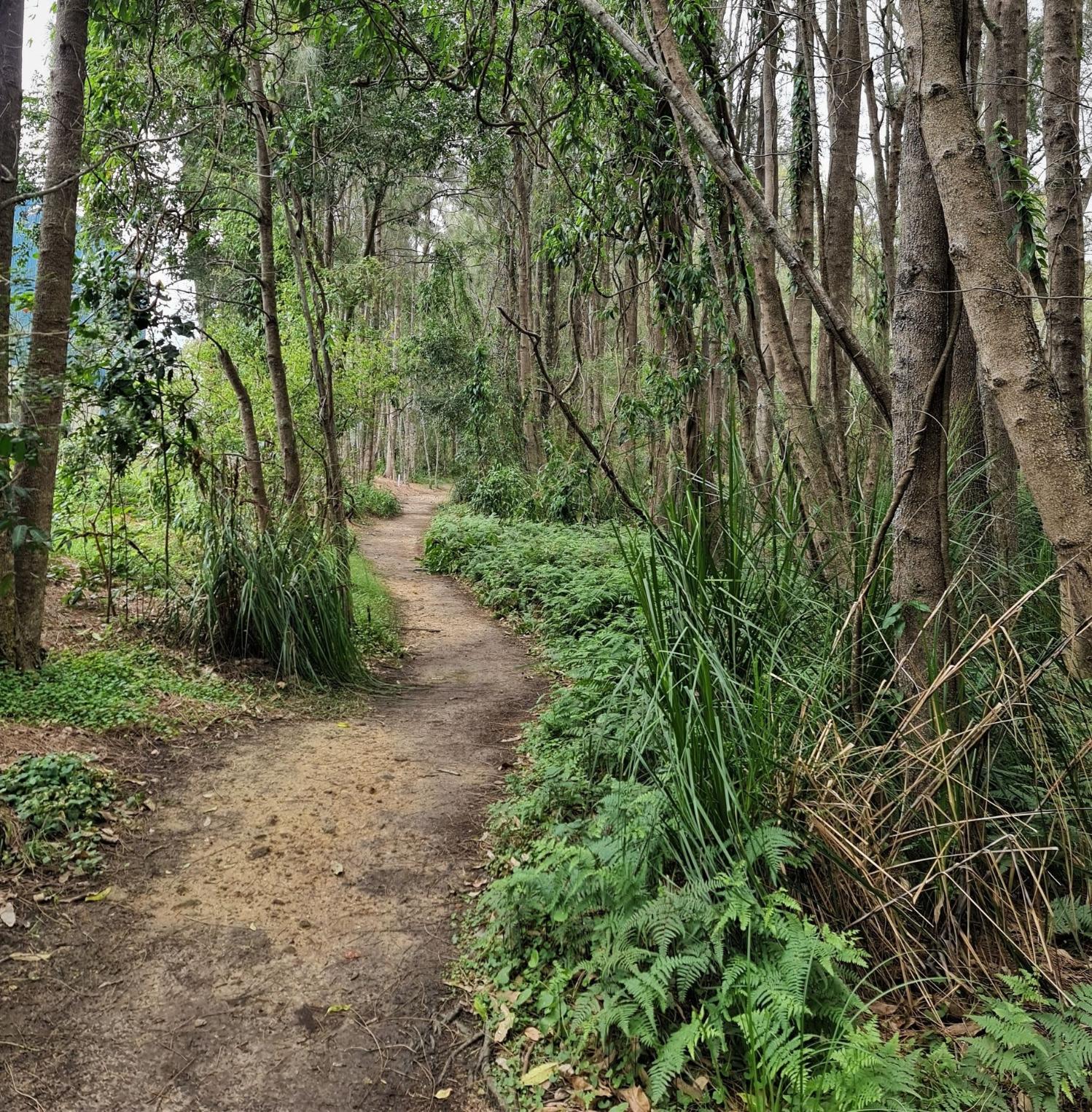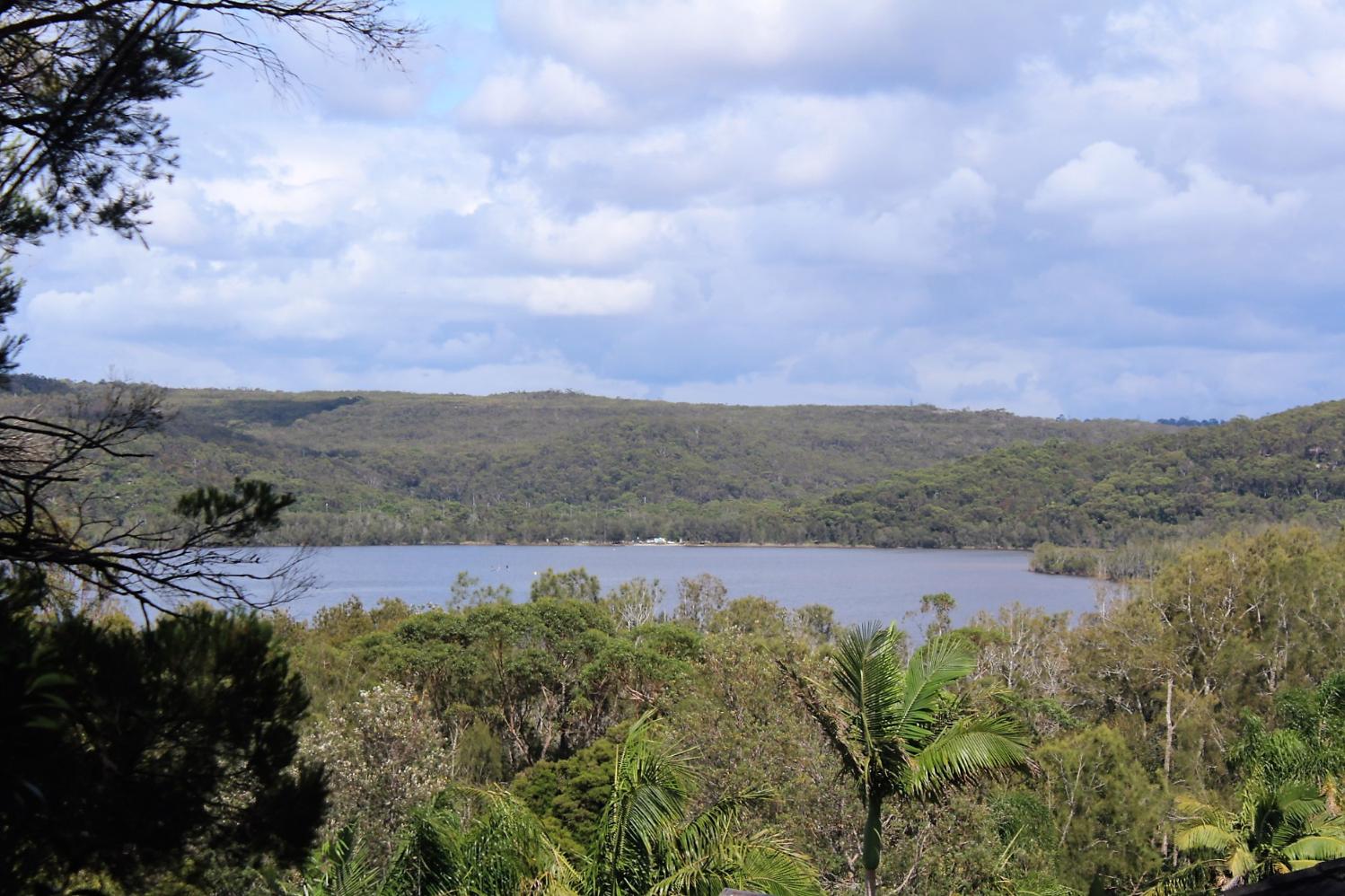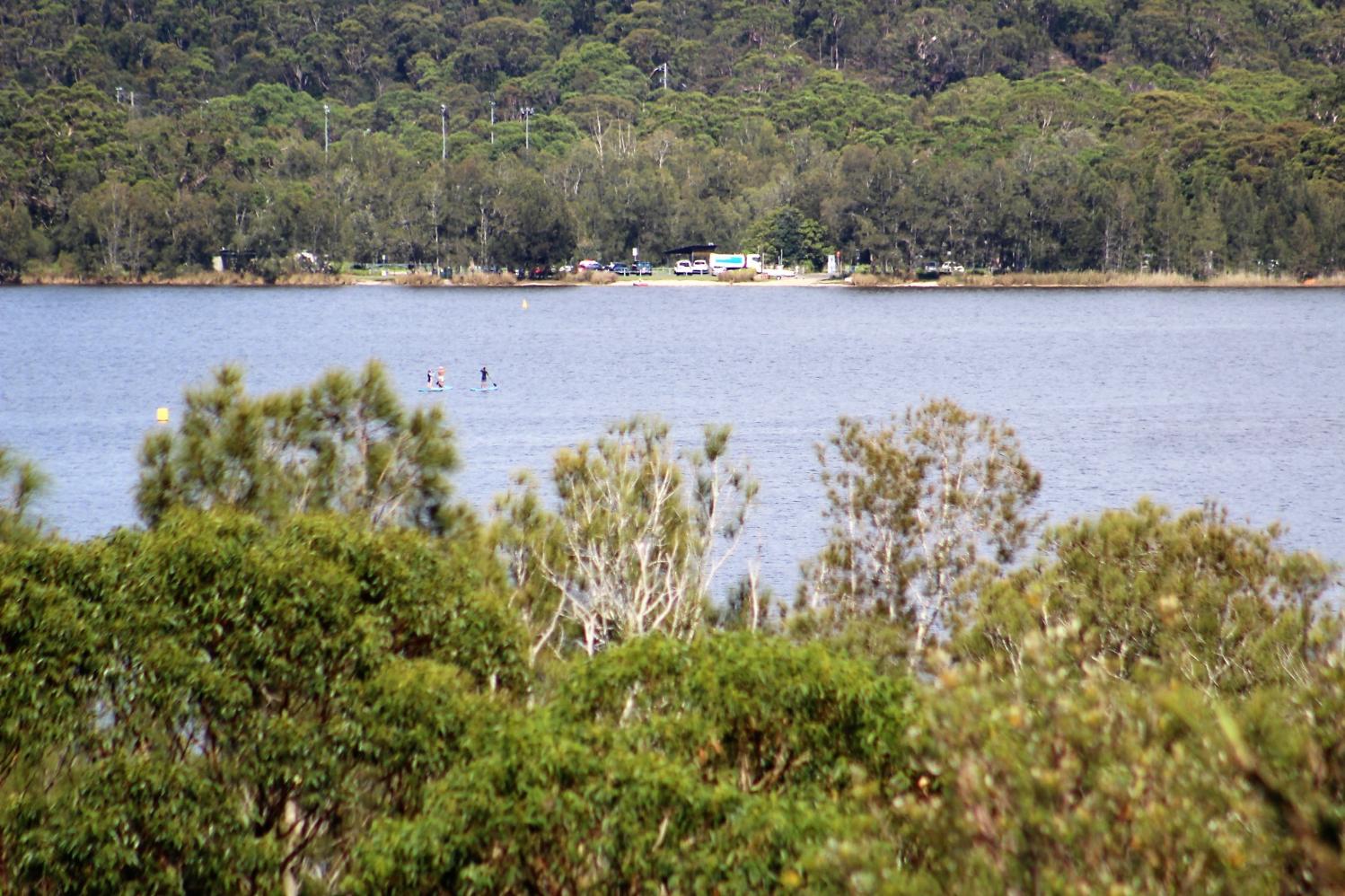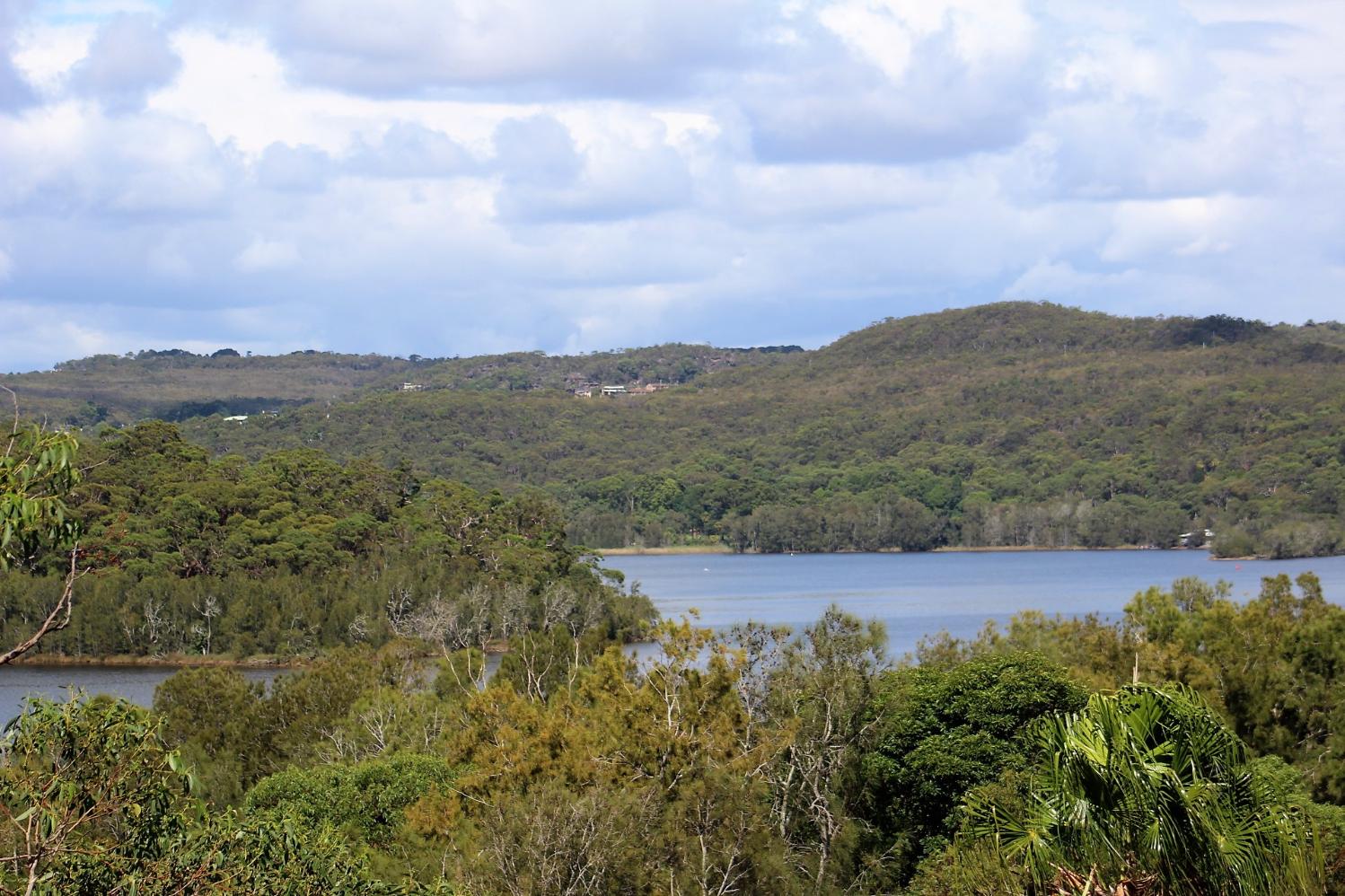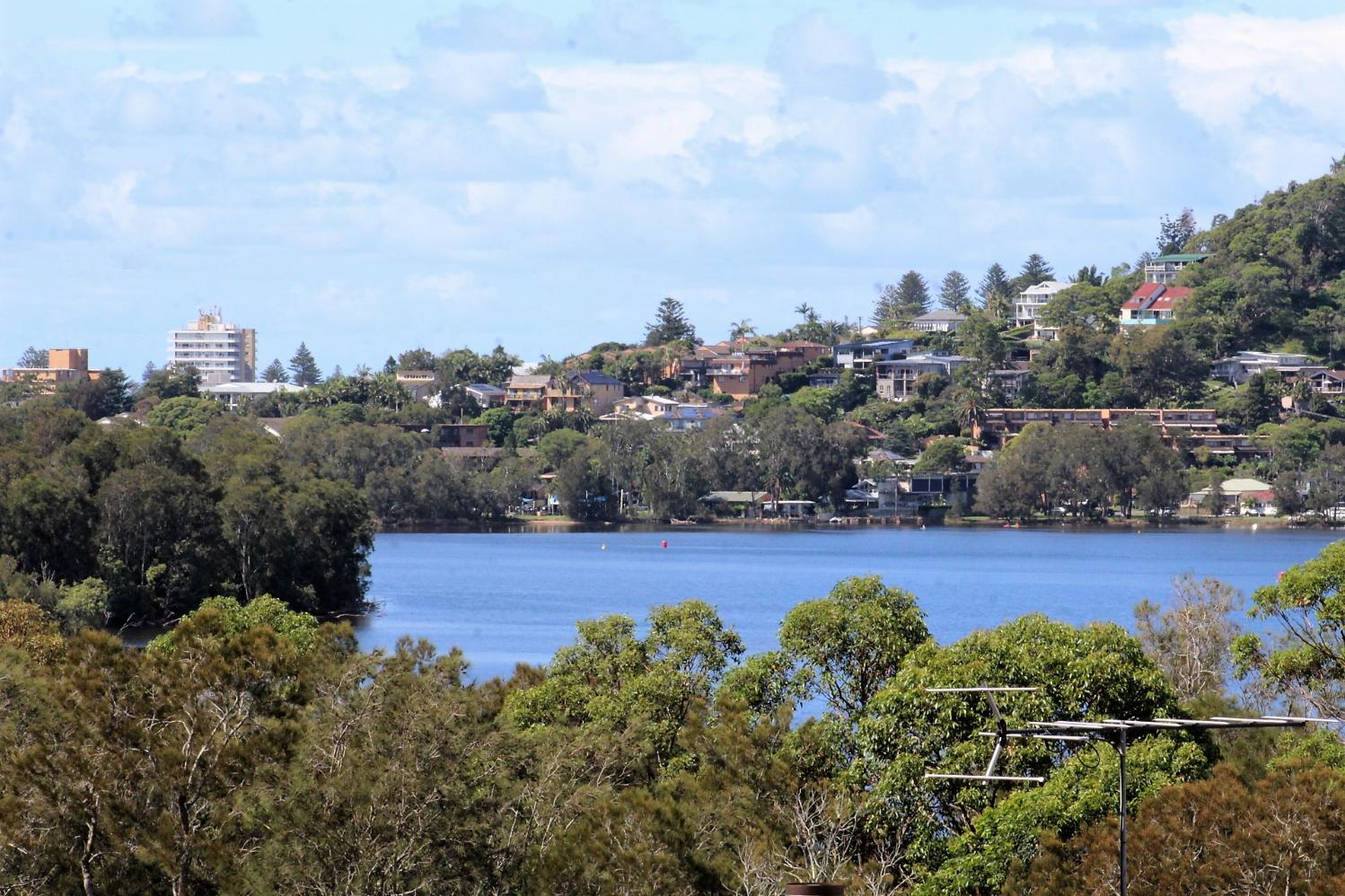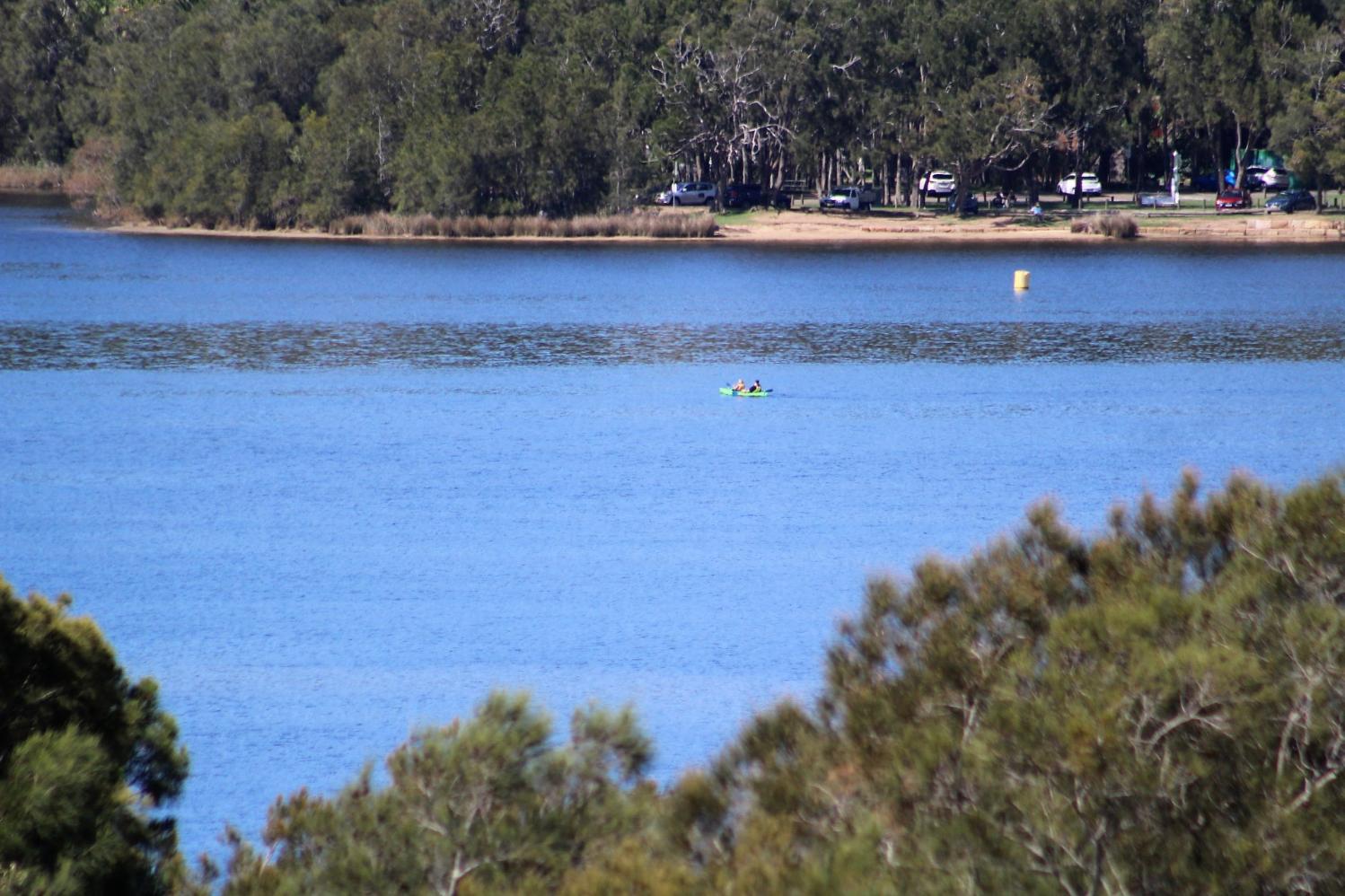 The view west and east from Carefree Road, North Narrabeen, Saturday March 4 2023
Past Features Archives (pre 2014)
Pittwater Online News was selected for preservation by the State Library of New South Wales and National Library of Australia. This title is scheduled to be re-archived regularly.
Archived Issues (2014 on) may be accessed here: pandora.nla.gov.au/tep/143700
Past Issues are also listed on site on the Community News page, by month.