March 5 - 11, 2023: Issue 574
Appointment of new Marine Rescue NSW Commissioner Announced as alex barrell: a local gentleman from a family who have served our community for decades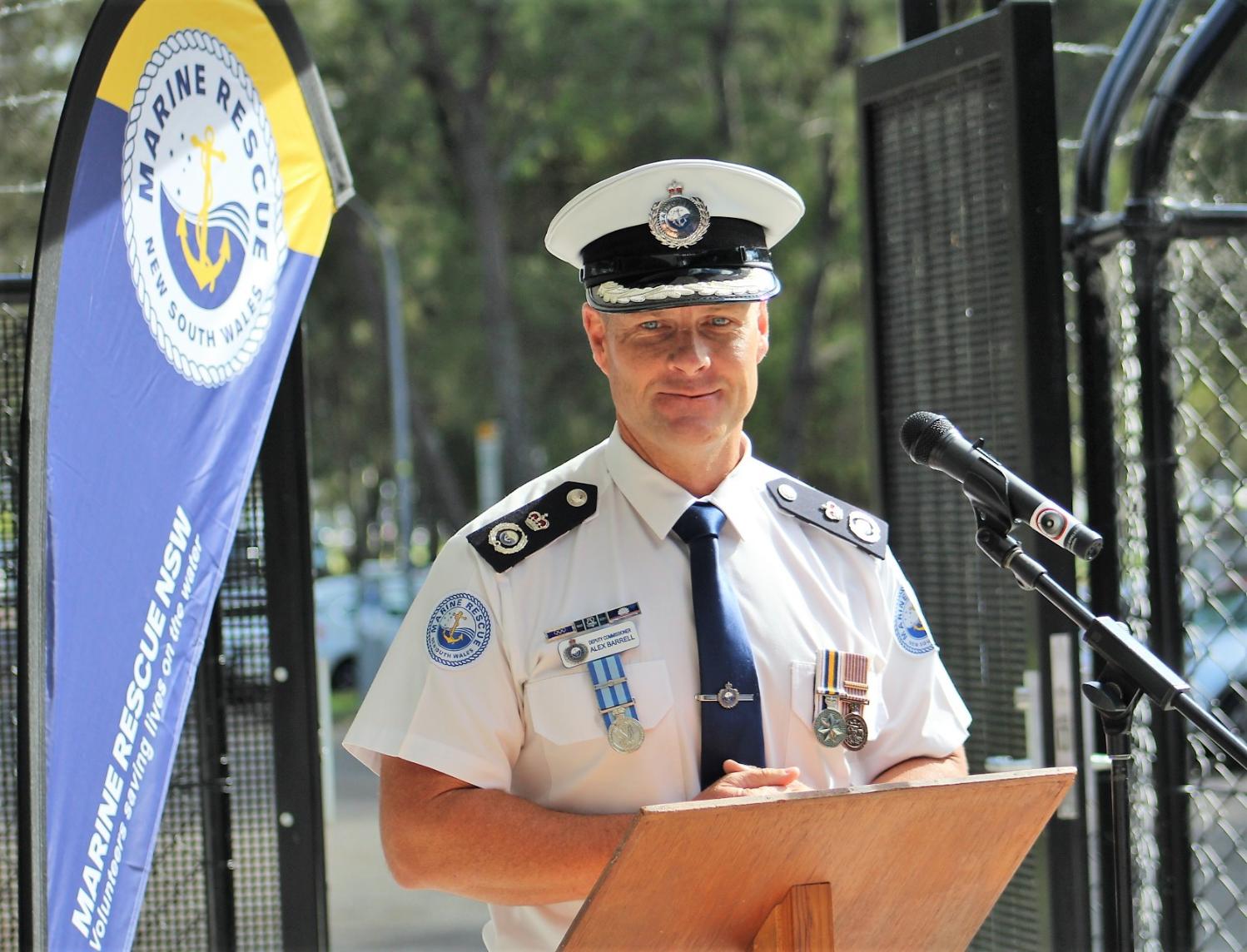 Current Deputy Commissioner Barrell at the Marine Rescue Broken Bay Commissioning of their new Base building at Bayview on Saturday March 4 2023
Announced: March 3, 2023
Chair of the Marine Rescue NSW Board, James Glissan AM ESM KC, has today announced the appointment of Alex Barrell as the new Commissioner of Marine Rescue NSW.
The Marine Rescue NSW Board recently undertook an extensive recruitment campaign to attract a new leader to take the helm from Commissioner Stacey Tannos ESM, who will retire later this year.
Marine Rescue NSW's reputation for professionalism and advancement resulted in a strong field of candidates, from a range of professions.
"Alex's relevant and extensive career experience in the NSW Water Police, maritime and rescue services made him a stand out candidate for the role." Mr Glissan said.
"The Marine Rescue NSW Board unanimously agreed to appoint Alex to the position."
In addition to his long serving career with the NSW Police Force and executive roles at NSW Maritime, Alex has held the position of Deputy Commissioner Operations and Capability at Marine Rescue NSW since October 2020.
Alex will officially commence as Commissioner on 1 April 2023. Stacey Tannos will remain with the organisation during the transition period before his retirement this year.
"On behalf of the Marine Rescue NSW Board I would also like to take this opportunity to acknowledge and sincerely thank Stacey Tannos for his exemplary leadership of the organisation over the last 12 years and wish him all the best as he sails into retirement." Mr Glissan said.
Addendum: Alex Barrell
Deputy Commissioner - Chief Operations Officer at Marine Rescue NSW, Member - NSW Maritime Advisory Council
Current Deputy Commissioner Barrell was appointed to his current position on September 10th 2020 and commenced tat October.
Commissioner Stacey Tannos said then Mr Barrell had been the stand-out candidate from a competitive field of 145 applicants.
"Our reputation as a leader in the national marine rescue sector guaranteed we would attract strong interest in this important role leading our organisation's operational performance," he said.
"Alex's career path, most recently as the Acting Executive Director of NSW Maritime and with 24 years in the NSW Police Force, particularly in the Marine Area Command (MAC) and emergency management, is tailor made for this position," he said.
"Alex was the stand out candidate from a very strong field. He brings a mixture of skills and experience – including as a volunteer – that is ideally suited for our vital work to save lives on the water."I have no doubt he will be a strong advocate for our volunteers and will hit the ground running with energy and enthusiasm."
Mr Barrell said he was looking forward to joining the organisation in October.
"It feels a little bit natural. I've had a long association with Marine Rescue over the years," he said.
He had frequently worked alongside MRNSW members both on operations and during the peak season deployment of MRNSW liaison personnel to the Marine Area Command. He said his priorities would be getting to know the volunteers and understanding the operational challenges across the State.
"That's the style of leadership I like to embrace, getting out and engaging with people. It will be a high priority for me to get to know the volunteers and operational teams," he said.
Mr Barrell joined the NSW Police Force in 1994, initially serving in general duties before becoming a Police Diver. He then moved to the boats, being posted to the Eden Water Police before returning to Sydney, coordinating Botany Bay and Sydney Water Police sectors and leading Search and Rescue for the MAC.
He has spent time with the Police Emergency Management Unit, supporting the State Emergency Operations Controller and developing the Force's emergency management capacity.
Transferring across White Bay from MAC to NSW Maritime, he worked across recreational and commercial boating safety and legislation and policy areas, before stepping in as Acting Executive Director for MRNSW prior to becoming Deputy Commissioner.
"I was fortunate to grow up on and around the water and that's where I really got my passion for it. I didn't really join the police with the goal to get into marine but then I went into the Diving Unit and opportunities came to move and I find myself still in the maritime sector 25 years later," he said.
Mr Barrell is married with three children and lives in our area. He has a lengthy association with Surf Life Saving as a volunteer at the North Curl Curl and Pambula clubs and also worked as a lifeguard in Warringah and the Channel Islands, making him an excellent choice for understanding and supporting the work of our volunteers in Marine Rescue Broken Bay and all Marine Rescue units.
Alex is the son of David and Noelene Barrell and has a sister Nicole. Noelene retired from serving in the Electorate Office of The Hon Brad Hazzard, MP for Wakehurst in 2019 after a phenomenal 28 years of service to our community, commencing there soon after Mr. Hazzard was elected in 1991.
In a May 9, 2019 Tribute in the NSW Parliament Mr. Hazzard stated,
''Twenty‑eight years of service to the people of New South Wales is an incredible record in anybody's language. I acknowledge my electorate officer Noelene Judith Barrell, who has been working with me since just a few months after I was elected in 1991. Noelene has been an incredible advocate for our community. She has been a friendly ear to the troubled, a passionate helper for those who need help and a carer of locals with a range of challenges, including disabilities, homelessness and legal issues. In fact, she has been an ambassador for the community of Wakehurst. She may be my emissary but in reality I seem to be working for her.''




Photo: Vesna Perisic and Noelene Barrell. 2018 NSW Women of the Year Awards at ICC Sydney. Photo by Salty Dingo.


''Noelene's husband, David, was also intricately involved in the community. For example, he was a member of Manly and North Curl Curl surf life saving clubs and the sweep for the both boat crews. Noelene and David have two wonderful children, Alexander and Nicole*, who are adults. Nicole has helped out in my office from time to time as well. But Noelene's caring hands have reached well beyond our Wakehurst office. She has attended thousands of meetings outside the office with staff from council, police, health, housing and schools. Almost every part of government has had her soft hand firmly directing them as to what they should do in the interests of the community.''

* Nicole has also served our community over a long period of time, both at North Curl Curl SLSC and through the office of retiring MP, The Hon Brad Hazzard.
Congratulations Mr. Barrell – the whole community wishes you the very best in your new role.
Thank you for your service.