September 11 - 17, 2022: Issue 554

Descendant Of Bungaree Unveils Name For New Marine Rescue Broken Bay Vessel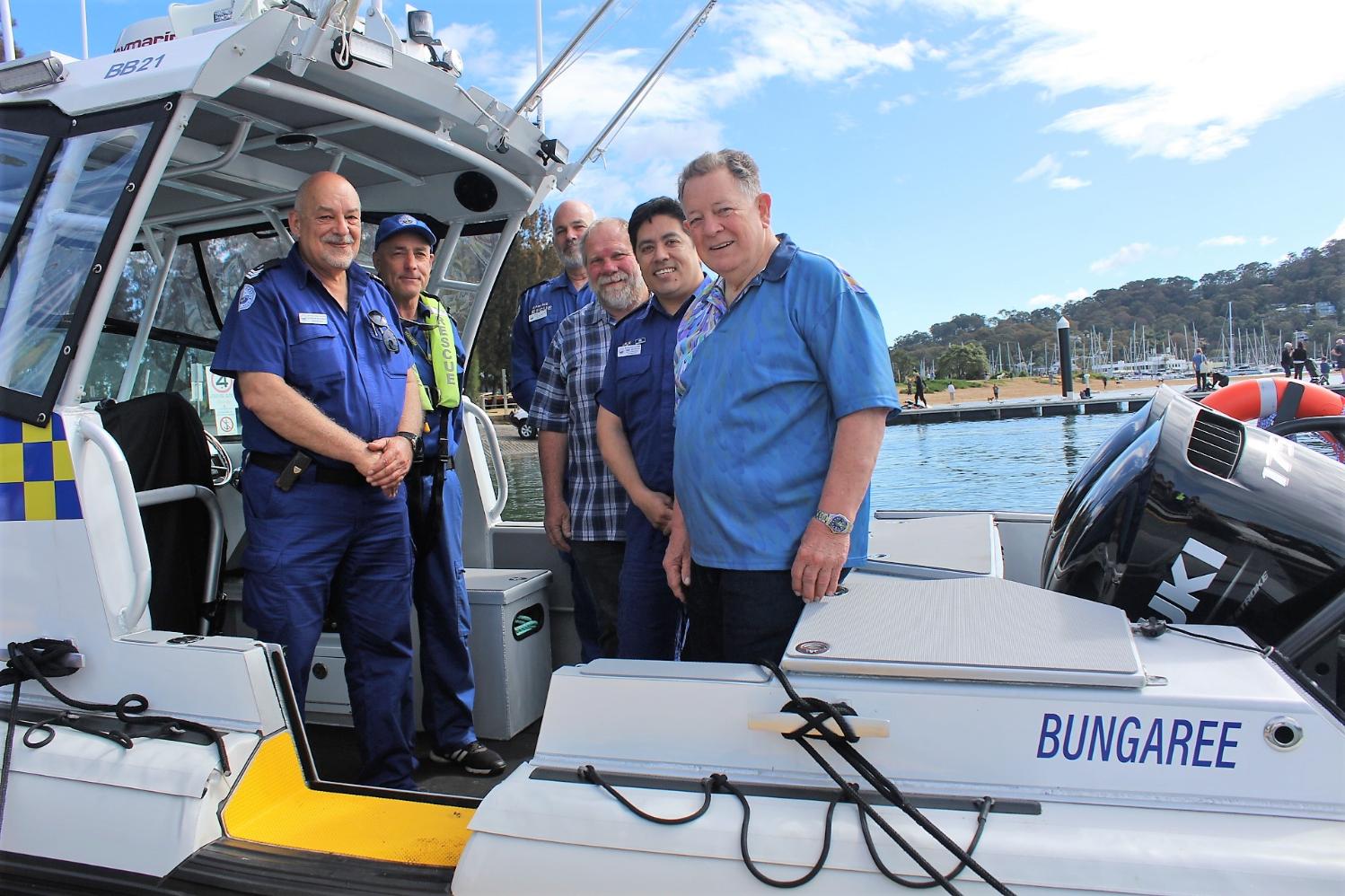 On Saturday August 20th 2022 two brilliant events took place at the Bayview base of Marine Rescue Broken Bay; the commissioning of a new rescue vessel for the Unit and a Progress Inspection of the building site where a new purpose-built base is being constructed.
Unit Commander Jimmy Arteaga provided an update of the Base building works, and spoke about the new vessel that will be on the waters of the Pittwater and Broken Bay to look after boaters who need assistance.
The new rescue vessel, built specifically for local conditions, has several unique features.
"Designed with input from our volunteers, the new rescue vessel boasts a drop-down bow allowing it to pull up to beaches to rescue stranded boaters and walkers; as well as sonar, radar, a full Raymarine navigation suite and greater safety and protection on the water for its volunteer crew." Marine Rescue Deputy Commissioner Operations, Alex Barrell explained.
Unit Commander of Marine Rescue NSW Broken Bay Unit Jimmy Arteaga revealed the name for the new vessel, as chosen by the Unit's Members, is 'Bungaree' to honour Broken Bay's most revered of saltwater men.

The drop-down bow on new MRBB21

Unit Commander Jimmy Arteaga said at the Commissioning ceremony;

''It has been a long-standing tradition for new vessels to be named after an outstanding member of our Unit, someone who has excelled and given above and beyond selflessly to the Unit's growth. Today though we are doing this differently. We wanted to select a name that would incorporate our community, our community's history and also pay our respects to our Traditional Elders.
I would like to officially announce the name of our new Broken Bay 21 vessel as 'Bungaree'.
Bungaree became the first known Aboriginal person to circumnavigate Australia and contribute to the mapping of the Australian coastline, and best of all, he was from Broken Bay.
Bungaree was born around 1775 and was from the Garigal clan of Broken Bay. He sailed with Matthew Flinders on that circumnavigation and would sail again with Captain Phillip Parker King, who surveyed the north and west coasts of Australia. Bungaree spent his life ceremonially welcoming visitors to Australia, educating people about Aboriginal culture (especially boomerang throwing), and soliciting tribute, especially from ships visiting Sydney.''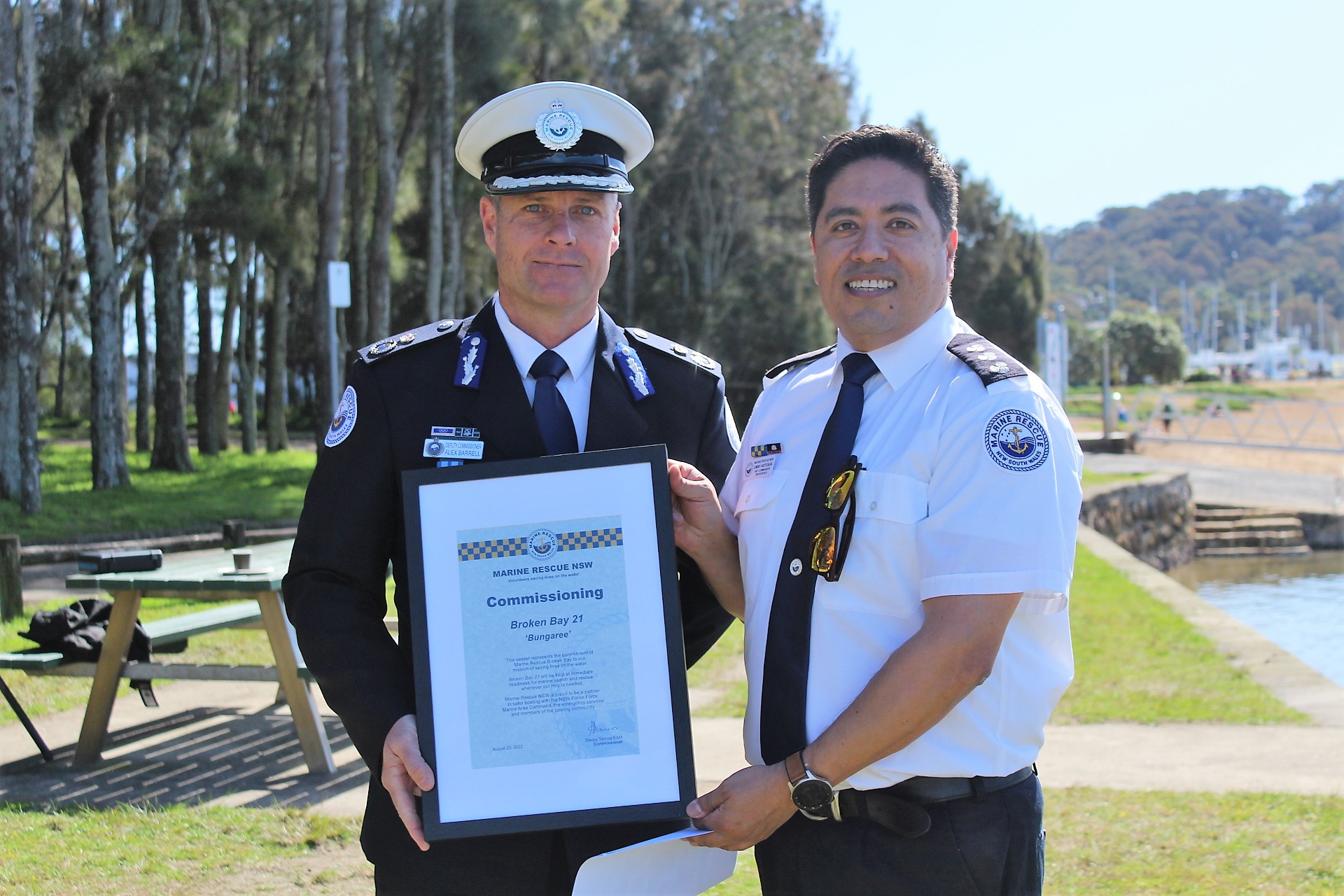 MRNSW Deputy Commissioner Alex Barrell and MRNSW BB Unit Commander Jimmy Arteaga at the Commissioning of MRB21 the Bungaree
Pittwater Online News spoke to Neil Evers, a direct descendant of Bungaree through one of his daughters, and who still lives in Pittwater, after the ceremony. Mr. Evers is the coordinator of the Manly Warringah Pittwater Aboriginal Support group. Uncle Neil was away that weekend, celebrating his 80th birthday with relatives a little further north of Pittwater.
Neil said he was absolutely thrilled his ancestor has been honoured in this manner and wished to express his gratitude to the Members of Marine Rescue Broken Bay and Marine Rescue NSW.
''As he was known as the Chief of Broken Bay peoples, his legacy and spirit being honoured in the naming of this vessel is not only a fitting tribute to our ancestor and the original custodians of this place, it is also a reminder to we who are still present in this place of all the knowledge of these waterways his clan shared generously with others, and what we can still share with those now here. I thank you for honouring our people, and my relative, in this way.''
The ceremony of commissioning a new vessel by a blessing or christening has a long history. In British naval history the ceremony was looked upon as both a form of Christian baptism and a marriage between the vessel and her crew, especially the captain.
Likewise, the christening or naming is accompanied by thanking the sea gods for granting 'Bungaree' a safe passage and asking the sea gods to bless your boat's name, and to grant the vessel safe passage on all future voyages. Other traditions include placing a branch of greenery on the bow for safe return from all voyages and tossing a wine or blessed water as offerings to the gods of the winds – there is a different one for North, South, East, and West (Boreas, Notus, Eurus, and Zephyrus). You stand in each direction and address them individually, then fling a bit of that water or wine into the air, catching the wind.
A traditional ceremonial blessing was performed by the Reverend Carmelo Scriberras and included a reading from the gospel according to Mark 4:35 which speaks of how even the wind and the seas obey him, during the Commissioning in August.
MRBB Unit Commander Jimmy Arteaga delayed having the new MRBB21 name applied on the vessel until Neil could be present and involved. On Saturday September 10th Uncle Neil was given the honours of unveiling the name 'Bungaree' and was visibly moved as he straightened, leaving a few tears into the slight breeze over Bayview on Saturday morning - tears of joy, and reconciliation - and blessing.
The last part of the naming ceremony is to take a maiden voyage on the newly named boat.
Marine Rescue Broken Bay volunteers took Uncle Neil, accompanied by his cousin from up the coast, on a tour of his home waters, the Pittwater.
Mr. Evers had brought two copies of the book by Nan Bolser AM, The Story of Bob Waterer and his Family 1803-2010, to gift to the Marine Rescue Broken Bay Unit.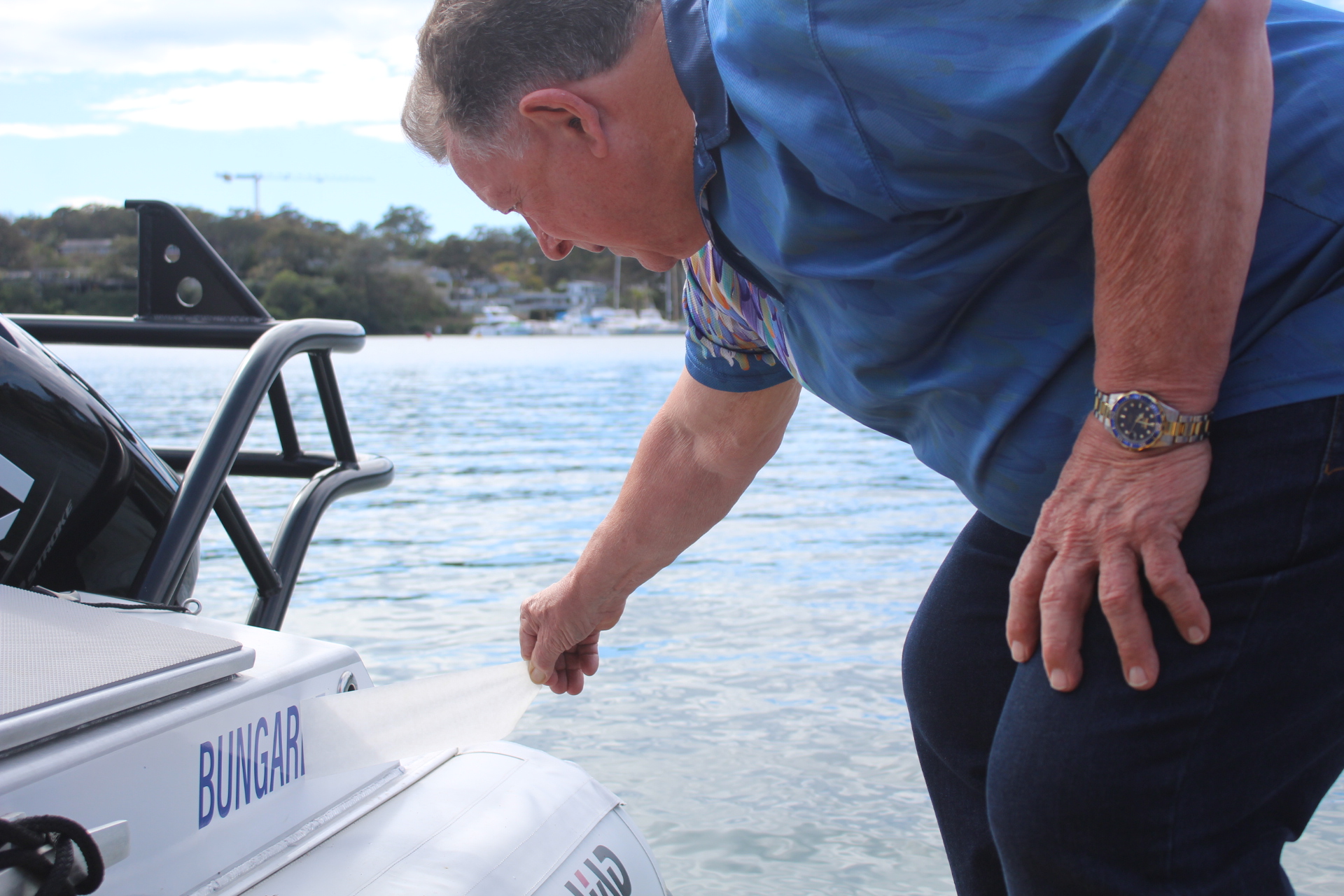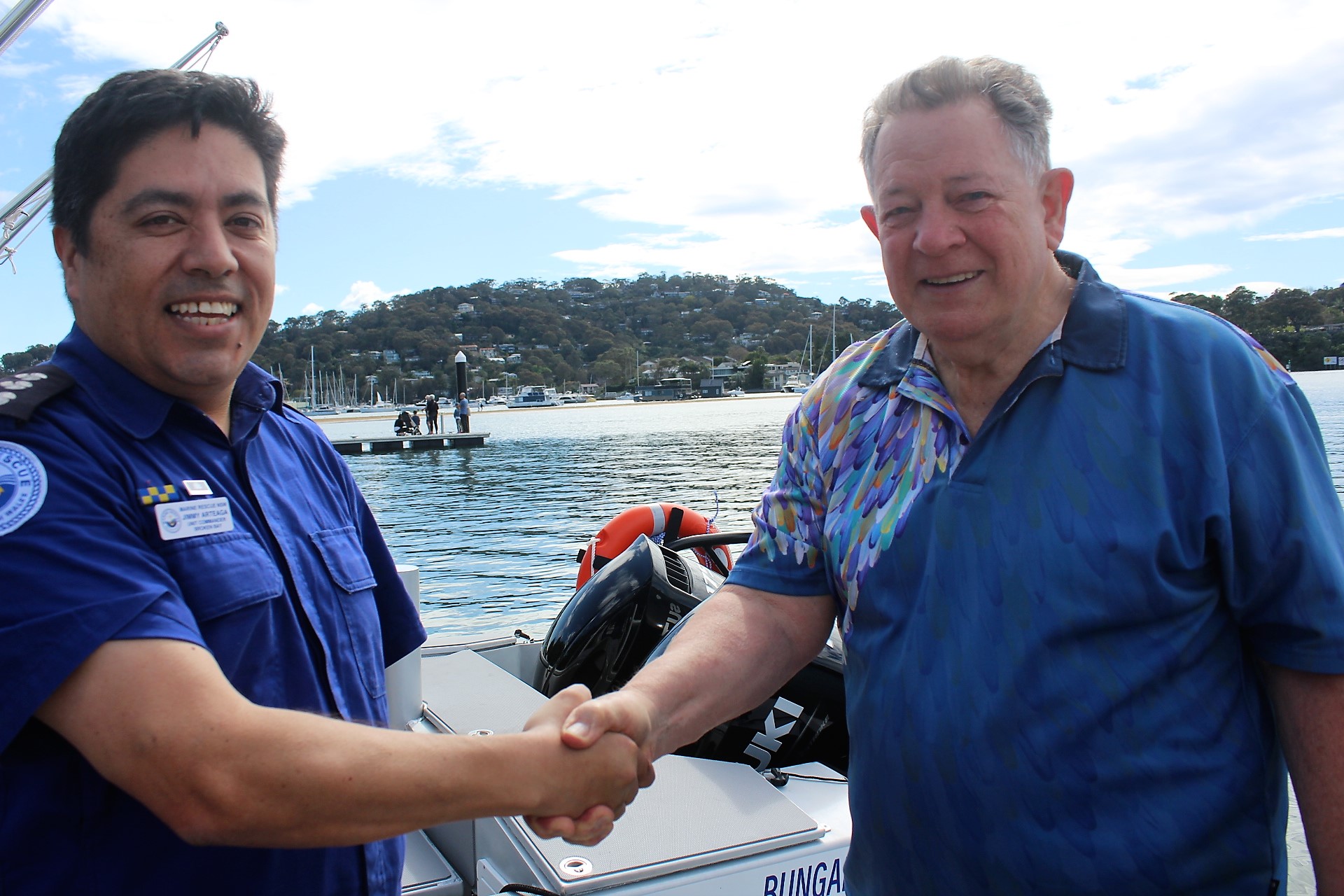 MRBB is currently conducting a fundraising drive through holding stalls in the community selling raffle tickets, with one at Pittwater Place Mona Vale on Saturday morning. Others are conducting sausage sizzles in different locations. Funds raised are allocated towards the fuel needed to run the rescue vessels - with a lot more people coming onto the waters of Broken Bay as visitors to the area or as resident boaters, the rise in the cost of fuel is relative. Last year Marine Rescue launched a little under 4000 rescues across New South Wales, many of those out of this Unit here. For MRBB to continue that important work it is vital that these volunteers have great support from government, the local council and community members.
MRBB Unit volunteers are also raising funds to provide furniture for the new base, scheduled to be finished by year's end.
When Unit Commander Jimmy Arteaga provided an update of the Base building works, where the ground slabs and beams are already in place, explaining the layout of the build, he stated that the community will have access to a space in the Base, 'because we are part of the community', which is also alongside where the new kitchen and bathroom will be.
If residents see these stalls on Saturdays and Sundays and donate funds or buy a raffle ticket, they will be contributing to this new community asset.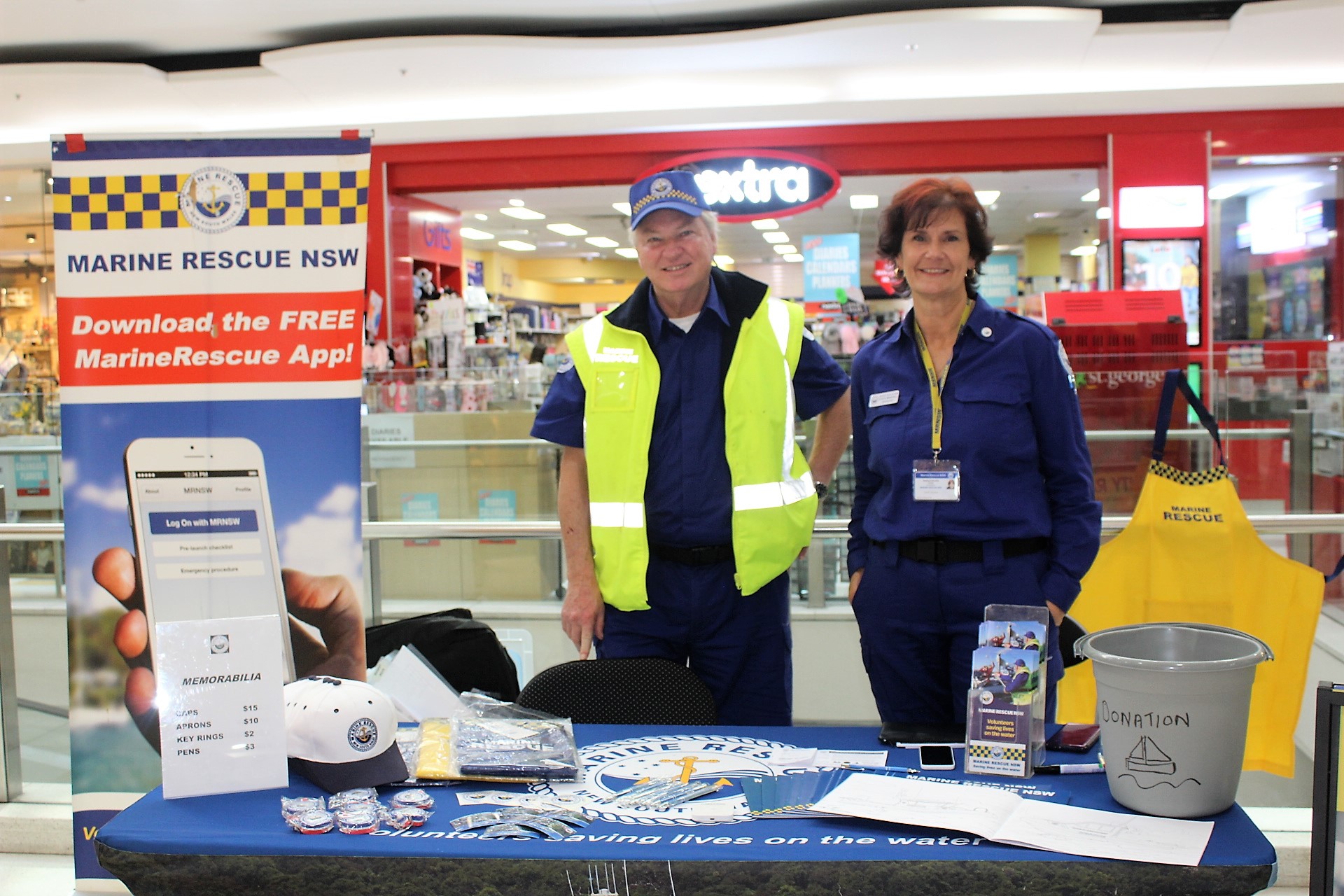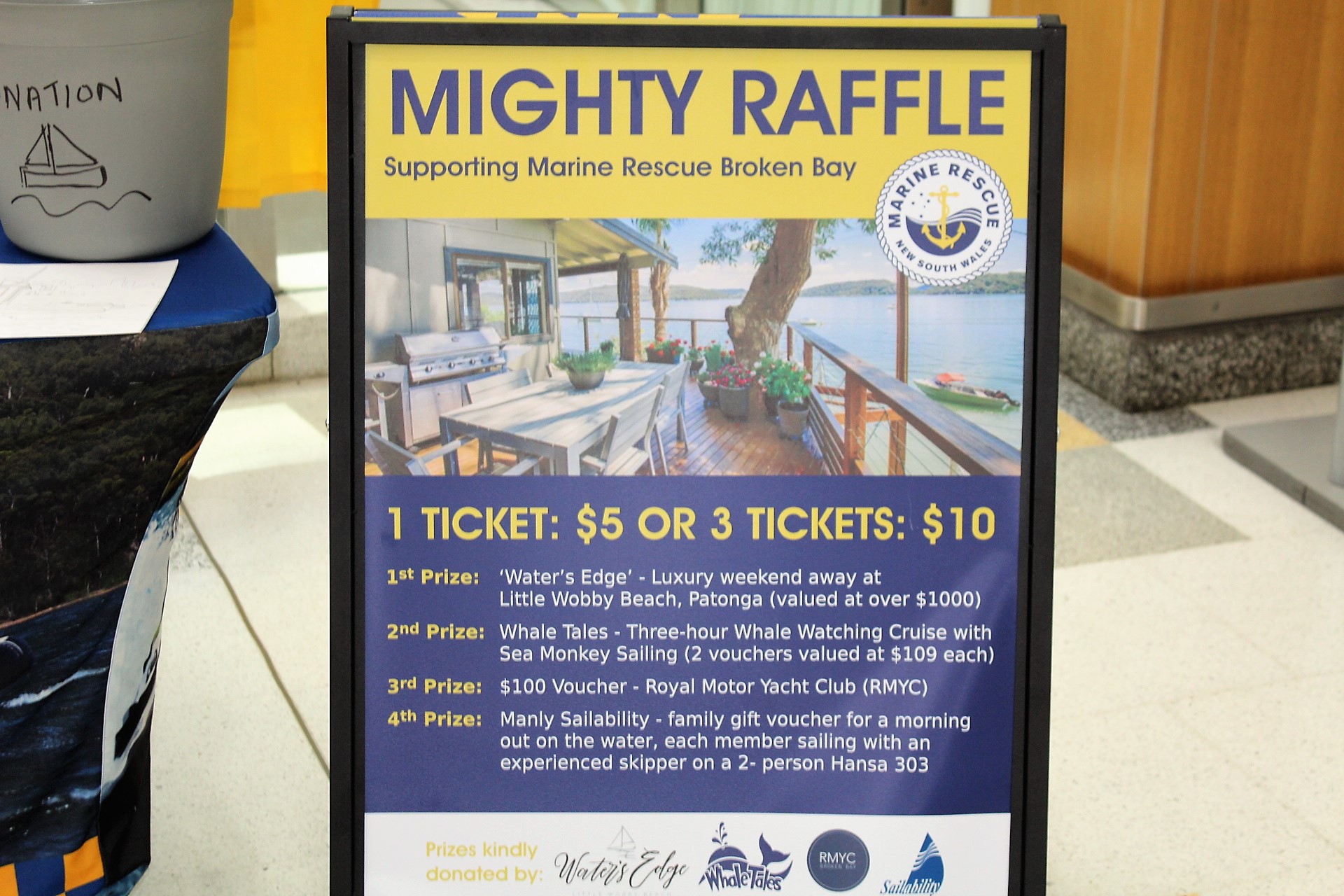 MRBB21, the 'Bungaree' has been fitted with the best equipment there is to look after the boating community.
MRBB21 'Bungaree' Specifications
Manufacturer: Naiad
Model: 7.5m
Hull material: aluminium
Vessel Length
Overall: 7.5
Surveyed Length: 7.2
Power: Twin 175hp engines
Speed
Cruising: 20 knots
Maximum: 40 knots
Range: 211 NM at 22 knots
Max POB: 6
Fuel;: 400l
Nav and Comms Aids: Raymarine navigation and communications suite
Safety Equipment: Surveyed Vessel lifesaving appliances, OXY Defib kit.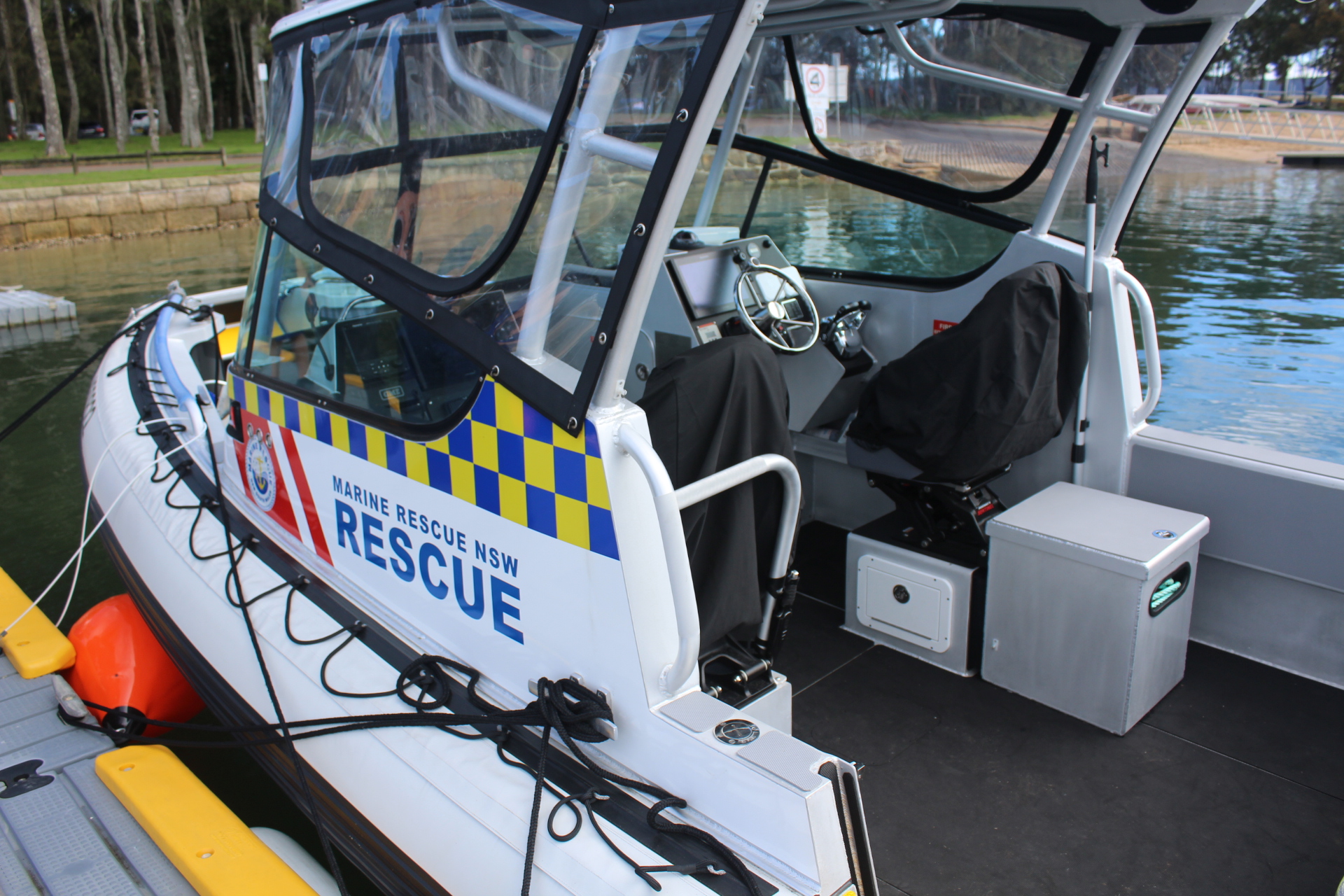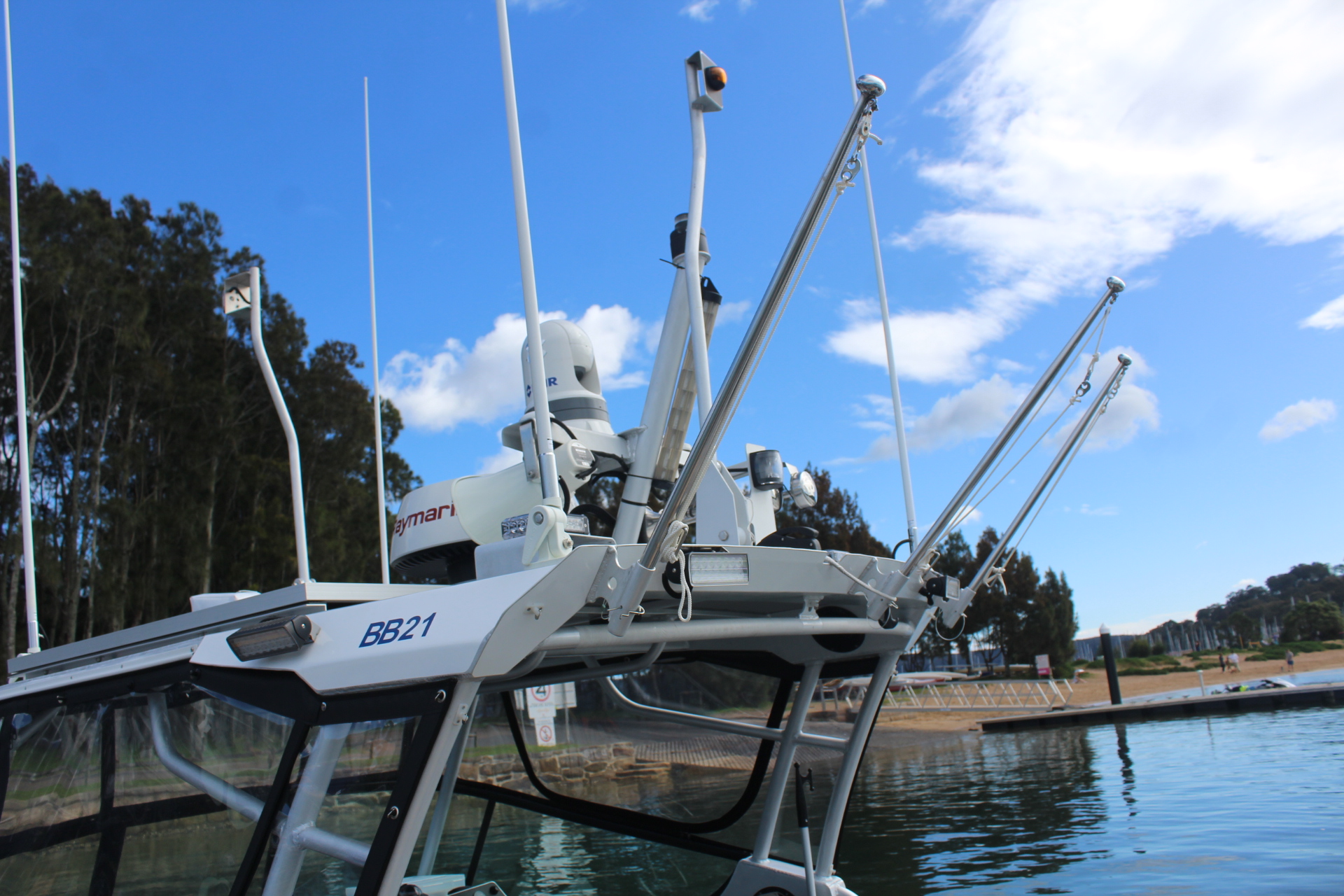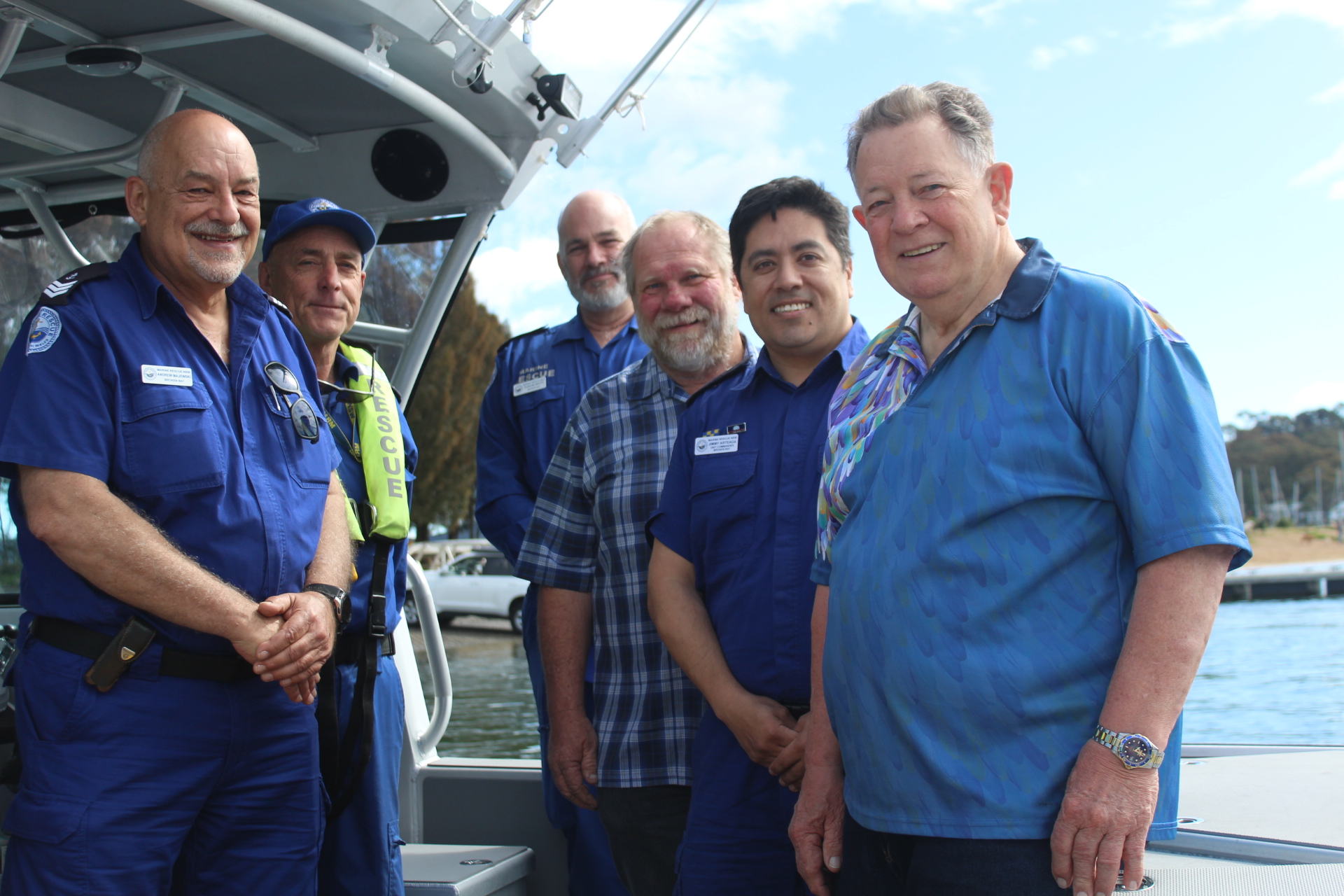 Uncle Neil Evers and his cousin Dennis Jones with MRBB members, (l to r) Andrew Majewski, Deputy Unit Commander Marine Rescue Broken Bay, Michael Clinen, Duncan Watts and Unit Commander Jimmy Arteaga.
A few more: