March 5 - 11 2023: Issue 574
Surf Life Saving NSW State Masters Championships 2023 A 'Great Reunion' For All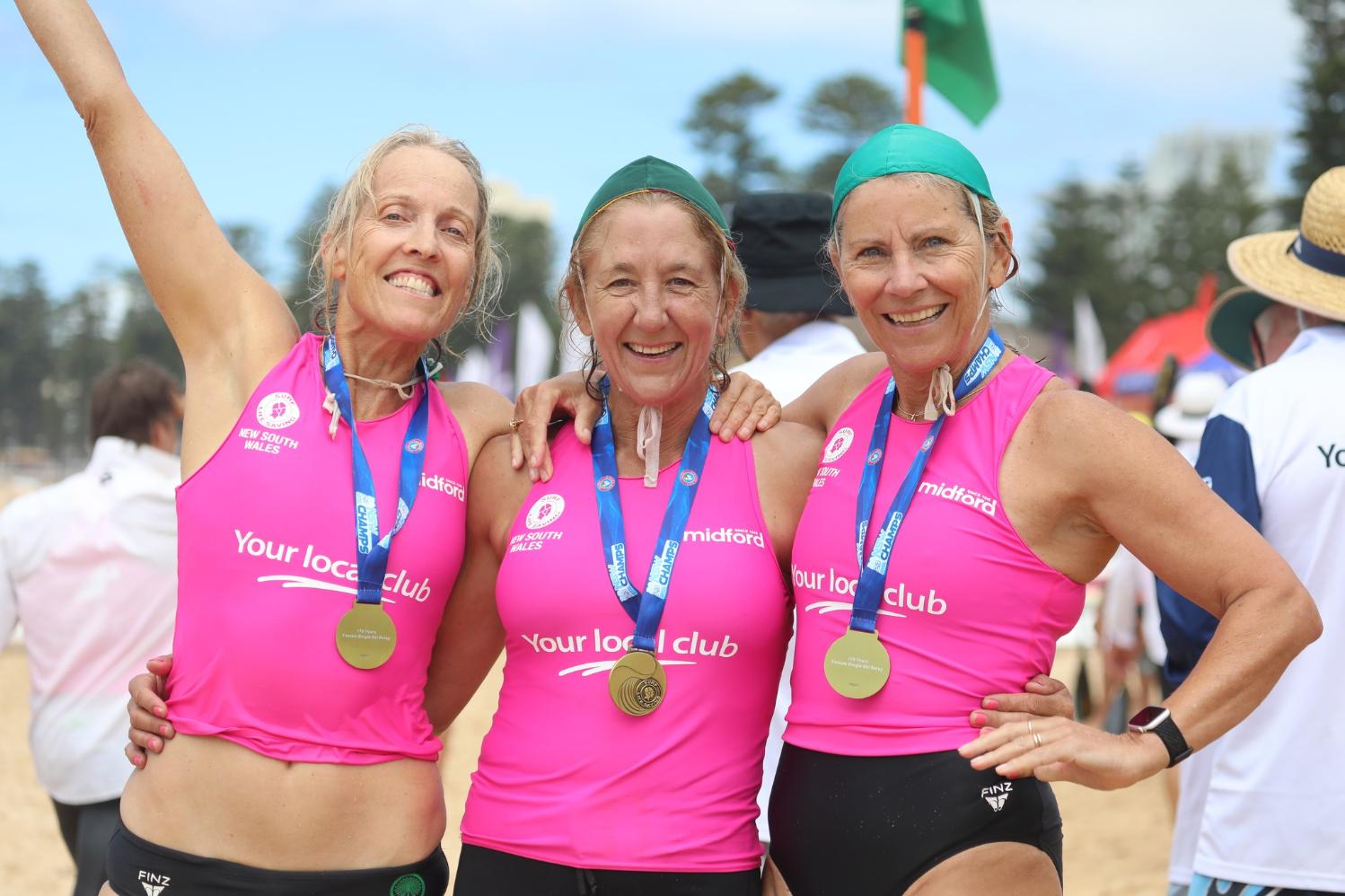 Palm Beach SLSC - one of several local clubs with small Masters Teams that had great results in the 2023 SLS NSW State Championships.
After a cancellation due to Covid followed by the cancellation last year due to adverse weather conditions and water quality, this year's SLS NSW Masters state competition 'felt like a reunion', according to Palm Beach SLSC athlete Fiona Rae.
Fiona Rae accounted for half of her club's four gold medals on the first day of competition in the 55-59 Female Iron and Single Ski. Her results reflect her shift into focusing on ocean kayaking in recent years.
In February Fiona took part in the Bridge to Beach, coming first in her age division with a time of 55:14. Danielle McKenzie, a part of the iconic Australian Nutri-Grain Iron Woman Series since 2014, was first among female competitors with a time of 50:15. Surf Life Saving NSW Awards of Excellence Athlete of the Year – Hannah Minogue, Bulli SLSC, 51:26, U23 Ski Sascha Taurins, also a Newport SLSC athlete 51:15
The Bridge to Beach is one of Australia's largest open water paddling events and regarded as one of the most spectacular in the world. Participants marshal at Blues Point Reserve for a spectacular sunrise over Sydney Harbour. Starting at the Sydney Harbour Bridge, they then paddle past the Sydney Opera House and hug the northern shores of Sydney Harbour taking in sights such as Taronga Zoo, Bradley's Head, Clifton Gardens, North Harbour Reserve and both South and North Head on their way to the beautiful Manly Wharf where the finish is. The event supports and raises money for the Fragile X Association of Australia. The 2023 edition was the 10th year for this event.
Ms Rae was also part of the 21 strong team of athletes nominated to the 2022 Australian Canoe Marathon Team to represent Australia in the Open, Junior and U23 categories at the 2022 ICF Canoe Marathon World Championships in Ponte Lima, Portugal, from September 29 to October 2, 2022. Fiona Rae competed in the W55 K1 and W55 K2, bringing home Silver medals in both her events.
Pittwater Online spoke to Fiona after the Masters events concluded.
''To win the Iron Woman is something I'm pretty happy about, I've only ever won that once before in 15 years of competing.'' Fiona explained ''I had such a good lead on the ski and knew this girl was going to swim me down, Colleen Harrison, she's a good gun swimmer, and I managed to hold her off.''
A great shot taken by Surf Life Saving NSW's team of photographers shows Rae crossing the line.
'' I got the royal treatment, they put up the blue banner for me to run through.'' Fiona said, delighted.
''Palm Beach didn't have a large team in this year but we definitely punched above our weight.''
''It was such a great atmosphere over the two days of our competition, and so good to see and catch up with people we hadn't been able to see for a while from further away than our area. What was also great was there were so many women athletes taking part this year - it really shows the positive growth of women being supported in our clubs to have so many on the sand and in the water. ''
Fiona Rae wins the ironwoman event
Five local surf clubs were in the top 10 overall point score, some with only small teams competing. Manly won second spot behind North Bondi and Palm Beach taking the tenth spot. In between were Newport (6th overall), Freshwater SLSC (8th) and Queenscliff SLSC (9th).
MLSC Masters Captain, the great Mel Brock, led a huge contingent from the original peninsula surf club, reflected in their overall tally of 459 overall, comprising 31 golds, 28 silvers and 19 bronze. Competing just a couple hundred metres from their surf club at the other end of the beach, Manly, alongside both Bondi-based clubs, has benefitted greatly from strength in numbers. When they aren't winning, they were placing inside the points across a breadth of events.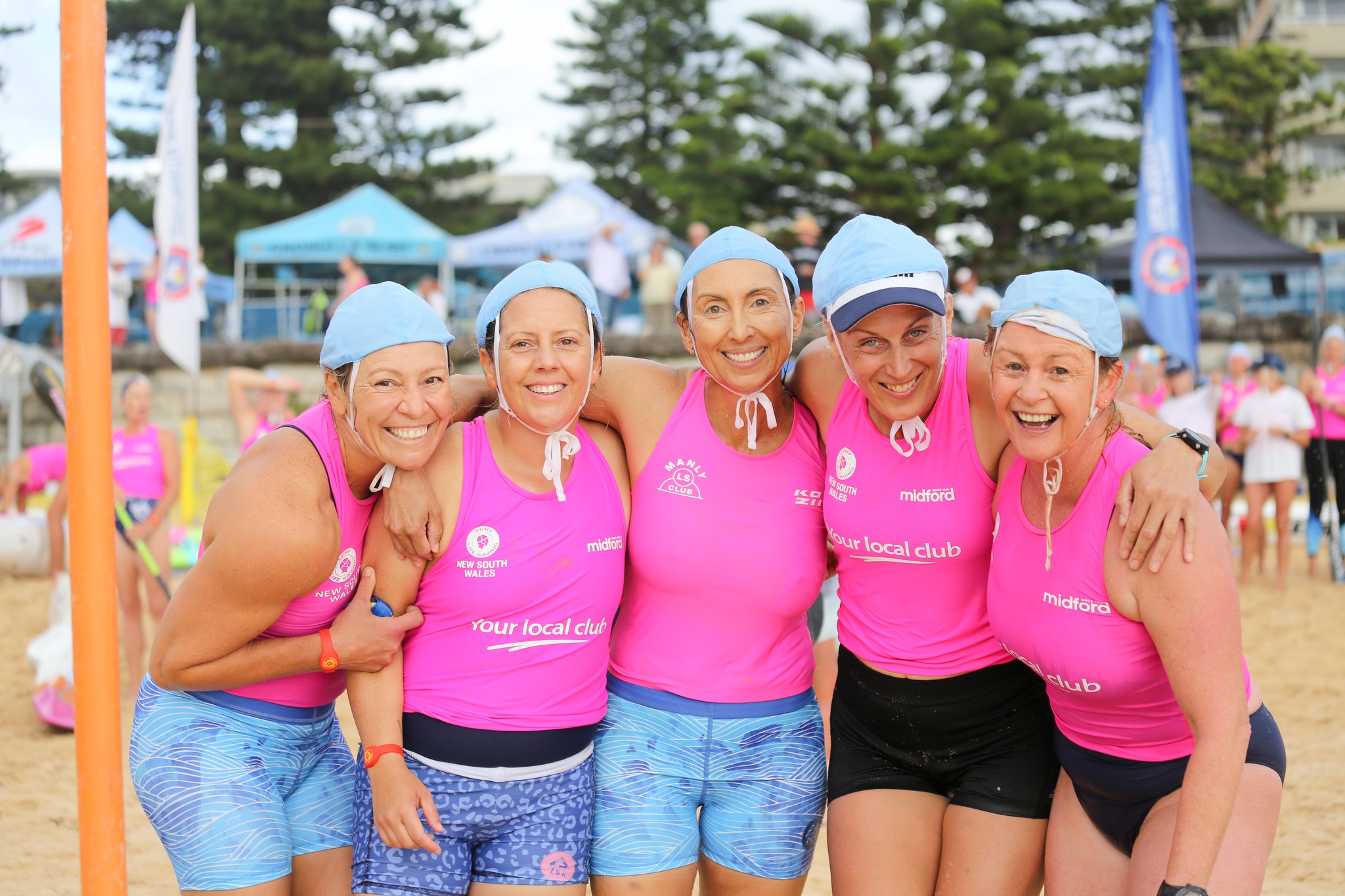 The five local clubs in the top 10 didn't have it all their own way as Collaroy's strength on the sand won through again with the Collaroy Red 230 years Beach Relay team of Linda McDowell, Kerry Armstrong, Miho Kawasaki and Philippa Wight taking the gold.
Likewise Mona Vale SLSC's gold for Team A in the 150 yrs min Female Board Relay; Kristyn Monnock, Lise Layard and Sophie Stokes, with Kristyn and Sophie also collecting the silver in the 45-49 yrs Female Board Rescue, continue years of medals in this event and as a powerful womens team in Branch, State and Nationals. Fellow club Members Peter Lever and Bryce Munro won the silver in the 45-49 yrs Male Double Ski with Narrabeen's David Tudor-Jones and Peter Wells collecting the bronze.
Mona Vale Team A for the 150 yrs min Female Taplin, Kristyn Monnock, Lise Layard and Lisa Critoph won the bronze while Newport's Team A, Louise Purnell, Felicity Peters and Janet Proudfoot took the 4th, amassing more points for their club
Newport SLSC also had a small team but managed to win 15 golds, 8 silvers and 1 bronze. Amanda Lehman and Janet Proudfoot won the gold in the 45-49 yrs Female Board Rescue, Nick Carroll winning the gold in the 60-64 yrs Male Board Race, Ironman, and silver in the single ski - wedged between Dee Why's Peter Sharkey who won the gold, and Andrew Stuart, North Curl Curl, who went home with the bronze.
Newport's Laurence McCoy, Nick Carroll and Darren Warrener won silver in the 150 yrs min Male Board Relay - they were denied the gold by the phenomenal Terrigal Team A of Hayden Smith, Michael Di Betta and Paul Lemmon. Laurence McCoy and Ashley Brown also secured more silver for Newport in the 45-49 yrs Male Board Rescue.
Warriewood's 'Sandmen'; Ben Hargy, Iain Archer, Glen Bauder and Adam Gee remain unbeatable on the beach, again bringing home the gold. Warriewood also won a silver and two bronzes.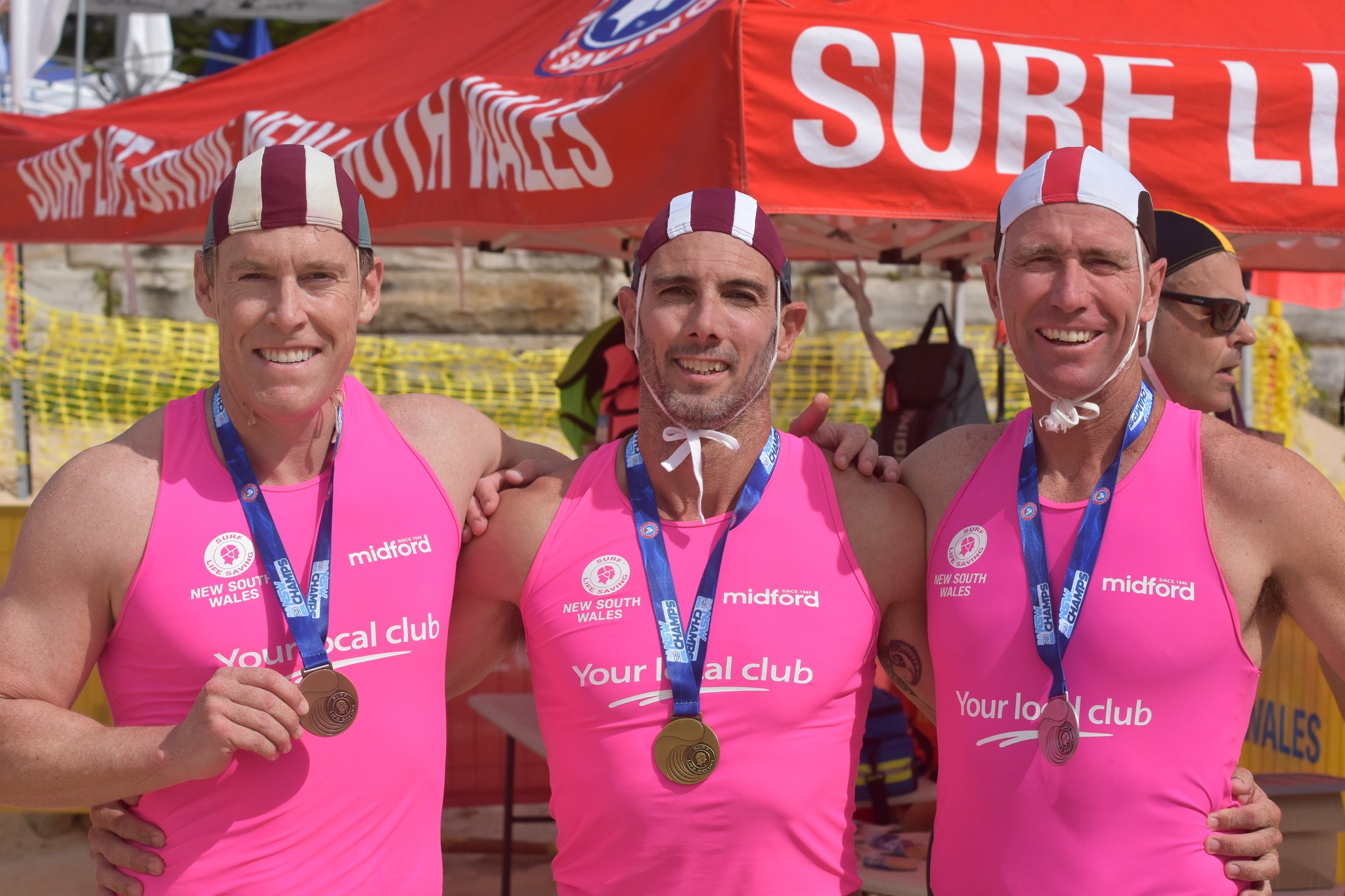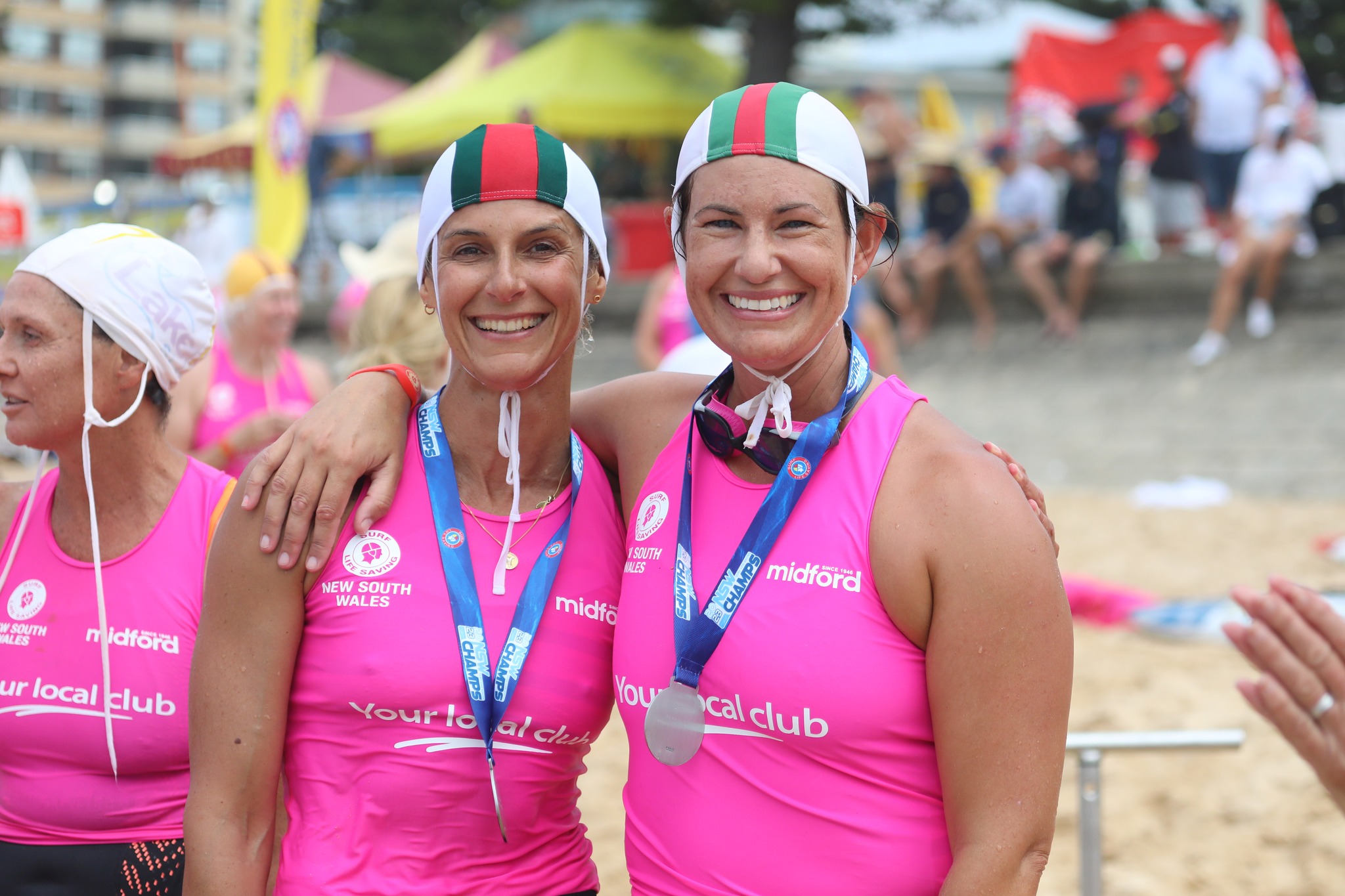 Avalon Beach SLSC girls Aisha Ferris and Julia Jones-Hughes
For the hosts, Susie Southern picked up a Beach Flags and Sprint double in the 60-64 Female category, helping Queenscliff to finish the day just outside the top three.
However, North Bondi SLSC emerged victorious for the second time in four days after also clinching the Junior Championships the previous weekend.

Holding off a fast-finishing Manly LSC who used home beach advantage to close the lead steadily through a series of team events on the last day of the Masters, North Bondi made it two overall point score titles from two attempts and de-throned reigning champions and noisy neighbours to the south, Bondi SBLSC – winner of the last Masters Championships at Swansea in 2021 and the eventual third place finisher this time around.
While North Bondi did the majority of its damage on Wednesday in the individual events, picking up 23 of its 31 gold medals, wins for Simon Storry and Andre Dalton in the 45-49 Male Board Rescue, David Martin and Jamie Verco in the 50-54 Male Board, and Megan Rumford, Miriam Salter and Amy Somes in the 110 Year Min Female Single Ski Relay typified a resolute defence of the lead amassed on Day One.
The teams events saw a slew of new winners and great variety of clubs highlighted over the course of the day; Stockton SLSC benefitting from the seasoned pairing of Kylie Whitbread and Jo-Anne Dryden to pick up one of two gold medals for the Championships.
The Lakes SLSC team of Rylie Allen and Nikki Fitzsimmons teamed up to win the 35-39 Female Board Rescue, while Shelly Beach SLSC's team of Keaton Watts and Daniel Kingsley won the same age category for Males.
On Shelly Beach, a huge effort from the Central Coast club saw them finish in fourth place overall behind some excellent individual and team racing. Steph Carey and Carlee McKay in the 30-34 Female Board Rescue are a perfect example – the pair training once together but showing some partnerships just work on their way to crossing the line first by a comfortable margin.
Hayden Allum, Joel Bolewski and Michael Georgaris picked up a win in the 110 Year Min Male Taplin for Wanda SLSC – the club who eventually finished fifth on the standings. Meanwhile, in the 130 Year Min Male Taplin, Wollongong City SLSC's Benjamin Squiers, Michael Jennett and Louis Whant brought home gold for the Illawarra club.
Thirroul SLSC's Scott Russell, Rod Landy and Jeff Wall won the 170 Year Min Male Board Relay in another great result for the region.
In the Surf Teams event, North Avoca SLSC's Colleen Harrison, Marguerite George and Trina Cansick picked up a win in the 170 Year Min Female race, while Freshwater SLSC's John de Mestre, Andrew De Vries and Dave Bredeson won the same age category for the Males.
Full results can be accessed here.

On Friday March 3 the Open and Surf Boat Championships commenced and run through to the end of Sunday March 5 with Newport SLSC atop the leaderboard as we go to press. The last day of 12 at the NSW Surf Life Saving Championships will be the penultimate Finals Day, with athletes contesting the Iron, Cameron Relay, Taplin Relay, Ski, Board, and Surf races, as well as the Surf Boat Championships being decided further down the beach.
TOP 10 CLUBS - 2023 Masters SLS NSW State Championships
1. North Bondi SLSC
2. Manly LSC
3. Bondi SBLSC
4. Shelly Beach SLSC
5. Wanda SLSC
6. Newport SLSC
7. Terrigal SLSC
8. Freshwater SLSC
9. Queenscliff SLSC
10. Palm Beach SLSC
SLS SNB Clubs: SLS NSW State Masters Championships
(NB: some clubs had small teams competing in just 1 or 2 events)
Rank Club Points 1st 2nd 3rd 4th 5th 6th
2. Manly 459 31 28 19 18 10 15
6. Newport 145 15 8 1 2 1 3
7. Freshwater 139 10 4 6 7 6 2
9. Queenscliff 130 9 10 2 4 2 2
10. Palm Beach 111 5 10 4 2 4 1
21. Mona Vale 55 3 2 4 3 1 -
23. Dee Why 49 2 4 2 3 - -
24. North Steyne 47 1 1 2 6 4 2
25. Collaroy 44 4 3 - 1 1 -
26. Nth Curl Curl 43 2 3 1 2 3 -
32. Warriewood 28 2 1 2 1 - -
35. Narrabeen 19 - - 3 - 2 3
36. Sth Curl Curl 18 1 1 1 1 - -
40. Avalon Beach 11 - - 2 1 - -
43. Nth Narrabeen 8 - - 1 1 - 1
Photos: Surf Life Saving NSW