April 10 - 23, 2022: Issue 534
Framing Avalon Beach: Avalon 100 - Take Yourself On A Walking Tour Of The Then & Now Of Avalon: Launches April 11th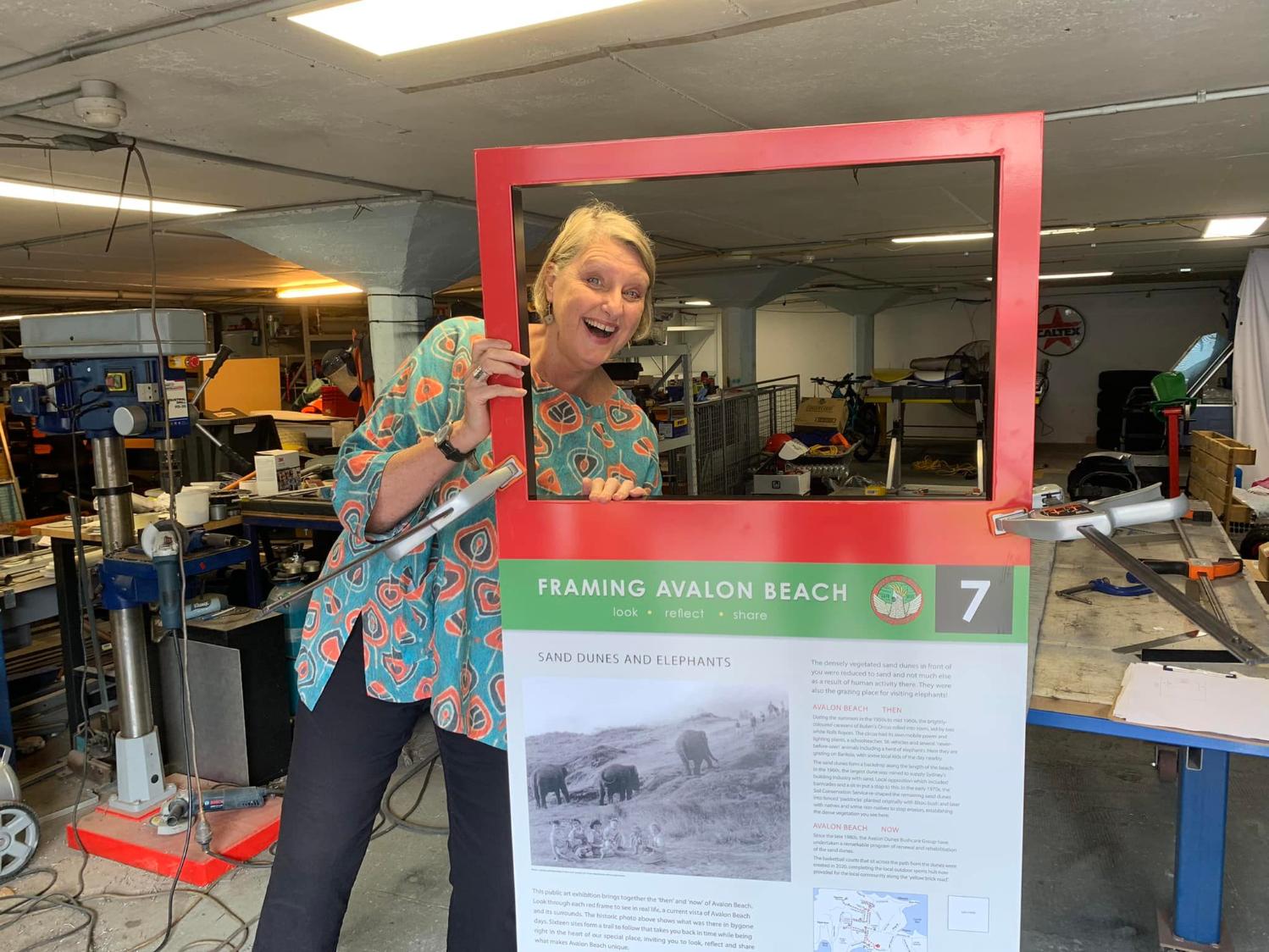 Jayne Denshire with the Avalon Sand Dunes marker of the 'Framing Avalon Beach' signboard installations at the printers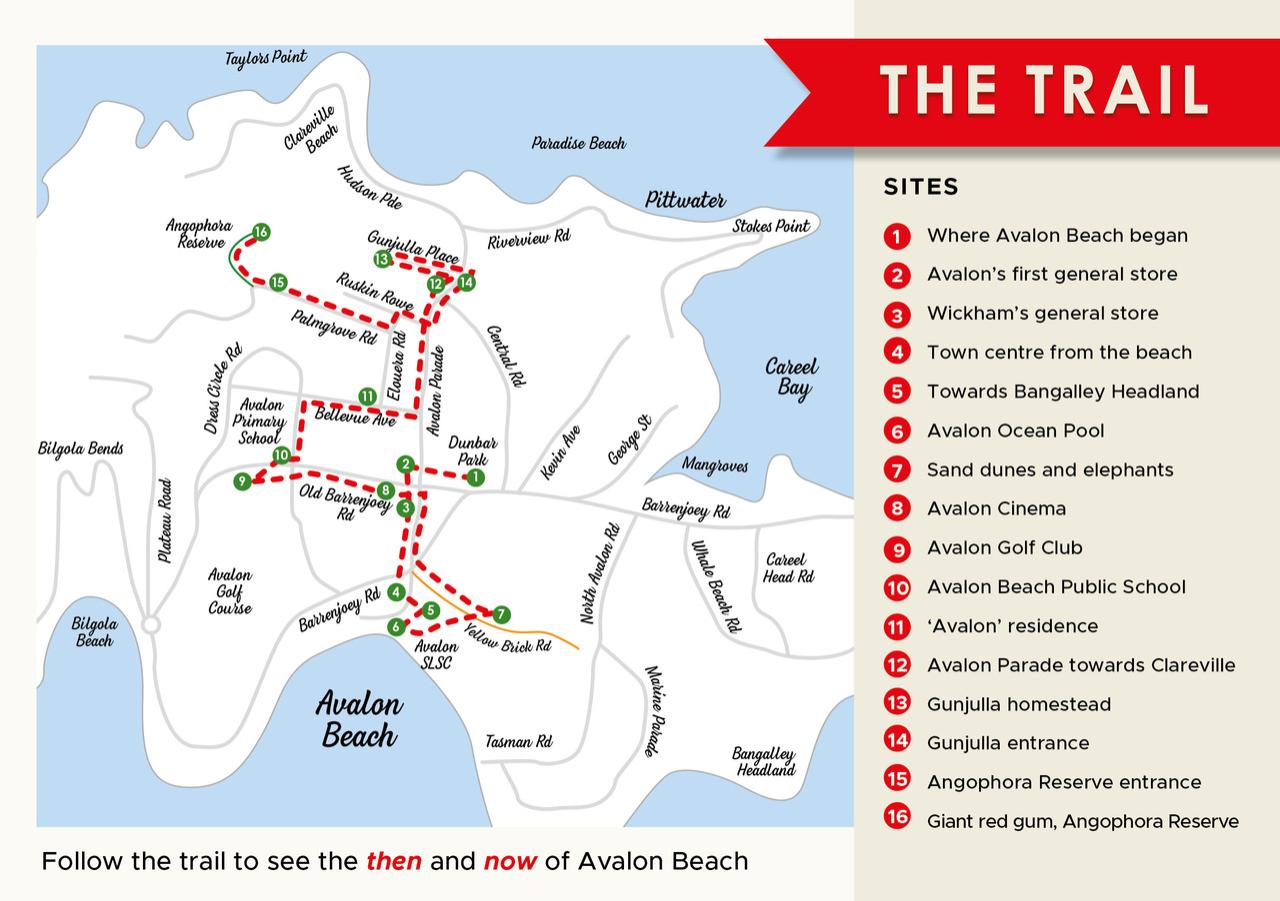 The Framing Avalon Beach art exhibition brings together the 'then' and 'now' of Avalon Beach.
Sixteen sites form a community trail to follow that takes you back in time while being right in the heart of this special place, inviting you to look at, reflect on and share what makes Avalon Beach unique.
This Issue Pittwater Online runs a special history page on the Avalon Beach Sand Dunes in support of this project, as well as listing at the base of this page other past history page insights on these installations.
During the week we spoke to Ros Marsh and Jaye Denshire, two of the committee members of the Avalon Beach Culture Collective Inc. on this new Avalon Beach 100 celebration and what's coming up.
Jayne, where did the idea for Framing Avalon Beach come from?
From In our very first meeting for the Avalon Beach Centenary when a bunch of us got online and zoomed away and went through a million ideas that Ros had put into the mix. Right at the bottom of the list was this project that described what had been done in a London Park which came with a little picture of the concept, which was looking through a frame at something and having the historical equivalent. This had been nominated by Lizzie Collis, who does the Local Avalon blog.
When I looked down the list and said to myself 'don't put your hand up for too much' with the Avalon Art Carnival and other previous projects still ringing in my ears, but when I saw that one I put my hand up to manage it.
I contacted Lizzie and we talked it through to begin with and then I had to start working out which good historic photos to use for locations and where to source these. I talked to Geoff Searl, president of the Avalon Beach Historical Society and had a look at the great collection of images that the historical society has.
I picked out some iconic images that would work and then set about figuring out where to place each site. The elephants photo of them on Avalon Beach sand dunes was such a great shot. We could frame one view looking up at the dunes and have that image as the historic one.
Then I thought we could make it a trail and worked out an order that people could do the visits in. originally I had people going all the way down to Avalon Sailing Club but this made it far too long so we kept it focused in and around the village.
When does it launch?
It launches on Monday April 11th – so it's all at Printer HQ this week being printed and mounted. On Monday I'll meet the installation team down in the village and we'll go around and put them all up and hopefully by mid morning they'll be ready to go.
Black Jack Sets New Record In Club Marine Pittwater To Coffs Harbour Yacht Race 2022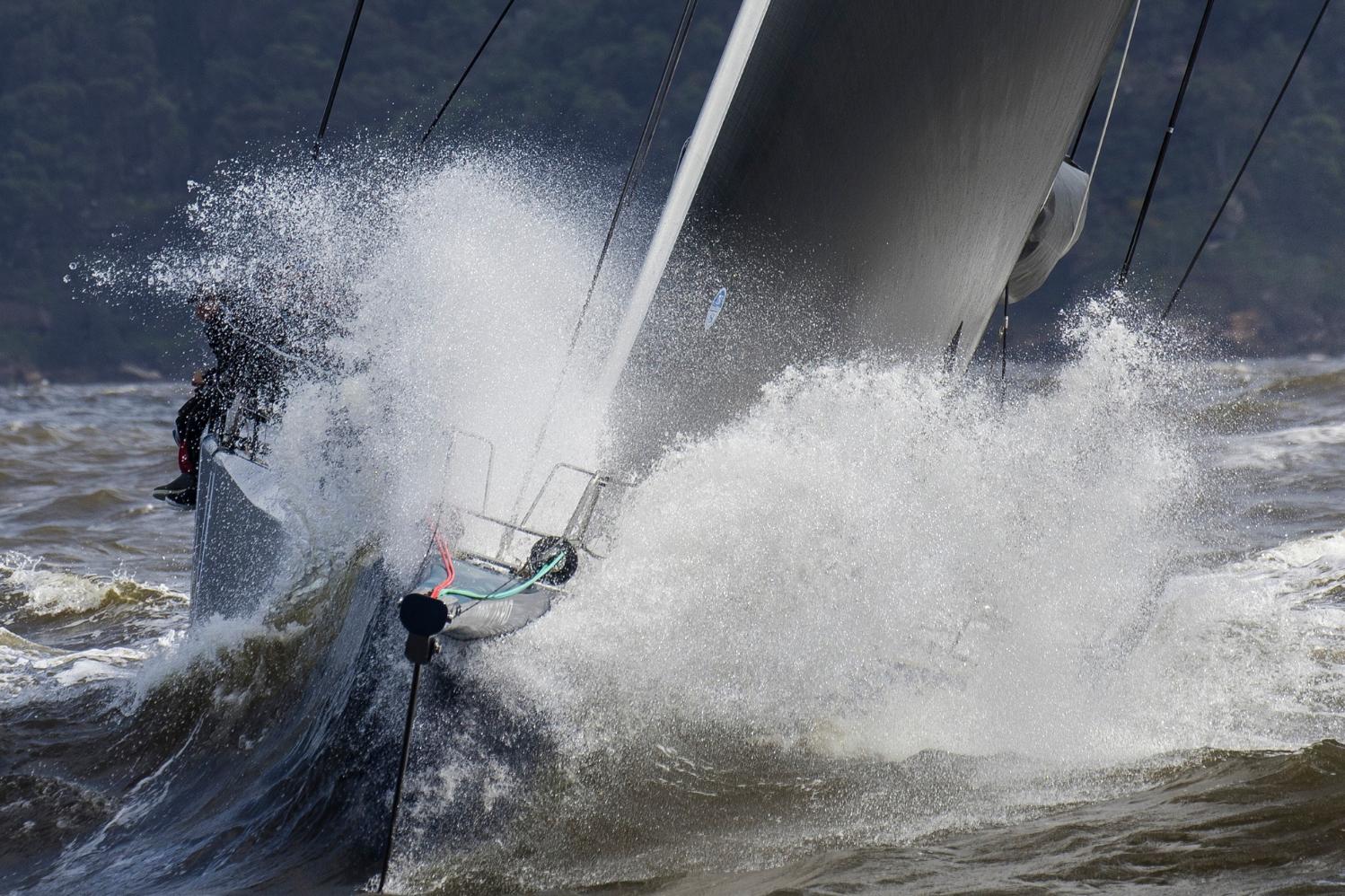 Black Jack ploughs through the seaway. Photo: Andrea Francolini
April 9, 2022
Black Jack, the super maxi owned by Peter Harburg, has smashed the race record and taken line honours early this morning in the Royal Prince Alfred Yacht Club's (RPAYC) Club Marine Pittwater to Coffs Harbour Yacht Race, finishing the race at 06:31:31.
Black Jack, skippered by Mark Bradford representing Yacht Club de Monaco, set a new record of 17 hours 10 minutes 31 seconds, slicing a little over 1hr 18mins off Wild Oats IX record of 18hrs 29mins 14secs set back in 2003.
As Black Jack approached the finish, the heavens opened up to welcome her to Coffs Harbour.
"It was a pretty straight forward race, although we had a tricky westerly transition towards the end with a bit of tacking required," Bradford said this morning.
"We are super excited to have broken the race record," he said. The yacht and crew are now heading off to prepare for Easter's Brisbane to Gladstone Yacht Race where Harburg and crew will attempt to break their own record from 2018.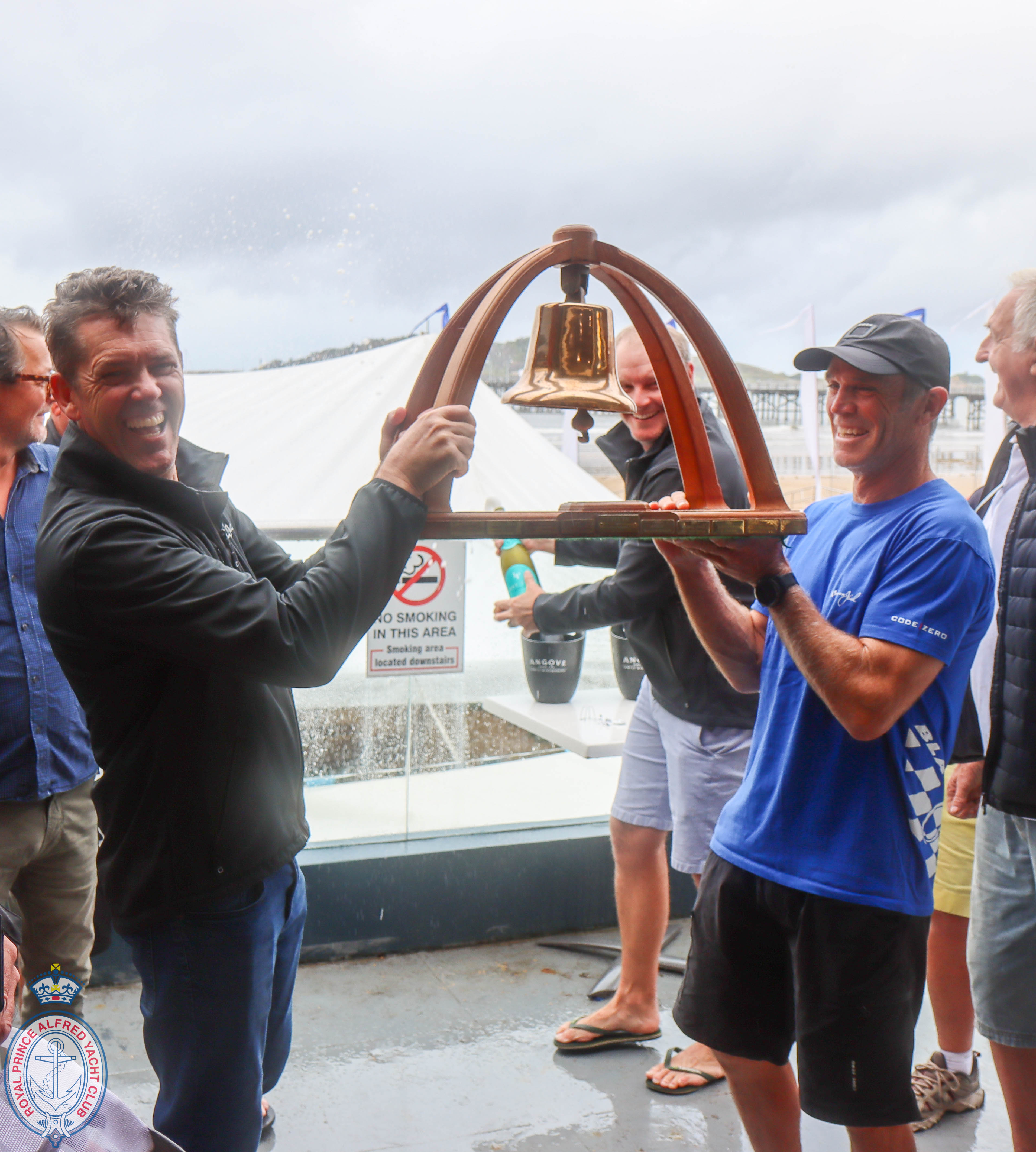 Mark Bradford (left) and Adam Beashel hold the line honours trophy aloft. Photo: RPAYC
Aussies 2022: Youth-Masters-Opens + Results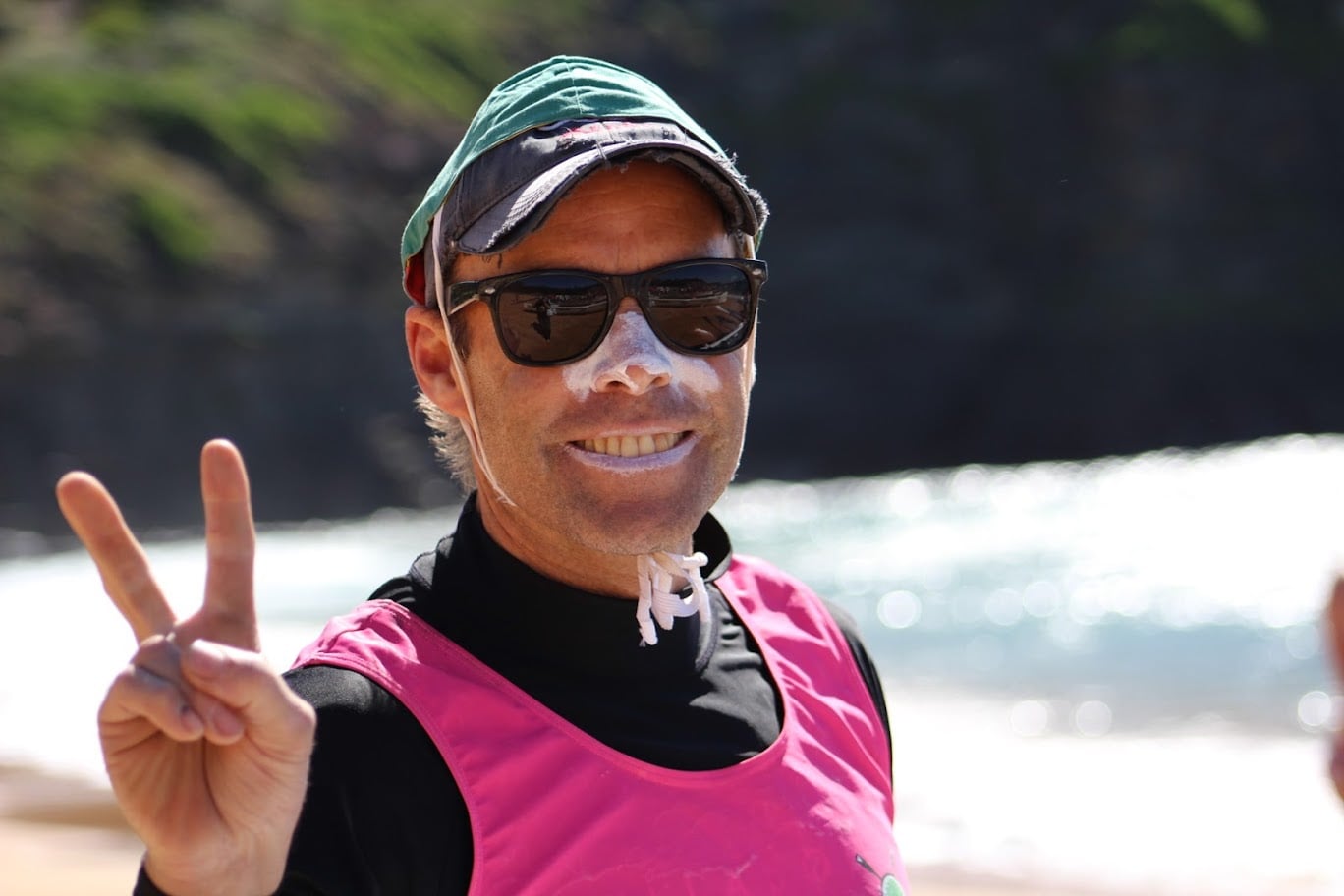 Palm Beach SLSC's Peter Spence.
Over 7500 surf lifesavers are or have taken part in the 2022 Australian Surf Life Saving Championships, taking the opportunity to represent their clubs, branch and state and catch up with friends from other states, as well as test themselves by having a go.
Although some of the events had high numbers of entrants, those from the peninsula were up among the placings, when not winning bronze, silver and gold.
The only jarring note was when Peter Spence, Palm Beach SLSC Boat Captain and Sweep extraordinaire was injured in the racing on Saturday April 9th. SLSA, The ASRL and the Spence family provided the following update later in the afternoon:
Surf boats competitor, Peter Spence from Palm Beach (NSW), was transported by ambulance to the hospital after being struck in the face during the competition.

His wife is by his side at the hospital where he is being monitored as a precautionary measure due to water on lungs sustained after being struck in the face and knocked unconscious.

He is expected to make a full recovery and is in good spirits.

The incident occurred whilst the crew were returning to shore in the challenging conditions. He was promptly rescued by SLSA water safety with assistance from his crew where he was transported to the beach and received immediate medical treatment.

Peter and his family are grateful to everyone who helped in the water and on the beach. The level of concern and patient care displayed is immensely appreciated.
Spencey's report and photos from April 8th 2022, his Aussies Day 1 runs first this year:
My 23's & 19's - The ecstasy and the agony! Ecstasy in making 3 from 3 finals yesterday 😀 The agony of not getting that Aussie Gold 😢

Stoked though to make 3 finals in tough conditions and so proud of my 3 crews that took the surf on, even with the limited surf work we do!

U/23 Women - Panthers - DNF in the final after rolling and snapping the sweepoar in the back break.

What a season for the girls with 13 starts - 11 wins, a 2nd and yesterdays DNF. Branch, NSW ASRL & ASRL Open Golds along with the Aussie final 👏👏

Call-out to Rach Balcomb for racing the semi and the final with a fractured wrist after hurting it in the Qtr, gutsy 💪

U/19 Men - Pitbulls - BRONZE 🥉- wow what a season with Branch & NSW ASRL Gold and ASRL Open & Aussies Bronzes! Only had these boys for a few months of training, a lovely bunch of boys 👍

U/23 Men - Plumbers SILVER 🥈- beaten for the second year in a row by a small margin, silvers back to back, we will get that gold next season!

Again an incredible season for the Plumbers with 13 starts - 8 wins, 3 seconds & 2 thirds, never missed a final or a place in a final. Branch and NSW ASRL Gold and ASRL Open and Aussies Silvers both in a sprint to the line!

3 exceptional crews that have been a pleasure to sweep ❤️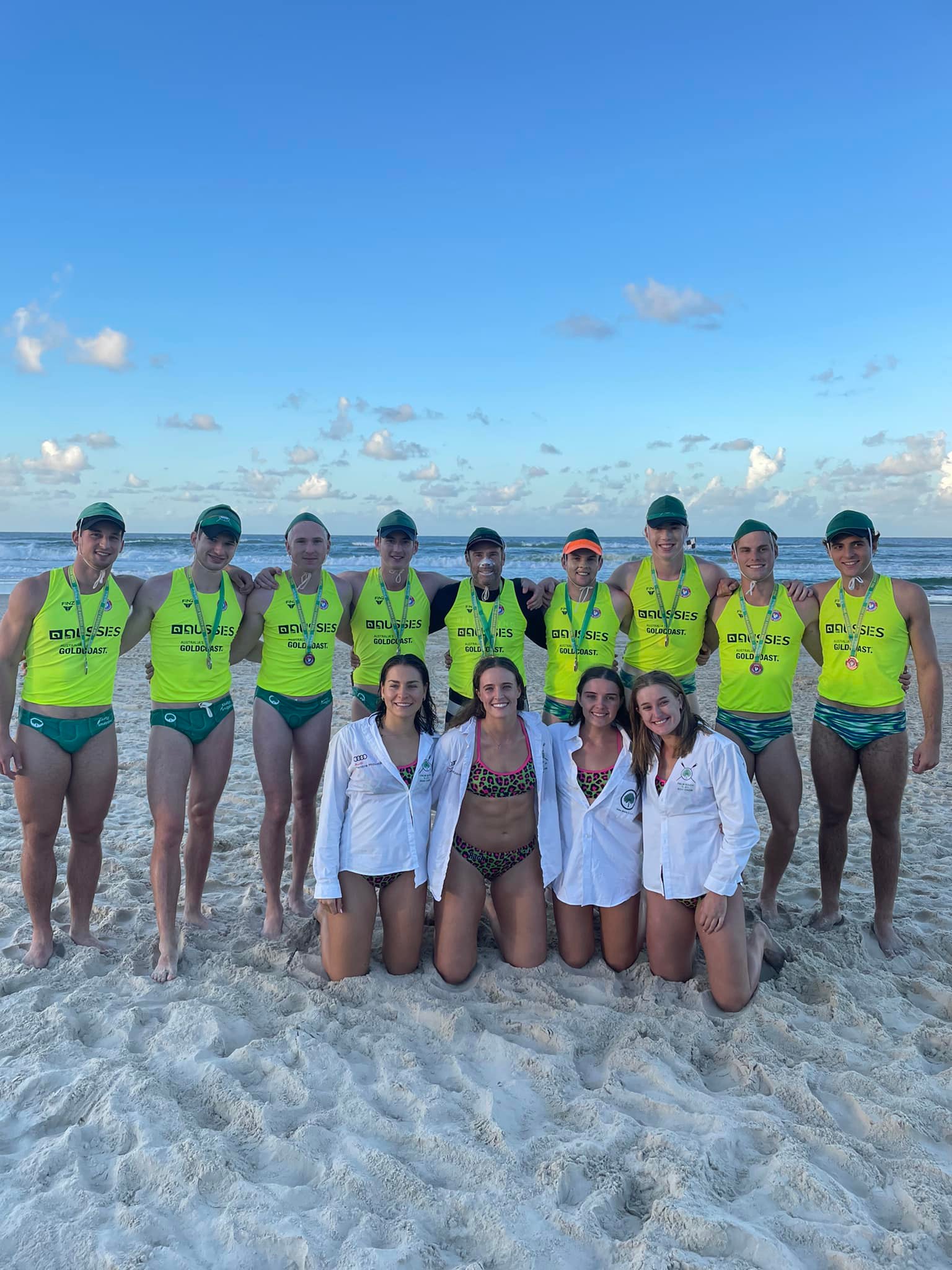 Along with seeing the very young and masters enjoying their surf sports, dedication to the Aussies and marking the same has featured for a few local members.
Queenscliff's Colin White was recognised for 50 years of Officiating. Col was presented with the award at the SLSA Officials Dinner.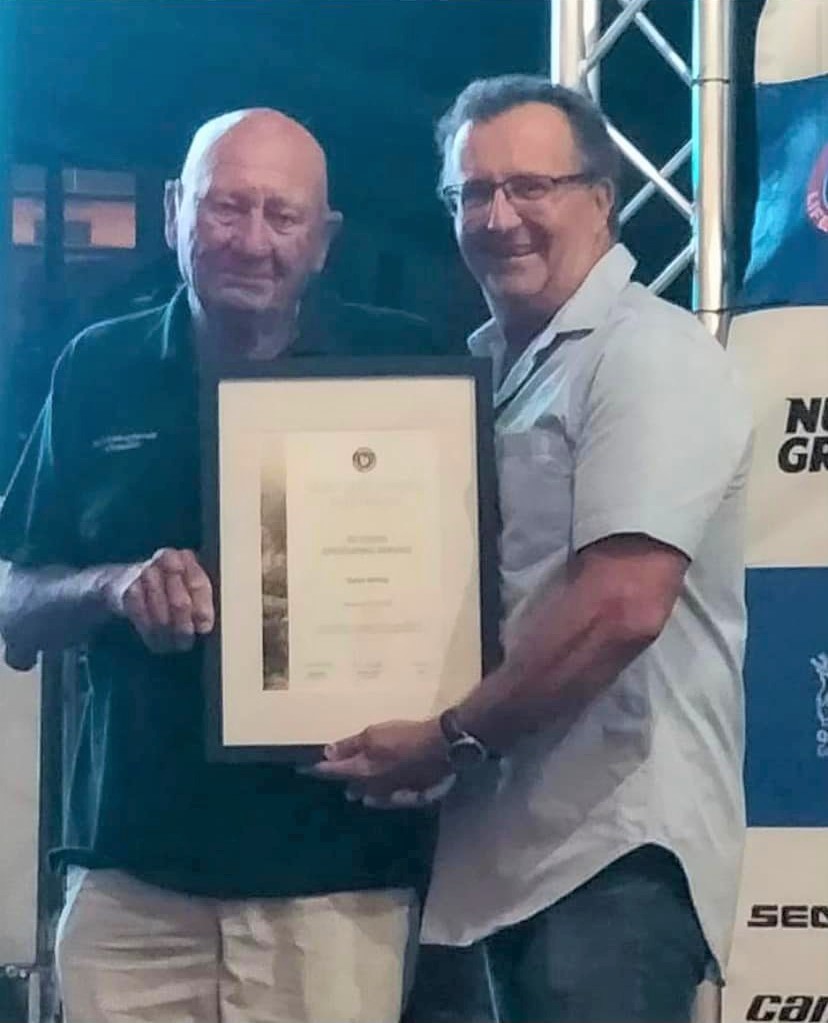 Col first joined the SLS movement at City of Perth SLSC in 1953, before shifting to Trigg Island in 1955. Col spent 7 years at Trigg, and then transferred to his current Club; Queenscliff, NSW.
From an early age Col was an outstanding life saver as is evidenced by his Bravery Award in 1958. Col held positions of significance at the Queenscliff Club including a 3 year term as Club President, 8 years as Deputy President and 2 years as Club Captain. Col received Distinguished Service from Queenscliff SLSC in 1986; Queenscliff Life Membership in 1989 and Sydney Northern Beaches Life Membership in 1991.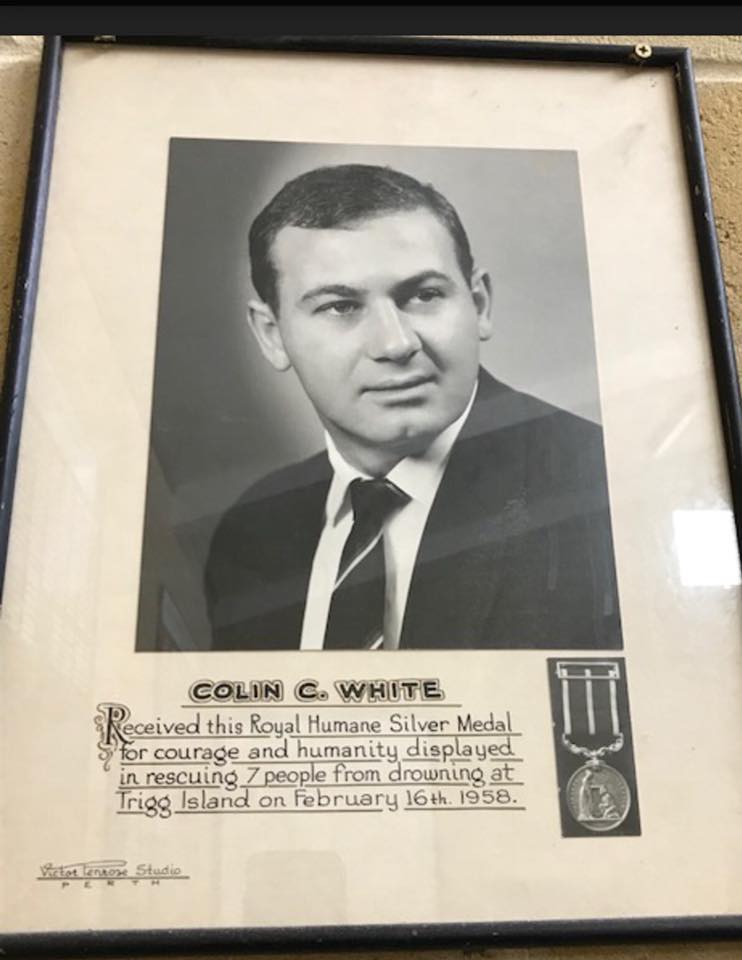 Col has influenced generations of young people in the ideals of the Community and Surf Life Saving, many of whom are still active within the Club and readily acknowledge the debt they owe to him. Col's involvement and service to the Branch has seen him perform many varied duties in the areas of officialdom, coaching, selecting, examining and representation. Col was a prominent member of the Branch judiciary; he had a reputation of being hard but fair in an area when tough decisions had to be made. Col was awarded Branch Examiner of the Year in 98/99 and Branch Coach of the Year in 01/02. In 2011 Col was made a Life Member of Surf Life Saving Australia (SLSA).
Queenscliff SLSC's Michael Gedz and Bondi SBLSC's Dori Miller were recognised for their outstanding contributions to surf sports and inducted into the SLSA Hall of Fame as Masters Legends.
The pair were formally announced during a special ceremony at the Australian Surf Life Saving Championships on the Gold Coast on Tuesday April 5th, at the conclusion of the 29th Masters Championships – first held at Aussies in 1993 and not running in 2020.
The award recognises Masters competitors, individuals or teams, over the age of 35 years who have achieved exceptional results over a sustained period in designated Masters competition and have done so in events and Masters age categories that have had a high level of competitiveness.
Michael said the recognition was better than anything he'd received in the past.
"It's the best award I've ever had, it beats everything," he said.
"I'm humbled, I've been on cloud nine since they rang me – it's overwhelming."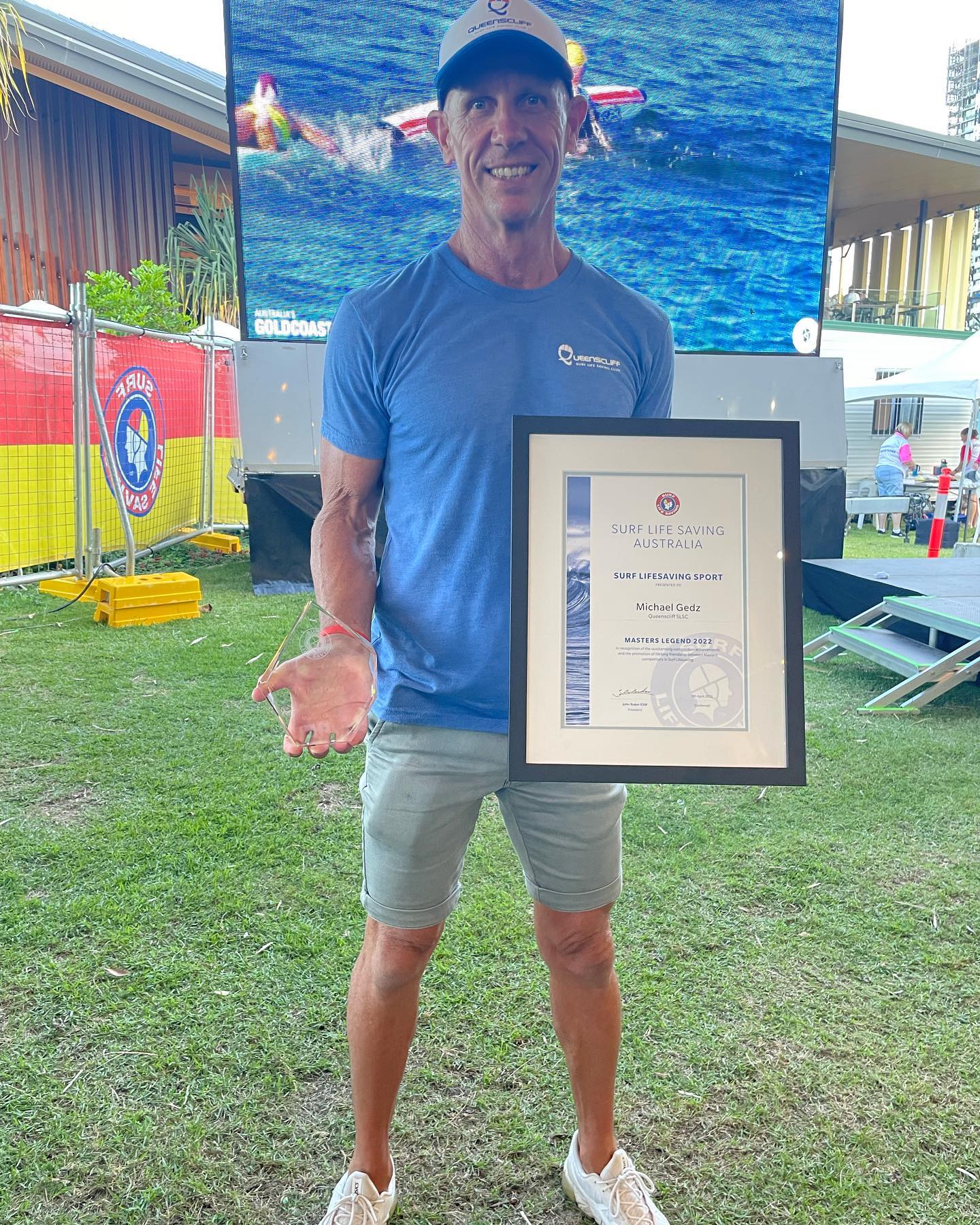 Michael Gedz - Masters Legend

Since commencing Masters competition in 1997, Michael has been a prolific winner in the Beach events arena. Overall, he has won 32 gold medals and 13 other podium finishes, with 16 of these golds being first placings in either Beach Sprint or Beach Flags. In the last 10 Championships alone, he has won his age group in the Beach Sprint nine times.
At World Lifesaving Championship level since 1998 (35-39 years) he has been successful in winning 10 individual gold medals at six world championships including four other podium finishes. Mr. Gedz has done well again in the 2022 Aussies - results below.
Surf Life Saving NSW stated; ''Masters competitors play an integral part in the sport arena, through their dedication to Surf Life Saving and competitiveness and fitness to maintain a healthy lifestyle and play a key role within their clubs. It's those structures that both reflect on as crucial reasons for their love of surf sports.''
"You have to find something you love to do," Dori said.
"When you're younger you don't think long term but having something that you're good at that you enjoy to do, that can carry you through later in life."
"The club, the support, the sport, without that it's nothing. You can win the medals on your own but without all this it's nothing," Michael added.
While on outstanding achievements, Freshwater's Open First Aid Competition Team Tahlia Deardon and Julia Baker won the Surf Life Saving Australia Aussie Championship and take home the Tess Cramond Shield. They won their division by a massive 47 points ahead of others.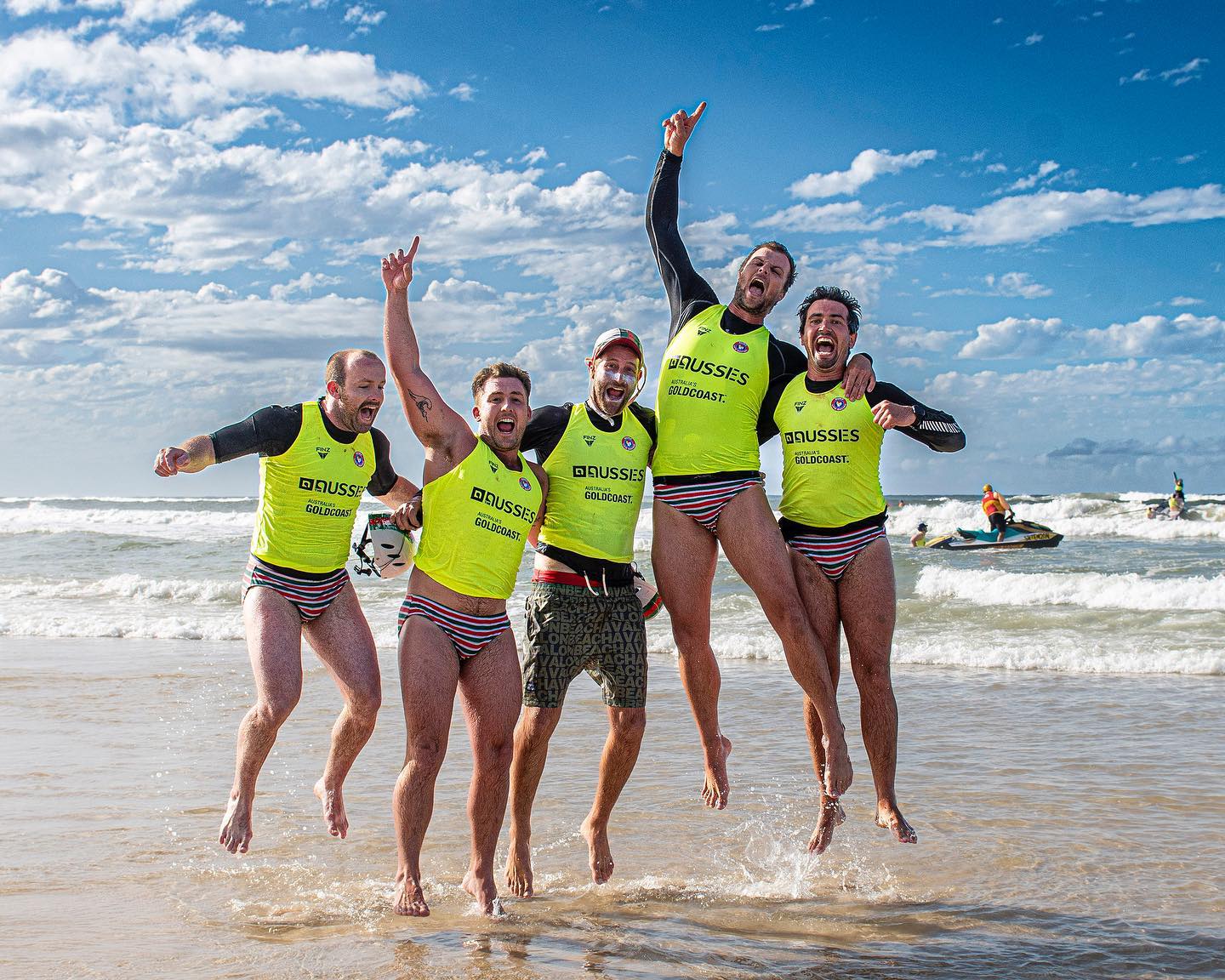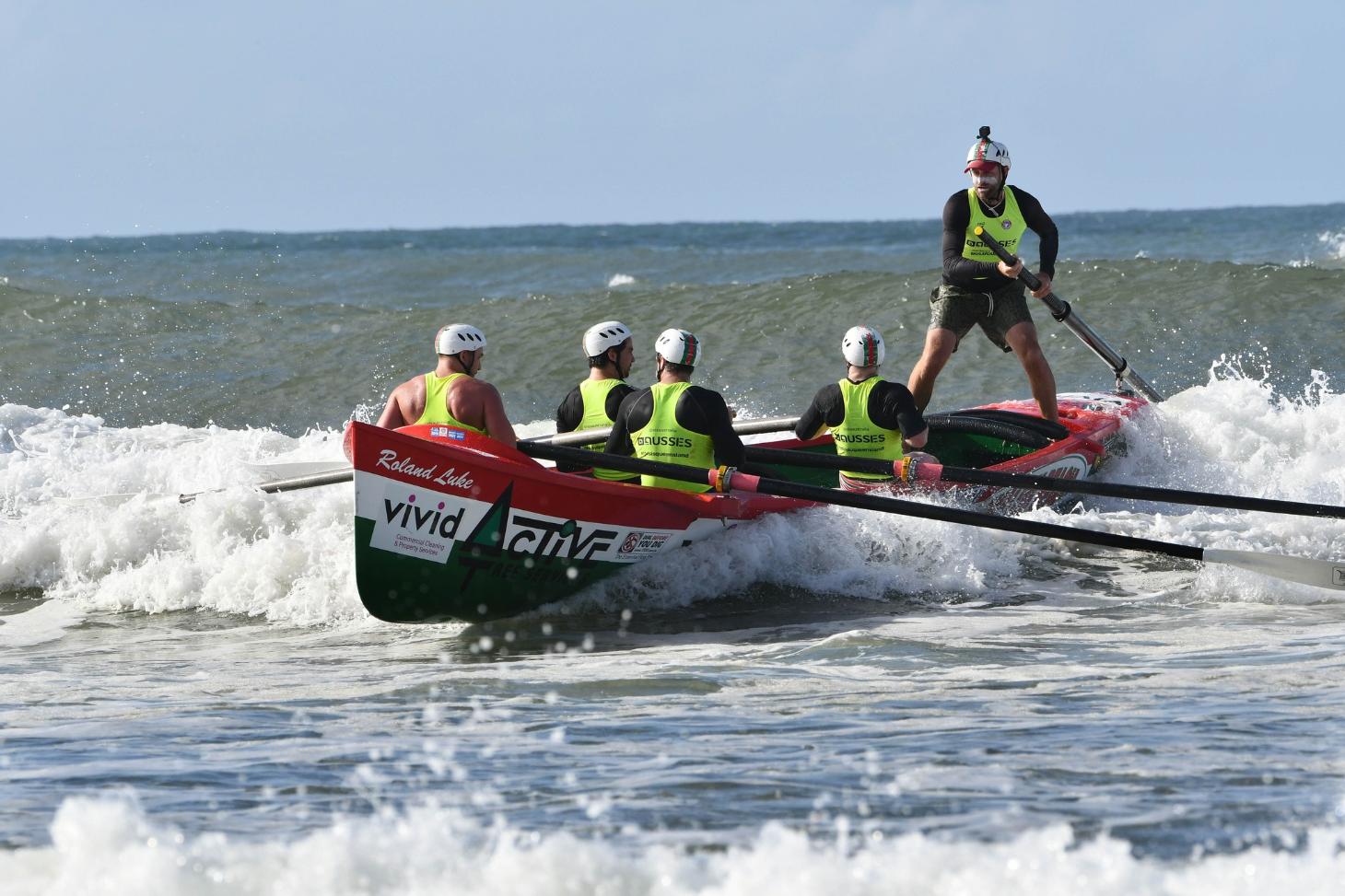 More Surf Boats Results: Now that's what jubilation looks like as the Pinkies take out the Reserve Male Surf Boat title and win their first Australian gold medal in this category. They're no strangers to the podium with a swag of medals already achieved as U23s as well as Silver medallists in this category at the State Championships last season. Mateship and teamwork at it's best.
Pinkies; Tom Curnow, Matt Mayall, Nick Sampson, Andrew Bright and Nathan Wellings (sweep). Photos: Malcolm Trees and John Veage
Eramboo Residency Artists Return To Offer Weekend Workshop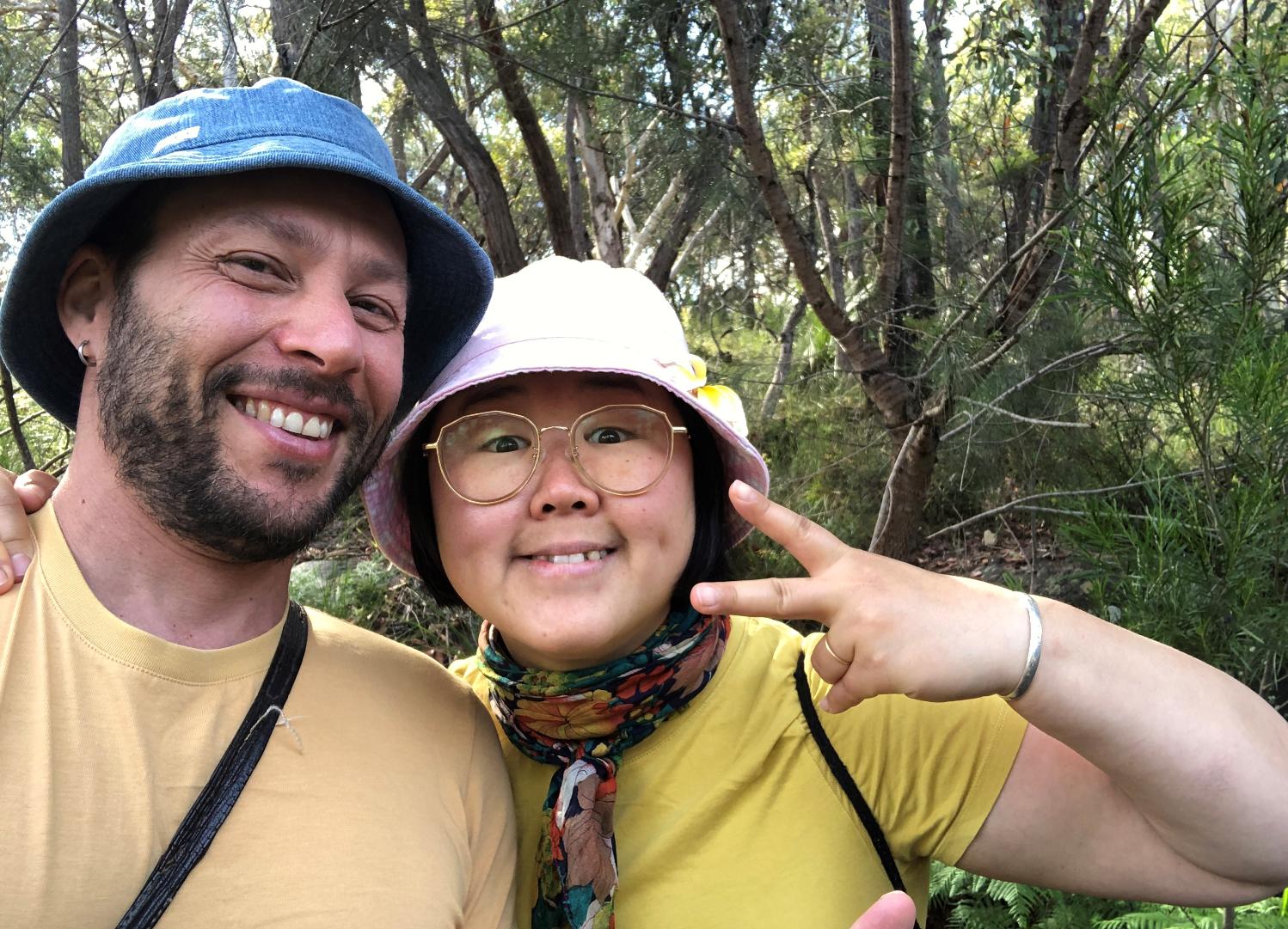 artists Damon Kowarsky and Hyunju Kim
In January Eramboo hosted Melbourne based, internationally practicing, artists Damon Kowarsky and Hyunju Kim at their Terry Hills Residency. Over 10 days the couple immersed themselves in the beauty of Kuringai National Park walking, and drawing, around Terry Hills, West Head, Elvina Falls, McCarrs Creek and Little Pittwater.
The residency was their first ever visit to the Ku-ring-gai Chase National Park and the longest time either of them had ever spent in Sydney. They were lucky to have long days of sunshine to explore the area on foot and in the company of Eramboo Director Selena Griffith.
Each day Damon and Kim packed a lunch and head out into the bush along different walking tracks. Some on their own, and some with Selena took them on paths known only to locals overlooking the Hawkesbury and walks to see Pittwater and Barrenjoey Head.
They were trying to find places with amazing views, and reasonable protection from the elements. One of the things about drawing outside is that you have to be very sensitive to the direction of the sun. There is nothing good about starting a drawing and half an hour later realising you're about to be baked alive.
Damon and Kim were also able to visit the impressive First Nations engravings at Elvina Bay. These are massive – hundreds of metres across – with carved emus, figures, fish, lizards, moons and circular indentations.
One of the things both Kim and Damon talked about was how distant Indigenous culture seems from their everyday lives in Melbourne and yet here it was, enormous, carved over generation after generation. They have travelled all over the world to see the traces of civilisations as old as this.
Kim says she loved the National Park. 'It was amazing to see the landscape and also the Aboriginal history of the area. I loved that at Eramboo there were wild animals so close to us. Each day we'd see the resident eastern water dragon, bush turkeys, monitor lizards, bats, and nesting birds. Another thing was to see banskia flowers everywhere. Living in the city I'd only ever seen them in books or flower shops but here they were growing out in the wild. I really liked the different stages, from beautiful flowers to ugly seed pods.

Naturally they both fell in love with beauty of Pittwater and its Environment and are both looking forward to coming back in April to work on more drawings and teach bookbinding and drawing workshops at Eramboo. For a long time Damon and Kim have made their own sketchbooks for travelling and drawing and they are very excited to be able to share this skill.
Their weekend workshop of BOOKMAKING + DRAWING will be Saturday 30th April & Sunday 1st May. Reserve your place at: https://eramboo.com.au/7063-2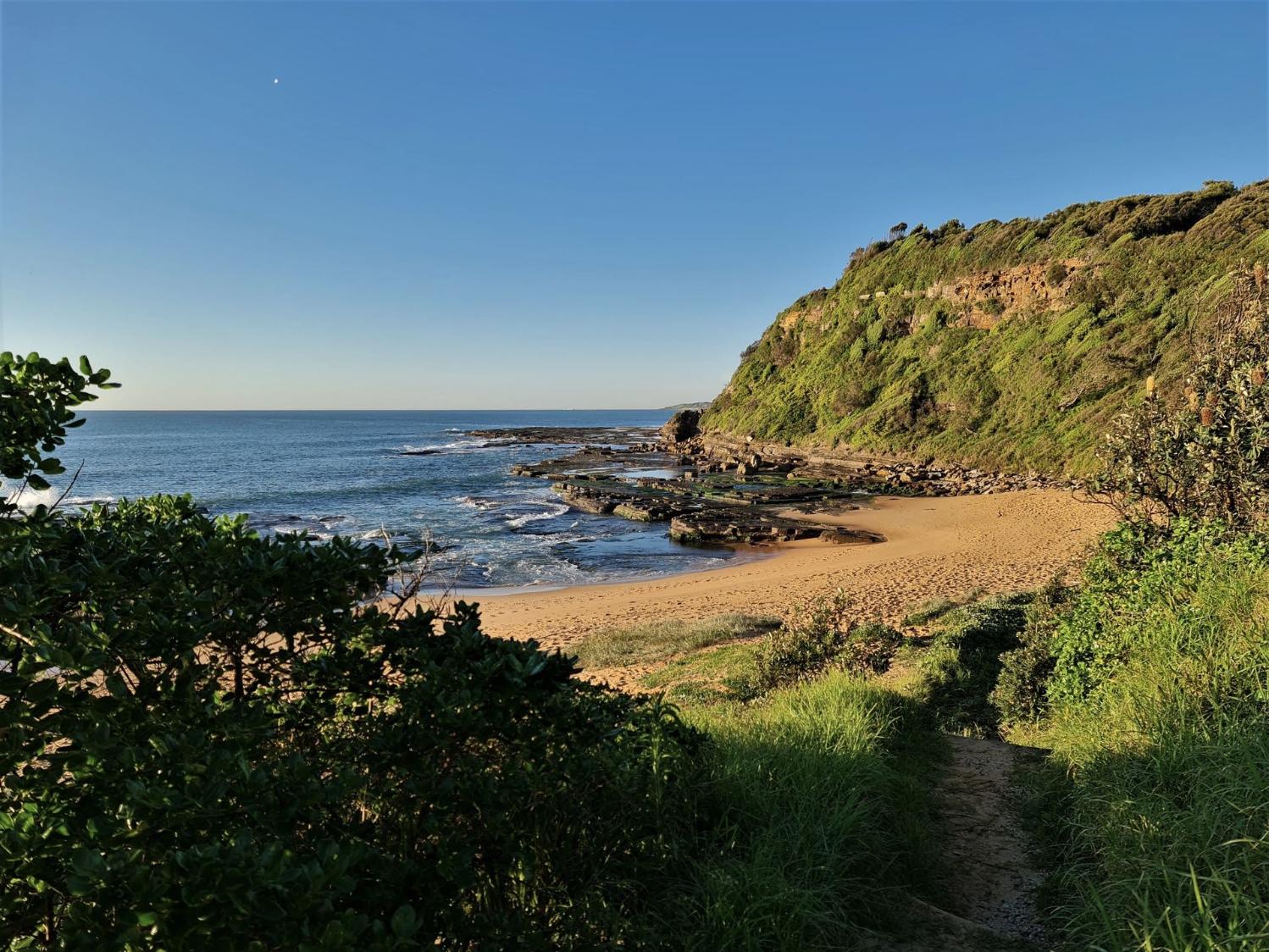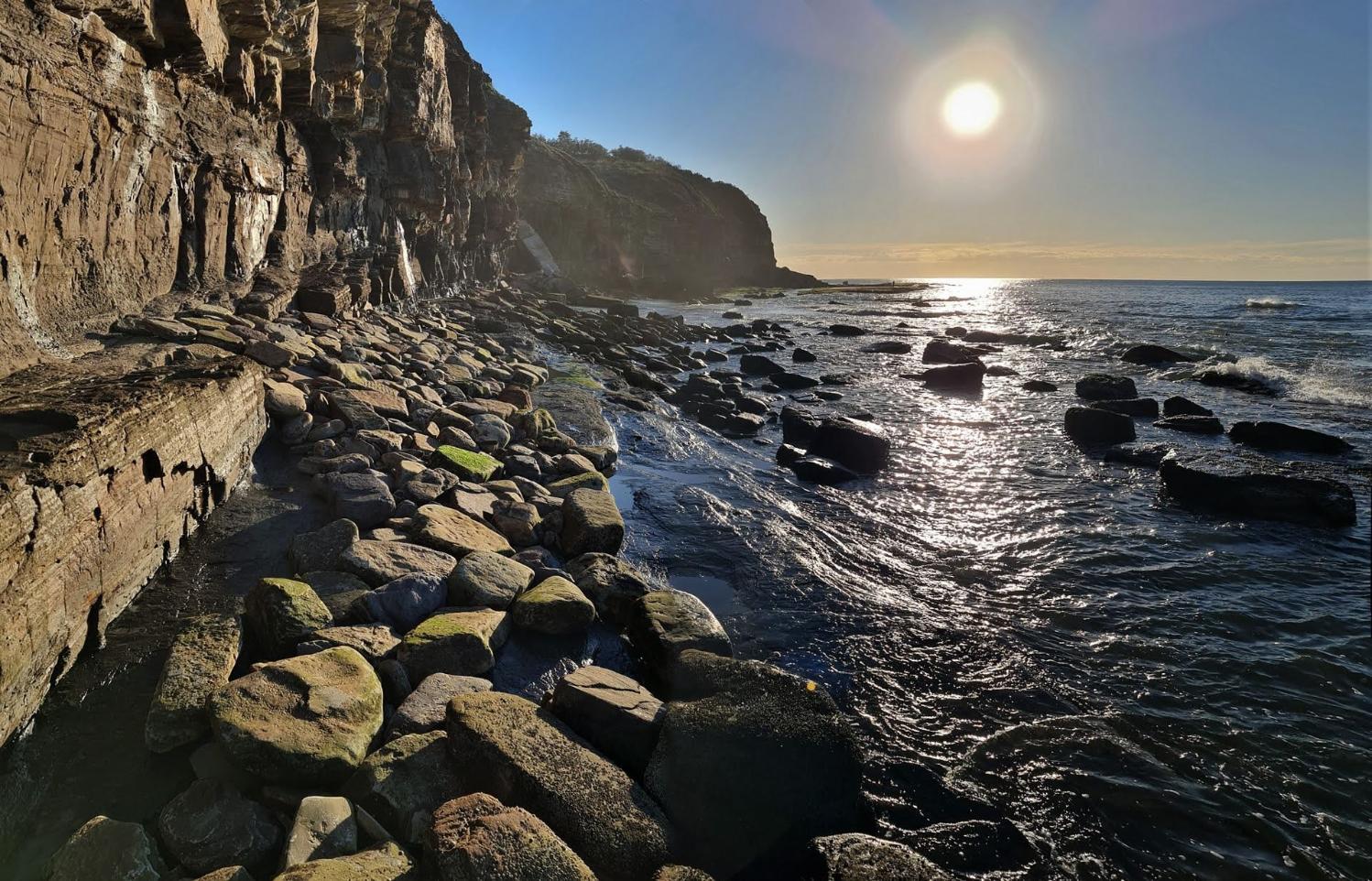 Turimetta Beach, April 2022. Photos by Joe Mills
Past Features Archives (pre 2014)
Pittwater Online News was selected for preservation by the State Library of New South Wales and National Library of Australia. This title is scheduled to be re-archived regularly.
Archived Issues (2014 on) may be accessed here: pandora.nla.gov.au/tep/143700