April 10 - 23, 2022: Issue 534
Eramboo residency artists return to offer weekend workshop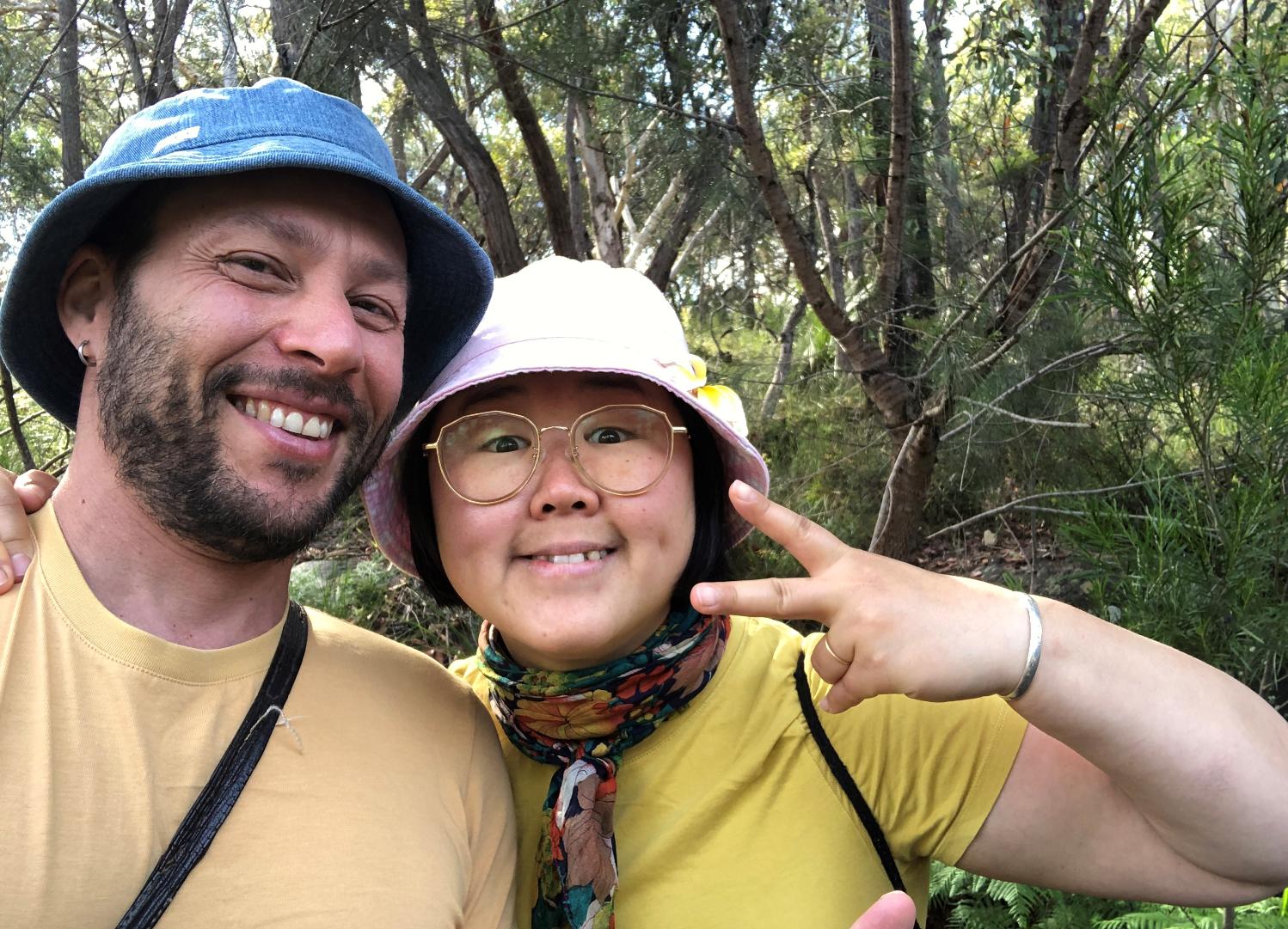 artists Damon Kowarsky and Hyunju Kim
In January Eramboo hosted Melbourne based, internationally practicing, artists Damon Kowarsky and Hyunju Kim at their Terry Hills Residency. Over 10 days the couple immersed themselves in the beauty of Kuringai National Park walking, and drawing, around Terry Hills, West Head, Elvina Falls, McCarrs Creek and Little Pittwater.
The residency was their first ever visit to the Ku-ring-gai Chase National Park and the longest time either of them had ever spent in Sydney. They were lucky to have long days of sunshine to explore the area on foot and in the company of Eramboo Director Selena Griffith.
Each day Damon and Kim packed a lunch and head out into the bush along different walking tracks. Some on their own, and some with Selena took them on paths known only to locals overlooking the Hawkesbury and walks to see Pittwater and Barrenjoey Head.
They were trying to find places with amazing views, and reasonable protection from the elements. One of the things about drawing outside is that you have to be very sensitive to the direction of the sun. There is nothing good about starting a drawing and half an hour later realising you're about to be baked alive.
Damon and Kim were also able to visit the impressive First Nations engravings at Elvina Bay. These are massive – hundreds of metres across – with carved emus, figures, fish, lizards, moons and circular indentations.
One of the things both Kim and Damon talked about was how distant Indigenous culture seems from their everyday lives in Melbourne and yet here it was, enormous, carved over generation after generation. They have travelled all over the world to see the traces of civilisations as old as this.
Kim says she loved the National Park. 'It was amazing to see the landscape and also the Aboriginal history of the area. I loved that at Eramboo there were wild animals so close to us. Each day we'd see the resident eastern water dragon, bush turkeys, monitor lizards, bats, and nesting birds. Another thing was to see banskia flowers everywhere. Living in the city I'd only ever seen them in books or flower shops but here they were growing out in the wild. I really liked the different stages, from beautiful flowers to ugly seed pods.
'I'd been seeing people 'touching' banksias in shops and art to make them pretty but here was the real thing! I liked it better that they were out in nature and alive – not just goods or products.
'What was really surprising was how close to Sydney Eramboo is. It was an easy bus ride to Town Hall Station, but once you were in Terrey Hills it was a different world.'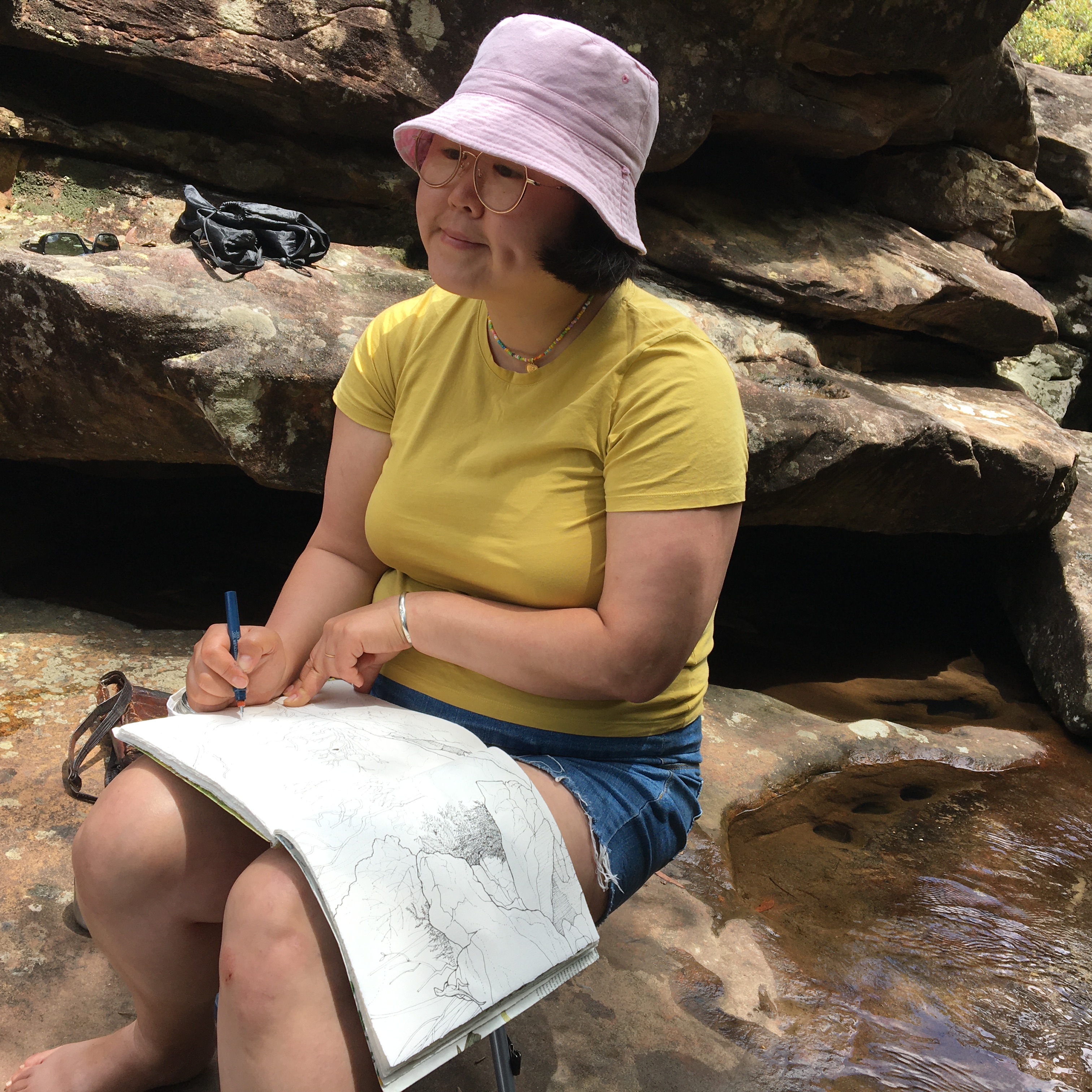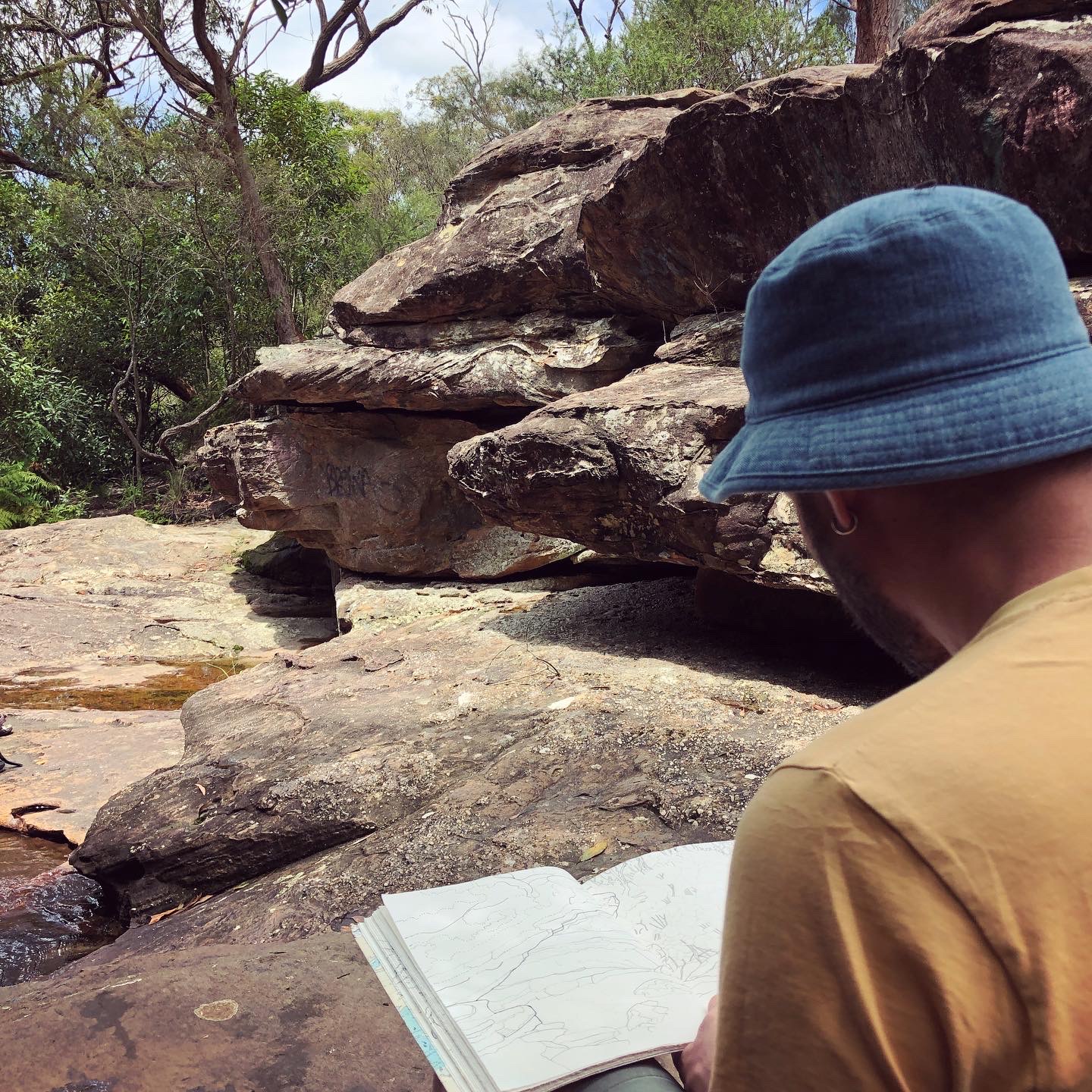 Damon and Kim also gave a wonderful Artists' talk about their global creative practice as artists, printmakers and illustrators, and some of the residencies they have done in Israel, Asia and Europe.
You can watch the talk here https://eramboo.com.au/6971-2/
Naturally they both fell in love with beauty of Pittwater and its Environment and are both looking forward to coming back in April to work on more drawings and teach bookbinding and drawing workshops at Eramboo. For a long time Damon and Kim have made their own sketchbooks for travelling and drawing and they are very excited to be able to share this skill.
Their weekend workshop of BOOKMAKING + DRAWING will be Saturday 30th April & Sunday 1st May.
Reserve your place at: https://eramboo.com.au/7063-2
On Saturday, you will learn a simple and easily repeatable Japanese bookbinding technique perfect for making sketchbooks and visual diaries, taking with you a completed book, and the tools and skills to make more. On Sunday you can then sharpen your pencils and get down to drawing in your newly made sketch book 'en plein air' at McCarrs Creek Reserve. Damon and Kim will offer insights, suggestions, and guidance on drawing in the environment. This location offers a great range of subjects from mangrove forests to tree covered hills to riverside architecture and human activity.
More on Damon and Kim below
by Selena Griffith