April 10 - 23, 2022: Issue 534
Black Jack sets new record in Club Marine Pittwater to Coffs Harbour Yacht Race 2022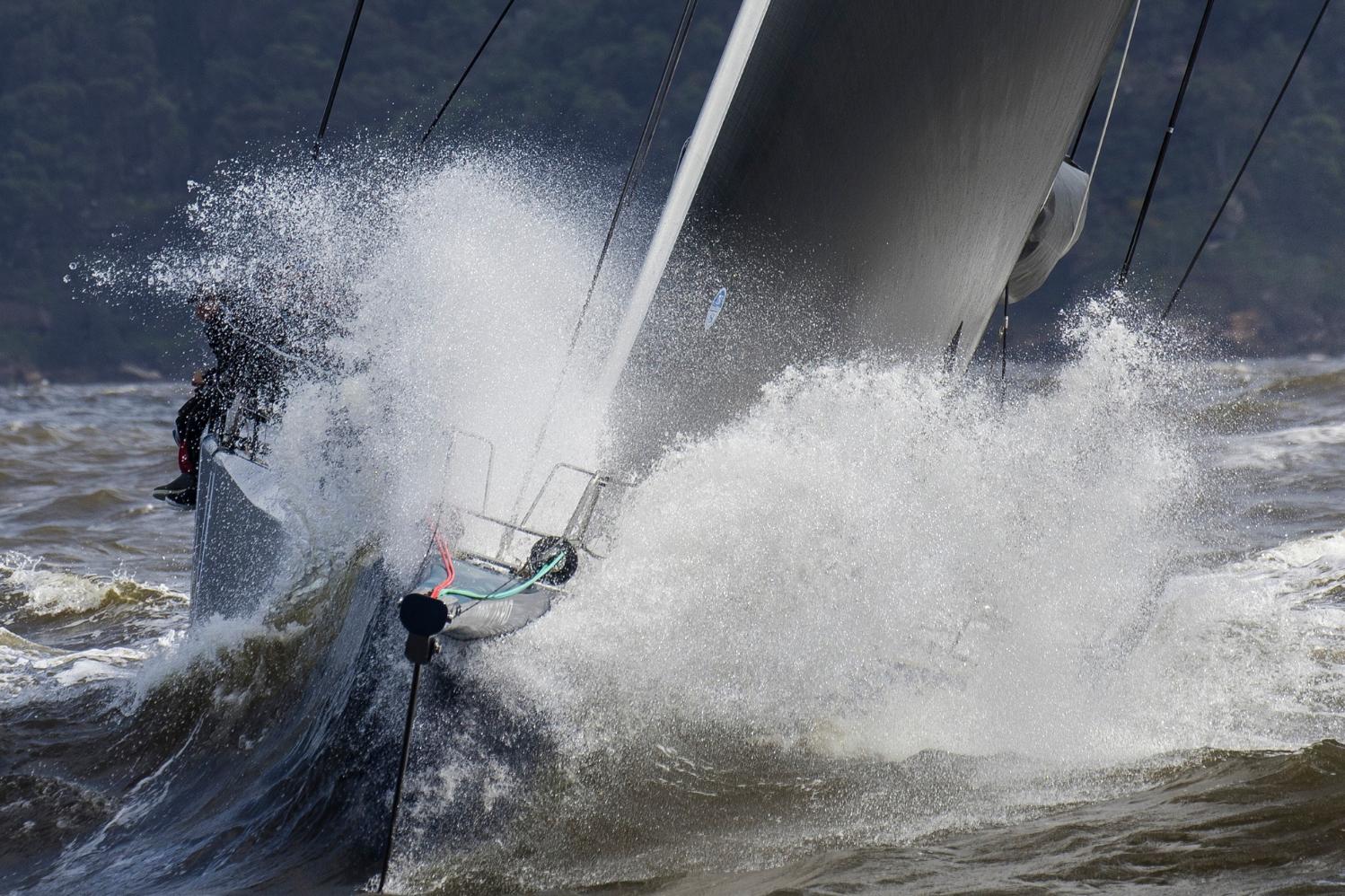 Black Jack ploughs through the seaway. Photo: Andrea Francolini
April 9, 2022
Black Jack, the super maxi owned by Peter Harburg, has smashed the race record and taken line honours early this morning in the Royal Prince Alfred Yacht Club's (RPAYC) Club Marine Pittwater to Coffs Harbour Yacht Race, finishing the race at 06:31:31.
Black Jack, skippered by Mark Bradford representing Yacht Club de Monaco, set a new record of 17 hours 10 minutes 31 seconds, slicing a little over 1hr 18mins off Wild Oats IX record of 18hrs 29mins 14secs set back in 2003.
As Black Jack approached the finish, the heavens opened up to welcome her to Coffs Harbour.
"It was a pretty straight forward race, although we had a tricky westerly transition towards the end with a bit of tacking required," Bradford said this morning.
"We are super excited to have broken the race record," he said. The yacht and crew are now heading off to prepare for Easter's Brisbane to Gladstone Yacht Race where Harburg and crew will attempt to break their own record from 2018.
As expected, Peter Harburg's super maxi Black Jack made the best of the start in Royal Prince Alfred Yacht Club's (RPAYC) Club Marine Pittwater to Coffs Harbour Yacht Race on Friday afternoon, April 8.
Due to start at 1pm off Barrenjoey Headland, signalling the start of the chase for line and overall honours, the fleet was recalled when too many yachts were over the line early.
General Recall out of the way, it was a clean start the second time around, with 2021 Rolex Sydney Hobart line honours victor, Black Jack, leading the way. Behind the 100-footer representing Yacht Club de Monaco, was David Griffith's JV62, Whisper and 2021 Sydney Hobart winner Ichi Ban (Matt Allen).
Two-handed entry, Speedwell, was around 15 minutes late to the start. Campbell Geeves and Olly Gill have work to do to catch up to their contemporaries.
A messy and lumpy sea in a 15-18 knot east/nor-easterly wind will have some wishing they hadn't had lunch.
Black Jack, skippered by Mark Bradford, is loaded with talent, including America's Cup sailors, Adam Beashel and Dean Phipps from New Zealand. Harburg's yacht was left to her own devices, as Christian Beck withdrew LawConnect from the race.
Before the race, David Griffith said from Whisper, "We're ready," referencing the start of the 36th edition of the 226 nautical mile race.
"We're here to try and win. I've got the right people to help me do that; Iain Murray, Michael Coxon and Tom Braidwood are in my core crew," he said.
Whisper is in fine form, having recently broken the Montague Island race record. She also placed fifth overall and fifth over the line in the 2021 Sydney Hobart.
The bane of his and others' lives are the TP52s, in particular Ichi Ban (Matt Allen). In December, Ichi Ban became only the third yacht to win the Sydney Hobart three times and in February she won the Adelaide to Port Lincoln Yacht Race. The Pittwater to Coffs is one of the rare races Allen and his TP52 are yet to win.
Allen's crew includes Mat Belcher, the most decorated Olympic 470 sailor in history, world-class navigator Will Oxley and the RPAYC's own Alice Tarnawski, a product of the RPAYC Youth Development program.
Fifteen minutes before the start, Carl Crafoord, owner/navigator of Sail Exchange reported: "The rain's stopped, the sun's out and we are in a 15-17 knot east/north-easterly. It's on the nose to get out of here and then it's supposed to be a gradient easterly of 15 to 20 knots.
"It should be a good race for us. Unfortunately though, it will get light towards the end and that will favour the bigger boats, while it will be doughy and slow for us," he said from the nav station of his Cookson 12.
The highly regarded navigator experienced unforeseen difficulties when he arrived at his yacht this morning: "We were doing last minute jobs we didn't know about until we got on board. We had to change the alternator on the motor, fix the Wi-Fi and our computer screen. It was a bit of a rush," the Middle Harbour Yacht Club member explained.
John Turnbull, owner of RPAYC entry, Luna Blue, was raring and ready to go. "They've forecast a pretty good easterly for the first 24 hours. It may shift a little to the north, so it's straight on the rhumbline at good speed for us. The forecast suits us," he said from his Beneteau First 45.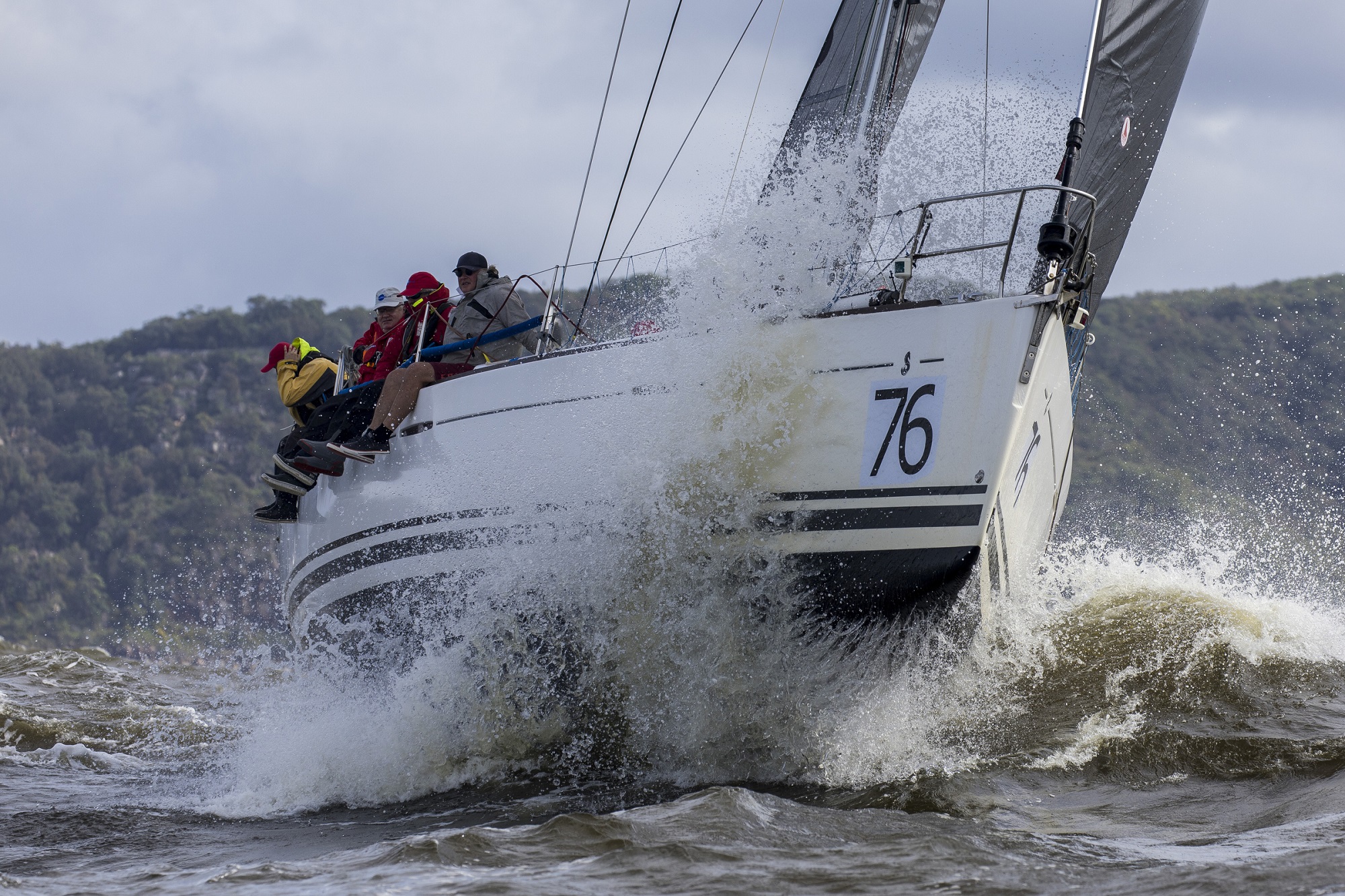 Luna Blue launches off a wave. Photo: Andrea Francolini

At the smaller end of the fleet are the likes of Highway Patrol, a Dubois 30 (9.14 metres) owned by Michael Blaxall, Shane Connolly's 9.9 metre J/99 Rum Rebellion and Martin Cross' 10 metre Jeanneau Sun Fast 3300, Transcendence Crento.
Among the notable double-handed entries is Speedwell (Campbell Geeves/Olly Gill), Rum Rebellion (Shane Connelly/Graeme Dunlop), Local Hero (Mark Ayto), Transcendence Crento (Martin and John Cross), Runaway (Tim Alexander/Mark Goode) and Intiy (Marc Depret/ Rouzbeh Katrahmani). Intiy is a radical downwind flyer, the first of the one-design Beneteau Figaro 3s to be launched in Australia.
Depret, who hails from the host club, remarked before the start, "The more south that's in the breeze, the better it is for us. As soon as we get a chance to pop the Code Zero up, we will. It will be a chance to put distance on the rest.
"At the moment though, the predicted easterly isn't ideal for us, but it's OK. The wind will be in the lower range in the beginning. I think there will be squalls and rain clouds, but I don't think we'll be parked, we'll be moving. The question is, in what direction? That is the general feeling at the moment," he said.
On Saturday, April 9, behind Black Jack, David Griffith's JV62, Whisper, had approximately 25 nautical miles to make the finish, with Ichi Ban giving chase just 8nm astern.
The focus is now on the IRC Overall win in the 36th running of the race. Black Jack sat at the top of the overall standings at 10am, with Matt Allen's Ichi Ban and David Griffith's JV62 Whisper, in second and third place respectively.
Just after 8.00 last night the second boat across the line was David Griffith's J/V62 Whisper with an elapsed time of 01:03:23:18.
Rounding out the podium, crossing in 3rd overall is Gordon Beath and his crew racing onboard his Chamberlin 14 Roamance which is a live aboard cruising catamaran.
In a very tactically strong race Gordon fought against Matthew Short's Fifty Two Hundred and Matt Allen's Ichi Ban TP52's for the final spot on the podium.
Gordon reported mid race: "We lost a rudder just off Port Macquarie, don't panic though as we have another! Sending it multihull style".
Whilst Gordon was lonely as the lone multihull this year he had 29 monohulls on the course. The RPAYC have interest and promise for some other great multihulls to join next year and give Gordon a challenge.
From seventh place overall this morning, Carl Crafoord, the owner/navigator of Sail Exchange reported, "We were having a good night because we led Highly Sprung and XS Moment BNMH by a mile. That was until the breeze went right and now, they're a mile ahead of us!"
Leading this battle within the standings, is Highly Sprung (Mark Spring) one place in front of Sail Exchange and XS Moment BNMH (Ray Hudson) two places behind.
"We're getting 16 to 17 knots out of the east/north-east. It's not pleasant out here, it's quite bumpy. On six separate occasions we have had to reef the main because it got so windy. But we've been a bit lucky, no rain and the sun's come out," Crafoord said from his Cookson 12.
To-date there have been seven retirements from the race. David Suttie's Pekljus withdrew with electrical issues late yesterday and returned to RPAYC.
Last night John Turnbull's Luna Blue retired to Newcastle Port with rigging issues and crew sickness. This morning Ian Smith's Jupiter and John Mudge's Dances With Waves have retired into Port Stephens. Law Connect, Runaway, Highway Patrol, and Speedwell have also retired. Runway have retired due to an unwell crew members and are now in port in Nelson Bay. Speedwell have retired due to an issue with a lack of power, and are headed back down the coast.
A fleet of 30 started the 2022 Club Marine Pittwater to Coffs Harbour Yacht Race. With 14 now over the line and seven retired, the remaining yachts are expected to finish Sunday.
The Club Marine Pittwater to Coffs Harbour Yacht Race full presentation will be held on Sunday April 10 at Coffs Harbour Yacht Club.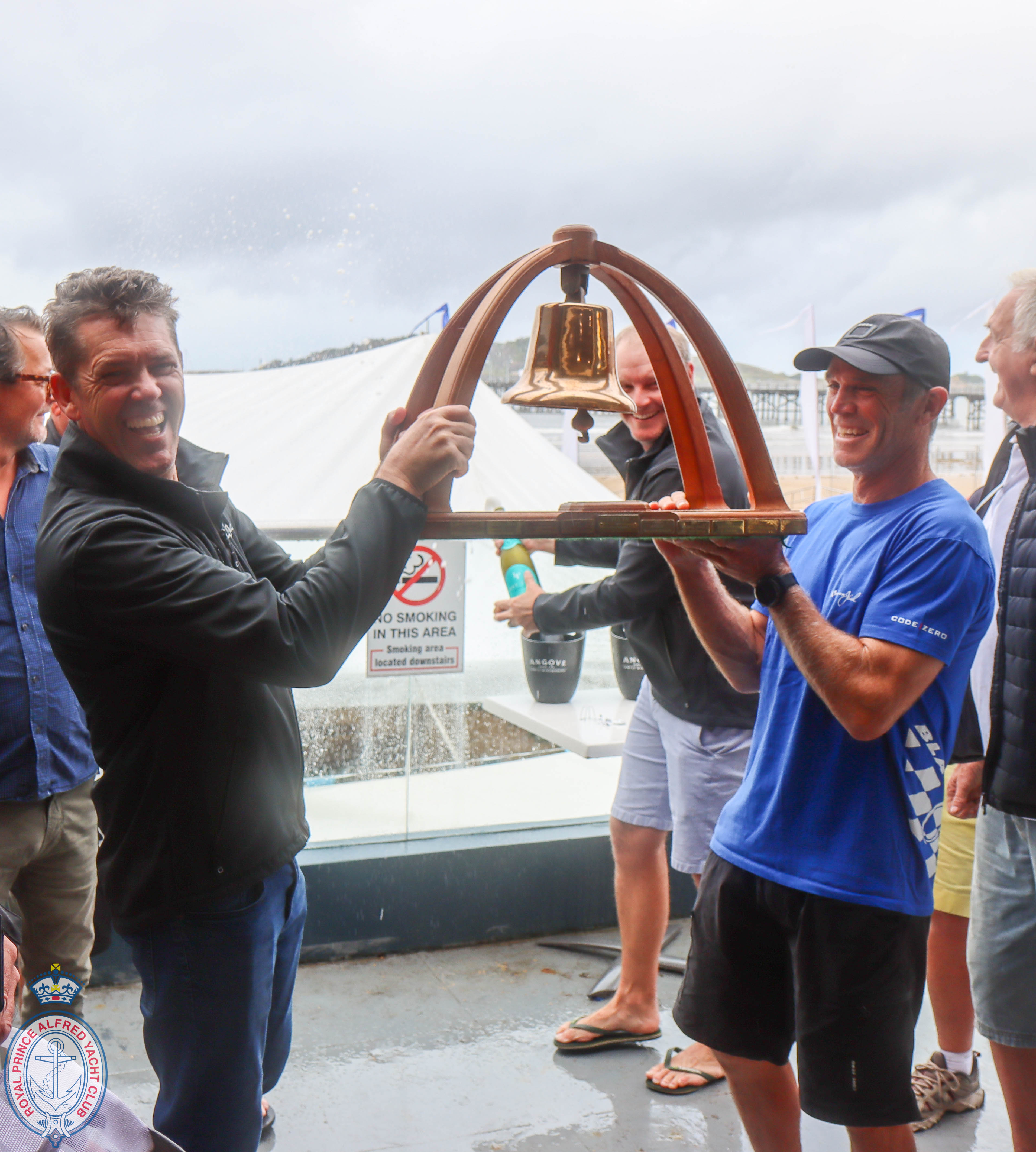 Mark Bradford (left) and Adam Beashel hold the line honours trophy aloft. Photo: RPAYC

Follow the Club Marine Pittwater to Coffs Harbour Yacht Race on the tracker at: http://yb.tl/pittwater2022
Leaderboard link: https://yb.tl/Leaderboard/pittwater2022
Video highlights of the start at: https://youtu.be/7NreiurSPyE
All information, including entries, on the official website: www.pittwatertocoffs.com.au
by Di Pearson