February 27 - March 5, 2022: Issue 528
NSW Government Rules Out Commercial Offshore Exploration And Mining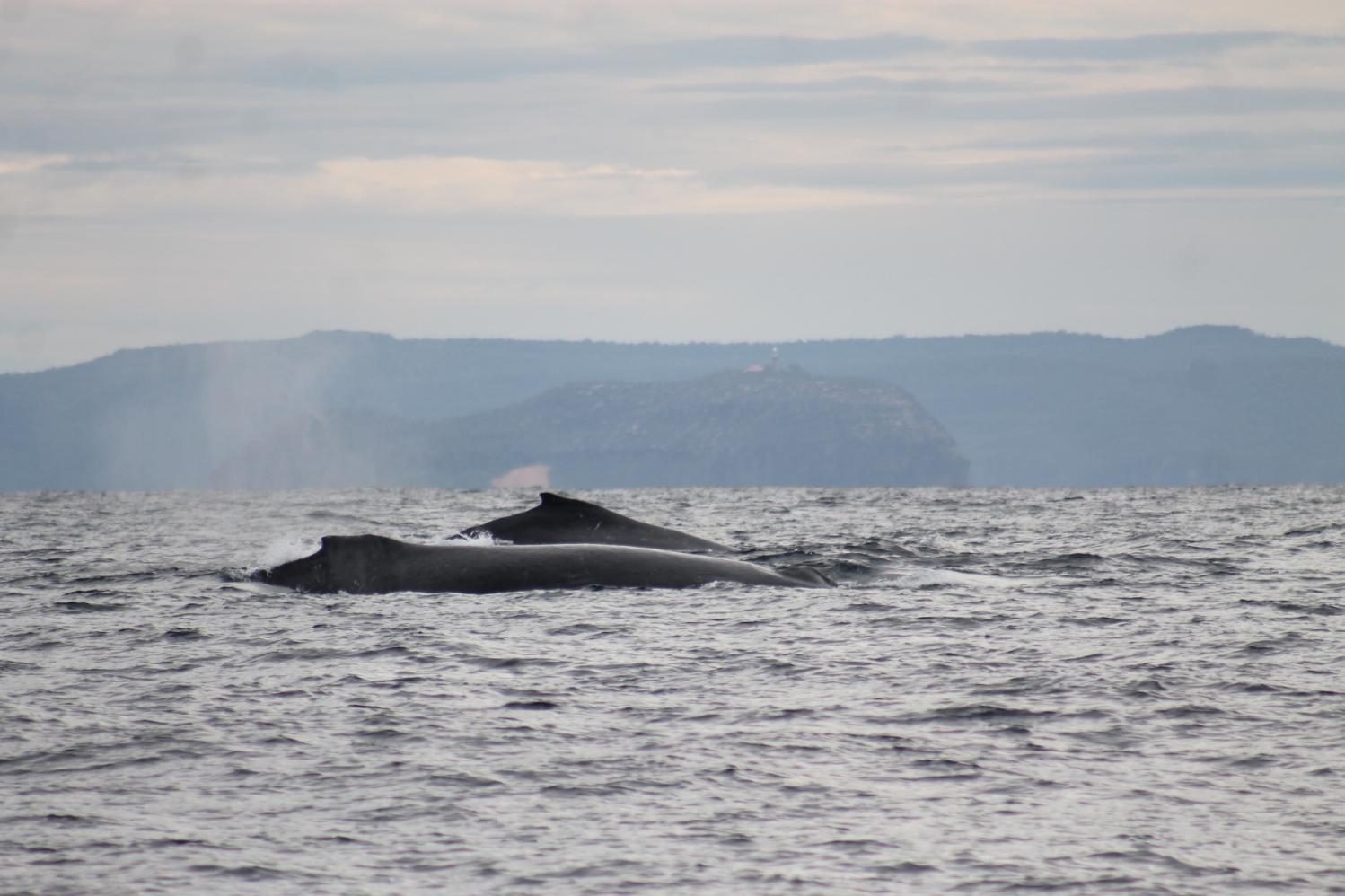 Offshore exploration and mining for commercial purposes will be ruled out in NSW under a landmark policy introduced by the NSW Government.
Deputy Premier and Minister responsible for Resources Paul Toole has announced the NSW Government will not support commercial applications for offshore mineral, coal, or petroleum exploration or mining, in or adjacent to, NSW coastal waters. The statement was released on Wednesday February 23rd 2022.
Mr Toole said any offshore exploration or mining will be limited to tackling coastal erosion through beach renourishment, where a clear public benefit exists.
"NSW has some of the world's most spectacular coastlines which support local industries and make them a great place to live and visit, and we want that to continue for future generations," Mr Toole said.
"This policy recognises that our coastal ecosystems are complex and sensitive and formalises our long-held view that the NSW Government will not support offshore exploration or mining for commercial purposes.
"While our coastline will be off-limits for commercial operators, exploration and the potential mining of sand will remain an option to address coastal erosion and restore sand to beaches, such as the work already being carried out at Newcastle's Stockton Beach."
Mr Toole said the NSW Government remains committed to delivering a responsible and balanced approach to the development of the state's resources.
"We've provided certainty to the NSW onshore coal sector, which remains a key employer and on track to deliver record royalties, and we've unveiled a strategy to grow the local critical minerals and advanced manufacturing sectors," Mr Toole said.
"We also have a very clear vision for onshore gas exploration and production, providing certainty for regional communities and industry alike.
"This is another way we are shaping a stronger and more sustainable sector and providing greater confidence for investors and clarity to both industry and regional NSW communities."
The NSW Government's Offshore Exploration and Mining Policy states the Government will consider applications for offshore mineral exploration and mining for sand for the purposes of beach nourishment, provided it can be demonstrated that it is for a broader public benefit. Such activity could benefit any local government areas where coastal erosion is an issue and beach remediation activities could be supported by offshore sand mining.
''Sand harvesting for the purposes of beach nourishment retains the sand in the system, relocating it from the sea floor to the beach. Beach nourishment delivers community benefits in contributing to the restoration and amenity of public beaches.
Prospective applicants will need to satisfy the Minister that their application is for beach nourishment purposes and will provide a public benefit in order to be permitted to apply for an exploration licence. Being granted approval to apply for an exploration licence does not automatically mean that an exploration licence will be granted, and any application will be individually assessed and must all regulatory requirements under the Offshore Minerals Act 1999.
Similarly, the granting of an exploration licence does not automatically mean that mining will be permitted. In order to progress to sand mining, development consent under the NSW planning framework would need to be obtained following the completion of exploration activities. ''
Further, the Policy states;
''The NSW Government does not support offshore coal and petroleum exploration and mining as the potential impacts on sensitive marine environments, indigenous heritage, commercial and recreational fishing and other recreational activities outweigh the potential benefits.
The NSW Government also acknowledges there has been strong community opposition to offshore exploration and mining.''
The Government states it is committed to providing certainty to industry and community about exploration and mining in NSW, both onshore and offshore. This policy complements the Government's direction set out in the Strategic Statement on Coal Exploration and Mining in NSW and the Future of Gas Statement.

During Wednesday's parliamentary sessions The Hon. Rob Stokes, MP for Pittwater made a Private Members' Statement which opened;
''I am absolutely stoked to inform the house of the Government's landmark policy to ban commercial offshore mineral, coal and petroleum exploration and mining in New South Wales coastal waters. How amazing is that? Just 20 years ago the idea of gas and petroleum exploration in New South Wales coastal waters was considered innovative, even progressive. But two decades of emerging awareness of the climate emergency and of the lived experience of catastrophic failures of offshore gas and petroleum platforms has led to a revolution in community sentiment. I was having a surf at Mona Vale one day when I saw a paddle-out against the offshore Petroleum Exploration Permit 11 [PEP 11]. I was delighted to be able to join my community in the water to protest against an absolutely harebrained, amazingly offensive proposal to permit commercial exploration and potential exploitation of a gas field 4.5 kilometres off the coast of the Northern Beaches and Central Coast of New South Wales, covering an area of 4,500 square kilometres.
.... my community of Pittwater had fought fiercely against the potential renewal and expansion of the PEP 11, which could have resulted in drilling platforms situated at various points just off the New South Wales coast and the great city of Sydney. For me, the paddle-out was a family affair as we all joined hands in the water around a mock-up gas rig. I noticed my niece, Lucinda Cook, out in the surf and was able to join hands with her as she stood up for the interests of future generations in supporting renewable energy and ocean health over fossil fuels and oil spills.
This is a fantastic win for my community of Pittwater, and for other coastal communities of New South Wales, who together have fought tirelessly to protect our incredible marine environments. In New South Wales we understand that to achieve the New South Wales Government's strong climate targets of a 50 per cent reduction in emissions by 2030 and net zero by 2050 we need to secure sufficient transitional energy sources to enable the decommissioning of coal‑fired power stations and support the ongoing introduction of, and improvements in, clean energy. Offshore drilling platforms are completely inconsistent with the Government's vision. We know that offshore exploration and mining has the potential to disrupt the migration patterns of marine animals such as whales and dolphins. It can also present an increased risk of contamination to our sensitive marine ecosystems and, frankly, is a blight on our pristine seascapes.
Thirty years ago there were fewer than 300 humpback whales traversing the east coast of Australia in their annual migration in search of food or warmer waters to give birth to a new generation. Now there are more than 35,000 a year. How we could put this remarkable turnaround at risk is simply beyond me, let alone add to the more than $50 billion estimated clean‑up cost already required to deal with the detritus of existing and historical offshore mining activities around the Australian coast—a clean‑up bill left to future generations to pay.
Today, the Government announcement is unequivocal and provides certainty for Pittwater and all other coastal communities in New South Wales. We will not allow commercial offshore exploration and mining for minerals, coal or petroleum. This outcome is indeed the culmination of incredible team effort by locals across a broad spectrum and across all sides of politics.
I thank the northern beaches Surfrider Foundation, particularly the indefatigable Rowan Hanley and the surfing barbarian himself, Brendon Donohoe, who helped carry this important campaign through its many challenges and setbacks and now in this incredible victory.
I also thank the local surfing community and great ocean advocates, such as Layne Beachley and Tom Carroll, and other volunteers who were involved in paddle-outs and other events to raise awareness of this issue. I thank everyone who has signed a petition, who has cared about future generations and about inheriting our magnificent and beautiful marine environment.''
The Honourable Member for Pittwater's statement may be read in full through Hansard.
On February 17, 2022 The Hon Scott Morrison, Prime Minister of Australia released a statement announcing t
he Australian Government has taken the next step to formally reject the application for the Offshore Petroleum Exploration Permit PEP-11.
Prime Minister Scott Morrison said following the Government's proposed decision to not suspend, extend and vary the title conditions of PEP-11 on December 16, 2021, the National Offshore Petroleum Titles Administrator (NOPTA) issued the applicant a Notice of Intention to Refuse and granted the applicant 30 days to respond to the notice.
"After considering the applicant's response, I have made the decision under section 59(3) of the Offshore Petroleum and Greenhouse Gas Storage Act 2006 to propose to refuse the application," the Prime Minister said.
"As a result, I have written to New South Wales Deputy Premier Paul Toole, as the joint authority partner, advising of the Government's proposed decision."
Deputy Premier Toole had 30 days to respond, following which a decision will be finalised.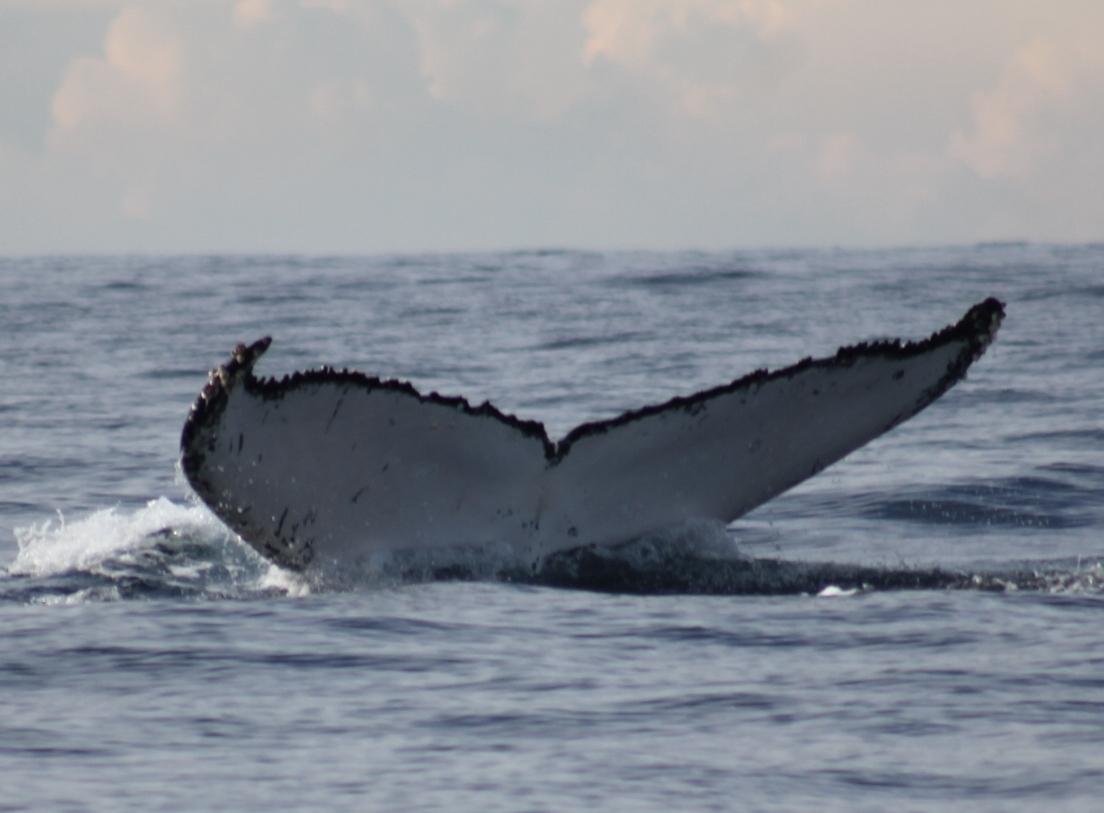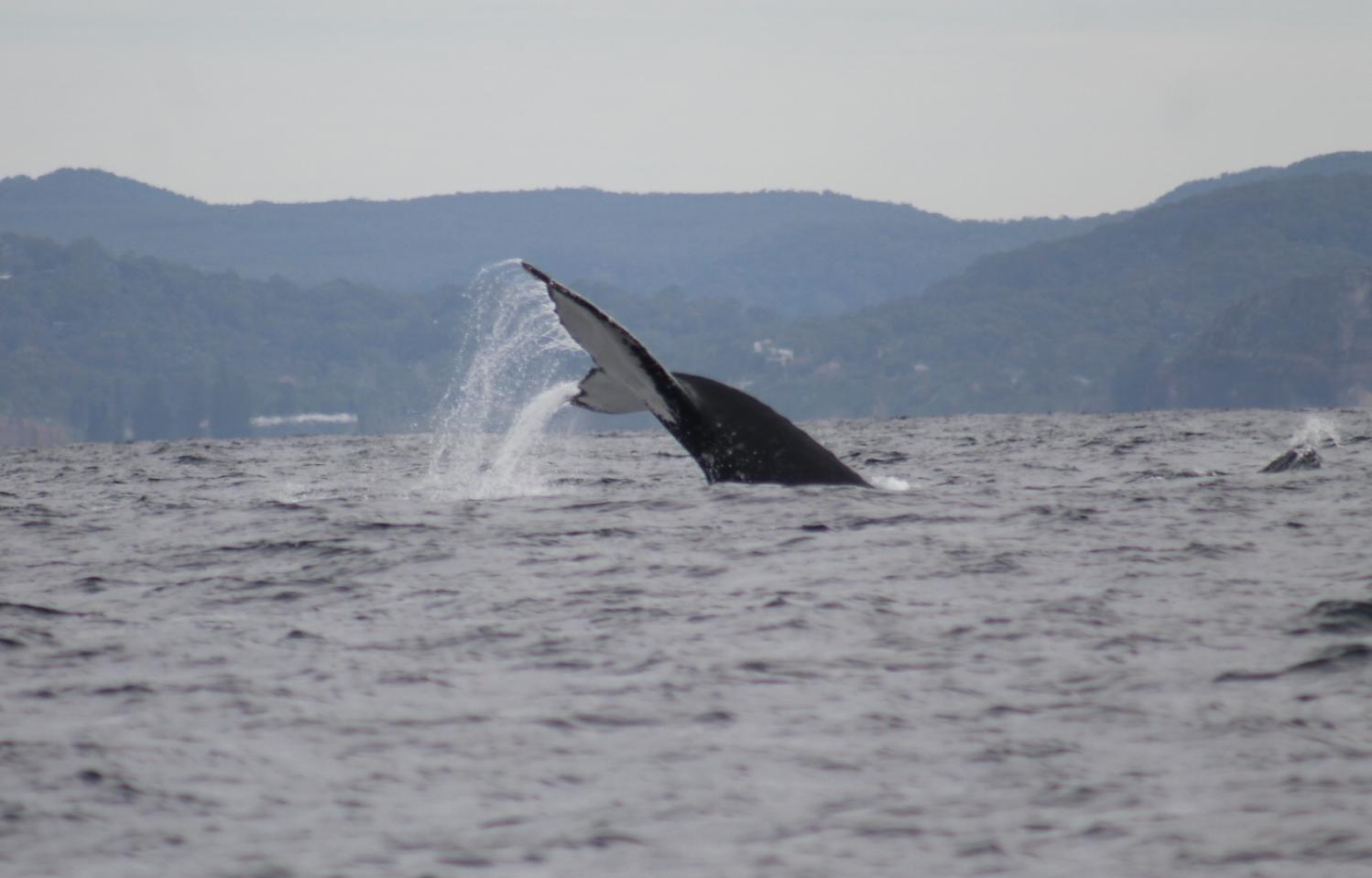 Humpback phoots: A J Guesdon.
Council Order For Barrenjoey Swim School To Close Down Puts All Swim Schools And Children's Safety In Jeopardy: Thousands Of Residents + Local MP Want This Essential Service Kept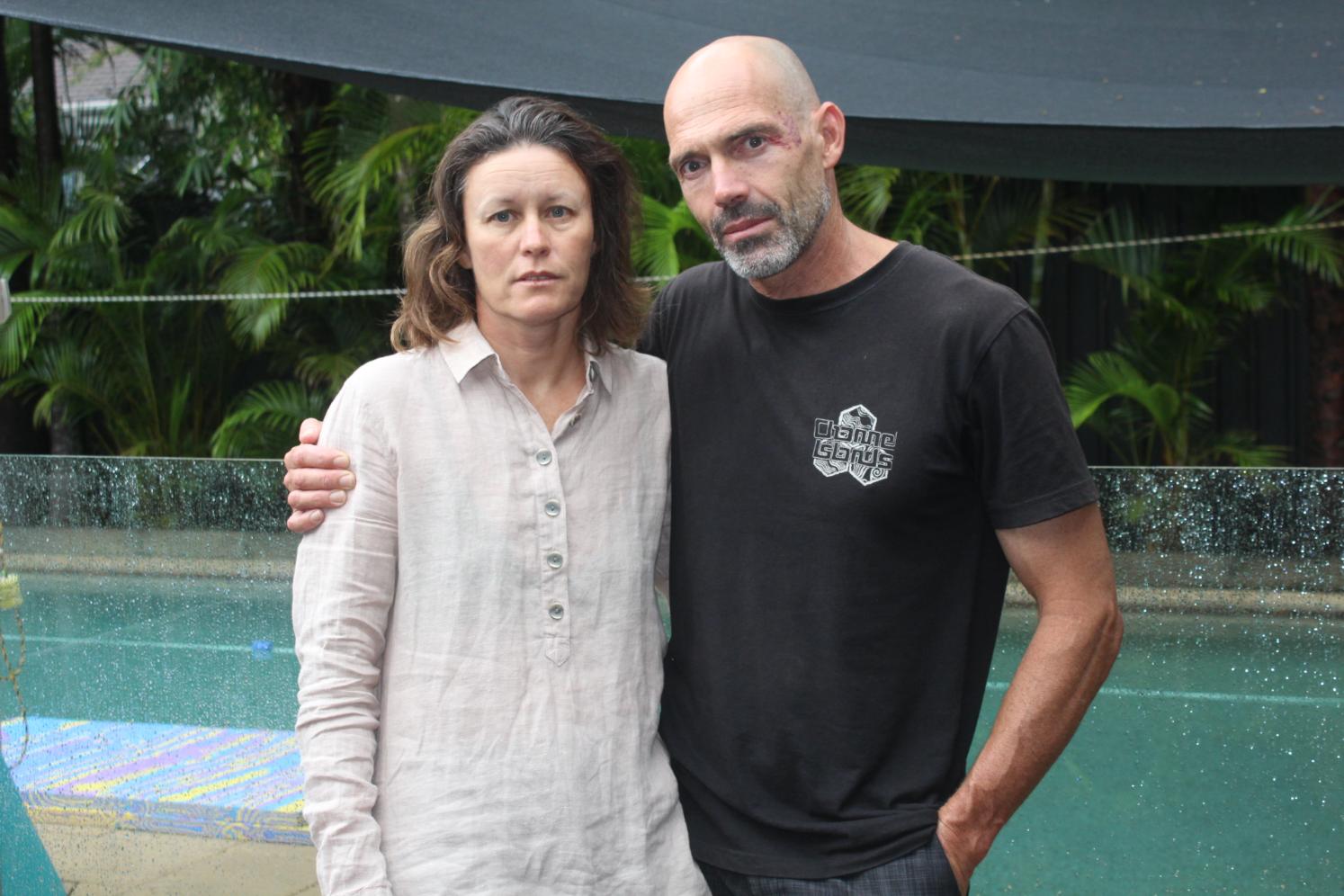 The Northern Beaches Council has issued a close down notice to Avalon Beach based Barrenjoey Swim School. The school has operated as a home-based small business for over 10 years.
After a site inspection in early December as the result of a complaint from a neighbour about noise and traffic, the council have re-classified the small home-business as a 'recreational facility', which is prohibited in an area with an R2 zoning.
The original noise complaint originated 2 years ago. The Geyles then heard nothing more until just before Christmas, December 2021. No details were provided on the nature of the noise complaint.
As everyone was then heading onto Christmas, and the Geyles themselves travelling to spend long overdue time with family, the end of December quickly became January. They sent in a reply, expressing their willingness to resolve any issues.
In the past a previous noise complaint about their pool pump had swiftly been addressed by installing a sound barrier. Their approach has always been if there is a problem to fix it straight away.
Then on February 16th they received the order to close down, with 90 days to comply, which again cited the Council's Officer reporting on noise and traffic.
However, a petition launched mid this week (with over 2700 signees in 4 days), has their neighbours as signatories. These neighbours' comments refute that noise and traffic are a problem.
Margot P wrote;
'I'm signing as a Patrick St neighbour. I do not have an invested interest because my children or grandchildren have learned to swim there... I am signing because it is an essential service, and its loss would be a disservice to the community. This school has never caused us any problem, and no one would even know it was there except for word of mouth. We have lived here for over twenty years, and would be very sorry to see this closed because of a complaint from one neighbour. After having struggled through Covid, this closure would be very cruel, as well as unnecessary.'
Another neighbour, Louise H. wrote;
'I live over the road (number **). I have no children of the appropriate age. There is literally no disruption to our life with the swim school and I find the decision utterly bewildering. The building site is way more noisy but we know that's life. Stop the nonsense.'
Jessica D. wrote;
'Lucie & Damian are respectful, kind & gentle teachers. We have been clients of theirs going back 8 years, & Lucie & Damian are always respectful of their neighbours (even when one particular "gentleman" is hurling abuse at them & their clients). They remind us to park legally, as well as to respect their neighbours & keep noise to a minimum. When they teach, they teach in gentle voices. I have never heard them raise their voice to a child or a parent. They are teaching our children an essential life skill, especially given that we live in Avalon Beach! We need more swim schools, not less! This needs to be investigated appropriately, & council needs to interview several neighbours, not just the man making a fuss!!'
Lisa A. said;
''One person should not have the power to close this swim school …. Considering the majority of the neighbours surrounding this swim school have stated how respectful the owners are then the council really are not listening to the community.

Local swim schools are an absolute must in the area we live in!!''
Lucie and Damian are catering to local families, many of whom cycle or walk to their lessons. Given they are only teaching an average of 3 children per class, with many of these having two children from the same family attending that one class, parked cars cannot be a problem.
Pittwater Online visited on a Saturday, when they are not teaching, and found more vehicles parked on the street from those in the vicinity. The Geyles' cars were both parked on their own driveway.
There is also a building site adjacent to their premises – that would create noise and traffic during a working week.
street view east, Saturday February 26, 2022,10am
the building site next door (BTW: where are the tree-guards?)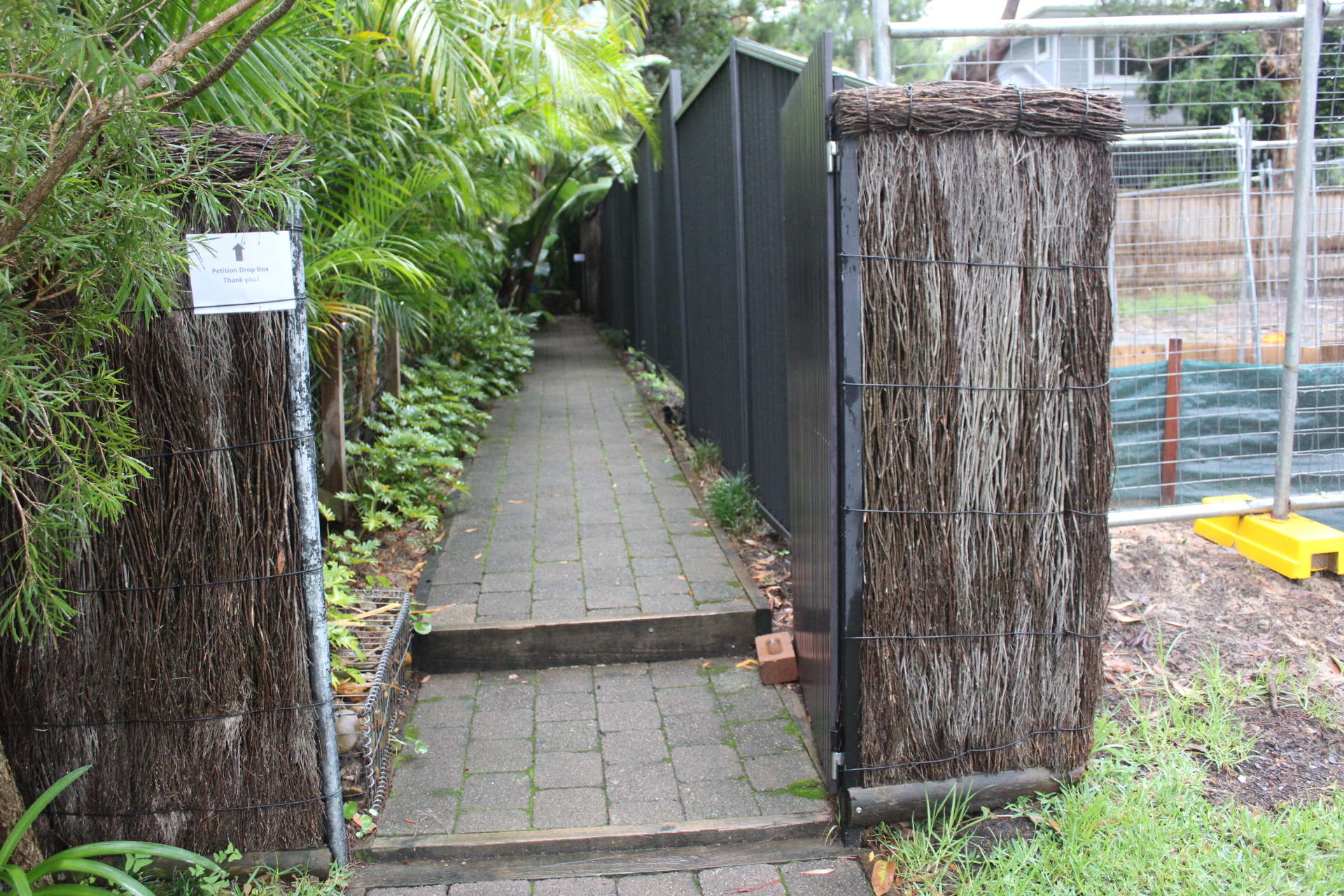 the entranceway to the Barrenjoey Swim school is on the western border away from any other houses
Damian Geyle commenced teaching children to swim when his first son was interested in joining Nippers. Subsequently he became the Age Manager for the Under 6's at Avalon Beach SLSC and then the Under 7's as his boy grew up. When he became the Age Manager for the Under 9's he found there were between 40 and 50 kids who could not swim. He offered to teach some of them to swim in their own home pool, at least far enough to be able to help themselves if they got into difficulties.
Mr. Geyle has been a lifeguard for over 40 years, so it was a natural shift to apply the skills learnt there to helping others.
Soon there were more and more parents seeking his help and he was racing home from working in the city to provide these lessons. The point came where he and wife Lucie knew they had to make this their full-time work.
Other swim schools for children in Avalon are at capacity. Not only that, the close down Order for this swim school could mean that others could be shut down as well.
Damian and Lucie Geyle have been contacted by these other swim schools this week, many of whom have operated for decades without any problems. All have expressed their concerns for what may happen to their students should they too be ordered to close. Swim schools from around the country have also telephoned, all giving messages of support as well as being alarmed at the potential impact such a precedent could have on their teaching children to swim.
Swimming lessons are widely regarded as the best way to ensure your child has the survival skills needed in the water. Many of us probably remember our own first swimming lessons occurred with trained teachers in a small local backyard swimming school.
On Thursday February 24th, 2022 the Hon. Rob Stokes, Member for Pittwater, Minister for Infrastructure, Minister for Cities, and Minister for Active Transport, made a Member's Statement on the Barrenjoey Swim school, which is recorded in Hansard.
Mr. Stokes stated:
''I pay tribute to the efforts of the Barrenjoey Swim School, in my electorate of Pittwater. Damian and Lucie Geyle have operated the highly successful swim school at Avalon Beach and have helped oversee the swimming growth and independence of thousands of local kids. Their focus on small classes in a friendly, inclusive and relaxed environment has resonated among local families and has helped to ensure the ever-growing demand for swimming lessons in our community can be met.

The very nature and culture of the Pittwater community means swimming in the ocean is an integral part of our local lifestyle. Every opportunity should be pursued to help ensure this essential life skill can be learnt as early as possible.

Barrenjoey Swim School is currently in discussions with Northern Beaches Council on ways its invaluable service can continue into the future. I look forward to working with the community to achieve a positive outcome.''
A Statement, issued by Northern Beaches Council CEO Ray Brownlee, reads:
While this outcome will no doubt be disappointing for patrons of the swim school, residents do need to operate within the law so as to not impact on neighbours.

Council's Director of Planning and Place and I have offered to meet with the owners of the swim school in the coming weeks to discuss the matter further and this offer has been accepted.
2022 C A R V E Great Lakes Pro QS1000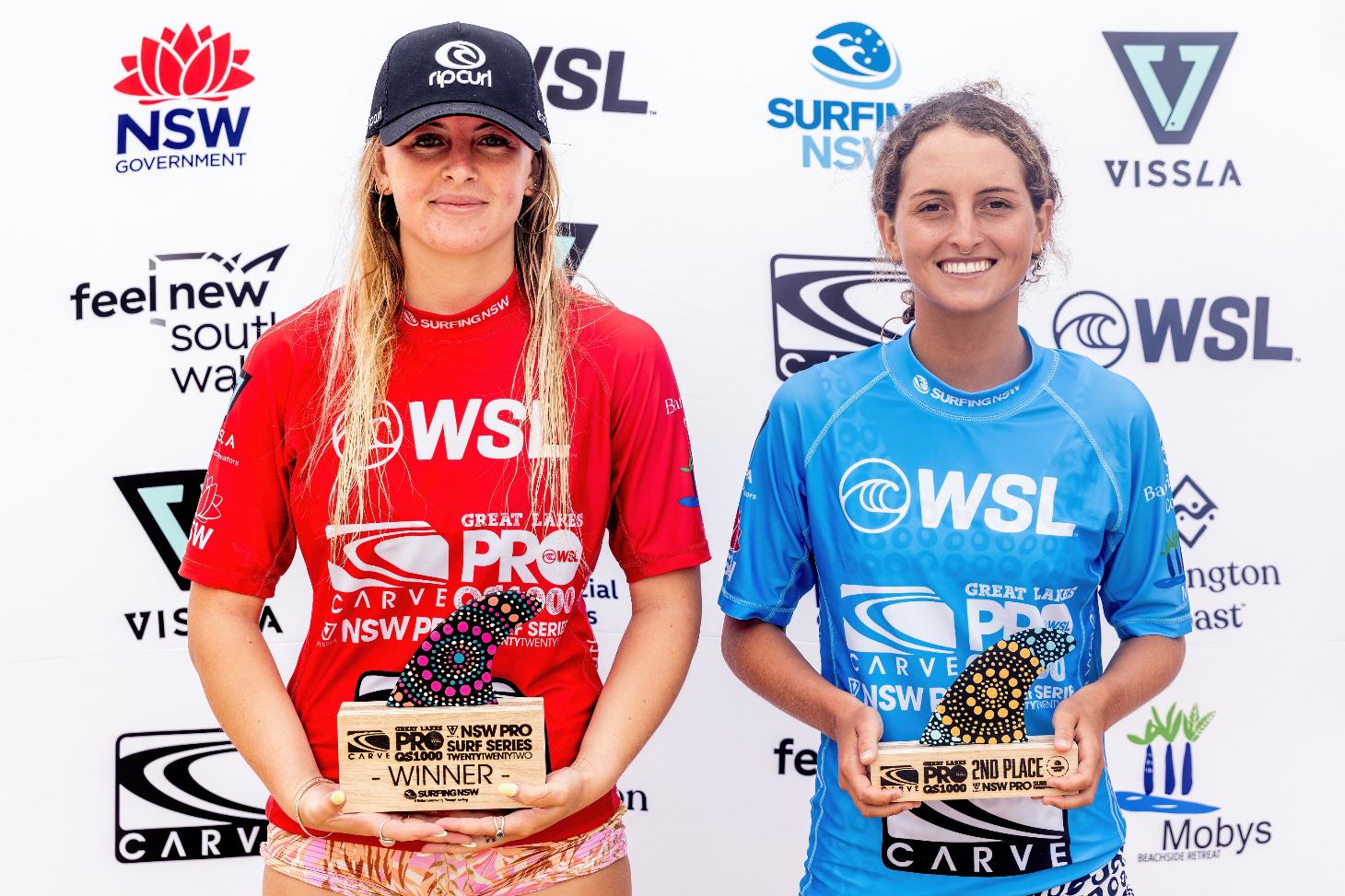 L to r: Nyxie Ryan and Bodhi Leigh-Jones. Photo Credit: WSL / Natalie Meredith
February 25, 2022
Report by WSL and Surfing NSW
Not only have NSW surfers have claimed victory at Boomerang Beach today, they also sit in number one position on the WSL Qualifying Series APAC rankings. Nyxie Ryan (Lennox Head) and Joel Vaughan (North Shelly) have claimed their maiden World Surf League Qualifying Series wins.
Lennox Head surfer Nyxie Ryan and North Shelly dynamo Joel Vaughan have been victorious and crowned event champions in the 2022 CARVE Great Lakes Pro in fun 2-4 foot surf at north Boomerang Beach.
The peaky rip bowl conditions made for an outstanding end to the event as the top surfers in Australia and New Zealand gave it their all in testing conditions.
The Women's Final saw two early standouts work hard to secure their first Qualifying Series victory. Both Ryan (pictured below by Natalie Meredith) and Bodhi Leigh-Jones (Avalon Beach) were standouts in the earlier round causing upsets amongst the top seeds.
It was an electric final between two up-and-coming stars of the sport with Ryan throwing the first dagger, dropping a 7.75 inside the first 10 minutes putting Leigh-Jones behind the eight ball and in need of a solid score.
From there, Ryan was able to control the remainder of the heat posting an excellent 8.75 point ride out of a possible 10 points for a huge backhand snap under the lip to smash the heat out of the park. The major score was the biggest in the whole women's field for the duration of the event.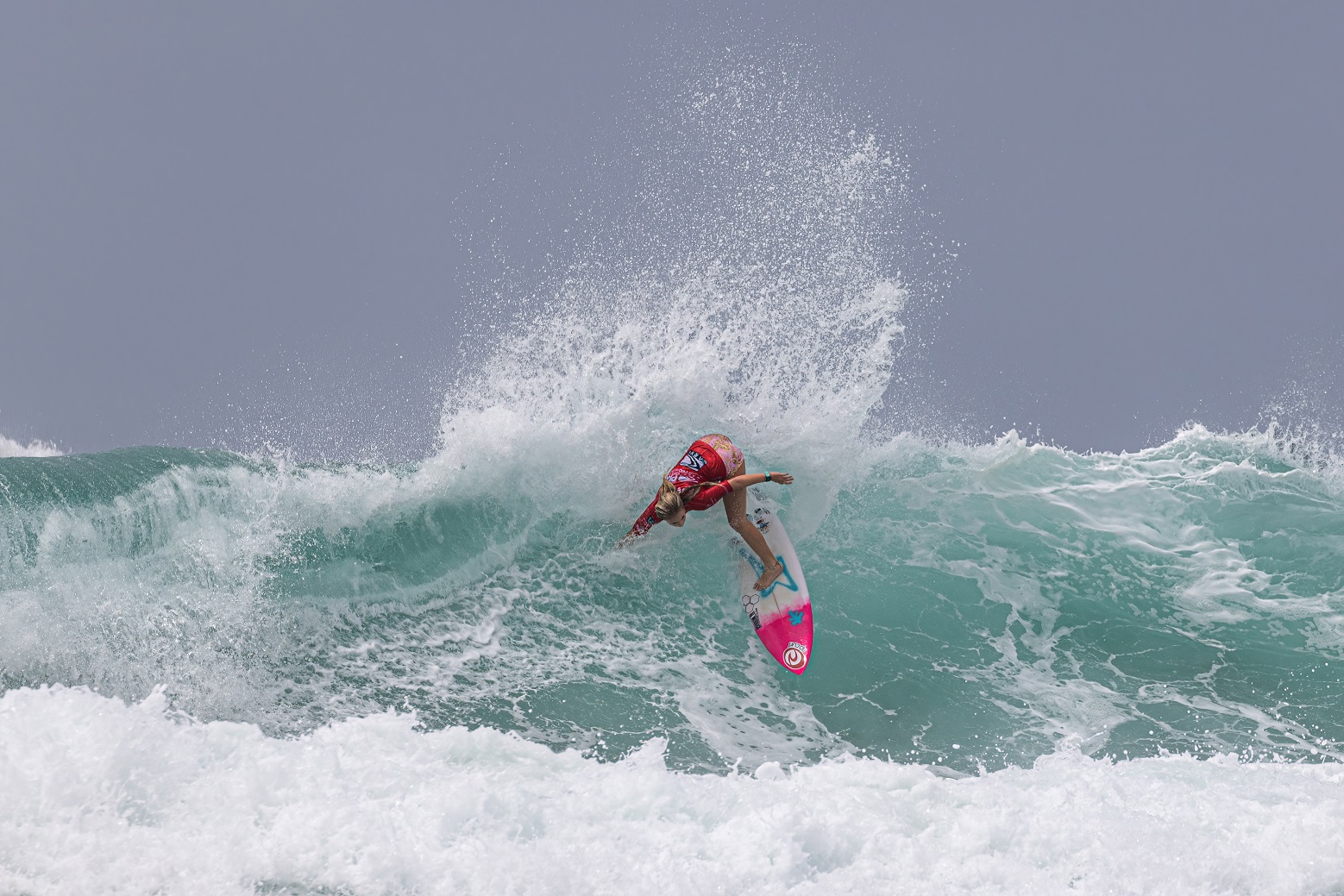 Nyxie Ryan. Photo Credit: WSL / Natalie Meredith

Ryan takes home her first World Qualifying Series title giving her a huge confidence boost for the rest of the Vissla NSW Pro Surf Series. She now sits on top of the APAC rankings heading into the Gage Roads Port Stephens Pro starting on Sunday 27 February.
"I'm so honoured to take out the victory here in the Carve Great Lakes Pro at Boomerang Beach," Ryan said. "It's certainly going to take a bit of time for it to sink in but I'm just elated that I was able to get my first Qualifying Series win. To be leading the APAC rankings going into the Gage Roads Port Stephens Pro is amazing. I'm looking forward to the event down at Biribi Beach and to make some heats down there would be great".
Bodhi Leigh-Jones was gallant in defeat and will bank another strong result here at Boomerang Beach, as she looks toward continuing her strong run of form at the next event of the series.
"This is my first event of the year, so to start off with my best ever result is awesome," Leigh-Jones said. "Nyxie was absolutely ripping all events so no hard feelings there – she's a deserved winner. My aim is to stay within the top six and make it to the Challenger Series so this is a great start for me. I'm really stoked."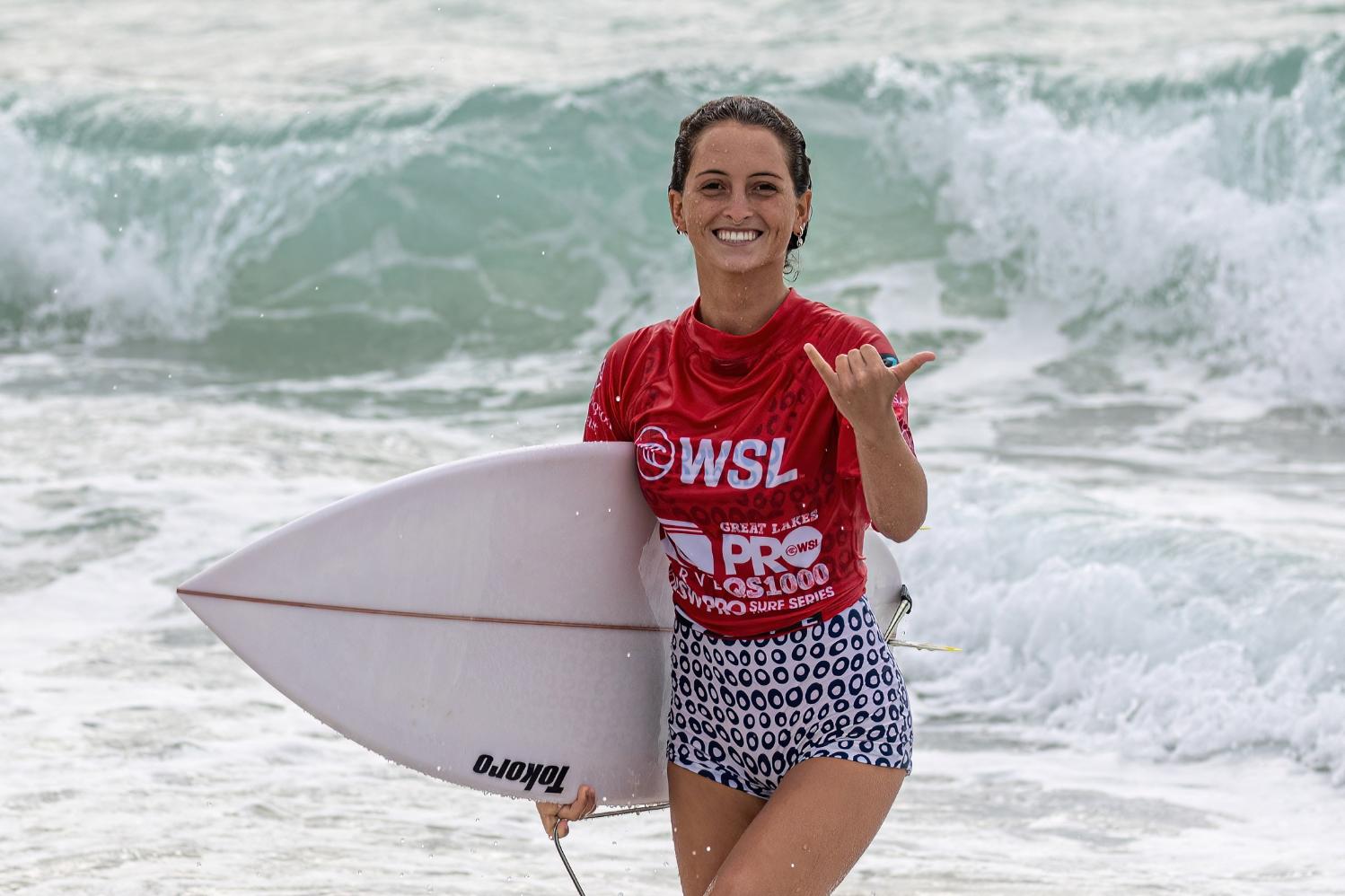 Bodhi Leigh-Jones.
Photo Credit: WSL / Natalie Meredith
The 2022 NSW Age Surf Life Saving Championships + Schedule Changes Due To Weather Forecast For Coming Week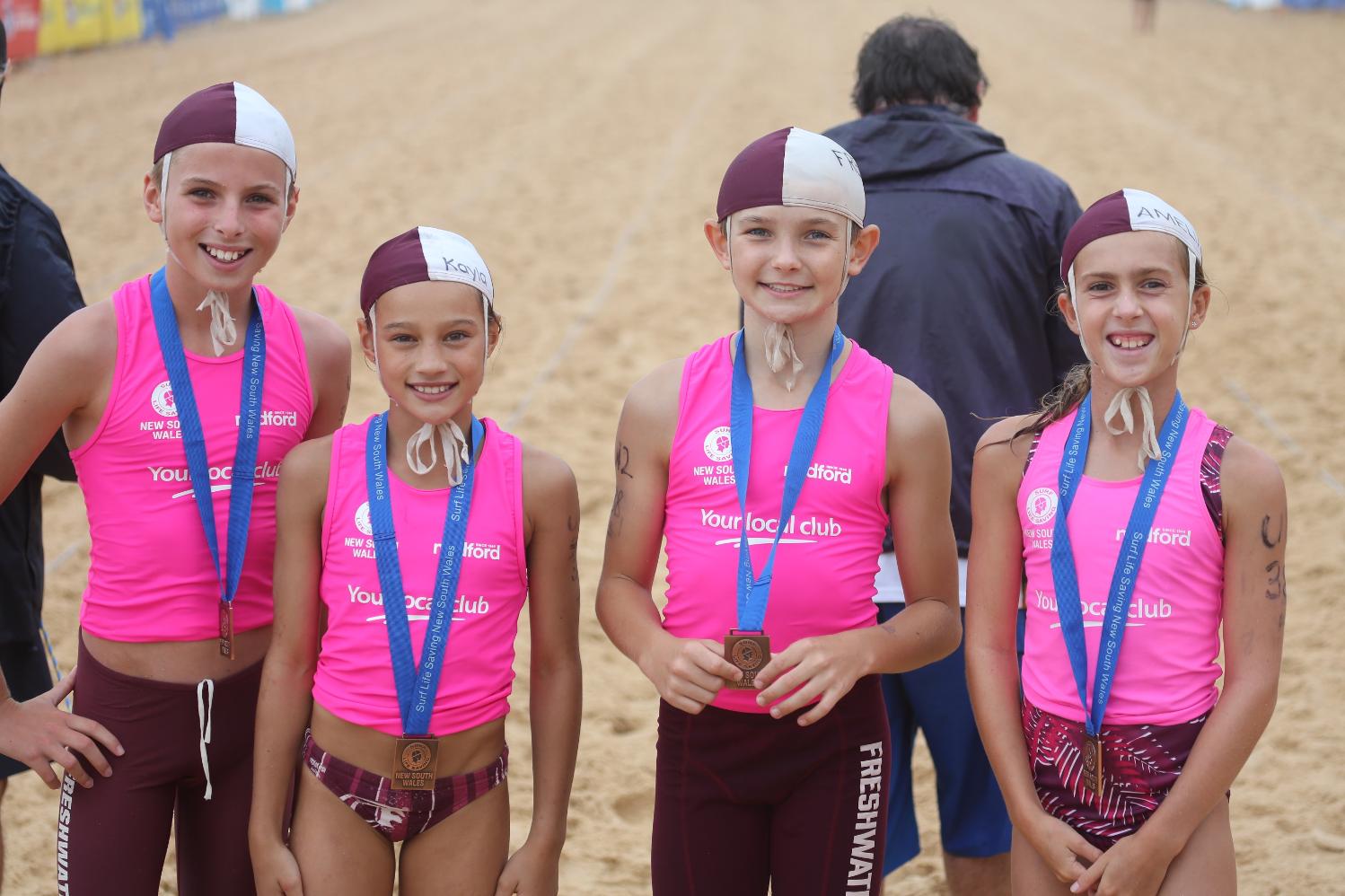 Freshwater Age competitors enjoying the States on their home turf, and the medals! Photo: Surf Life Saving New South Wales
The 2022 NSW Age and Youth Surf Life Saving Championships proudly supported by Your local club kicked off on the northern beaches from Thursday 24 February, with thousands of the state's best young lifesavers preparing to battle it out in the surf and on the sand.
After five years in the Lake Macquarie region, Queenscliff SLSC, alongside Freshwater SLSC to the north and North Steyne SLSC to the south, would be the scene for the first four days of the 12-day NSW Surf Life Saving Championships, with Under 9 through to U15s competing in everything from swim, board, relays, beach sprints and flags, through to Rescue and Resuscitation and the Junior March Past event on Sunday.
The volunteer work party from the host clubs have installed more than 1km of crowd control barriers, running along the iconic Manly beach strip, signalling the beginning of the three week event, the pinnacle of the Surf Life Saving NSW sport calendar.
Following a successful Country Championships just under a month ago at Cape Hawke SLSC, Surf Life Saving NSW Director of Surf Sports, Don van Keimpema is anticipating Nippers will be eager and ready to go – even if the weather isn't playing fair.
"The heavy rain recently across the Sydney basin hasn't come at the best time, but we're still ready for all the best young athletes to hit the beach over the next four days," he said.
"The State Championships is our showpiece event, our opportunity to bring everyone together from up and down the NSW coastline doing the things we love. The Age Championships are a fantastic way to kick it off.
"For the first time we have included our U15 competitors in their very own Youth Championships rather than having them compete in the Open event next weekend.
"We've got three fantastic beaches and we're back in metropolitan Sydney for the first time in almost 20 years, it's going to be a great showcase of sportsmanship and talent.
"If the weather continues to wreak havoc, we are prepared with contingency plans but we're committed to staging these Championships as scheduled and with as minimal disruption as possible."
The first official NSW Championship event for Nippers was held in 1968 at Merewether Beach in the Hunter branch with over 1000 young athletes.
Now, some 54 years later, more than 3000 enthusiastic Nippers and young lifesavers were competing at the highest level – a testament to the evolving nature of the Championships and its ability to inspire and establish great athletes.
Not even the rain could dampen the spirits of the state's most dedicated, talented juniors as the first day of the NSW Age Surf Life Saving Championships, commenced. Unfortunately by mid afternoon on Saturday, day 3 of the Age Competition, the Competition Committee advised of the difficult decision to cancel the remaining events for the 2022 SLSNSW Youth Championships. The Open Lifesaving competition scheduled for Sunday 27th of February is also suspended and further advice on scheduling to be provided in due course. The decision was made based on deteriorating weather conditions with the health and safety of members in mind.
Proposed Closure Of Crown Land Reserve Sets Community Members Against Each Other: Retaining Pittwater Paths A Community Priority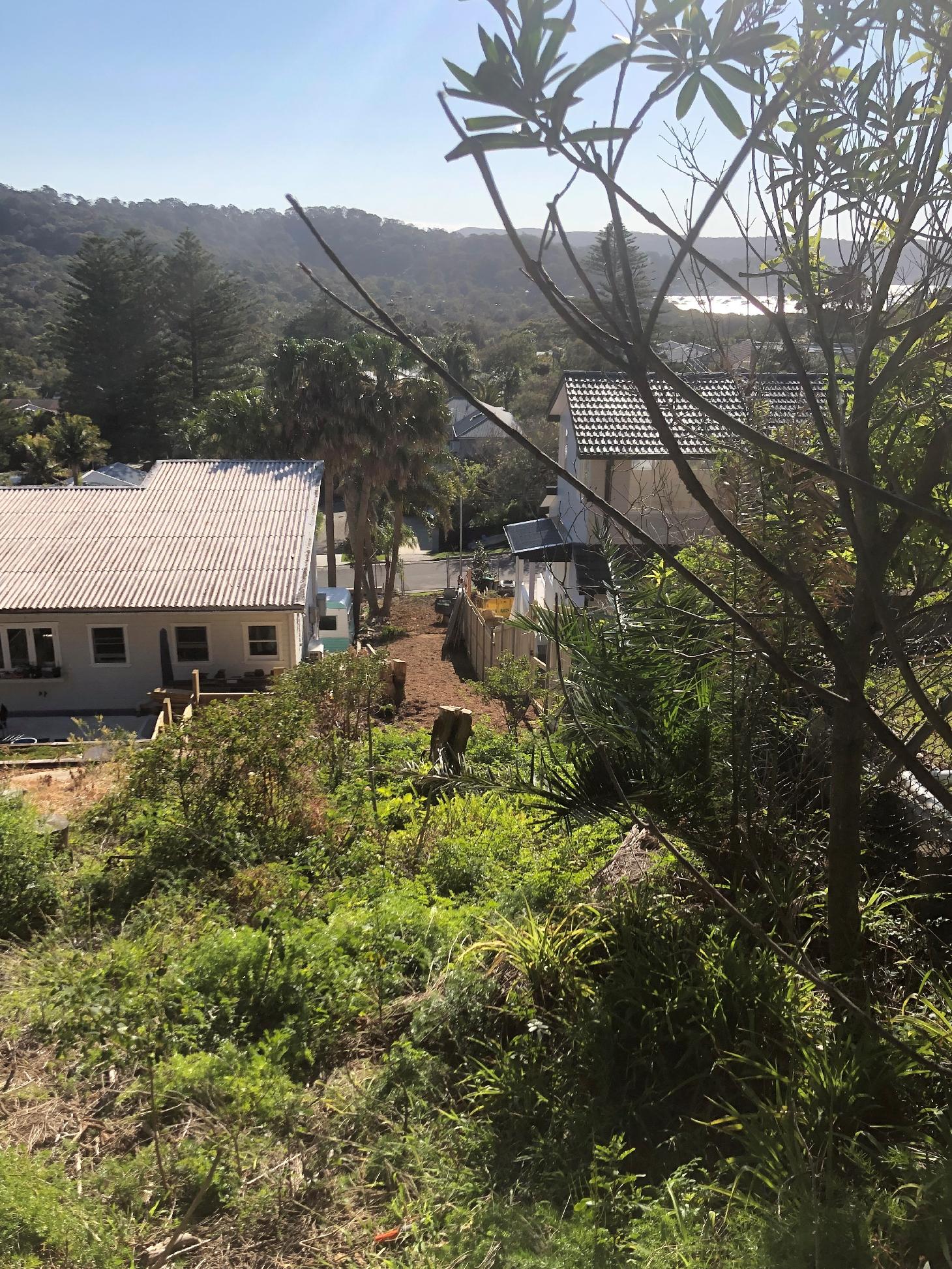 The council are considering an application for the formal closure of a Crown Land public road reserve in Avalon Beach.
The road reserve is a 3.66 metre wide unconstructed pathway on Watkins Road, between 32 Watkins Road and 34 & 36 Watkins Road.
The closure would enable the sale of the land to the adjoining owner at 32 Watkins Road (Lot 16 DP 11096) for the potential construction of a second dwelling (behind the existing dwelling at 32 Watkins Road).
Aware that this section could be cleared and then used as an extra access point to Bangalley Headland Reserve, the proponent enquired of the council if access could be retained through the subdivision of the lot to Bangalley Headland so that a pathway remained.
The National Construction Code 2019 and Australian Standard AS3600 regulate the construction of concrete structures on properties. It sets out minimum requirements for the design and construction of concrete building structures and members that contain reinforcing steel or tendons or both.
Under AS3600 the minimum width for driveways, regardless of their length, is 2.5-3 metres. It can increase to 5-6 metres for a standard sized property with a double garage.
The width of the driveway will depend on your local Council requirements. Councils will have a minimum and maximum for each, so it's important to confirm your local regulations before applying for permits.
A half metre or more path would have been thin but still allowed access, there are thinner bush tracks in Pittwater. However, the proponents were informed a minimum 3 metre width would apply in this case.
These types of reserves are formal lots and are managed and sold accordingly. I.E.; if you wanted to purchase just a portion of the lot you would have to go through a formal land subdivision process first. So, the Council/Crown, as the owner, would need to formally facilitate this for the prospective buyer.
The proponent has employed workers to clear this previously overgrown pathway so that it can now clearly be seen, apart from the infestation of weeds that grows at and over the boundary point and into Bangalley Headland Reserve.
This week one of those workers, the youngest member of the team, an apprentice, was approached and threatened by a resident when leaving work for the day. This incident is a reflection of the emotion that has been stirred up in the community and a poor example of targeting someone not responsible to dump their frustration on.
Similarly the proponent has been vilified on social media and via videos.
Councils are quite naturally risk adverse and seek to minimise litigation costs on ratepayers as well as being mindful of the dangers any of these tracks may have for those who choose to use them to access these spaces or go on these walks.
The exhibition webpage for this proposal states under 'Frequently asked questions':
Could the local residents use the road reserve area in the future?

There has been a desire from local residents to have a public accessway from Watkins Road to Careel Headland Reserve. However, due to safety issues that could potentially arise from the steepness of the terrain, as well as alternative accessways to the reserve available nearby, it is unlikely that a public accessway would be supported in the future.

Do local residents currently use the road reserve area?

This road reserve is not currently being used by local residents due to being an unconstructed public pathway and heavily vegetated.
And:
​What is Council's role in any sale of the road reserve?

Council has no role in any future sale and will not receive any proceeds. Any proposed sale of the road reserve will be managed by DPIE - Crown Lands.
Councils have, in fact, been delegated authority over these types of crown reserves – so they have to financially support them. Councils (naturally) prioritise funds towards reserves that people actually use and know exist.
The council's FAQ statements also reflect what residents state they are experiencing all over Pittwater in regards to these bequeathed to the public, and council as caretakers, public pathways or crown reserves.
During last year's the lockdowns, Pittwater Online was contacted by one Newport mum who had been reading our Newport and Bungan history pages with her children. The mum could not find the access point to Bushrangers Hill and needed to know where to starts – all the being home schooled students wanted to go and have a look at and explore what they'd been reading about.
Pittwater Online provided the information, but apparently there was a fair amount of 'bush bashing' to get there. No maintenance had been done, for quite some time and the access path was no longer clearly signed.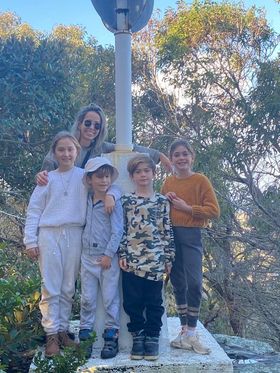 We received this message and this photo:
'We made it 😌 - Lots of effort and so overgrown but felt so great to find this little secret. The lookout was amazing both over Pittwater and the ocean'.
Connection was the fundamental reason for the creation of these paths in the first place; connection between reserves and roads for those living in points with poor access roads during those early developments when not many could afford a vehicle(Palm Beach and Whale Beach for example) and connection to these places as public recreation reserves.
The Bushrangers Hill Reserve at Newport is one ongoing unresolved example. In the past residents regularly accessed this reserve but it now appears that the access path for one section has been closed off by private development. This is an important reserve and needs good signage and access provision.
Pittwater's MP Rob Stokes, on a Ministerial letterhead (Minister for Infrastructure, Minister for Cities, Minister for Active Transport) has written to state he is opposed to the proposed road reserve closure.
As Minister for Active Transport and Member for Pittwater, Mr. Stokes has stated he would not support such a sale.
''The NSW Government does not need the proceeds from the sale of this land. There is much greater public value in retaining and improving this reserve for access for the community rather than selling the land for private development.'' Mr. Stokes said.
''I have confidence that Northern Beaches Council could build on enlivened community interest in this reserve to plan, design and deliver an accessible walkway. This reserve could form improved access to Bangalley Head, in addition to the established entrances at the northern and southern ends of the walkway.''
''Local communities have embraced public open space in the wake of the pandemic. Now is the time for government and councils to reclaim forgotten places like this reserve, and reintegrate them into our network of streets and parks.
Although the road reserve is unsigned, obstructed and overgrown with weeds as a result of long term neglect, its current condition is not a sufficient reason to justify the closure and sale of public land.'' The MP for Pittwater says.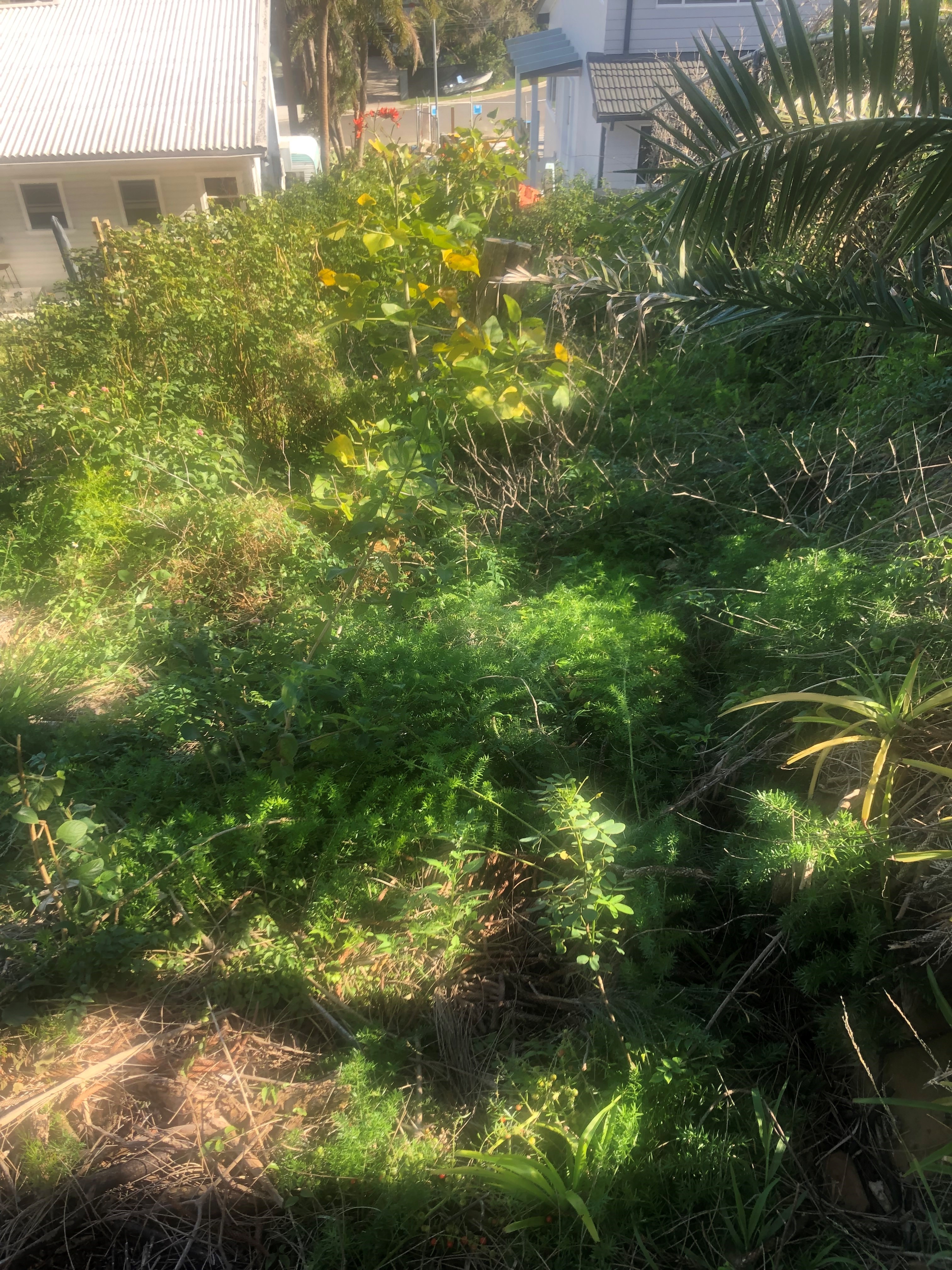 view from Bangalley Head Reserve down the hill shows the weeds, on the BH reserve, blocking access
The Upper Northern Beaches Rotary Club's Inaugural Art Show To Support Local Charities
Upper Northern Beaches Rotary is holding its Inaugural Rotary Art Exhibition & Auction to raise funds for important charities making a difference in our local and global community. The event will be held in the Mona Vale Memorial Hall, 1 Park Street, Mona Vale.
Charities selected for this event all work with women and/or children in crisis, with the aim of reaching permanent positive outcomes to halt the crippling cycle of issues such as family trauma, economic hardship, poverty and homelessness.
The Joint-President of the Club, Elizabeth Lovell says that "The quality of local art is fabulous and we are so excited to have such a variety of mediums, including painting, glasswork, photography, weaving and sculpture. Rotary Upper Northern Beaches is so looking forward to supporting our local artist community as well as these important charities."
The exhibition kicked off with an opening event for the public on Friday 25th February. On the night, the Johnson Bros Mitre 10 Rotary Art Exhibition Winner of $2000 was announced as Tony Cabassi for his painting 'Hues of Blue' - a stunning work which looks abstract up close but when you stand back you can see storms, rain and streaks of diffused and vibrant lights.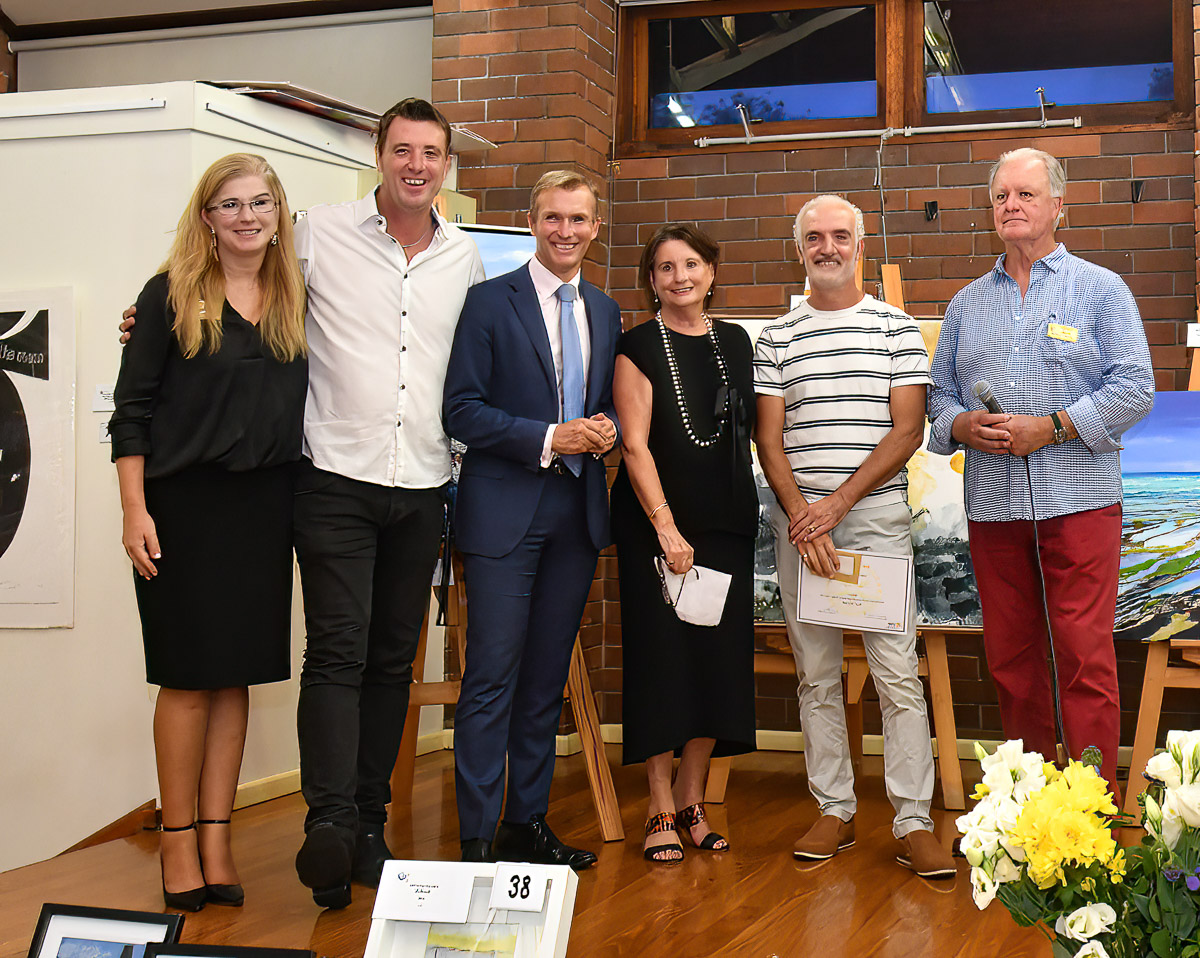 Left to right: President (Joint): Elizabeth Lovell, NBC Mayor Michael Regan, Pittwater MP The Hon. Rob Stokes, Beth Lawson, chair of NB Women's Shelter,
Tony Cabassi, Tony James. Photo:
Michael Mannington OAM
A selection of the works were auctioned as part of the proceedings, with all items quickly being snapped up.
Over the rest of the weekend, the balance of works are for sale and entrance to the exhibition is via a gold coin donation at the door, with no pre-booking required. There are 63 Artists and over 200 paintings on display ranging from brilliant amateur works to paintings by Artists who have entered Archibald's and other professional compeitions.
The exhibition and sales will be open on Sunday 27th February from 9am-1pm in the
Mona Vale Memorial Hall, 1 Park St, Mona Vale
.
At the end of the weekend, a Peoples' Choice Award of $500 will also be awarded to an artist.
Artists will receive 50% of the selling price and the balance will be donated between these four charity areas - so you can find something unique for your own home and also be supporting the great work of these charities: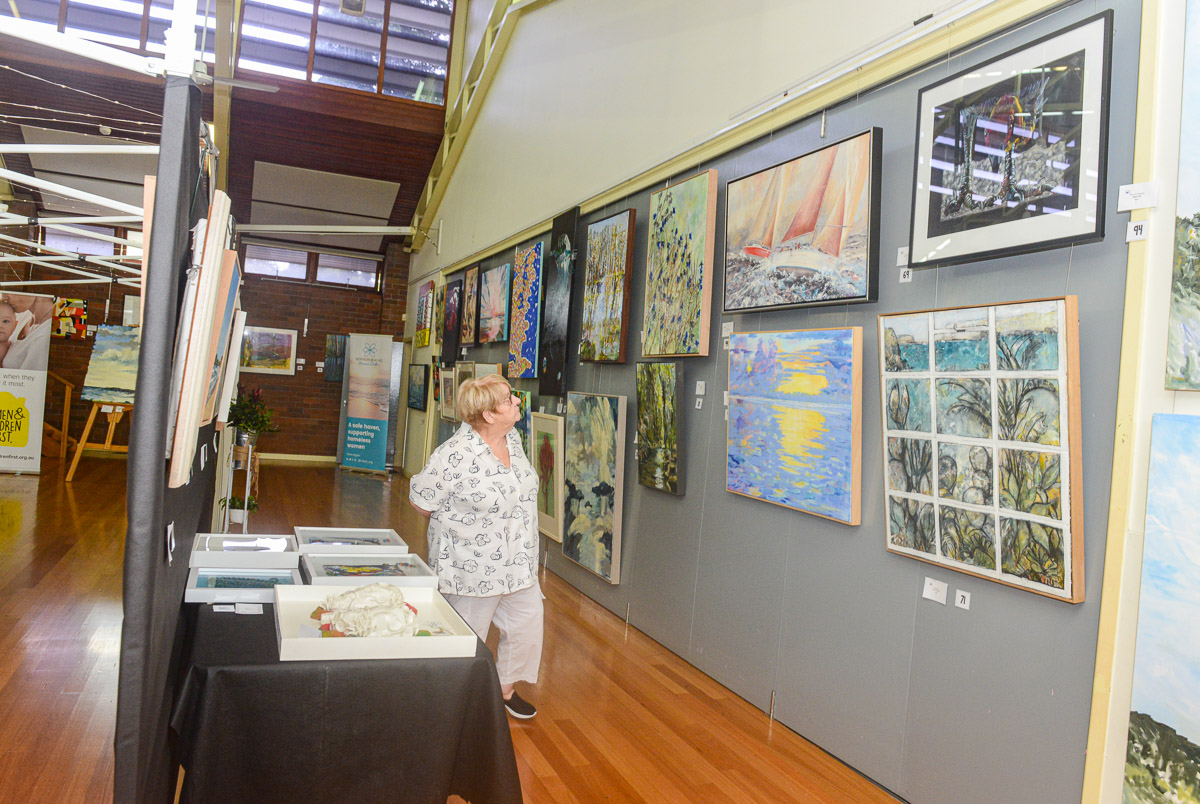 The
Upper Northern Beaches Rotary Club
area includes the part of the Sydney Northern Beaches area stretching from Collaroy to Palm Beach. The area is virtually surrounded by water, bordered by the Tasman Sea to the east, Dee Why to the south and Pittwater to the west and north.
Each Rotary Club is part of a district. The Rotary Club of Upper Northern Beaches is part of District 9685, one of two districts covering the Sydney metropolitan area. The district includes 79 Rotary clubs in the area stretching from the Blue Mountains to the sea north of Sydney Harbour, reaching across the Hawkesbury River and north to Toukley on the Central Coast.

Although over 120 years young, the Rotary movement in 2022 is 1.2 million neighbours, friends, and community leaders in more than 200 countries who come together to create positive, lasting change in our communities and around the world.
The objectives of Rotary are:
Forming friendships and engaging through a group as a way to perform community service.
Practising high ethical standards in business, professional and individual conduct, whatever our occupation or role in life.
Applying the ideal of service to our personal and community lives.
Advancing international understanding, goodwill and peace through a world fellowship united in the ideal of service.
The core idea is to make the world a better place. UPNRC projects range from helping Australians who are having a tough time to supporting communities in other countries, enabling them to create their own sustainable future. There is always a focus on what needs support locally.
Summer Becomes Autumn In Pittwater
2022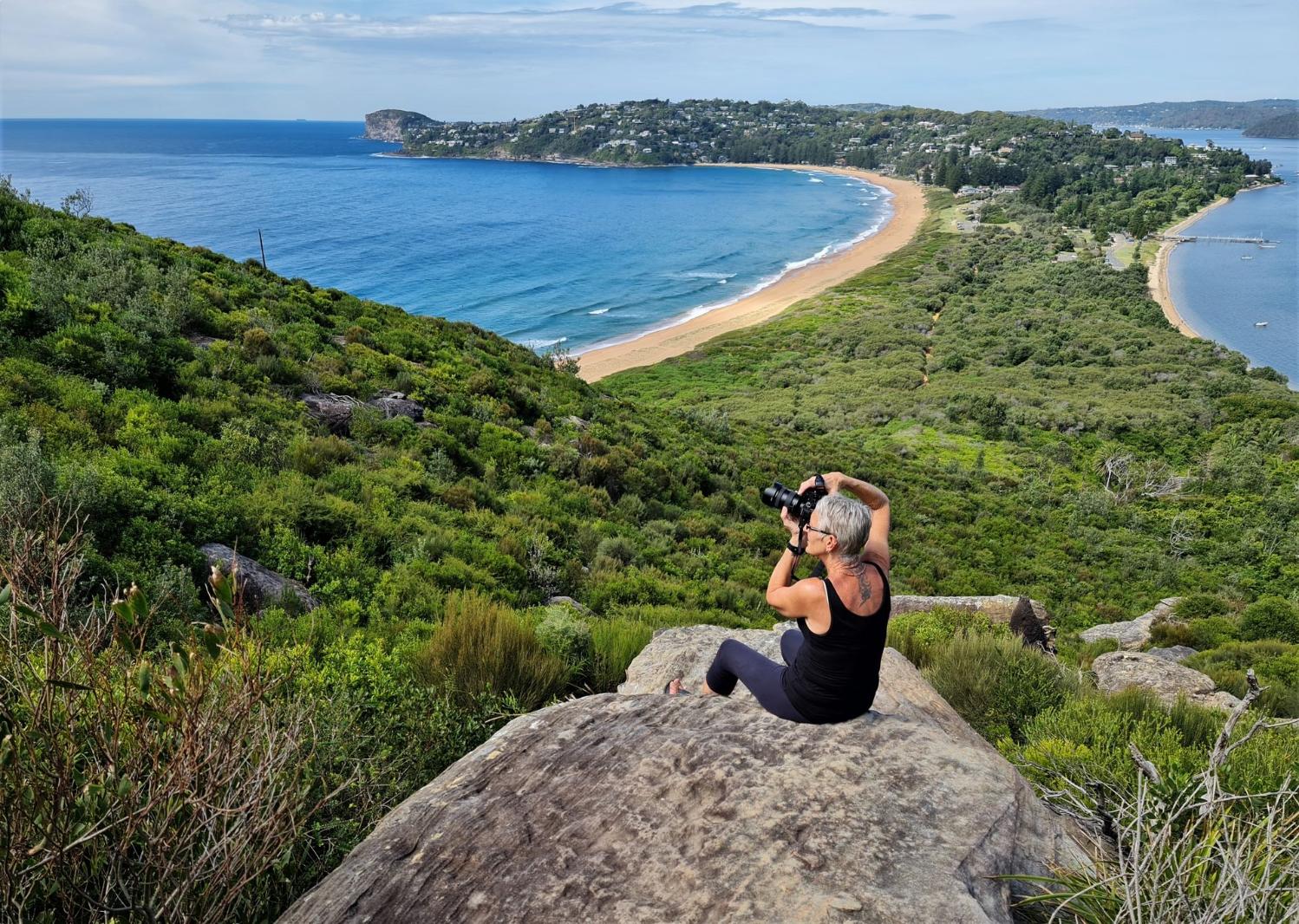 Barrenjoey Isthmus from Barrenjoey Headland. Photo: Joe Mills, Monday February 21, 2022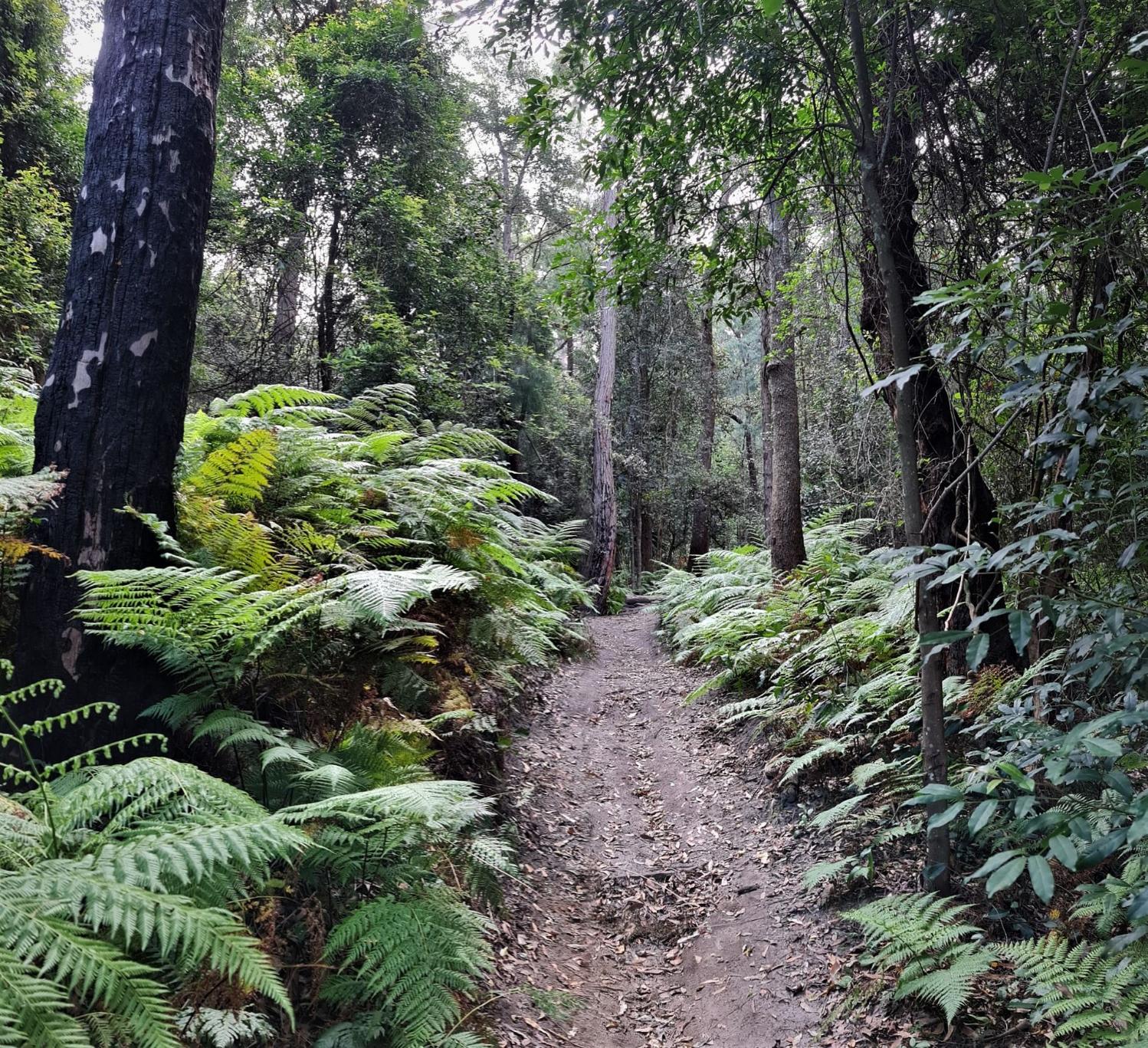 Ingleside Reveries. Photo: Joe Mills, Monday February 21, 2022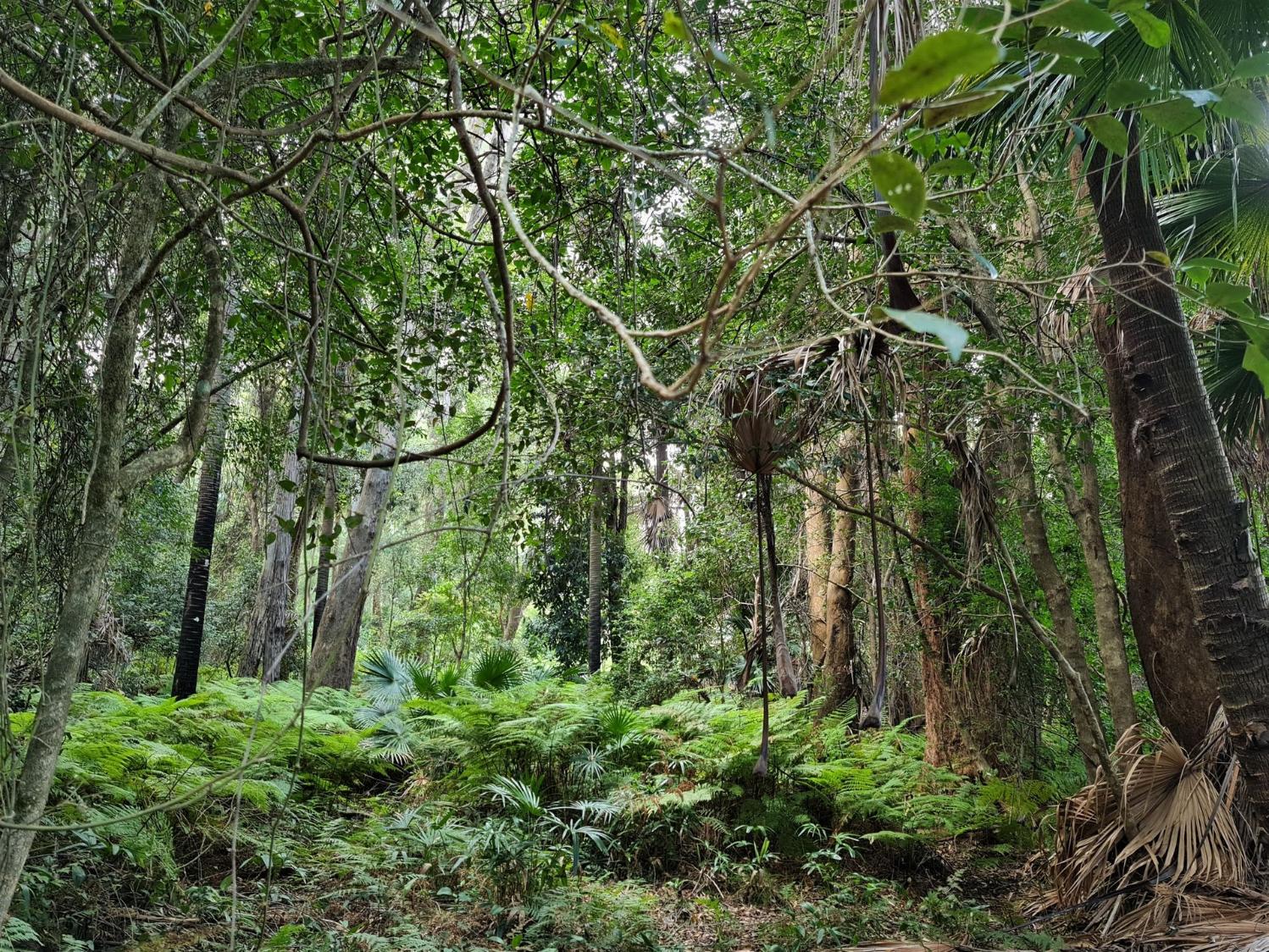 Warriewood Wonders. Photo: Joe Mills, Monday February 21, 2022
Past Features Archives (pre 2014)
Pittwater Online News was selected for preservation by the State Library of New South Wales and National Library of Australia. This title is scheduled to be re-archived regularly.
Archived Issues (2014 on) may be accessed here: pandora.nla.gov.au/tep/143700