September 19 - October 2, 2021: Issue 511

Marine Rescue Broken Bay Reminds Boating Community To Log On To Marine Rescue NSW This Spring Holidays: New MRBB Vessel In 2022, New MRBB Unit Build Update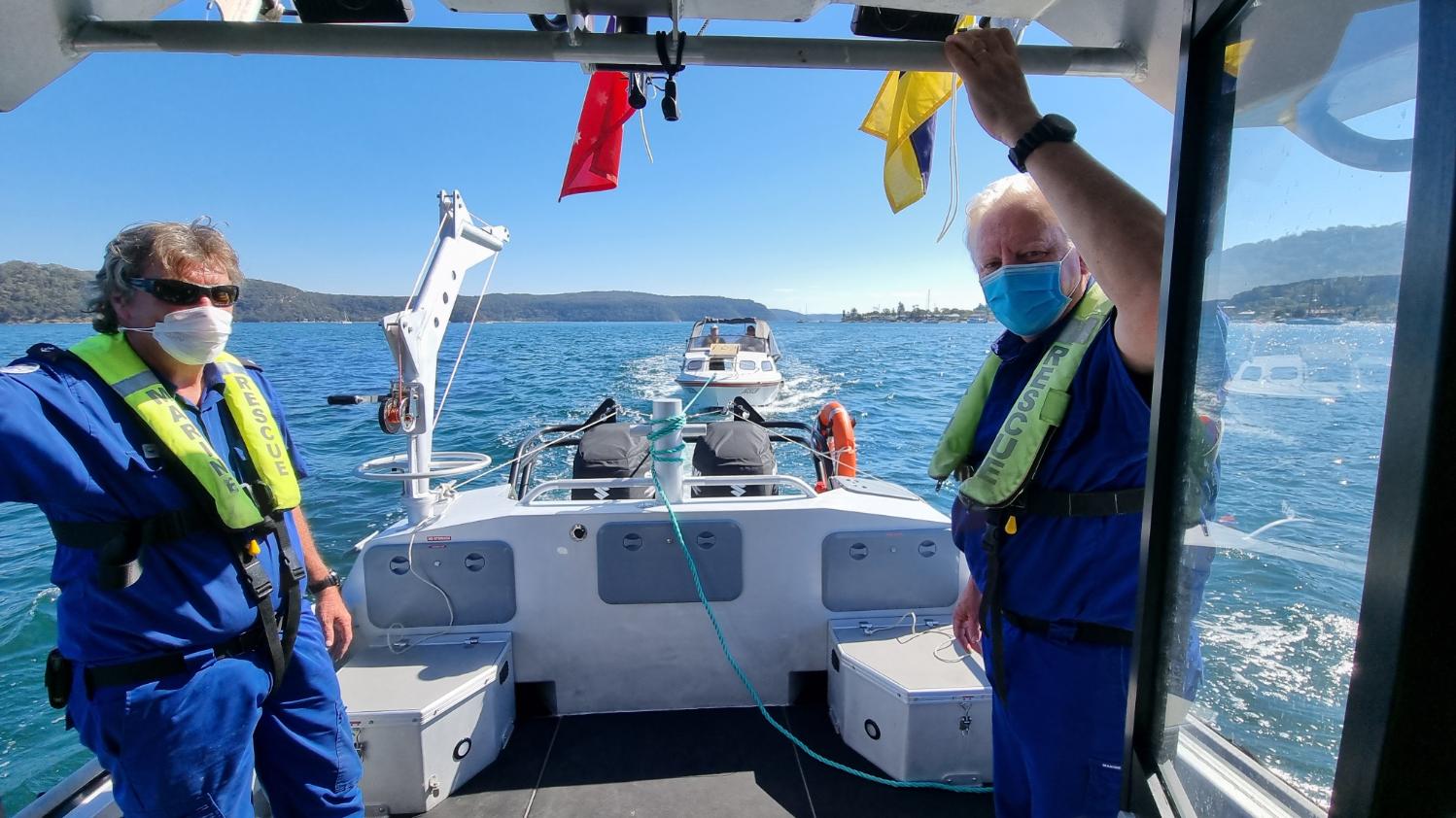 Marine Rescue Broken Bay members on Pittwater - September 2021. MRBB photo.
There have been a number of incidents recently involving people on kayaks and stand up paddle boards having difficulty on the water - resulting in them requiring assistance. Please do not enter or go on waters that you are not permitted to enter or if you are inexperienced.
Pittwater Online News spoke to Unit Commander Jimmy Arteaga ahead of the upcoming Spring Holidays confirming that the volunteer members will be out on the estuary and Broken Bay to assist those who may need help.
Jimmy has been Unit Commander for 3 years now and prior to that fulfilled a number of roles within the unit.
''We'd like to thank the Boating community for being responsible members and remind all that it's important to Log On and Log Off via the Marine Rescue NSW app before going out on the water.
This App also has a checklist you can do prior to leaving to assist boaters.'' Mr. Arteaga said
''Another measure people can take prior to going out on the water is to check the BOM (Bureau of Meteorology) and take into account the conditions. This is particularly worthwhile if you're going out on an SUP or in a kayak as you can check what the wind will be doing.
For instance, in Spring and Summer we get southerlies through Pittwater and surrounds – so if you're going out in the morning and then returning later on you may be paddling into a headwind.''
New MRBB Vessel in 2022
Mr. Arteaga stated there would be the two Marine Rescue Broken Bay boats out on the water over the weekends of the Spring School holidays with trained volunteers aboard. These vessels are also deployed when responding to other events – Marine Rescue Broken Bay volunteers were involved in flood rescues during the earlier 2021 floods, for instance.
Jimmy also broke the news this week that a new boat, one of the 7.5m Naiads, will become part of the Marine Rescue NSW fleet.
''This will be a great addition to Marine Rescue NSW and Marine Rescue Broken Bay. We're currently working out what's in and out of this vessel.
This will be the first Naiad of this sort in this areas and will make a great addition to how we can respond to events from March 2022.''
In November 2020 MRBB officially launched the newly commissioned BB30, naming it the 'Michael Seale' in honour of this long term member who had given over 38 years of service to MRNSW and the RVCP.
Jimmy stated then the naming was richly deserved, recognising Mr Seale's record of service and input in many roles, including as a vessel Master, a Director and Chair of the RVCP, his involvement in the purchase of the unit's vessels, a Director on the initial Board and Fleet Committee of MRNSW, Deputy Unit Commander and Administration Officer.
Marine Rescue BB20, the "David B Harrison", was officially launched in October 2012 and has served the Pittwater and Broken Bay community ever since.
Marine Rescue NSW volunteers often head out in some of the most challenging sea conditions, risking their lives to save others. Naiad RHIBs are highly regarded by sea rescue organisations for their performance, handling and safety in all maritime conditions.

The new BB30 was built by Yamba Welding and Engineering. In September 2020 The Whiskey Project Group announced the acquisition of Naiad and Yamba Welding & Engineering Pty Ltd.
These proven and trusted industry leaders of maritime design, manufacturing and innovation will join sister company The Whiskey Project to form The Whiskey Project Group - an Australian owned and operated business that is helping to secure the future of Australia's end-to-end capability for military and specialist watercraft.
One of the co-founders of The Whiskey Project is Avalon Beach RSL Sub-Branch member ex-RAN Veteran Ryan Carmichael who was also announced as the new Chair of the Veterans Centre Australia this week - a name change for the Veterans Centre Northern Beaches to reflect its responses to assisting Veterans across Australia as much as locally.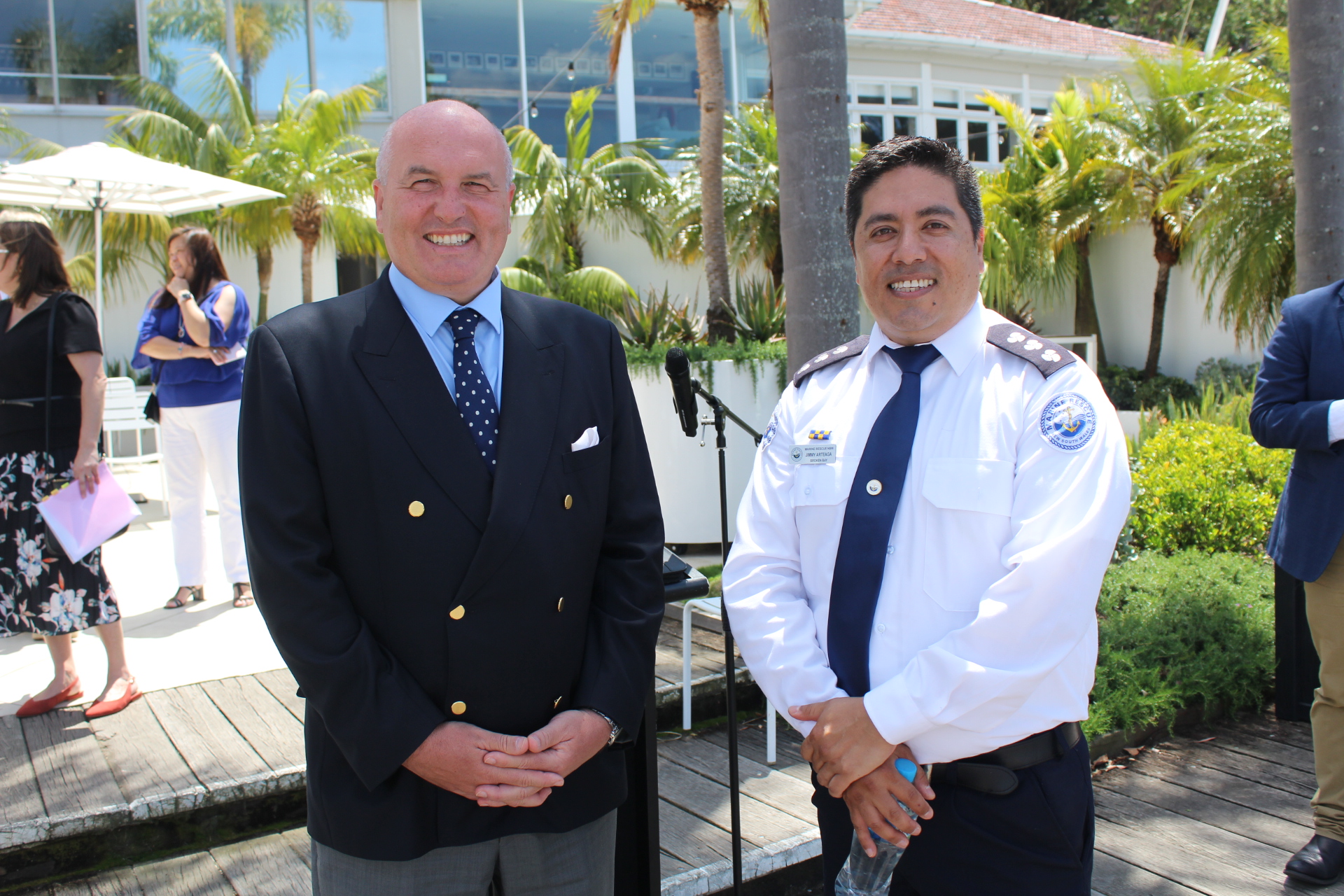 NSW Minister for Police and Emergency Services The Honourable David Elliott MP and MRBB Unit Commander Jimmy Arteaga at commissioning of the Michael Seale. AJG photo
Public Safety Highest Priority As Volunteer Lifesavers Return To Our Beaches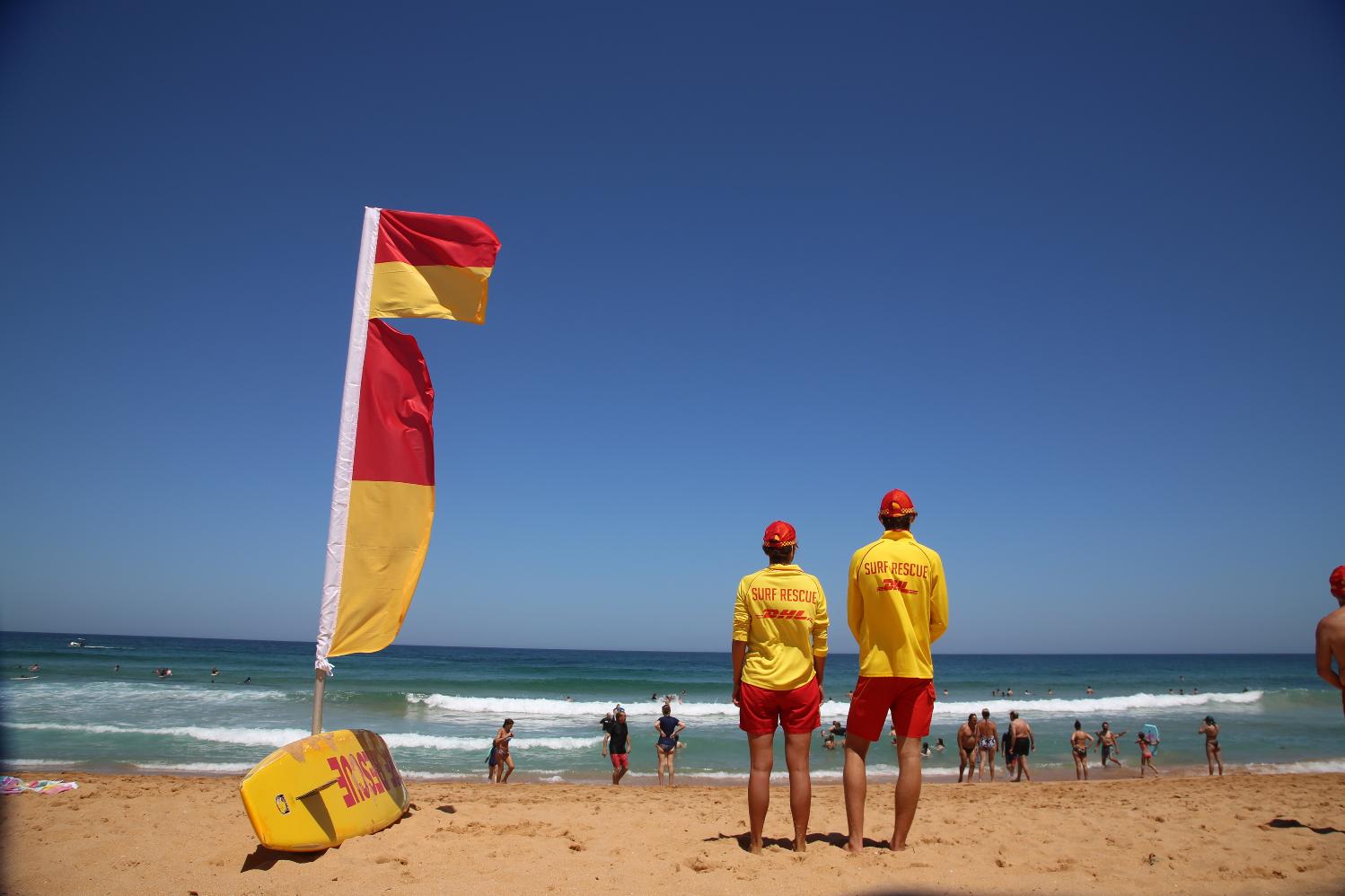 The first patrol of the new season began in earnest this Saturday, 18th of September, as thousands of volunteer lifesavers from up and down the NSW coastline return to the beach.
Ahead of a summer where high coastal visitation is expected following large-scale lockdowns, state border closures and international travel restrictions, Surf Life Saving NSW President, George Shales OAM says volunteers are well prepared to provide a safe environment for beachgoers.
"NSW is blessed to have beautiful beaches, with many of them patrolled by Surf Life Saving NSW volunteers and our 129 clubs," he said.
"We have invested significantly over time in member education and training to upskill our members and ensure our beaches are as safe as they can be, but we are also imploring the public to know their limits and to avoid placing themselves or their families in harm's way unnecessarily," said George Shales.
The NSW and National Coastal Safety Reports released last week detail an alarming increase in drownings in Australia, including some findings around a spike in incidents and drownings that have occurred following the relaxation of Covid-19 restrictions.
"Our real fear is that the risk of coastal drownings will increase coming into summer, as restrictions ease and people flock to the coast for recreation or holidays."
Like last year, there will be some significant challenges for lifesavers this season, with volunteers in metropolitan and many parts of regional NSW beginning the season under Covid-19 restrictions.
Across the state, surf clubs are prepared and safety measures are in place to protect volunteers, including a large scale rollout of Personal Protective Equipment (PPE) in the form of face masks, gloves, eye protection and sanitiser. Modified training, first aid and CPR procedures are also in place and it has been recommended to clubs to reduce the number of lifesavers on patrol for the time being, to keep members as safe as possible.
"The safety of our members is paramount, however we are concerned that if lifesavers are not present on our beaches, lives will be lost," said George Shales. "While it's not an ideal start to the season in many ways, we are confident the measures we have in place will enable lifesavers to continue to provide frontline beach safety services safely."
While volunteer lifesavers will not be tasked with enforcing social distancing, Surf Life Saving NSW will be assisting authorities and coastal councils to provide real-time information on overall beach attendance and help coordinate beach closures if required. UAVs will also be available to be used to estimate numbers of people on beaches and identify other hazards to the public if requested.
The role of volunteer surf lifesavers this summer includes:
Identify the safest part of the beach to position the red and yellow flags
Patrol the flagged area and monitor the beach conditions
Conduct preventative actions and rescue people in distress
Provide modified first aid and assistance to people in trouble on the beach and in the water
Work with other emergency services to assist with incident response away from patrolled locations or outside patrol hours
Provide information to beachgoers about surf conditions, beach safety and beach alert or closure information due to Covid restrictions (via the Beachsafe Website or App)
Proactive communication to remind people about social distancing requirements as outlined by the relevant Public Health Order (PHO)
Volunteer surf lifesaving patrols will continue each Saturday, Sunday and Public Holiday right through to Anzac Day 2022.
Visit: 2021 NSW Coastal Safety Report By Surf Life Saving NSW
The SLSA National Report runs HERE
Spring Holidays In Pittwater
2021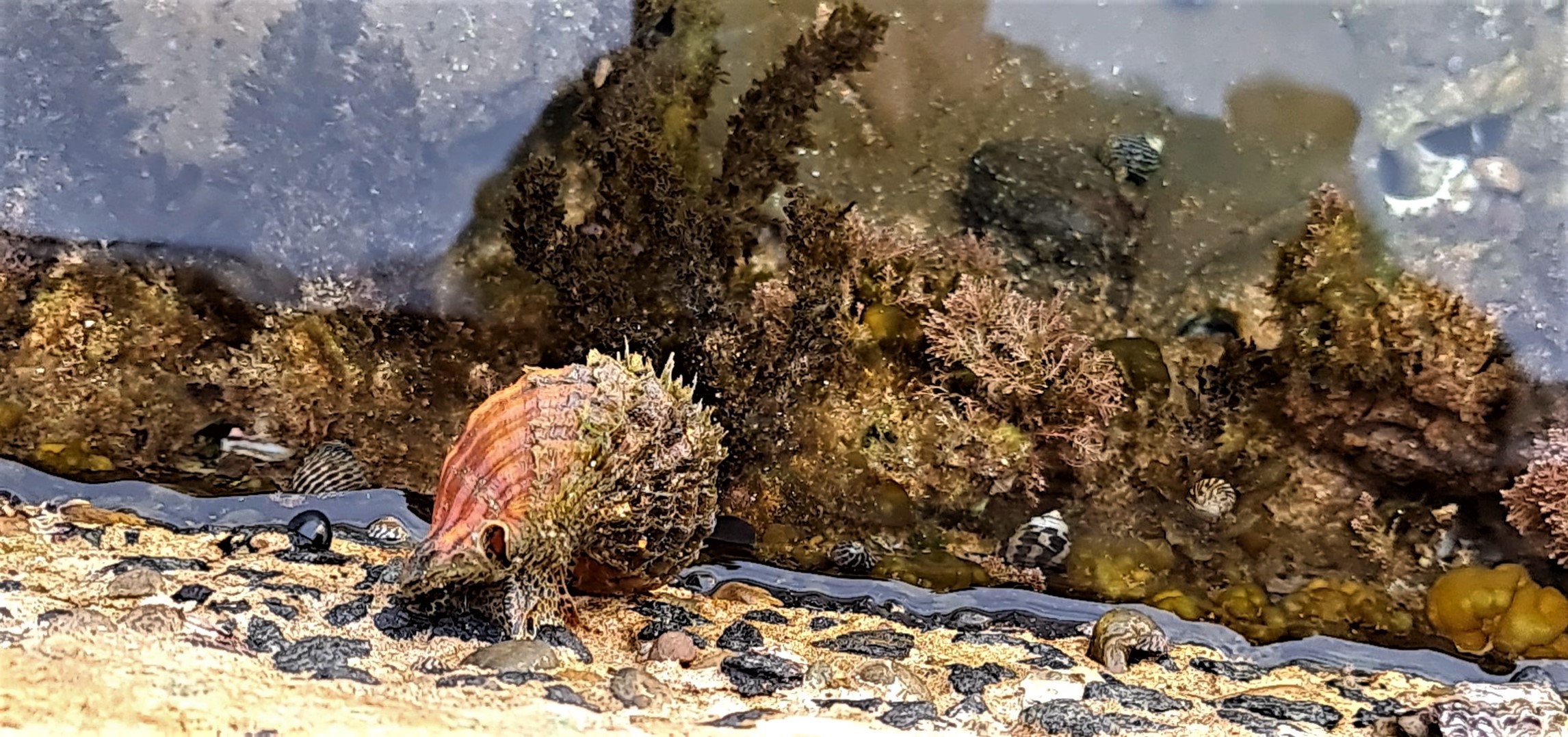 Phalium flammiferum
, the striped bonnet, is a species of sea snail, a marine gastropod mollusc in the family Cassidae, the helmet snails and bonnets - taken on the side of the Narrabeen Rock Pool wall recently. The shell animal is crawling up the pool wall, and the other shells and seaweed are just below the water surface. You can see the water demarcation line.
Worth exploring these school holidays - our tidal rock pools. - Photo and report by Joe Mills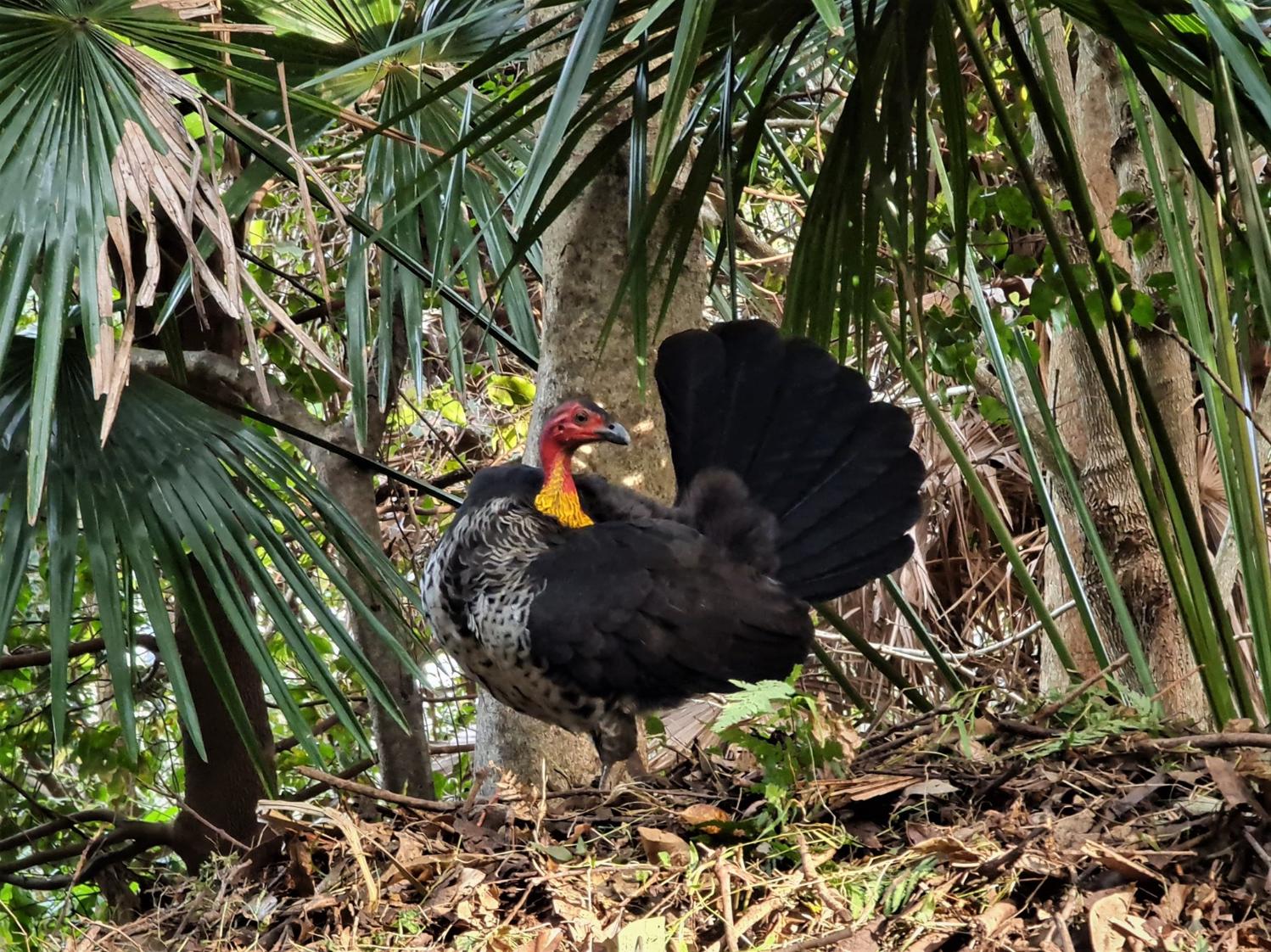 This is one of the interesting characters of our local bush and wetlands, the Brush Turkey (male in pic). This one is pictured on top of his mound of leaf, soil and twig matter. During Spring (now) he works feverishly scaping all the loose matter around his mound, working backwards. He aims to impress and attract a female, have a bit of foreplay and get her to lay some eggs in the centre of the mound. Once that is completed, he solely looks after the mound, maintaining a constant temperature by scraping off the top or adding more to the top. After about a month the chicks are born and they are independent straight away. They look after themselves. An interesting bird. Not very shy, but do keep their distance from us humans. They roam all around our neighbourhoods, especially along creek reserves, and occasionally try to scrape our tan bark garden beds. I love them and their nesting abilities. -
Photo and report by Joe Mills
Past Features Archives (pre 2014)
Pittwater Online News was selected for preservation by the State Library of New South Wales and National Library of Australia. This title is scheduled to be re-archived regularly.
Archived Issues (2014 on) may be accessed here: pandora.nla.gov.au/tep/143700