September 19 - October 2, 2021: Issue 511
Public safety highest priority as volunteer lifesavers return to our beaches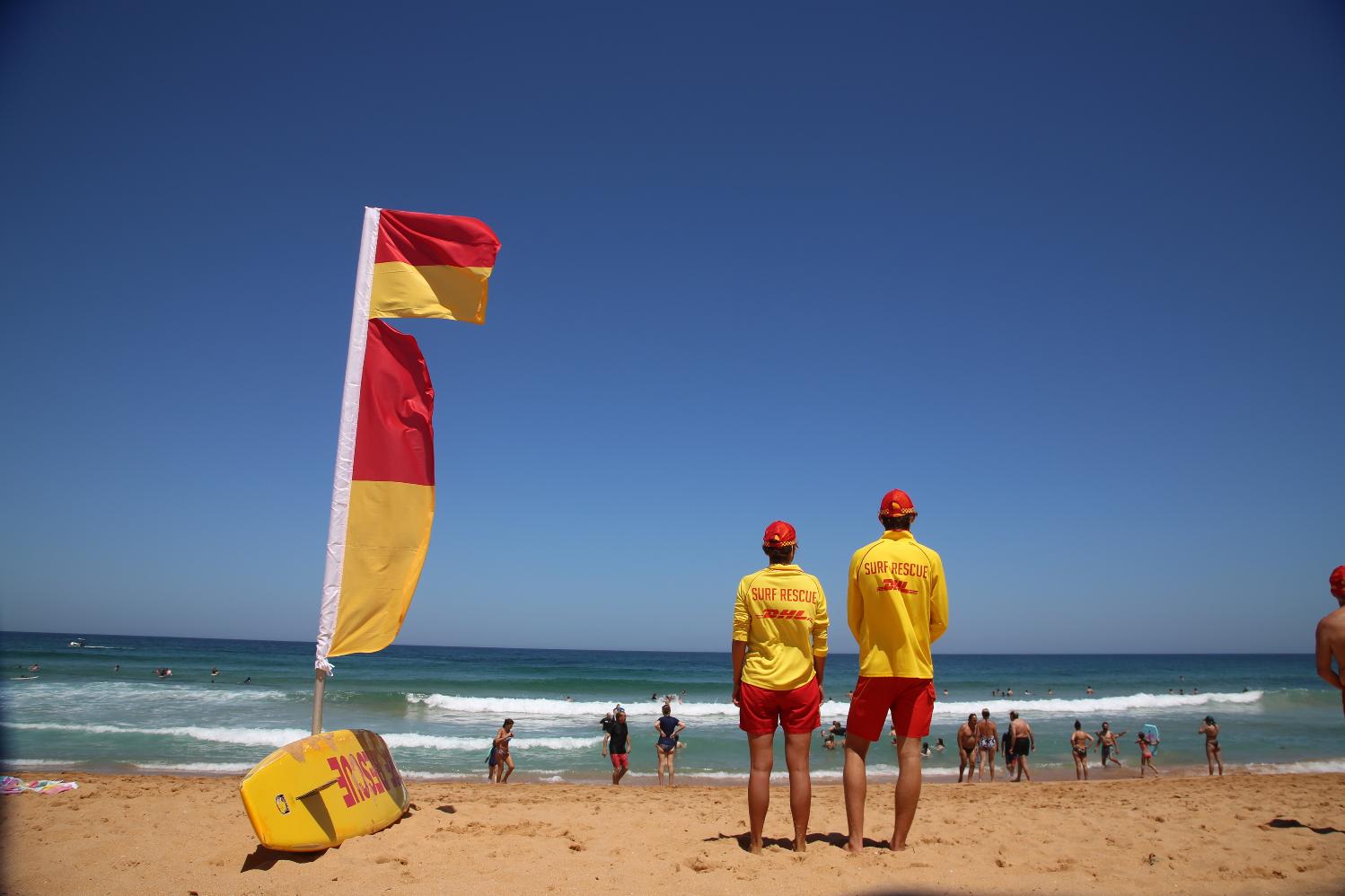 The first patrol of the new season began in earnest this Saturday, 18th of September, as thousands of volunteer lifesavers from up and down the NSW coastline return to the beach.
Ahead of a summer where high coastal visitation is expected following large-scale lockdowns, state border closures and international travel restrictions, Surf Life Saving NSW President, George Shales OAM says volunteers are well prepared to provide a safe environment for beachgoers.
"NSW is blessed to have beautiful beaches, with many of them patrolled by Surf Life Saving NSW volunteers and our 129 clubs," he said.
"We have invested significantly over time in member education and training to upskill our members and ensure our beaches are as safe as they can be, but we are also imploring the public to know their limits and to avoid placing themselves or their families in harm's way unnecessarily," said George Shales.
The NSW and National Coastal Safety Reports released last week detail an alarming increase in drownings in Australia, including some findings around a spike in incidents and drownings that have occurred following the relaxation of Covid-19 restrictions.
"Our real fear is that the risk of coastal drownings will increase coming into summer, as restrictions ease and people flock to the coast for recreation or holidays."
Like last year, there will be some significant challenges for lifesavers this season, with volunteers in metropolitan and many parts of regional NSW beginning the season under Covid-19 restrictions.
Across the state, surf clubs are prepared and safety measures are in place to protect volunteers, including a large scale rollout of Personal Protective Equipment (PPE) in the form of face masks, gloves, eye protection and sanitiser. Modified training, first aid and CPR procedures are also in place and it has been recommended to clubs to reduce the number of lifesavers on patrol for the time being, to keep members as safe as possible.
"The safety of our members is paramount, however we are concerned that if lifesavers are not present on our beaches, lives will be lost," said George Shales. "While it's not an ideal start to the season in many ways, we are confident the measures we have in place will enable lifesavers to continue to provide frontline beach safety services safely."
While volunteer lifesavers will not be tasked with enforcing social distancing, Surf Life Saving NSW will be assisting authorities and coastal councils to provide real-time information on overall beach attendance and help coordinate beach closures if required. UAVs will also be available to be used to estimate numbers of people on beaches and identify other hazards to the public if requested.
The role of volunteer surf lifesavers this summer includes:
Identify the safest part of the beach to position the red and yellow flags
Patrol the flagged area and monitor the beach conditions
Conduct preventative actions and rescue people in distress
Provide modified first aid and assistance to people in trouble on the beach and in the water
Work with other emergency services to assist with incident response away from patrolled locations or outside patrol hours
Provide information to beachgoers about surf conditions, beach safety and beach alert or closure information due to Covid restrictions (via the Beachsafe Website or App)
Proactive communication to remind people about social distancing requirements as outlined by the relevant Public Health Order (PHO)
Volunteer surf lifesaving patrols will continue each Saturday, Sunday and Public Holiday right through to Anzac Day 2022.
Visit: 2021 NSW Coastal Safety Report By Surf Life Saving NSW
The SLSA National Report runs below
Australian drowning deaths spike new report from water safety experts reveals
September 8, 2021
New research by Australia's leading water safety authorities Royal Life Saving Society – Australia (RLSSA) and Surf Life Saving Australia (SLSA) has revealed a spike in drowning deaths in the past 12 months, with unfamiliar locations, exhaustion, and interruptions to regular swimming during the COVID-19 pandemic considered key factors.
In the Royal Life Saving National Drowning Report 2021 and Surf Life Saving National Coastal Safety Report 2021 released today, there were 294 drowning deaths in the past 12 months across Australia's coastline, inland waterways and pools, which is 20% higher than last year (245).
Two key trends emerged – spikes in drowning deaths immediately following large-scale lockdowns: and more Australians holidaying domestically and swimming in unfamiliar (and often unpatrolled) locations. Alarmingly men were once again overrepresented in the drowning statistics, accounting for 80%, with alcohol and drugs, risk taking behaviour and over-estimating their ability considered key factors.
While further research is needed, the findings from RLSSA and SLSA show that the impacts of COVID on increases in drowning deaths is largely attributable to:
Increased drowning risk among Australians visiting unfamiliar locations. COVID has seen more people seeking out remote places to escape crowds, swimming outside of patrolled hours, taking more day trips to isolated beaches, rivers or lakes and holidaying domestically at unfamiliar locations.
Increased drowning risk around the home. Complacency can often seep in when people are exhausted from working from home, homeschooling, and restricted time in confined spaces, sometimes resulting in distractions or unsupervised children around water.
Australians lack the swimming skills necessary to enjoy the water safely. COVID has seen children missing out on swimming lessons, adults and teenagers with reduced pool access who are no longer swim fit and/or lack confidence in the water leading to increased drowning incidents in open waterways.
With more Australians holidaying at home and visits to coastal areas and inland waterways increasing, water safety experts are pleading for people to not be complacent when on, in and around water.
SLSA and RLSSA as the leading peak authorities for water safety are looking at strategies ahead of the warmer months. The organisations are looking at:
Water safety campaigns to commence earlier to coincide with projected easing of restrictions
Urgent re-prioritisation of learn to swim programs once pools and swim schools reopen
Increased mobile and agile emergency and lifesaving services to be put in place
Campaigns urging people to swim at patrolled beaches and local aquatic centres (once reopened)
Campaigns reinforcing child supervision around water (home, rivers, beach), as well as pool fencing and gate maintenance ahead of summer
Encouraging all Australians to download the BeachSafe App (beachsafe.org.au) to inform the public where to find patrolled beaches and potential hazards at popular coastal locations.
Other key facts include:
Rescue-related incidents on our coast were up 150% from average, with rip currents at unpatrolled locations being prominent factors within these incidents
There were 25 drowning deaths among children aged 0-4 years, an 108% increase on last year and a 9% increase on the 10-year average.
People aged 25-34 years accounted for 17% of all drowning deaths, the most of any age group.
136 drowning deaths occurred on coastal waters, an 13% increase on last year and the 10-year average (n=120).
75 drowning deaths occurred in rivers and creeks; this is a 53% increase on last year.
With the support of the Morrison Government, Royal Life Saving and Surf Life Saving work with the Australian Water Safety Council, State and Territory organisations, and local communities to prevent drowning across the country and increase water safety awareness.
Prime Minister of Australia Scott Morrison said the Government was determined to support organisations like Royal Life Saving and Surf Life Saving Australia to raise water safety awareness and to make our pools, waterways and beaches safer.
"This summer, more than ever, Australians will want to get outdoors and enjoy summer. We are a water orientated nation, and it's part of who we are.
"Whether it's at the beach and the pool, in rivers and dams, or indeed, the family home, we all need to be mindful of how dangerous and unforgiving the water can be.
"The report brings together the learning of past years to remind us of what we can do to keep ourselves and our loved ones safe.
"Australia has some of the best volunteers and experts helping to keep us safe, but it's the responsibility of us all that we do our part to listen and practice the messages around water safety.
"Keep between the flags, be cautious when swimming in new surroundings, and wear a life jacket when you should.
"I thank Royal Life Saving Australia and Surf Life Saving Australia for this report and their important contribution to saving lives on our waters."
Minister for Sport Richard Colbeck said despite the enormous work to prevent drownings, ultimately keeping people safe was everybody's responsibility.
"Drowning deaths are more than just numbers on a page," Minister Colbeck said. "Every death is a tragedy that impacts families for years to come.
"We each have a responsibility to make wise decisions around water, to look out for ourselves and each other.
"It is more important than ever to recognise the inherent dangers around water, particularly as the weather starts to warm up."
Royal Life Saving Society – Australia CEO, Justin Scarr, said he was saddened by the tragic increase in child drowning, and the generational impacts of disruptions to children's swimming and water safety lessons.
"Royal Life Saving fears that many children will never return to lessons, so won't meet the fundamental water safety benchmarks, and will miss out on the lifelong benefits of being able to swim. Young children need constant supervision around water, and pool owners should check their pool fence and gate is in good working order ahead of summer," Mr Scarr said.
"We are concerned about the sharp increase in drowning deaths in inland waterways, particularly rivers. Alcohol and drugs are a key factor in drowning, and lead men to overestimate their swimming ability and under-estimate the risks," he said.
Surf Life Saving Australia CEO, Adam Weir said the last 18 months have been tough on all Australians and while enjoying Australia's coastline is a favourite pastime, it is no time to be complacent.
"With more Australians holidaying at home and making the most of our iconic coastline, our simple message is to swim at patrolled locations and be aware of your actions and decisions around the water, know your limits. We want to ensure everyone can enjoy our coastline safely and return home to loved ones," said Mr Weir.
"With 136 coastal drowning deaths in the past 12 months, sitting above the 10 year average, we are deeply concerned to once again see that men accounted for 90% of those drowning deaths.
"Visiting and exploring new places we know is going to be high on people's list when coming out of lockdown. But be sure to seek out patrolled beaches, download Surf Life Saving's Beachsafe App and when boating, using watercraft or rock fishing, always wear a lifejacket – it could save your life," he said.
The Full reports are available here:
Surf Life Saving Australia National Coastal Safety Report 2021 – Available in full at www.sls.com.au
Royal Life Saving Society – Australia National Drowning Report 2021. Available in full at www.royallifesaving.com.au
NATIONAL Key findings – Surf Life Saving National Coastal Safety Report 2021
136 coastal drowning deaths. This is above the 17-year average of 114 (19% increase) and 10-year average of 120 (13% increase)
241 deaths across Australia's coastline
Males represent 90% of coastal drowning deaths recorded for 2020/21
31% of all coastal drowning deaths were aged 20-34 years of age.
25-34yo and 65-69yo men were the most at risk demographic
51% of drowning deaths occurred more than 5km from a surf lifesaving service, a 6% increase from the 17-year average
Coastal drowning deaths due to attempting to rescue someone in distress (bystander rescues) increased this year by 150% from the 17-year average, with a clear association with rip currents at unpatrolled locations
During the past 12 months, Surf Life Saving services conducted more 8,000 rescues, treated over 53,000 people for first aid and performed 1.75 million preventative actions
NATIONAL Key findings – Royal Life Saving National Drowning Report 2021
294 drowning deaths in Australia in 2020/21; this is a 20% increase on last year (245 deaths) and an 8% increase on the 10-year average (273 deaths)
80% of drowning deaths were males
25 drowning deaths among children aged 0-4 years; this is a 108% increase on last year and a 9% increase on the 10-year average
People aged 25-34 years accounted for 17% of all drowning deaths, the most of any age group
Rivers and creeks were the leading location for drowning (26%), followed by beaches (22%) and ocean/harbour locations (15%)
75 drowning deaths in rivers and creeks; this is a 53% increase on last year and a 3% increase on the 10-year average
Swimming and recreating was the leading activity prior to drowning (25%), followed by boating (15%) and falls into water (14%)