September 19 - October 2, 2021: Issue 511
Marine Rescue Broken Bay Reminds Boating Community to log on to Marine Rescue NSW this spring holidays: New MRBB Vessel in 2022, New MRBB Unit Build update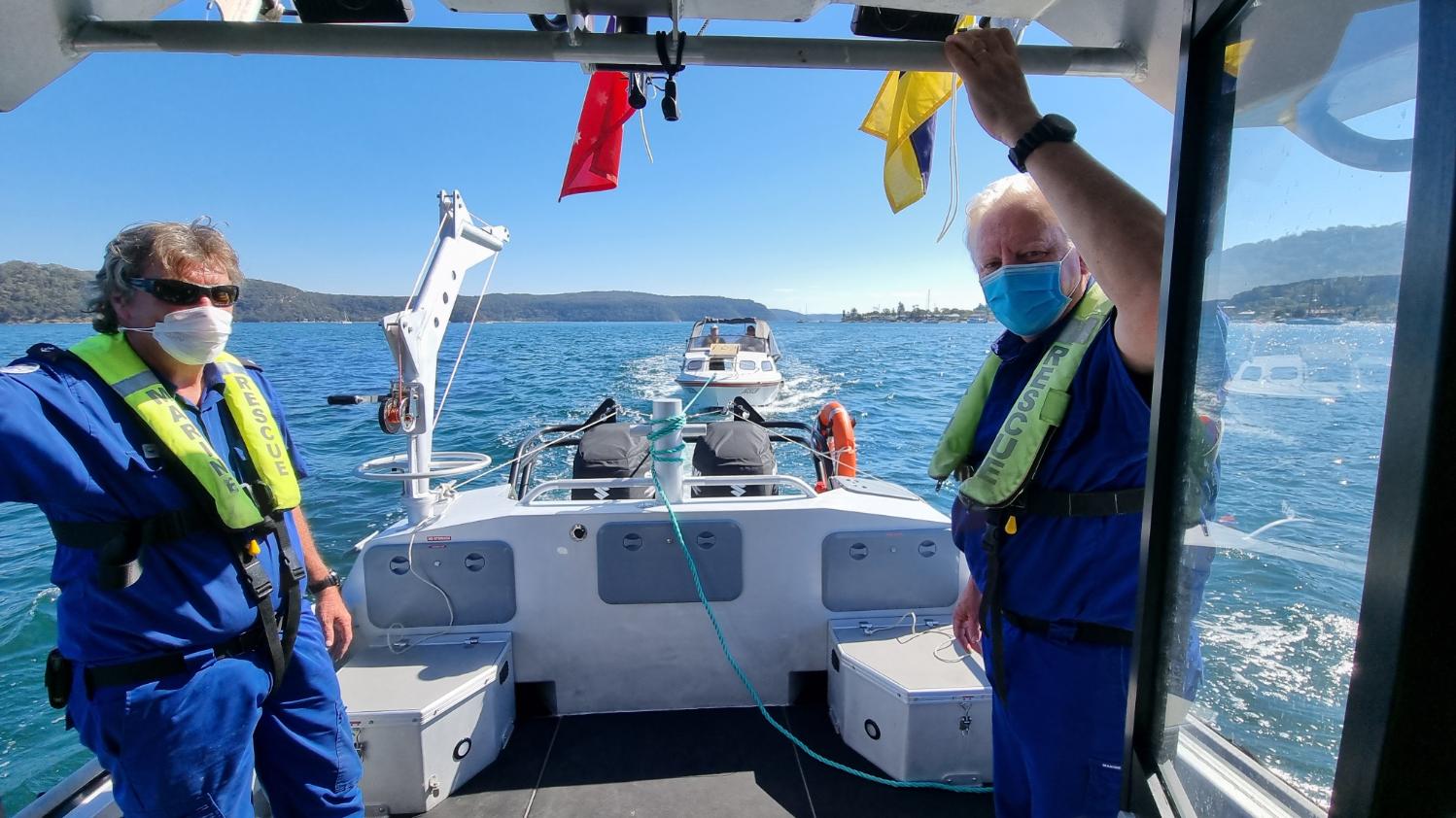 Marine Rescue Broken Bay members on Pittwater - September 2021. MRBB photo.
There have been a number of incidents recently involving people on kayaks and stand up paddle boards having difficulty on the water - resulting in them requiring assistance. Please do not enter or go on waters that you are not permitted to enter or if you are inexperienced.
Pittwater Online News spoke to Unit Commander Jimmy Arteaga ahead of the upcoming Spring Holidays confirming that the volunteer members will be out on the estuary and Broken Bay to assist those who may need help.
Jimmy has been Unit Commander for 3 years now and prior to that fulfilled a number of roles within the unit.
''We'd like to thank the Boating community for being responsible members and remind all that it's important to Log On and Log Off via the Marine Rescue NSW app before going out on the water.
This App also has a checklist you can do prior to leaving to assist boaters.'' Mr. Arteaga said
''Another measure people can take prior to going out on the water is to check the BOM (Bureau of Meteorology) and take into account the conditions. This is particularly worthwhile if you're going out on an SUP or in a kayak as you can check what the wind will be doing.
For instance, in Spring and Summer we get southerlies through Pittwater and surrounds – so if you're going out in the morning and then returning later on you may be paddling into a headwind.''
New MRBB Vessel in 2022
Mr. Arteaga stated there would be the two Marine Rescue Broken Bay boats out on the water over the weekends of the Spring School holidays with trained volunteers aboard. These vessels are also deployed when responding to other events – Marine Rescue Broken Bay volunteers were involved in flood rescues during the earlier 2021 floods, for instance.
Jimmy also broke the news this week that a new boat, one of the 7.5m Naiads, will become part of the Marine Rescue NSW fleet.
''This will be a great addition to Marine Rescue NSW and Marine Rescue Broken Bay. We're currently working out what's in and out of this vessel.
This will be the first Naiad of this sort in this areas and will make a great addition to how we can respond to events from March 2022.''
In November 2020 MRBB officially launched the newly commissioned BB30, naming it the 'Michael Seale' in honour of this long term member who had given over 38 years of service to MRNSW and the RVCP.
Jimmy stated then the naming was richly deserved, recognising Mr Seale's record of service and input in many roles, including as a vessel Master, a Director and Chair of the RVCP, his involvement in the purchase of the unit's vessels, a Director on the initial Board and Fleet Committee of MRNSW, Deputy Unit Commander and Administration Officer.
Marine Rescue BB20, the "David B Harrison", was officially launched in October 2012 and has served the Pittwater and Broken Bay community ever since.
Marine Rescue NSW volunteers often head out in some of the most challenging sea conditions, risking their lives to save others. Naiad RHIBs are highly regarded by sea rescue organisations for their performance, handling and safety in all maritime conditions.

The new BB30 was built by Yamba Welding and Engineering. In September 2020 The Whiskey Project Group announced the acquisition of Naiad and Yamba Welding & Engineering Pty Ltd.
These proven and trusted industry leaders of maritime design, manufacturing and innovation will join sister company The Whiskey Project to form The Whiskey Project Group - an Australian owned and operated business that is helping to secure the future of Australia's end-to-end capability for military and specialist watercraft.
One of the co-founders of The Whiskey Project is Avalon Beach RSL Sub-Branch member ex-RAN Veteran Ryan Carmichael who was also announced as the new Chair of the Veterans Centre Australia this week - a name change for the Veterans Centre Northern Beaches to reflect its responses to assisting Veterans across Australia as much as locally.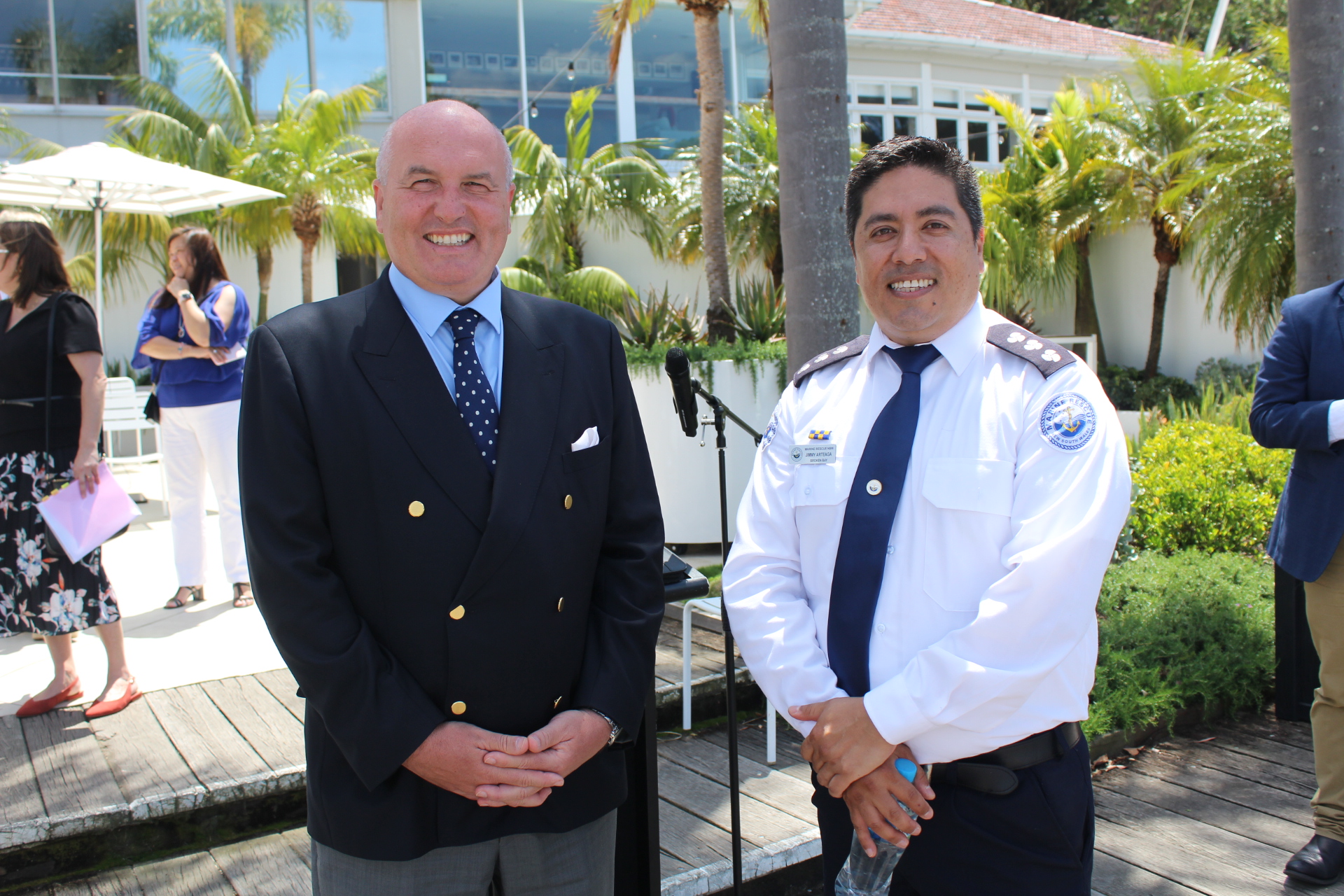 NSW Minister for Police and Emergency Services The Honourable David Elliott MP and MRBB Unit Commander Jimmy Arteaga at commissioning of the Michael Seale. AJG photo

Marine Rescue Broken Bay Unit Building
A breaking ground ceremony for the new base unit at Bayview is also something looked forward to by MRBB volunteers in 2022.
''There are a number of positives in moving forward on this, '' Jimmy stated this week,
''We're currently working with the Northern Beaches Council on details and schematics and hope to have a Breaking Ground celebration once all those have been worked out.''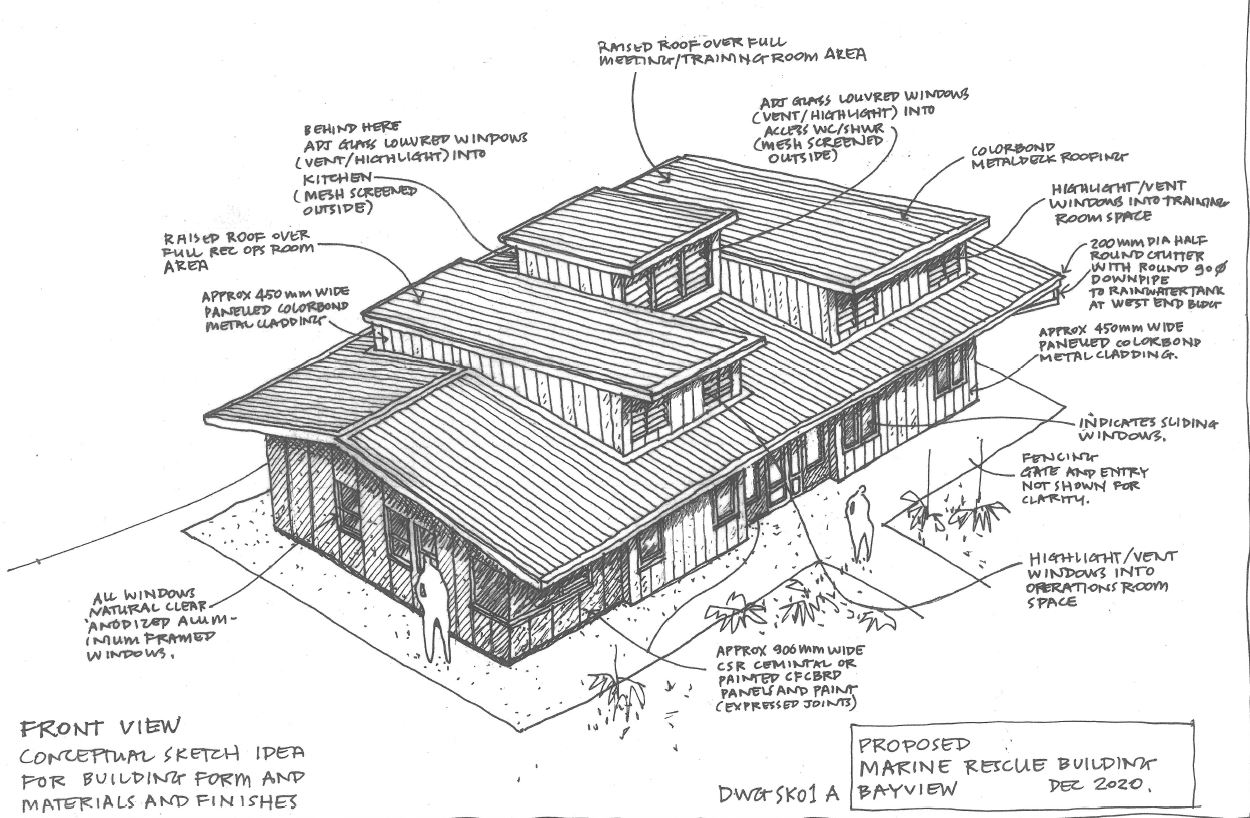 3D drawing of proposed new unit base for Marine Rescue Broken Bay
Log On to make every journey safer
Log On & Off with Marine Rescue. It's quick, simple and free. Log On whenever you're heading out on the water and Log Off when you return. We'll stand watch. If you don't Log Off as planned, our volunteers will start searching for you.
Download from the Apple store Download from the Google play store
To Log On, call your Marine Rescue NSW base on VHF Channel 16 or use the free MarineRescue App. You can download the App at the App Store for Apple devices or Google Play for Androids.
You can always Log On, whether you're out for a morning's fishing, a day trip around your local area or cruising along the coastline. And it doesn't matter if you're on a tinnie, a cruiser, a yacht, a kayak, a canoe or a jet ski.
When you Log On via, our radio operator will ask you for some basic information about your vessel, your destination and contacts.
You'll enter the same details on your smartphone or other device if you're using the MarineRescue app.If you don't Log Off, this information will help us find you, whether you've simply forgotten to Log Off when you returned to shore or you're caught in an emergency and need help fast.
Tell us:
Your boat registration number
Where you're leaving from
Where you're heading
What time you plan to return
The number of people on board
Your mobile phone number
If the fish are biting and you decide to stay out longer, simply call the base on VHF Ch 16 or use the MarineRescue App to update your arrival time.
Remember to Log Off when you're back on shore. If you haven't let us know you're back safely, we'll start to look for you. We'll try calling you first up, just in case you've forgotten to Log Off and headed home with your catch. That's the best outcome. If we get no answer, we'll step up the response.
When you Log On via the App, choose the live safety tracking option so your position is updated in our vessel tracking system every 30 minutes. This means that in an emergency, our rescue crews will have a starting point for a search operation, based on your last known position, saving valuable time when minutes can mean the difference between life and death.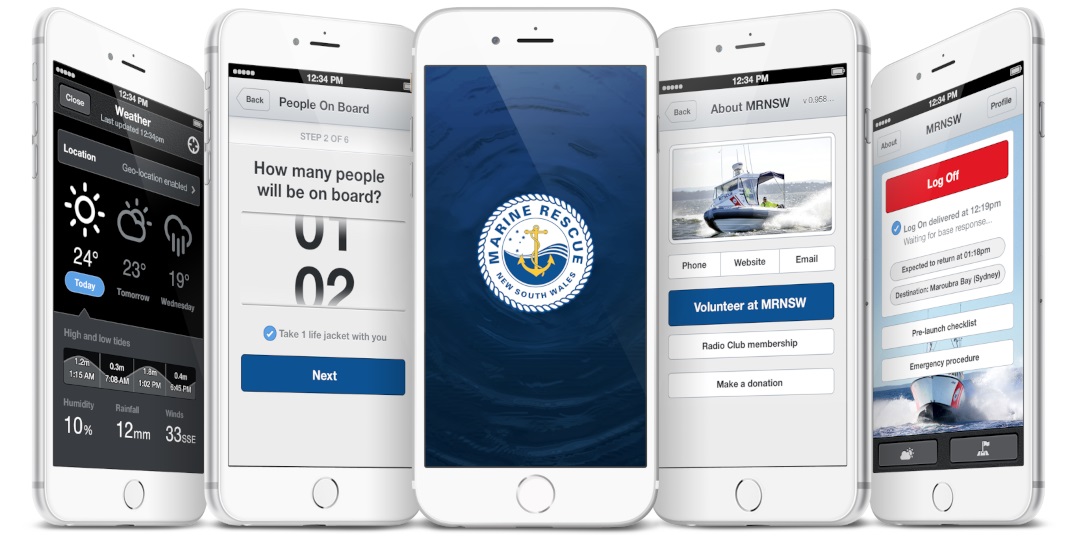 Skeds
If you're travelling along the coastline, we encourage you to establish a voyage plan with Marine Rescue NSW and an offshore tracking schedule for you to check in (to 'sked') with our bases along your route. This lets us know that you're travelling safely, on schedule and not in need of emergency help. We'll keep track of your progress until you safely arrive at your destination in NSW or we hand you over to the marine rescue service in the next State if you're travelling further north or south.
Preparing to go on the water
As the skipper, you're responsible for safety of the vessel and people on board. Be prepared to keep everyone safe and enjoy time on the water.
Carry enough lifejackets
Wearing a lifejacket can save your life. Make sure your vessel is carrying enough approved lifejackets for everyone on board. They must be in good condition and quick and easy to access.
Always wear a lifejacket while on the water. This means that you'll be more prepared for unexpected events, such as suddenly falling into the water.
The rules for wearing a lifejacket depend on your vessel, where you are and the level of risk.
Know the rules
Before you go out, make sure you know the rules and regulations for using NSW waterways. Key rules to help you stay safe and avoid collisions including:
keeping a proper lookout for hazards
knowing who you must give way to and when
identifying and obeying navigation marks, lights and sounds
travelling at a safe speed and keeping a safe distance between your vessel and other people, vessels and objects
staying under the legal limit for alcohol
knowing the rules for towing a person on the water and towing a trailer on the road.
Check the weather
Always check the weather before you head out. Be aware of warnings, marine conditions, storms, winds, waves and tides. This can make the difference between an enjoyable day and an emergency situation. If in doubt, don't go out.
Let someone know
Before you leave, contact a friend or relative or use your marine radio to log on with a coastal radio base. Tell them:
where you're going
your estimated return time
your vessel details
how many people are on board.
Take extra care to let someone know if you are going out alone.
Report in if you extend or change your trip.
You can also use the MarineRescue app to log on and log off with Marine Rescue NSW.
Know what to do in an emergency
Being on the water can be unpredictable and dangerous. Be prepared for an emergency or incident, and know what to do and who to contact if you run into trouble.
If you're involved in or witness an incident, you must always stop and give as much help as possible. Depending on the severity of the incident – for example, if someone is injured – you may need to give information to authorities.
Marine Rescue NSW provides important services, including safety education, marine radio communication, and emergency search and rescue services.
Check your vessel
Check your vessel is in good working order, including the engine and lights. Check you have all the correct equipment on board before you leave home or launch your vessel.
If your vessel is registered, check the registration has not expired.
Check your vessel is suitable for the waterways you want to travel on. For example, if the vessel is designed for enclosed waters, it may not suit open waters or along the coast where waves are larger.
Check all hatches can be opened from both the inside and outside of the vessel. Keep all hatches unlocked while the vessel is underway.
Anyone driving your vessel should have the skills and experience to handle the vessel on the waterway you're using.
Have the correct safety equipment
Check you have the correct safety equipment on board for where you're going and your vessel type.
Make sure every item is in good condition and easy to access. Everyone on board should know its location and how to use it.
Plan where you want to go
Plan where you're going and know how long the trip will take. Be aware of any special waterways or designated areas. Check the location of harbours, ports and potential refuges from bad weather.
Take extra care in cold water, especially alpine waters, where your risk of cold shock and hypothermia are increased.
Build your experience by starting out on calm, quiet waterways. Take a more experienced person with you, if possible.
Make sure you have enough fuel. Plan to use a third to get there, a third to get home, and have a third in reserve for unexpected events.
Make sure you have a compass and up-to-date chart (or map) for the waterways you will be using, especially if you're going out on open waters.
You must have a chart or map if you plan to go out on open waters.
Prepare children
If you're taking children out on your vessel:
Make sure they have a lifejacket and are wearing it when required.
Teach them emergency procedures and drills, such as what to do if they fall overboard or the

vessel capsizes.
Show them where the safety equipment is, and teach them how to use emergency items, such as the marine radio, EPIRB and flares. Make sure they understand they must only use them in an emergency.
Show them how to get in and out of dinghies and small boats while keeping them stable.
Make sure they do not have any part of their body out of the vessel when it's underway.
Teach them about keeping a proper lookout and a

safe distance from other vessels.
If you're planning to tow, make sure they know the rules for towing people aged under 16.
Carry everything they need to be prepared for all types of weather.
Consider the risk of seasickness, especially if you're going out on choppy water.
Teach children about lifejackets and sunscreen.
Download boating apps
Boating apps give you quick access to helpful information about waterways on your smartphone or tablet. For example, boat ramps, speed zones, navigation aids, weather, special events and safety advice.
Transport for NSW endorses Deckee, available for free via the Apple Store and Google Play. The Deckee app includes maps showing boat ramps, speed zones, navigational aids. It also has access to a live data feed from Transport for NSW that captures alerts, marine notices and campaigns.
Marine Rescue NSW
Marine Rescue NSW is the State's official volunteer marine rescue service. The Marine Rescue App allows you to register details of your next boating trip.
NSW Maritime - COVID-19 Boating Update
NSW Government Public Health Orders are being updated regularly. The latest Public Health Order currently lists all of NSW as a Stay At Home Area and requires everyone in NSW to follow the stay at home rules.
Recreational boating and fishing is allowed, however the same restrictions apply as with exercise and recreation on land. You must remain within your LGA or be no further than 5km from your residence.
You are restricted to two people on a vessel or more if all are from the same household.
To access a boat ramp or marina it must be in your LGA or within 5km from your home. You must observe physical distancing and mask – wearing rules.
Coastal waters (up to 3 nm off land) are included as part of the adjacent LGA, but you cannot travel on a waterway outside of your LGA or more than 5 kilometres from your home if you are entering another LGA.
You can boat offshore if:
The location is within your LGA or
You stay within 5 kilometres from your home.
Where a body of water (a harbour for instance) is bounded by several LGAs you may be in that body of water, but may not travel through or past other LGAs to reach other locations.
Skippers must also remember their safety responsibilities regarding safety equipment, alcohol consumption, keeping a proper lookout and travelling at a safe speed
View the latest rules on the NSW Government Website.
Tighter restrictions apply to Areas of Concern. For people in an area of concern, you must also stay at home unless you have a reasonable excuse. If you are leaving home for exercise or shopping for essential goods and services you must stay within 5km of your residence. A curfew now exists from 9pm to 5am.
For more information visit Areas of Concern on the NSW Government Website.
Boating in an Area of Concern
Stay at home unless you have an essential reason to leave.
Some boating is allowed as exercise (such as kayaking, canoeing, paddle boarding, PWC riding, and water skiing), and fishing from a boat or PWC is allowed.
General boating and cruising is considered an outdoor recreation and is NOT allowed.
For the latest COVID-19 information current restrictions, regularly check the NSW Government website for updates.
Maintaining and servicing your vessel
The following activities are considered reasonable excuses to leave your home to ensure the safety of a vessel or undertaking a legal obligation and are not limited to your LGA:
Access a vessel at a marina or on a mooring to maintain, service or check on systems and make sure it is safe and compliant (as a legal obligation)
Take a vessel to a marina or boat shed for repairs or servicing
Pick up vessel from a marina or boat shed after servicing
Move a vessel between marinas or moorings for relocation purposes.
Non-urgent repairs and maintenance to your boat is not a reasonable excuse.
You must follow physical distancing and gathering rules at all times during any of the above activities. Visit social distancing information on the NSW Government website.
For Areas of Concern, a permit is required to enter or leave any area of concern. Authorised workers should refer to the information on the NSW Government Website to check the rules, particularly if traveling 50km outside of Greater Sydney.
Commercial vessels and charters
For crew: Commercial vessels and charter boats are considered places of work for crew and must follow the rules for workplaces. In general, commercial vessels in Greater Sydney can operate if they are providing an essential service, which does not include recreational charters. See details about workplaces.
For passengers: Recreational charters (such as harbour cruises, whale watching, diving, fishing etc.) are considered under the Public Health Order to be in the same category as restaurants, clubs, hotels and similar premises, and are not operating in NSW. See details NSW Government website.
Obtaining your boat licence
While the trainers and educators are allowed to operate, applicants and trainees can only gather in groups of two, unless from the same household, and must stay within their LGA or no more than 5 kilometres from their home,
Virtual training via an online platform is allowed, but practical training of more than two people outside their LGA is likely to be very difficult and not recommended.
Information about boat ramps
All boat ramps in NSW are managed by local councils, the National Parks and Wildlife Service or WaterNSW – with the exception of four ramps managed by Transport for NSW at Carrington, North Stockton, South Stockton and Port Kembla
Contact your local council for more information about boat ramps in their LGAs.
There are no current plans to close the ramps managed by Transport for NSW.
Reporting a breach of restrictions
NSW Police is the relevant enforcement authority for the Public Health Order and will use discretion to assess whether community members have a 'reasonable excuse' to be out on the water, and whether there have been any breaches.
To report a breach contact Crime Stoppers on 1800 333 000 or submit a report via the Crime Stoppers website