November 15 - 21, 2020: Issue 474

Marine Rescue Broken Bay New BB30 - The Michael Seale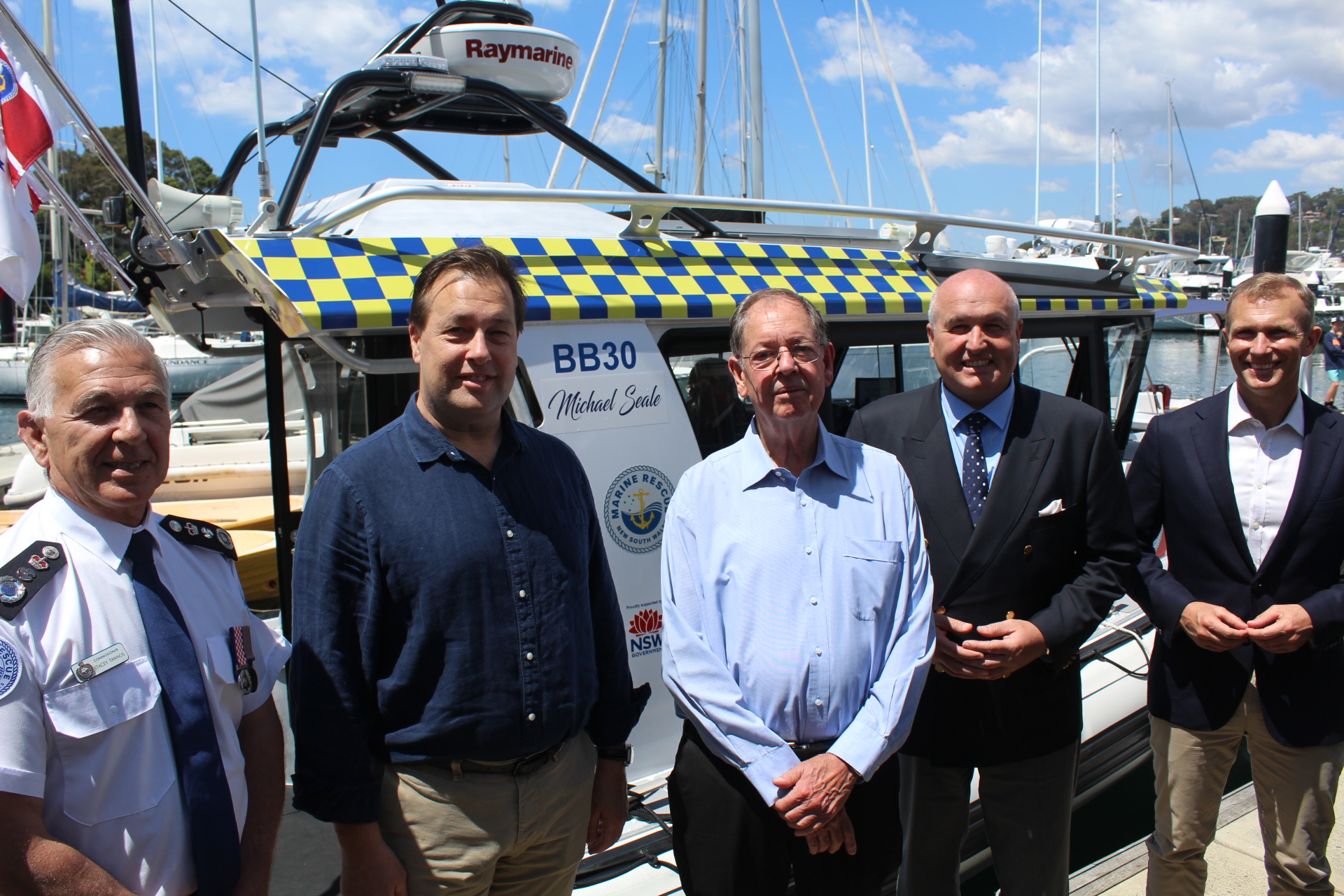 Marine Rescue NSW Commissioner Stacey Tannos, MP for Mackellar Jason Falinski, Michael Seale, NSW Minister for Police and Emergency Services David Elliott, MP for Pittwater Rob Stokes with the Michael Seale - photo by A J Guesdon.
The waterways of the northern beaches will be safer after the official commissioning of a new $613,000 rescue vessel for Marine Rescue NSW, ahead of the busy summer season.
NSW Minister for Police and Emergency Services David Elliott joined Member for Pittwater Rob Stokes and Marine Rescue NSW Commissioner Stacey Tannos to officially welcome the new vessel, Broken Bay 30, to the MRNSW fleet, on Saturday November 14th at the Compass Terrace of the Royal Motor Yacht Club Broken Bay,.
Pittwater MP Rob Stokes added further celebration to the Naming Ceremony when he announced 100 thousand dollars would be provided to upgrade the club rooms and base for the Marine Rescue Broken Bay unit.

Newport resident and Garigal man Neil Evers gave the Welcome to Country, specifically speaking of the place where all were meeting on the shores of Pittwater, provided insights into the theme for NAIDOC Week 2020 - Always Was, Always Will Be - of the oldest continuous culture in the world, from his perspective. His Welcome was rich with his own family history, connection to this Country, and stands as its own page this Issue.
Mr. Stokes spoke after Neil. Rob served as a 19 year old in the Royal Volunteer Coastal Patrol, and recalls a small room in the Royal Motor Yacht Club at Newport where training sessions were held and so continued Neil's theme by sharing some of the history that had been shared with him from then. He thanked Marine Rescue Broken Bay Unit Commander Jimmy Arteaga for his greeting of all present and Neil for his very thoughtful and appropriate Welcome to Country, continuing;
''Neil told us a lot about the Aboriginal history of this rich environment which we are the inheritors of. It brought to mind one of the earliest drawings of this place, made from either Taylor's Point or near the current Bayview Baths, 'View in Broken Bay New South Wales. March 1788', made by naval officer and diarist, William Bradley for his journal `A Voyage to New South Wales'. One of the features of that etching was some Aboriginal women in a dug out canoes, which bears testimony that this has always been a maritime port. The Pittwater of today is the largest recreational port in the nation. So ensuring that Marine Rescue has the capability to keep people safe on the water is obviously very very important.'' Rob said
''With that in mind I want to acknowledge all of the volunteers who are with us today and all of the Directors and everyone who serves in Marine Rescue NSW and makes it the successful unified organisation it is today.
Reflecting a little bit on the history of the Broken Bay unit – this unit has a history dating back more than 80 years, commencing in the 1930's. The antecedent of Marine Rescue Broken Bay was the Volunteer Coastal Patrol. I remember from many many years ago the flagship of the unit, or the division as it was called then, was The Krait, which was the vessel on which Z Force raided Singapore Harbour during the Second World War.
The Krait was later, from 1964, a rescue vessel with the then Volunteer Coastal Patrol and so BB30, Broken Bay 30, certainly follows in some very proud footsteps. It speaks further to the rich maritime history of this area when you find out that Z Force trained for that mission in the bays in and around Pittwater and Broken Bay. Rohan Walter, who is here today, reminds me that it was his work along with the West Head Awareness team that cleared away the bush at West Head to reveal the WWII Fortifications that stood at the entry of the Pittwater during the Second World War to prevent any risk of Japanese invasion. In fact, if you go up the Hawkesbury River, you will see embedded in the mud flats, the remnants of the HMAS Parramatta that saw service in the First World War. So there is all sorts of history around here of our proud maritime traditions and this is in many ways a historic day as it recognises where the Marine Rescue has come from and where it is going. It is also very good to be here today and see Mike Seale here with his family as it was Mike who put me through, many years ago, my Coxswain's, which speaks to the legacy of Marine Rescue in the legacy it provides but also the education that it provides to local seamen and seawomen.
I wanted to make one further announcement today in stating that the unit has been successful in securing a 100 thousand dollar grant towards the new base at Rowland Reserve which I know is something that has been long worked for – that will go some way towards ensuring that you haver the capability to provide the volunteer service that we all depend on.
My final point is to thank the Minister for Police and Emergency Services David Elliott for his being here today – he won't tell you but I will, that after a very busy week in parliament with sittings that went into the early a.m., David has come all the way this morning from the North Coast because that is the respect with which he regards all of you and I'd like to thank him on all of our behalf's.''
Member for Pittwater Rob Stokes said the 10 metre Naiad vessel is fully-equipped with a suite of search and rescue, communications and navigation technology and advanced first aid equipment, including a cardiac defibrillator and oxygen.
"The incredible Broken Bay volunteers are now better equipped than ever to respond to emergencies and save lives on Pittwater, Broken Bay, the Hawkesbury River, Brisbane Waters and up to 30 nautical miles offshore," Mr Stokes said.
"Being on our waterways is a great way to spend the Summer months and it's pleasing to know that our communities will be protected by this impressive new vessel and the volunteers of Marine Rescue NSW."
Mr Elliott said the vessel will be an asset ahead of what is expected to be a very busy Summer on the waterways.
"The NSW Government is committed to ensuring our volunteers have the safe, fit-for-purpose equipment they need for their life-saving work," Mr Elliott said. "This modern new vessel is a significant investment in boating safety on Sydney's northern waterways, which are a magnet for local and visiting boaters."
"The NSW Government is a proud supporter of Marine Rescue volunteers, which is why we have invested an additional $37.6 million to deliver 38 new rescue vessels, improve volunteer operating facilities and enhance the marine radio network."
''It has been a busy couple of days and a busy couple of days for Marine Rescue NSW as well – yesterday I attended the opening of the new 1.7 million dollar headquarters for Marine Rescue Lake Macquarie.
Rob and Neil are quite right in what they have said – the traditions of the maritime heritage predate the European history and the use of the bay and the sea and river system is entwined with the indigenous history as well.
I have a genuine respect for the work that Commissioner Tannos does and I thank both Rob Stokes and Jason Falinski for being such advocates for the Marine Rescue units in their electorates.'' Mr Elliott said.
''We have a record budget through our the Emergency Services into Marine Rescue, it's the largest investment into emergency services ever made. This has been a unique opportunity for Marine Rescue NSW to move into a new generation with its facilities, with its training, with it capabilities, as instanced today with BB30, but it also gives us, the public servants in uniform, an opportunity to say to you, the volunteers of Marine Rescue, and in fact the volunteers throughout the entire volunteer emergency services, that the government doesn't just consider you, because you're volunteers, as not being professional – the reality is, whether you're salaried or volunteers, our emergency services are all professionals.
The least we can do is ensure that this record investment goes into the capabilities, the structure and the technology that will see you, as volunteer professionals, be given professional kit. I'm delighted, as I join the Commissioner from one end of the state to the other, seeing that new kit get rolled out.
I think, after the 18 months that we've seen, with bushfire, with Covid, with storms and floods, we are seeing the modern emergency services volunteer acquire the sort of legendary status that we traditionally reserved for the ANZACs, and for that I'm very very grateful – we certainly would not have been able to do and get done what we've gone through as a nation without the nearly 200 thousand people that volunteer with our combat agencies – whether it be the RFS, the SES, St. John Ambulance, Marine Rescue, or Surf Life Saving.
To the team in the local Marine Rescue Broken Bay unit; I'm handing you over the keys to this new vessel – don't break it! – I have a great deal of faith that you will put it to good use, that you will treat it as your own. I know through speaking to the Police Commissioner and Marine Rescue Commissioner Tannos that this will be an extremely busy Summer as Australians try to enjoy their backyards with staycations and that this will become the new norm as we evolve over the next 12 months out from the effects of Covid-19. This will put more pressure on our waterways and will put more pressure on you and I'm very grateful. I think Australians are reassured that you're out there. Thank you once again.''
2021 NSW Australian Of The Year Awards: Shane Fitzsimmons Awarded States' Highest Honour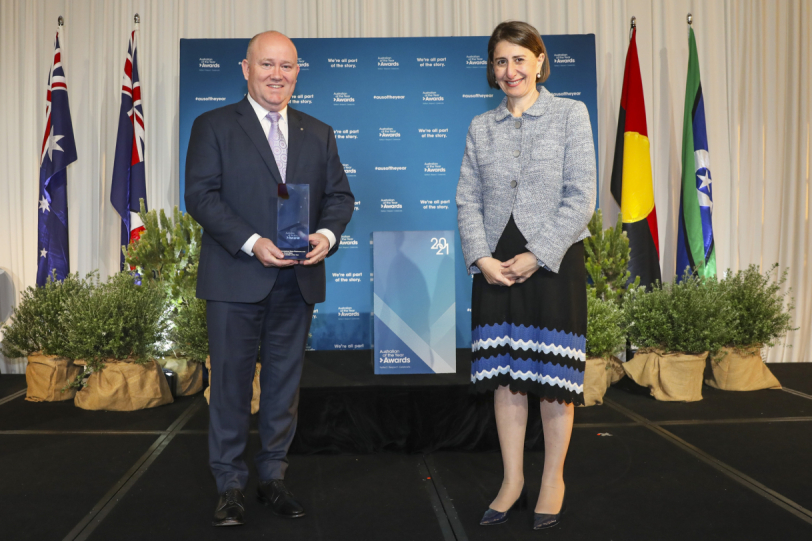 Photo: Salty Dingo (Supplied: NSW Australian Of The Year Awards)
The down to earth wonderful example Ex-NSW Fire Commissioner and leader of Resilience NSW, Commissioner Shane Fitzsimmons AFSM has been for much of this year continued this week. Named 'Father of the Year for NSW in September, on Monday he received the state's highest honour in being named the 2021 NSW Australian of the Year.
In accepting the award Commissioner Fitzsimmons AFSM was asked what positives he took away from what has happened during 2019/2020. He stated there were so many positives he took away from this difficult year, all of them reminding us of the strength of community;
''For a lot of NSW they were on their knees, with drought, then absolutely devastated by the bushfires, then we saw the wash away in many areas by rains and floods in a denuded landscape, and then we've all been responding to and managing the implications of a global pandemic.
In the backdrop of such adversity we've seen extraordinary human spirit right across this great nation and off our shores, a humanity that brought together love and compassion and care as we genuinely pulled together.''
Signalling out volunteers Commissioner Fitzsimons – ''day after day we saw tens of thousands of people pulling together to help out and help each other, the vast majority of which were volunteers, men and women simply making a difference in their community, for the want of nothing in return, working to save lives and save as much as they could. As we've gone on in the last few months we've seen that extraordinary commitment globally in generosity and support in funding, in opening one's door, in all manner of aid and assistance.
For me, that human spirit, that volunteerism, that's what inspires me and inspires me every day, to know that our communities are so much better because we have people who give so generously of themselves.''
A truly humbling honour - thank you to all who nominated. May we never forget all those affected by the fires and especially their loss and sacrifice.''
Commissioner of Resilience NSW Shane Fitzsimmons was appointed as the inaugural Commissioner for Resilience NSW and Deputy Secretary, Emergency Management with the Department of Premier and Cabinet from 1 May 2020.
This appointment followed a distinguished career with the NSW Rural Fire Service of over 35 years, which commenced at Duffy's Forest RFS while he was still attending Pittwater High School. By age 19 he was the youngest-ever member elected captain of his brigade.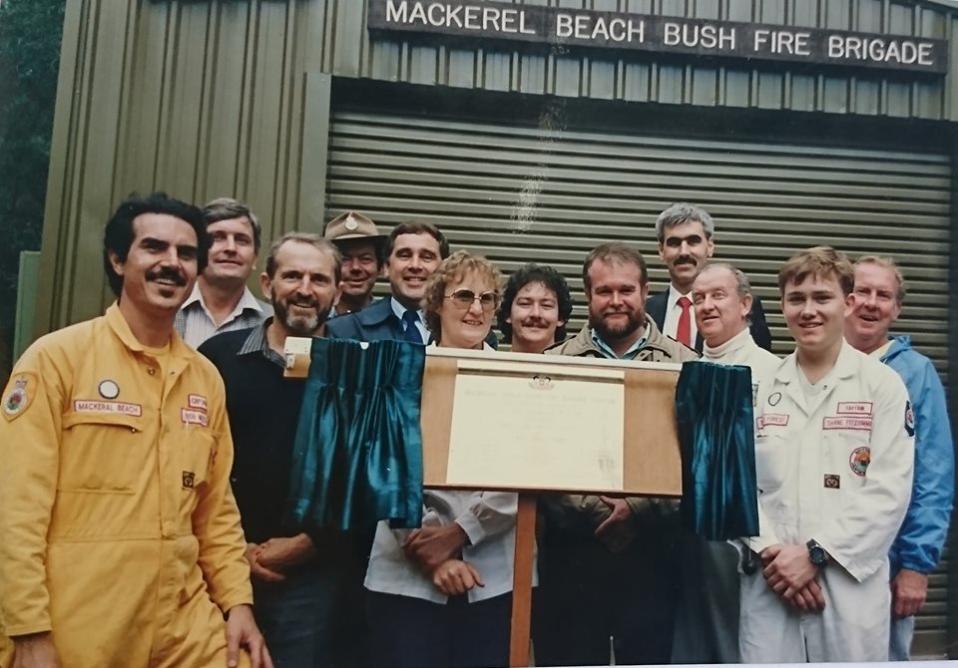 1989 Mackeral Beach Station Opening: Captain Bob Mitchell on left, our current RFS Commissioner Shane Fitzsimmons front right when he was a volunteer Captain of Duffys Forest.
Bob Mitchell, ?, ?, Ron Castle, Keith Simpson, Jan Bennett, Craig Geddes, ?, Peter Owens, Laurie Bagnall, Shane Fitzsimmons, Ingleside Captain in 1989 Rex Mitchell in light blue on the far right behind Shane - Patrick Williams front right. Mackerel Beach RFB photo.
In 1998 he was appointed an Assistant Commissioner with the RFS and has held portfolio responsibilities for Operations, Strategic Development and Regional Management. In 2004, he was appointed the inaugural Australasian Fire Authorities Council (AFAC) Visiting Fellow to the Australian Institute of Police Management (AIPM) for a period of 12 months.
September 2007 - April 2020 he was Commissioner of the NSW Rural Fire Service and was also the Chair of the NSW RFS Bushfire Coordinating Committee and the Rural Fire Service Advisory Council. He was also a member of the NSW State Emergency Management Committee and the NSW State Rescue Board (SRB) and was Chair of SRB from 2008 to November 2015. In July 2012, he was appointed a Board Member of the NSW Government Telecommunications Authority.
He was appointed a Director of the National Aerial Firefighting Centre (NAFC) in March 2008 and was the Chair of the NAFC Board from 2009 to 2013. He was a Director on the Bushfire Co-operative Research Centre from 2009 to 2014.
He was a member of the Australasian Fire and Emergency Services Authority Council from 2007 and was a member of its Board from November 2016 to November 2019 and held the position of Deputy President upon retirement from the Board.
In January 2016 he was appointed as a Councillor of the Royal Humane Society of NSW Inc. Commissioner Fitzsimmons was awarded the National Medal in 1999 and the Australian Fire Service Medal (AFSM) in 2001.
The 2021 NSW Australian of the Year Awards were announced on Monday evening November 9th in a ceremony at Luna Park, Sydney. The NSW award recipients will join those from the other states and territories for the national awards to be announced on 25 January 2021.
The Outback Mermaids Are On Variety's Resurrection Run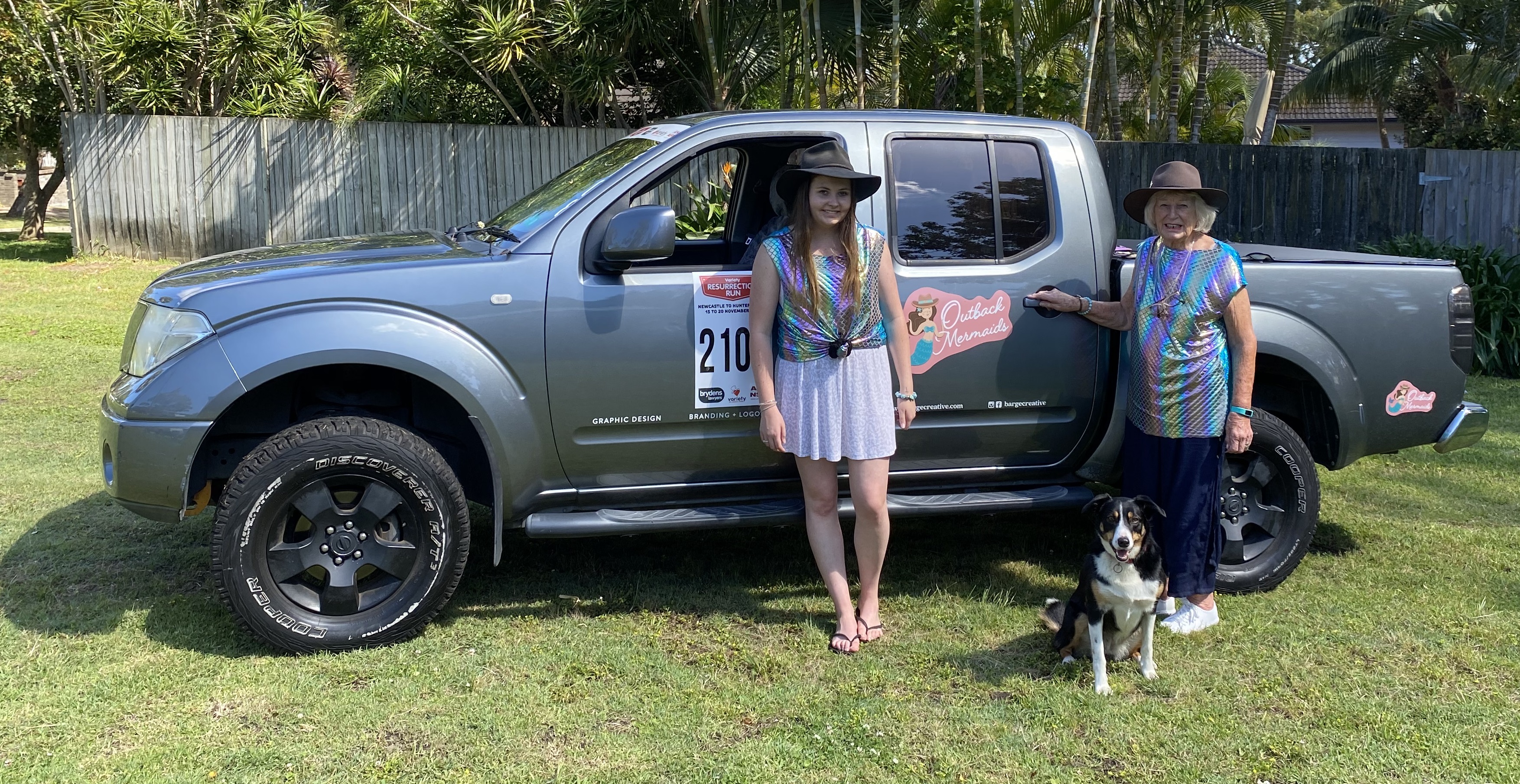 The Outback Mermaids with mascot while packing - currently on the road!
Beryl Driver OAM, at 87 years of age, is commencing her 22nd Variety Children's Charity Bash today, Sunday November 15th, and her 23rd Bash overall. Joining her are first-timers in Scotland Island's Neelica Raffel and Elanora's Indy Leigh Griffiths who, together, are the 'Outback Mermaids' and are going to be part of the Variety Resurrection Run, a six-day charity car event raising vital funds to give kids a fair go, from 15 – 20 November 2020, that will be a tour de force of rural New South Wales - with 40% of the journey on true car bash dirt roads.

Beryl, Neelica and Indy will be driving the big ute you see two of the 'Outback Mermaids' before standing above, replete with Akubra's, and plenty of sparkling – some of those sparkles even to be worn!
Elyse Cole is on The Resurrection Run as well as a 'MerPig' with one of her and Beryl's great B to B friends, Sally Mae Bailey. They will be driving Car 333 Little Pigs, Sally Mae's regular 'Bash' car - a classic Holden.
Beryl said yesterday, while packing up to head to the Check In Point, there are 83 cars taking part in The Resurrection Run.
With so many joining in, all saying they're 'getting on the road for the kids', this welcome boost to Variety – The Children's Charity, as well as all to all the regional towns they will visit along the way, proves you can't stop this mob from doing all they can for the children and you can't keep them out of rural New South Wales.
In fact, when the Outback Mermaids and MerPigs come home again, it will be a case of 'you can take the girl out of the country, but you can't take the country out of the girl'.
Cedar Leigh-Jones - Kalani Ball Win Volkswagen Cronulla Open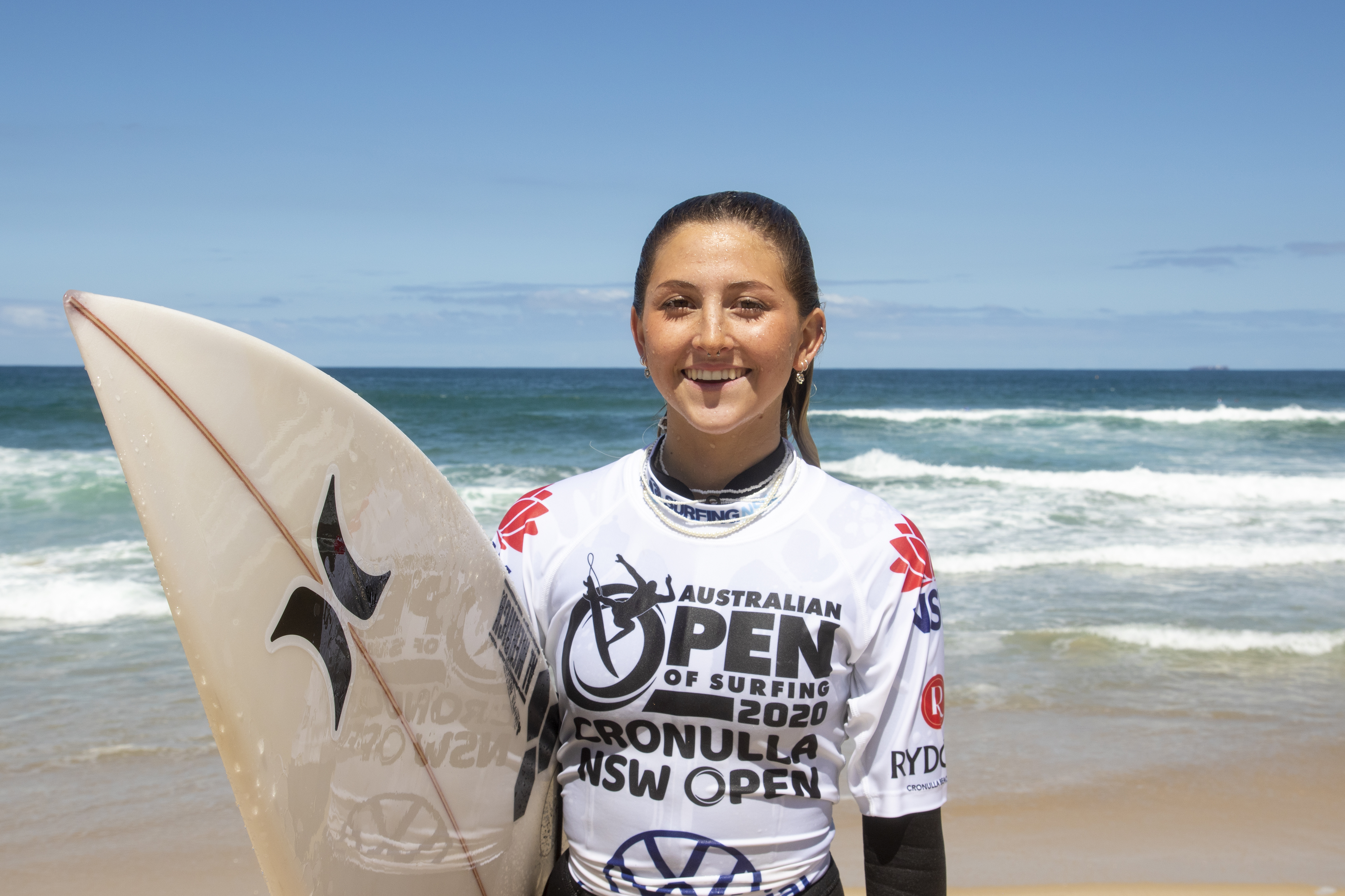 Cedar Leigh-Jones - photo by Josh Brown / Surfing NSW
CRONULLA BEACH, SYDNEY
Monday, 9 November 2020
by Surfing NSW
Kalani Ball (Stanwell Park) and Cedar Leigh-Jones (Avalon) have taken top honours at the Volkswagen Cronulla Open, the first NSW stop on the 2020 Australian Open Surf series after an array of exciting heats in playful two-foot conditions.
Kalani Ball (Stanwell Park) capitalised on his opening day momentum taking out the Open Men's division. The lightning-fast natural footer shone over the entirety of the event, eliminating top seed and fellow Scarborough Boardriders member Nic Squires (Corrimal) in his opening heat and then backed it up with massive scores in his following heats. Ball finished the final with a gigantic 18.04 two-wave heat total to sneak ahead of event standout Dylan Moffat (Narrabeen) in the dying moments of the heat.
"This is the first event I've done this year so to get the win feels awesome," said Ball. "I think the win ahead of Nic yesterday helped give me the confidence to keep getting through heats. That final came right down to the wire but I knew I had to get those rare waves that would dish up two steep sections. I'm stoked I found them."
Cedar Leigh-Jones (Avalon) surfed a smart heat en route to her victory, striking in the final minute of the heat with an 8.33 to get the jump on Sarah Baum (Wallsend) who held down the lead for a giant portion of the final. The 16-year-old natural-footer nailed an array of beautiful snaps and carves to claim the win ahead of some fancied opposition.
"I'm so stoked to have won this, especially against some of the girls in this final," said Leigh-Jones. "I look up to all the girls in the final so much, so to get a win against them feels incredible. It was quite hard to find a good wave out there, but my whole game plan was to just find the best wave I possibly could and hope it would link right through to the inside shorebreak."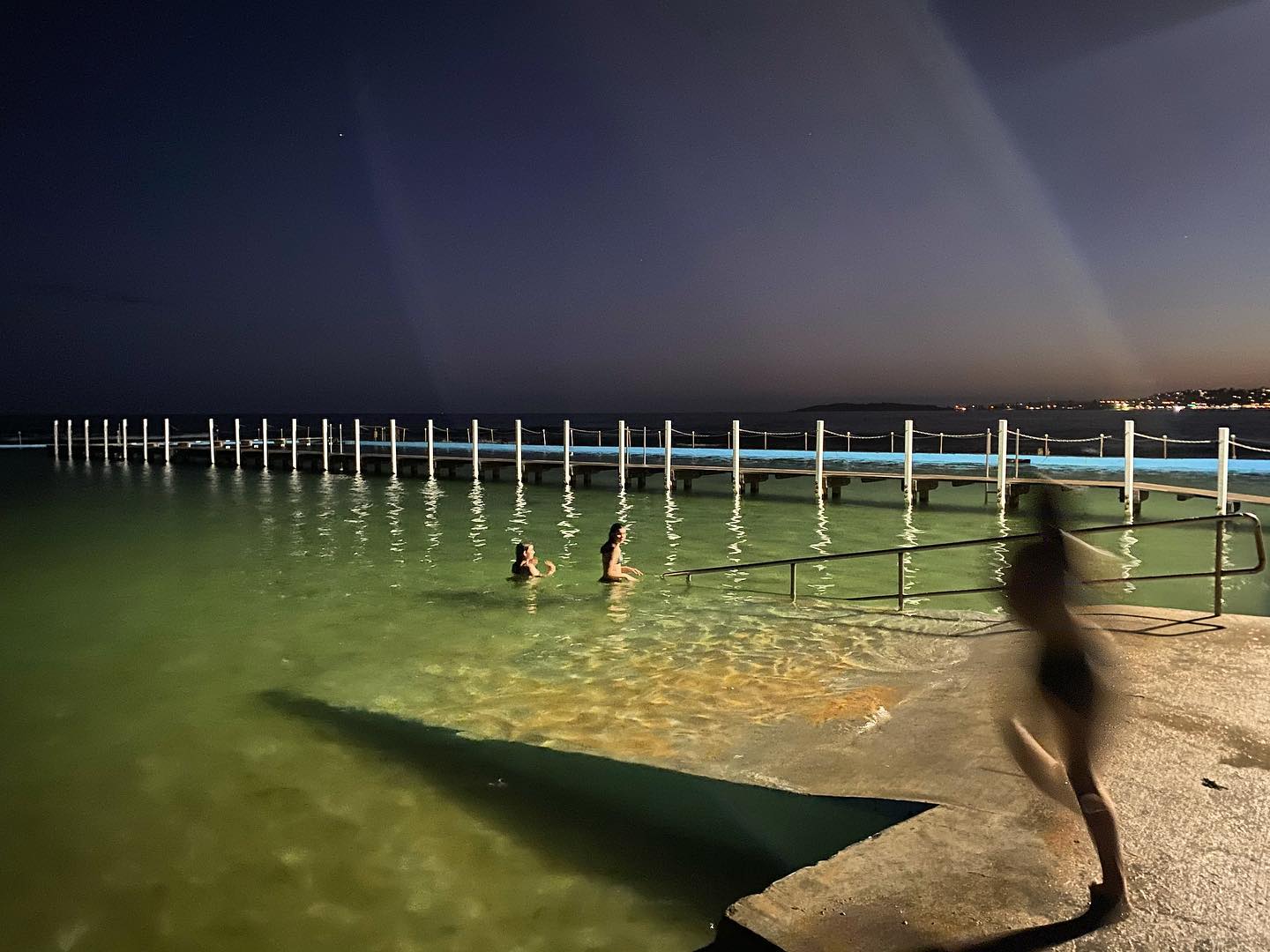 First night swim of the Season - North Narrabeen Rock Pool- photo by Selena Griffith, November 14, 2020
Past Features Archives (pre 2014)
Pittwater Online News was selected for preservation by the State Library of New South Wales and National Library of Australia. This title is scheduled to be re-archived regularly.
Archived Issues (2014 on) may be accessed here: pandora.nla.gov.au/tep/143700