November 15 - 21, 2020: Issue 474
The Outback Mermaids are on Variety's Resurrection Run 2020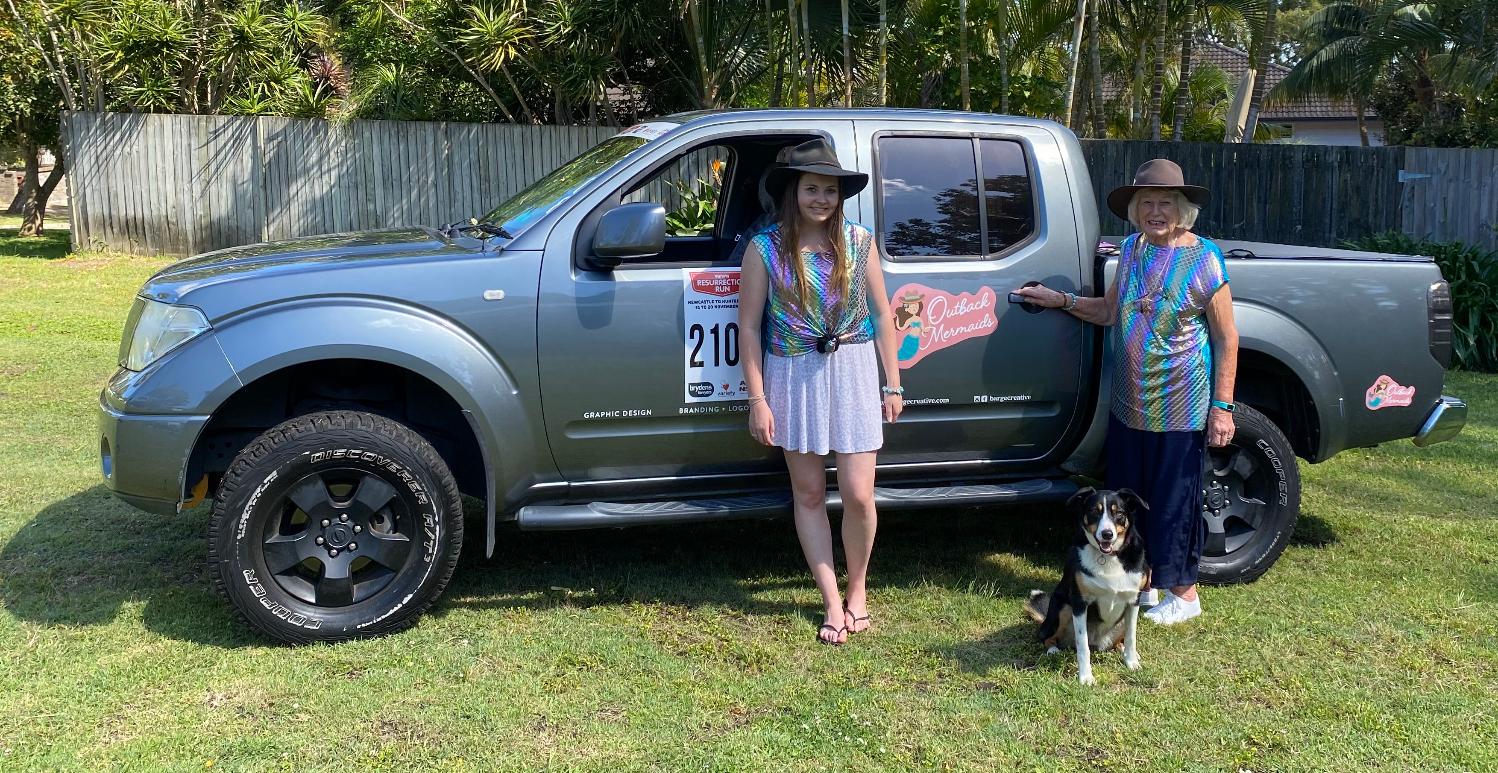 The Outback Mermaids with mascot while packing - currently on the road!
Beryl Driver OAM, at 87 years of age, is commencing her 22nd Variety Children's Charity Bash today, Sunday November 15th, and her 23rd Bash overall. Joining her are first-timers in Scotland Island's Neelica Raffel and Elanora's Indy Leigh Griffiths who, together, are the 'Outback Mermaids' and are going to be part of the Variety Resurrection Run, a six-day charity car event raising vital funds to give kids a fair go, from 15 – 20 November 2020, that will be a tour de force of rural New South Wales - with 40% of the journey on true car bash dirt roads.

Just over 80 other cars are joining them.
This year has been particularly challenging for Variety the Children's Charity, with their major Winter New South Wales event, the B to Be Bash cancelled.
Since 1975 Variety – the Children's Charity has been helping to give kids who are sick, disadvantaged or have special needs a fair go in life. The COVID-19 pandemic has heavily impacted on their ability to raise funds, as well as their ability to provide grants, run programs and hold their kids' experiences.
Earlier this year the charity stated ''We know this is a challenging time for everyone and hope to be able to resume our regular support and activities soon.''
On March 20th, 2020 a message from the Chairman Board of Variety read:
As the world faces an unprecedented public health crisis, Variety is facing a critical situation that was inconceivable just a few months or even weeks ago.

As the situation changes on a daily, and sometimes hourly basis, much of our focus has been on ensuring the health and safety of our volunteers, our Variety kids and their families and our staff while trying to understand the impact the spread of Covid-19 and the measures being taken by Government at both the State and Federal level will have on Variety's events planned for the coming six months and beyond.

Based upon current Government recommendations and restrictions being imposed, the NSW/ACT Board has reviewed all available medical advice and has been forced to postpone the Variety NSW Bash event at this stage.

In the absence of any further travel restrictions being announced, we anticipate making a formal decision on our remaining Motoring Events for 2020 within the next 90 days based upon prevailing medical and Government advice at that time.

We are also looking at alternative arrangements potentially later in the year / early 2021 and will keep our motoring events community, volunteers and sponsors appraised of any updates to this position and how funds raised now will be allocated to these future events. As a Board, we all understand how disappointing it is for participants if these events cannot go ahead based upon current restrictions and ongoing medical advice.

Our passion hasn't changed. The demand for grants is forecast to increase in communities hit by this virus and we're determined to continue to support Australia's most vulnerable children during this crisis.

But as a charity that does not rely on Government funding, and has over the years relied heavily on the fundraising success of our iconic motoring events, this current crisis will have real ramifications for our ability to continue to provide support – support that is now needed more than ever as sick, disabled and disadvantaged kids and their families are significantly more vulnerable to the negative medical and financial impacts arising from the Covid-19 virus.

We cannot continue supporting those families when they need it most if our motoring events participants stop raising funds due to this cancellation. I am reaching out to you to ask that you continue to contribute to Variety and continue fundraising.

For 45 years, Variety has supported Australian kids. We know this is a challenging time for everyone. We ask you to be patient with us and our team of dedicated staff as we work towards exploring alternative arrangements and to please, continue to look at ways of raising funds to support our most vulnerable kids. On behalf of Variety, thank you for your continued support and loyalty. We look forward to seeing you on a motoring event soon.

John Dennis

Chair on behalf of Variety – the Children's Charity NSW/ ACT Board
On June 30th Variety NSW/Act announced the Variety Resurrection Run
'Of course, all these plans are reliant on the NSW Government's COVID-19 regulations which we believe will be suitable for our 'Run' in November.'
This one-off Variety Resurrection Run will be shared with the 4WD Adventures, NSW Bash entrants and B to B Bash entrants together with other possibly some 'first-timers' who will now experience the Variety Motoring Events experience. It is six days on the road with a journey distance of 2,200 kilometres of which 40% of that will be dirt.
The Variety Resurrection Run will explore the rural areas of our vast state and travel to places that are not your normal tourist hotspots. While those who are part of this will likely know the major towns they will be travelling through and overnighting in, they won't necessarily know how you're going to get there.
The Variety Resurrection Run is not a race or a contest of speed of any kind, it is an adventure exploring remote parts of our beautiful country. Anyone over 18 years of age with a passion for driving and exploring with a sense of humour, a tolerance for dust and discomfort, plus a real yearning to meet up with friends they haven't met yet.
Entry is a donation to Variety – the Children's Charity NSW/ACT and is tax-deductible. This could be a cash payment from those wanting to go or they could raise it through sponsorship, donations from family and friends and/or fundraising events. The minimum entry fee is $2,000.
The Run begins with a mandatory CheckPoint Day at McDonald Jones Stadium, on Turton Road, Broadmeadow.
The run includes:
Day 1. Sunday 15 November: Newcastle to Merriwa to Dubbo
The Start will also be at McDonald Jones Stadium from where we head out into the upper reaches of the Hunter Valley to find our first lunch stop in Merriwa where lunch will be provided by the local Rotary Club. It's a small rural town located at the western extremity of the upper Hunter district beside the Merriwa River. It has an easy rural charm being primarily a service centre for the surrounding properties. The afternoon run sees us arrive in Dubbo where dinner will be at the Dubbo RSL. Dubbo is a major regional service centre located on the Macquarie River at the intersection of the Mitchell and Newell Highways. The area is known for its wheat and wool production, but the major attraction is the excellent Western Plains Zoo, a model zoo where animals roam freely in large open areas mostly protected from the public by deep moats.
Day 2. Monday 16 November: Dubbo to Girilambone to Bourke
We gather at the Dubbo Showgrounds where the local Police Citizens Youth Club (PCYC) will benefit from our stay there by providing our breakfast. Our morning run drops us in Girilambone where the local school's P&C will profit by providing our lunch. The long, straight Mitchell Highway from Nyngan to Bourke runs through this tiny village. There's a dead railway line, a general store and a few houses. It is sleepy and often passed by people who barely register its existence. Yet it is here that the body of Helena Kerz, murdered by the notorious killer Jimmy Governor, was brought to and buried. This happening is immortalised by the movie, The Chant of Jimmy Blacksmith. Our afternoon run takes us to into the Variety Bash's beginnings, Bourke, where Dick Smith started the very first B to B Bash back in 1985. We'll dine out at the Back O' Bourke Exhibition Centre which brings to life the story of Outback New South Wales.
Day 3. Tuesday 17 November: Bourke to Louth to Cobar
We assemble at the Bourke Jockey Club's track where the local Rotary Club will raise some much-needed funds for their town's projects by supplying our breakfast. It's also Race Day and you will be the horses in the first-ever Bourke Variety Gold Cup event! Dress up for The Fashions In The Field as we are sure there will be a marvellous prize for the winner! After the fun of a 'day at the races' we head on down the Outback dirt road to Louth for lunch at the famous Shindy's Inn. Shindy's Inn is a unique, Australian hotel and sits on the banks of the Darling River. In the great tradition of Australian Outback pubs, it's a wonderful place to spend some time. From there we head down the road to the old copper mining town of Cobar. Found at the crossroads of Barrier Highway and the Kidman Way, you'll discover a fascinating town that's rich in mining heritage and natural attractions. Tonight, is a 'Free Night' to dine anywhere in town to share the Variety love around this unique location.
Day 4. Wednesday 18 November: Cobar to Lake Cargelligo to Parkes
The Rotarians of Cobar will gather to provide our breakfast before we head off to Lake Cargelligo and lunch by the lake provided by the 'Down the Track' group. Down the Track exists to support disengaged and at-risk youth, promote engagement and self-esteem and reduce youth crime. They achieve this by providing these youth, 90% of whom are Indigenous, with training, education, employment pathways and community connection. Without the support of Down the Track, these youth are on a downward spiral of continual disengagement from their communities and positive life opportunities. We are delighted to help them in a very small way. Lana Masterson, is the Program Manager and she provided us with this video to show how it all works, click here to see it. Dinner will be in Parkes and you have the chance of self-selection for dinner with another 'Free Night' for you. We are sure you'll select a nice 'dish' for your mains!
Day 5. Thursday 19 November: Parkes to Wellington to Mudgee
Parkes Showground is the gathering spot for breakfast where the local 'Show Society' will provide the brekkie so they can earn a 'bob' to spend on their refurbishment plans for some of their older 'show' buildings. From there we wind our way through the old gold mining town of Peak Hill on the way to Wellington for lunch hosted by the Wellington Race Club. Wellington is a service centre in the heart of beef, sheep and wheat country. It is also driven by a growing wine industry and tourism. The town's centrepiece is Cameron Park which has been recognised as one of the most attractive public gardens in rural New South Wales. Then onto another beautiful NSW town, Mudgee, where once again there is a "Free Night' to select some fine food washed down by the region's magnificent wines. Mudgee is set on the banks of the pretty Cudgegong River, and still possesses all the character of its 19th century past. Mudgee offers something for every kind of RR traveller.
Day 6. Friday 20 November: Mudgee to the Hunter Valley
Our final day and again we gather at a Showground where – once more – the fabulous Rotary members of the area will come together to make available our breakfast before we head off for our last little bit of dirt as we aim for the finish line in the Hunter Valley. The Hunter Valley is one of Australia's major wine regions, with a viticultural history dating back to the early 1800s. Known for varietals such as Semillon and Shiraz, it's home to numerous wineries, including world-renowned brands and family-run boutique operations. No need to stop off for lunch as there will be snacks available after we cross the finish line at the Crowne Plaza in Lovedale. Enjoy the early afternoon arrival which gives you a little chance to visit some wineries before we gather for our final night dinner at the Ben Ean Winery in nearby Pokolbin.
For those who'd prefer not to drive to the final night dinner, we are hoping to be able to provide bus transport from the nearby Hunter Valley accommodation spots to the Ben Ean Winery (and return). Further information will be available soon.
Beryl, Neelica and Indy will be driving the big ute you see two of the 'Outback Mermaids' before standing above, replete with Akubra's, and plenty of sparkling – some of those sparkles even to be worn!
Elyse Cole is on The Resurrection Run as well as a 'MerPig' with one of her and Beryl's great B to B friends, Sally Mae Bailey. They will be driving Car 333 Little Pigs, Sally Mae's regular 'Bash' car - a classic Holden.
Beryl said yesterday, while packing up to head to the Check In Point, there are 83 cars taking part in The Resurrection Run.
With so many joining in, all saying they're 'getting on the road for the kids', this welcome boost to Variety – The Children's Charity, as well as all to all the regional towns they will visit along the way, proves you can't stop this mob from doing all they can for the children and you can't keep them out of rural New South Wales.
In fact, when the Outback Mermaids and MerPigs come home again, it will be a case of 'you can take the girl out of the country, but you can't take the country out of the girl'.
And they're all still doing all they can for the children - for Variety - The Children's Charity.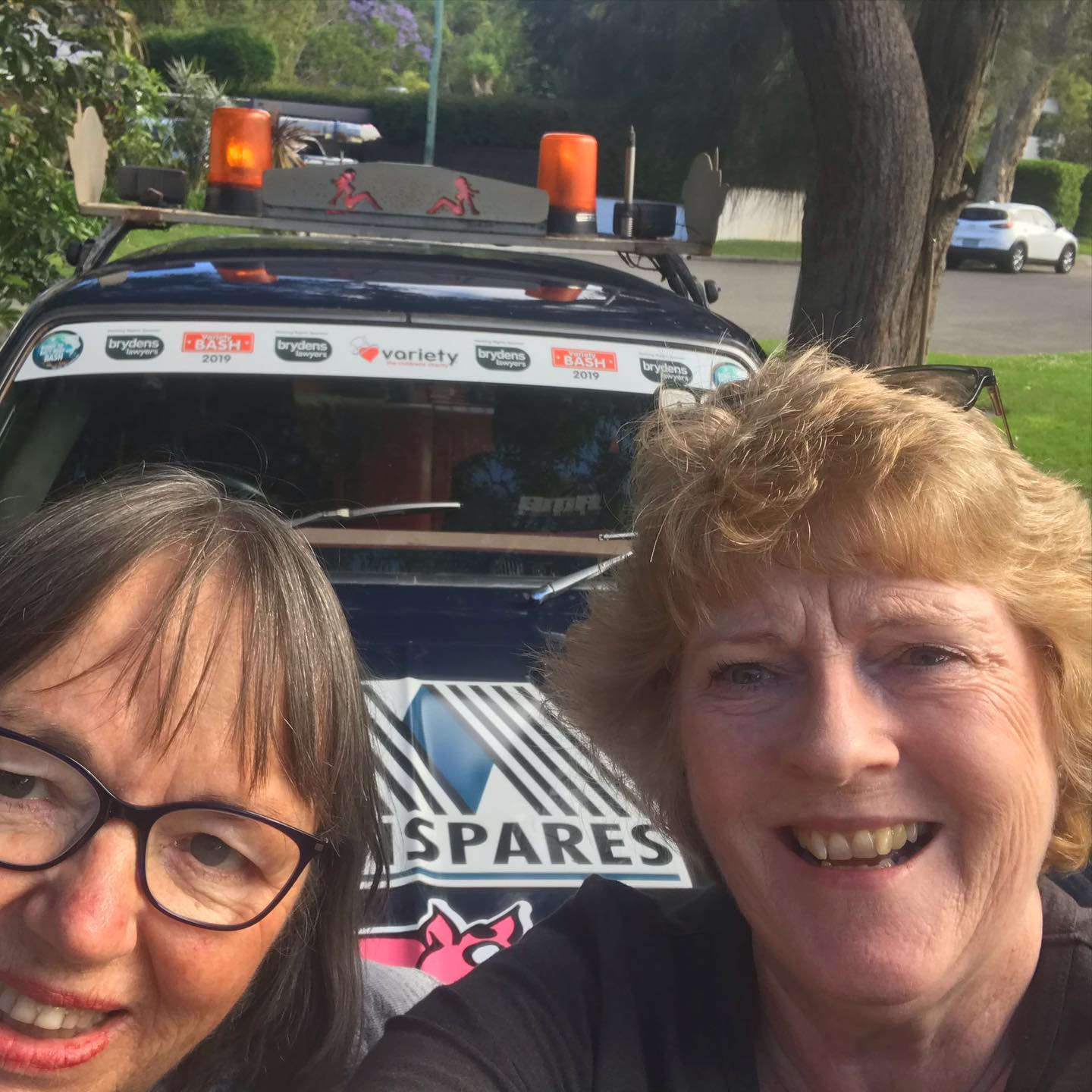 Elyse and Sally Mae and Car 333 - photo courtesy Sally Mae