November 15 - 21, 2020: Issue 474
Welcome to Country: Neil Evers – NAIDOC Week 2020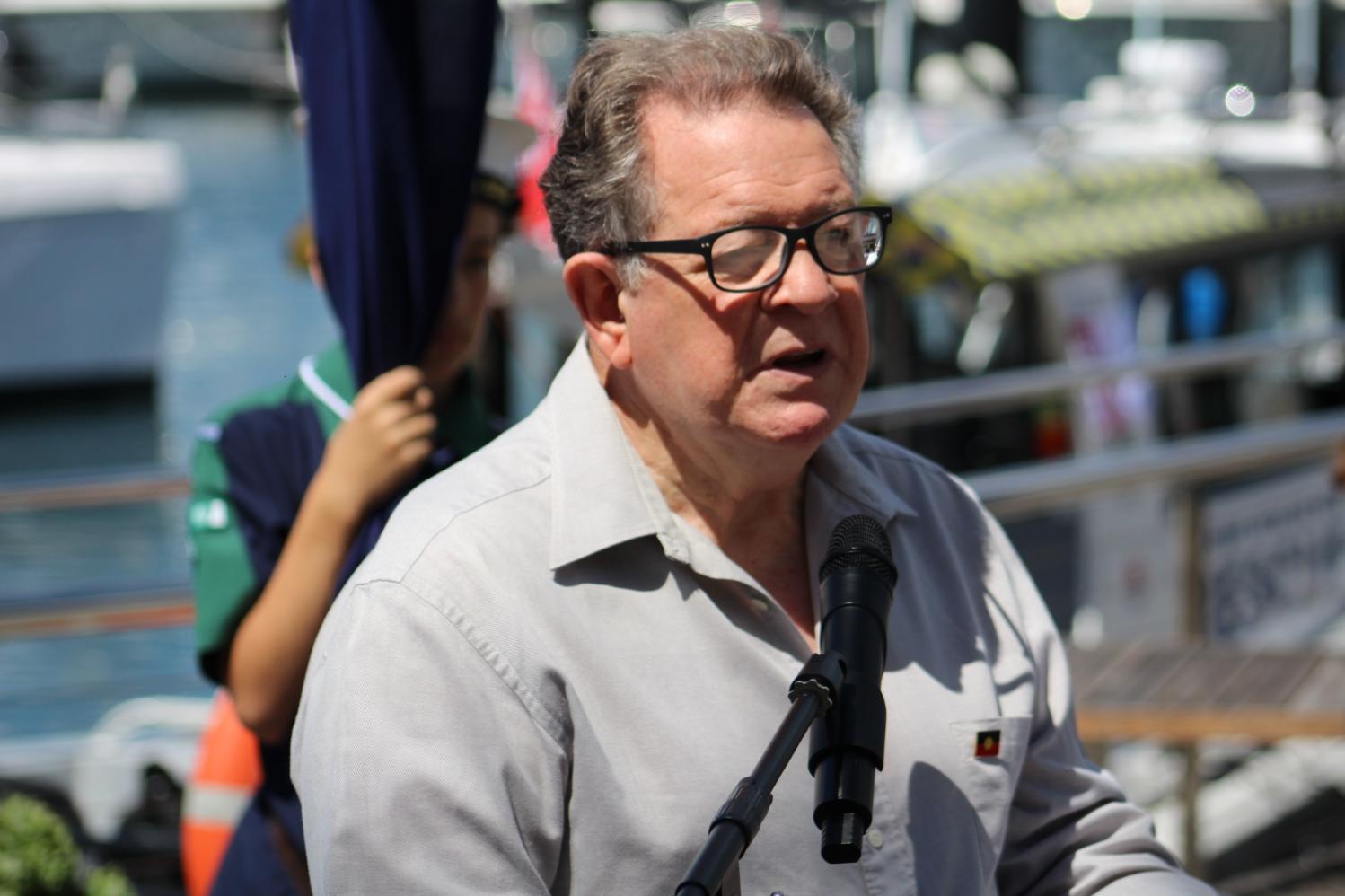 On Saturday Garigal man Neil Evers gave the Welcome to Country for the naming ceremony of the new Marine Rescue Broken Bay BB30, named to honour member Michael Seale and his contribution of 38 years voluntary service.

After hearing, for many years, the Welcome to Country Mr. Evers prepares, each one particularised to the event and time and place it is given in, that which he spoke on Saturday, during NAIDOC Week 2020, warrants being placed on the record as a Tribute to his Elders and for residents of Pittwater to gain insights, as it relates directly to this place and the 2020 'Always Was, Always Will Be' theme for NAIDOC Week 2020.
This one was given on the shores of Pittwater, at the Royal Motor Yacht Club Broken Bay and just feet away from where his father once lived:
Good Morning Distinguished guests, children, ladies and gentlemen.

I am a direct descendant of the Garigal clan. Garigal people are part of the oldest continuous culture in the world. And I pay respects to my elders both past and present.

I also acknowledge the Strength and the Courage they have.

Today we are on Garigal Country. I thank the organisers of today for acknowledging and recognising the traditional Custodians.

Australia has always been a multicultural, multilinguistic, multi-faith land.

If you cast your eyes back to a map prior to 1788 you will see that there was 350 different Aboriginal Sovereign Nations, speaking well over 600 Aboriginal languages and dialects.

So if you put that into today's perspective, Australia had well over 350 different countries – that's more countries than there are n the world today.

This week has been NAIDOC Week – the theme for NAIDOC Week 2020 - Always Was, Always Will Be. Recognising the First Nations people have occupied and cared for this land for over 65,000 years.

Prior to 1788 Aboriginal people, population, 100% - now, just 3%.

The Ancestors managed this country, the greatest estate on earth, for sustainability, for the future.

Aboriginal and Torres Strait Islanders are the first Australians to be explorers, navigators, engineers, farmers, botanists, scientists, diplomats, astronomers, artists – and the first to use the fire stick for farming.

They're the world's oldest oral story tellers. Their engineering structures have been noted and are now listed as World Heritage sites – and this was all before the pyramids were built.

The intimate knowledge of the Country meant that Aboriginal people were able to cope with climate change, with catastrophic droughts, and also the rising of water.

NAIDOC 2020 invites all Australians to learn and embrace the true history of this country.

We want all Australians to celebrate that we are living in a country that has the oldest continuous and living culture in the world.

And I believe that we live in the best part of it.

The beautiful waterways, the incredible ocean that we have, the landscape – we all love it.

But cast your minds back 250 years to what it would have looked like then.

The food – abundant. Over near the high school here – Bin Bins, in Guringai language that means bandicoots – they would have been good tucker. The Wattle tree – when it came into flower you knew that mullet were coming down the river. And when certain flowers began to bloom, the Gy-mea, you knew that whales were coming.

The yams, they had these by the acres, they're like a little sweet potato.

Outside the Sea Scout hall across the water from here, at low tide, there's a huge Midden – it just shows you the abundance of food that was here, right here where we are today.




Current day Bayview Sea Scouts building when it was the Aquatic Club premises, for rowing. Photo: Don Taylor, circa 1930s




as it is today. Photo: A J Guesdon

My ancestors come from this area, from right here. Bungaree, he was born at Patonga.

Bungaree was noted to be the Chief of the Broken Bay people, the leader of the Pitt Water clan.

He was the first Australian born person to circumnavigate this great country, with Matthew Flinders.

At the end of the voyage Matthew Flinders said to Bungaree, 'I'm going to name this place ''Australia'' – he turned to Bungaree and said, 'I'll be able to call you an Australian.' – making Bungaree the first person to ever be referred to as an Australian.

Bungaree's granddaughter is my great great grandmother.

There's a little book called 'Love Amongst the Prawns' which features the Hawkesbury River. The first chapter speaks about an Aboriginal woman and a German convict. He used to get her to sit in the front of the boat, facing him, just so he could see her pretty face.

These were my great great grandparent's - needless to say they had 10 children – and one of those was called 'James', he's my great grandfather. One of his sisters was called 'Catherine'. Now Catherine was like her mother, a midwife, and she married a man called 'Benns', and she became Queen of Scotland Island, but her and her husband never had any children. But Catherine did have a child out of wedlock.

We've done some research into this to try and work out the possibilities of who the father might be, and the best we could come up with – he would have been a Broken Bay Water Policeman. That would never happen on the BB30.

I have been asked to give a Welcome to this beautiful Country of my ancestors. But my ancestors would not have said 'welcome' to you. Welcome means there is a beginning and there must be an end. Traditional Aboriginal people believe there is no beginning or end – life just continues to flow.

What they would have said to you would be;

Barley Ki Giballee Yaddung Guringai Wannangini – that means 'You and me come together as one in Guringai Country'.

What I do ask you, as a descendant, is that you care for this country, that you care for the waterways.

And in today's language, on behalf of the ancestors, I Welcome you to this beautiful country.

Welcome!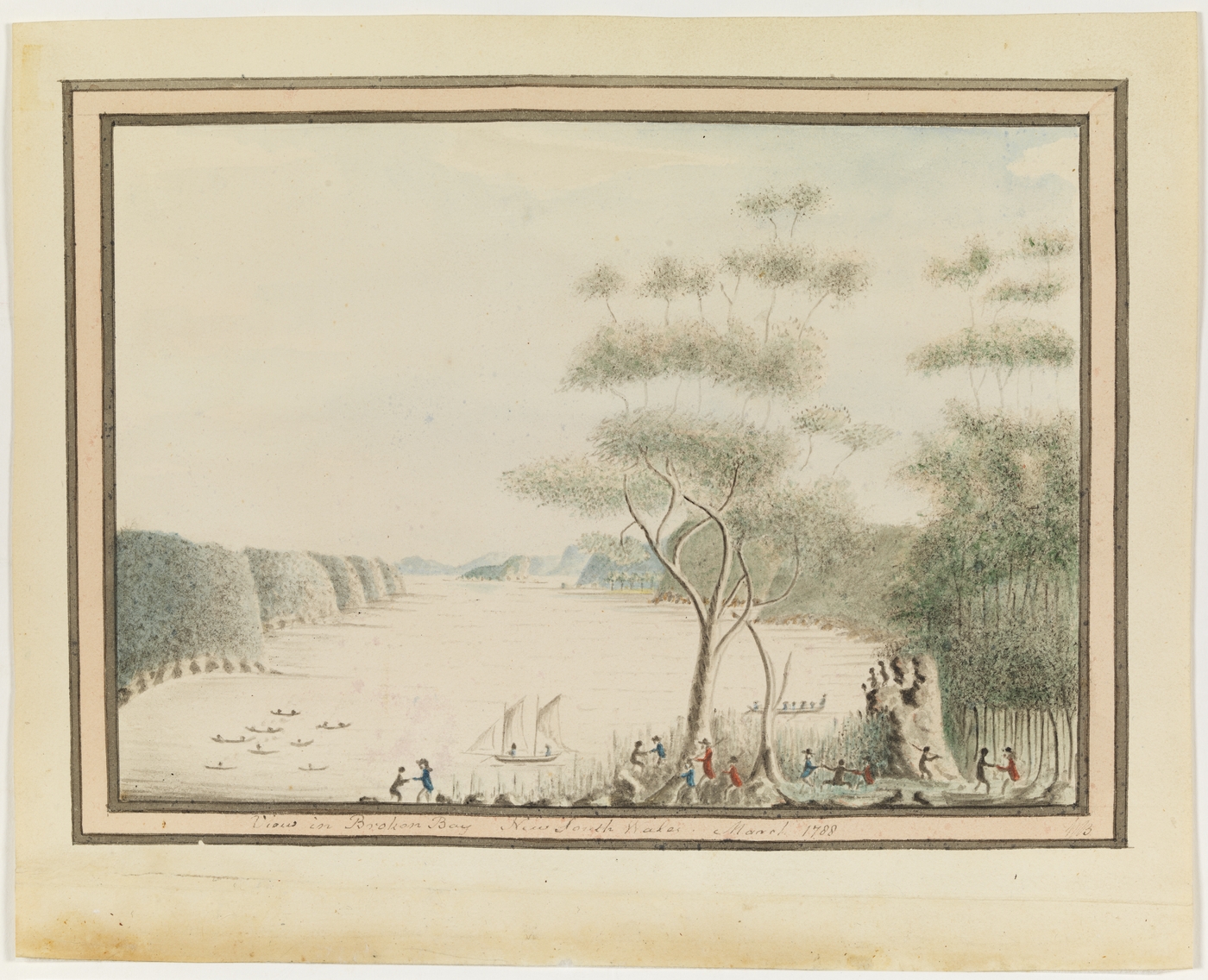 '
View in Broken Bay New South Wales. March 1788
' by William Bradley
'. Image No.: a3461013h.
Courtesy Mitchell Library, State Library of New South Wales.