November 15 - 21, 2020: Issue 474
2021 NSW Australian of the Year Awards: Shane Fitzsimmons Awarded States' Highest Honour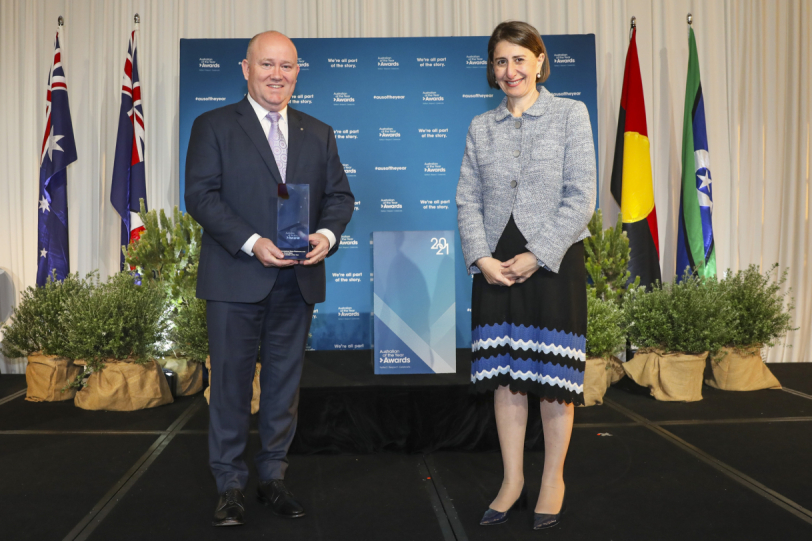 Photo: Salty Dingo (Supplied: NSW Australian Of The Year Awards)
The down to earth wonderful example Ex-NSW Fire Commissioner and leader of Resilience NSW, Commissioner Shane Fitzsimmons AFSM has been for much of this year continued this week. Named 'Father of the Year for NSW in September, on Monday he received the state's highest honour in being named the 2021 NSW Australian of the Year.
In accepting the award Commissioner Fitzsimmons AFSM was asked what positives he took away from what has happened during 2019/2020. He stated there were so many positives he took away from this difficult year, all of them reminding us of the strength of community;
''For a lot of NSW they were on their knees, with drought, then absolutely devastated by the bushfires, then we saw the wash away in many areas by rains and floods in a denuded landscape, and then we've all been responding to and managing the implications of a global pandemic.
In the backdrop of such adversity we've seen extraordinary human spirit right across this great nation and off our shores, a humanity that brought together love and compassion and care as we genuinely pulled together.''
Signalling out volunteers Commissioner Fitzsimons – ''day after day we saw tens of thousands of people pulling together to help out and help each other, the vast majority of which were volunteers, men and women simply making a difference in their community, for the want of nothing in return, working to save lives and save as much as they could. As we've gone on in the last few months we've seen that extraordinary commitment globally in generosity and support in funding, in opening one's door, in all manner of aid and assistance.
For me, that human spirit, that volunteerism, that's what inspires me and inspires me every day, to know that our communities are so much better because we have people who give so generously of themselves.''
A truly humbling honour - thank you to all who nominated. May we never forget all those affected by the fires and especially their loss and sacrifice.''
Commissioner of Resilience NSW Shane Fitzsimmons was appointed as the inaugural Commissioner for Resilience NSW and Deputy Secretary, Emergency Management with the Department of Premier and Cabinet from 1 May 2020.
This appointment followed a distinguished career with the NSW Rural Fire Service of over 35 years, which commenced at Duffy's Forest RFS while he was still attending Pittwater High School. By age 19 he was the youngest-ever member elected captain of his brigade.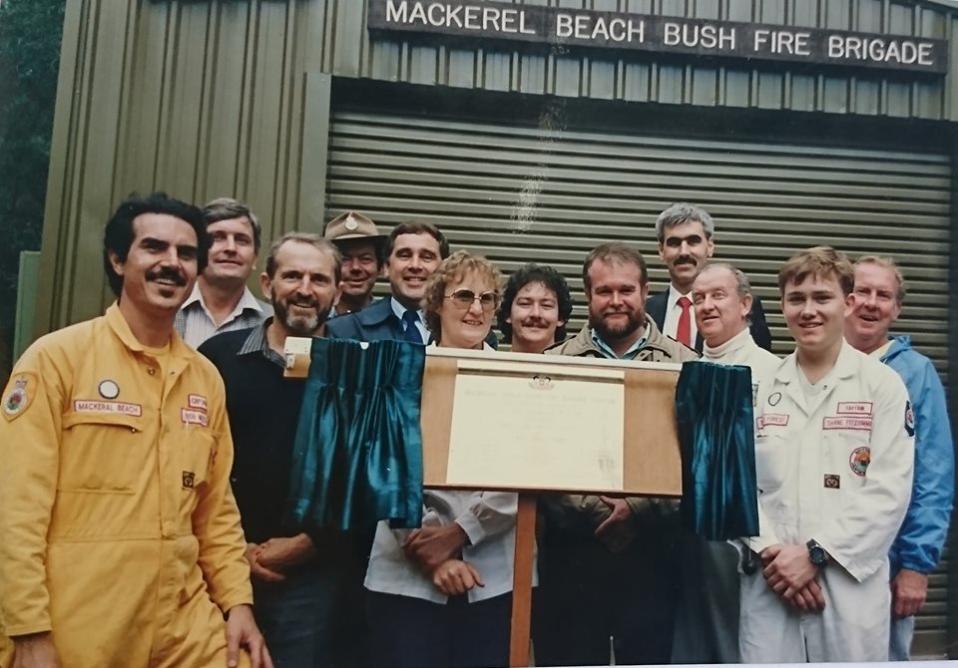 1989 Mackeral Beach Station Opening: Captain Bob Mitchell on left, our current RFS Commissioner Shane Fitzsimmons front right when he was a volunteer Captain of Duffys Forest.
Bob Mitchell, ?, ?, Ron Castle, Keith Simpson, Jan Bennett, Craig Geddes, ?, Peter Owens, Laurie Bagnall, Shane Fitzsimmons, Ingleside Captain in 1989 Rex Mitchell in light blue on the far right behind Shane - Patrick Williams front right. Mackerel Beach RFB photo.
In 1998 he was appointed an Assistant Commissioner with the RFS and has held portfolio responsibilities for Operations, Strategic Development and Regional Management. In 2004, he was appointed the inaugural Australasian Fire Authorities Council (AFAC) Visiting Fellow to the Australian Institute of Police Management (AIPM) for a period of 12 months.
September 2007 - April 2020 he was Commissioner of the NSW Rural Fire Service and was also the Chair of the NSW RFS Bushfire Coordinating Committee and the Rural Fire Service Advisory Council. He was also a member of the NSW State Emergency Management Committee and the NSW State Rescue Board (SRB) and was Chair of SRB from 2008 to November 2015. In July 2012, he was appointed a Board Member of the NSW Government Telecommunications Authority.
He was appointed a Director of the National Aerial Firefighting Centre (NAFC) in March 2008 and was the Chair of the NAFC Board from 2009 to 2013. He was a Director on the Bushfire Co-operative Research Centre from 2009 to 2014.
He was a member of the Australasian Fire and Emergency Services Authority Council from 2007 and was a member of its Board from November 2016 to November 2019 and held the position of Deputy President upon retirement from the Board.
In January 2016 he was appointed as a Councillor of the Royal Humane Society of NSW Inc. Commissioner Fitzsimmons was awarded the National Medal in 1999 and the Australian Fire Service Medal (AFSM) in 2001.
The 2021 NSW Australian of the Year Awards were announced on Monday evening November 9th in a ceremony at Luna Park, Sydney. The NSW award recipients will join those from the other states and territories for the national awards to be announced on 25 January 2021.
Those awarded are:
The 2021 NSW Australian of the Year is Ex-NSW Fire Commissioner and leader of Resilience NSW, Commissioner Shane Fitzsimmons AFSM.
In the terrifying 2019/20 bushfire season, Australians were reassured by the exemplary leadership and empathetic presence of then NSW Fire Commissioner Shane Fitzsimmons. Shane began as a volunteer with NSW RFS in 1985, in the footsteps of his father George – a full-time firefighter who was tragically killed in an out-of-control hazard reduction burn in 2000. In 1994, Shane joined the NSW RFS full-time, working in a range of leadership positions before being endorsed as the organisation's commissioner in 2007 – a role he held for 12 years. In 2019/20, Shane guided a state-wide response including a 74,000-strong crew of mostly volunteers through one of Australia's worst fire seasons. Working long hours, the 51 year old informed and calmed the public in daily press conferences, liaised with government leaders and provided comfort to colleagues and family members of firefighters who lost their lives in service to others.
Elder and advocate for the Stolen Generation, Isabel Reid, is the 2021 NSW Senior Australian of the Year.
Born in 1932, Isabel Reid is the oldest living survivor of the Stolen Generation – children who were forcibly removed from their families because they were Aboriginal. Isabel, her sister Betty and brother Jack were taken on the way home from school. Their parents had no idea what had happened to them. Isabel and Betty were sent to the Cootamundra Domestic Training Home, becoming domestic servants with their wages paid to the NSW Government. As an Elder of the Wiradjuri people, Isabel has worked tirelessly to raise awareness of the Stolen Generation to help prevent it from happening again. In 2013, she was made an inaugural director of the Coota Girls Aboriginal Corporation, and in 2016, she was appointed as an inaugural member and Chairperson of the Stolen Generations Advisory Committee. Her strong leadership was instrumental to the NSW Government offering a $74 million reparation package to those forcibly removed under the Aborigines Protection Act 1909-1969. A natural leader and outstanding public speaker, 88 year old Isabel is respected and loved by all.
The 2021 NSW Young Australian of the Year is pilot and Invictus Games gold medallist, Nathan Parker.
Nathan Parker was on the way to his dream job as a fighter pilot when a military bus accident left him badly injured and his left hand amputated. Despite his injuries, Nathan returned to civilian flying in three months, resuming military and university duties within seven months. He was the first upper-limb amputee in the Australian Defence Force Academy's history to complete his final 12 months and graduate. After completing his degree in 2017, Nathan was medically discharged in 2019 to become a commercial pilot. The 25 year old works as a senior RA-Aus flying instructor in Lismore, obtaining his commercial pilot's licence and achieving his aerobatic endorsement. A public speaker, mentor, flight instructor and now aspiring to provide joy flights for sick children, Nathan is also a gold-medal athlete. He represented Australia in the Invictus Games in Canada 2017 and Sydney 2018, winning nine medals including three gold in Sydney. He also brought home 17 medals from two USA Warrior Games.
Advocate for migrant and refugee women, Rosemary Kariuki, is the 2021 NSW Local Hero.
Rosemary Kariuki is the multicultural community liaison officer for the Parramatta Police. She specialises in helping migrants who are facing domestic violence, language barriers and financial distress. Fleeing Kenya alone in 1999 to escape family abuse and tribal clashes, her early years in Australia were terribly lonely. Her experience helped Rosemary recognise that isolation is a huge issue for many migrant women. Many aren't used to going out alone, have no transport and speak little or no English. So Rosemary devised ways to help women leave their house and meet women in similar circumstances. In partnership with the African Women's Group, she helped start the African Women's Dinner Dance which is now in its 14th year, with more than 400 women attending the annual event. The 60 year old also started the African Village Market – a program to help migrants and refugees start their own businesses – which ran for four years. Rosemary's warmth, courage and kindness inspire all who meet her. Her work was the subject of the documentary 'Rosemary's Way'.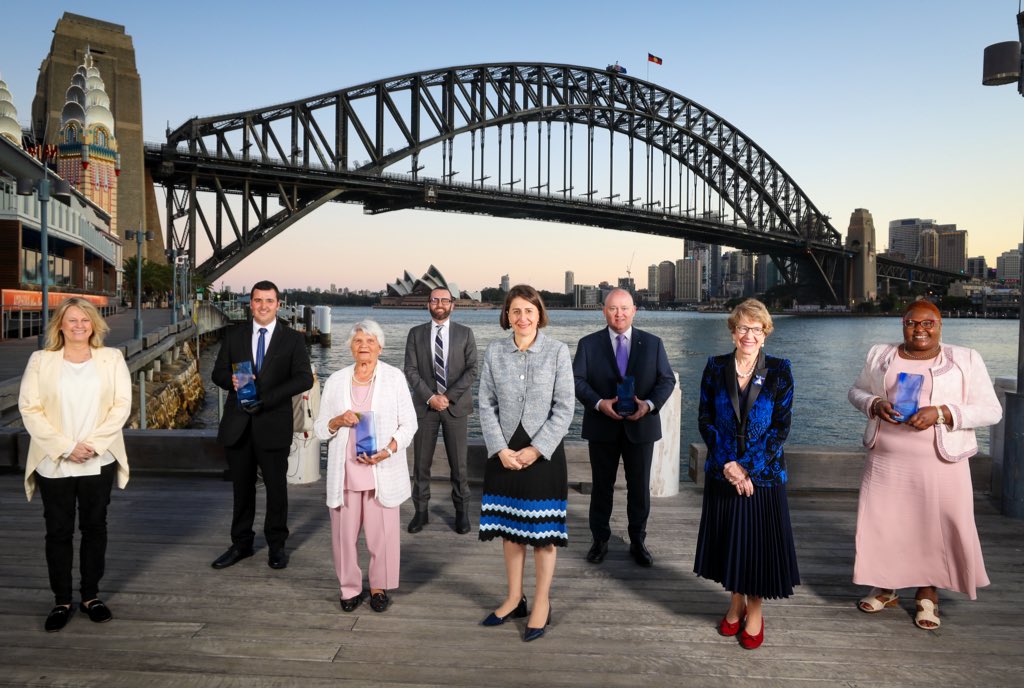 Photo: Salty Dingo (Supplied: NSW Australian Of The Year Awards)

National Australia Day Council CEO Karlie Brand congratulated the NSW award recipients.
"The 2021 NSW Australians of the Year are leaders by example," said Ms Brand.
"Their efforts are truly inspirational, providing leadership in crises, paving the way for others, showing us what is possible, fighting for what is right and helping those in need."