October 20 - 26, 2019: Issue 425

Australian Sailing Awards 2019: Pittwater Winners And Hall Of Fame Inductees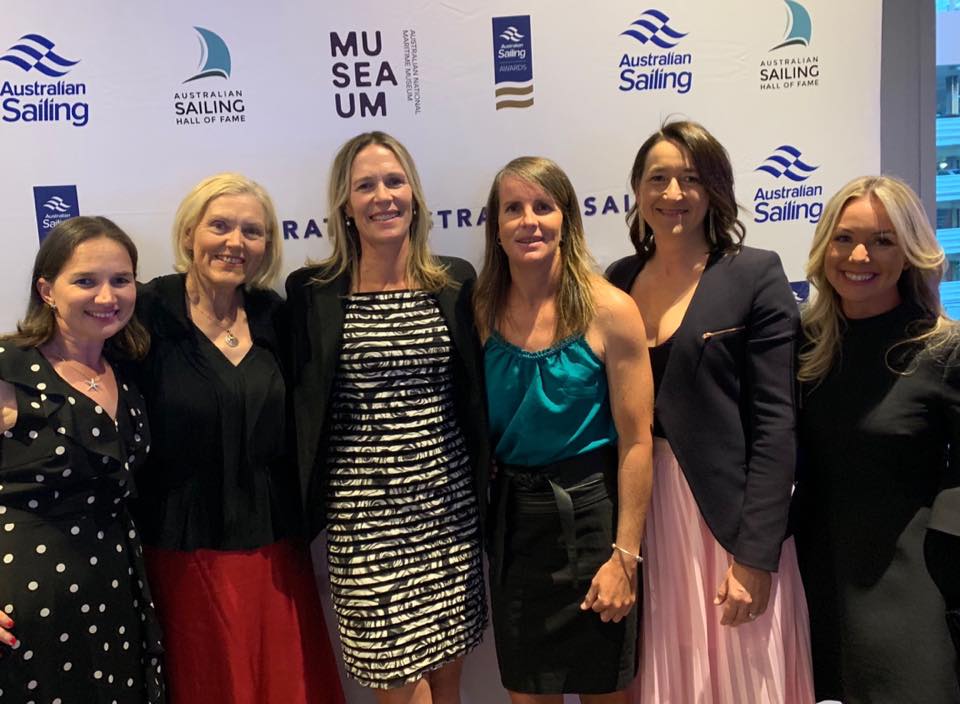 Ocean Respect Racing's Katie Spithill, Vanessa Dudley, Carolijn Brouwer, Stacey Jackson, Sarah Crawford and Jade Cole at Australian Sailing Awards 2019 -
Ocean Respect Racing photo.
Pittwater sailors have again featured in this year's national Australian Sailing Awards with Bayview's Mark Foy being the first announcement of those being inducted into the Australian Sailing Hall of Fame. Ocean Respect Racing, with RPAYC members Stacey Jackson and Katie (Spithill) Pellew and their all-women crew, won the inaugural Sustainability Award, while fellow RPAYC Members Richard Slater was recognised as
Official of the Year, and the
Lifetime Achievement Award honoured John McConaghy
.
Greg Hyde of Manly and Crystal Bay Sailability received the honour of also being inducted into the Sailing Hall of Fame, and Pittwater and Clontarf connected Trygve (1920-2014) and Magnus Halvorsen (1918-2015) were also inducted into the Australian Sailing Hall of Fame. Their brother Carl was a RPAYC Member since the late 1960's and funded the RPAYC Carl Halvorsen Scholarship, designed to encourage young people into the sport by lending them sailboats so they could decide whether to invest in their own.
He also loaned his 5.5m Crest to Crown Prince Harald of Norway for the
1970 5.5m world championships held
off Palm Beach and narrowly missed out on selection for the 1968 Olympic Games but sportingly lent his state-of-the-art sails to
Bill Northam
, a fellow RPAYC Member and Bayview resident, who won Australia's first Olympic gold medal for sailing in
Barranjoey
.
Australian Sailing Hall Of Fame Inductees 2019: Mark Foy And Greg Hyde
Bayview resident and BYRA supporter Mark Foy was named as one of the four new inductees into the Australian Sailing Hall of Fame at the Australian Sailing Awards 2019 on Friday, October 18th.
The video that runs below has been published by the Australian National Maritime Museum with the accompanying text:
Mark Foy was a visionary and a man of great passion who championed the sport of open boat sailing in the iconic working craft of colonial Sydney Harbour.




He was a colourful character remembered for his efforts to take the sport interstate, nationally and internationally. He changed the face of sailing with the formation of the Sydney Flying Squadron in 1891. Through innovative rules and coloured sail emblems he put skiff sailing firmly in the public eye and made it a hit with both sailors and spectators alike. His legacy lives on.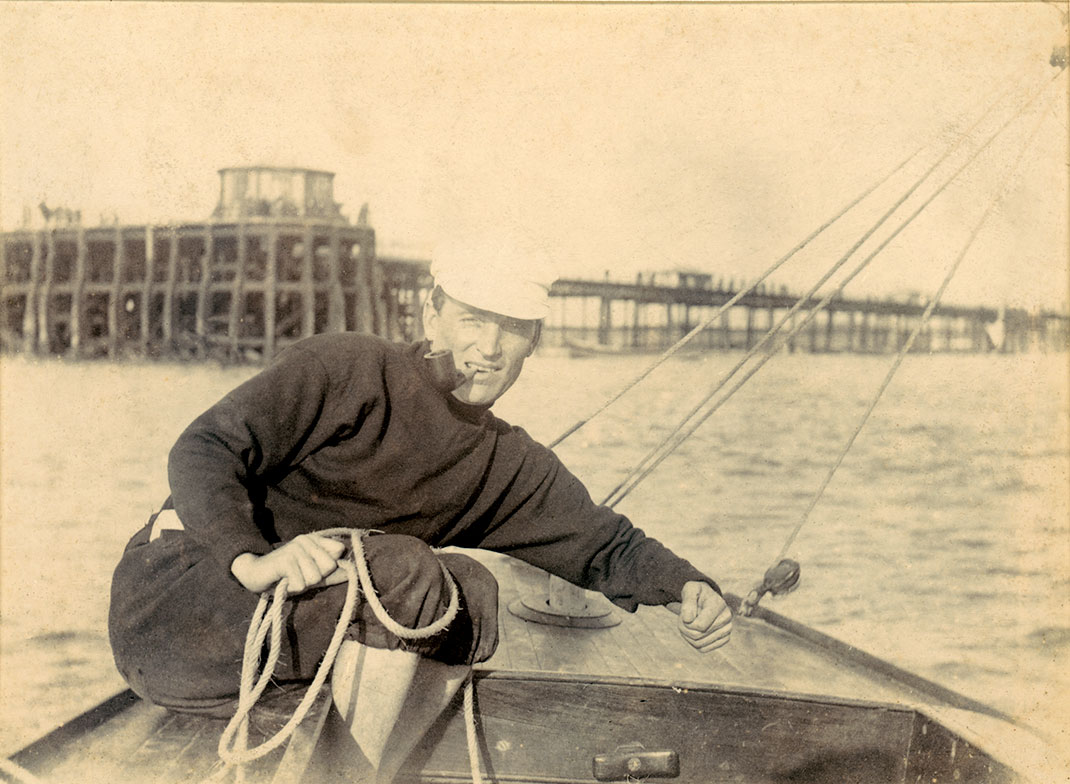 Mark Foy - Intercolonial Challenge Cup, 1898
Avalon Craft Cottage 50 Year Celebratory Luncheon At Avalon Beach RSL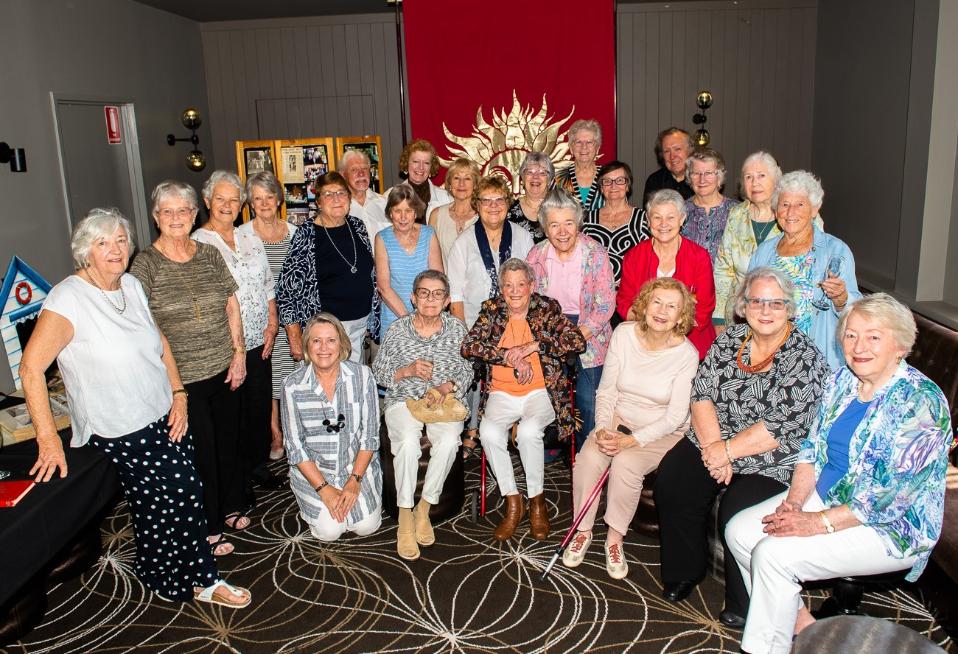 Avalon Craft Cottage members at 50th Birthday Luncheon. Photo by Michael Mannington, Community Photography
Members of the Avalon Craft Cottage gathered in the Stella Room at Avalon Beach RSL on Tuesday, October 15th, 2019 to celebrate the 50th year of this co-operative of creatives and their craft works. Originally based in a cottage shop on Old Barrenjoey road, once the collective moved out of this premises, and went mobile, they were able to bring their wares to a broader audience through holding stalls at Warriewood shopping centre, St Ives shopping centre, with annual sojourns at Avalon Community Centre as well.

The Avalon Craft Cottage has always had a strong emphasis on supporting and contributing to community with the Mona Vale Hospital Auxiliary and the Women's Shelter at Manly being the recipients of fundraisers and raffles held during Exhibitions in years past.
Maureen Darcy-Smith has recently stepped down after years as President and Publicity Officer, a position she has held for 27 years, for the co-operative. The new President is Lesley Warren.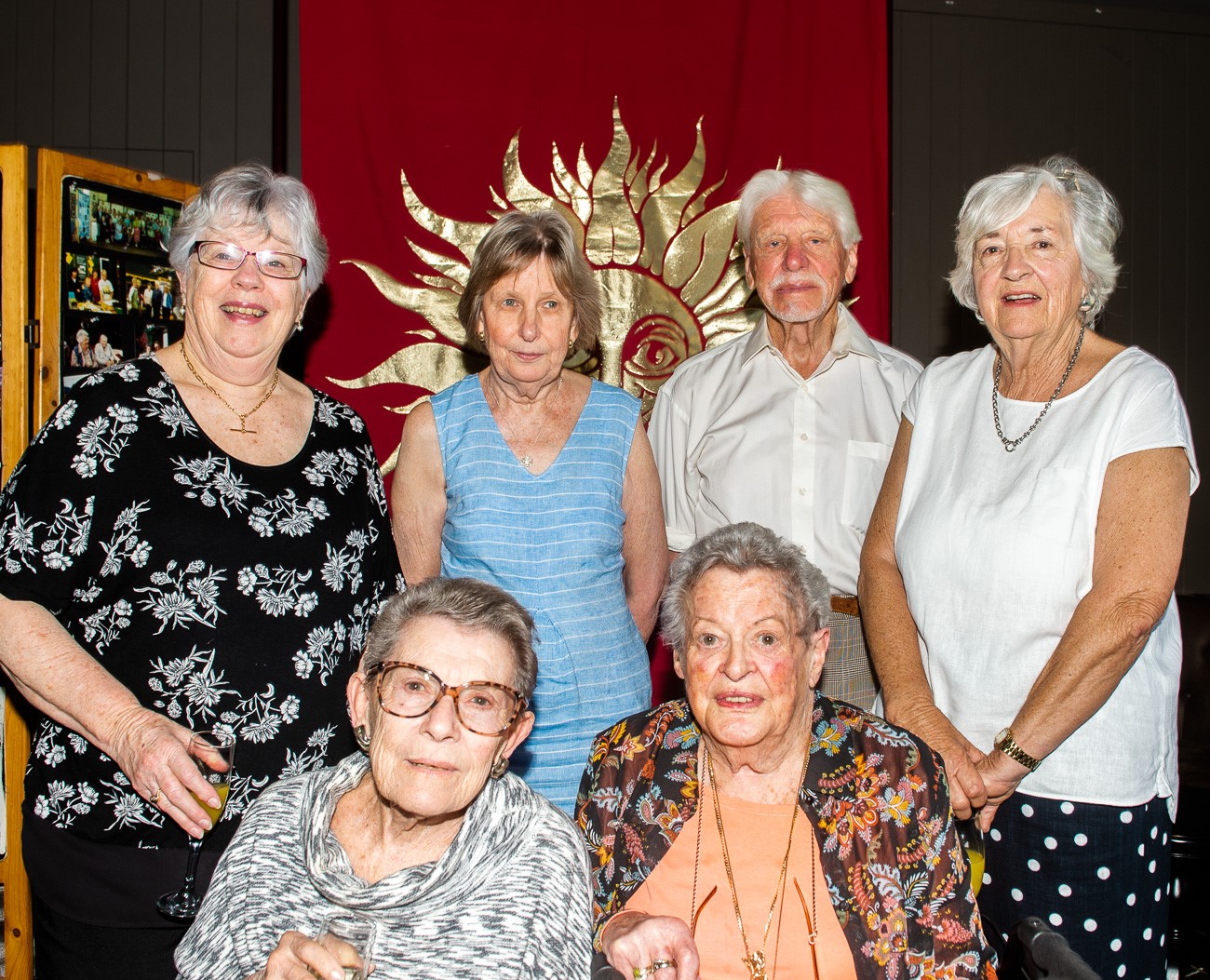 Avalon Craft Cottage 50th Luncheon: Robin Thomson, Nola Marshall, Lesley Warren, Jenny Fraser, Frank Wyld, Meg Sedgwick. Photo by Michael Mannington.

Attending the 50th Birthday Luncheon were Founding member Nola Marshall as well as Jenny Fraser, who joined the Avalon Craft Cottage within its first weeks. Jenny is still a working member of the group, and makes all those lovely decorations and pomander balls at Christmas.
Parliamentary Friends Of Surfing Host First 'Surf Summit' Bringing Business, Community And Surfing Together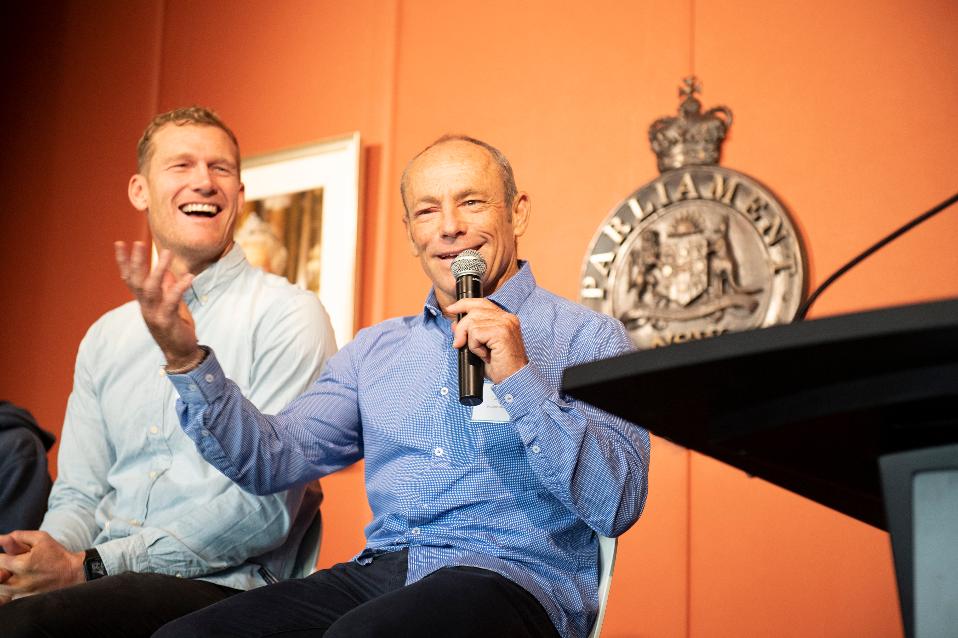 Surfing NSW this week launched a groundbreaking program of marketing and community-building partnership opportunities at an inaugural 'Surf Summit', hosted by the newly formed NSW Parliamentary Friends of Surfing. The inaugural event featured two-time World Champion Tom Carroll and Team Australia's Head Coach Bede Durbidge. photo by Glenn Duffus / Surfing NSW
Surfing NSW this week launched a groundbreaking program of marketing and community-building partnership opportunities at an inaugural 'Surf Summit', hosted by the newly formed NSW Parliamentary Friends of Surfing.

The event was held at the NSW Parliament and attended by more than 200 community leaders spanning business, government and the not-for-profit sectors, less than a year out from surfing being contested for the first time at an Olympic Games.
The NSW Parliamentary Friends of Surfing comprises of 15 Members of Parliament including Coalition, Labor and Independent MPs who have rallied behind the Member for Manly, James Griffin, to grow the sport and share its lifestyle.
Surfing NSW Chairman John O'Neill outlined the opportunities surfing presents for organisations to connect with more than 1.5 million Australian surfers and to engage with the surf lifestyle as a vehicle for improving community health and wellbeing. The opportunities presented include platforms for promoting mental health, ocean health, and youth health and wellbeing through surfing, as well as surf and surf lifestyle events.
"We believe surfing can enrich communities and help create a healthier and happier society," Mr O'Neill said. "We see the formation of a Parliamentary Friends of Surfing group as a key initiative in developing long-term partnerships spanning government, the private sector and an array of community-based organisations."
Friends of Surfing Chairman and Member for Manly, Mr. James Griffin, MP, said the work of Surfing NSW was producing important results beyond elite sports competition.
"Surfing NSW has a proud history and I value the great work the organisation is doing in the community," he said.
NSW Athletes Shine At Iconic Coolangatta Gold 2019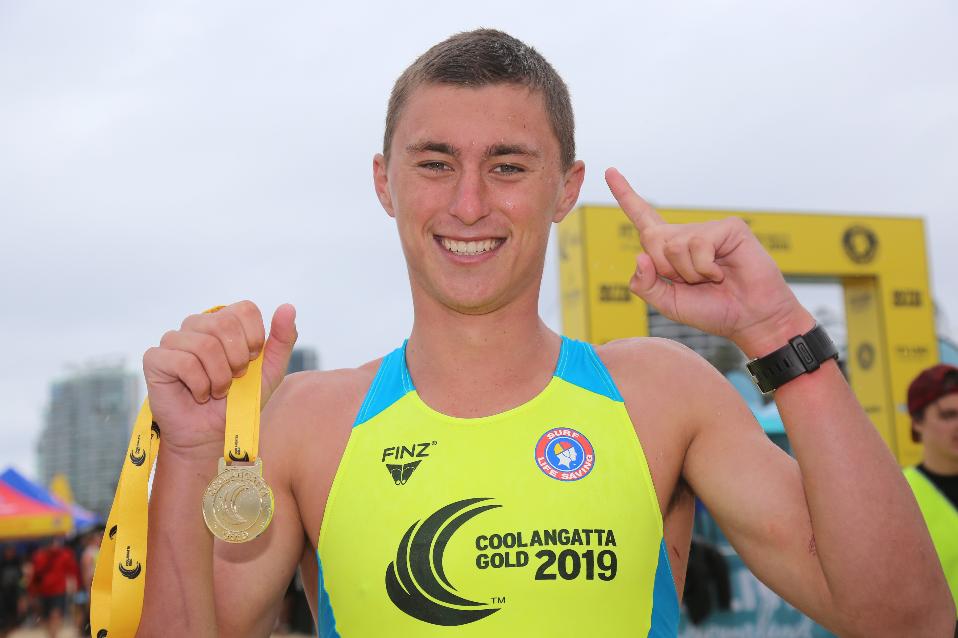 Zach Morris, (Newport SLSC). Photo Credit HarvPix.
Sunday October 13th, 2019
The 2019 Coolangatta Gold has wrapped up after two solid days of competition on the Gold Coast. Perfect conditions greeted the 700 athletes who have trained over the winter months with a mild two-foot swell.
Jemma Smith (Umina) has racked up an impressive list of results and awards as the 2019/20 season begins recently being crowned the Under 23 Ocean Kayak World Champion as well as 2019 NSW Ironwoman Champion. This was her first attempt at the Coolangatta Gold.

"I'd never done this race before so I didn't know what to expect. It was a grind, but I absolutely love tough racing like that it makes it really interesting," said Smith.
Smith lead the pack of Australia's top Ironwomen from the get-go with the ski one of her strongest. "I knew with the ski leg first I had to get out there early and then fortunately in the swim leg I was able to hold the lead which was really nice. The board leg was then about conserving some energy for the run," said Smith. It was a tight finish with Queensland's Lana Rogers who took the lead in the run but Smith stayed just strides behind. After four hours the girls crossed the line just seconds apart. Rogers finishing in first place with the time of 4:27.51 and Smith 4:23.54.
Always humble of her success and grateful for the support Smith praised her family, friends and team.
"It's been an absolutely amazing race and it was great to have such a big team up here to support me, it really made a difference to have them all here after they did the Short Course yesterday," Smith said ahead of what will be an exciting season of racing.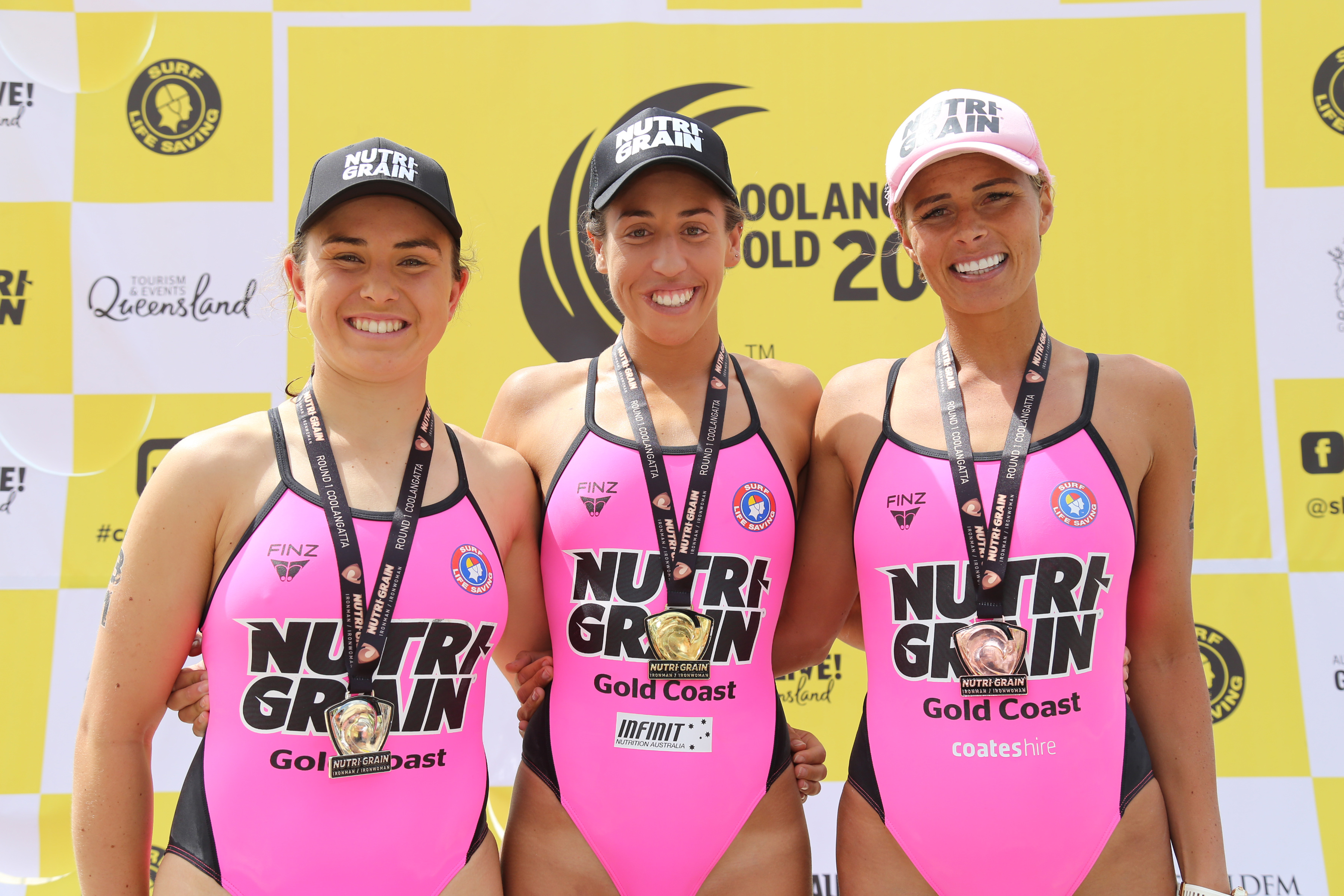 Women's top 3 (l-r) Jemma Smith, Lana Rogers, Courtney Hancock. Photo Credit HarvPix.

The Short Course event consisted of a 21km race incorporating a 10.5km surf ski paddle, 2km surf swim, 3km board paddle and 5.5km beach run. NSW athletes were scattered across all divisions including Under19, Open, 35-49, 50 + and teams for Under 17s, Under 19s, Opens, 140+ Masters and 190+ Masters.

After an incredible 2018/19 competition season, Youth Ironman World Champion Zach Morris, 17 (Newport) showed he's stayed on-track over the offseason. Morris took out the men's Open short course event in two hours, 20 minutes and 14 seconds.
Manly's veteran athlete Rachel Kember (nee. Crerar) had what has been heralded as arguably the best performance of the event. Coming in second in the Open Women's Short Course with a time of 2:45.56, she revealed she was 15 weeks pregnant after celebrating on the finish line. Manly LSC teammate Flo Epper just held on in the run leg for third.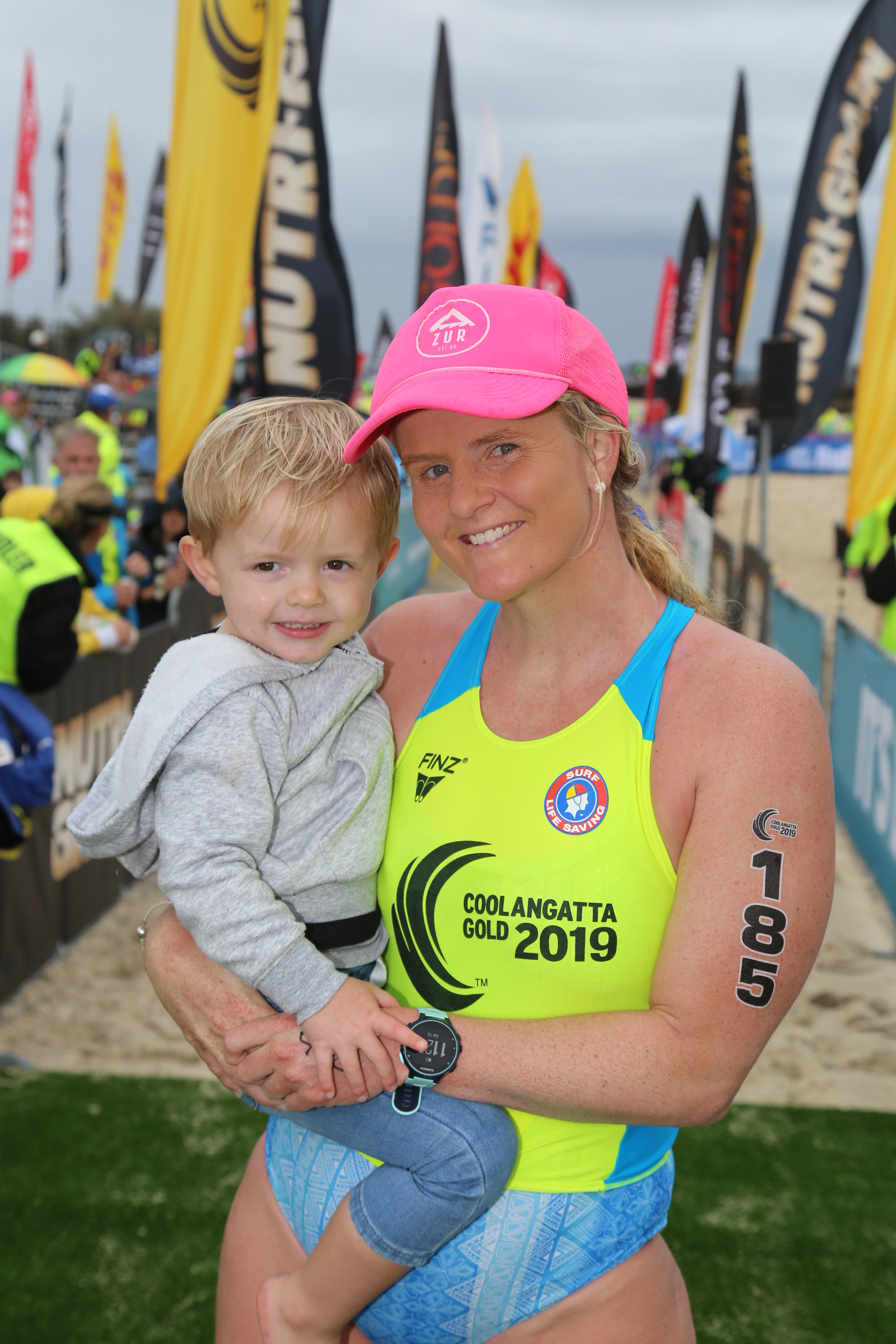 Rachel Kember (nee. Crerar)and son Ryan. Photo Credit HarvPix.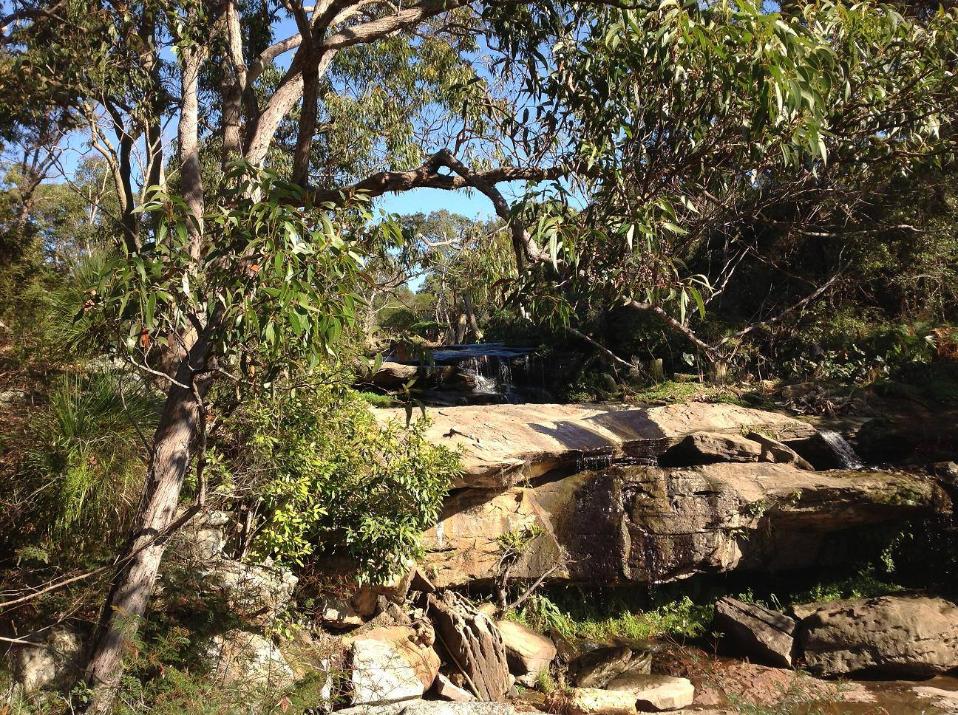 It's no accident that Mona Vale and Warriewood are backed by the escarpment's bushland of Ingleside Chase Reserve. PNHA had a major role in ensuring that two large privately owned areas were not subdivided and developed. Read how this was done in: A History Of The Campaign For Preservation Of The Warriewood Escarpment by Angus Gordon and David Palmer
Image: South arm Mullet Creek, now part of the Reserve. Photo by PNHA.
Past Features Archives (pre 2014)
Pittwater Online News was selected for preservation by the State Library of New South Wales and National Library of Australia. This title is scheduled to be re-archived regularly.
Archived Issues (2014 on) may be accessed here: pandora.nla.gov.au/tep/143700