July 7- 20, 2019: Issue 412
2019 Etchells World Champions are RPAYC Members Murray, Beashel and Allanson - RPAYC to Host 100th year of the Scandinavian Gold Cup and 5.5m Worlds in January 2020
The 2019 Etchells World Champions are Havoc skippered by Iain Murray with Colin Beashel and Richard Allanson.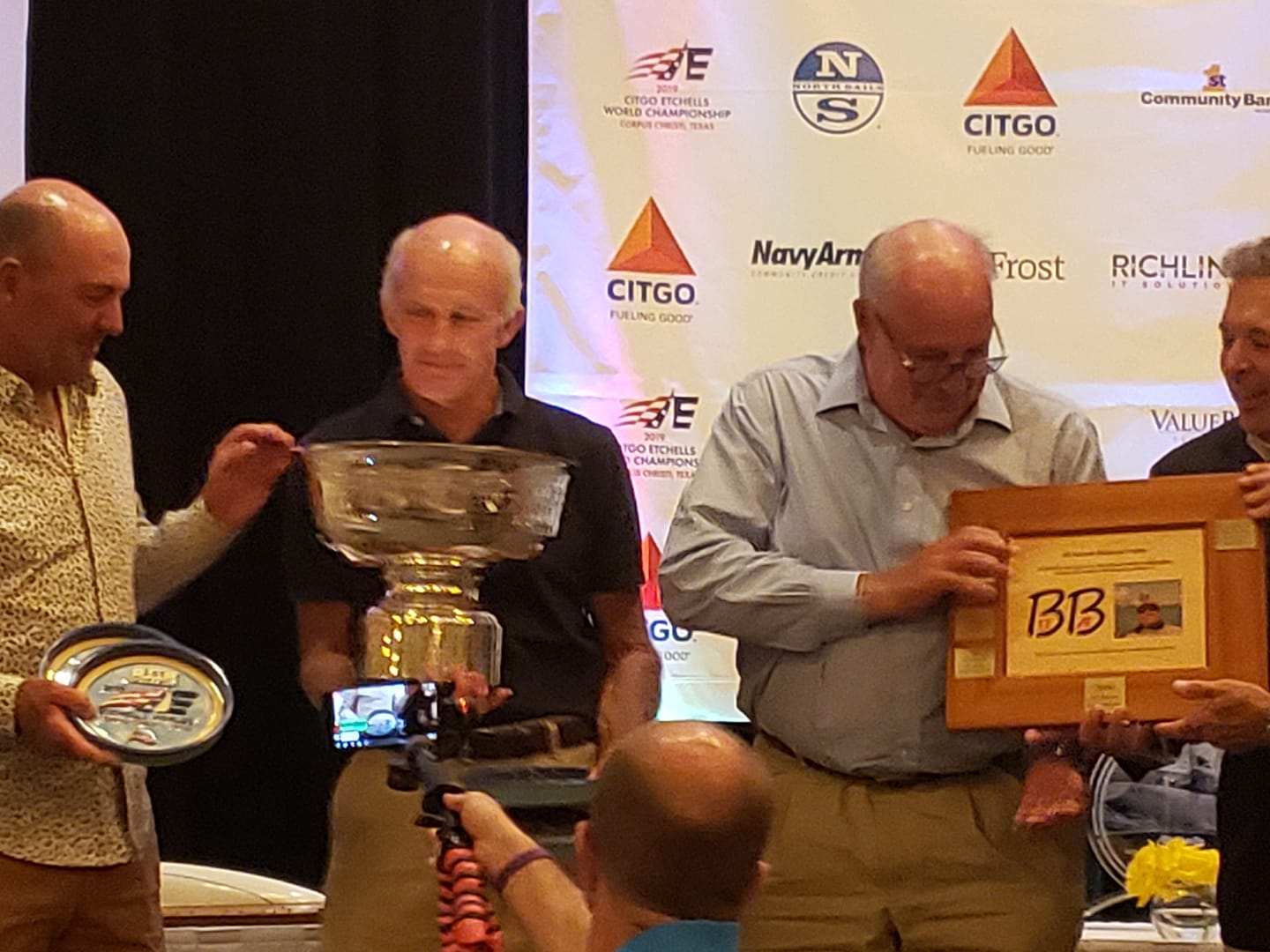 The cup goes to! - photo courtesy Etchells Worlds 2019 Corpus Christi
Placing second were Graeme Taylor, James Mayo and Tom Slingsby aboard Magpie. In total, 4 out of 5 of the top placed boats were Australian Etchells teams.
The 2019 Etchells Worlds were hosted by the Corpus Christi Yacht Club on Corpus Christi Bay, Texas.
Iain Murray started sailing in Flying Ant class dinghies at the age of nine. His first major event win was the 1973 Australian Cherub Championship title. He won the 18 ft skiff world title, the JJ Giltinan International Trophy, for a record six consecutive years from 1977 to 1982.
Today there are two modern hull designs racing. The "International 18" is based on a design by Iain Murray, while the B18 was designed by Julian Bethwaite.
Iain also developed the Nippa 2.65m dinghy for children in 2004.
In the 1983 America's Cup challenge at Newport, Rhode Island, Murray sailed on Syd Fischer's Advance. Australia II went on to win the Cup and bring it to Australia. Murray joined Kevin Parry's Taskforce '87 syndicate and co-designed and skippered their Kookaburra yachts. Kookaburra III won the defender elimination trials against three other Australian syndicates off Fremantle, but lost to Dennis Conner and Stars & Stripes 87, four races to nil.
Iain was onboard One Australia when it sank during the 1995 Louis Vuitton Cup, preceding the America's Cup match race that year.
He represented Australia in Sailing at the 2008 Summer Olympics in Beijing, raced the Olympic Star class keelboat.
He was Regatta Director for the 34th America's Cup in 2013 and 35th America's Cup in 2017 and CEO of America's Cup Race Management.
This is the second time Mr. Murray has won the Etchells World Championship, the first time being the 1984 Sydney edition on the Etchells named Kookaburra.
Colin Beashel has won two Etchells World Championships prior to this year's triumph, in 1993 at Brisbane and again in 1995 at Brighton.

The 1999 Etchells World Championships were held on Pittwater, as were the third ever run Etchells Worlds of 1977.
The Australian Etchells class was formed at the RPAYC just over 45 years ago as the Etchells Pittwater Fleet. In 2013 the club hosted a 40th Year of Etchells in Australia Anniversary Regatta with the Pittwater Fleet, the first formed in Australia and still thriving, welcoming guests and racers to a three race regatta and dinner on August 4th. The dinner for skippers, crew, also included the fleet measurer, present and past builders, and those who contributed financially to bring the mould and the first boat to Australia as well as Fleet Captains.

The International Etchells Class is a racing class of one-design sailing boats. In 1965, Yachting Magazine launched a competition to select a new three man Olympic keelboat. Elwood Widmer (E. W.) "Skip" Etchells (July 5, 1911 – December 20, 1998) a boat designer, builder and sailor, was interested in the competition, but refrained from producing a design until the trials were announced. However, once the details became available, he built the wooden Shillalah, taking her to Kiel, Germany, where the trials were to be held in the fall of 1966.
Shillalah performed well at the trials, winning eight of the ten races. Nevertheless, the judges were unable to agree on a winner, and thus a second set of trials were held in Travemünde the following year, 1967. For these trials Skip Etchells rebuilt the boat in fiberglass, using the original Shillalah as a plug. As with the first trials, Shillalah II (as the new boat was named) dominated the races, winning ten out of the thirteen that were held, and only just missing out on an eleventh.
At the completion of the trials the judges chose the Soling over Shillalah II, despite her success in the races.
However, the boat's performance had won converts, and shortly thereafter the boat entered production with orders for an initial 12 boats.
The International Etchells Class, originally called the Etchells 22 because it had a 22-foot waterline length was formed. By the end of 1969 32 boats were built by Etchells' company. In 1990 the yacht and the Class officially revised their names, dropping the "22" to become "International Etchells" and "International Etchells Class Association" respectively. A new logo, eliminating the "22" was designed and accepted by the Class in 1996. [1.]
Currently around 1,500 boats have been built, sailing in more than 50 fleets around the world.
The Etchells is a fast, stable racing sloop that can be raced competitively and safely by three or four sailors. She can tack in 70 degrees and is extremely sensitive to subtle adjustments in tuning and trim. She has a sleek hull with relatively little wetted surface area, which allows her to move well in the lightest breeze. In heavier winds, she absolutely flies. Her sail plan includes a main, jib, and spinnaker.
The class's strict one-design principles were established in the late 1960s and are controlled today by a strong, well-managed class association. The class and the International Sailing Federation maintain tight control of the construction of these yachts, ensuring the high quality and uniformity of each Etchells built. The one-design principles help the Etchells hold her resale value exceptionally well.
The Etchells is a fiberglass boat with aluminum spars; it has no electrical systems or auxiliary power. It is trailerable and light enough to drysail. The materials and techniques used in her construction make her easy to maintain and repair.
The E22 Class Association of Australia was formed on February 6th, 1973. The foundation office bearers were: President, Kevin McCann; Vice President, Roger Dane; Secretary, Alex Milledge; and Treasurer, Rea Franklin.
The Association decided to purchase and import from the USA moulds to build hulls and also agreed to procure dies to make spars. Savage Fibreglass Industries in Melbourne was appointed the first official builder of Etchells yachts in Australia.
The moulds arrived in October 1973, and the first Etchells in Australia, KA1, "Chardonnay", was shipped here from USA inside the moulds. The boat was owned by the late Roger Dane after whom the perpetual trophy, awarded to the winner of the Masters Division in the Australian Championship, is named. The wooden barney post from "Chardonnay" is a feature of the trophy.
In June 1975 the Australian Association adopted a new constitution to enable it to be fully recognised by the IYRU sanctioned International E22 Association. The intention was to allow the class to develop in the boat owners' best interests. The structure of the new Association provided for fleets to make up the Australian Association, a principle which still exists today.
The office bearers were: President, Rea Franklin; Vice President, Harry Sutton; Secretary, David Bebb; and Treasurer, Mal Jones. At the time there were three fleets; Melbourne, Pittwater and Sydney Harbour - today there are 16 fleets around the country and the Association still owns the moulds and dies.
Within a year of receiving the moulds from the USA, Savage Fibreglass Industries had built 30 boats, and continued to build Etchells until 1980 by which time 127 boats had been built. In 1981, Pamcraft was granted the Etchells licence in Australia and during the next 10 years built 200 Etchells. From 1991 until 1996 Bashford Boat Builders built 111 boats and since 1996 Pacesetter Etchells Pty Ltd has been the Australian builder. [1.]
Etchells World Championships have been held since 1975, the inaugural event being held at Marblehead, a coastal New England town in Essex County, Massachusetts. This was won by United States sailor Randy Bartholomew. The 1976 Etchells Worlds was held at Newport (USA) and was again won by Americans - David Curtis and Bob Danforth.
The 1977 Etchells Worlds, the third ever run, were held at Newport, Australia (Pittwater) and this time an Australian, Frank Tolhurst, won for the first time. Frank is one of Pittwater's own.
Sailing on his home waters, Pittwater Fleet member Frank Tolhurst, ably crewed by Norm Hyatt and John Stanley, narrowly won from fellow Pittwater Fleet member and 1964 Olympic Gold Medallist, Peter O'Donnell, with Olympic Flying Dutchman representative Carl Ryves coming in third. The fleet also included the defending World Champion, David Curtis.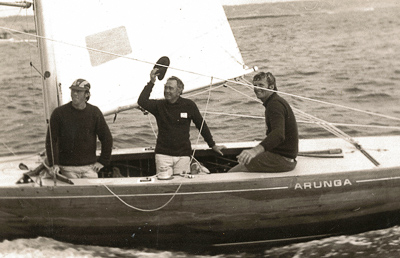 A successful businessman with diverse interests, including pastoral and construction, Frank won numerous 5.5 Metre Class championships, including three World Championships.His yacht bore the name "Arunga". After yachting, he became well known in the Polo world, with his polo club, on the Hawkesbury, also bearing the Arunga name.
In July 2016, aged 92, Frank cast off the dock lines and is now sailing in bluer waters, when not galloping!
David Curtis took back his title in the Balboa held 1978 Etchells Worlds. Toronto, Canada hosted the 1979 Etchells Worlds and this time it was the first of two Worlds wins by Australian John Savage, a Victorian sailing legend and where the first Australian built Etchells originated from.
The 1980 Etchells Worlds, held at Brighton (U.K.) were won by Australian sailor and Olympic Champion Peter O'Donnell (28 February 1939 – 9 January 2008). Mr. O'Donnell competed at the 1964 Summer Olympics in Tokyo and won a gold medal in the 5.5 metre class, with the boat Barranjoey and team members Bill Northam and James Sargeant. More Pittwater - and more Pittwater still as another Olympian now lives in Sir Northam's home at Bayview - Hopton Lodge.
In 2017, Peter was an inaugural inductee Australia Sailing Hall of Fame with Sir Northam and James Sargeant.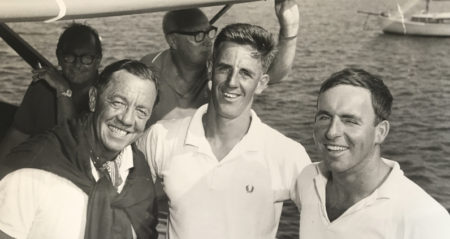 Bill Northam, Dick Sargeant and Peter O'Donnell at the Olympic trials on Lake Macquarie. Image courtesy of Dick Sargeant (
Jack Gale
sailed with the late Tony Carr in the 5.5 "
Altair
", finishing runner up to Sir William Northam in the 1964 Olympic Trials.)
David Curtis won the next three Etchells World Championships, 1981, 1982, and 1983. The 1984 edition was held in Sydney and this was the first time Iain Murray took out first place on a boat called Kookaburra.
It's worth noting that those who came first and second in this year's Etchells' World Championships are the Australian National Champions of the past two seasons - for 2018 / 2019: Iain Murray, Colin Beashel and Richie Allanson - Havoc while in 2017 / 2018it was Graham Taylor, James Mayo and Richie Allanson - Magpie.
The 2020 Etchells World Championships will be held in Freemantle, Perth.
2020 5.5m Worlds and Gold Cup on Pittwater
Also worth noting is the Australian 5.5m Association and the Royal Prince Alfred Yacht Club will host the 5.5m 100th year of the Scandinavian Gold Cup and Worlds in January 2020. Visit: www.rpayc.com.au/sailing/5-5m-world-champ-2020
The Royal Kaag Classic Cup & Hanko Evolution Cup and the Alfred's Gold Cup 2020 will also be hosted by the RPAYC - NOR's are available at link above now.

Yes, Pittwater again!
The events are scheduled from the 3rd to 15th of January 2020, to be held on the iconic Palm Beach Circle.
Competitors and families will now be able to enjoy Christmas and New Year in Sydney, and then participate in the Gold Cup and Worlds without a break.
This week the International 5.5 Class Association announced Pantaenius Insurance Australia have become a Sponsor of the Championships.
RPAYC Members and brothers Jamie and Andy MacPhail have just bought a 5.5m for the Worlds, which is yet another boat to join the fleet. Andy is also the Managing Director of Pantaenius Insurance Australia. As you will see in below he has kindly offered to help arrange insurance for any boats coming to and racing in Australia.
Pantaenius has offered to assist European 5.5 Metre owners with their insurance needs when travelling to the Scandinavian Gold Cup and Worlds in Australia in 2020.
They can assist with both types of insurance:
Cargo Cover effective while the boats are on the Ro Ro ship.
For Hull, TPL and accident cover when preparing and racing in Sydney.
For all European owners, cover must be bound by a European office so this would be managed this via Pantaenius's Hamburg office. (EU Insurance Law).
Australian owners can be covered from the office in Sydney.
Any interested owners are asked to contact Jamie (JMacPhail@pantaenius.com) in the first instance and he will arrange for someone in the Hamburg office to contact them and arrange the required cover.
Just send a simple email with: Owners name and address; email and phone contacts; boat info including year, construction, mast type and total Value; include trailer brand and year and registration no.
2019 Etchells World Championships - Full Results
1. 61 AUS Havoc Iain Murray (M,S,GM) / Colin Beashel / Richard Allanson 2 1 1 7 2 2 16 6 4 [16] 25.0
2. 47 AUS Magpie Graeme Taylor / James Mayo / Tom Slingsby 3 11 8 24 1 1 1 1 1 [24] 27.0
3. 27 USA Stella Blue Steve Benjamin (M,S) / Michael Menninger / Ian Liberty / Jonathan Goldsberry 1 8 5 3 15 10 7 12 3 [15] 49.0
4. 66 AUS Tango Chris Hampton (M,S) / Sam Haines / Charlie Cumbley 11 15 2 5 12 9 10 3 12 [15] 64.0
5. 72 AUS Roulette Jud Smith (M,S,GM) / Mark Johnson / Andrew Smith 10 4 12 9 7 5 5 17 22 [22] 69.0
6. 78 USA The Martian Marvin Beckmann (M,S) / Bill Hardesty / Pilar Calabrese / Keith Swinton 12 2 15 6 9 7 14 11 10 [15] 71.0
7. 6 HKG Racer C Mark Thornburrow (M) / Mike Huang / Alexander Conway / Malcolm Page 15 17 9 19 4 6 11 5 7 [19] 74.0
8. 49 AUS Lisa Rose Martin Hill (M,S) / Julian Plante / Mathew Belcher / Sean O Rourke 9 10 3 4 18 16 9 15 11 [18] 77.0
9. 69 USA Warcanoe Michael Goldfarb (M,S,GM) / Skip Dieball / Morten Henniksen 7 13 22 13 10 3 2 26 9 [26] 79.0
10. 70 GBR Ellamber Lawrie Smith (M,S) / Richard Parslow / Joao De Matos Rosa / Goncalo Ribeiro 4 7 6 2 19 12 24 27 6 [27] 80.0
The Scandinavian Gold Cup is a sailing race held annually for 5.5 metre yachts. It is a nation race, meaning that each participant nation can send only one boat/team. Despite its name, it has been an international competition almost through its entire history, and participating is not limited to Scandinavian nations. The event has been held every year since 1919 (with exception of 1920 and 1940–46) making it one of the oldest active sailing trophies.
The Cup was originally established by one of the oldest Finnish yacht clubs, Nyländska Jaktklubben (NJK) in 1919, to celebrate newly achieved Finnish independence, promote sailing and improve relations between Finnish and Swedish yacht racers. At first, the Cup was a challenge competition between Finland and Sweden and it was raced with 40m² Skerry cruisers. First event was won by Swedes. In 1922, Finns decided to give the trophy for now-popular International 6 Metre class. It was intended to replace older One Ton Cup as an international prize for smaller, more affordable racing yachts. 1926 was first year when competitors came outside Nordic countries and Cup was soon established as one of the most coveted in sailing world, attracting famous designers and competitors, including America's Cup winners.
By end of the 1930s, increasing costs began to decrease popularity of 6mR class and it was gradually replaced by cheaper 5 Metre and 5.5 Metre classes. Gold Cup was raced with 5.5 metre boats from 1953 onwards. It has continued to be raced annually, with exception of 1986, when two competitions were held. The 2006 Cup was held in Netherlands, involved 11 nations and was for the first time won by a Dutch team.
This will not be the first time Pittwater has hosted the Scandinavian Gold Cup:
Scandinavian Cup
SYDNEY: The Scandanavian Gold Cup, one of the world's richest yachting trophies, rests between the Australian contender Arunga III and the John B, of the Bahamas, following Arunga's brilliant win the third race of the series off Pittwater yesterday.
Arunga III, skippered by world 5.5-metre champion Frank Tolhurst, showed her superiority to come from behind and win by 27s from John B, helmed by Bob Symonette. Scandinavian Cup (1980, February 2). The Canberra Times (ACT : 1926 - 1995), p. 42. Retrieved from http://nla.gov.au/nla.news-article137012735
PRINCE WHO LOVES THE SEA
CROWN PRINCE HARALD, heir to the throne of Norway, and his wife, Crown Princess Sonja, lived in a comfortable red-brick cottage at Clareville, Sydney, while the Crown Prince was competing in the International 5.5-metre yacht regatta off Palm Beach.
From the house they could look down Pittwater to Lion Island and Broken Bay, one of the most magnificent views in Sydney.
Nearly every day her husband was sailing, Crown Princess Sonja would follow the races in Mr. Carl Halvorsen's motor cruiser Kirribilli.
Crown Prince Harald represented Norway in yachting at the 1964 Olympic Games in Tokyo, and has represented his country at several other yachting regattas. The Princess sails her own boat, Flaks, in Norway, and is an authorised ski-instructor.
BELOW: Carrying bags of food and drink for the day at sea, the royal visitors boarding Mr. Carl Halvorsen's motor cruiser Kirribilli.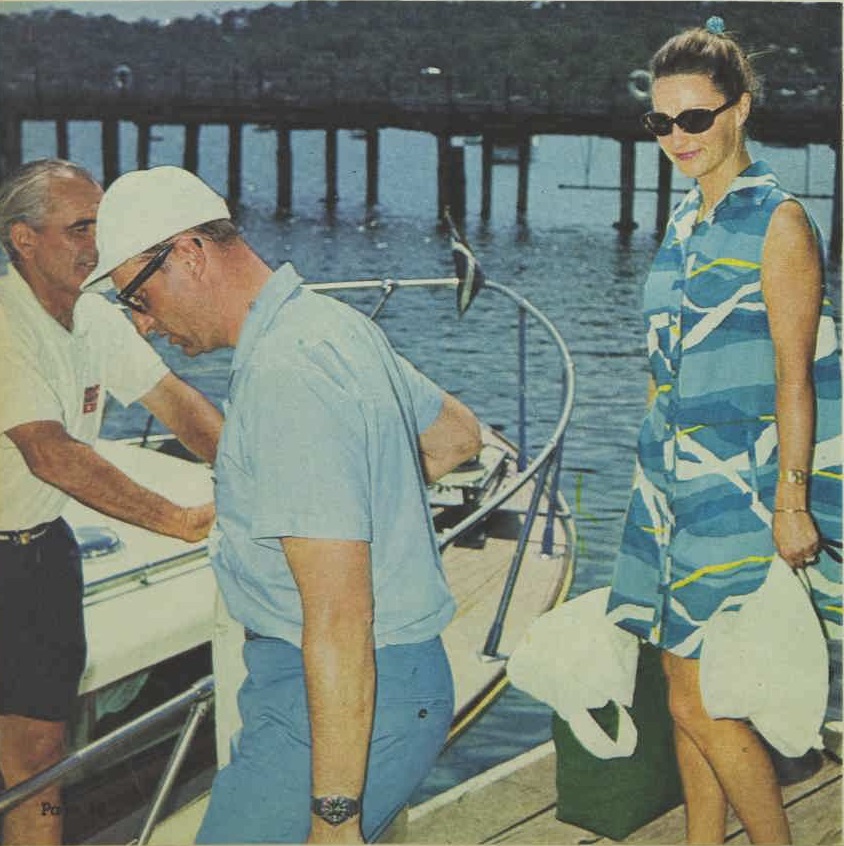 After competing in the yachting events, Crown Prince Harald will join a Norwegian trade delegation to Australia as its honorary leader.
The royal couple will spend four weeks in Australia.
Crown Prince Harald met his wife at university when they were both 21. She was a commoner, the daughter of an Oslo businessman, and the couple found difficulties placed in the way of their marriage plans. It was ten years before their engagement was announced. They were married in Oslo Cathedral in 1968.
RIGHT: Crown Princess Sonja was a dainty figure next to her tall, fair husband at the State reception the day they arrived in Sydney.

MOST MORNINGS the royal visitors walked down the hill from the house at Clareville to the jetty. At night, they entertained at informal dinner parties and also made occasional visits to the city.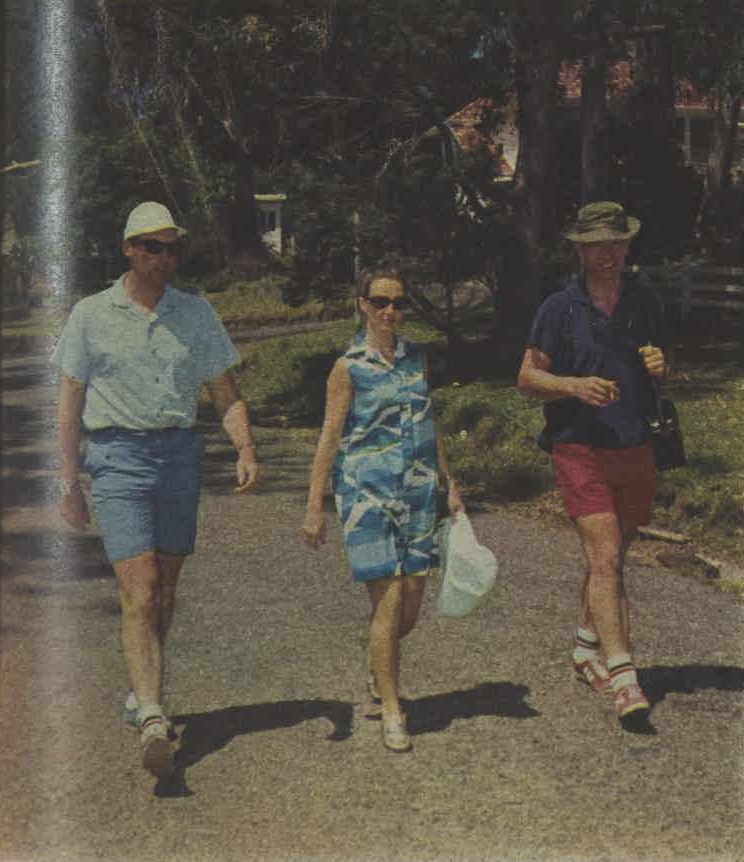 LEFT (below): Crown Prince Harald (in white) found conditions choppy in the second heat of the Scandinavian Gold Cup. in which he finished second. A change in weather forced the crew to use a different spinnaker.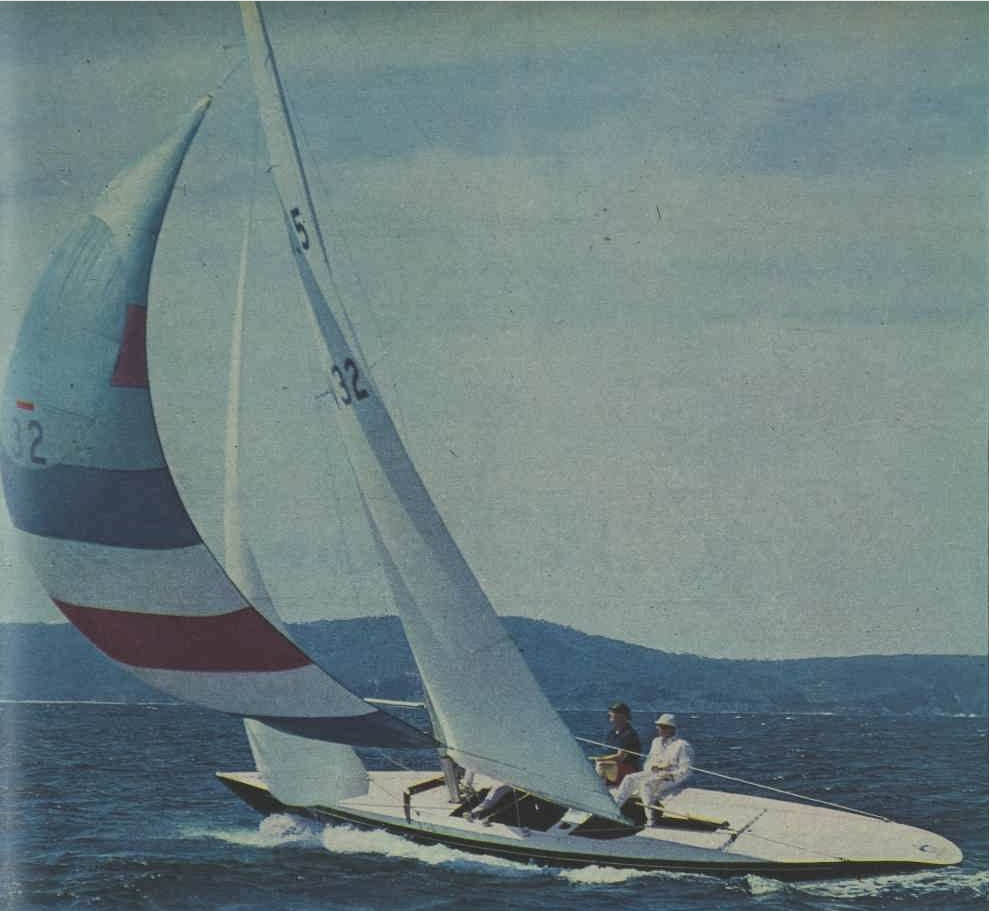 SPINNAKER of Crest (left of picture), skippered by Crown Prince Harald, is in the colors of the Norwegian flag, without the white. Jomatoe, from Sweden, has a spinnaker in the blue and yellow of the Swedish flag. Southern Cross ll, Australia, sailed by Norm Booth, has red-and white spinnaker.

BELOW: Sydney business man Mr. Carl Halvorsen made his motor cruiser Kirribilli available to the Princess so she could follow her husband sailing. Norwegian-born Mr. Halvorsen also owns Crest, the yacht the Prince skippered in the championships.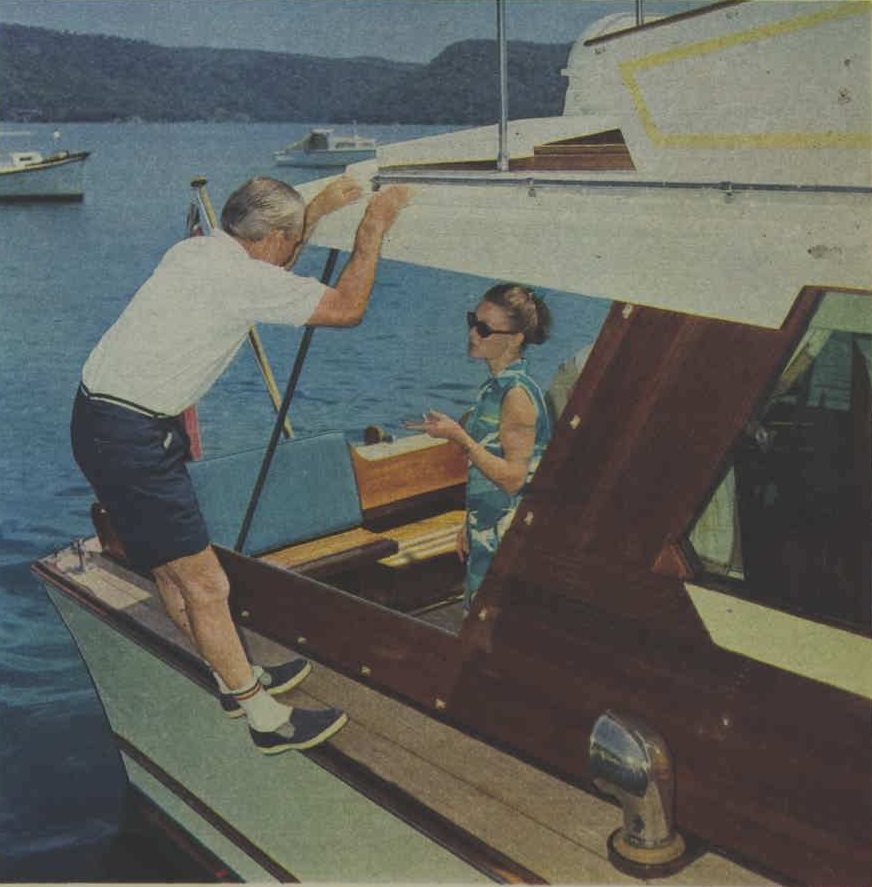 Pictures by staff photographer KEITH BARLOW
PRINCE WHO LOVES THE SEA (1970, February 25). The Australian Women's Weekly (1933 - 1982), p. 10. Retrieved from http://nla.gov.au/nla.news-article46471428
Harald V (born 21 February 1937) is the King of Norway, having ascended to the throne upon the death of his father King Olav V on 17 January 1991.
Harald was the third child and only son of King Olav V and Princess Märtha of Sweden. He was second in the line of succession at the time of his birth, behind his father. In 1940, as a result of the German occupation during World War II, the royal family went into exile. Harald spent part of his childhood in Sweden and the United States. He returned to Norway in 1945, and subsequently studied for periods at the University of Oslo, the Norwegian Military Academy and Balliol College, Oxford.
In 1957, following the death of his grandfather, Haakon VII, Harald became crown prince. A keen sportsman, he represented Norway in sailing at the 1964, 1968, and 1972 Olympic Games, and later became patron of World Sailing. Harald married Sonja Haraldsen in 1968, their relationship having initially being controversial due to her status as a commoner. The couple had two children, Märtha Louise and Haakon. Harald succeeded his father as king in 1991, with Haakon becoming his heir apparent.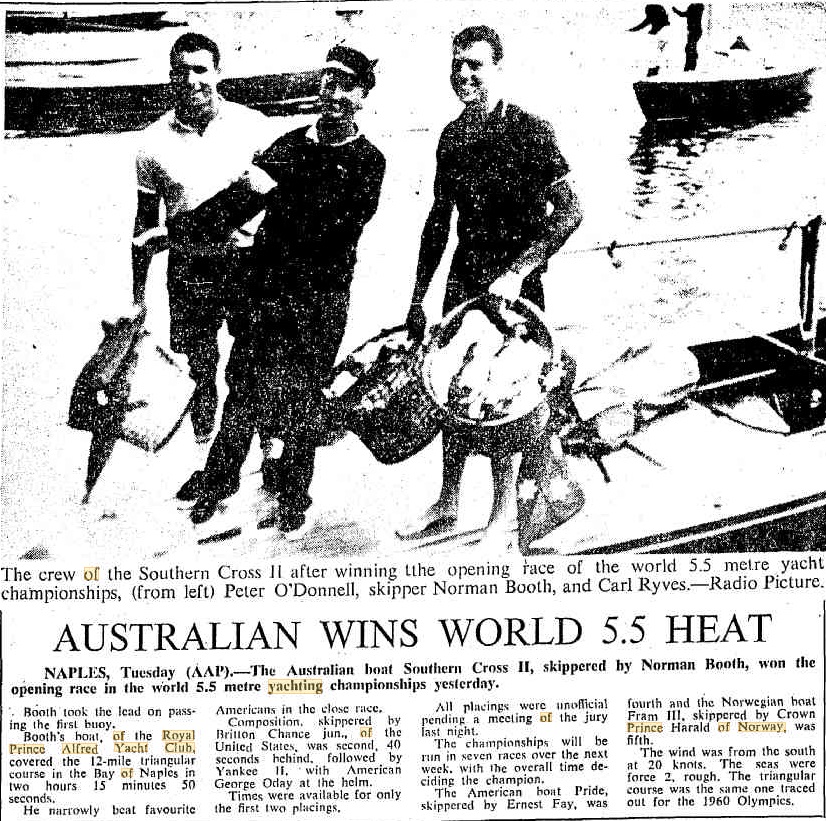 AUSTRALIAN WINS WORLD 5.5 HEAT (1965, June 2). The Canberra Times (ACT : 1926 - 1995), p. 29. Retrieved July 6, 2019, from http://nla.gov.au/nla.news-article131826199

An Importation From Norway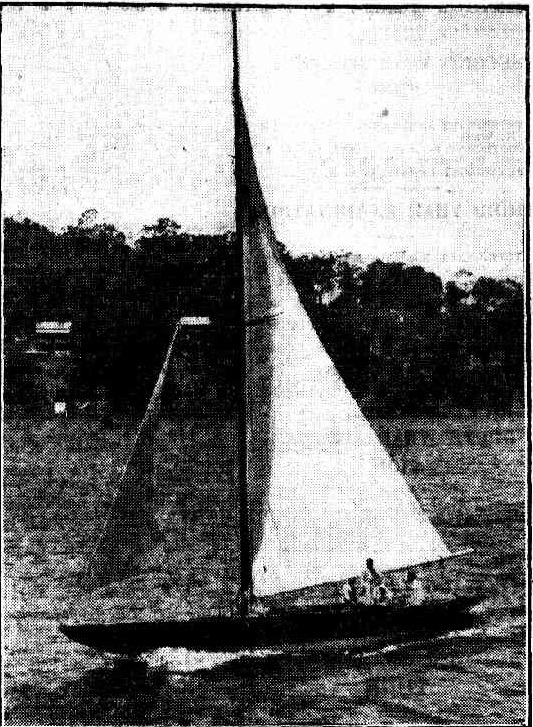 Mr. J. S. Palmer's new yacht Brand V. which was recently imported from Norway. She was under racing canvas for the first time at the Pittwater regatta on Saturday. Brand V did not secure a place, as conditions were unfavorable. Lieutenant J. R. Palmer, who arrived by the Maunganui on Saturday morning, was at the helm. AN IMPORTATION FROM NORWAY (1924, December 29). The Daily Telegraph (Sydney, NSW : 1883 - 1930), p. 7. Retrieved from http://nla.gov.au/nla.news-article245467580
Elwood Widmer (E. W.) "Skip" Etchells was a naval architect, boat builder and world championship sailor. He is best remembered now for the one-design racing boat that bears his name, the International Etchells Class, a 30'6" keelboat that he designed in 1966. One of the most competitive classes in sailboat racing, the Etchells is often the boat of choice for the world's top sailors, including America's Cup veteran Dennis Conner, a three-time world champion in the class.
A graduate of the University of Michigan with a degree in naval architecture, Skip Etchells worked for the Navy in shipyards at Seattle during World War II.
After the war, he got a job in New York City with Sparkman & Stephens, the yacht design firm, before establishing his own boat-building company, Old Greenwich Boat Co., based in Old Greenwich, Connecticut.
For more than 30 years beginning in the 1940s, Etchells built some of the fastest Star-class sailboats. He and his wife, Mary O'Toole Etchells, also campaigned in Stars for many years, travelling the world and winning regattas in the U.S., Europe, the Caribbean, and South America. In 1951, they won the Star world championship at Gibson Island, Maryland.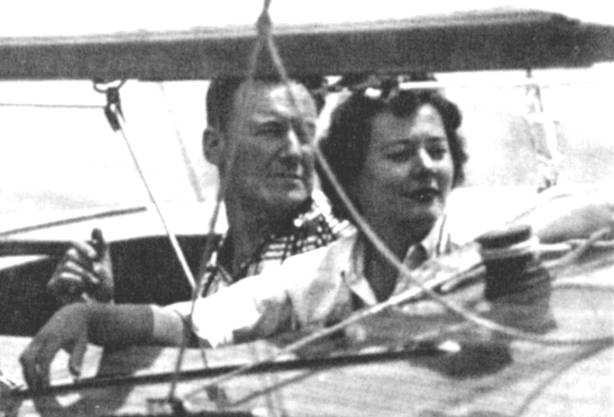 Skip and Mary Etchells

Mary Etchells remains the only woman ever to have won the worlds in the Star class. In 1958, they won the Star North American Championships at the Tred Avon Yacht Club.