October 20 - 26, 2019: Issue 425
Parliamentary Friends Of Surfing Host First 'Surf Summit' Bringing Business, Community And Surfing Together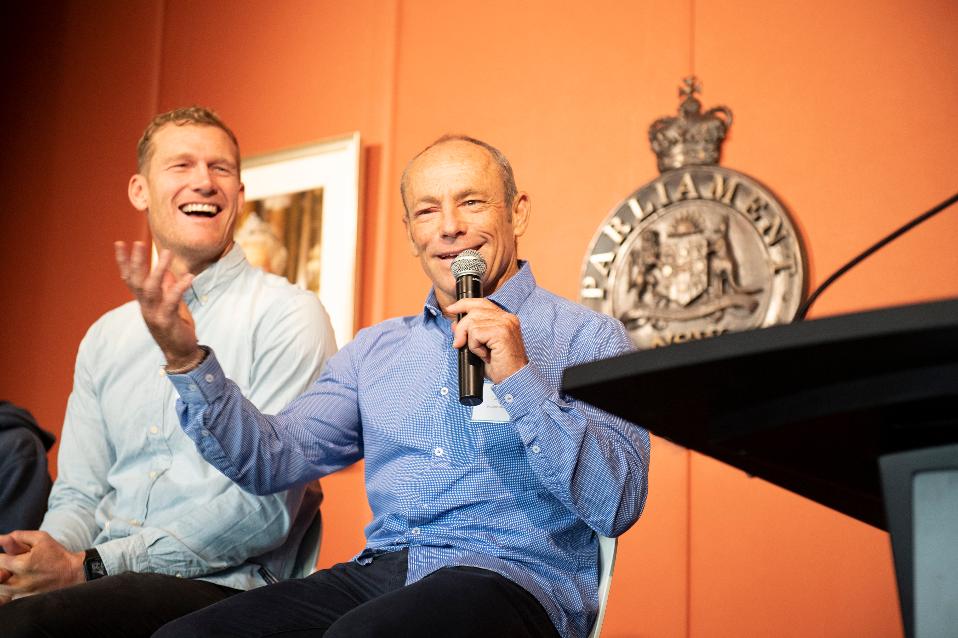 Surfing NSW this week launched a groundbreaking program of marketing and community-building partnership opportunities at an inaugural 'Surf Summit', hosted by the newly formed NSW Parliamentary Friends of Surfing. The inaugural event featured two-time World Champion Tom Carroll and Team Australia's Head Coach Bede Durbidge. photo by Glenn Duffus / Surfing NSW
Tuesday, October 15, 2019
Surfing NSW today launched a groundbreaking program of marketing and community-building partnership opportunities at an inaugural 'Surf Summit', hosted by the newly formed NSW Parliamentary Friends of Surfing.
The event was held at the NSW Parliament and attended by more than 200 community leaders spanning business, government and the not-for-profit sectors, less than a year out from surfing being contested for the first time at an Olympic Games.
The NSW Parliamentary Friends of Surfing comprises of 15 Members of Parliament including Coalition, Labor and Independent MPs who have rallied behind the Member for Manly, James Griffin, to grow the sport and share its lifestyle.
Surfing NSW Chairman John O'Neill outlined the opportunities surfing presents for organisations to connect with more than 1.5 million Australian surfers and to engage with the surf lifestyle as a vehicle for improving community health and wellbeing. The opportunities presented include platforms for promoting mental health, ocean health, and youth health and wellbeing through surfing, as well as surf and surf lifestyle events.
"We believe surfing can enrich communities and help create a healthier and happier society," Mr O'Neill said. "We see the formation of a Parliamentary Friends of Surfing group as a key initiative in developing long-term partnerships spanning government, the private sector and an array of community-based organisations."
Friends of Surfing Chairman and Member for Manly, Mr. James Griffin, MP, said the work of Surfing NSW was producing important results beyond elite sports competition.
"Surfing NSW has a proud history and I value the great work the organisation is doing in the community," he said.
The event also featured Bede Durbidge, a former world number two ranked surfer who is now Team Australia's Head Coach, speaking about the upcoming Tokyo 2020 Games.
"As a kid, I never thought I'd see a day when surfing was in the Olympics," said Durbidge. "I remember competing in my first ISA World Junior Titles and Fernando (Aguerre - President of the International Surfing Association (ISA)) said that he was pushing to get surfing in the Olympics and I just thought 'he's dreaming.' Now, that time has come and it's an amazing opportunity for the athletes to compete for their country and I just think that surfers and boardriders clubs Australia-wide will be cheering for their country and friends to potentially win a medal."
Tom Carroll, former two-time World Champion from Sydney's northern beaches, also spoke about the growth of the sport and the emphasis it plays in people's day-to-day lives.
"It's great to see surfing play such an important part in people's lives," said Carroll. "To be able to bring surfing to such an equalising level such as the Olympics will allow the sport to be seen directly by people from all parts of the world and that's what I love about it."
Surf accident survivor Tim Reilly and Surfing NSW CEO Luke Madden spoke about the $1 million Surfers Rescue 24/7 program funded by the NSW Government and being rolled out in partnership with Surf Life Saving NSW to teach surfers to save lives. "We would love to see that money matched dollar-for-dollar by the private sector," Mr. Madden said.
The partnership opportunities outlined at the Surf Summit come as more NSW surfers take a step closer to competing on the Olympic stage.
Seven-times world champion Stephanie Gilmore of Tweed Heads, (current world number six) and Kiama surfer Sally Fitzgibbons (current world number three), have pre-qualified to be selected for the Tokyo 2020 Olympic Games. Last week, both surfers secured the WSL ranking requirement to be nominated for the Australian team for the Tokyo Games to be selected next May. Gilmore and Fitzgibbons have both come through programs run by Surfing NSW and lent their support to the Surf Summit.
"Surfing NSW has been instrumental in creating a pathway to my professional career and numerous other surfers on the international stage," said Sally Fitzgibbons.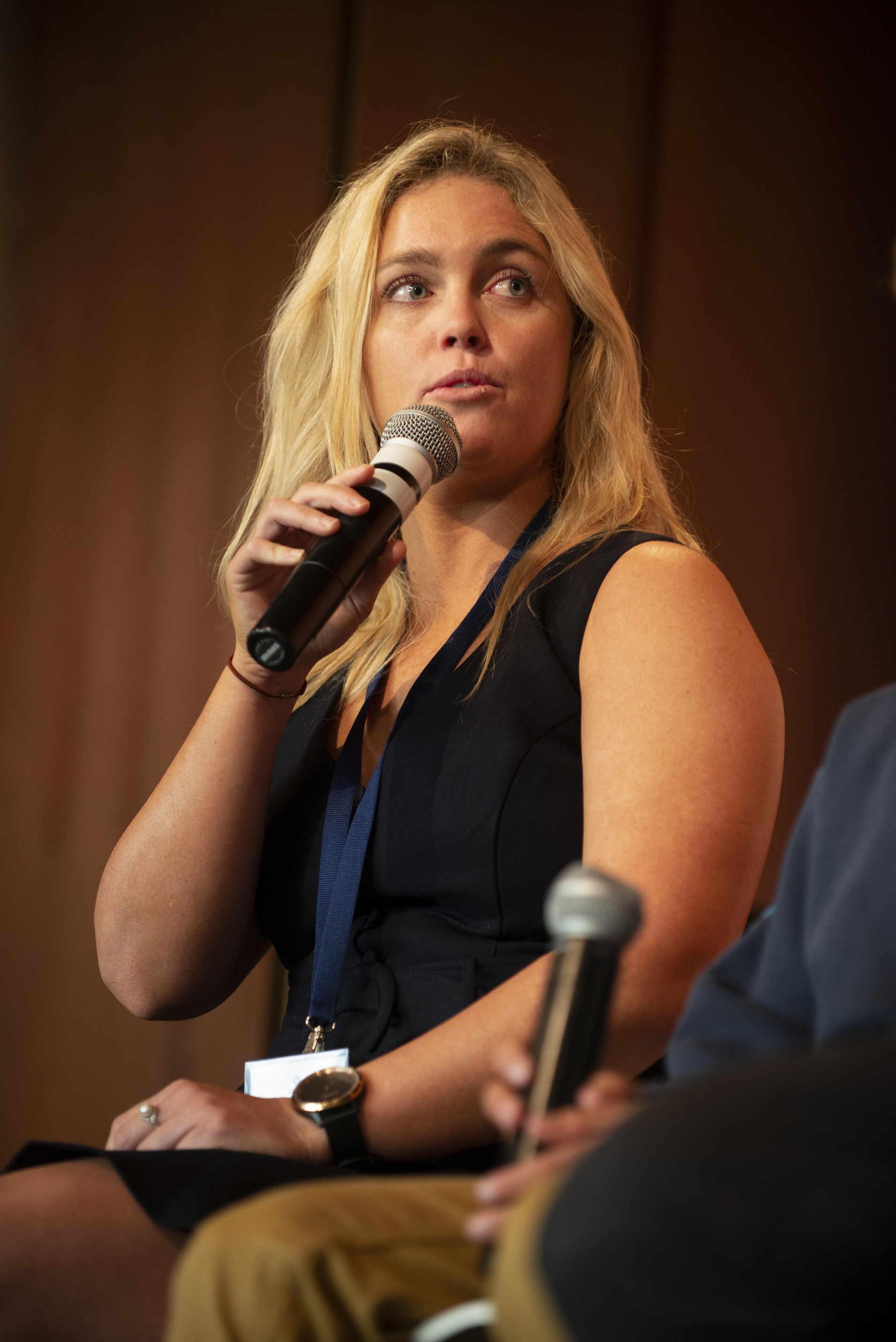 photo by Glenn Duffus / Surfing NSW

Mr. O'Neill said there was a wide range of programs and projects Surfing NSW has in place or is developing, which offer opportunities for corporates or other organisations to talk to and engage with a broad, yet passionate audience of people and a unique lifestyle sector.
"More and more companies, government agencies and fellow not-for-profit organisations have seen how the surf culture and its authentic vibe can make a positive difference to our community," he said.
Key Partnership Programs outlined included (for more info please download the strategic partnerships program):
Surfers Rescue 24/7 (teaching surfers to save lives)
Road to the 2020 Olympic Games (support Team NSW and Team Australia)
Learn to Surf (including safe surfing zones on our beaches)
Community Connections (grassroots engagement with coastal communities via 110 active NSW Boardrider Clubs)
Women on Waves (Supporting women via participation in surf activities, progression, and career development)
Targeted new events to bring to NSW
The Epic Surf Road Trip (engage behind-the-scenes with some of our most exceptional Pro Surfers as they enjoy the surf lifestyle and participate in six key surfing events along the NSW coastline).
Surfing NSW Surf Summit Key Fact and Program Overview
More than 1.5 million surfers in Australia who surf at least once a week and consume surf content weekly, more than 600,000 of whom reside in NSW, and millions of surf fans.
Since 1963, when Surfing NSW was established to administer the sport, our state has produced a roll call of world champions from Midget Farrelly - who was the founding president of Surfing NSW in 1964 - through to multiple world champion title winners including:
Mark Richards (1979,1980,1981 and 1982)
Tom Carroll (1983 and 1984)
Damien Hardman (1987 and 1991)
Mick Fanning (2007, 2009 and 2013)
Layne Beachley (1998, 1999, 2000, 2001, 2002, 2003 and 2006)
Tyler Wright (2016 and 2017); and
Stephanie Gilmore (2007, 2008, 2009, 2010, 2012, 2014 and 2018)
The NSW Parliamentary Friends of Surfing comprises:
James Griffin, Chairman, Member for Manly, Liberal Party.
Justin Field, Member of the Legislative Council, Independent.
Taylor Martin, Member of the Legislative Council, Liberal Party.
Natasha Maclaren-Jones, Member of the Legislative Council, Liberal Party.
Mark Taylor, Member for Seven Hills, Liberal Party.
Scott Farlow, Member of the Legislative Council, Liberal Party.
David Harris, Member for Wyong, Labor Party.
Trevor Khan, Member of the Legislative Council, National Party.
Adam Crouch, Member for Terrigal, Liberal Party.
Ray Williams, Member for Castle Hill, Liberal Party.
Clayton Barr, Member for Cessnock, Labor Party.
Tim Crankanthorp, Member for Newcastle, Labor Party.
Eleni Petinos, Member for Miranda, Liberal Party.
Geoff Provest, Member for Tweed, National Party.
Key Platforms for new programs include:
Ocean Health NSW Project - Work with Surfing NSW and our government partners to maintain our pristine beaches, improve ocean health and protect our precious coastlines.
Mental Health 360 Project - collaborate with state and local governments, the NSW boardriders Clubs, Surf Schools and our coaching network on a range of initiatives including such as a Mental First Aid Provider in each board rider club 110 across the country.
The Next Wave Project - join Surfing NSW and play a critical role in supporting our young people's health and wellbeing by encouraging more involvement in the sport and lifestyle of surfing.
For strategic partnerships program opportunities please contact Luke Madden, Surfing NSW Chief Executive Officer on luke@surfingnsw.com.au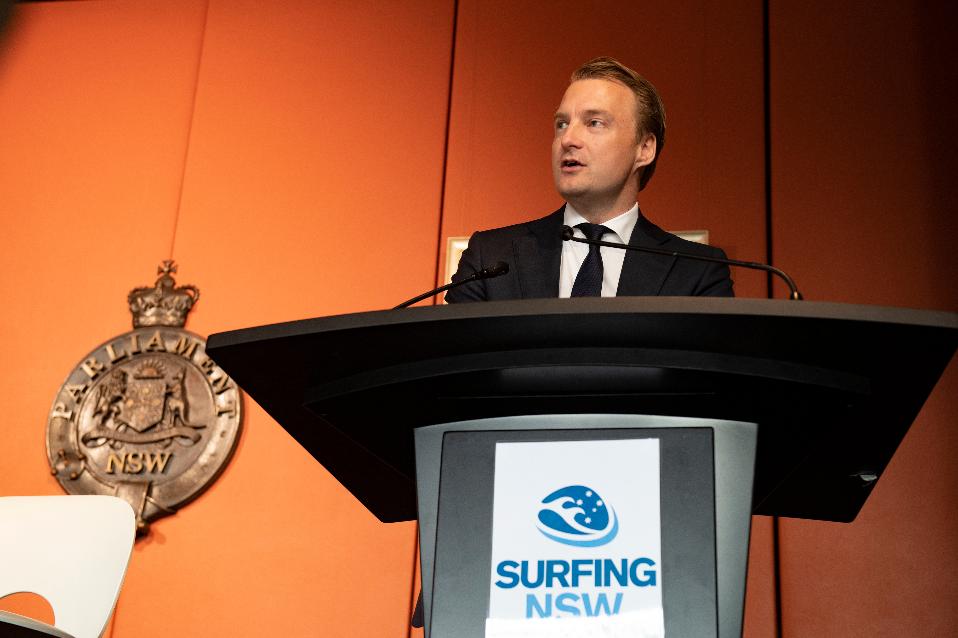 Friends of Surfing Chairman and Member for Manly, Mr. James Griffin, MP. Photo by by Glenn Duffus / Surfing NSW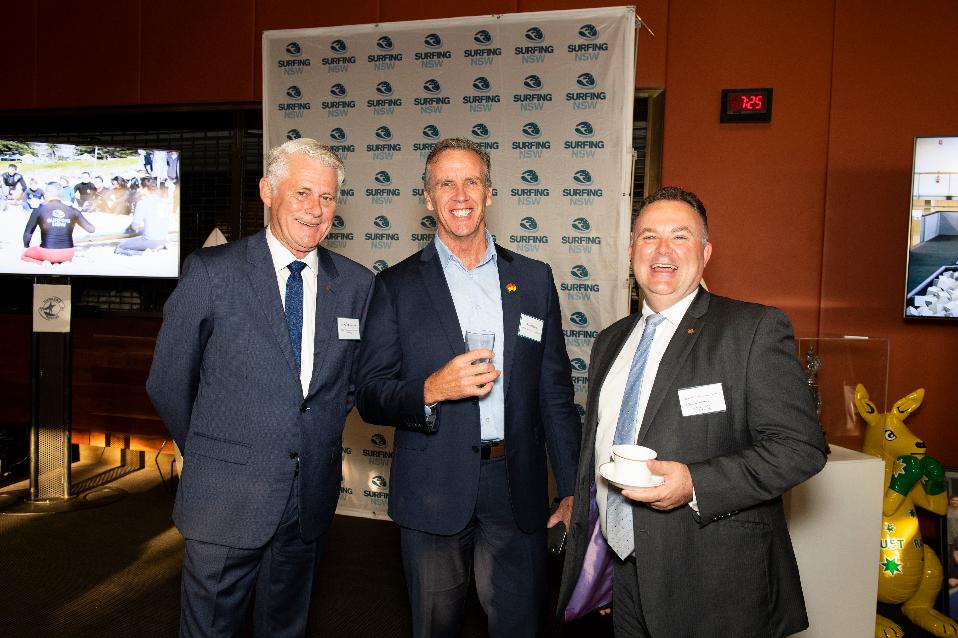 Geoff Provest, MP, NSW Parliamentary Friends of Surfing, Steven Pearce, CEO of Surf Life Saving NSW, Adam Crouch, NSW Parliamentary Friends of Surfing. Photo by by Glenn Duffus / Surfing NSW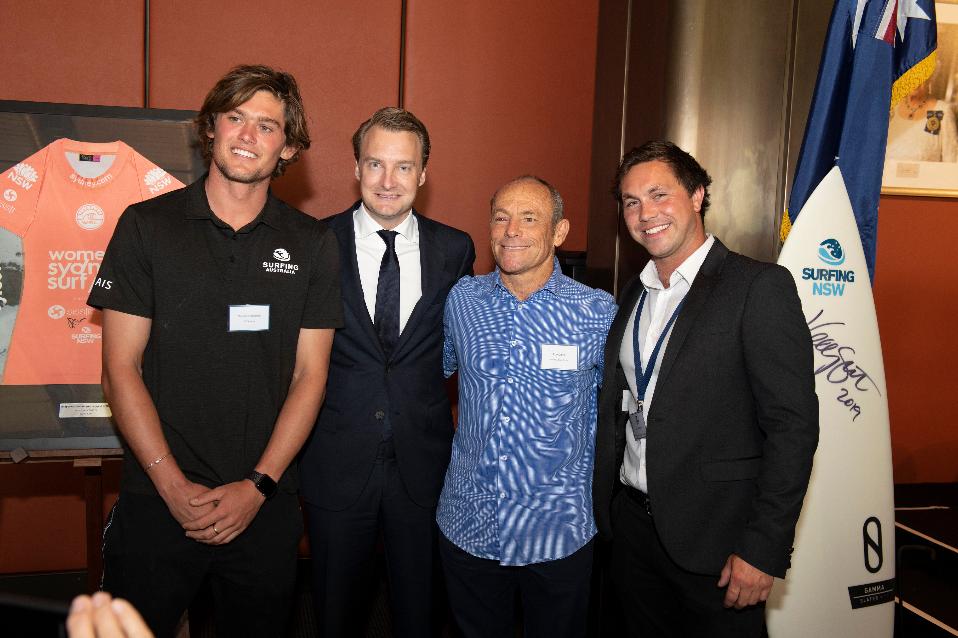 Cooper Chapman, James Griffin, MP for Manly, Tom Carroll and Surfing NSW CEO Luke Madden. Photo by by Glenn Duffus / Surfing NSW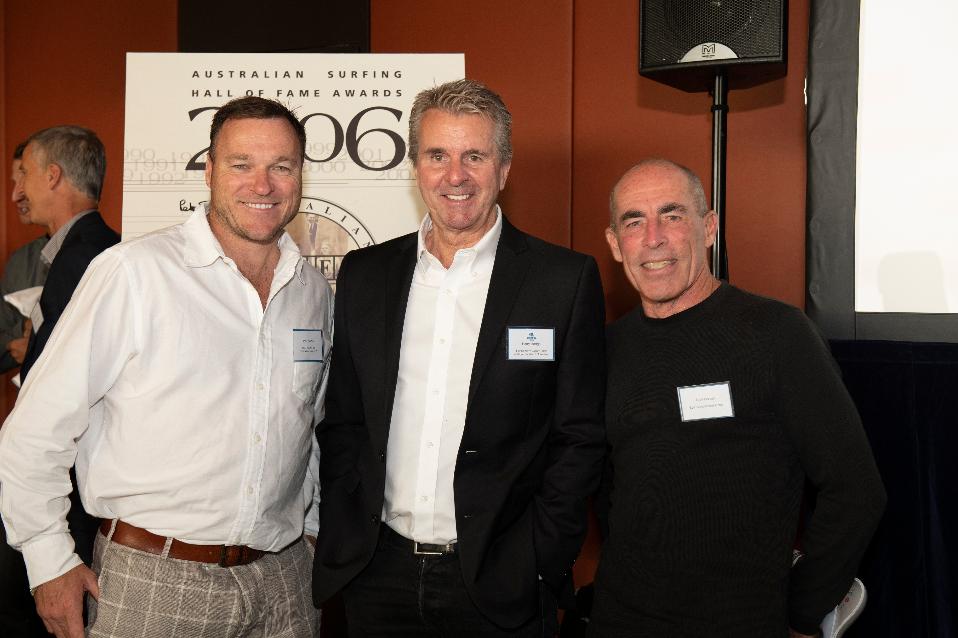 Toby Martin, Belle Property and former World Tour Surfer, Harry Hodge, Surfing NSW Deputy Chair and Co-Founder of Quiksilver, Nick Carroll, Surf Journalist and Author. Photo by by Glenn Duffus / Surfing NSW
Sally Fitzgibbons And Stephanie Gilmore Secure Their WSL Ranking Requirement For Qualification For Nomination For Selections For The Tokyo 2020 Olympic Games
Wednesday, 9 October 2019
Based on world-class performances in 2019 on the World Surf League (WSL) World Championship Tour (WCT) and competition results so far in the Roxy Pro, currently being held in Hossegor France, both Sally Fitzgibbons and Stephanie Gilmore have secured the WSL ranking requirement for qualification for the Tokyo 2020 Olympic Games.
In May 2020, Surfing Australia will consider athletes that have satisfied the Tokyo 2020 Nomination Criteria and will submit to the Australian Olympic Committee for selection.
Both girls have secured an individual WCT event win in 2019 and have been consistent performers throughout the year, which now guarantees they finish inside the Top 8 on the WSL CT Rankings, therefore, earning provisional places to compete in Tokyo.
Surfing makes its Olympic debut in Tokyo in 2020. The 2019 WSL CT, the elite year-long tour that crowns the World Champions each season, has been an important qualification pathway for Australia's best surfers, along with selection for 'Team Australia' at the 2019 and 2020 International Surfing Association (ISA) World Surfing Games.
Kim Crane, Surfing Australia's National High Performance Director said: "Congratulations to both Sal and Steph for securing their WSL ranking requirement for Olympic nomination, at this point in the year. When the Tokyo Qualification System was released, everyone knew the greatest challenge for athletes was always going to be securing this WSL ranking. The standard of competition on the world stage, is rightly fierce now. In witnessing what it takes to compete consistently at this level over the course of an entire year, both girls are an absolute inspiration. We are so proud of what they do and even more importantly of who they are as the worlds best surfers and people."
Bede Durbidge, Surfing Australia's Elite Program Manager and Team Australia Head Coach said: "This is such an exciting time for both Sal and Steph. Much focus has rightly been on their individual CT campaigns this year and in doing so they have kept their Olympic dreams alive. This is a significant milestone for both girls and we acknowledge their ability to consistently deliver world-class performances. With this news and also off the back of the recent ISA World Surfing Games experience, Olympic Games excitement is building. I look forward to supporting both Sal and Steph over the next part of the journey and wish them well for the remaining couple of events on the CT in both Portugal and Hawaii."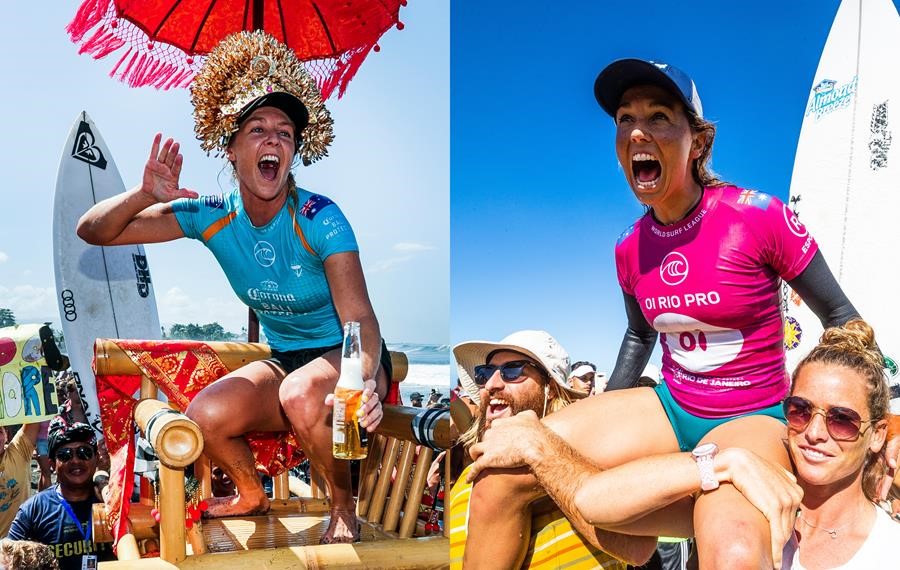 Aussies Stephanie Gilmore and Sally Fitzgibbons have secured the World Surf League (WSL) ranking requirement for qualification for the Tokyo 2020 Olympic Games. Photo credit: World Surf League (WSL)