October 20 - 26, 2019: Issue 425
Australian Sailing Awards 2019: Pittwater Winners and Hall of Fame Inductees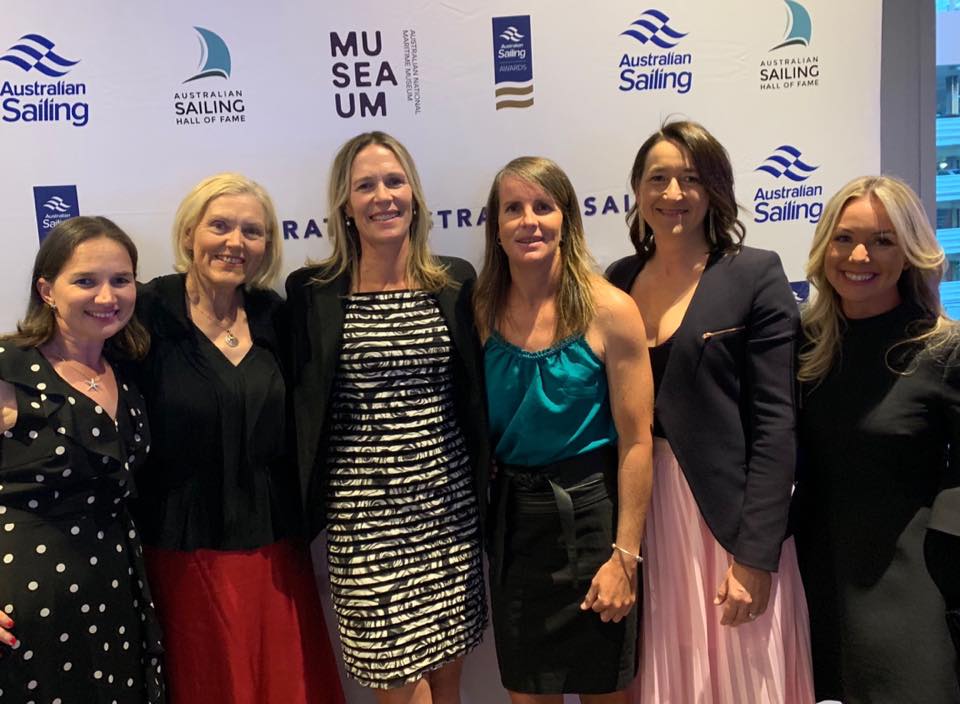 Ocean Respect Racing's Katie Spithill, Vanessa Dudley, Carolijn Brouwer, Stacey Jackson, Sarah Crawford and Jade Cole at Australian Sailing Awards 2019
Pittwater sailors have again featured in this year's national Australian Sailing Awards with Bayview's Mark Foy being the first announcement of those being inducted into the Australian Sailing Hall of Fame. Ocean Respect Racing, with RPAYC members Stacey Jackson and Katie (Spithill) Pellew and their all-women crew, won the inaugural Sustainability Award, while fellow RPAYC Members Richard Slater was recognised as
Official of the Year, and the
Lifetime Achievement Award honoured John McConaghy
.
Greg Hyde of Manly and Crystal Bay Sailability received the honour of also being inducted into the Sailing Hall of Fame, and Pittwater and Clontarf connected Trygve (1920-2014) and Magnus Halvorsen (1918-2015) were also inducted into the Australian Sailing Hall of Fame. Their brother Carl was a RPAYC Member since the late 1960's and funded the RPAYC Carl Halvorsen Scholarship, designed to encourage young people into the sport by lending them sailboats so they could decide whether to invest in their own.
He also loaned his 5.5m Crest to Crown Prince Harald of Norway for the
1970 5.5m world championships held
off Palm Beach and narrowly missed out on selection for the 1968 Olympic Games but sportingly lent his state-of-the-art sails to
Bill Northam
, a fellow RPAYC Member and Bayview resident, who won Australia's first Olympic gold medal for sailing in
Barranjoey
.
Australian Sailing Hall Of Fame Inductees 2019: Mark Foy And Greg Hyde
Bayview resident and BYRA supporter Mark Foy was named as one of the four new inductees into the Australian Sailing Hall of Fame at the Australian Sailing Awards 2019 on Friday, October 18th.
The video that runs below has been published by the Australian National Maritime Museum with the accompanying text:
Mark Foy was a visionary and a man of great passion who championed the sport of open boat sailing in the iconic working craft of colonial Sydney Harbour.




He was a colourful character remembered for his efforts to take the sport interstate, nationally and internationally. He changed the face of sailing with the formation of the Sydney Flying Squadron in 1891. Through innovative rules and coloured sail emblems he put skiff sailing firmly in the public eye and made it a hit with both sailors and spectators alike. His legacy lives on.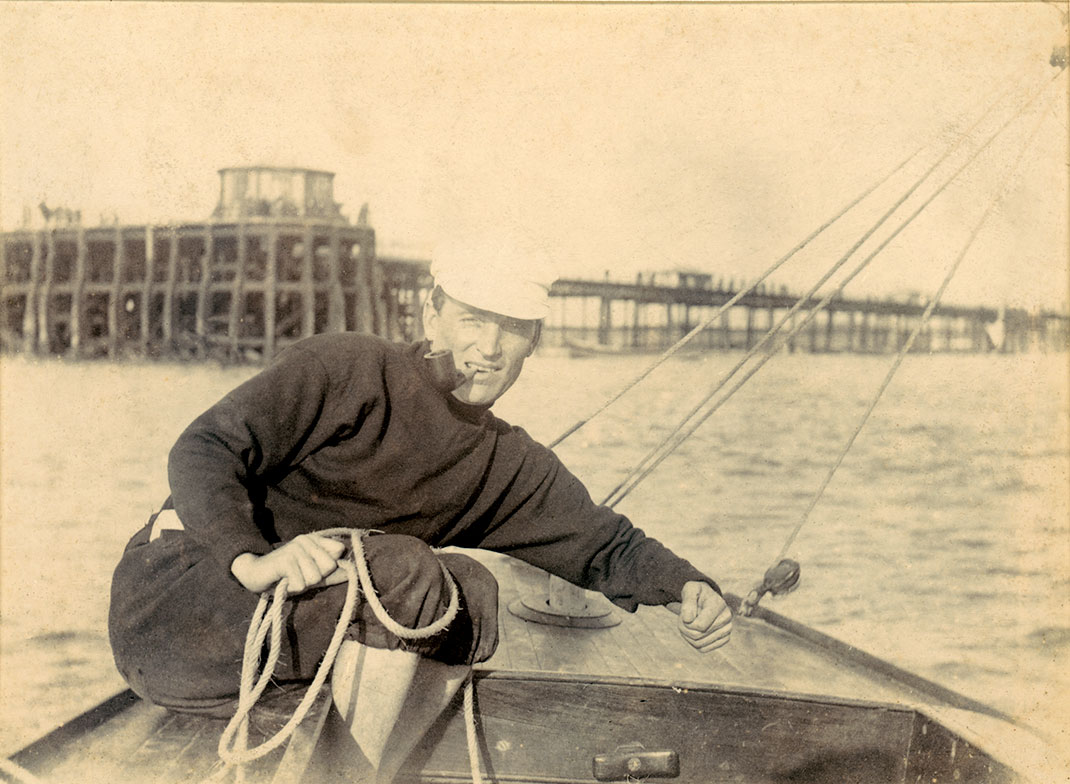 Mark Foy - Intercolonial Challenge Cup, 1898
Greg Hyde
Clontarf's Greg Hyde is another of the four inductees into the Sailing Hall of Fame this year.
Congratulations Mr. Hyde - wonderful news!
Regular readers will recall that
Greg trains here
as part of Crystal Bay
Sailability
as well as through Manly Sailiability.
Born in 1962 Greg grew up in a sailing family on our northern beaches.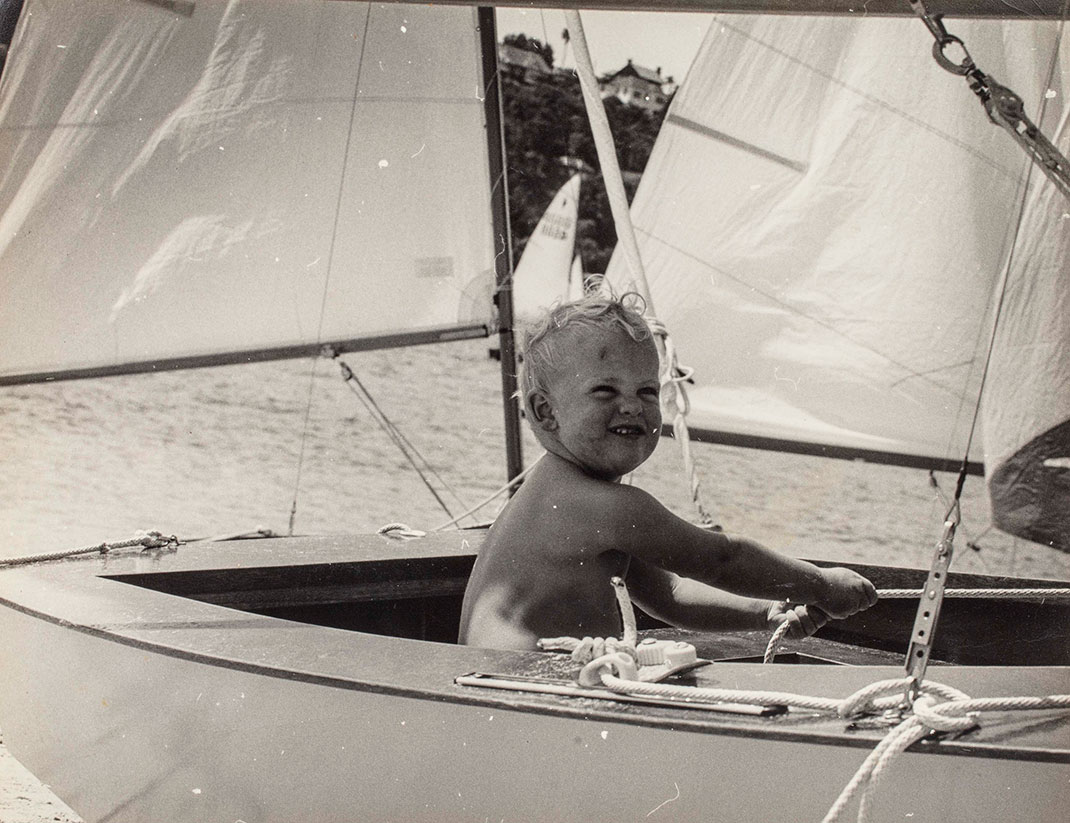 Greg as a toddler, circa 1964, in family's dinghy
In 1977, while a student at Balgowlah Boys High, he turned to competitive sailing. In his first year sailing Cherubs, he dominated that year's national titles in Brisbane with crewmate Bruce Painter. In the same year, 15-year-old Greg picked up a windsurfer for the first time. Within a year he placed 4th at the World Windsurfer Championships behind the only board-sailor in the World Hall of Fame, Robby Naish.
Over the next 10 years 'Hydie' as he was known, dominated the class locally, went to the Olympic Games and won three world championships. He was Australia's pre-eminent board-sailor when windsurfing began to captivate public interest. With only 12 months experience on the Windglider, (the European board design chosen for the 1984 Los Angeles Olympics) he won major events in Europe and finished sixth in Los Angeles, winning the last race.
In the early 1990s, Greg turned his attention to yacht and skiff racing and in 1985 helmed the Flying Circus to win the Sydney to Mooloolaba race. In 1988 Greg came second in the Sydney to Hobart yacht race, which he subsequently won in 1993 at the helm of Cuckoo's Nest. As skipper of OTIS in 1995 and 1996, Hyde won back-to-back national 16-foot skiff titles and became the first in the history of the class to win every heat of the national championships with a perfect zero point score.
In 1996 Greg only just survived a rare and usually fatal form of encephalitis that left him in a coma for several weeks. He learned to walk, talk and read again. A year later he was back in the water sailing again and came sixth at the 16-foot skiff National Championships before experiencing further strokes.
Hyde then turned to the Access and 2.4m classes and campaigned for the 2012 London Paralympics in a bid to represent Australia at both forms of the Games. He won a gold medal at the 2009 Masters World Games in the Access 303 class (for 45+ years) and the Access World Championship in 2012.
Newport resident and sister Barbara Kendall is Greg's rock, and co-ordinates his sailing program.

Those who stroll along Manly's Pathway of Olympians will find his name among the legion who are honoured there and with this year's announcement, one more recognition of this outstanding gentleman (because he's a lovely bloke too) brings back into focus all he has achieved and may yet achieve.
There may even be a nice cake at the next Crystal Bay Sailability and Manly Sailability training days....!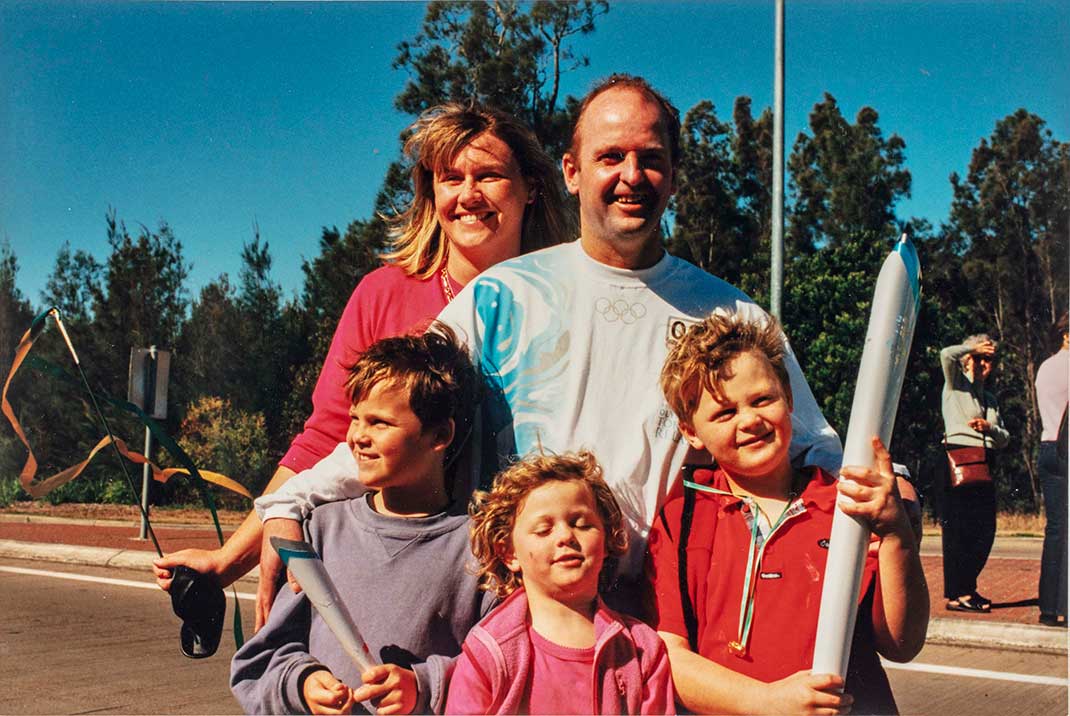 Greg Hyde with Family, 2000 Sydney Olympic Games Torch Relay. photo courtesy Greg Hyde.
Apart from honouring those who have done so much for sailing, current RPAYC Members are also among those featured at this year's awards either winning or being listed as finalists.
A full house at the Sofitel Hotel Darling Harbour on Friday night the
2019 Australian Sailing Awards
evening commenced with a spectacular video display of just some of the great sporting highlights from Australian athletes, coaches, clubs and volunteers across all fields of the sport at home and abroad.
This year's awards featured two new categories, with the SheSails Award set to reward those who have driven female participation in the sport and the Sustainability Award recognising the clubs, classes, associations or individuals who have contributed to a more sustainable sailing industry.
The evening saw fantastic representation from the Royal Prince Alfred Club again this year with multiple nominees including Jason Waterhouse in Male Sailor of the Year, Richard Slater in Official of the Year, Stacey Jackson on behalf of Ocean Respect Racing nominated in the Sustainability Award category, the Club for the Invictus Games – Sports Promotion, and A Lifetime Achievement Award.
A common theme of the night was the growing strength of sailing in Australia and the many factors that contribute to the participation and enjoyment of the sport; determination, opportunities, family, inclusion and fun, all well exampled through the winners and speakers on the night.
The Royal Prince Alfred Yacht Club did extremely well with the following Members winning their nominated categories.
Sustainability Award – Stacey Jackson & Team of Ocean Respect Racing

Official of the Year – Richard Slater

Lifetime Achievement Award – John McConaghy
Ocean Respect Racing was launched for the 2018 Rolex Sydney Hobart Yacht Race. Ocean Respect Racing is led by Australian skipper Stacey Jackson. The 13-strong all-female professional crew embodied the team's name by spreading the message of sustainability throughout the ocean racing community in Australia. The team inspired fellow competitors, event organisers, and supporters to protect the ocean.
Sailing on the 66 footer Wild Oats X, owned by the Oatley family, the crew was a serious contender in the race, with a combined experience of 68 Rolex Sydney Hobart Yacht Races and 17 Volvo Ocean Races.

A selection of initiatives as part of the team's mission to promote sustainability included:
Everyday single-use plastic items such as water bottles, straws, cutlery, coffee cups, and bags avoided by team members, both onshore and offshore.
Engaged with two local environmental organisations and support their mission with grants funded by 11th Hour Racing.
Empowered local yacht clubs and Australian Sailing to create or improve sustainability plans, focusing on the need to recycle and reduce single-use plastic consumption.
Promoted the UN Environment's Clean Seas campaign to grow the momentum of Australia's commitment to the campaign to reduce ocean plastics.
Impact
Won the Jane Tate Trophy and finished 2nd overall
Offset 138 tonnes of CO2 to compensate for the team's carbon footprint
Met with more than 450 kids that were able to visit the boat, talk with the sailors, or hear about the race and the team's mission
Spoke at four sailing clubs in Australia on sustainability
Avoided the use of 800 single-use plastic water bottles
65 meat-free meals saved 10,000 liters of water and 216 kgs of CO2
Assisted scientists by taking water samples that will be tested for microplastics
11th Hour Racing sponsored Stacey Jackson and the
Ocean Respect Racing
, building on the legacy of the Vestas 11th Hour Racing campaign in the 2017-2018 Volvo Ocean Race. Stacey is a keen advocate for ocean health, which she demonstrates daily as a professional sailor and as a business owner. Stacey founded Ocean Respect Racing to engage in the ocean health issues she has witnessed while sailing around the world.
The team competed in the 2018 Rolex Sydney Hobart, a 628-nautical mile yacht race starting in Sydney Harbour on Boxing Day, racing south down the New South Wales coast then across the notorious Bass Strait to the east coast of Tasmania.
"WE NEED TO LOOK AFTER WHAT IS ESSENTIALLY OUR HOME, AND OUR PLAYGROUND."

– STACEY JACKSON, SKIPPER AND FOUNDER OF OCEAN RESPECT RACING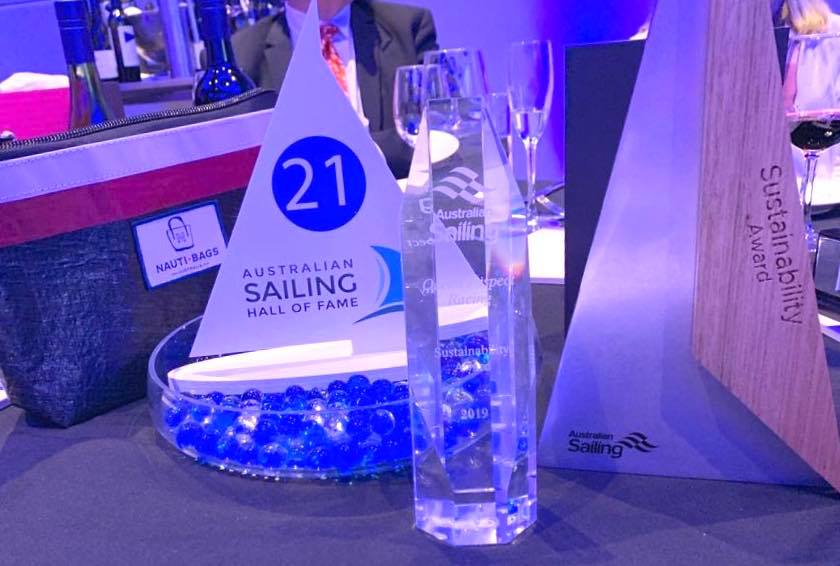 Winning Official of the Year was Richard Slater (RPAYC and Pete's Yacht Club, Bilgola Plateau). Richard Slater is one of the world's top international judges and vice chairman of the World Sailing Racing Rules Committee. Recently he served as chief umpire and chairman of racing rules for the SailGP series inaugural year. In July Richard was announced as the winner of the Official of the Year Award for the NSW/ACT Sailing Awards. This isn't the first time he's taken out that category as i
n 2017 Richard won the NSW ACT Official of the Year Award. Those who get down to the ocean may also catch him action aboard a stand-up paddle board catching a wave - pretty good at that too!
The prestigious Lifetime Achievement Award went to boat building legend, John McConaghy.
Mr. McConaghy started building boats at the age of 12 and went onto become the first yacht builder in the world to use leading edge composite carbon fibre construction technology. After building Moths, Northbridge Seniors, Javelins, 12ft, 16ft & 18ft skiffs – McConaghy teamed with the Oatley family to create Wild Oats and Wild Oats XI that took 80,000 man hours to build.
Congratulations to our winners and nominees who have all shown their passion for sailing.
The full list of finalists and winners is noted below. Below that the local winners at the state awards this year.
2019 Australian Sailing Awards Finalists and Winners
Mat Belcher OAM and Will Ryan (Winners)
Jason Waterhouse
Matthew Wearn
Female Sailor of the Year
Lisa Darmanin
Jessica Grimes
Nia Jerwood and Monique de Vries (Winners)
Sailor of the Year with a disability
Matthew Bugg
Chris Symonds (Winner)
Alison Weatherly
Will Cooley and Bec Hancock (Winners)
Archie Cropley and Max Paul
Zac Littlewood
Offshore Sailor of the Year
Matt Allen AM (Winner)
Jade Cole
Phillip Turner
Adrian Bram
Invictus Games - Sailing Regatta
Ocean Racing Club of Victoria (Winner)
Sports Professional Award
Debbie Blaauw (Winner)
Ben Fels
Ella Sagnol
Ocean Respect Racing (Winners)
The George Mac Regatta
Ocean Racing Club of Victoria
Jan Howard and Mary Holley (Winners)
Royal Freshwater Bay Yacht Club
Wendy Wilson
Peter Merritt (Winner)
Scott Ragg
Daryl Skinner
Newcastle Cruising Yacht Club (Winner)
Royal Brighton Yacht Club
Royal Freshwater Bay Yacht Club
Geoff Brown
Paul Effeney
Richard Slater (Winner)
Michael Blackburn (Winner)
Victor Kovalenko OAM
Ben Walkemeyer
Diane Kelsey
Emma Morris
Brett Yardley (Winner)
Tom Burton OAM
, 2019 Aust. Laser Champ, 2019 World Laser Champ, World No 1 in Laser.
Sarah Kenny
for all she does for sailing: Mosman's Sarah Kenny competed at international level for more than a decade from 1983 when she debuted as Sailboard Representative at the IYRU Women's World Sailing Championships in Auckland, New Zealand.
The following year she took 7th place in the Olympic Boardsailing Exhibition Event in Los Angeles and came 3rd in the Slalom and Marathon and 4th in the Pentathlon at the Windsurfer World Championships in Perth.
In 1995, Sarah won the Freestyle, took second in the Pentathlon, Slalom and Marathon and fourth in the Racing at the Windsurfer World Championships in Fiji.
She has also won the Windsurfer Western Hemisphere Championships and the World University Boardsailing Championships (both in 1984) as well as being a regular winner in local and state titles. She won the Peter Jackson Bluewater Classic in 1985, the Canon Ocean Marathon in 1986 and the Festival of Sydney Marathon in 1987.
Success has come not just on the water. Sarah has appeared in magazine, television and cinema advertisements, written for 'Sailboard Extra' and featured in the film 'Wind Warriors.'
Since then Sarah has been with Australian Sailing -
11 years
Australian Sailing
Vice President and Director
2010 – Present
Olympic Sailing Team Selector 2008, 2012, 2016 and 2020
World Sailing
Oceania Council Member and Chair Events Committee
2017 – Present
Australian Sailing - NSW & ACT Awards 2019 RPAYC Recognitions
FEMALE SAILOR OF THE YEAR
Annie Wilmot & Natasha Bryant
The Royal Prince Alfred Yacht Club
YOUTH SAILOR OF THE YEAR
Daniel Links
The Royal Prince Alfred Yacht Club
INSTRUCTOR OF THE YEAR
Niall Powers
Manly 16ft Skiff Sailing Club / The Royal Prince Alfred Yacht Club
OFFICIAL OF THE YEAR
Richard Slater
The Royal Prince Alfred Yacht Club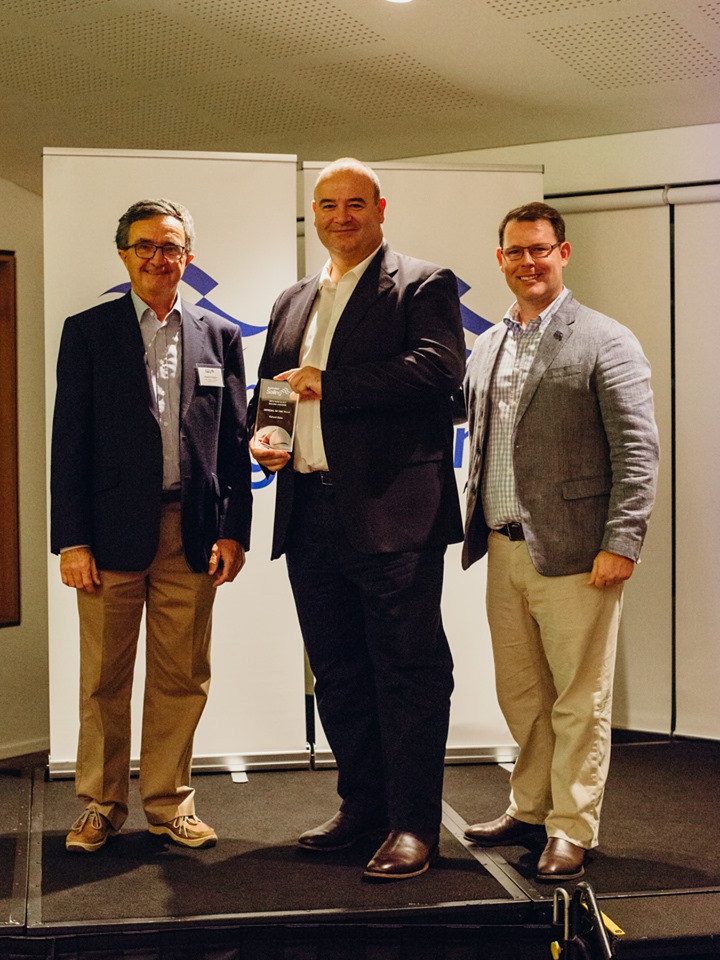 Richard Slater at NSW -ACT Awards
SPORT PROMOTION AWARD
Invictus Games Sydney 2018 presented by Jaguar Land Rover
The RPAYC (shared with CYCA, MHYC, RSYS)
SPORT PROFESSIONAL
Tom Spithill
The Royal Prince Alfred Yacht Club