March 24 - 30, 2019: Issue 398

Pittwater Electorate Returns Rob Stokes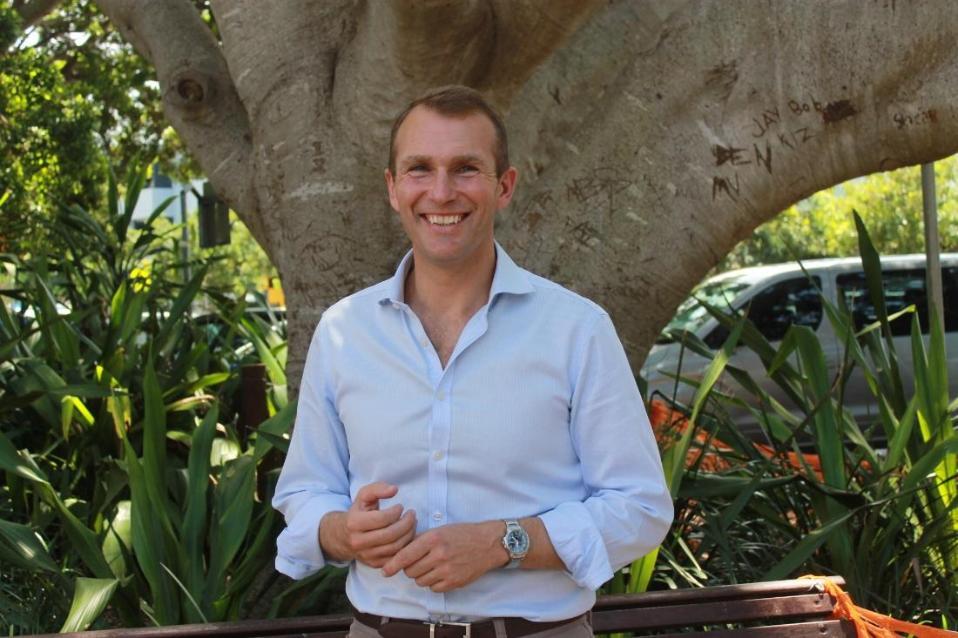 The NSW Liberal - Nationals Coalition Government have won a 3rd term, the first time since 1977 this has occurred.
In another first, the state's first popularly elected female leader has finally arrived in Gladys Berejiklian being re-elected as New South Wales Premier, just over 100 years and a few months since women could finally become representatives of voters in New South Wales.
Ms. Berejiklian told an exuberant crowd, which included the former prime minister John Howard and the former premier Nick Greiner, that she was proud of NSW, "a state in which someone with a long surname – and a woman – can be the premier".
"I will continue to – my team and I – will continue to work our guts out to make sure this state and its people continue to ensure that we have the best opportunities on this planet," she said in her victory speech.

Women everywhere are pretty happy about this today, former Labor prime minister Julia Gillard leading the congratulations;
"In a world of far too few women leaders, I congratulate @GladysB on being the first woman to win a NSW state election," Ms Gillard, the first woman to be an Australian prime minister, tweeted.
Rob Stokes has been returned by voters too, his fourth win in a state election.
Rob had a dawn to way after sunset day on Election Day 2019, the NSW Education Minister and former Environment Minister was on Channel Nine's coverage of the results. Rob spoke about hearing from Liberal party volunteers that climate change, not the government's beleaguered Sydney light rail project, was the biggest issue for voters.
"Certainly the messages that I'm getting are that environmental issues played very big and that the light rail was less of an issue for voters," Rob said.
NSW Minister for Health Brad Hazzard, who won his seat again too, as did Manly's James Griffin and Davidson's Jonathan O'Dea, passed comment on Mona Vale Hospital needing to be demolished due to asbestos being present, something he had been asking questions about in parliament during 2010, before the 2011 election. The remarks came in response to candidates standing on a platform of keeping the hospital's old building and returning services. More on that in the Community News page.
In the lead into Saturday Rob made some announcements to encourage public transport use by implementing a reduction on Opal Card Cap, a $1 million over four years boost the Surfers Rescue 24/7 course and the imminent selection announcement of the contractor for the Barrenjoey High Performance space build.
Last week he stated the community's seeking to enhance the Newport green loop, something successive councils have been working at for over a decade, will occur should he be re-elected as Pittwater's MP, and Mona Vale Hospital construction updates.
NSW Government Working To Deliver More Green Space For Newport - from Office of Rob Stokes, MP for Pittwater

Mona Vale Hospital Construction Works Continuing: March 2019 Update + More Than 370 Mona Vale Hospital Staff Providing Exceptional Service - from Office of Rob Stokes, MP for Pittwater

More on this week's announcements next Issue - after all the dust has settled and those who ate too many election stand cakes yesterday have worked all that sugar out of their systems.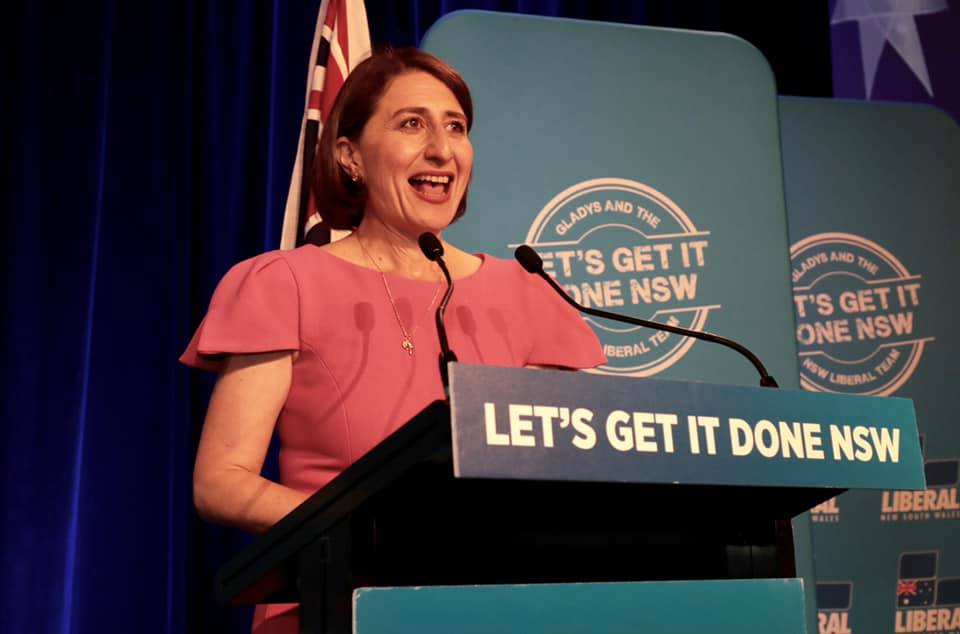 NSW Premier Gladys Berejiklian has made History last night! - Photo from her Facebook page with "Thank you NSW!" as the message/post.
Avalon Bulldogs A Grade Trial Game: Pre-Season Heart Starter At Home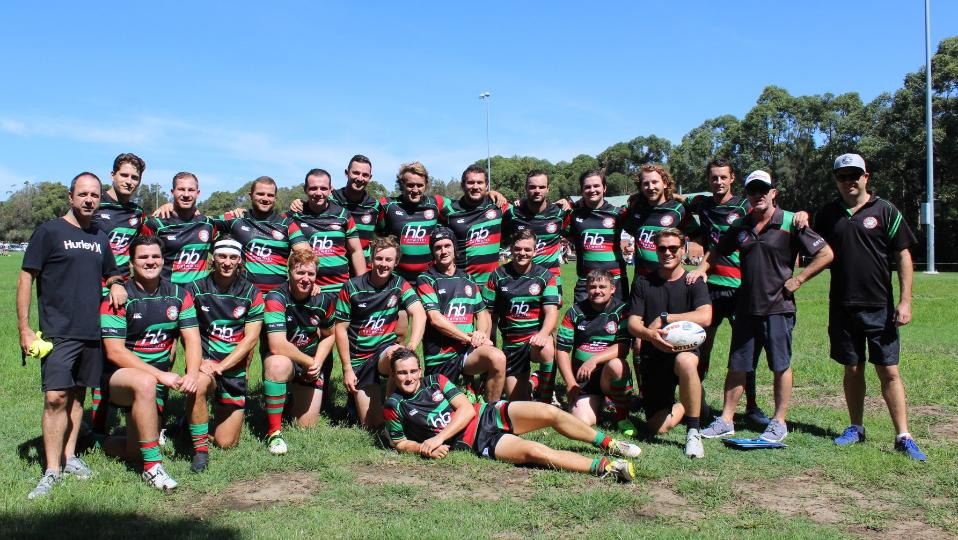 Avalon Bulldogs Vs. Ourimbah Magpies
Trial Match
The Bulldogs have an A Grade team for this Season and they had their first match on home grounds yesterday, March 23rd, playing against the Ourimbah Magpies (Central Coast) team.
President Anthony Collins said this was good little hit out and practice run before the Season started and a chance for the team to stretch themselves and get started on team cohesion.
"We're looking forward to cooler weather so all grades can do their best and enjoy some great fun, learn skills they can apply elsewhere. Sportsmanship and meeting their peers is a focus here."
"As always introducing new juniors to the great game rugby is and enabling them to form friendships that in many cases last for life, remains a core motive for many of our volunteers, supporters and the many parents who work hard to make the club work."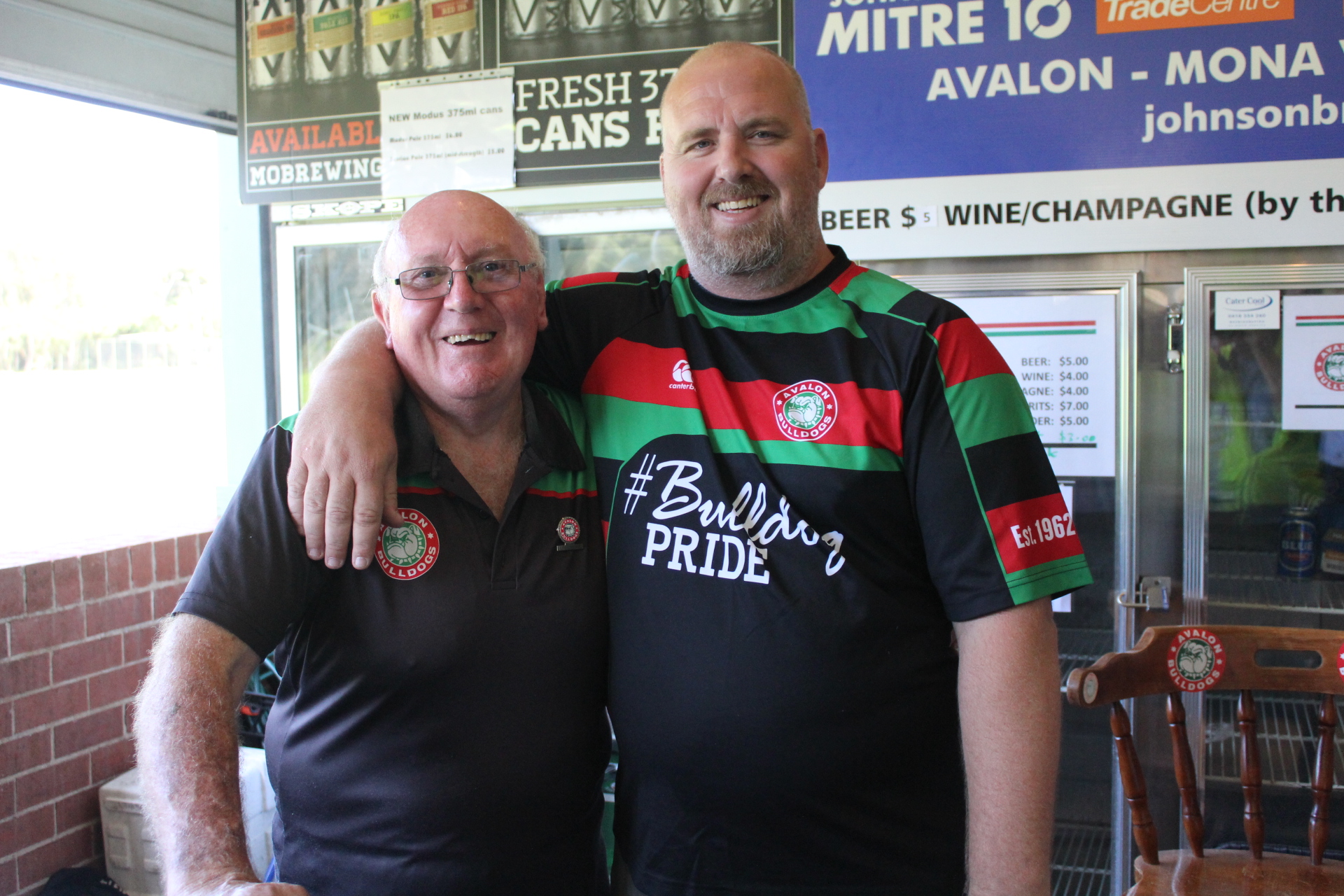 Avalon Bulldogs JRLFC is family club so all ages were present at the game on Saturday afternoon from the knee high to the much taller.
Warriewood SLSC Surf Boats Carnival: End Of Season Pre-Aussies Training - Homage To Legendary Warren Molloy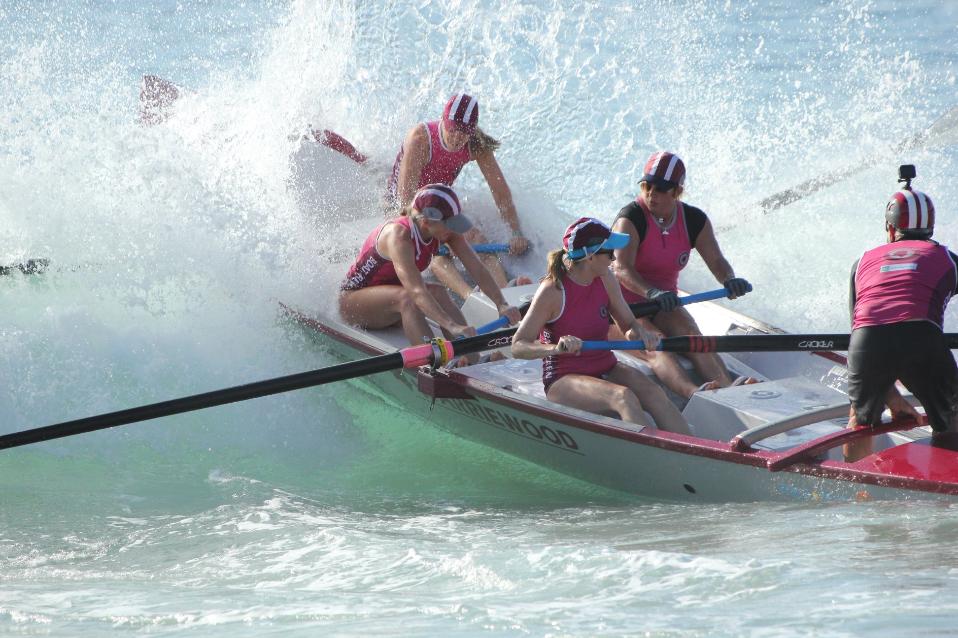 Warriewood SLSC's 'Rusty's at Warriewood yesterday, Sweep: Russell Lamb. Photo by Ashley Cardiff, ABSLSC.
Surf Boat crews made their way to Warriewood Beach yesterday, March 23rd, for an End of Season carnival hosted by the beach's surf club.
Organiser Russell Lamb said the main object of Warriewood SLSC's Boat Carnival was to give crews an opportunity to have a bit of training before they headed off to Aussies.

"Each division had 4 races each, " Russell explained after the carnival
"We had a little bit of surf, but not too much, so it wasn't too hard for the younger crews and newer rowers to gain some more experience. People at all levels had a good run. "
"This is such a good sport for so many, brings people from all walks of life together to learn about rowing, surf life saving, the ocean, and have some great fun."
Crews from south of the harbour and all along the northern beaches made their way to that beautiful little beach tucked beside Turrimetta. Mr. Lamb ensured there were some great prizes yesterday – Eco Downunder beach towels for all U19's crews for starters.
"Great prizes and a great carnival – thank you Russell and Warriewood SLSC." Avalon Beach SLSC President Ashley Cardiff said after the event.
The End of Season carnival participants also paid homage to legendary Sweep Warren Molloy who passed away on March 16th. He was aged 82.
Warren Molloy was the sweep of the 1977 Gold medal winning Warriewood Open Mens Crew. The champion '77 crew were in attendance at yesterday's carnival.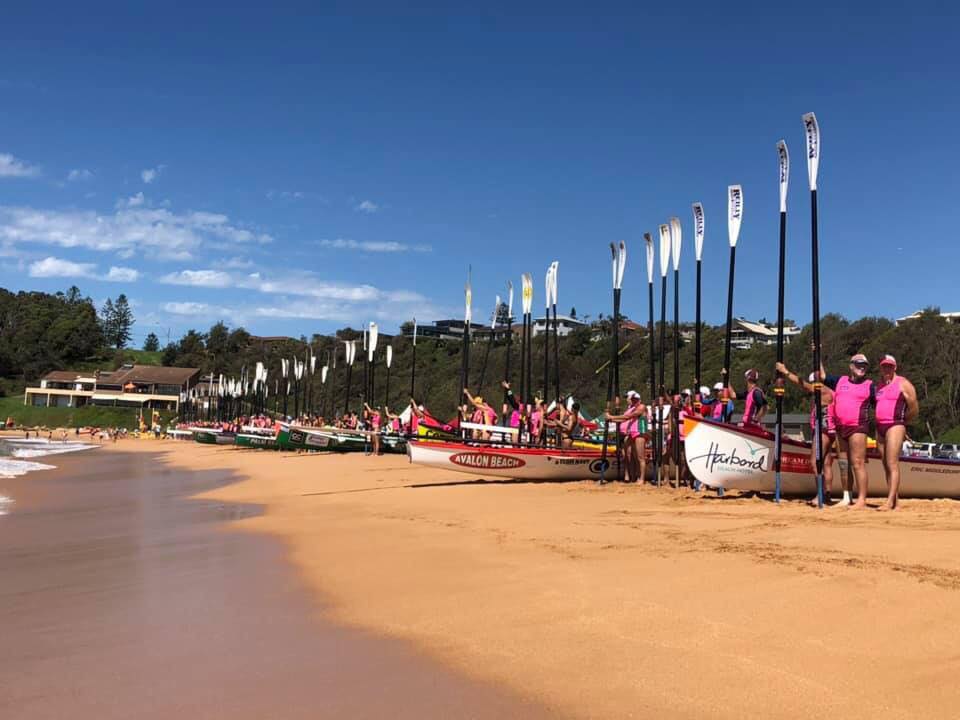 Warren Molloy Tribute at Warriewood Beach - March, 23, 2019 - photo by Russell Lamb.
Mr. Molloy was captain of the Australian representative surf team to New Zealand in 1972 and won two Australian open boat championships. Overall, he won 25 Branch, Interbranch, Metropolitan, State, Interstate and National Championships and two international contests against South Africa and New Zealand. Warren was inducted into the ASRL Hall of Fame in 2006.
Warren Molloy was not only one of Australia's best sweeps in Surf Boat racing but a man who was strong on discipline and behaviour.
Current North Narrabeen sweep Don McManus said ''He influenced my life tremendously in surfboats,'' during his Profile interview of 2014.
''He taught me about team effort, training, discipline, how to row and behaviour out of the boat.''
Don first met Mr. Molloy when he started out with Port Macquarie in 1960. ''He was my sweep and coach,'' Don said.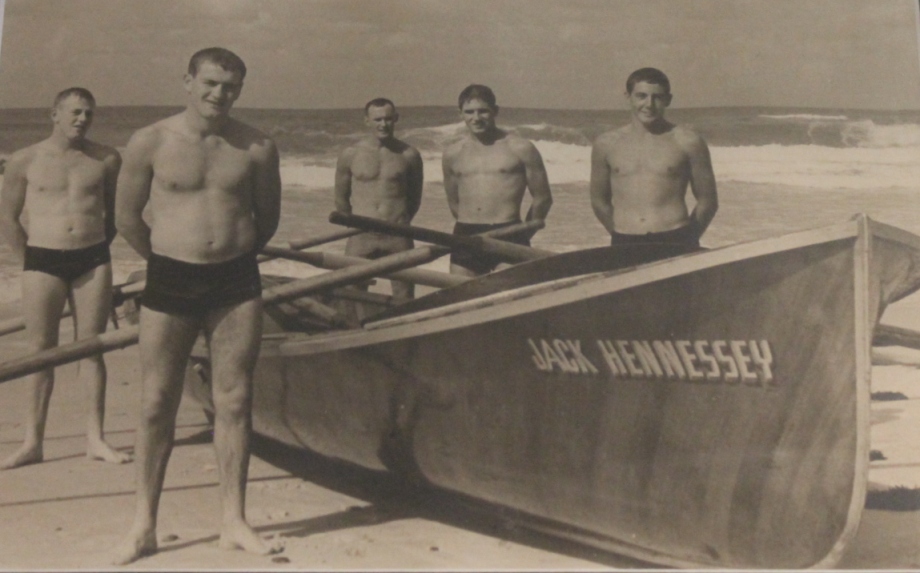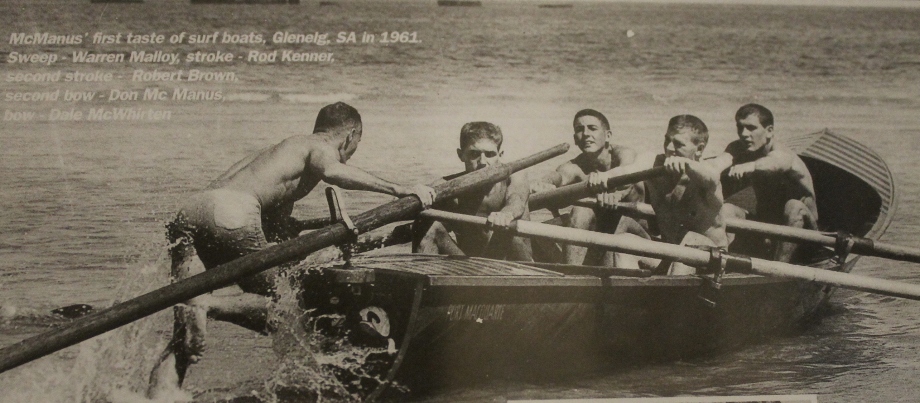 Photos courtesy Don McManus.
Warren first started out with the Garie SLSC in 1955 and became their boat captain at just 19.
As he had a long association with Queenscliff SLSC and was their club president in 1980-81 the family celebrated his life on Friday, March 22 at Queenscliff surf club. In lieu of flowers, the family asked for donations to Queenscliff SLSC.
Warren will be forever remembered by all especially his support of his wife, Helen. At the State Titles a few weeks ago he could be heard yelling out "run for the line".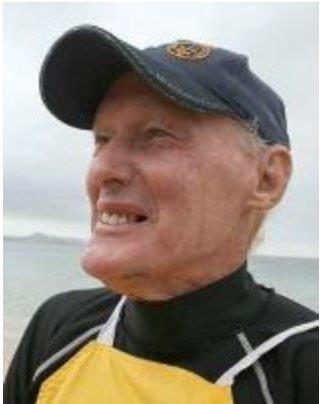 Professionally, as a Special Licensing Branch, Acting First Class Sergeant with the NSW Police Force, Warren Molloy was instrumental in bringing an end to reign of Abe Saffron at Kings Cross and ending the corruption that had crept into some parts of the force during the 1980's. He was incorruptible - a country boy, and you know what is said about country people - you can take us out of the country, but you can't take the country out of us.
On being a policeman Mr. Molloy said in an interview seven years ago, "I only ever wanted to be a police officer. All I wanted was to catch the baddies and look after the good people."
Joining the mounted police force at 19, Warren started his career in the country. He was later transferred to Campsie, Lakemba and Port Macquarie, eventually landing himself in Kings Cross.

Mr. Molloy left the Force in 1990, having been promoted to Inspector shortly after the tribunal that sorted out some aspects of what was going on. A scholarship awarded to him by the dean of the Law faculty of The University of Sydney allowed him to study law, where he graduated aged 55. Success followed him to the field of law where he ran the largest licensing law firms in Sydney in the 1990s.

Sporting success remained a constant in his life. In 1972, Molloy was named the Police Sportsman of the Year, an honour of which he is obviously very proud. He was also a surfer, some residents remembering this week seeing him out at Queenscliff Bombie, acing it.
When asked if the sporting success helped his career. "In some small way, yes; it's all self discipline and really to preserve, to do something, it's just a matter of giving it your best shot really and keep[ing] at it," he observed.
Certainly a record to be proud of. The gentleman was a legend.
More legends will be heading to the 2019 Surf Life Saving Australia Championships (The Aussies) this coming week. Hosted by Broadbeach SLSC and North Burleigh SLSC and running from March 30th to April 7th 2019, the event brings together life savers from all over Australia. This year over 7,000 athletes from 314 Surf Clubs will compete in more than 400 beach and ocean events.
In announcing the return to the Gold Coast for the 2019 and 2020 Aussies in April 2018 Graham Ford AM, President, Surf Life Saving Australia said "the Gold Coast is a world-class location for surf sports and the region's recent experience hosting the Commonwealth Games means it is an opportune time to return to Queensland.
"Millions of dollars have been spent in the region on public infrastructure and beach facilities, making it an ideal location for the country's biggest and most prestigious surf sports event."
The Youth Championships will be conducted at North Burleigh SLSC from 30-31 March, with the Masters and Open Championships being held from 1-7 April at Broadbeach SLSC.
Timetables here: sls.com.au/aussies/the-aussies-2019-maps-and-timetables
The Surf Boat Events will take place on Broadbeach.
Warriewood is sending three crews north – the Rustys (2019 State Championships Gold medal winners), the Crustys and the Warriewood SLSC Angels.
Photos of the Warriewood SLSC End of Season Carnival by Ashley Cardiff, President of Avalon Beach SLSC and more HERE
2019 Vissla Sydney Surf Pro Goes Off!
Jordy Lawler of North Narrabeen WINS!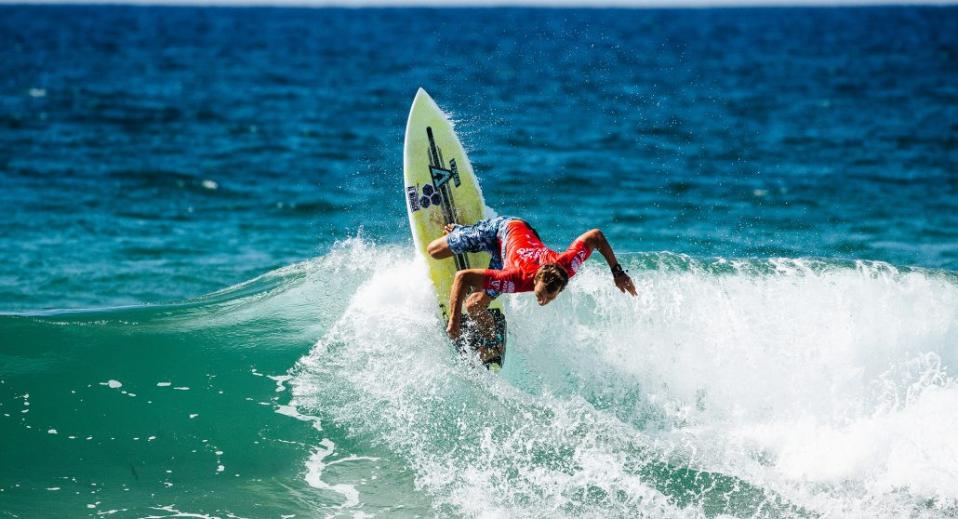 Narrabeen's Jordan Lawler (AUS) booking himself a spot in the Quarterfinals at the Vissla Sydney Surf Pro. Photo by Matt Dunbar/ Surfing NSW - WSL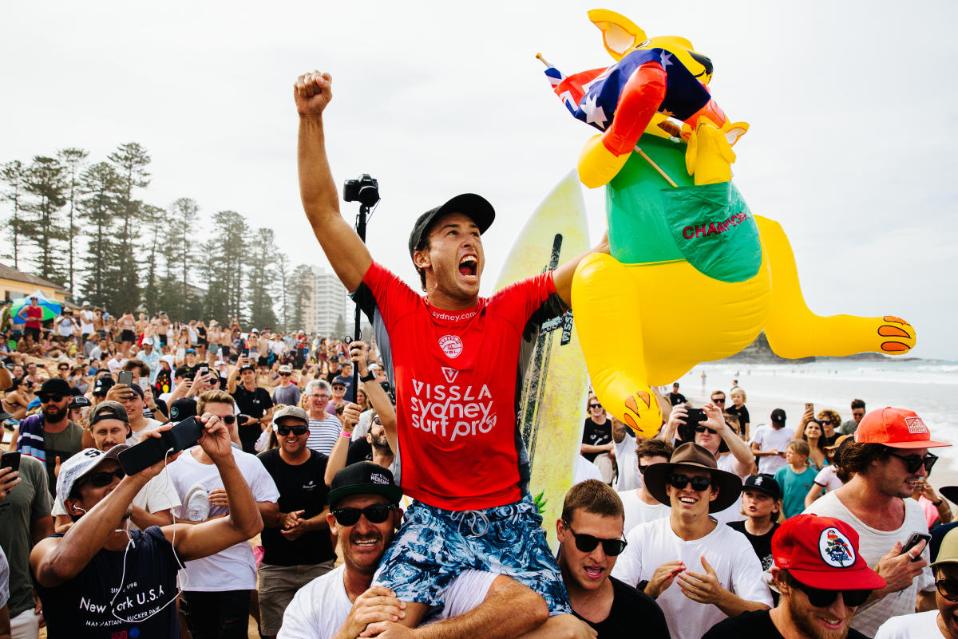 Jordy Lawler wins! photo by Matt Dunbar/WSL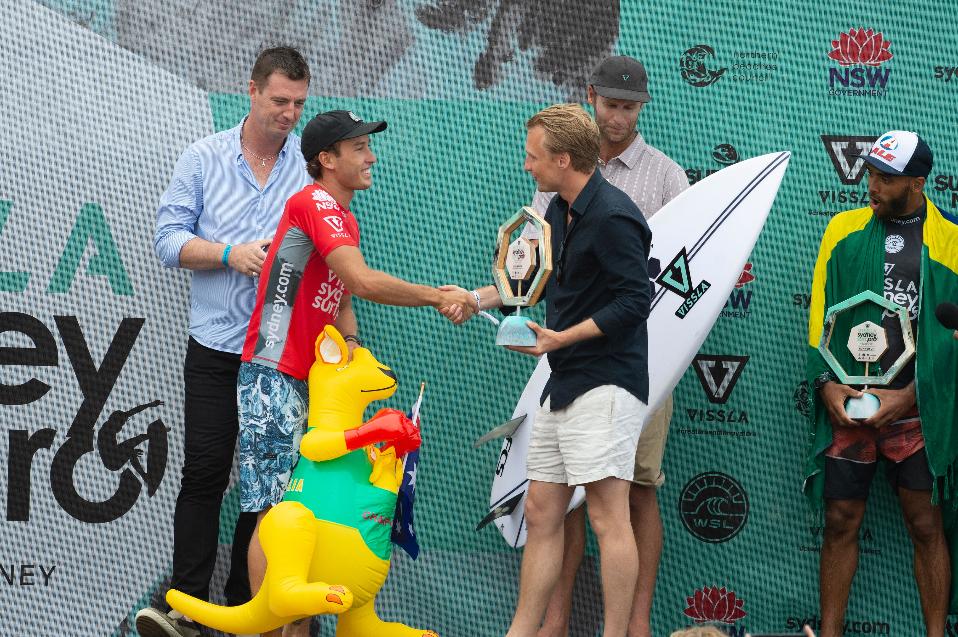 Jordy Lawler Wins 2019 Vissla Sydney Surf Pro. at Manly Beach - being presented with trophy by James Griffin, MP for Manly with NBC Mayor Michale Regan in attendance - photos by Ethan Smith/ Surfing NSW
Massive crowds have been lining the shores of Manly Beach this week to watch 11-time WSL World Champion Kelly Slater hit the water and compete at the 2019 Vissla Sydney Surf Pro World Surf League (WSL) Qualifying Series (QS) 6000 event.

The greatest surfer of all time didn't disappoint on Wednesday, taking out his opening heat against QS warriors Vincente Romero, Ramzi Boukhiam and Victor Bernardo. 47-year-old Slater made light work of the small conditions on offer at Manly, speeding through turns and slicing sections to overcome his opponents.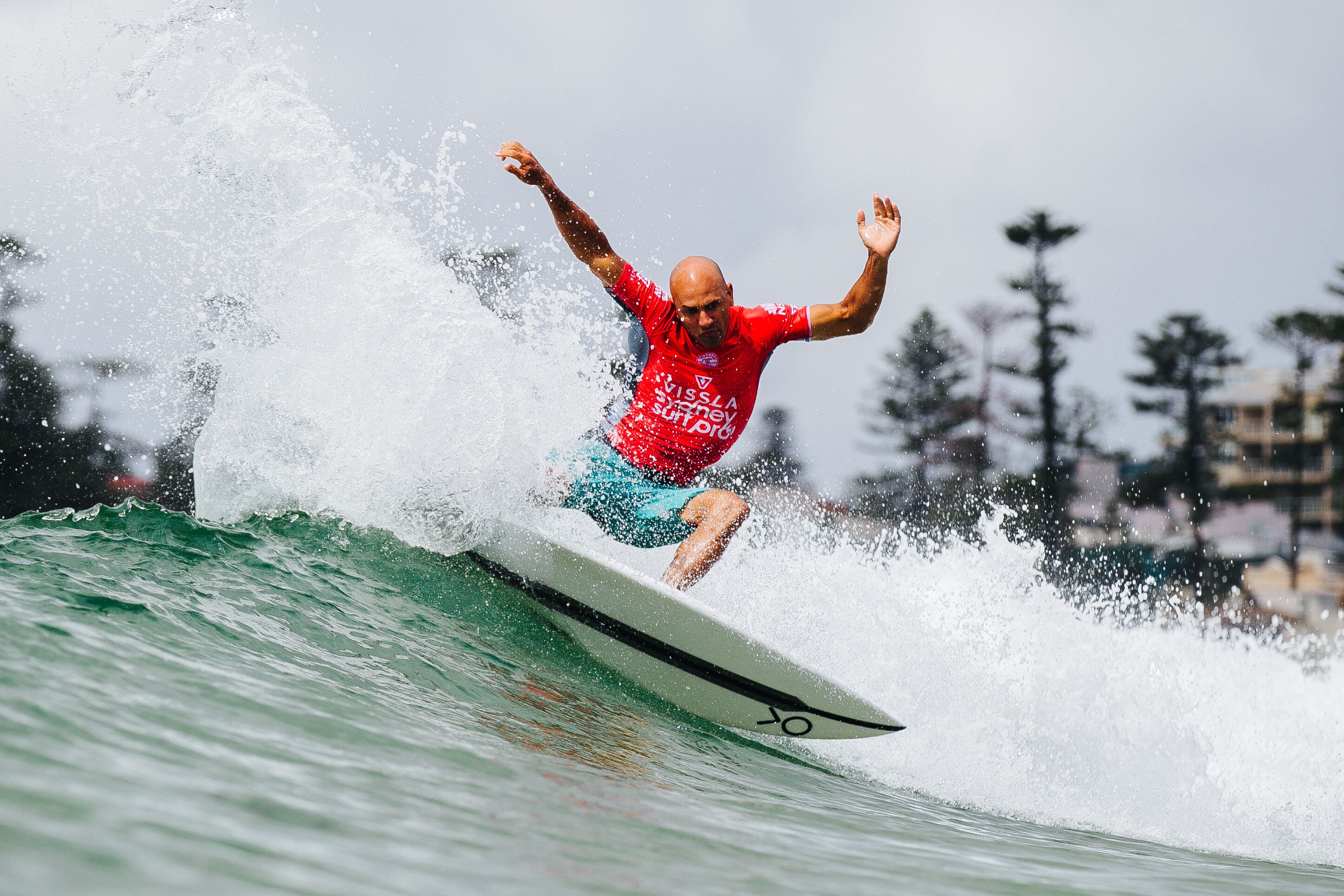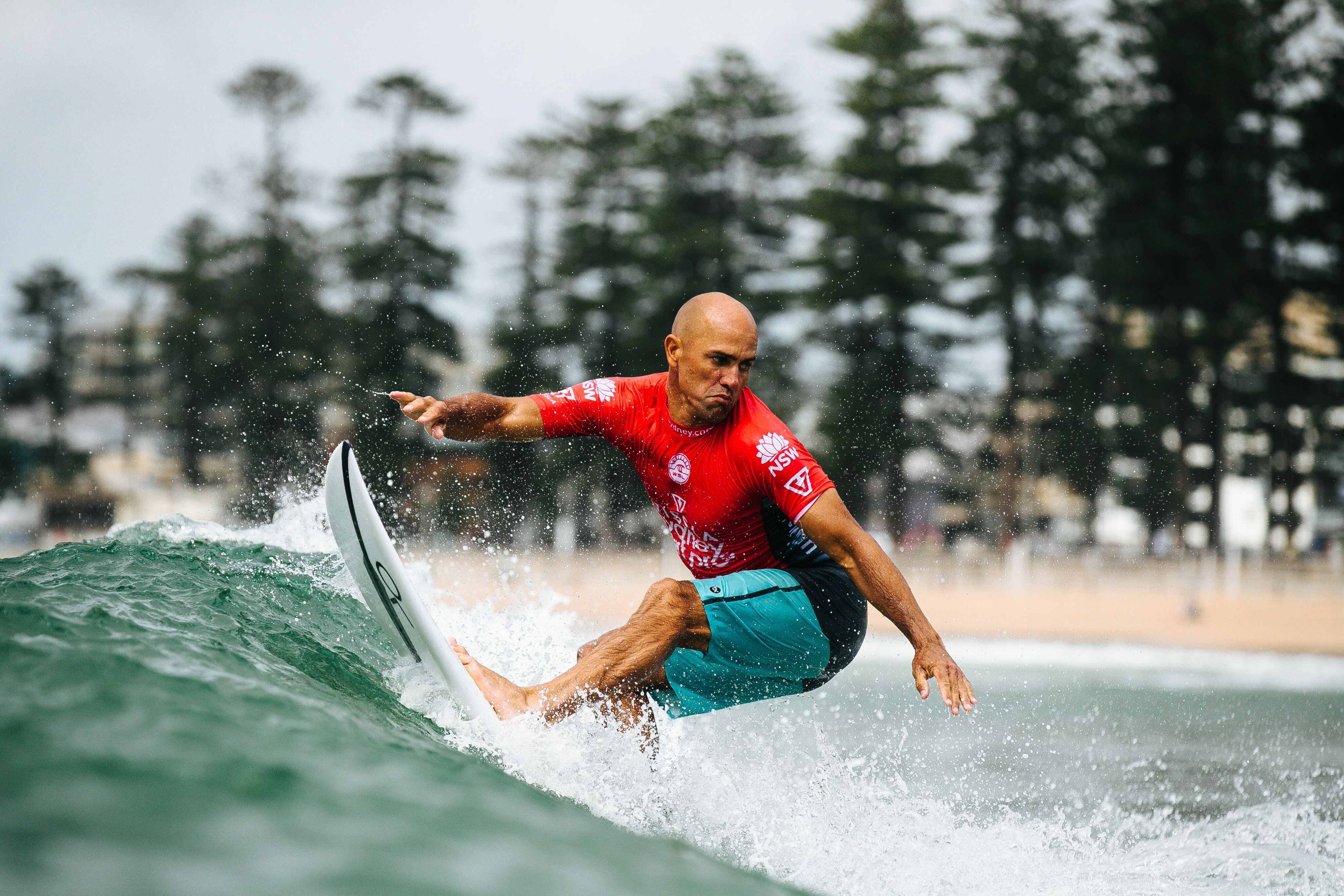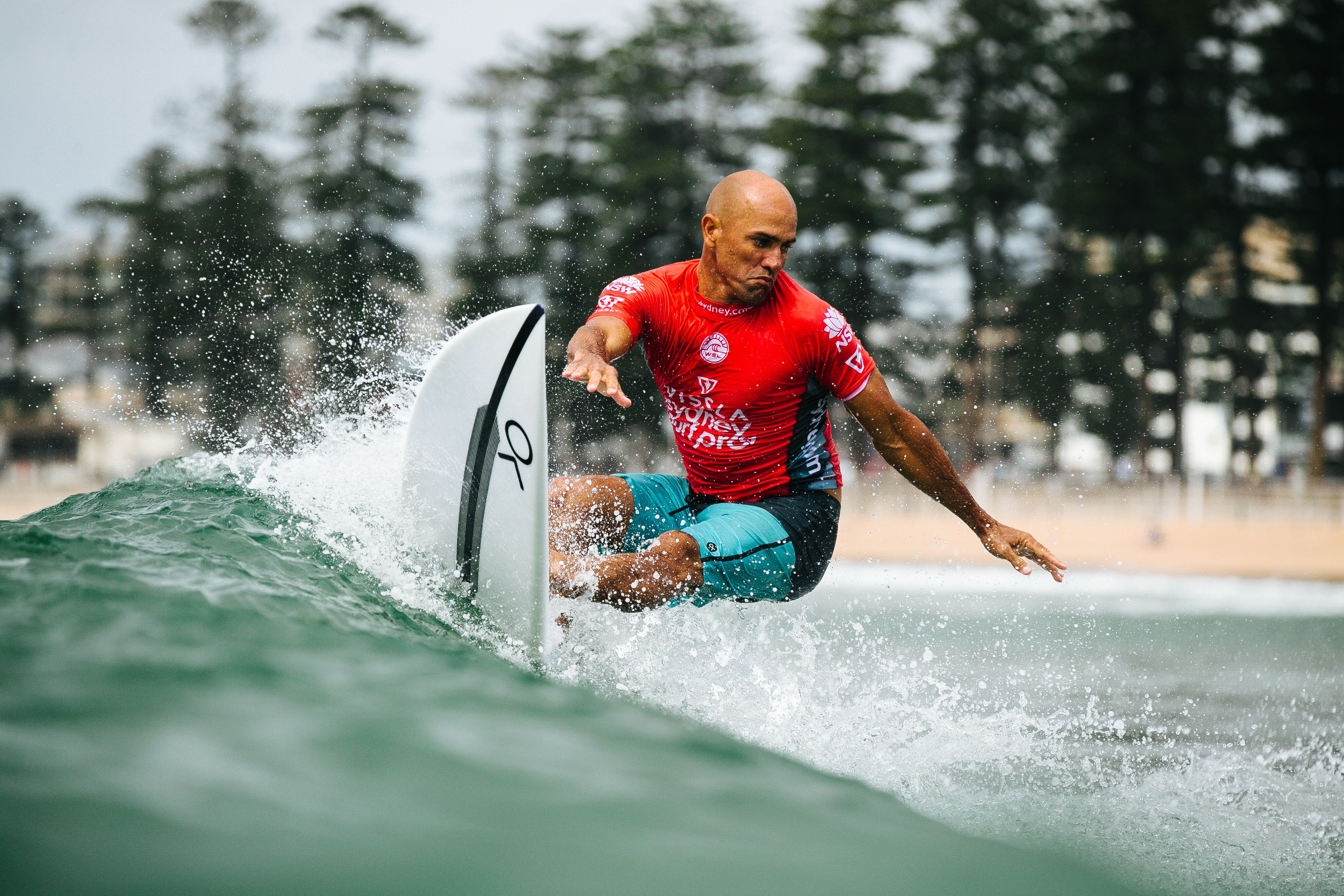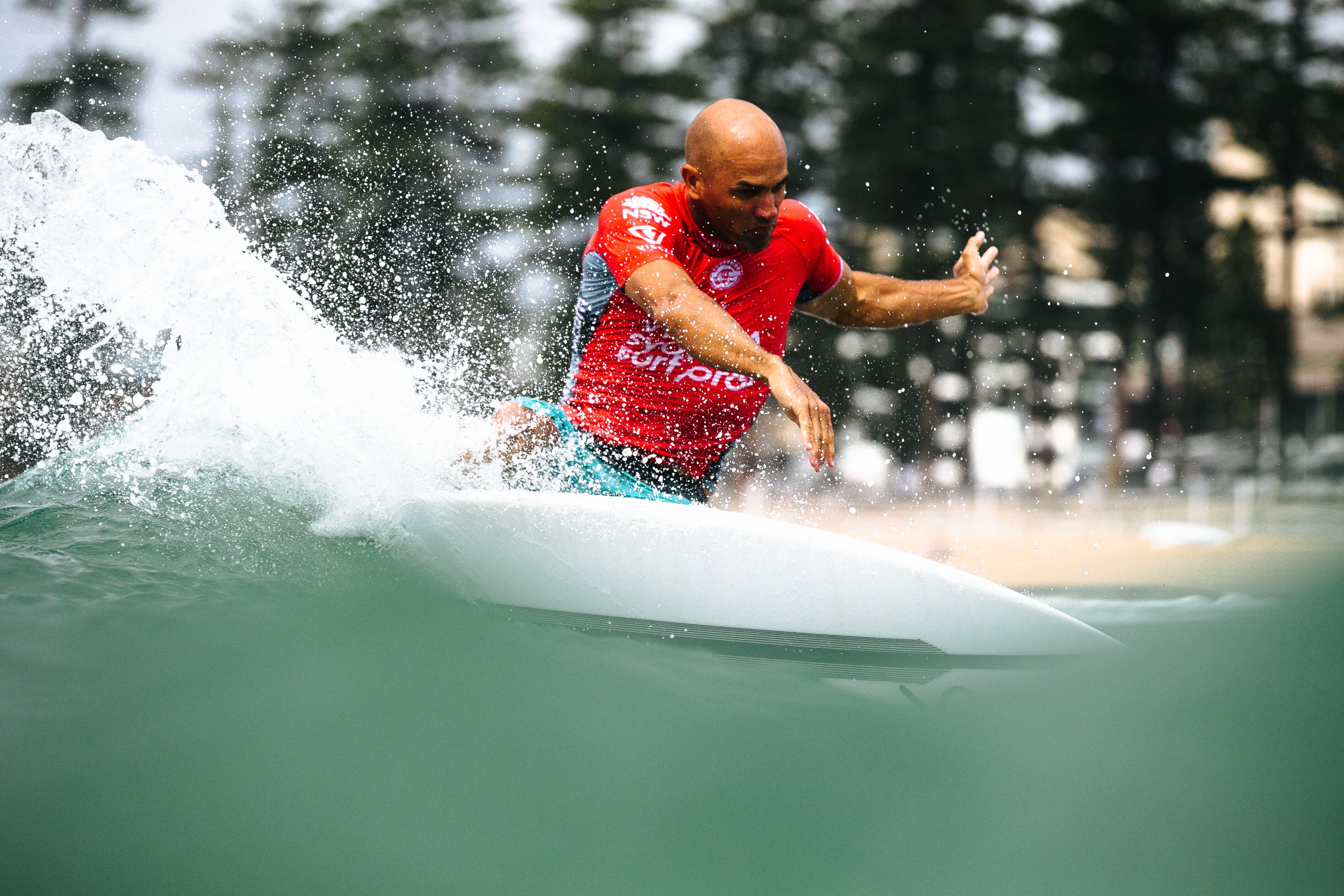 Kelly Slater at Manly this week - photos by Matt Dunbar/Surfing NSW/WSL

"I haven't surfed a QS event in so long especially in small waves like this so I was really aware that anything could have happened today," Slater said. "There is not a lot of separation between surfers when the waves are like this. It really comes down to who gets the best waves, but I also knew that the three guys I was up against are really talented and super competitive. Arriving at the beach today was pretty crazy with all of the people -- I could really feel the energy being focused on me, especially because I haven't surfed here in so long."
Slater, who once resided at Avalon Beach for half the year during the late 1990's and early 2000's was over the moon to return to such a familiar place to get his 2019 competitive season underway. The last time he competed in Sydney was in 2004 when he won the Australian Open at Maroubra.
"The last time I was here I won in Maroubra and then went to Newcastle and won there so let's hope I can get that kind of a roll on again," Slater continued. "It is really cool to be back in Sydney though, I love flying in over the Harbour and just the feeling of being in a big city that still has beautiful beaches and great surf. It's a really unique and special place."
After winning the heat, Slater progressed into Round 3 where he would surf in Heat 5 against three of the QS's inform surfers including Alex Ribeiro, who is fresh off a win in Newcastle last week, CT competitor Jesse Mendes and Frenchman Charly Quivront.
Also on Wednesday, four-time World Champion Australian surfer Mark Richards was announced as the second recipient of the Surfing NSW Midget Farrelly Lifetime Achievement Award.
The award, which honours surfing legend Bernard 'Midget' Farrelly, was presented to Richards by 11-time World Champion Kelly Slater.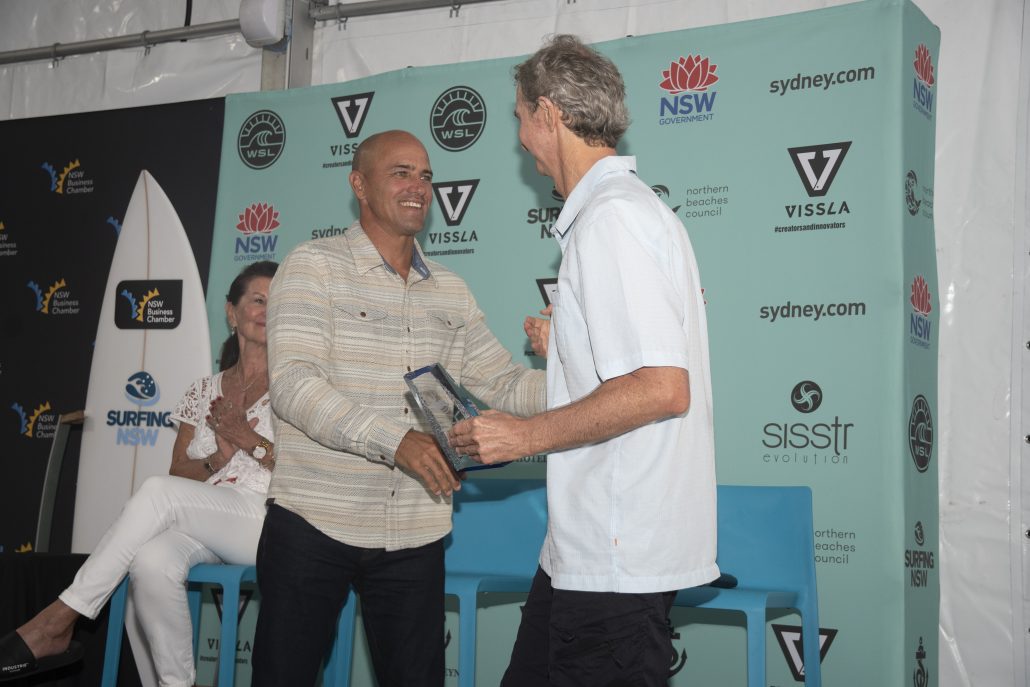 Kelly presents Mark with the award, Beverlie Farrelly to Kelly's left - photo by Ethan Smith/Surfing NSW
Richards is only the second recipient of the prestigious award, following Layne Beachley who was bestowed with the inaugural honour in 2018.
The criteria for the award is "a New South Wales surfer of origin who, through performance in the water and wider contribution to the sport, has become an integral part of Australian surfing ad culture".
The award recognises Richards' extraordinary achievements as a competitor, as a board shaper and for the immense contribution he has made to surfing throughout his career.
"I'm very honoured to receive this award. I have tremendous respect for Midget Farrelly and his contribution to surfing," said Mark Richards. "Surfing has been a major part of my life since I was a teenager, both as a competitor and a shaper. I am grateful to be a part of the Australian surfing community," said Richards.
Autumn In Pittwater 2019: A Rainy Week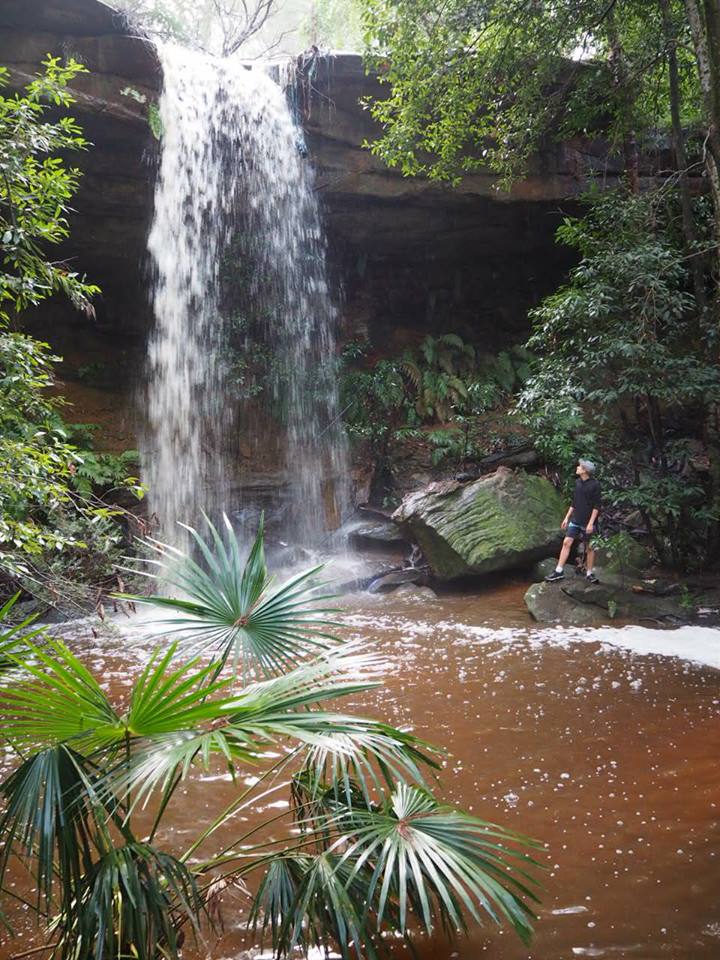 Mona Vale - at Narrabeen Creek Falls. Photo by Dave Murray taken the afternoon of Sunday March 17th.
Dave says "These falls are just below Mona Vale Rd and opposite where Lane Cove Road is blocked off. We had to scramble cross country through the scrub for an hour from Laurel Road to get there."
This is near where parts of 'Lantana', Australian epic, was filmed.
Not in Pittwater - but adjacent to - a reminder of what 'flows' elsewhere during the rains we've seen this week: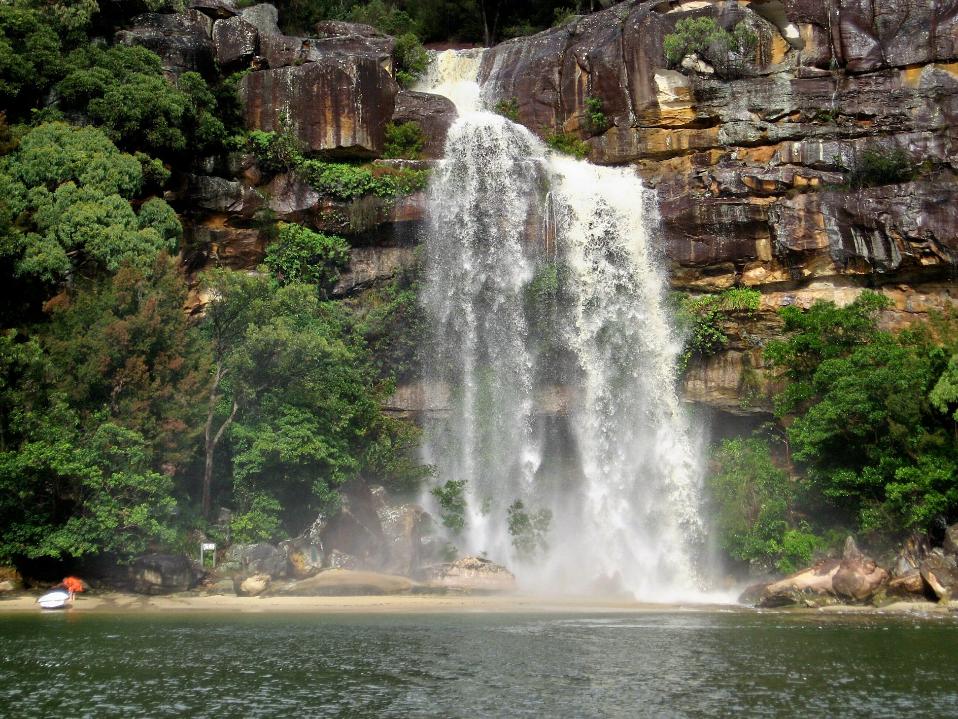 ENSIGN - REFUGE BAY WATERFALL - Adrienne & John aboard - June 2010, Photo by John Vaughan.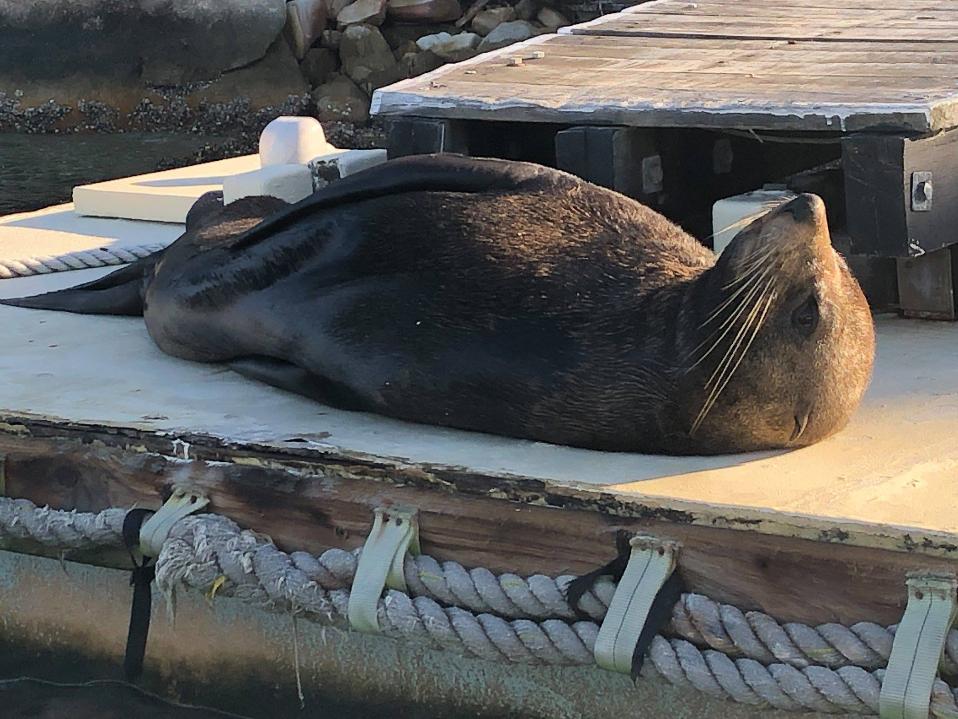 Also by John Vaughan (son of Les Vaughan,
Avalon Sailing Club founding member
), taken this week at Middle Harbour -
John says; "
Nature at its best was evident at Middle Harbour, Sydney when I spotted this beautiful, big SEA LION which had taken possession of a local boatshed pontoon at Sugarloaf Point, Castlecrag."
John calls him/her 'Whiskers'!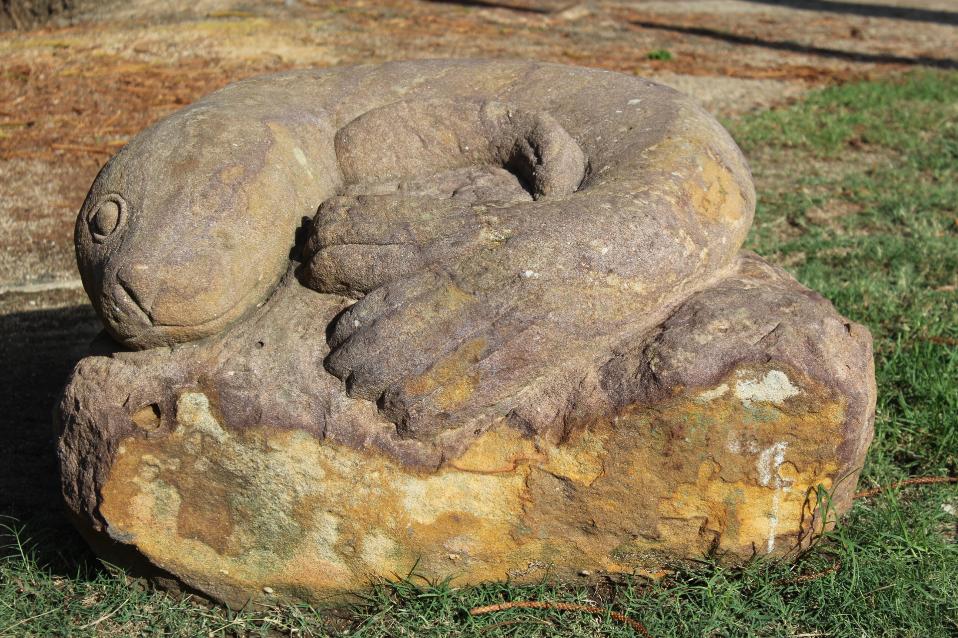 Reminders that we live in an aquatic environment are everywhere - and celebrated - Stone Seal Sculpture in Dunbar Park, Avalon Beach - photo taken by A J Guesdon in March 2019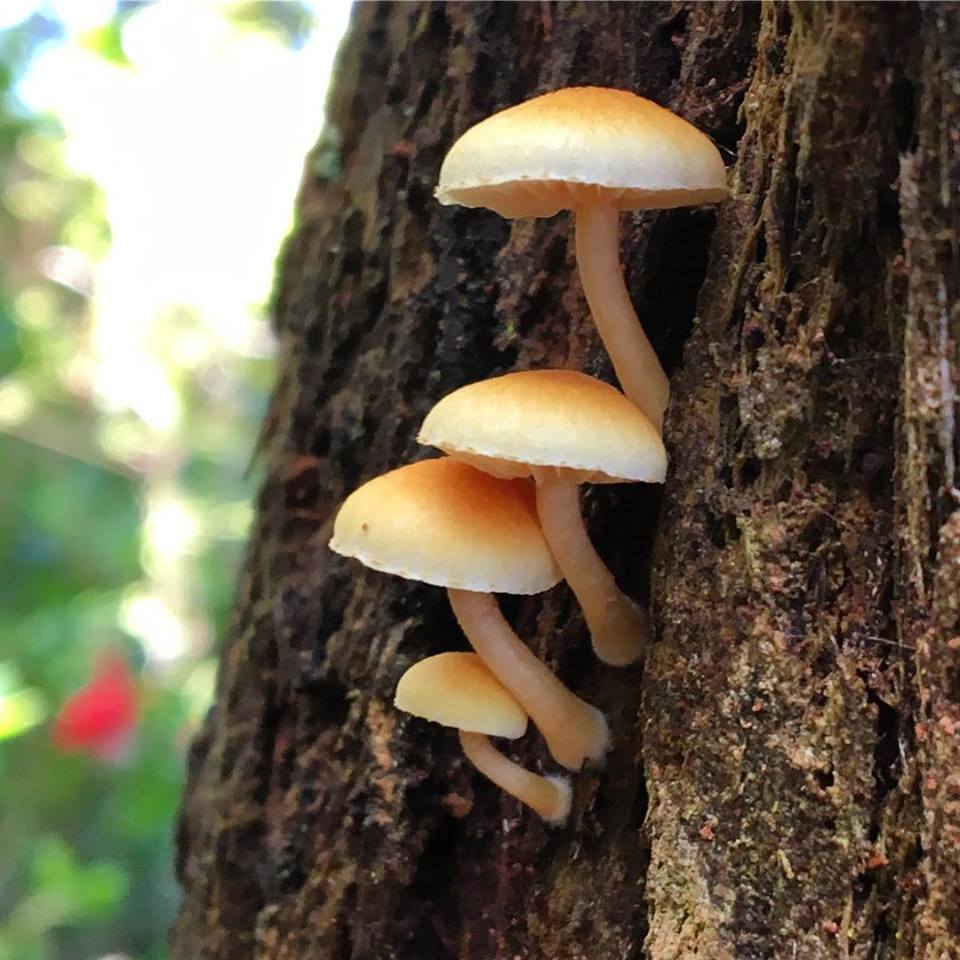 Post-Rain growth - photo by Selena Griffith, March 22nd, 2019
Past Features Archives (pre 2014)
Pittwater Online News was selected for preservation by the State Library of New South Wales and National Library of Australia. This title is scheduled to be re-archived regularly.
Archived Issues (2014 on) may be accessed here: pandora.nla.gov.au/tep/143700