November 27 - December 3, 2016: Issue 291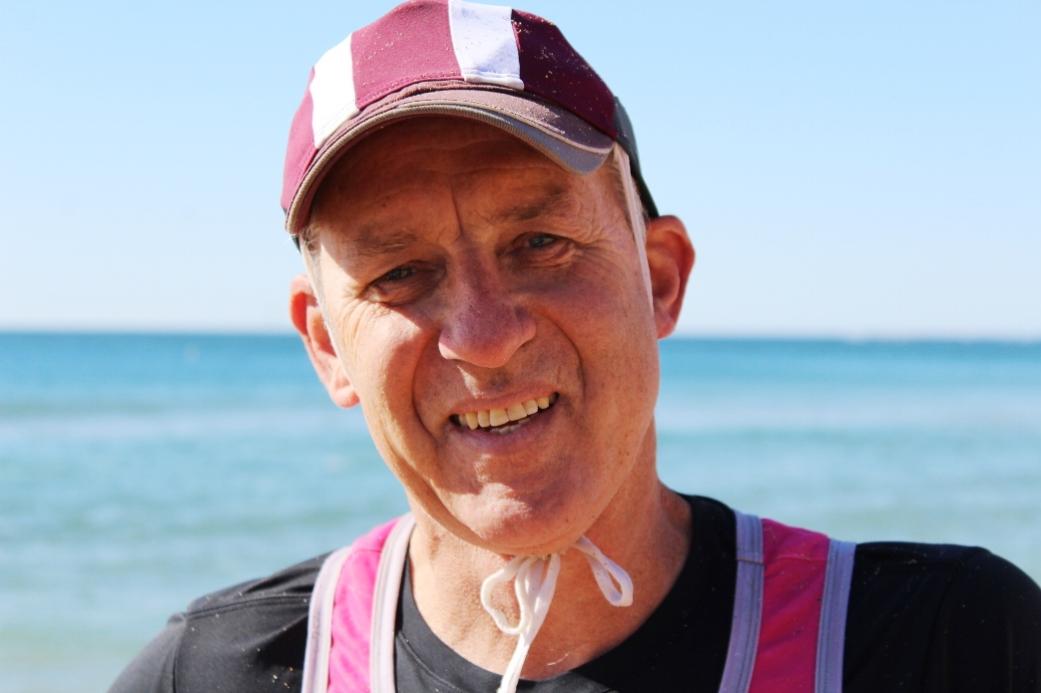 Warriewood SLSC member, Surf Boat Sweep and founder of ecodownunder, Russell Lamb is a gentleman who has combined his love of hard work into everything he does to the point where everything he does isn't work at all.
He's passionate about his family, passionate about producing a product worth having, stating 'if I wouldn't sell it to my mother we shouldn't be selling it in our stores', knows you must 'do something' when it comes to looking after the sea and all in it, and that goes for all on the land and in the air too and he's passionate about surf boats and ensuring this exciting surf sport is kept accessible to all and how great this is, as fun, as being part of a team, as building up physical and mental fitness, is extended to the next generation of surf boat rowers,'boaties'.
This week a small insight into a giant of a man and what's being worked towards so one of the best ways of ensuring surf life savers are fit, having fun, and expanding their skills base, all while making 'mates for life'.
When and where were you born?
In New Zealand in 1961 in a small town called Tuatapere, which is right down the bottom end near Invercargill where I grew up.
What did you do for fun while growing up?
I played lots of sports. I also did a lot of commercial fishing as a weekend job when I was 13 and 14. We'd set a kilometre of net to sell fish to the fish shops. The water was pretty cold.
Where did you go to school?
In Invercargill and then on to University at Dunedin to get a Business Degree.
What did you want to do in getting a Business Degree?
I always wanted to run my own business. I started working in a Chartered Accounting firm, just to get business experience. I did a few triathlons, actually qualifying for the Hawaiian Iron Man as a result of my placing in the Auckland Iron Man.
After this I secured a job in Melbourne with a New Zealand company that made woollen underblankets, which is what got me into the Bed & Bath area.
We then bought another business in Sydney in 1989 and moved up here. Sydney is where I met Beverley. We met on a scuba diving course in Manly.
We moved around a little bit then lived at Castle Cove for a few years before moving to the beaches in 2003.
Where did your love of Surf Boats begin?
Surf Boats was Bev's thing, she began rowing in about 2007. I was surfing and doing other things for sport. A few years later I was voted in as Boat Captain at Warriewood Surf Club and had to learn what to do. I joined Warriewood SLSC in 2003.
Why did you want to join a surf club?
Our kids were young and we figured we could live anywhere in the world we wanted to at that stage. We had a nice weekend up at Avoca and thought this is what we need; a nice beach in a protected southern corner. We had a look around the Northern Beaches and Warriewood ticked all the boxes. Our children went into Nippers at Warriewood and we just got more involved.
Around 2011, I started getting involved with the boats and rowed for a couple of years. I then went on to being a Sweep.
What's the difference between a Rower and a Sweep?
The rowers are rowing the boat while the sweep is the one who is steering at the back and the one who takes on the role of coach. That's one of the really good things about surf boats – a 50 year old sweep can be out on the playing field with teenagers and they're all part of the same team. That's a nice thing.
What was the first Surf Boat crew you had as a Sweep?
I started with Masters as it does take a while to learn. After beginning with the older guys I got a Women's masters crew as well. Last year I got a junior girls crew and this year I have an under 23 mens crew as well.
You did the 2016 George Bass Marathon, was that your first George Bass?
Yes, that was my first one. Beverley had done a couple before.
What was the most challenging aspect of this for you?
Every leg is different. You have 8 rowers whom you changeover, so they row hard for 20 minutes and then swap them over. You're racing hard all the time, for anything up to four hours. On one day we had a real southerly squall come through, with winds up to 50 kilometres an hour, and we were just changing the crews. One crew was jumping out and just got off balance. The next thing the wind got under the boat and tipped it over; so we were a kilometre off shore in 50 kph winds with 9 people in the water.
Overall they did really well. This is a hard row, over 7 days with two to four hour legs each day. I was surprised how well the girls could back up and go the next day – I deliberately went not quite as hard the first two days as it was a case of 'we need to finish seven days of this', but if we did it again we'd be going hard from the first gun.
Will you go in the George Bass again?
Definitely.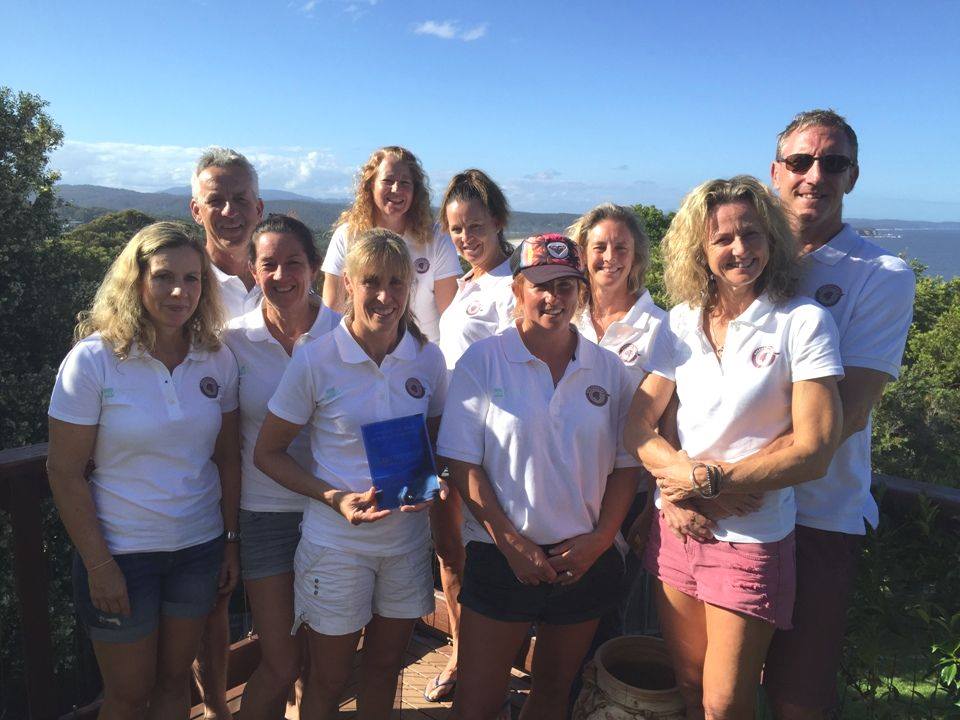 Above The Rustiques - Day 7, at Eden and Leg 5 Winners - photos courtesy their support crew George Bass Marathon; Warriewood SLSC Sweep - Russell Lamb, Rowers – Louise Barnett, Alex Coates, Tanya Deer, Phillipa Lowe, Avalon Beach SLSC – Rowers – Kerry McEwan, Kate Munro, Beverley Tilbury, Donna Wishart, Support Crew – Phil Deer, Carl Quitzau
You have taken on a few other roles in connection with Surf Boats recently – what do these involve?
I do a couple of things – the Sydney Northern Beaches Branch is the strongest in the country so I do Chair the Sydney Northern Beaches Boat Panel. It's about keeping people informed, organising the calendar of events and there's always other bits and pieces that need to be attended to.
The other role is with the ASRL, the Australian Surf Rowers League, where I've taken on a Vice-president role with that.
This is actually a good time to be involved as there's been a change of mindset by Surf Life Saving where a lot of what were perceived as barriers are coming down or becoming more flexible.
The Surf Life Saving movement realises that most lives are saved by somebody actually going out in the water and pulling people in. You need fit people for this to continue to be what happens.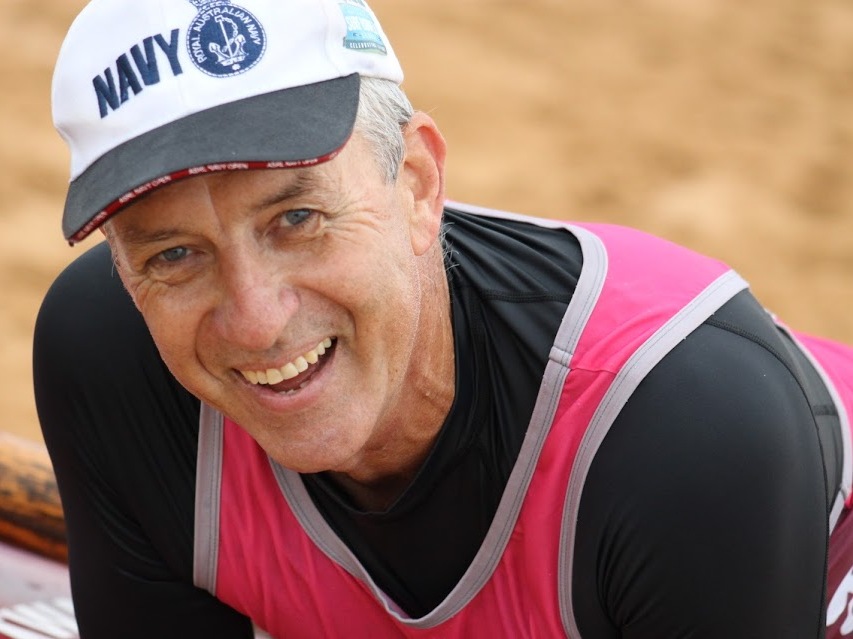 Surf Boats are an iconic part of Surf Life Saving, they're one of the first life saving devices used, link Australia's Maritime heritage and carry it forward, and the carnivals are spectacular – do you have an appreciation of them as life saving equipment?
Absolutely. We were training down at Warriewood one morning when a fisherman fell onto a rock ledge, seriously hurting himself. We rescued him and looked after him until he was taken to hospital in a helicopter. We ended up receiving the SLSA National Rescue of the Month.
So the surf boast are still being used for rescues occasionally.
Are Surf Boats still popular with surf life saving members?
About 10 to 15 years ago you had 500 crews attending the Aussies and ASRL events, now that's around 300. We now have two more Women's Divisions. By trying to create a situation where people can compete at their own level you make it more attractive for women who would like to begin rowing in the surf boats.
One of the problems with Surf Boats is that you need five people, it's not like a football team where you may have 20 people and if one doesn't turn up or can't play it's all fine. So when you need five, if one person is doing the HSC or injured or on holiday, and we had the one club rule where you had to be from the same club, they couldn't compete. We are now able to have Composite crews, where you can get someone in from another club for just that event.
The 'Rustiques' for the George Bass was some Warriewood and some Avalon SLSC members though..
The George Bass is different as it's a non-surf life saving event but within Surf Life Saving you hadn't been able to do that, and still can't for Championships, but allowing this in local carnivals means that you can still get in there and have a go.
Surf Boats and those involved do have a really good vibe. All these little things to create new opportunities for people to be part of this will start to filter through over the next few years and that will be good for everyone.
Has Warriewood always had a passion for Surf Boats and a strong Boat Division?
Definitely. We've had our moments in the 1950's and 1970's when the club was quite strong on the National stage. We're building a strong division at present too and have a broad range of people in all ages who are enjoying getting out there and doing their best.
Training – that whale video as spectacular – how many times do you encounter migrating whales?
Quite often but not that close very often. We do go looking for them occasionally. We know we're required to keep a safe distance, especially when there are mothers and calves when they're returning to Antarctica. That particular morning we were training off Long Reef and had decided to row straight out. There are always plenty of fishing boats and others around so it's quite safe. We'll see pods of dolphins quite often but it's rare to be close to whales. That particular morning there were three pods of whales that went through – if you look closely at the video you can see another pod playing on the surface in the distance. I was hoping if I kept the video on the crew one may breach out of the water behind them and as we did that one popped out of the water beside them – a pretty special moment for all of us.
Why do you train off Long Reef?
Fisherman's Beach is quite sheltered so it's good to launch and come in on days when it's not suitable on a lot of the beaches. You can then get out there and catch runners, so it makes it a good place to train without having to go onto the flat water.
We do train on Pittwater quite often but it's always better to go into the surf, into the conditions you will compete in – there's a bit movement and it's more fun for the crews.
You seem to train year round, which is underlined by the fact that you're rescuing someone out of patrol hours – do you have a down time, an off-season?
If our girls are not rowing a Surf Boat, have to go to the gym or something similar. If they have a choice they'd rather row the Surf Boat. For us it's not finishing off at the end of March or April and then you don't see them again until September – we have a social aspect to it and we'd rather be out on the water. We have a really good group of people who all get on well so it's great fun, year round.
What's coming up for you this Season Russell?
We've got four crews this year; Under 23 Men, Under 19 girls and Masters Men and Women – so we'll have the Sydney Northern Beaches Carnivals and the ASRL in February and then the Aussies at the end of March. This year we also have the World Masters in Auckland in April. The carnivals pre-Christmas are an opportunity for new rowers and crews to test themselves out and get in form for the rest of the season.
If people want to get involved at Warriewood, who do they contact?
They can go to the website,
Warriewood SLSC
, and there's a range of contacts there for people looking after the different parts of the club – all welcome!
Sea Shepherd, you have been doing some work there too, frequently popping up as a volunteer on their stalls at such events as Manly's Ocean Care Day- how did you get involved with that great organisation?
When we began Ecodownunder we decided we wanted to have one major environmental focus that we wanted to support, something that demonstrated what we're about. So Sea Shepherd, being about looking after the Australian ocean environment fits well with what we're really about. As we went along we got more and more into supporting what they're about and what they do.
We supply organic cotton beach towels to Seas Shepherd and donate all organic cotton linen and towels for the boats. We're also getting more involved on the fundraising side of things too. We can help on the retail side which will hopefully work better and raise more money. At the end of the day, what can be done really comes down to how much money can be raised.
Have you been on any Sea Shepherd campaigns?
We came back from Hobart aboard the Bob Barker a few years ago. More recently we were down at Kangaroo Island aboard the Steve Irwin as part of the Fight for the Bight campaign which has seen some success. One of the companies announcing they would drill for oil there has subsequently announced they are pulling out of the project.
Why are organisations such as Sea Shepherd so important in your view?
I like Sea Shepherd because they do something. If our government is not going to do something, then someone else has to step up. That's how Sea Shepherd started, protecting the seals in Canada when their government wouldn't.
In 2016 we don't need to be killing whales and dolphins. 80% of Australians think our government should be stopping the Japanese killing whales in the Antarctic whale sanctuary, but they won't act because of the amount of trade we do with Japan.
We also need to save wilderness places that would damaged or destroyed by the activities of oil companies, like the Great Australian Bight.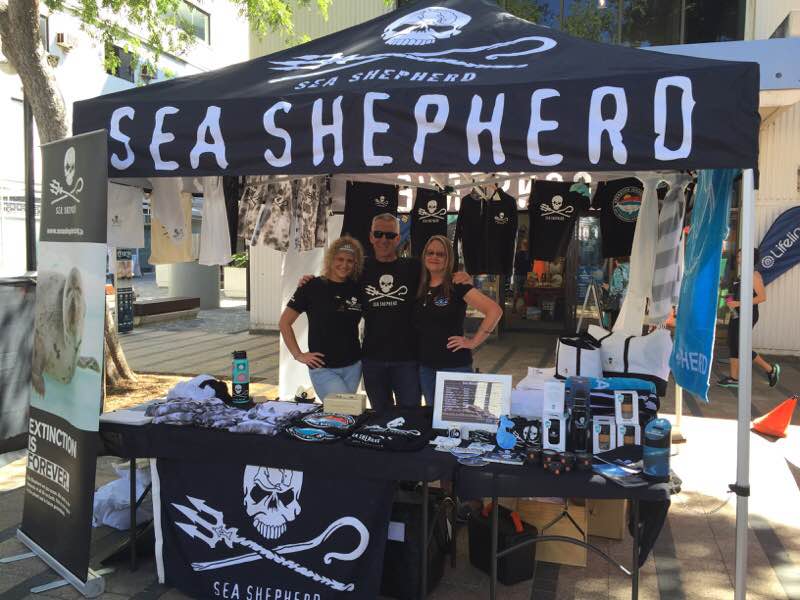 Russell at Manly with Sea Shepherd volunteers, including
Jools Farrell
- October 2016
What would you like to see occur for Australian and Antarctica waters during the next few years?
The area around Antarctica is a Marine Sanctuary, recently the Ross Sea sanctuary has been ratified, finally. (CCAMLR link). Obviously there shouldn't be whaling down there and I want to see that cease. I'd like to see the Australian government enforcing this instead of Sea Shepherd. If the Australian government were enforcing this then Sea Shepherd could spend their money doing something else.
Sea Shepherd were in Antarctica only recently trying to stop Patagonian Tooth fish Poachers weren't they?
Yes, they ended up chasing one ship all the way to the coast of West Africa. One Mona Vale resident, Jake, was on that ship and they started in Australia and ended up off Africa.
Just on Ecodownunder, how did that begin?
When we came to Sydney in the early 1990's we were bringing in product from China that we weren't happy with – the way it was made, the quality, the cost – it just wasn't what we were about in any way, shape or form. We felt like we should be doing a little bit more and doing it in a better way and that the reform that needed to happen had to start with us. We wanted something that was doing good, was sustainable and not sending money out of the country, something that was pro-Australia.
Ecodownunder products are really high quality though – how did you up the quality when everyone else is going in the opposite direction?
That's really a long-term process; we had a minimum standard we wanted to achieve, both environmentally and quality wise. One of my own little testers is 'if I wouldn't sell it to my mother than we shouldn't be selling it in our stores' and just stick to that.
Your life is incredibly full with all you're doing – do you get a day off?
I don't see any of it as work, so I don't need a day off really. The rowing, running the company, doing stuff for Sea Shepherd, these are really great things to do. It's all things we want to do so none of its a chore. We may sit on the couch for an hour in the evening but when you're up and moving by 5 o'clock every morning, the evening's are not that long!
How do you maintain your fitness though – you're mentally fit, physically fit, a happy bloke – how do you do it – is it yoga, meditations, sprints?
We mix it around a bit to create balance I suppose; the Rustys would train six days a week – we'll run around the hills of Avalon and Bilgola on a Monday morning, then the girls will row Tuesday mornings, we do the gym at Warriewood on Wednesday, row Thursday, then we do yoga with Christine Hopton on Friday mornings then row on Saturday morning. Some of us can't sit still, so Tanya does the sandhill warrior at Palmy for two hours on a Sunday morning – we don't all do that but it's six days a week that you're doing something.
Just on that, the girls wanted to call the crew 'The Rustys' – how did that feel?
(laughs) Well, the guys are called 'The Crustys'!
Pretty sure they meant it as a tribute to their sweep Russell!
Perhaps, we're a good team, but I think that evolved out of a social session at the end of a couple of bottles of red wine…
Rubbish. They think you're great.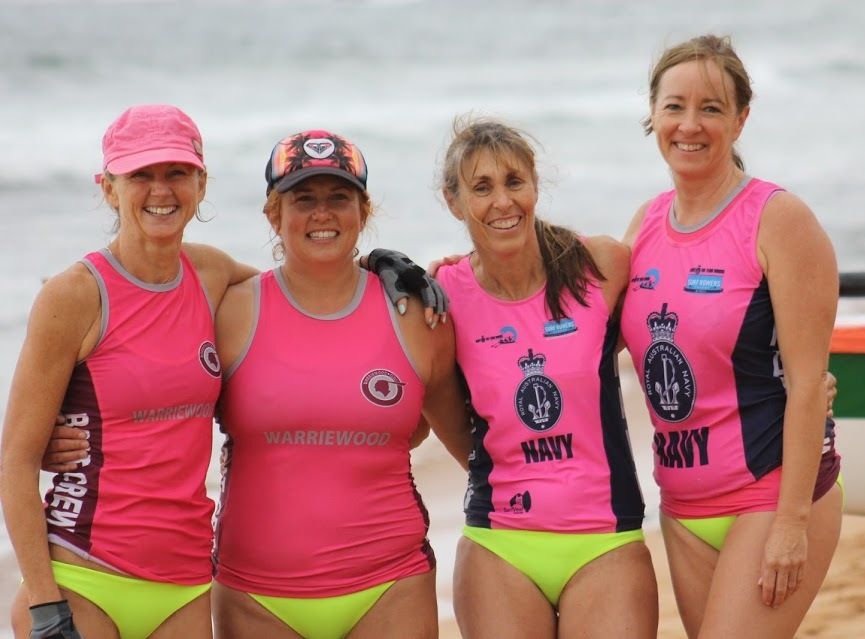 What are your favourite places in Pittwater and why?
We generally have to row from Bayview so anywhere we can get to in an hour or two while water – it's beautiful; Lovett Bay, Elvina Bay, Scotland Island. Warriewood Beach too of course, that's where we spend most of our time – and Long Reef, that's a great place for us too.
What is your 'motto for life' or a favourite phrase you try to live by?
Well, to put it all in context, with the boats, Sea Shepherd and Ecodownunder it would be something along the lines of 'do something'.
NSW Clubbies Honoured For Top Rescues
Thursday 20 August, 2015 - SLS NSW
A group of dedicated lifesavers received national recognition for recent rescue efforts at a ceremony in Parliament House Canberra on Thursday.
Avan Christie from Evans Head-Casino SLSC took out the National Rescue of the Month award for April, while Kate Munro, Kerry McEwan, Donna Wishart (Avalon Beach) and Bev Tilbury, Jen Spencer and Russell Lamb (Warriewood) received their award for the May/June period.
The group were presented their awards at ceremony attended by representatives from the Parliamentary Friends of Surf Life Saving as well as Mackellar MP Bronwyn Bishop.
Avan Christie won his awards for his efforts on Easter Monday where despite not being a patrolling member, he rescued 4 people in two separate incidents at Evans Head Main Beach and Airforce Beach before getting in trouble himself.
Mr Christie's feat is made all the more significant as he is from a small club, with Evans Head only having around 25 patrolling members. After the story of his brave rescue spread and with pressure from his fellow clubbies, Avan says he has decided to do his bronze medallion, when he can find the time away from the club treasurer's duties.
It was extremely fortunate for one fisherman that the Avalon Beach Masters crew along with their Warriewood sweep were out for a training session in the early hours of 27 June. The team spotted the fisherman falling around 5 metres onto rock and roll partly into the water.
The surfboat crew realised that the fisherman had suffered significant injuries which ultimately resulted in him having to be evacuated off the rock platform by helicopter.
Warriewood sweep Russell Lamb said the combined Warriewood/Avalon effort was the result of the right people being in the right place at the right time.
"He was lucky that there were well trained Surf sports competitors there outside of patrol hours to respond. We need to encourage more participation in surf life saving at all levels for this reason, as it means more people who know what they're doing are there," Mr Lamb explained to the attending MPs.
Each month a 'Rescue of the Month' is awarded at State level for the most outstanding rescue performance for that period. Monthly winners have the chance to win the Australian Rescue of the Month and become finalists for the SLSNSW Rescue of the Year which is presented at the annual Awards of Excellence.
The SLSNSW Rescue of the Month aims to recognise excellence in lifesaving.
Top - Winners are grinners. Avan Christie and the Avalon and Warriewood Surf Boat Team with Graham Ford. Credit SLSA
Above - The Avalon and Warriewood crew show off their spoils with Hon. Bronwyn Bishop MP. Credit SLSNSW
ABOUT ECODOWNUNDER
When we started ecodownunder in 1997 we wanted to create something that would provide better environmental options for the home. In the past the production of cotton was ecologically, economically, and socially sustainable but modern practices have produced a heavy reliance on toxic chemicals. People are becoming more aware of their environmental footprint and the affect it has on their families health. They are demanding better choices in the products they buy. By keeping our eye firmly on the quality, integrity, and design of our products, whilst keeping our costs low, we believe we can make eco-conscious products accessible to everyone. There are many things we do to make our products better for the environment that do not cost the earth. Some examples: •No chemical coatings •No synthetic fabrics •Pollution free oxygen whitening •No chlorine bleaches •Naturally coloured cotton that does not need dyes •Biodegradable packaging "Eco" no longer means a compromise on quality, value or design.
Rowing Off Long Reef When A Surprise Drops In
Published on 21 Oct 2016
Sea Shepherd supporter and founder of ecodownunder Russell Lamb, sweeping for the Warriewood Rustys on a whale watching training session off Long Reef.